Costco Healthy Noodles - Low Carb, But One Giant Problem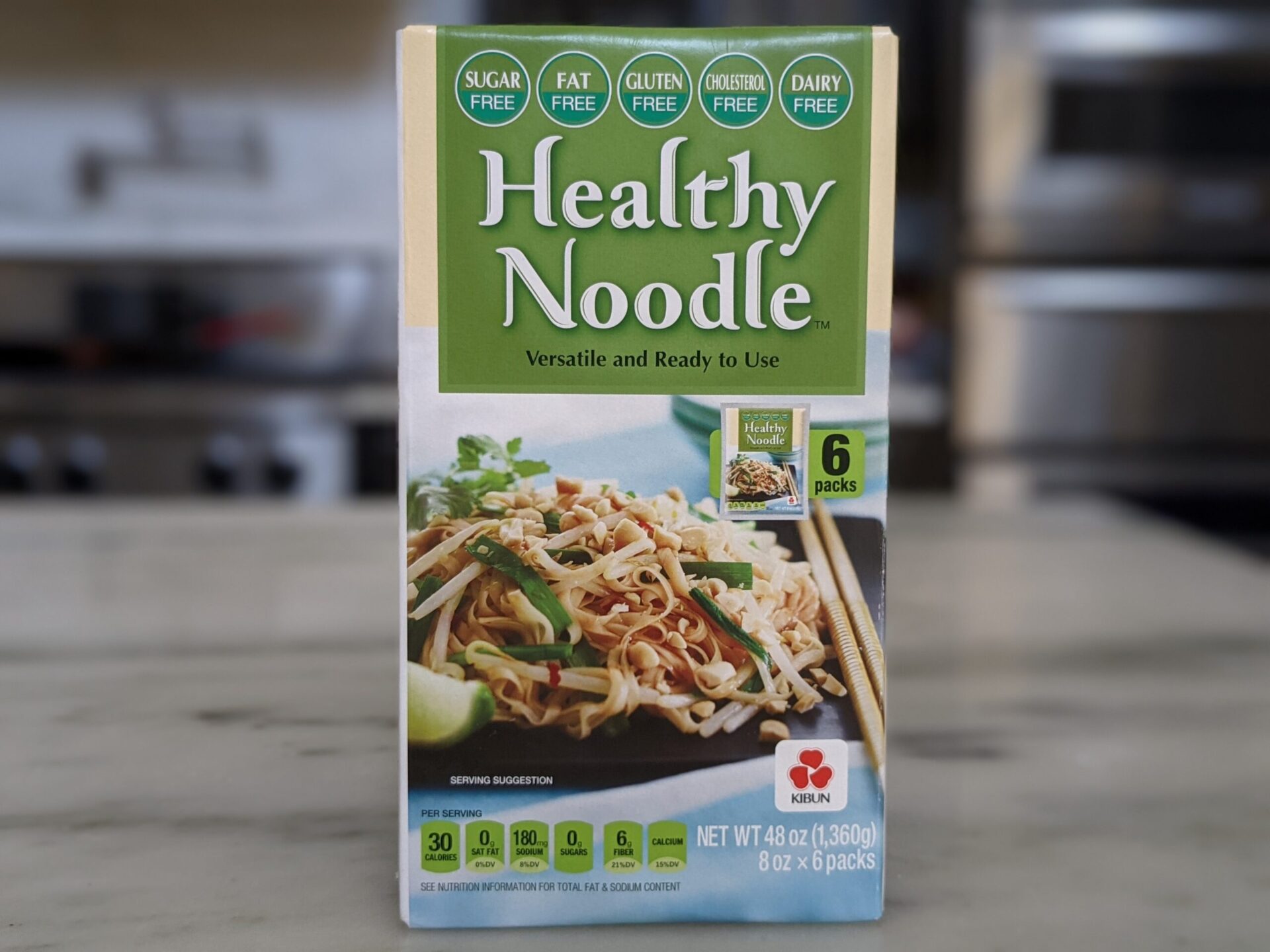 Kibun Healthy Noodle at Costco
Costco sells a 6 pack of Healthy Noodle for $16.49. Healthy Noodle can be found in Costco's refrigerated deli section of the warehouse. Another low carb pasta alternative sold at Costco is Palmini's Hearts of Palm Noodles.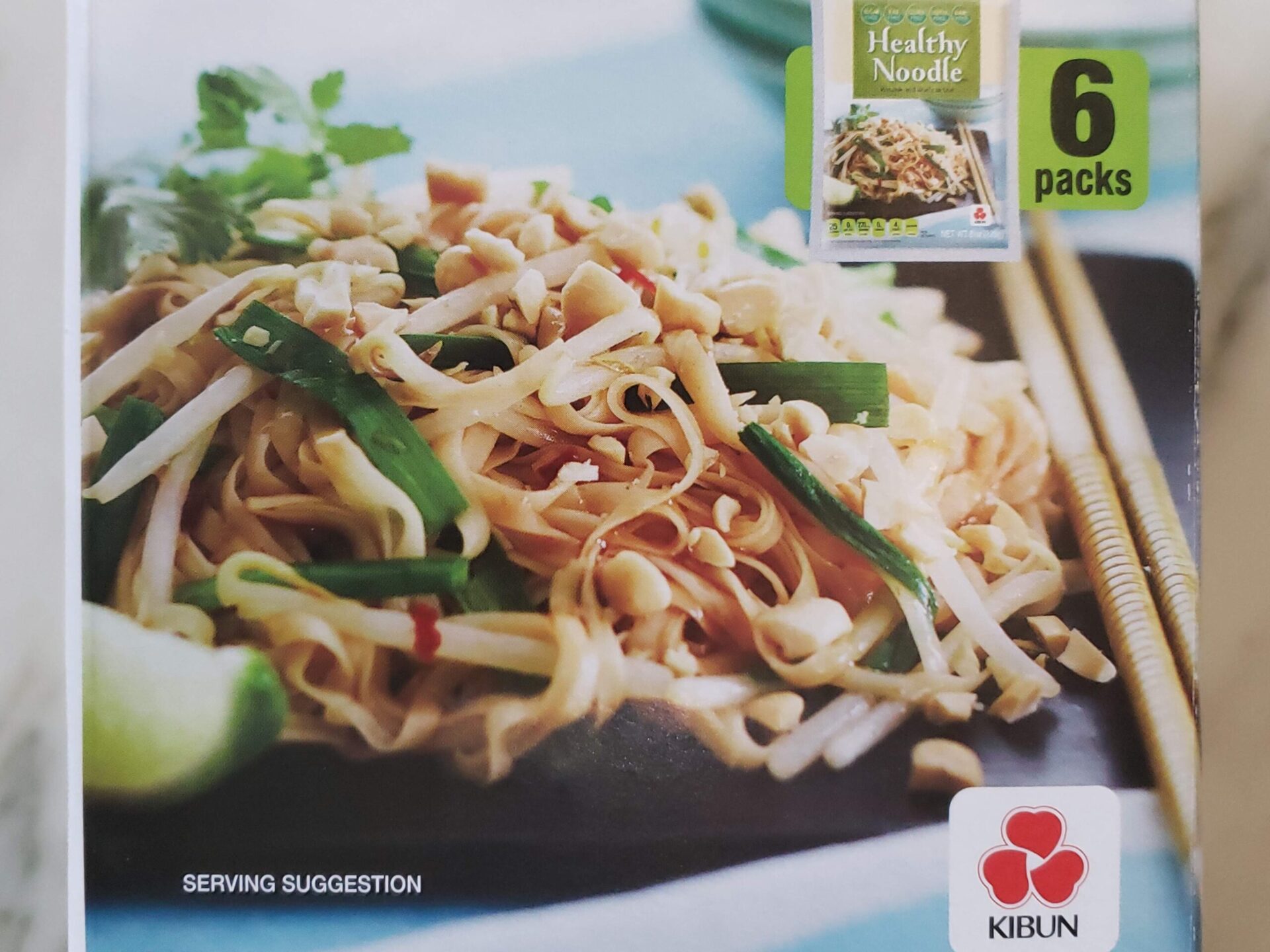 Have You Tried Costco's Healthy Noodles?
Let the rest of the Costco Food Database community know what you thought of this product. Results and reviews are at the bottom of this page.
Please allow 24 hours for review moderation and approval.
What are Healthy Noodles made of?
Healthy Noodles are imported from Japan and made by a company called Kibun. These noodles are made from Okara, a by-product of tofu, and made with soybean fiber and konjac powder. The noodles can also be referred to as konjac noodles or shirataki noodles.
Healthy noodles from Costco are Sugar-Free, Fat-Free, Gluten Free, Cholesterol Free, Keto Friendly, and Dairy Free. 

These are perfect for those following a keto or low carb diet. Check out the rest of Costco keto foods.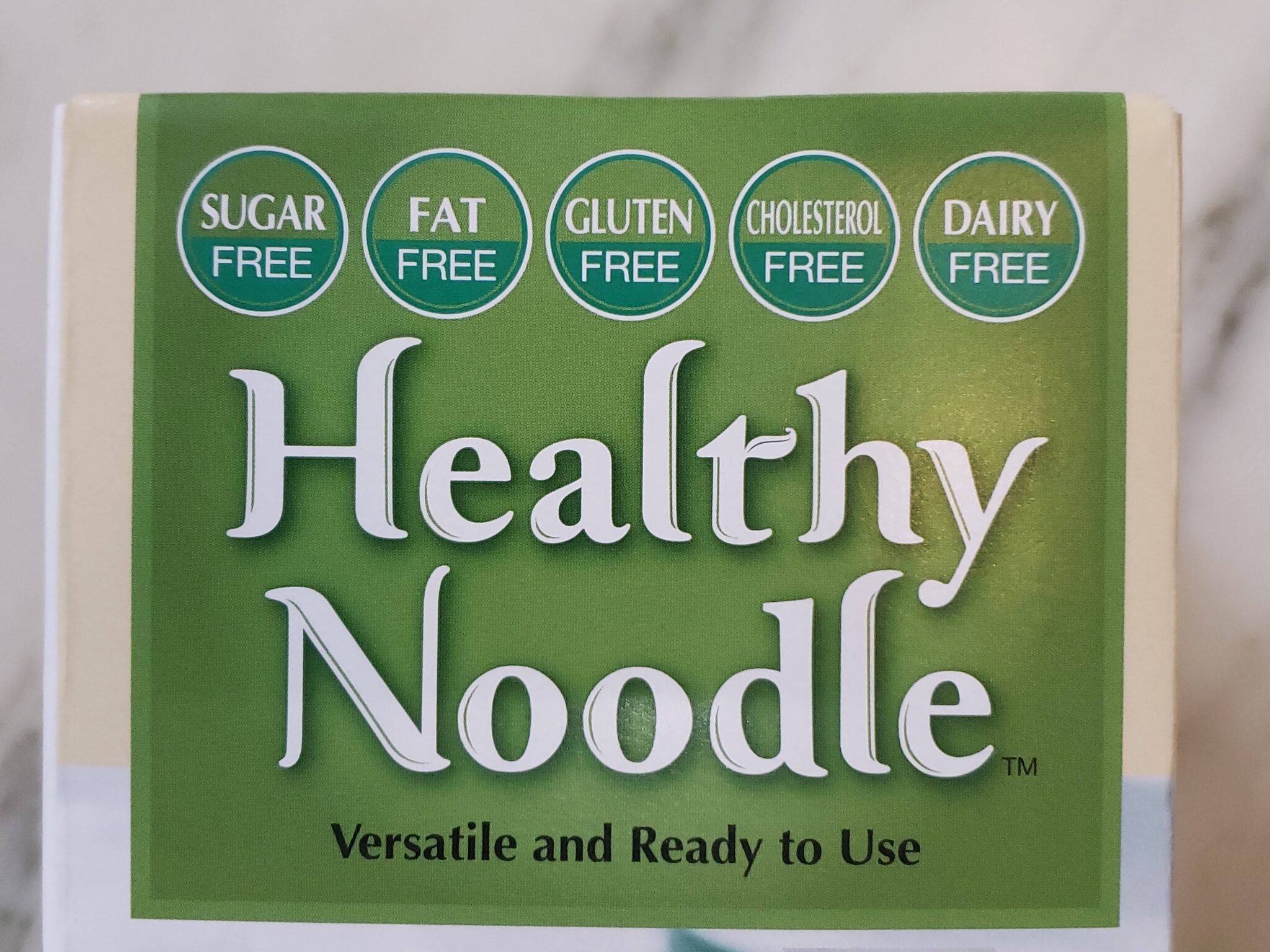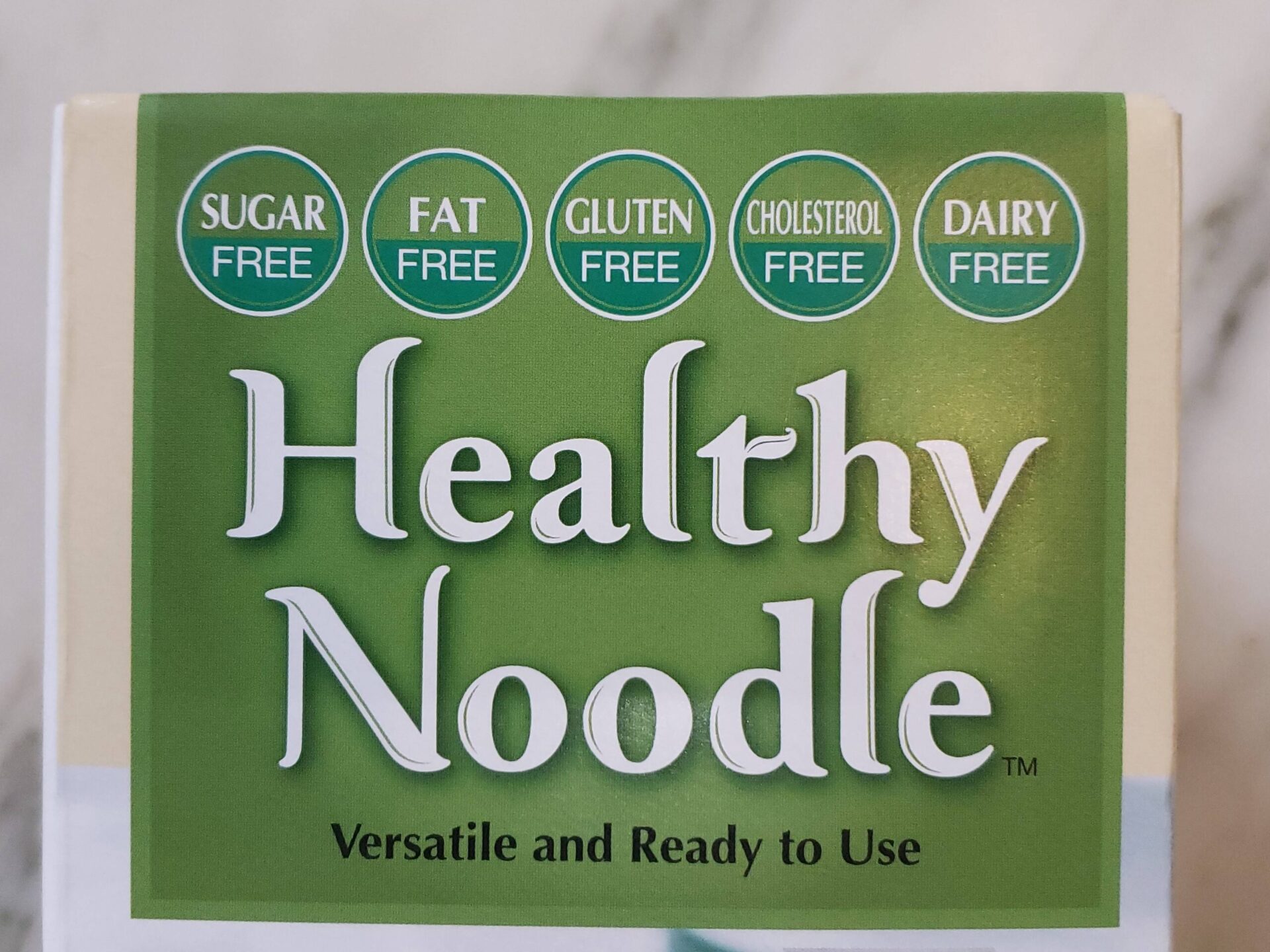 The packaging claims that these Costco Healthy Noodles are versatile and ready to use.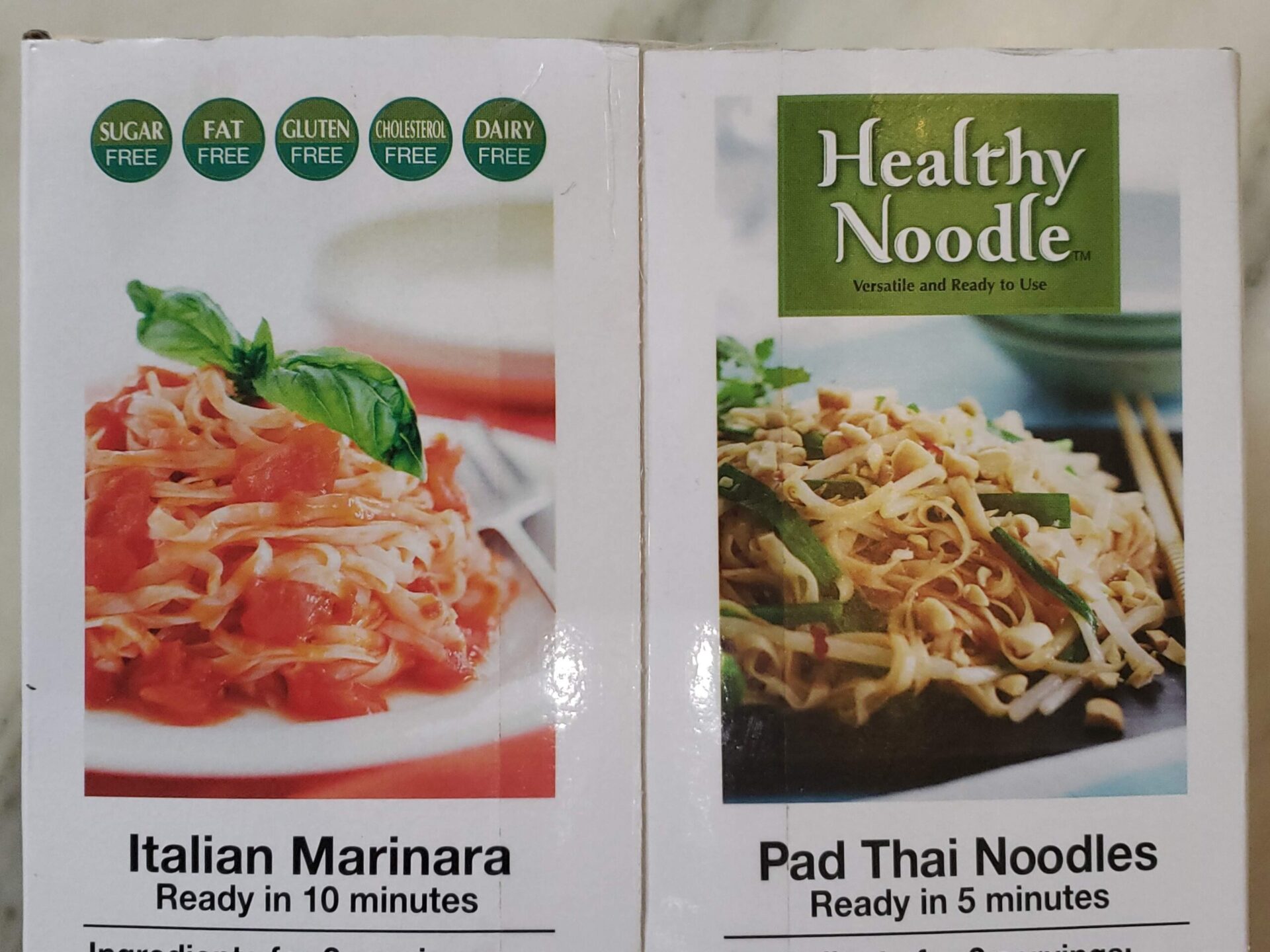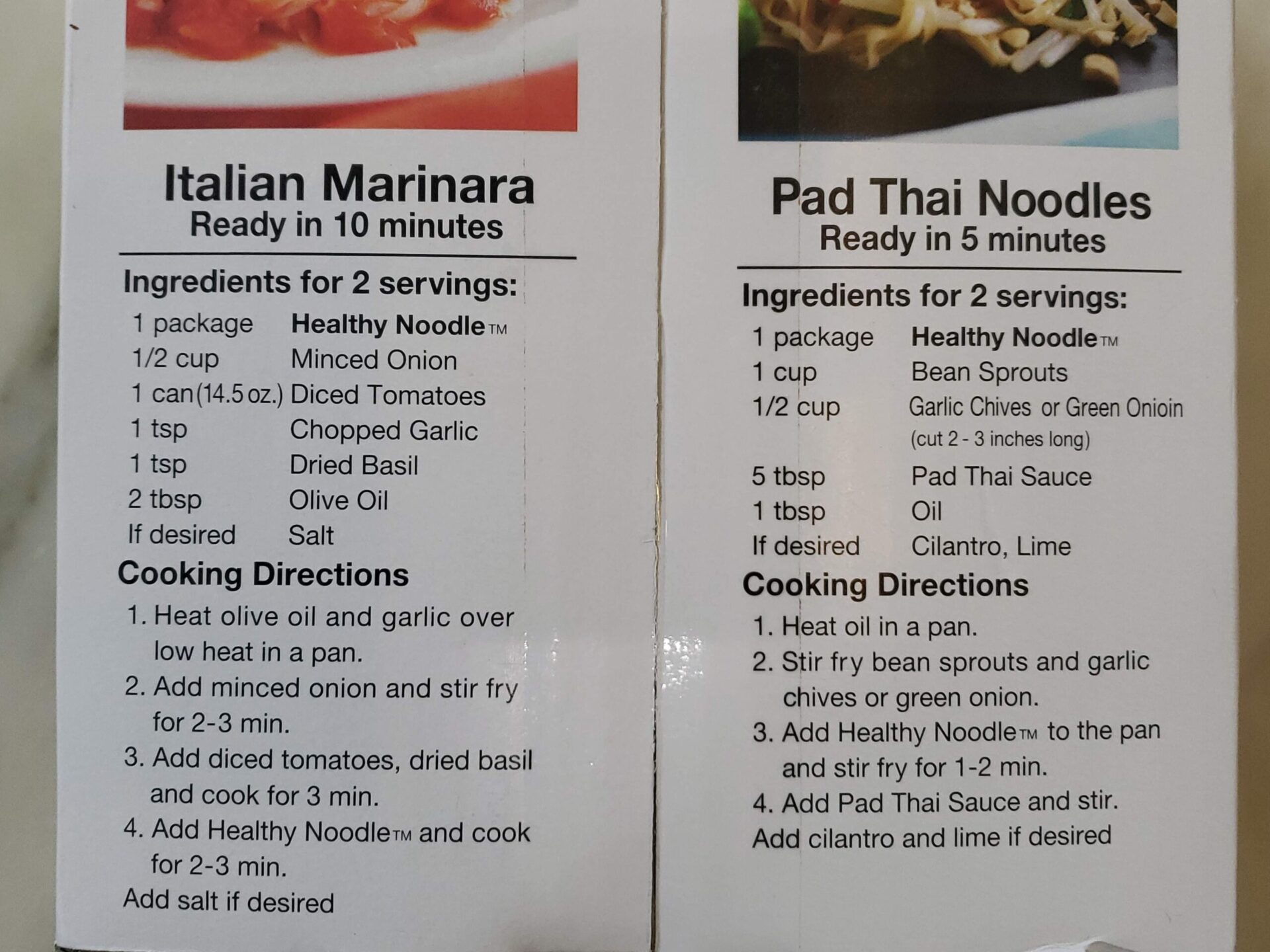 They provide a recipe and some images of the noodles being used in an Italian marinara dish as well as a classic pad thai meal. 
From the images shown, I much prefer the look of the pad thai compared to the marinara dish.
Do Healthy Noodles Have an Odor?
They also include a check mark graphic that states the Healthy Noodles are Ready to Use, Odorless, and Naturally White. The point that sticks out to me is the odorless claim.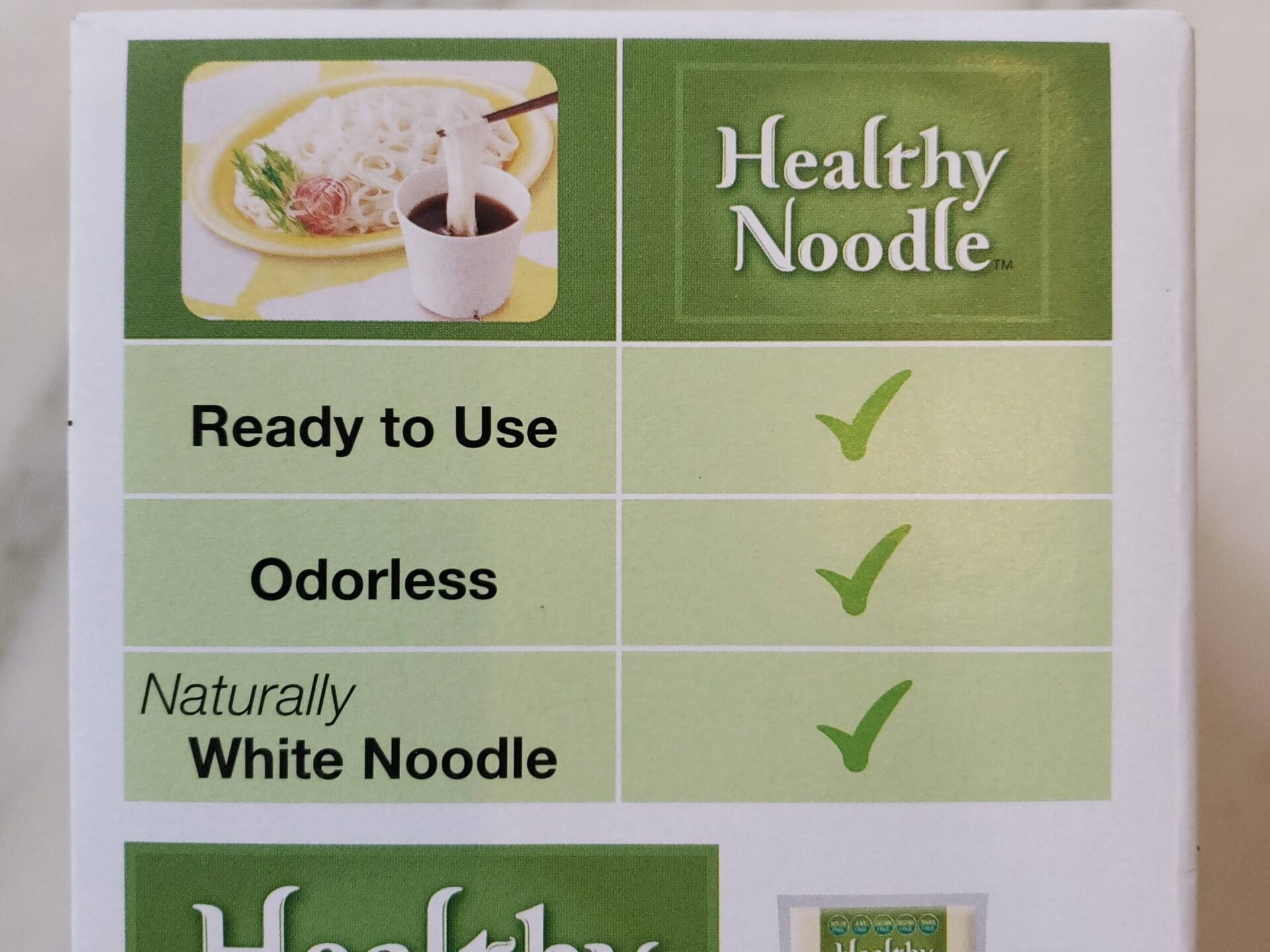 I'm glad these don't have an odor, but I wonder how bad Konjac noodles used to smell or how bad their competitors' noodles smell.
I feel that odor is such a strong word that I just need to know what compelled them to make this claim in the first place. If anybody is familiar, please share with us all in the comments.
Eating Healthy Noodles for a Keto or Low Carb Diet
Healthy Noodles are a brand of Keto Friendly Konjac noodles and an excellent diet food for those dealing with diabetes, Celiac disease, or anybody who wants to lose weight.
These noodles have only 6 grams of carbohydrates and 0 net grams of carbs per 4-ounce serving compared to typical pasta, which has 28 grams per 4-ounce serving.
The noodles cut out a significant amount of carbs, and in turn, the calories drop from 150 for pasta to 30 calories per serving for Costco Healthy Noodle. 
I will touch more about this in the Nutritional Information and Calories Section. 
Costco Cost Comparison - Healthy Noodle
How much does Healthy Noodle cost at Costco?
Healthy Noodles are available at Costco for $16.49. Each box contains 6 packs which break down to $2.75 per 8-ounce pack. 
This is a premium price compared to traditional pasta or even noodles, but it's worth the price for those who want healthy low-carb, low calorie, keto friendly noodles.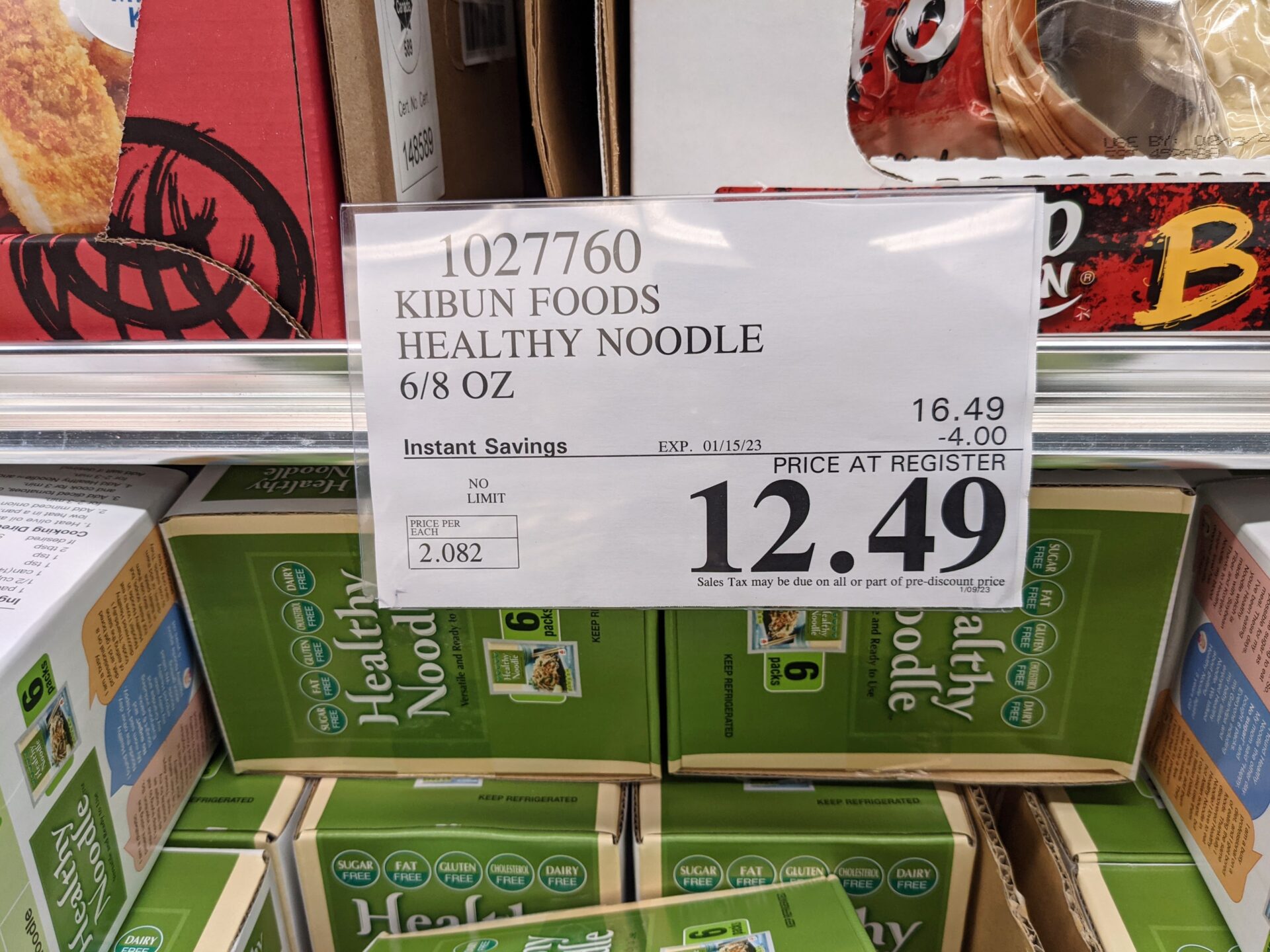 I did spot this on sale for the first time since I tried the product about a year ago.
This is a really nice discount of nearly 25% and if you see it on sale, its great opportunity to stock up.
Where to buy Healthy Noodle? Costco Exclusive!
Healthy Noodle is only sold at Costco. This is a Costco exclusive item and the only shirataki or konjac noodle available at Costco!

Kibun, the company that makes Healthy Noodles, sells a similar product Zeromen Noodles all across the country at select Asian markets.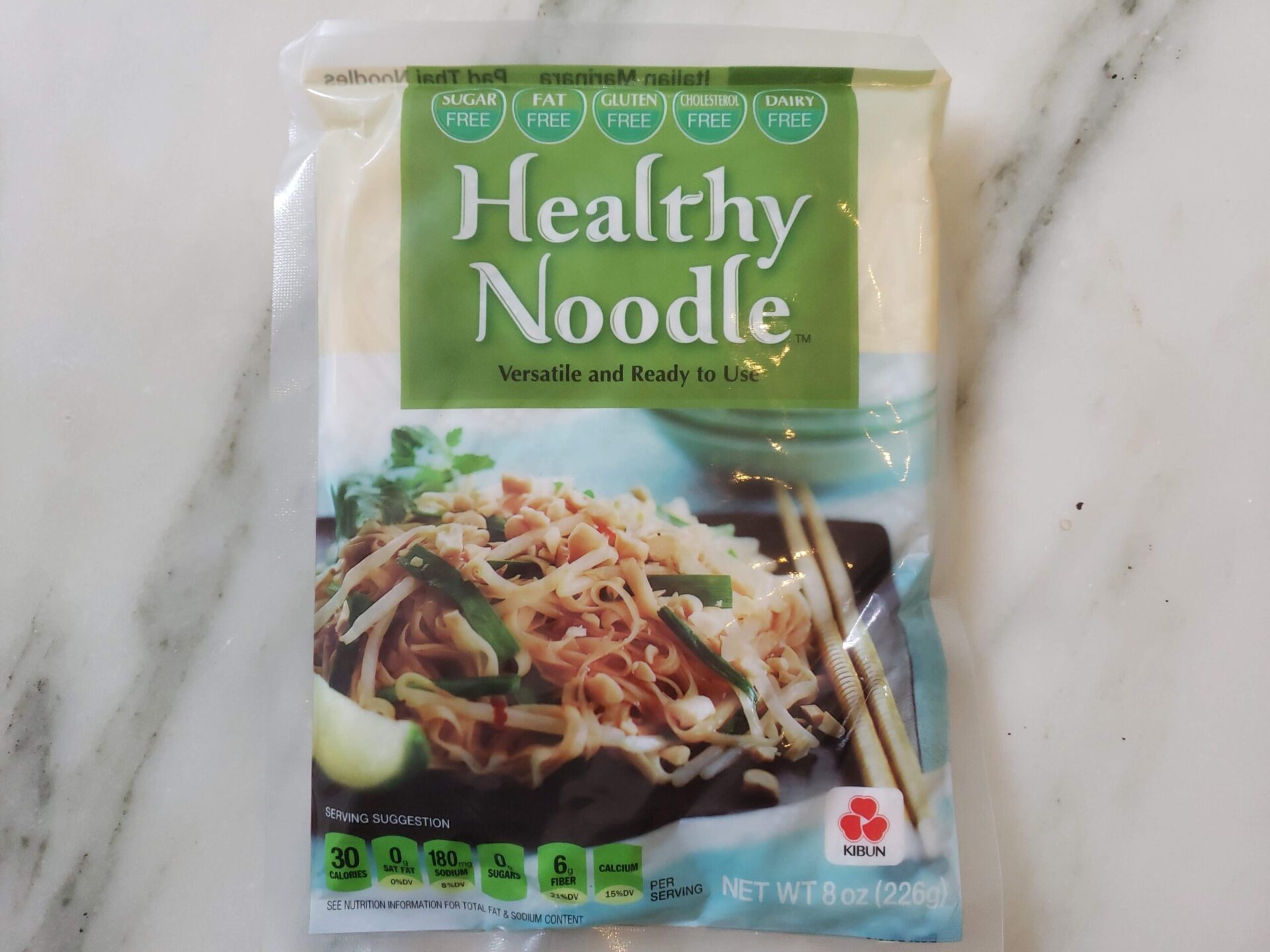 Alternatives to Healthy Noodle
Healthy Noodles are not the only option when it comes to low-carb noodles. They are one of many Konjac or shirataki noodles that are available on the market today. Some of the biggest competitors to Healthy Noodle are Palmini Low Carb Pasta, Al Dente Carba-Nada, and Miracle Noodles.
Miracle Noodle will be the most similar option to Healthy Noodle, but are not available at Costco. The only konjac noodles that Costco sells will be the Healthy Noodle Brand.
Healthy Noodle Costco Taste Test
Healthy noodles are rather simple to prepare, as they don't need to be heated, just rinsed with water.
I'm not sure what we are rinsing off, but I'm going to make sure to rinse them off well.
Pro Tip: Pat the noodles dry after rinsing them in order to not water down the sauce or dressing.
To say the least, the texture is different. The noodles do not taste or feel like traditional pasta or egg noodles, but instead are very soft and mushy.

They have a unique texture, and I hate to say it, but the healthy noodles feel very unnatural to me.
Healthy Noodles Lack in Flavor
For taste, they are very bland. They take on whatever sauce or dressing you use, which is nice, but the noodles themselves don't provide much flavor.

I followed the recommended recipes from the box and made a marina dish as well as a spicy peanut sauce noodle dish.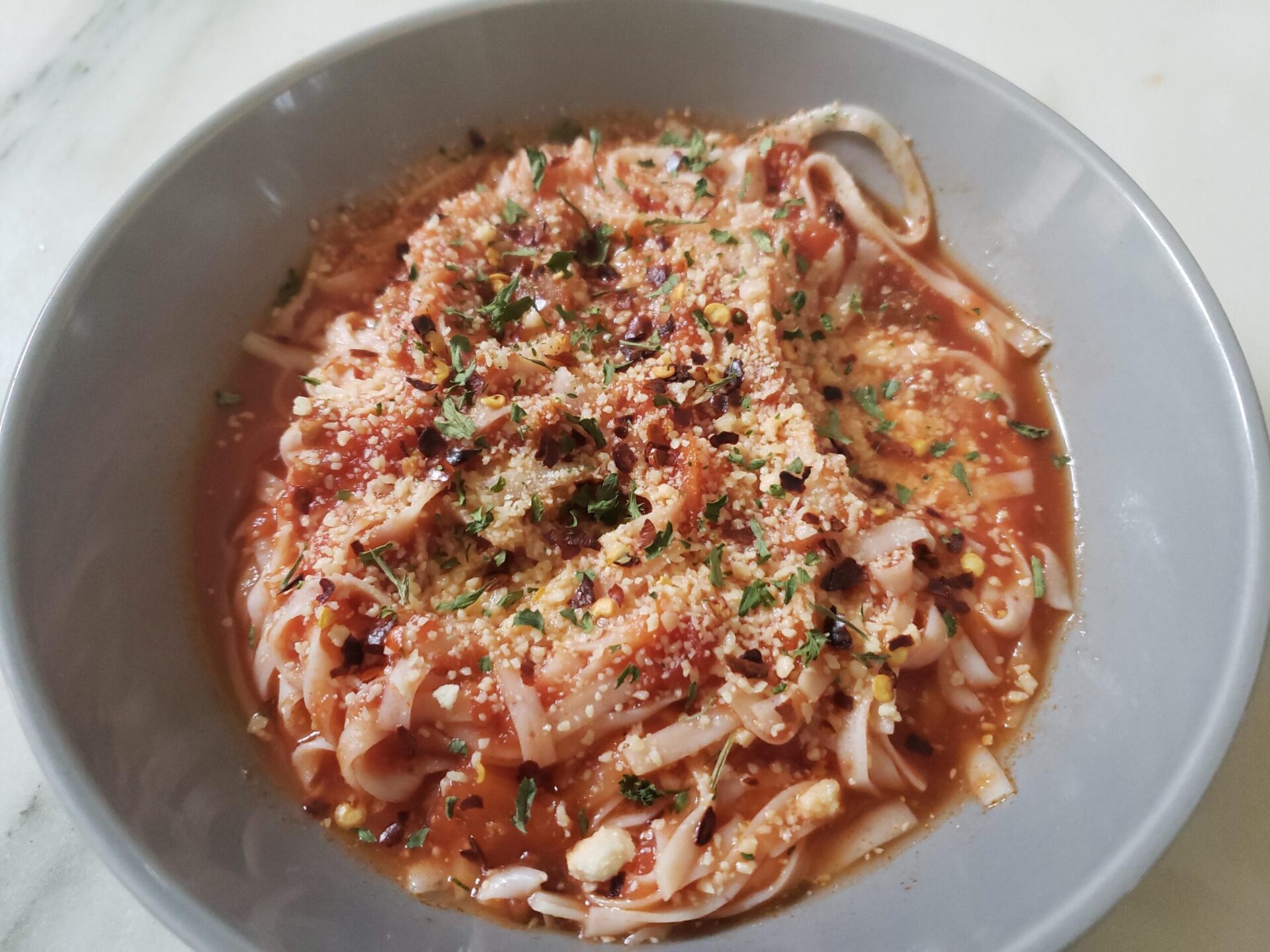 I made an easy marinara pasta dish for my first experience with Healthy Noodles from Costco.
 
I opted against using a pricey bottle of Rao's marinara sauce and chose a simple pasta sauce instead. 
After eating many spaghetti and ground beef meatball dishes over the years, the texture of the Healthy Noodles is so different from traditional pasta that it threw me off quite a bit.
I Didn't Enjoy These Noodles - Texture Issues
To speak candidly, I really didn't enjoy this. My body's natural reflex was to gag as soon as I started chewing the noodles. 
Whenever I took a normal-sized bite, my body wanted to reject the Healthy Noodles. When I shrunk the bite size to a mini portion, I was able to take them down without a problem.
I may have an issue with vegan/plant-based foods. I really didn't care much for the texture of those items either (Impossible Burger, Morningstar Veggie Patties). I don't think this is a Healthy Noodle issue, but an issue for me with shirataki and konjac noodles.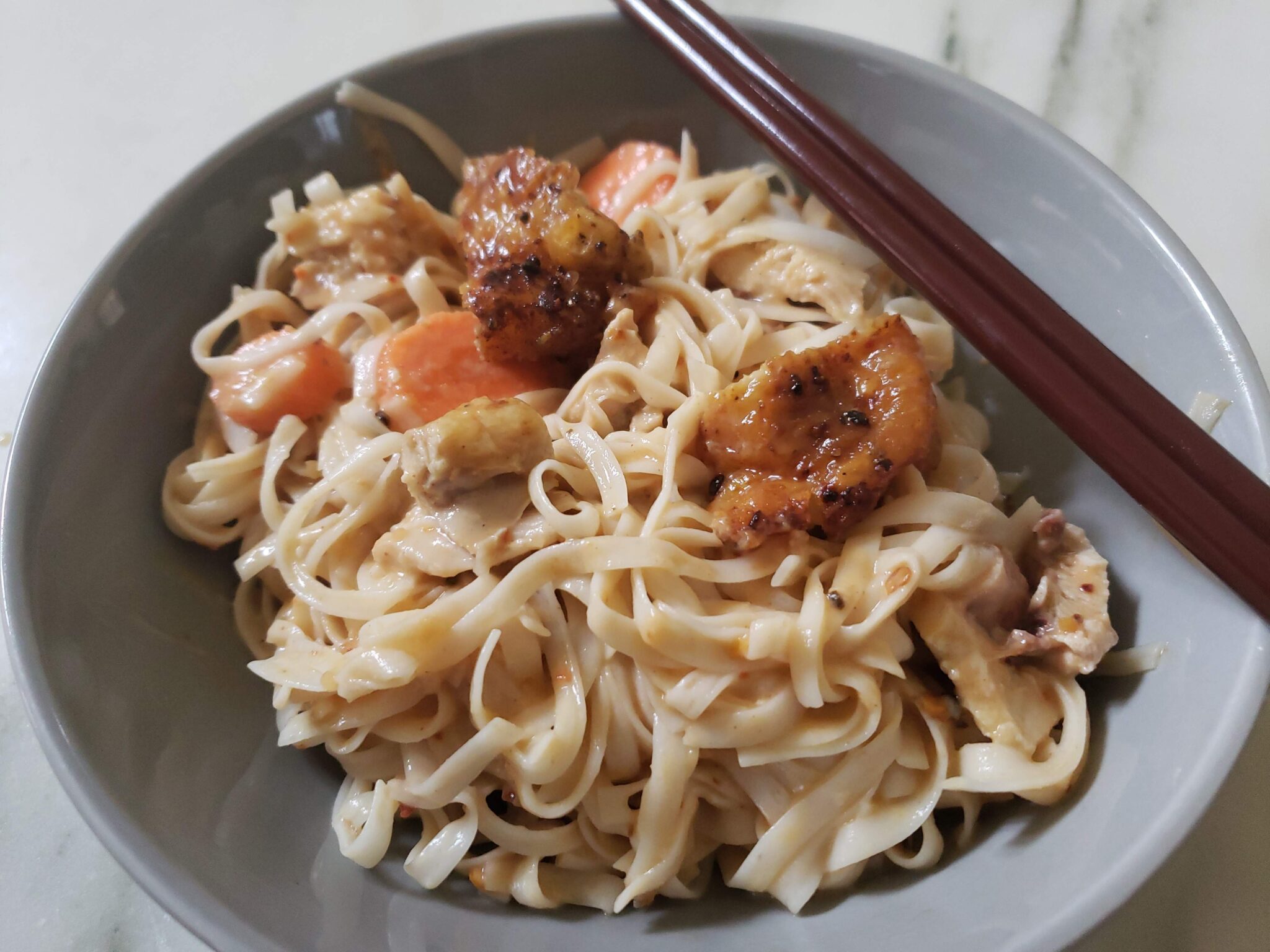 Aside from the major texture issue, I had another minor problem with the noodles' wateriness. After rinsing them off, I threw the noodles into a warm pot of marinara sauce.
Some of that water was transferred into the marinara and did make the dish a little soupy.
We Really Tried to Make it Work
My wife went with a homemade spicy peanut Healthy noodle dish and had the same issue that I did. The texture didn't sit well with her, and she didn't even finish her meal.
I'm not sure if we got a bad batch or maybe this box of Healthy Noodles from Costco was left out of refrigeration or something, but we just can't eat these noodles.
Healthy Noodles seem pretty popular online, so it makes me wonder why my wife and I had such a bad experience with them.
Regardless, we had to throw out the remaining packets.
Healthy Noodle Cooking Instructions
One nice thing about Costco's Healthy Noodles is that they truly are easy to prepare. 
The noodles can be eaten hot or cold, and to prepare them, you simply cut open the package, rinse the noodles off with water, drain and serve.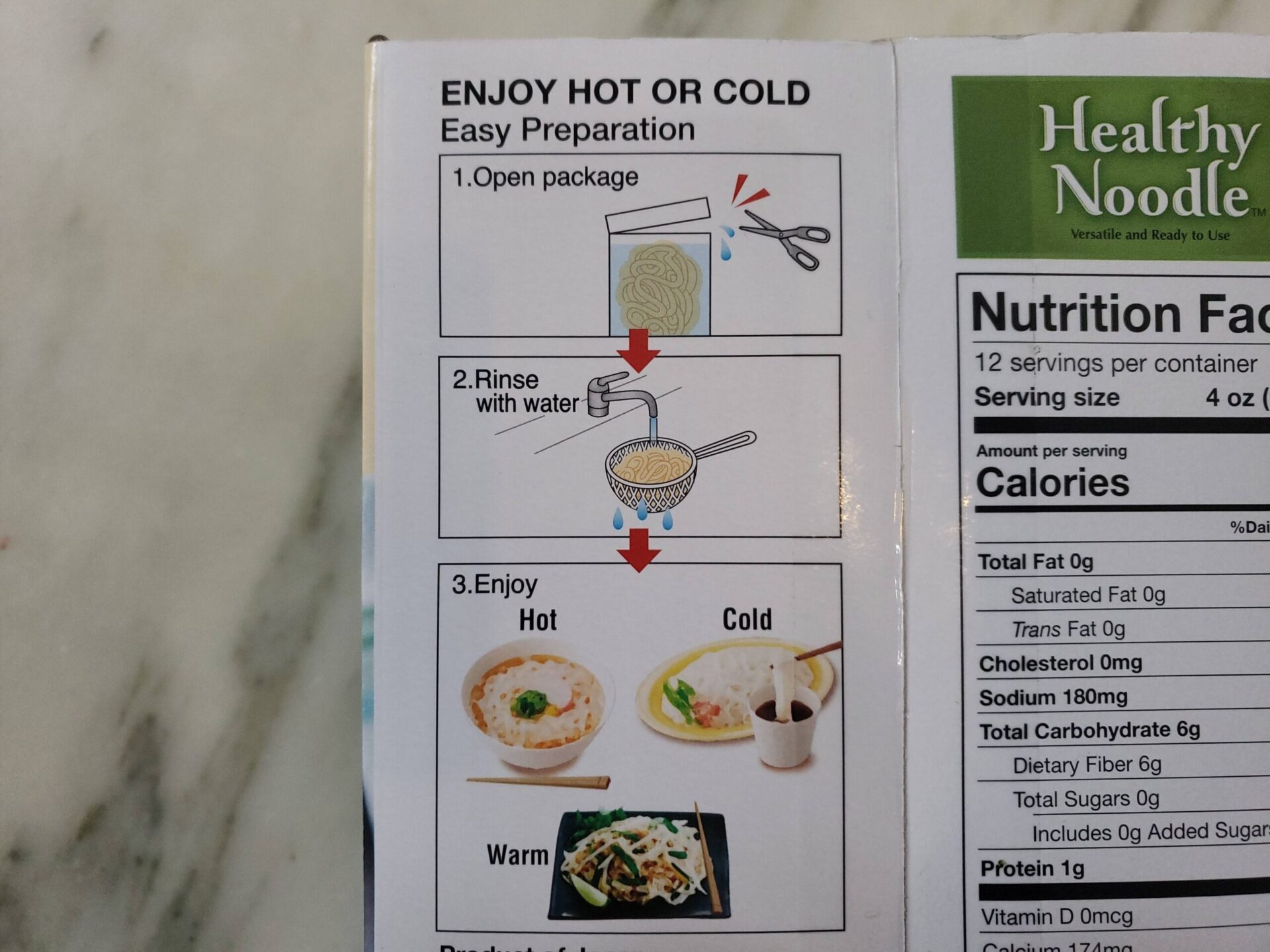 Even though I didn't enjoy the noodles, I will say that they are as easy to prepare as the box states.
Healthy Noodle Nutritional Facts & Calories
Excellent Nutritional Profile & Calories - Great Diet Food! (Keto Friendly)
This is where the noodles shine. Shirataki noodles are meant to be a healthy alternative to traditional noodles, and I think Kibun did a great job. One serving of Costco Healthy Noodles is 4 ounces or half a packet.
Each serving 4 oz serving contains:
Calories: 30

Total Fat: 0g (0% DV)
Cholesterol: 0mg
Sodium: 180mg (8% DV)
Total Carbohydrates: 6g (2% DV)
Dietary Fiber: 6g
Protein: 1g
This is one of the best nutritional profiles that I have seen at Costco. The 6 grams of fiber negate the 6 grams of carbohydrates which brings the net carbs down to zero! 
This is a keto friendly meal and you can eat 8 ounces of food for a total of 60 calories. 
Easy to Make Low Calorie Meals with Healthy Noodle
If you were to combine the noodles with a low-calorie sauce and a healthy protein such as chicken breast, you could potentially eat a large meal for 500 calories or less!
Healthy Noodles are a great diet food if you like the taste and texture.
They are an even greater diet food if you don't like the taste or texture, as you'll take just a few bites and have no desire to eat for the rest of the day.
Healthy Noodles from Costco - Ingredients
Before I purchased the box of Costco Healthy Noodles, I wasn't sure what exactly they were. After researching the noodles, eating them, and writing this post, I still don't know what they are made of. I'll just post the ingredient list here and let you all decipher this.
Water
Soybean Fiber Powder*
Cellulose
Sodium Alginate
Yam Konjac Powder
Calcium Chloride
Salt
*adds a negligible amount of sugar and contains a small amount of calories.
Contains: Soy
Can you freeze healthy noodles from Costco?
Kibun, the makers of Healthy Noodle, don't recommend freezing the noodles as it would change the texture and water content.
I think the noodles might benefit from going through a freezing and defrosting cycle if it helps remove some of the water and harden the noodles. I don't have the stomach to give it a try, but if any of you do, please let me know in the comments how it tastes after being frozen.
For your enjoyment, I've included the totally real and genuine testimonials printed on the box of Healthy Noodles from Costco.
I'll start by saying that I'm aware that I'm not the intended target for Costco Healthy Noodles. If I had a health need for a low-carb, low-calorie noodle then I think my outlook might change, but as of now I don't care for these Healthy Noodles one bit.
There is no taste, and the texture feels unique but unnatural. There is just something about these Healthy Noodles from Costco that just doesn't sit right with me.
If you do have the need for Healthy Noodles, the price seems right at Costco, and the nutritional profile is excellent, fantastic, amazing.
Costco Food Database User Reviews
Have you tried this item? Let the rest of the Costco Food Database community know what you think. Leave a rating and review for this product.
Low Carb Healthy Noodle Spaghetti and Meatball
Low Carb/ Keto Spaghetti and Meatball recipe using Healthy Noodles from Costco.
Ingredients
2

Packs

Healthy Noodle

1

Jar

Rao's Homemade Marinara

1/2

Pound

Kirkland Signature Organic Ground Beef

Parmesan

Optional

Parsley

Optional
Instructions
Pat dry Healthy Noodles to remove excess water and prevent the noodles from watering down the spaghetti sauce

Warm up Rao's Homemade sauce until a low simmer

Prepare homemade ground beef meatballs

Combine healthy noodles, rao's sauce, and cooked ground beef meatballs.

Top with parsley and paremsan for a low carb keto friendly meal.
Notes
Note: Nutritional information is for Healthy Noodles only. Any sauce or protein will add additional calories. 
Nutrition
Serving:
4
oz
Calories:
30
kcal
Carbohydrates:
6
g
Protein:
1
g
Fat:
0
g
Saturated Fat:
0
g
Trans Fat:
0
g
Cholesterol:
0
mg
Sodium:
180
mg
Fiber:
6
g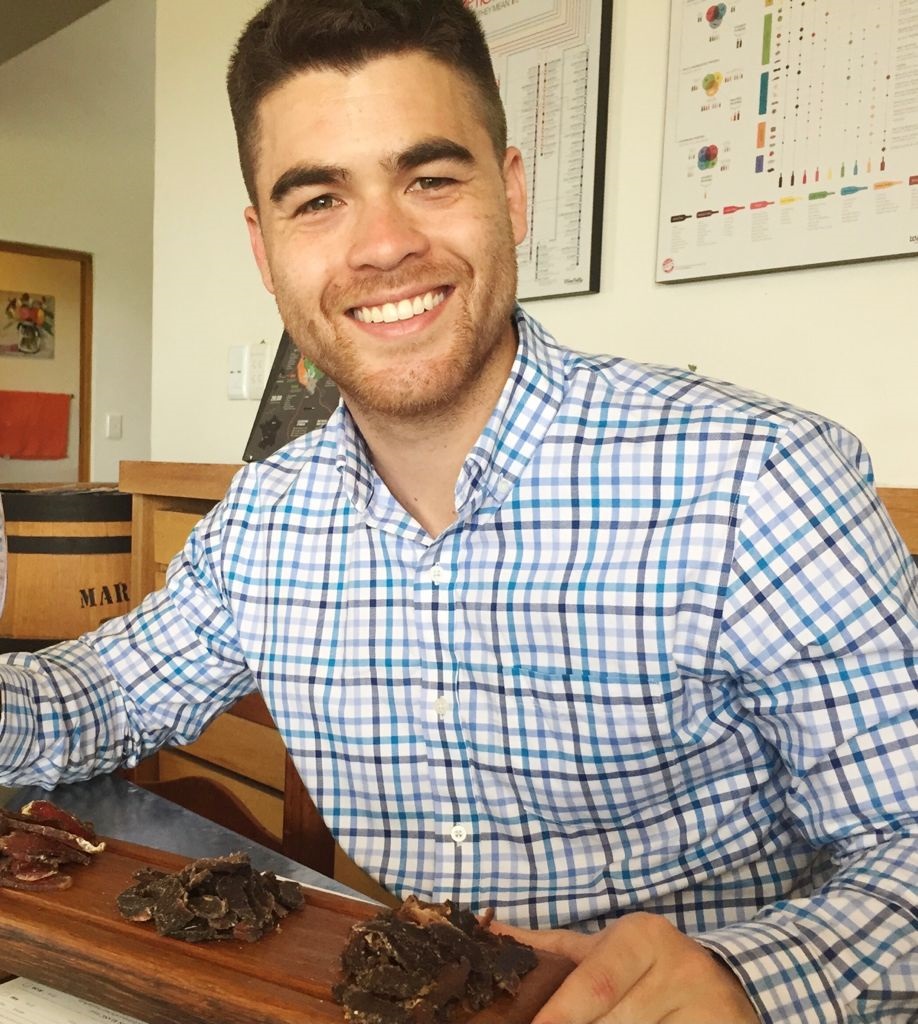 Greg Larkin is the founder and managing editor of Costco Food Database, the premiere site for honest takes on all things Costco food. A self-proclaimed Costco super-fan since childhood, Greg turned his obsession in a mission to properly rate and review all of Costco's delicious buys. When he's not busy navigating Costco aisles, you can find Greg smoking Kirkland Signature meats, meal prepping, or perfecting his homemade jerky recipes.