Costco Teriyaki Marinade & Sauce (Kinder's) + Recipe Ideas
Kinder's Organic Teriyaki Marinade and Sauce is fantastic and one of my favorite sauces to buy at Costco. It goes great as a dipping sauce or a condiment and is a absolutely delicious.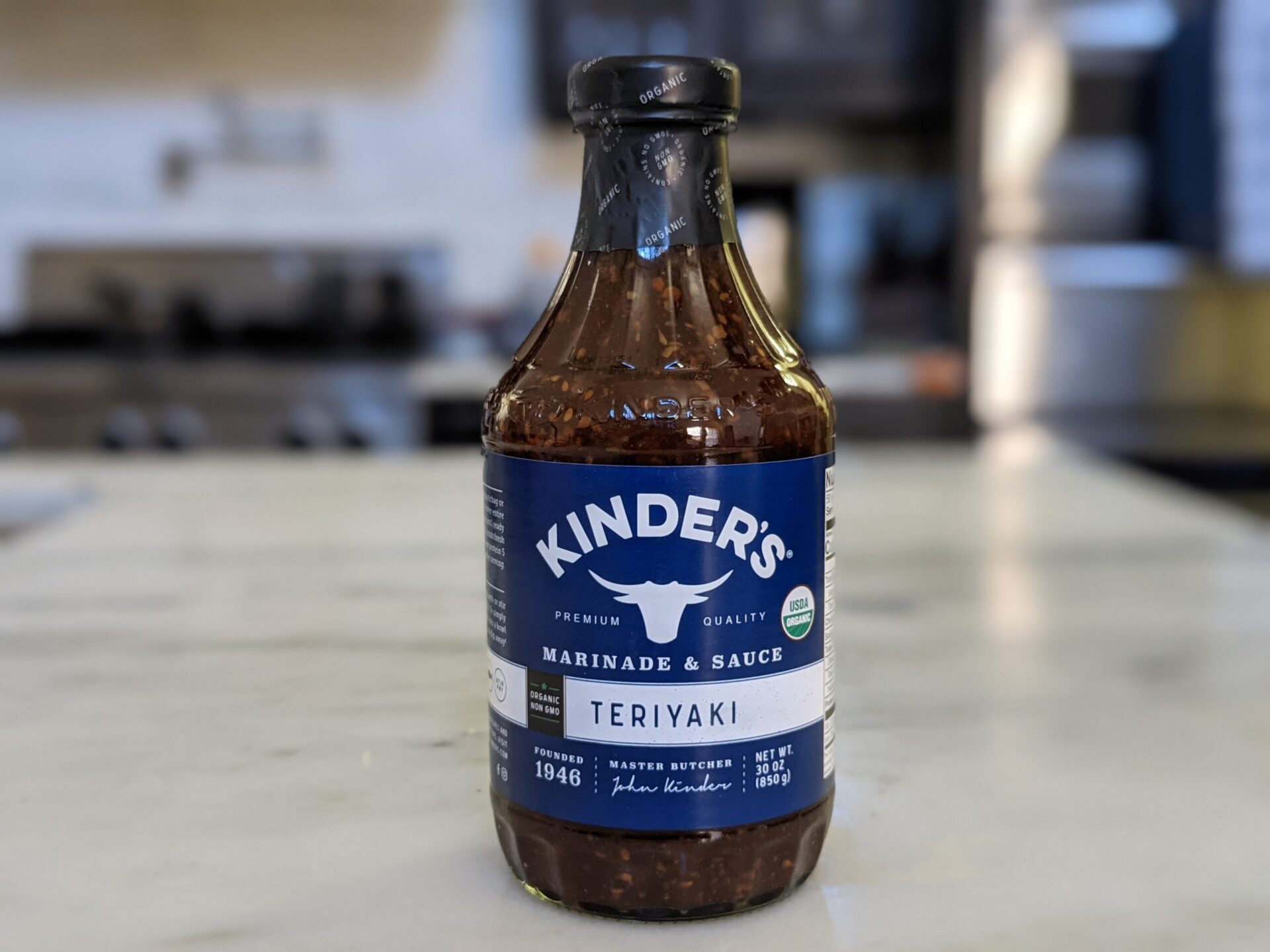 Kinder's Teriyaki Marinade & Sauce at Costco
Costco sells a 30 ounce jar of Kinder's Organic Teriyaki Marinade and Sauce for $4.99. These are located in the pantry and dry goods area of the store, often next to the other items such as the Hatch Chiles, Salsa, Japanese BBQ Sauce, and Buffalo Sauce.
Have You Tried Costco's Kinder's Teriyaki Sauce?
Let the rest of the Costco Food Database community know what you thought of this product. Results and reviews are at the bottom of this page.
Please allow 24 hours for review moderation and approval.
The teriyaki sauce is made by Kinder's who has quite a few sauce and seasoning products at Costco. They have this teriyaki sauce at Costco as well as a bbq sauce in the summer.
You can also find their seasonings and rubs year-round.
This won't be my first time tasting this sauce, I've actually been using it for years. When they go on sale, I will usually buy a few bottles or more. There are currently 4 bottles in my pantry right now!
How Much Does the Teriyaki Sauce at Costco Cost?
For $4.99 you get a 30oz bottle of Kinder's teriyaki sauce, and that breaks down to $0.16 an ounce.
Costco Italian Meatballs with Teriyaki Sauce
If you are the patient type, these go on sale fairly regularly and can be had for $3.50 a bottle after taking $1.50 off the retail price. This is a discount of 30% and brings the price per ounce down to $0.12.
This is a great price for a high quality teriyaki sauce.
Costco vs The Competition
Kinders.com sells a 14oz version of this same sauce for $5.99. That is a whopping $0.42 per ounce, which is nearly 4 times Costco's $0.12 an ounce. 
Sam's Club has a similar bottle of Kinder's teriyaki available for $4.98 which is the same price as Costco, but their bottle only contains 28.5 oz. You are going to get a few more ounces at Costco for the same retail price.
Costco's original price is going to be hard to beat, and when its on sale, the sauce is an absolute bargain. 
Costco Teriyaki Sauce First Impression
Simple and Effective Packaging
The packaging on this bottle is beautiful. The packaging is simple and straightforward. No marketing claims, but they do heavily advertise their brand. 
Kinder's seems to want to strengthen their brand and sell the teriyaki sauce off that. They mention the founder John Kinder, the year the company was founded and they tell the Kinder story. 
The sauce itself looks very good in the bottle. The Costco teriyaki sauce is a very nice and rich dark brown color. There are a myriad of sesame seeds evenly distributed throughout the bottle. 
The nutty flavor of the sesame has always paired well with teriyaki and there are plenty of sesame seeds in this bottle. They definitely didn't skimp out! 
The Kinder Organic Teriyaki Sauce is actually quite thick. Most teriyaki marinades are liquidy, but this has a texture that is closer to a bbq sauce.
My first assumption when I see a sauce that is on the thicker end is that it should be used as a sauce or even a condiment. Thicker sauce seems less likely to penetrate very far into the meat as a marinade.
I'm not an expert by any means, but that would be my general rule, that more liquidy sauces make better marinades. 
Either way, the label does state this could be a marinade or sauce and even prints a short paragraph stating how to use this sauce as a marinade. Both times marinade is mentioned higher or before sauce on the label.
When I review items from Costco, I like to explore and taste all the recommended uses of the item. I have cooked with this and other teriyaki marinades before and have not had good results.
For me, teriyaki sauce is more of a finishing sauce than a marinade. Teriyaki as a marinade burns too easily and its almost unavoidable because of the sugars in the sauce.
The sauce seems too thick for my liking as a marinade and it seems like a lot of sauce will be unabsorbed in the meat and wasted as well. I'm going to pass on reviewing this particular Costco teriyaki sauce as a marinade.
Kinder's Teriyaki Sauce - Taste Test
For my first test, I took some leftover steak bites and reheated them mostly through in the air fryer. When nearly fully heated, I brushed some of the Costco teriyaki sauce onto the steak and placed it back into the air fryer for a few minutes. 
This allowed the sauce to really crisp up and caramelize around the steak bites. Teriyaki sauce burns rather easily, and I only left them in the air fryer just long enough to caramelize. 

I paired the steak bites with just some rice and drizzled a little more teriyaki sauce over the bowl. I then topped it with some sesame seeds I purchased from Costco. 
While the bottle does contain sesame seeds, they are all covered in teriyaki sauce, and for presentation purposes the dish looks much better when garnished with clean sesame seeds. 
The steak came out delicious. The Costco teriyaki sauce added quite a bit of sweetness and saltiness to the meat and the dish. It added a ton of flavor to a plain and boring weeknight leftover meal.
My second test was to try this with some Costco chicken wings. I'm usually a buffalo wing guy, but I don't mind a good bbq or teriyaki wing every once in a while. 
I cooked my wings in the air fryer and sauced at the end. Typically I like to coat the food with teriyaki sauce and then cook it for a few minutes longer to caramelize it. 
It enhances the dish significantly if the teriyaki can be cooked into the meat just a little bit. 
When I was making these chicken wings, I did forget to actually place them back in the air fryer after coating them with the Kinders teriyaki sauce. I was too excited to eat them! I took some pictures and tried one of the wings before I realized my mistake. 
I popped the rest of the batch back into the air fryer to finish off cooking the sauce around the wing. 
The first wing I ate had just teriyaki sauce and wasn't heated with the sauce at all. The wing tasted as if it was covered in the sauce and not actually one with the sauce. 
When cooked with the sauce for just a few minutes, the wings became 10 times better. The sauce caramelized with the chicken and created a sticky and dry chicken wing.
All the sweet, salty, and umami flavors were there, but now each bite felt cohesive. And not only did they taste much better, they also looked much better! 
All chicken wing images are topped with additional sesame seeds for presentation.
I also tested the Costco teriyaki sauce with Costco's frozen salmon fillets and it came out very well! The teriyaki was great with the salmon flavor and the cook was extremely easy in the air fryer. 
My big mistake with the teriyaki salmon was not putting the sauce on sooner in the cooking process. I was worried about the sauce burning and only coated the salmon with a few minutes left of cook time. 
Once I pulled it out, I didn't want to sacrifice the salmon for a more caramelized teriyaki sauce so I ate it as is. Still very good, but could have been much better. 
Costco does already sell AmyLu teriyaki meatballs, but if you don't want to buy a large pack of teriyaki meatballs or if you want to just make your own, you can always go with Costco's large bag of Italian Meatballs.
The meatballs are fantastic when covered with teriyaki sauce and slow-cooked. It takes a few hours for the meatballs to really take in the teriyaki flavor, but it is so worth it, and so delicious.
How Many Calories in Kinder's Teriyaki Sauce?
One serving size of Kinder's teriyaki sauce from Costco is 1 Tbsp and contains 25 calories. There are 50 servings in the entire bottle. There is no fat or protein in the sauce, and instead all the calories will come from the 6g of carbs which include 5g of added sugar. 
Teriyaki sauce is sweet and salty so therefore it's going to contain sugars and sodium. There is no way around that with teriyaki sauce. You don't need to use a lot of sauce to really to coat or cover your foods, so the sugars here don't bother me too much. 
The nutritional issue will be with the sodium as there is 370mg per serving. This is 16% of your recommended daily value per serving of Costco teriyaki sauce. One or two tablespoons of sauce should be enough to coat and flavor your food, but that is still quite a bit of sodium per serving.
I am a big fan of Kinder's Teriyaki Sauce. The flavors are on point. The sauce tastes both sweet and salty and goes great with a variety of foods and meats. The sesame seeds are a very nice addition to the sauce and help elevate it above other store bought teriyaki sauces. 
I personally have not had good experiences in the past with this teriyaki sauce as a marinade and and no longer use it as such. If you have any tips on how to better use this as a marinade, feel free to let me know in the comments. I would love to give it a try!
Costco Food Database User Reviews
Have you tried this item? Let the rest of the Costco Food Database community know what you think. Leave a rating and review for this product.