Costco Yakisoba Stir Fry + 5 Tasty Pro Tips
Yakisoba Stir Fry with Chicken at Costco
Costco sells their premade Yakisoba Stir Fry with Seasoned Chicken Meal for $22-$25 per package. The stir fry meal can be found in the refrigerated deli area of the warehouse next to some of the other premade items such as the macaroni and cheese, street tacos, and the chili.
Costco's Yakisoba Stir Fry Meal comes with Asian-style noodles, seasoned boneless chicken thighs, and a variety of vegetables, including red onions, broccoli, celery, carrots, snap peas, and red & yellow bell peppers.

Have You Tried Costco's Yakisoba Stir Fry?
Let the rest of the Costco Food Database community know what you thought of this product. Results and reviews are at the bottom of this page.
Please allow 24 hours for review moderation and approval.
What is Yakisoba Stir Fry?
Yakisoba is a Japanese stir fry or essentially fried noodles. It is usually made with soba noodles as well as diced pork and chopped vegetables such as cabbage, onion, bean sprouts, and carrots.
History of The Costco Yakisoba Stir Fry
Costco Has Made Changes Over The Years
This is my first time purchasing Costco's Yakisoba, but it is something that I have walked by and been intrigued by for a few years now. Over the years, I have noticed some significant changes with the yakisoba.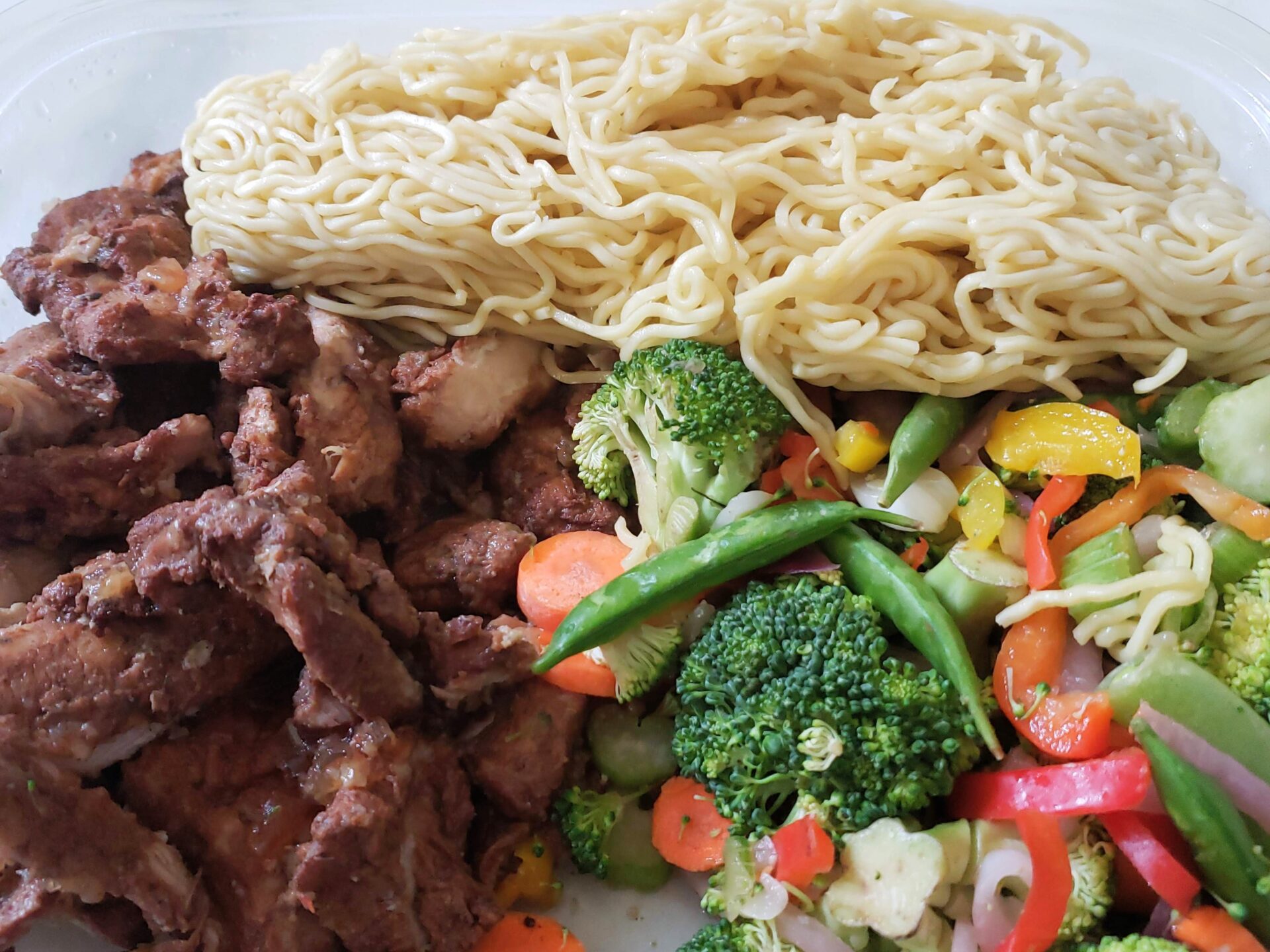 Costco Changed The Yakisoba Stir Fry Kit From Rotisserie Chicken to Seasoned Chicken Thighs
The most significant change is that there was a time in the past when Costco used rotisserie chicken instead of seasoned boneless chicken thighs as they do now.
I have read online that the change to seasoned chicken thighs has been quite the upgrade. Many Costco members felt that the rotisserie chicken was out of place in this style of meal.
Costco Has Increased The Price From $4.49/Pound to $6.49/Pound
Additionally, the price has gone up quite a bit recently. I find the current price of $6.49 a pound to be high, and it's definitely higher than it was a few years ago at $4.49 a pound.
I understand that inflation may be the cause of this, but this is still a 50% price increase. Seems a little much to me.
Does The Costco Yakisoba Stir Fry Kit Include Balanced Proportions?
The Yakisoba Noodle Kit Includes Approximately 1 Pound of Noodles, 1 Pound of Chicken, 1 Pound of Vegetables
For $22, I am clearly getting quite a bit of food. I did notice there is a significant portion of meat as well as vegetables in the meal.
I did end up weighing the individual ingredients, and out of my 3.5-pound package, I received just about 1 pound each of noodles, meat, and vegetables.
The remaining half pound was made up from the yakisoba sauce.
From the looks of it, there may not be enough noodles to go around for all the meat and vegetables, but we shall see.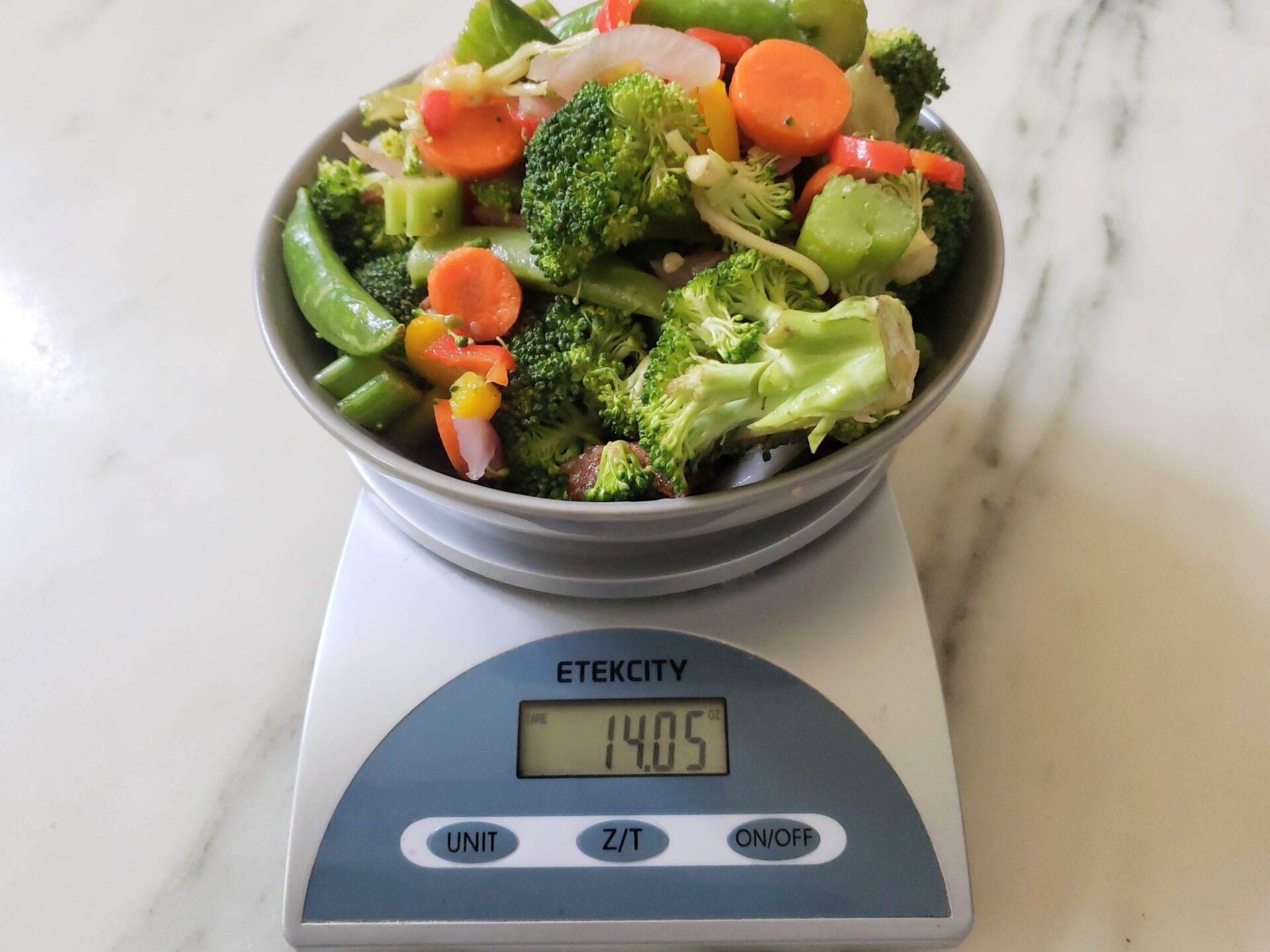 How Much Does Costco's Yakisoba Stir Fry Cost?
Costco's Yakisoba Stir Fry Costs $6.49 a Pound
Costco sells its premade Yakisoba Stir Fry for $6.49 a pound or about $22-$25 per package. This still beats getting takeout from a restaurant, but it is expensive at $6.49 a pound.
I finally pulled the trigger on these noodles today after passing by them hundreds of times because Costco took $4 off per package. This brought my price down from $22.91 to $18.91, and another way to look at it would be the per pound price dropping from $6.49 to $5.36.
The $5.36 per pound price is still much higher than what these initially sold for at $4.49 a pound.
Yakisoba Stir Fry - Taste Test
I followed the heating directions provided by Costco and cooked a batch of noodles in a little over 5 minutes. The directions were easy to follow, and I am pleased with how the noodles came out.
I was even able to adjust and customize portion sizes and ingredients. I'll talk a little about that in the Cooking and Improvement Pro Tips Section.
Visually, the noodles, meat, and vegetables all looked fantastic. The vegetables were fresh, and everything looked great.
The noodles had a nice dark brownish color from the sauce and looked very much like traditional yakisoba noodles.
Be Cautious With The Sauce
Everything was great for taste, but I must mention that I didn't use all of the provided sauce. After cooking the entire package, I only used 1 cup of sauce, and the other cup was completely untouched. 
I've read a lot online about how many people think the stir fry can come out quite salty, so I wanted to ensure that I avoided that situation. 
Remember, you can always add in more sauce, but you can't take it out.
Even after using only half of the sauce, I enjoyed the meal. The sauce gave the noodles a slightly salty, slightly sweet taste that complimented the meat and veggies very well. 
The meat was super tender and flavorful. Costco's choice of chicken thighs was great due to how forgiving they are when being cooked. 
The vegetables also cooked up very nicely and had a nice flavor. The veggie texture was on point, and each of the vegetables went great in the stir fry.

The meal was great, and my family and I enjoyed it. The noodles were tasty, the chicken thighs were tender, and the veggies were fresh. There isn't really a lot more you can ask for.
I did make some modifications to the dish, and more information about that will be provided below.
How to Cook Costco Yakisoba Stir Fry
I have to give props to Costco for this prepared meal, as they made it easy to cook up this yakisoba stir fry. It took me less than 10 minutes to get the dish from the package to the plate, and it was really easy to cook.

Yakisoba Stir Fry Cooking Instructions:
Using a large saute pan, heat the pan to medium-high.

Add 2 tbsp of oil. 

Add vegetables and cook for 2 minutes. 

Add the chicken and cook for 2 minutes.

Add the noodles and sauce and cook for 1 minute until the internal temperature reaches 165°F
5 Cooking and Improvement Pro Tips
1. Use The Sauce Sparingly
As I mentioned in the Taste Test portion, the sauce is quite salty, and I didn't have to use a lot to get a ton of flavor back. I highly recommend not using both cups of sauce they provide. One to one and a half cups of sauce will be plenty.
Save the rest to use in your other cooking. I liked the sauce in some fried rice I made.
For a big flavor boost and a little bit of spiciness, go ahead and add in some sriracha sauce. The flavor profiles go great together, and a little kick is always nice.

3. Slice The Chicken and Vegetables
Costco does a great job of including a variety of vegetables and a hearty chicken portion, but they could do a little bit better job slicing up the meat and some of the broccoli pieces. 
I don't want large pieces of chicken or broccoli in my stir fry, and I took a few minutes while the pan was heating to cut down some of the ingredients to more bite-sized portions.
This makes the meal much more enjoyable.
4. You Don't Have To Cook It All At Once
This is a stir fry, but you don't have to cook it all at once. It's a large tray of food and will remain perfectly fine in your refrigerator for a few days. My package had a sell-by date that was 3 days from when I bought it. 
This is nice because you can cook a stir fry meal today and wait a few days before cooking another batch.
5. Customize According To Your Taste
A great benefit of cooking your stir fry is that you can customize each dish. I didn't cook all of the food at once (It would require a huge pan or wok), and what I did do was adjust the portions for the person I was cooking for.
My wife doesn't like extremely salty food, so I used a little less sauce with her portion and even gave her some of my vegetables (I'm a nice guy like that).
For my portion, I added a little more chicken and a little more sauce. The beauty of this dish is that you can control the amount of each ingredient. I am a big fan of customizability.
Costco Yakisoba Stir Fry Nutritional Information and Calories
Each Serving of Yakisoba Stir Fry Has 240 Calories
One serving of Costco's Yakisoba Stir Fry will be 1/8th of the tray (6.75 ounces) and will contain 240 calories.
Those 240 calories will come from 5 grams of fat, 29 grams of carbs, and 15 grams of protein.
Nutrition Facts
Costco Yakisoba Stir Fry
Amount per Serving
% Daily Value*
* Percent Daily Values are based on a 2000 calorie diet.
This is the information provided by Costco, and I am shocked to see how few calories are actually in this dish.
I would have expected a serving of this size to be closer to 400 calories with much more fat, carbs, and protein.
When I was eating this, it was clear that it was quite salty. According to the nutritional label, each serving will have 1010 mg of sodium or 44% of the daily recommended intake.
This is an extremely high amount and even quite concerning, considering that I ate about 2 or 3 servings for my meal. Be very aware of your sodium intake when eating this yakisoba stir fry.
Costco Food Database User Reviews
Have you tried this item? Let the rest of the Costco Food Database community know what you think. Leave a rating and review for this product.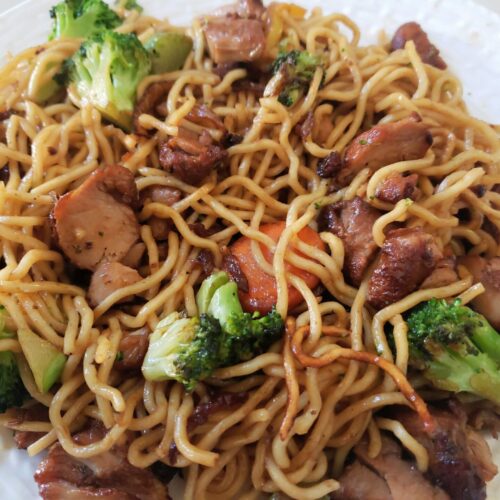 Pro Tips for Costco's Yakisoba Stir Fry
Costco's Yakisoba Stir Fry prepared meal is a fantastic easy weeknight meal, but it can be significantly improved with just a few tips.
Ingredients
1

Pack

Kirkland Signature Yakisoba Stir Fry

2

tbsp

Cooking oil
Instructions
Using a large saute pan, heat the pan to medium-high.

Chop chicken and broccoli to more manageable pieces.

Add vegetables and cook for 2 minutes.

Add the chicken and cook for 2 minutes.

Add the noodles and sauce and cook for 1 minute until the internal temperature reaches 165°F
Nutrition
Serving:
6.75
oz
Calories:
240
kcal
Carbohydrates:
29
g
Protein:
15
g
Fat:
5
g
Saturated Fat:
1
g
Trans Fat:
0
g
Cholesterol:
55
mg
Sodium:
1010
mg
Fiber:
1
g
Sugar:
7
g