Costco Beef Pot Roast - Tasty, but is it Just Shredded Beef?
Mission Hill Bistro Beef Pot Roast at Costco
Costco sells a pre-packaged heat and eat Beef Pot Roast meal for $6.59 a pound.
The Pot roast can be found in the refrigerated deli area near other meal items such as the Healthy Noodle, Chicken Shawarma, and the Pork Buns.
The Beef Pot Roast comes in an approximately 2.5 pound package and is made with USDA choice Beef. Costco's pot roast includes home style gravy and is fully cooked. 
There is no added MSG, no soy, no milk, no wheat, no egg, and is gluten free.
What's included in Costco's Beef Pot Roast?
Mission Hill Bistro's pot roast from Costco is only going to include the beef and the home style gravy.
It is not going to include many of the other traditional pot roast ingredients such as onions, carrots, red wine, and other seasonings.
If you want a more authentic pot roast, then you would have to cook these ingredients separately and add them in right before serving.
How Much Does the Beef Pot Roast at Costco Cost?
Costco sells the Beef Pot Roast for $6.59 a pound and each pot roast comes in an approximately 2.5 pound package. My total for the beef pot roast dish was $16.48.
This seems to be a fair price for USDA choice beef pot roast. Costco sells Chuck Roasts, which are typically used for pot roast, for $4.49 a pound. 
There is $2 per pound upcharge to prep, season, and pre-cook the beef.
Costco vs The Competition
Costco Pot Roast vs Walmart Pot Roast
Walmart sells a 3.9 pound Pot Roast Kit with Vegetables for $21.76 or $5.58 a pound. This is more of a complete meal compared to Costco's beef pot roast, and it is cheaper in price thanks to the vegetables, which help bring the price per pound down.
It does seem to be the better deal as you would be getting all the ingredients needed for a full pot roast meal.
One big difference is that Walmart does not specify the grade of beef they are using in their pot roast, which leads me to assume it below USDA Choice.

Costco Beef Pot Roast Cooking Options
I cover the full cooking directions below, but the choices to cook Costco's pot roast are to either microwave the beef or boil it directly in its bag.
Neither option is ideal, but I opted to boil the bag of beef and gravy.
Boiling the pot roast bag was rather easy, but it did expand and inflate due to the heat. I was constantly worried throughout the cook that the bag may burst, and I would lose my dinner. 
This turned out to be an unnecessary concern as the bag held up quite well.
Opening the bag was another interesting experience. I tilted the bag over a large bowl and cut a slit open to let the gravy/juices drain out before cutting a little more to let the pot roast out. 
It wasn't necessarily visually pleasing, and Gordon Ramsay would probably liken it to the water breaking during an animal birth. 
I used two forks to shred the beef pot roast and it was surprisingly more difficult than I thought it would be. 
The meat wasn't falling apart easily, and I had to use some force to shred or even rip the beef apart.
Costco Beef Pot Roast Taste Test
The homestyle gravy for the pot roast was mediocre. There was some beefy flavor in the juice, but it did lack the depth of flavor that a traditional pot roast gravy will provide.
While the pot roast was hard to shred, it was actually quite tender. The beef was moist, soft, and tasty. There was a decent amount of beef flavor in each bite. 
The beef pot roast definitely exceeded my expectations in terms of tenderness.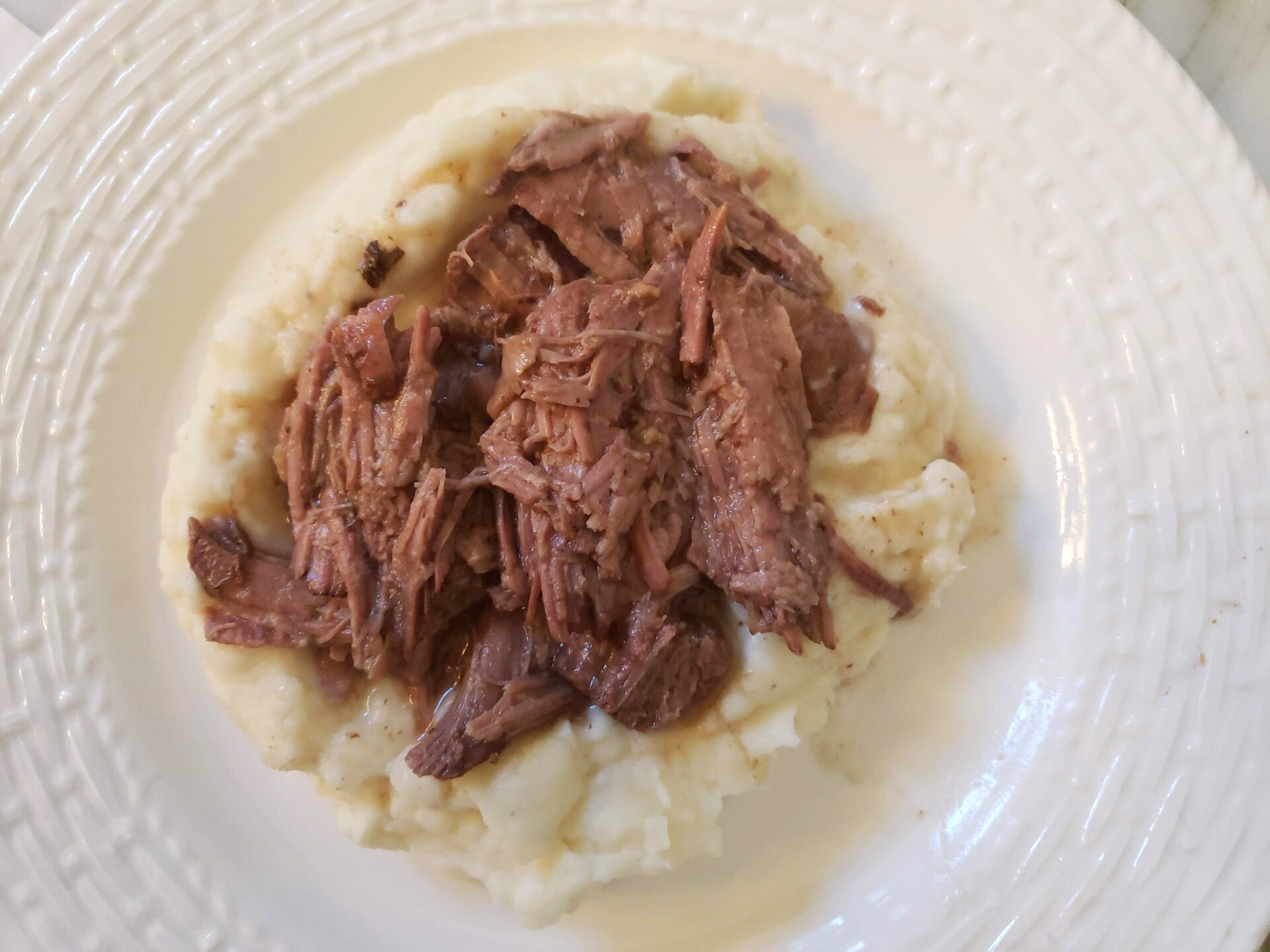 I ate the pot roast over some of Costco's mashed potatoes and it was a great combination. The beef gravy soaked into the mashed potatoes very nicely and overall the meal was solid.
The meal isn't the greatest pot roast I've ever eaten, but it's also not terrible. It's fine for what it is, which is a 25 minute beef pot roast.
Beef Pot Roast Cooking Instructions
How To Cook the Pot Roast from Costco?
Mission Hill Bistro lists two different methods to cook their Pot Roast from Costco. You can either microwave the pot roast or boil it in the bag that it came with. 

To be honest, none of those options are appealing to me. I avoid the microwave whenever possible, and it doesn't sound exciting to eat a pot roast that was boiled in a bag.
Unfortunately, those are the only two options that Mission Hill Bistro provides.
Remove Outer Sleeve.

Leave the reheat pouch with the meal in the tray. 

Cut 4 small holes in the top of the reheat pouch for ventilation. 

Microwave on high for 8-10 minutes. 

Cut end of pouch with scissors and empty tray for serving.
Remove outer sleeve.

Remove the reheat pouch from the tray and place into a 4 quart saucepan.

Cover the pouch with 2.5 quarts of water.

Bring the water to a boil and boil for 20-25 minutes.

Carefully remove the pouch from boiling water.

Serve.
If the product is frozen, double the heating time. Appliances vary. 

How Many Calories in Mission Hill Pot Roast from Costco?
One serving of Costco Beef Pot Roast is going to be 4 ounces or one "slice". Each 4 ounce serving contains 150 calories coming from 4.5 grams of fat, 2 grams of carbs, and 23 grams of protein.
This is a solid nutritional profile. The beef pot roast contains a large amount of protein while keeping the fat and carbs down. 
This is mostly just beef, so the nutritional profile is as it should be, but it's always nice when a prepared meal provides a respectable nutritional profile.