Costco Grilled Cheese Sandwiches - Are They Worth It?
Lily's Grilled American Cheese Sandwiches at Costco
Lily's grilled American cheese sandwiches are a no-prep, no-mess alternative to making grilled cheese sandwiches at home.
The sandwich eliminates all prep time and can be cooked and ready to be eaten in about 5 minutes.
Have You Tried Costco's Grilled Cheese Sandwich?
Let the rest of the Costco Food Database community know what you thought of this product. Results and reviews are at the bottom of this page.
Please allow 24 hours for review moderation and approval.
Lily is a company founded by moms who want to feed families nourishing foods with quality ingredients.
They also believe that every child should have access to a nutritious lunch, so they donate their grilled cheese sandwiches to elementary schools in disadvantaged communities. Great work!
Protein Discrepancy - 14 grams or 16 grams?
Something I noticed on the packaging for this Costco grilled cheese is that it advertises 14 grams of protein per sandwich on the front of the packaging. Sounds great, but the nutritional label says there are actually 16 grams of protein per grilled cheese.
I'm not sure exactly how much protein there is per sandwich, and I wonder if Lily's even knows? 
Cooking Options - Toaster Recommended
I go into the full cooking directions and alternative cooking directions later on in this post, but I do have to say that I am disappointed that there is only one heating method to cook these grilled cheese sandwiches and that is with the toaster.
I didn't bother to check the cooking directions before making this purchase, but I think it's important to know that the official recommended heating instructions require a toaster.


If you need alternative cooking options, please check out the cooking direction section below!


Sidenote: Are toasters the new fax machines? I know there will be plenty of people who own toasters, but to provide for the masses, you would think Lily's would offer alternative heating methods.
How Much Do Lily's Grilled Cheese Sandwiches at Costco Cost?
Costco sells the 8 pack of grilled cheese sandwiches for $9.49 or $1.19 per sandwich. This is a solid price for any type of frozen sandwich regardless of how basic it might be.
Costco vs The Competition
Lily's grilled cheese sandwiches are sold across the country at many typical grocery stores. On average, those stores charge $4.49 for a 2 pack of Lily's grilled cheese sandwiches.
This breaks down to a price of $2.25 each, nearly double Costco's price.
Lily's Grilled Cheese vs DIY Costco Grilled Cheese Sandwich
The grilled cheese will be the most basic of sandwiches as you are just melting cheese and toasting bread.
A pack of 2 loaves of bread can be purchased at Costco for about $4.50, and a 42-pack of individual cheese Tillamook slices goes for $9.49.
A loaf of bread has about 20 slices or 10 full sandwiches, and if you were to double up the cheese, you could make 20 grilled cheese sandwiches for about $14 or $15.
This breaks down to a price of $0.75, which is considerably cheaper than Lily's price.
Of course, their selling point is that there is zero prep time and zero mess. It doesn't take me long to put some cheese between bread, and I'm not the most careful person, but I don't really make a mess either with such a simple task.
As expected, going the DIY route and making your own grilled cheese sandwiches using Costco ingredients will be more cost effective. 
You will end up with a great tasting grilled cheese sandwich that is made with higher quality ingredients.
Lily's Grilled Cheese - First Impressions
The first thing I immediately noticed about the grilled cheese sandwich was how thin the sandwich was.
The bread didn't seem to be very thick and in its frozen state, and you couldn't see the cheese that was inside the sandwich.
2 Slices of American Cheese
After going through the microwave stage of the cooking process, I opened the sandwich, and it really was just some bread and American cheese. 
It's a pretty basic sandwich with an extremely basic cheese.
Costco Grilled Cheese Sandwich - Taste Test
I used my own air fryer cooking method to make these grilled cheese sandwiches, and they came out fine.
The bread was more than adequately toasted, and the cheese was melted. Air fryer cooking instructions are posted below.
For taste, it was simple but actually not bad tasting. The bread was crunchy and crispy and the cheese was gooey.
The two slices of American cheese were more than enough cheese for the sandwich, and I'm glad that Lily's didn't skimp on that.
I would have preferred a medium or sharp cheddar cheese instead to really give the sandwich some flavor.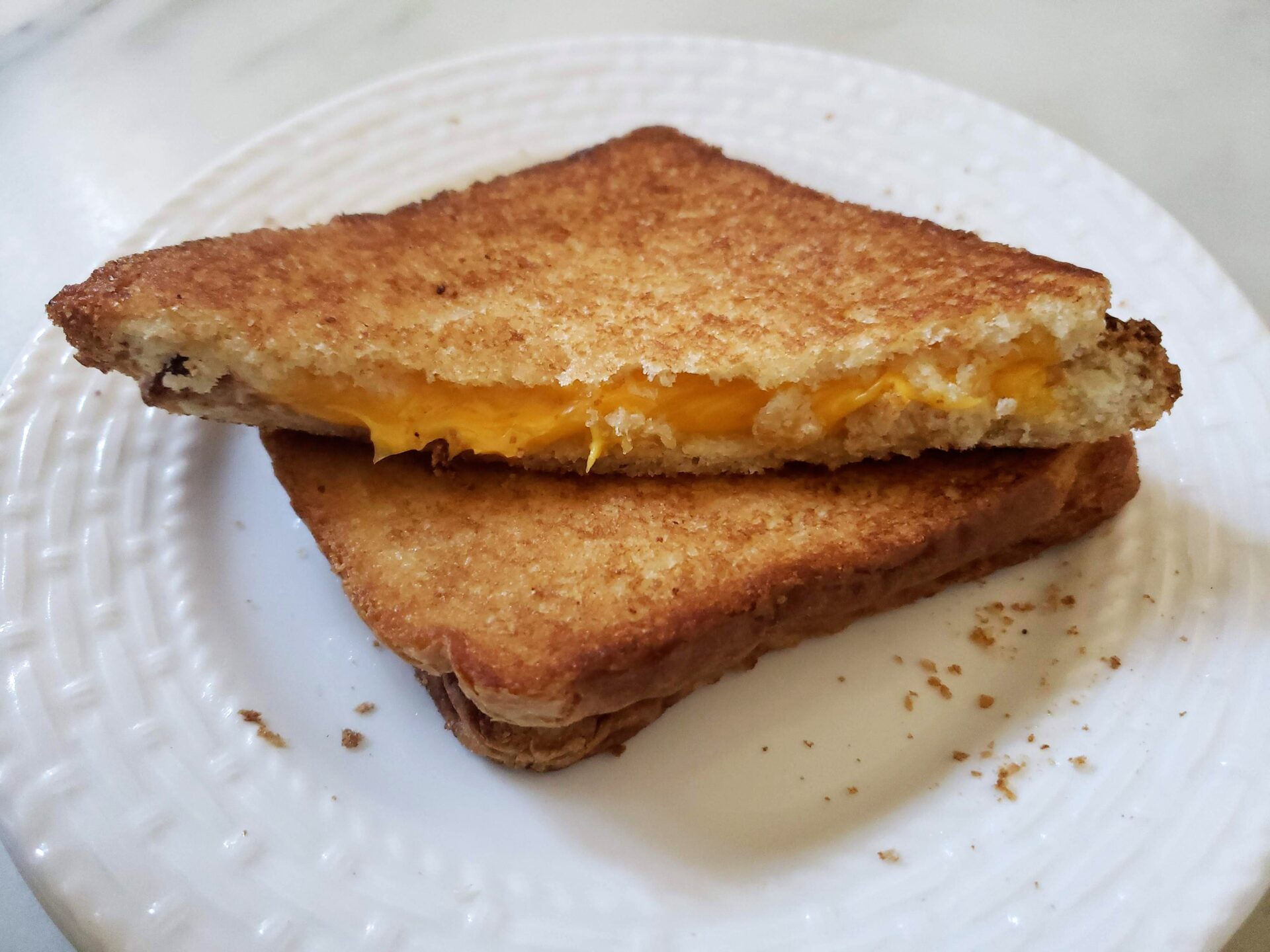 As a whole the sandwich is just ok. It will not win any awards and is acceptable for the $1.19 price tag, although you are better off making your own grilled cheese sandwich at home.
 
The grilled cheese sandwich can benefit from some much needed add-ons. 
How to Cook Costco American Grilled Cheese Sandwiches
Lily's only offers one method to heat their grilled cheese sandwiches: a combination of the microwave and toaster oven.
I don't own a toaster oven, so I had to improvise with my air fryer. I am including air fryer instructions as well as stovetop instructions to heat the sandwich if you don't have a toaster.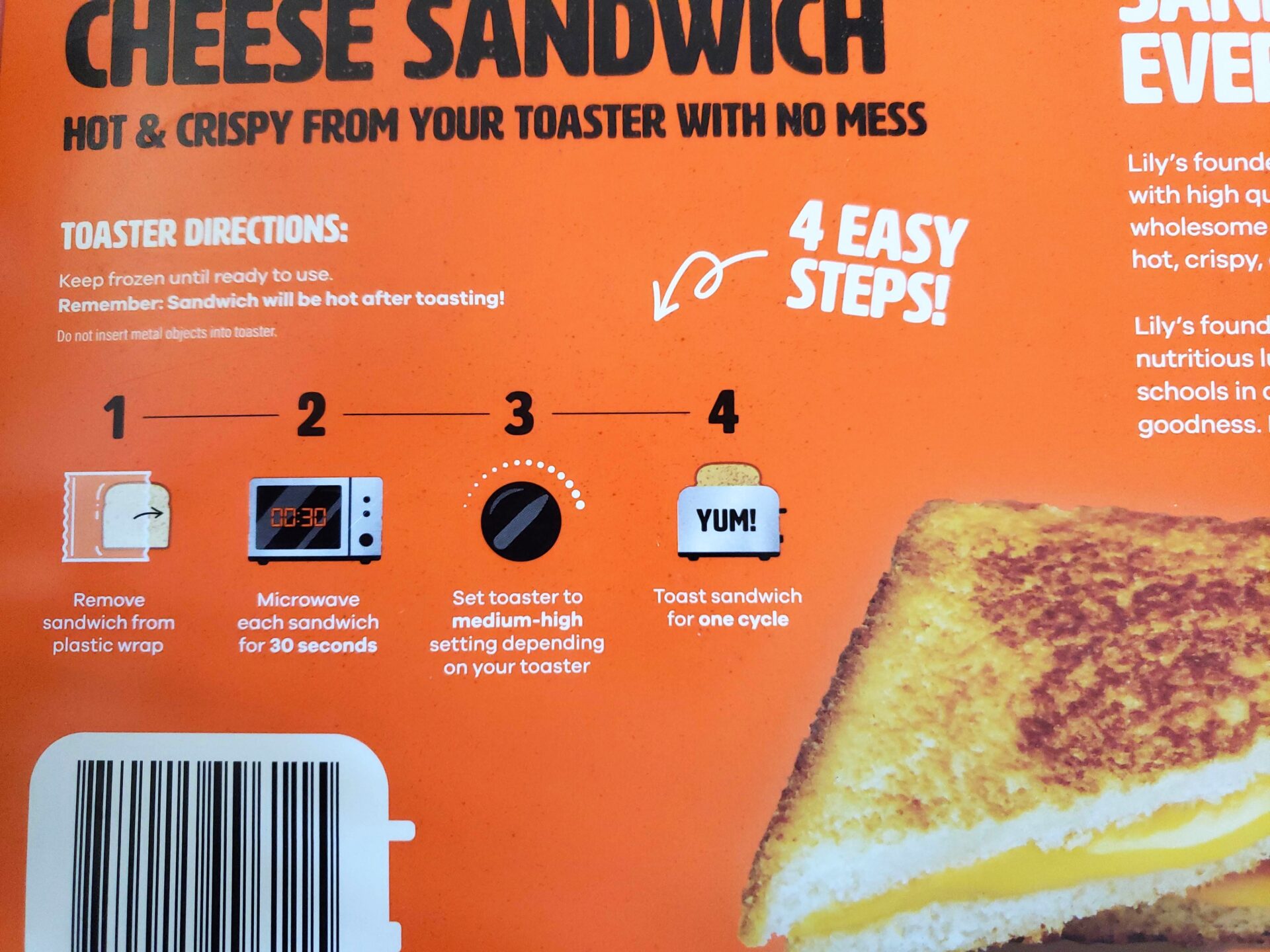 Remove the Sandwich from the plastic wrap.

Microwave each sandwich for 30 seconds.

Set the toaster to medium-high setting depending on your toaster.

Toast the sandwich for one cycle.

Keep frozen until ready to use. 
Remember: Grilled cheese sandwich will be hot after toasting!
I don't own a toaster, so I used my air fryer to reheat and crisp up the grilled cheese sandwich.
For both the air fryer method and stove top, I followed steps 1 and 2 of Lily's cooking directions which were to remove the sandwich from the plastic wrap and heat it up for 30 seconds in the microwave.
Remove the sandwich from the plastic wrap.

Microwave each sandwich for 30 seconds.

Preheat the air fryer to 350°F.

Cook for 5-6 minutes, flipping halfway through.
Remove the grilled cheese sandwich from the plastic wrap.

Microwave each Costco grilled cheese sandwich for 30 seconds.

Heat pan on med-high heat and spray with cooking oil or add 1/2 tablespoon of butter.

Cook until the cheese has melted and both sides are sufficiently toasted (approximately 5 minutes).
Lily's Grilled Cheese Sandwich Nutritional Information
Each Costco grilled cheese sandwich is going to contain 390 calories coming from 25 grams of fat, 34 grams of carbs, and 16 grams of protein.

Honestly, I was somewhat surprised by this nutritional label. The 340 calories seems a little high, and the 25 grams of fat really shocked me.
There is a lot of fat in cheese, but I expected closer to maybe 15 grams of fat or so.
Where Does The Fat Come From?
The Tillamook cheese that I purchased at Costco has 7 grams of fat, and even if I were to use 2 slices, that would only be 14 grams of fat. I'm not really sure where all this additional fat is coming from for these grilled cheese sandwiches.
Costco Food Database User Reviews
Have you tried this item? Let the rest of the Costco Food Database community know what you think. Leave a rating and review for this product.