Costco Mashed Potatoes - Serve at Thanksgiving?
Main St Bistro Mashed Potatoes at Costco
Costco sells 64 ounces or 4 pounds of Main St Bistro Mashed Potatoes for $7.49. The mashed potatoes can be found in the refrigerated deli area near other items such as the chicken sausage, carnitas, and the lobster ravioli.

Main St Bistro's Mashed Potatoes from Costco are all-natural, made with fresh potatoes and whole milk, and have no artificial colors, flavors, or preservatives.
The mashed potatoes are sold as a 4-pound package with two individual 2-pound trays of mashed potatoes.
Have You Tried Costco's Mashed POtatoes?
Let the rest of the Costco Food Database community know what you thought of this product. Results and reviews are at the bottom of this page.
Please allow 24 hours for review moderation and approval.
Main St. Bistro at Costco
The mashed potatoes aren't the only food item that Main St Bistro sells at Costco; they also offer scalloped potatoes and twice baked potatoes.

I'm hoping the mashed potatoes can redeem the brand.
Mashed Potatoes Ingredient List
Normally, I include the ingredient list near the end of the article with the nutritional information, but Main St. Bistro has claimed their mashed potatoes have no artificial colors, flavors or preservatives, so of course, I had to check it out.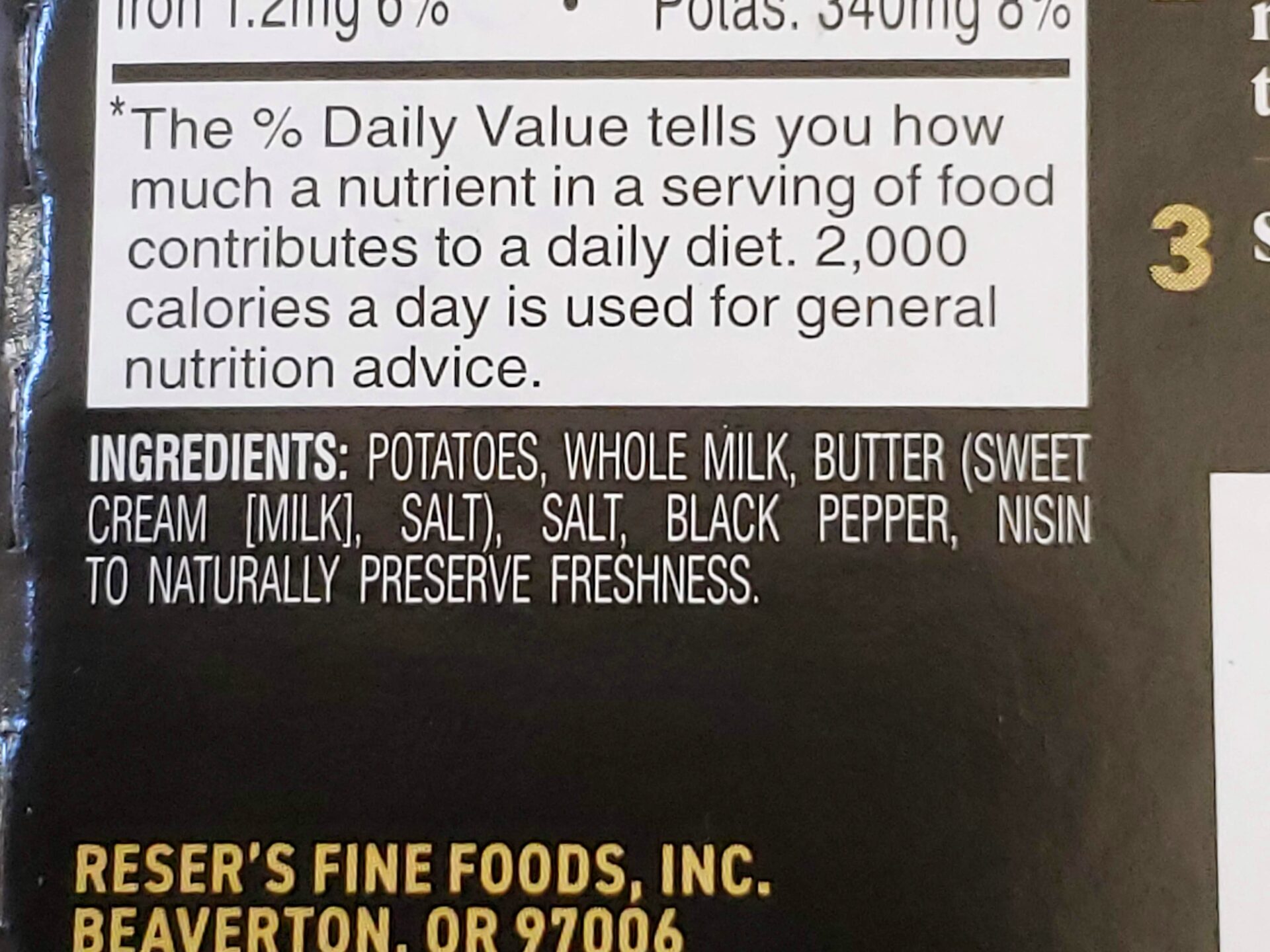 Their ingredient list, as you can see, is quite simple. The mashed potatoes have only 6 ingredients, and they are:


Potatoes

Whole Milk

Butter

Salt

Black Pepper

Nisin – to Naturally preserve freshness


Fairly simple ingredient list that looks very similar to the ingredient list you would use if you were to make the mashed potatoes from scratch. Very nice!
Costco Cost Comparison & Price
How Much Do The Mashed Potatoes at Costco Cost?
Costco sells the 64-ounce twin pack of mashed potatoes for $7.49. Each tray of mashed potatoes costs $3.75, and the per-pound price for the mashed potatoes will be $1.87.

As expected, this will be more costly than purchasing regular potatoes and making the potatoes yourself. In fact, it probably will be 2-3 more expensive than making homemade mashed potatoes from scratch.

Costco vs the Competition
Sam's Clubs sells their Member's Mark 4 pounds of mashed potatoes for the same price as Costco's at $7.49. The price is the same, but the ingredient list isn't as clean.
Target sells a 24-ounce package of mashed potatoes for $4.29. This is a per-pound price of $2.86 and is considerably more expensive than Costco's price.

Costco Mashed Potatoes Taste Test
For these mashed potatoes, I opted to heat them in the microwave. It took about 7 minutes, but it was straightforward and easy. Much faster than making mashed potatoes from scratch!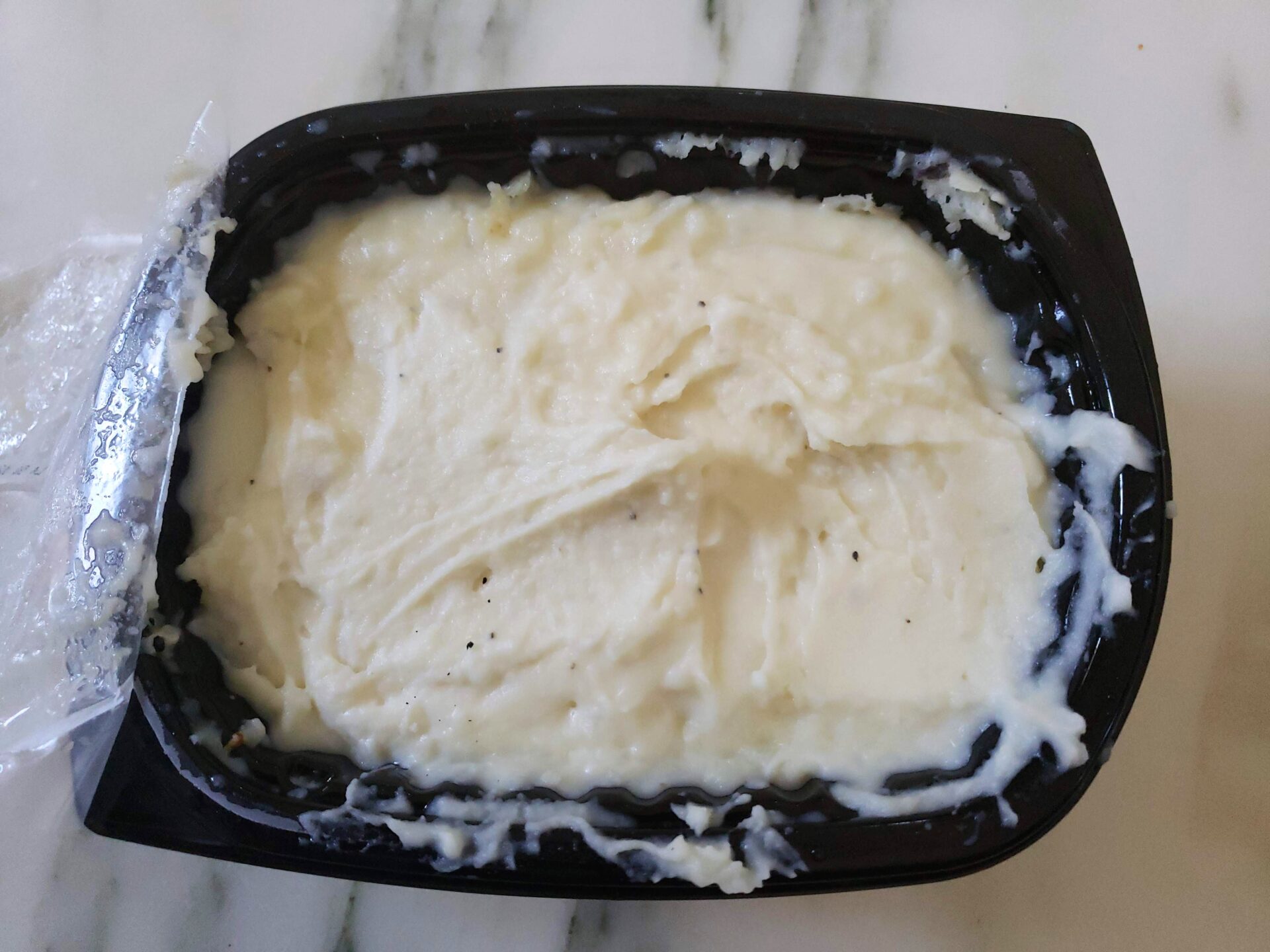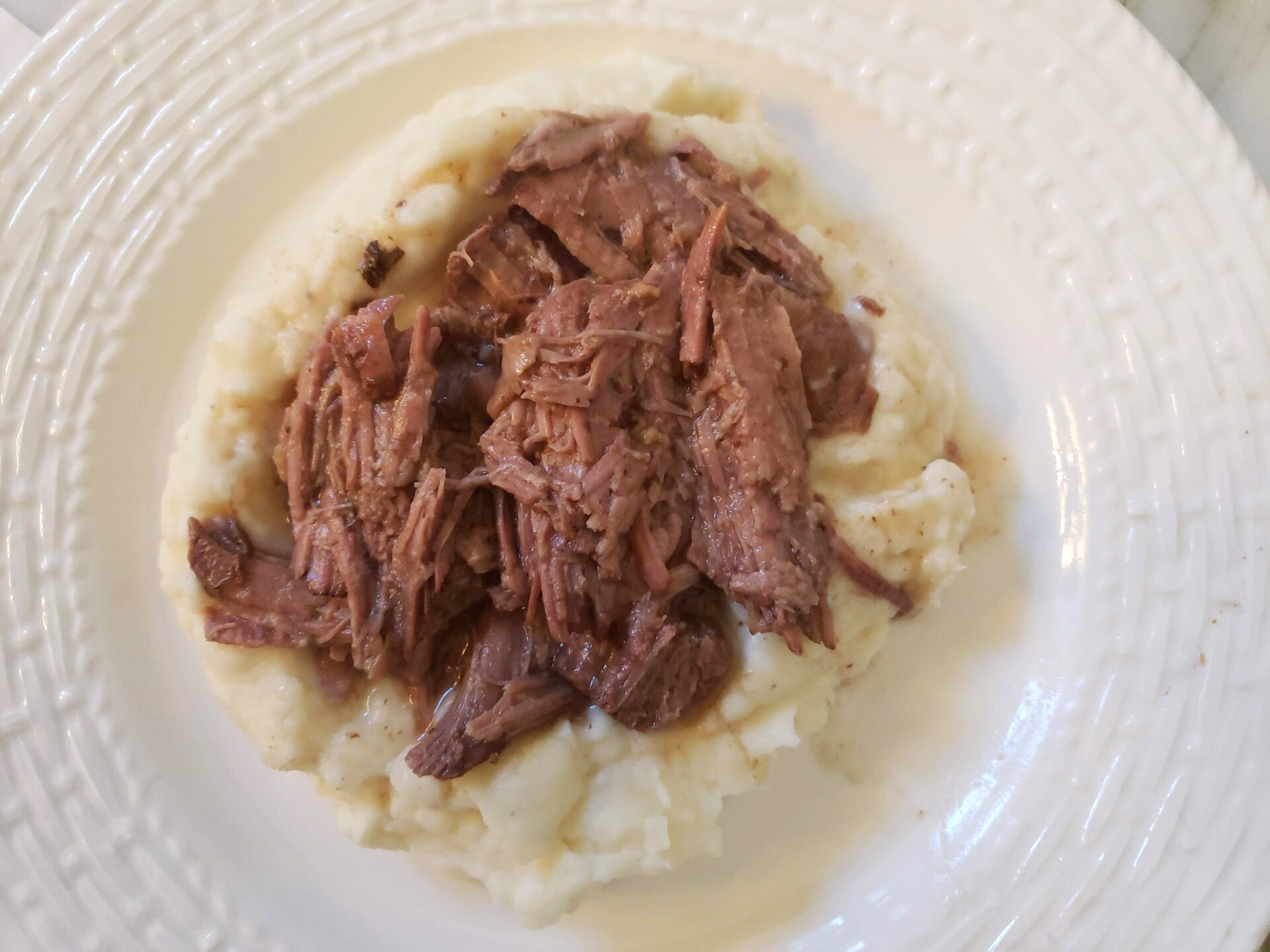 For both options, the mashed potatoes complimented the protein perfectly and made the meal rather enjoyable.

Mashed potatoes are one of those foods where you can get a good idea of the quality just by looking at them, and these Costco mashed potatoes look pretty solid.

They have a very nice pale cream color, and there was definitely some texture in the potatoes. There were also plenty of visible specks of pepper throughout.
My wife didn't care much for the mashed potatoes as she thought they were a little salty, but I didn't notice any problems with that.
The potatoes have an appropriate amount of salt and a robust butter taste.
If anything, the butter flavor was a little overwhelming. Not a deal breaker, but something that is noticeable.
Altogether, the mashed potatoes from Costco are solid. They aren't as good as homemade mashed potatoes, but they are easily a step above instant potatoes.
The mashed potatoes are enjoyable and a great addition to most meals.
How to Cook Costco Mashed Potatoes
How To Cook Main St. Bistro Mashed Potatoes?
Main St. Bistro lists two heating methods for the mashed potatoes: microwave and stovetop.
Usually, I avoid the microwave whenever possible, but their stovetop instructions do not seem to be intended to heat the entire 2-pound tray of mashed potatoes.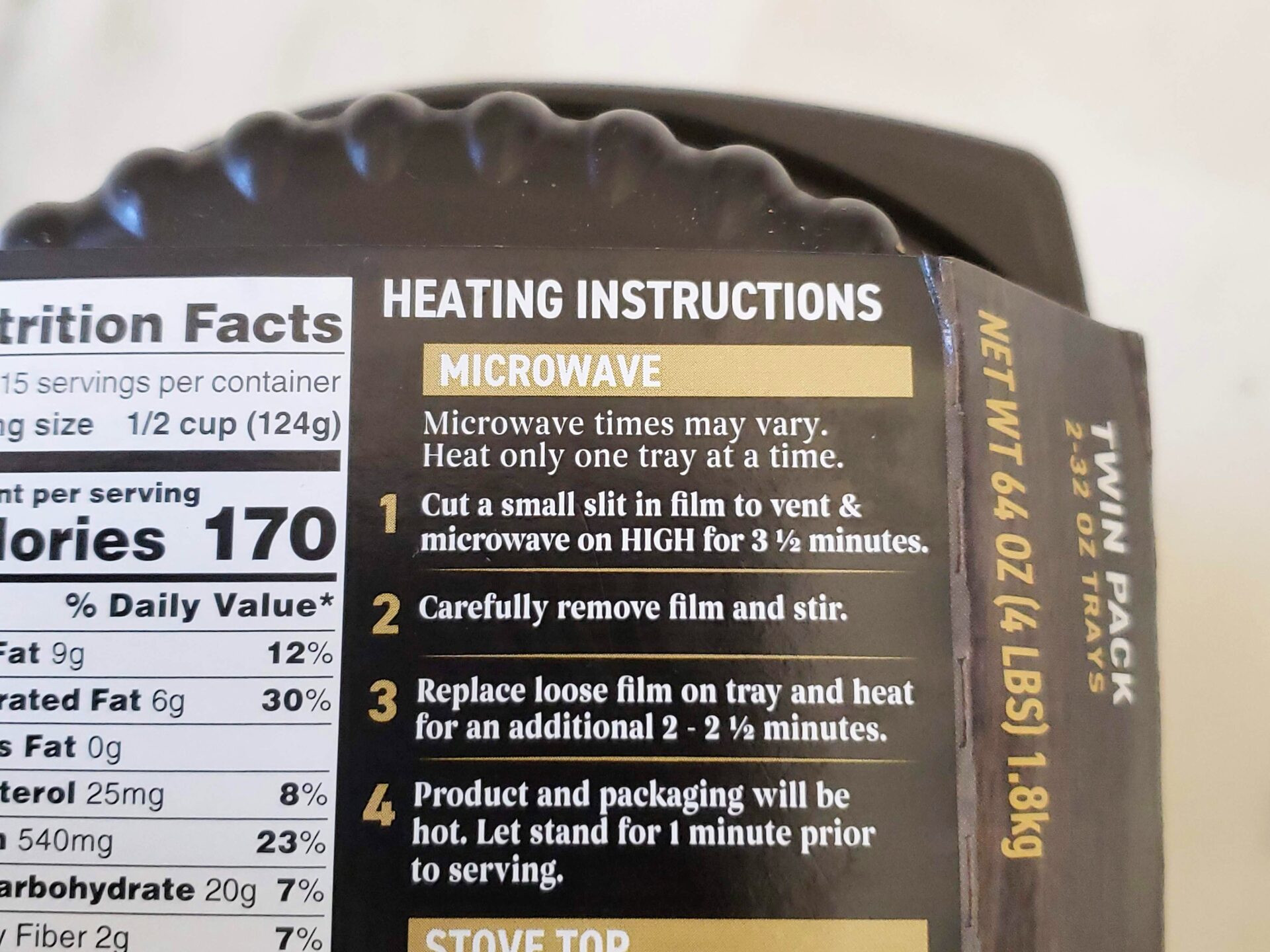 Cut a small slit in the film to vent & microwave on high for 3 and a half minutes.

Carefully remove the film and stir.

Replace the loose film on the tray and heat for an additional 2 to 2 and a half minutes.

The product and packaging will be hot. Let stand for 1 minute before serving.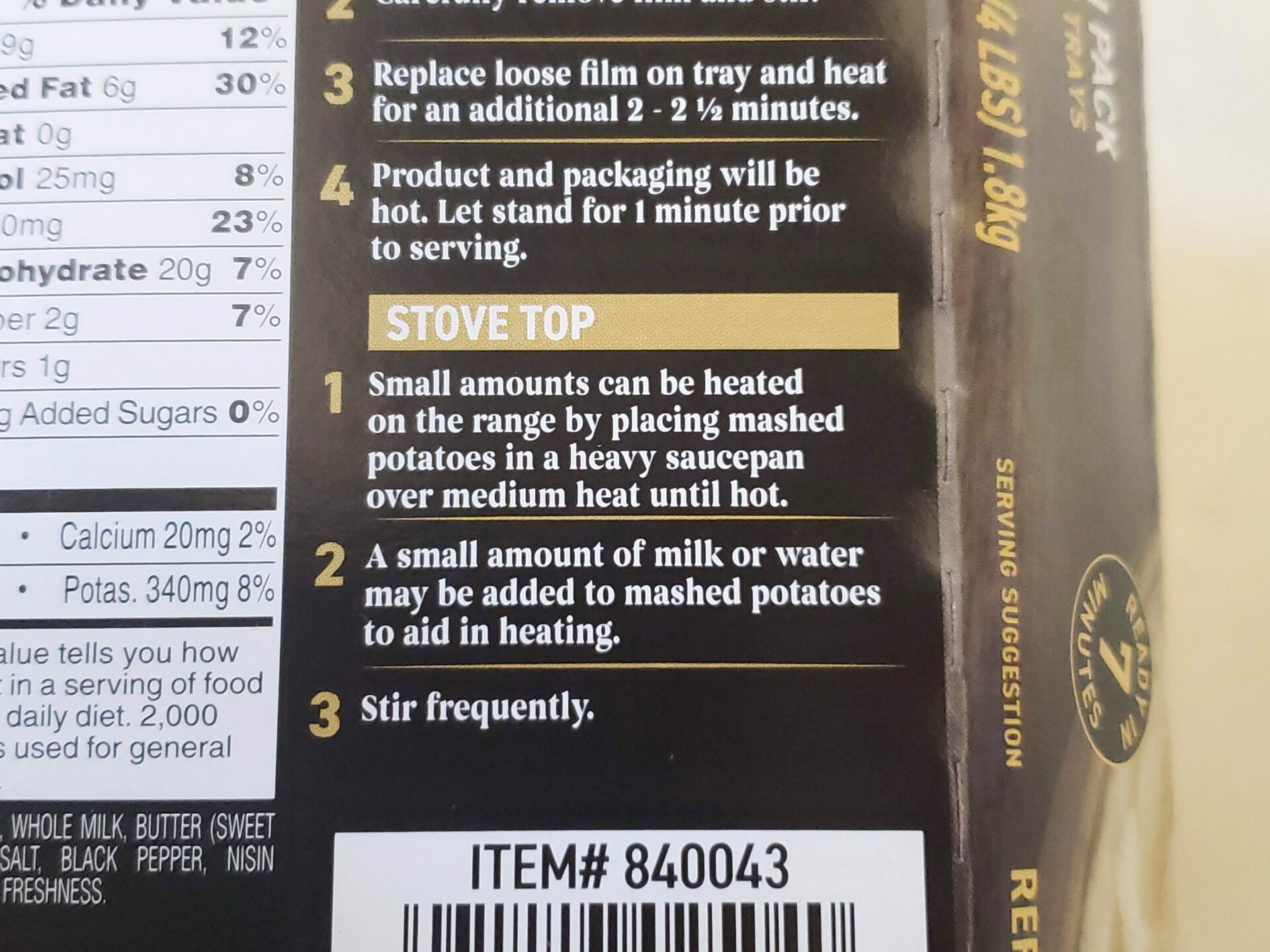 Small amounts can be heated on the range by placing mashed potatoes in a heavy saucepan over medium heat until hot. 

A small amount of milk or water may be added to mashed potatoes to aid in heating.

Stir frequently.

It appears that the stove top instructions for these Costco mashed potatoes are meant to heat just a small portion at a time. 

Main St Bistro Mashed Potatoes Nutritional Information & Calories
How Many Calories in Costco Mashed Potatoes?
One serving of Costco mashed potatoes will be 1/2 cup or 124g (4.37 ounces). Each serving will have 170 calories from 9 grams of fat, 20 grams of carbs, and 3 grams of protein.
This is a standard mashed potato nutritional label. It's not exactly healthy for you, but nothing seems out of place regarding the nutritional information.
The Costco mashed potatoes' nutritional label states there are about 15 servings per container.
Container is a super interesting choice of words, as I would assume that there are two individual containers in this twin pack of mashed potatoes.
In fact, Main St Bistro considers the container to be the entire package and not each individual tray. 
There is some ambiguity here which can be confusing for those who quickly glance at the nutritional label.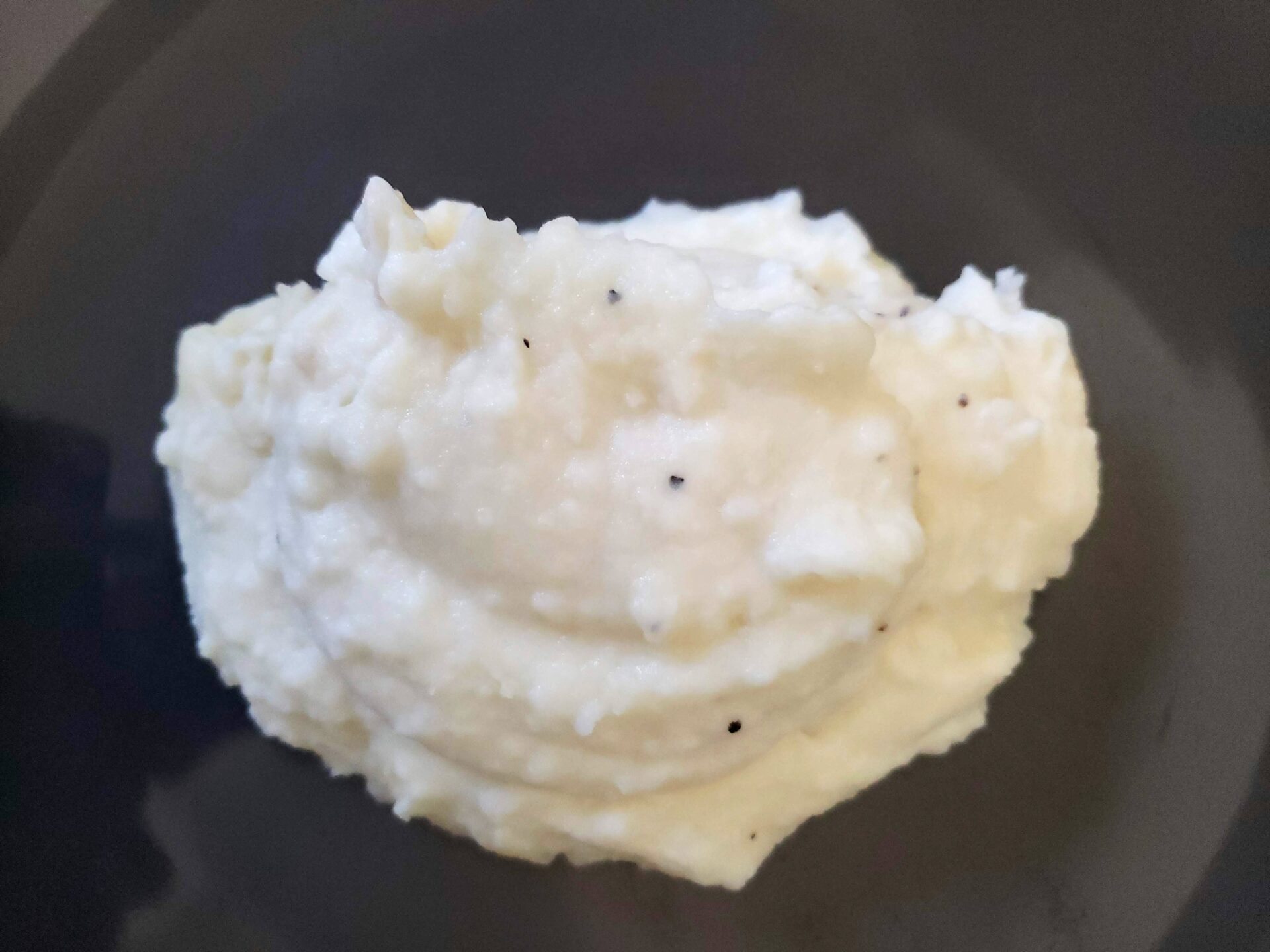 The big drawback to these mashed potatoes is the high amount of sodium at 540 mg per serving or 23% of the daily recommended value. I will probably consume about 2 servings which means over 1000 mg of sodium and nearly 50% of the recommended daily value.
This is an extremely high amount in general and almost a deal breaker for a side dish. The main entree that accompanies the mashed potatoes will most likely have a solid amount of sodium as well, and you can easily take way too much sodium for one meal.
Costco Food Database User Reviews
Have you tried this item? Let the rest of the Costco Food Database community know what you think. Leave a rating and review for this product.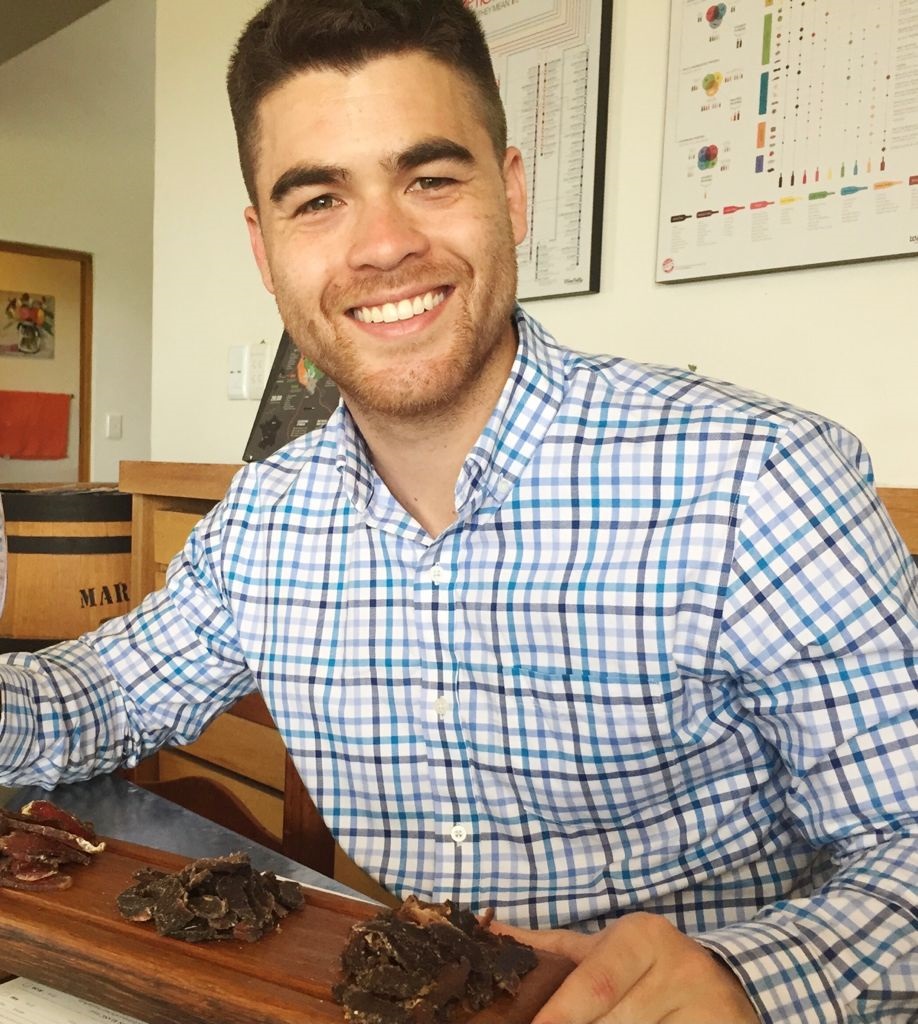 Greg Larkin is the founder and managing editor of Costco Food Database, the premiere site for honest takes on all things Costco food. A self-proclaimed Costco super-fan since childhood, Greg turned his obsession in a mission to properly rate and review all of Costco's delicious buys. When he's not busy navigating Costco aisles, you can find Greg smoking Kirkland Signature meats, meal prepping, or perfecting his homemade jerky recipes.