Costco Bratwurst - How to Cook + Calories (Kirkland Signature)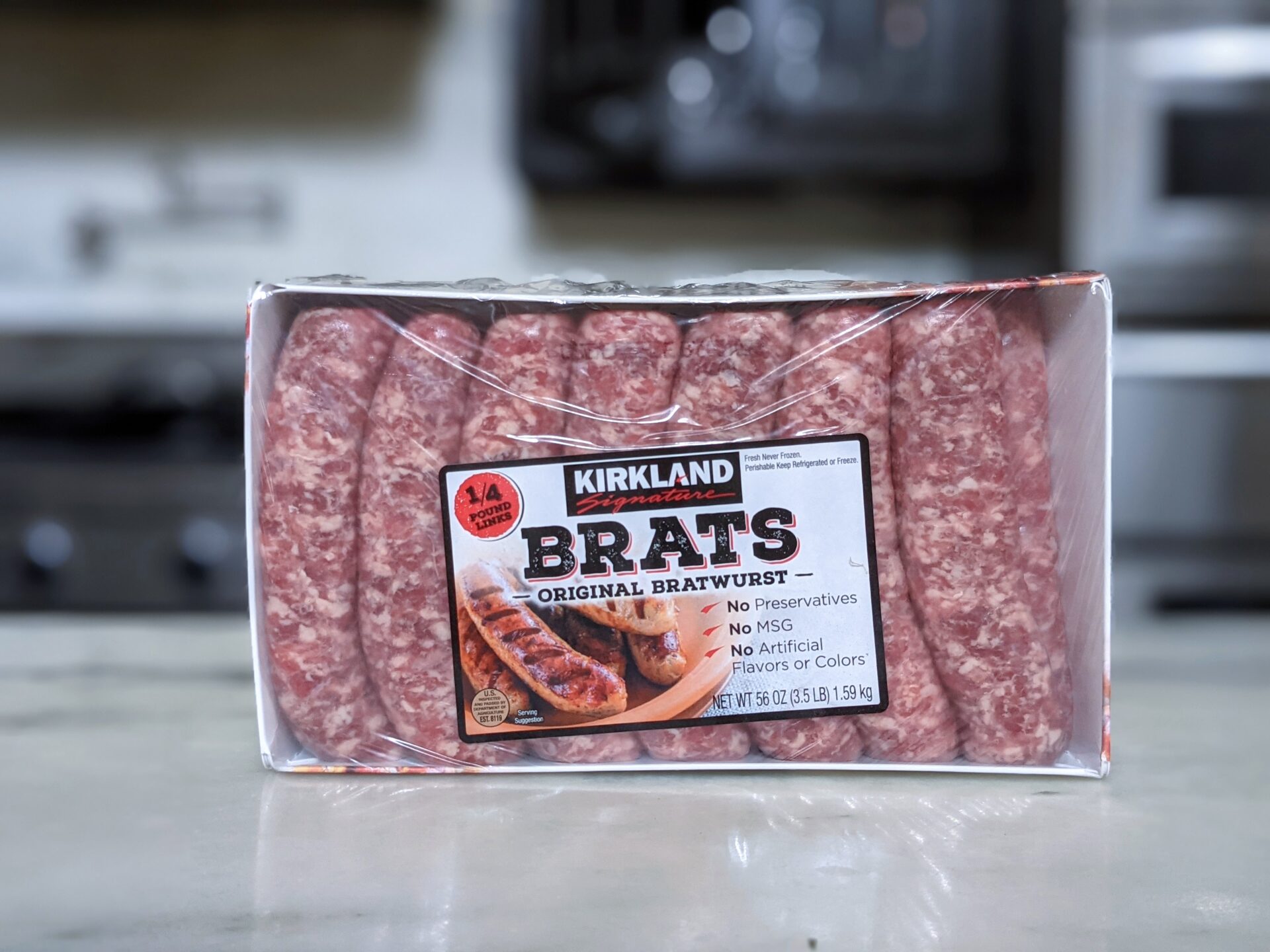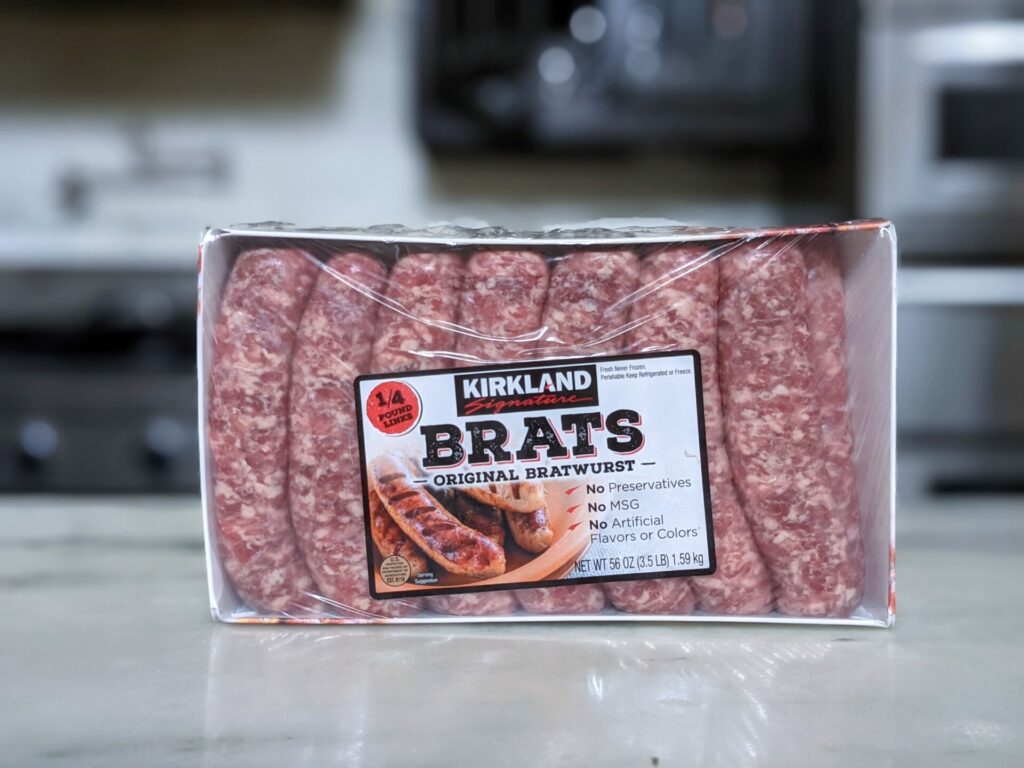 Kirkland Signature Bratwurst at Costco
Summer season is coming up, so I was looking for some great Costco finds to throw on the grill, and I couldn't help but pull the trigger on these Kirkland Signature bratwursts. 
I had these last summer, but they were absent at my local Costco these past few months, leading me to believe they are a seasonal summer item.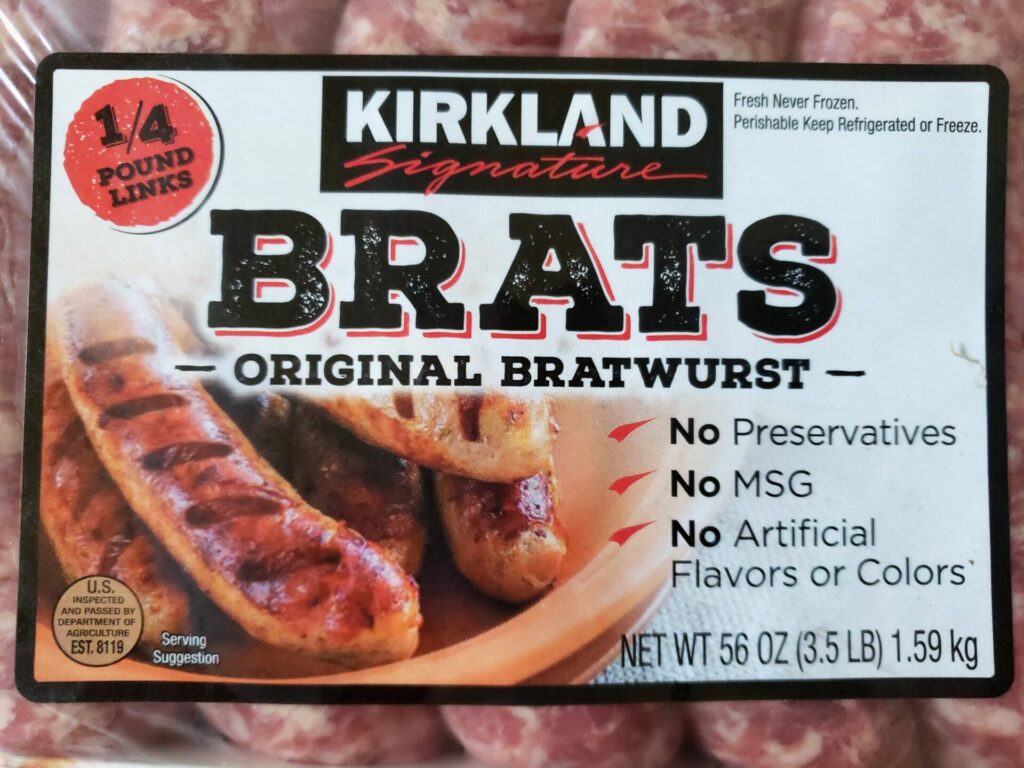 The bratwurst contains no preservatives, no msg, and no artificial flavors or colors. The bratwursts are also gluten-free.
Have You Tried Costco Bratwurst?
Let the rest of the Costco Food Database community know what you thought of this product. Results and reviews are at the bottom of this page.
Please allow 24 hours for review moderation and approval.
Costco's Bratwurst vs. Other Sausages
What exactly is the difference between Bratwurst and Other Sausages at Costco?
Costco carries several different sausage options ranging from traditional mild Italian sausage to all chicken sausage and even flavored sausages. The bratwurst sausage is a German sausage that is usually spiced quite heavily.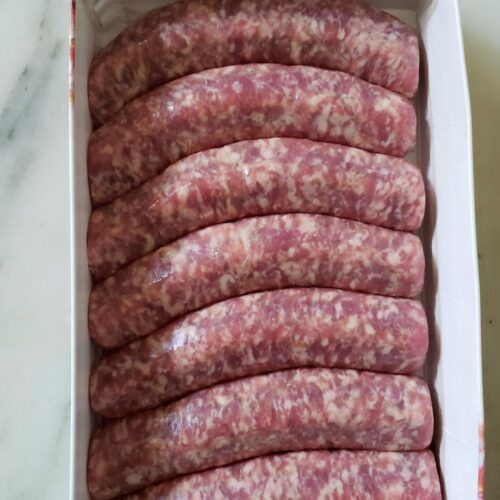 Costco's version of the bratwurst doesn't include many of the traditional bratwurst spices such as ginger, paprika, sage, cumin, or nutmeg. From the ingredient list, it looks closer to just a regular sausage than a bratwurst.
How Much Are Costco Brats?
Costco sells 3.5-pound box of their Kirkland Signature Bratwurst for $11.49; each box contains 14 links (¼ pound each). The price per pound for the Costco brats is $3.28, and each bratwurst link costs $0.82. For reference a quarter pound grass fed beef sausage at Costco cost $1.45.
This is a fair price for any type of sausage, but I will point out that Costco has increased the price quite significantly since last year. Last year, the same 14-pack of Kirkland Signature bratwurst was $8.49 or $2.42 a pound. The price increase this year is nearly 35%!
Original Bratwurst Taste Test
I'm a big fan of brats, and I was able to cook these up a few different ways. They were great on the skillet as well as when I cooked them up with some bell peppers and onions. (Recipe included)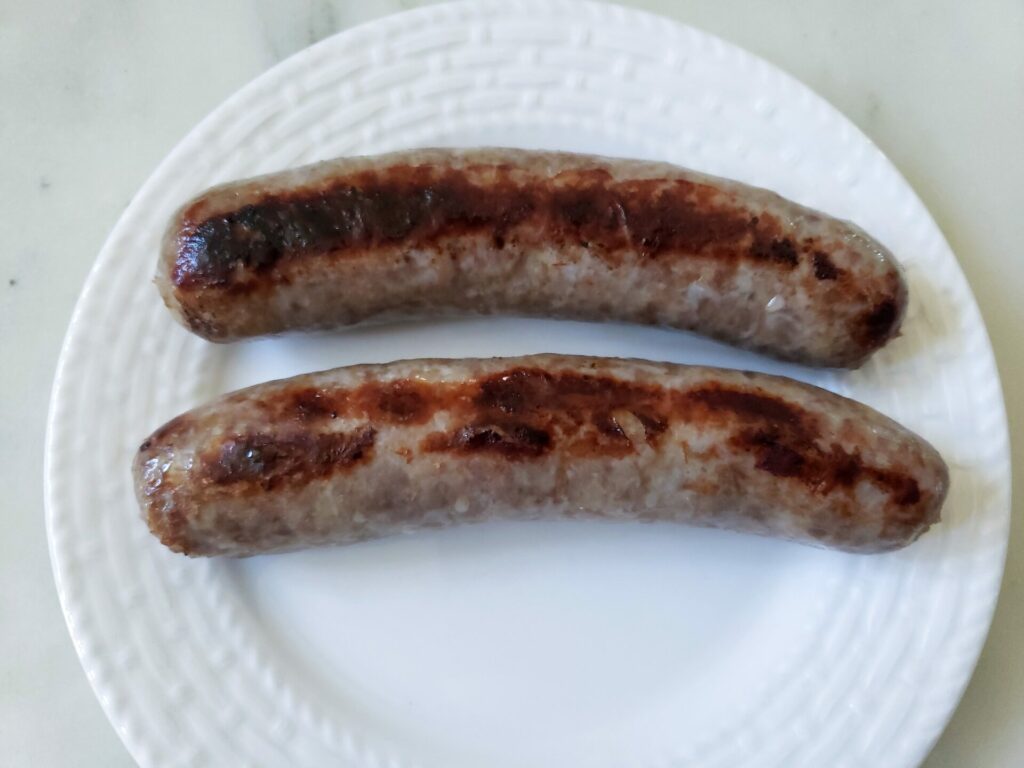 The bratwurst were juicy, delicious and very flavorful. The sausage was slightly fatty and oily, but I didn't mind it too much. They are really easy to eat, and I had no problem taking down 2 or 3 of these bratwurst.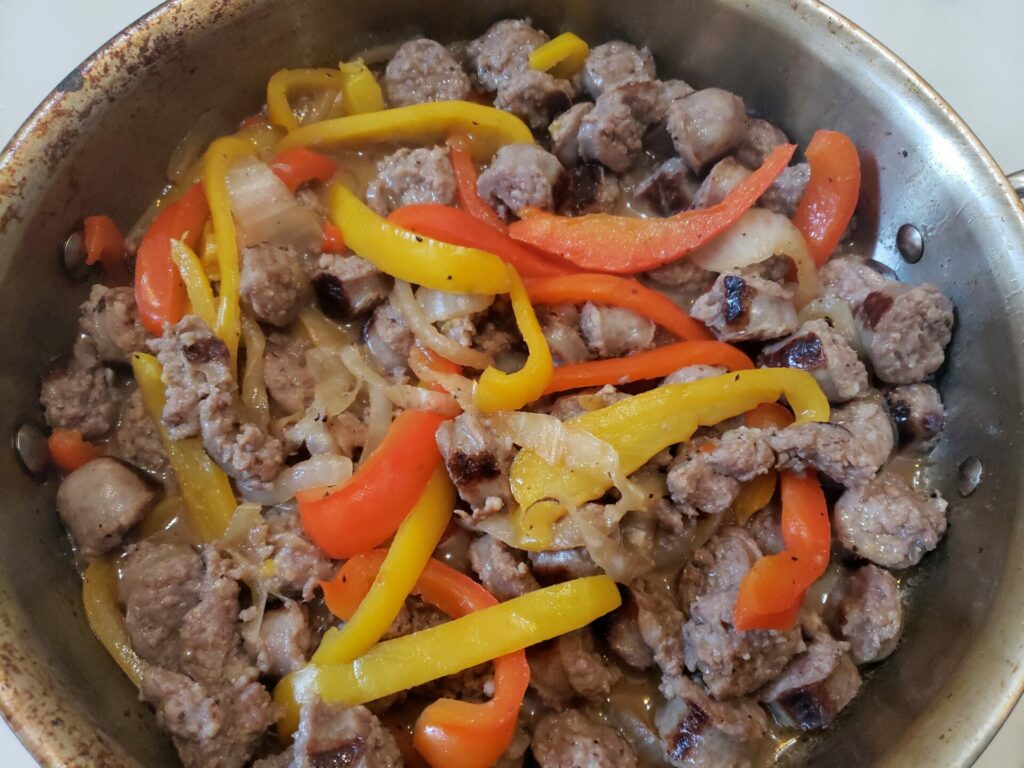 My one complaint is that the flavor was great, but I couldn't really tell what made this "bratwurst" rather than just a traditional generic mild sausage with a slightly sweet flavor you might randomly find in the grocery store. I didn't taste much to differentiate it, and I think Costco can do a lot better with that.
How to Cook The Bratwurst
Costco provides three cooking options for their Kirkland Signature bratwurst. You can grill the bratwurst, cook them on the stovetop, or broil them.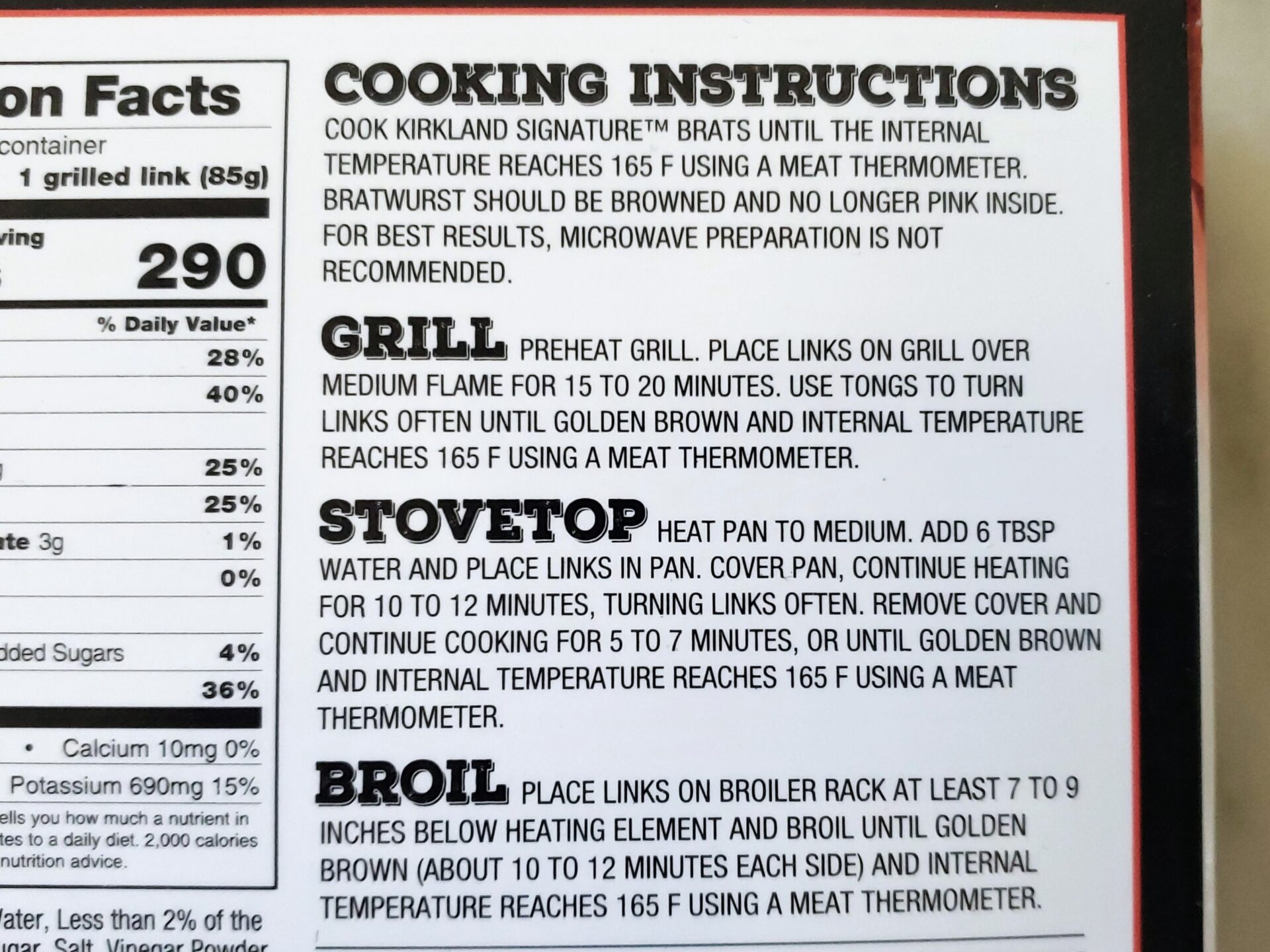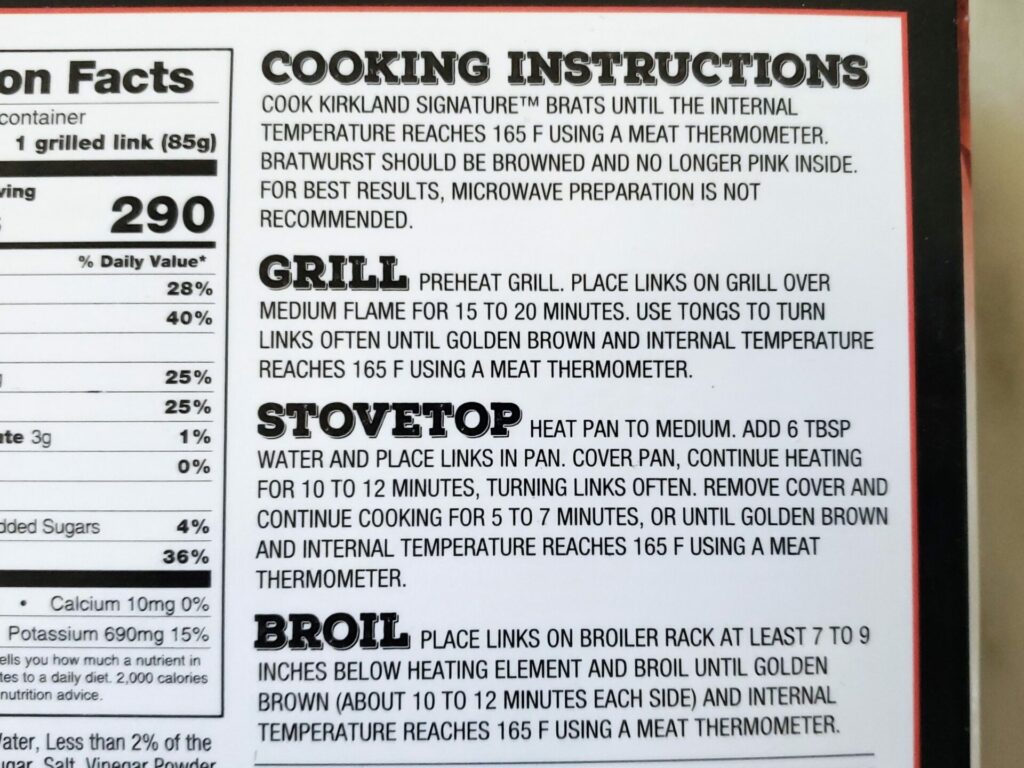 Preheat the grill.

Place Links on the grill over medium flame for 15 to 20 minutes. 

Use tongs to turn links often until golden brown and the internal. temperature reaches 165°F using a meat thermometer.
Heat pan to medium heat

Add 6 TBSP water and place links in a pan. Cover the pan, continue heating for 10 to 12 minutes.

Turn links often

Remove cover and continue cooking for 5 to 7 minutes or until golden brown and internal temperature reaches 165°F using a meat thermometer. 
Place links on the broiler rack at least 7 to 9 inches below the heating element

Broil until golden brown (about 10 to 12 minutes on each side) and internal temperature reaches 165°F using a meat thermometer. 
It is imperative to heat these to 165°F as these bratwurst sausages contain raw pork. Costco also includes a sausage and bell pepper onion recipe on the packaging, which I include below as well.

Also, make sure not to cook them on too high of heat using any of the above cooking methods. The brats can pop open, which will let a lot of the flavor and juices flow out.
Kirkland Signature Bratwurst Calories and Nutritional Information
One serving of Costco Pork Bratwurst Sausage is 1 Link and contains 290 calories. The 290 calories come from 22 grams of fat, 3 grams of carbs, and 18 grams of protein. The full nutritional label is listed below.
Serving Size: 1 Grilled Link

Calories: 290

Total Fat: 22g

Saturated Fat: 8g

Trans Fat: 0g

Cholesterol: 75mg

Sodium: 580mg

Total Carbohydrates: 3g

Dietary Fiber: 0g

Total Sugars: 2g

Added Sugar: 2g

Protein 18g
This is a standard nutritional label for a sausage or bratwurst. I am doing keto, so the 3 grams of carbs was a little more than I expected for a sausage like this. I like to eat at least 2-3 per meal, so those carbs will add up quite quickly for those doing keto.
For other keto followers, check out our Costco Keto Foods Shopping List.
Costco Bratwurst With Peppers And Onions
Costco's delicious bratwurst are the perfect dinner when paired with some bell peppers and onions
Ingredients
6

Costco Bratwurst

1

Green Bell Pepper

1

Red Bell Pepper

2

Large Onions

1

lb

Sauerkraut (optional)

2

Cans

Beer
Instructions
Cook brats according to the package instructions. Any method will work.

After brats are cooked, evenly disperse in an aluminium baking pan.

Add beer, onions, peppers and sauerkraut (optional) to the pan

Cook on grill over medium and bring to a simmer
Nutrition
Serving:
1
Link
Calories:
290
kcal
Carbohydrates:
3
g
Protein:
18
g
Fat:
22
g
Saturated Fat:
8
g
Trans Fat:
0
g
Cholesterol:
75
mg
Sodium:
580
mg
Fiber:
0
g
Sugar:
2
g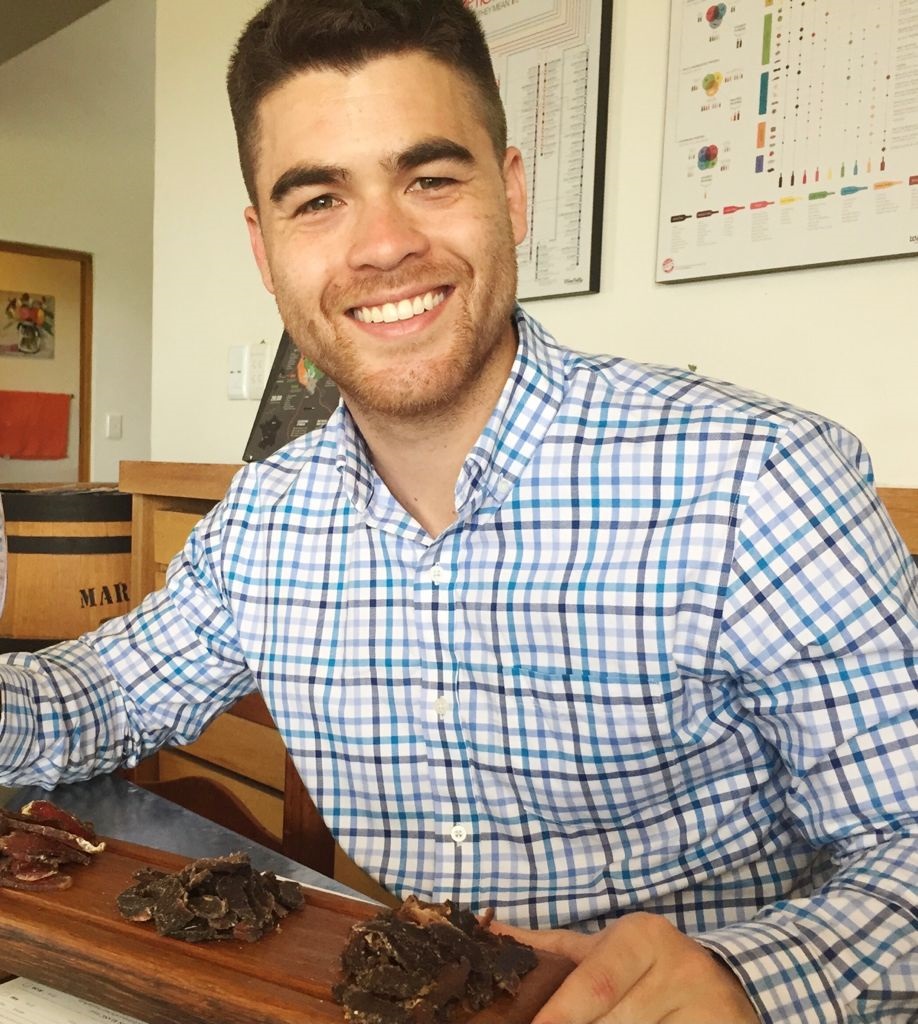 Greg Larkin is the founder and managing editor of Costco Food Database, the premiere site for honest takes on all things Costco food. A self-proclaimed Costco super-fan since childhood, Greg turned his obsession in a mission to properly rate and review all of Costco's delicious buys. When he's not busy navigating Costco aisles, you can find Greg smoking Kirkland Signature meats, meal prepping, or perfecting his homemade jerky recipes.