Costco Chicken Patty (Panko) - Best Value In All of Costco?
A classic Costco staple, these Costco chicken patties, are flavorful, affordable, and convenient. They are a great little frozen food item to keep around the house.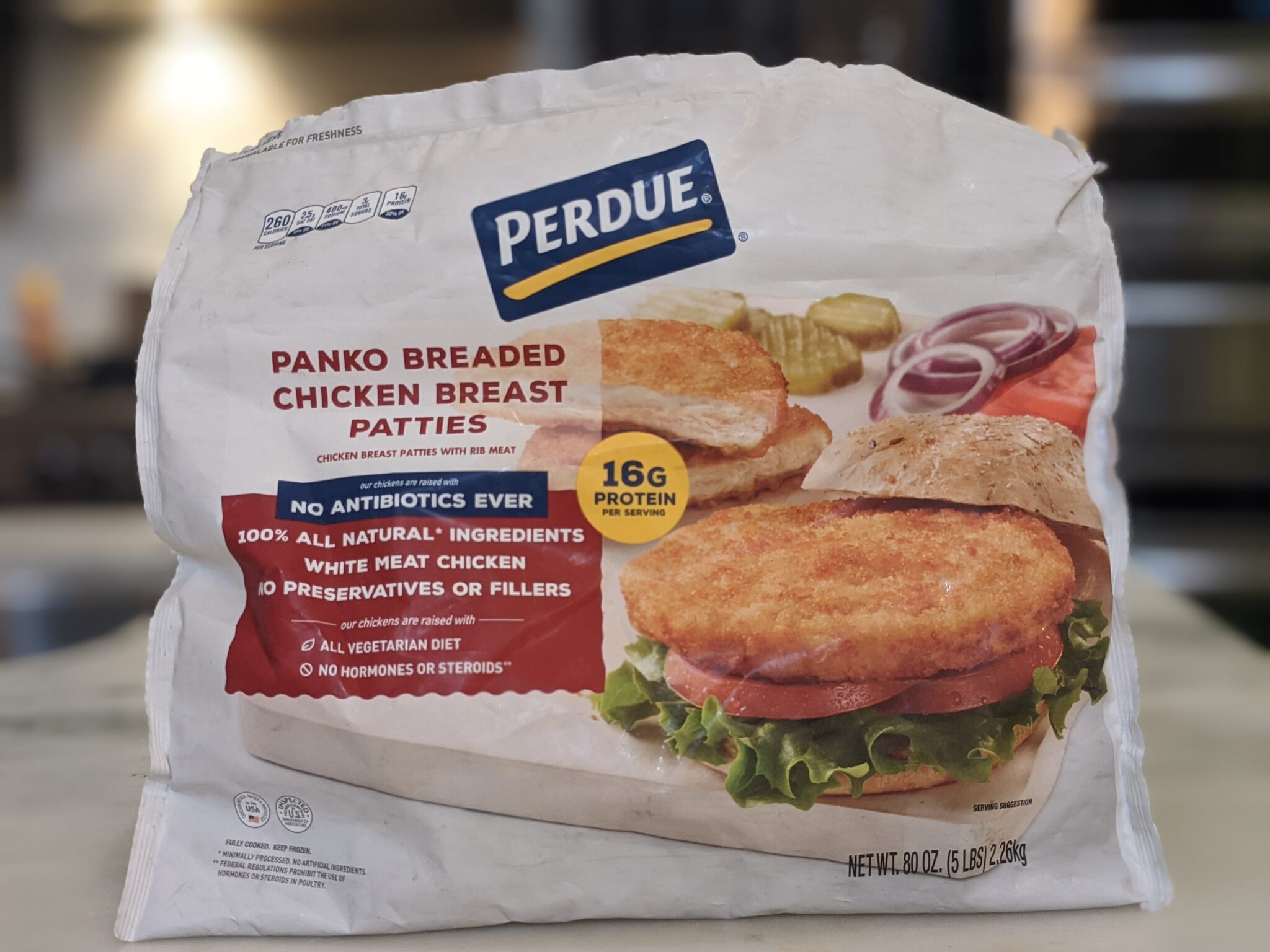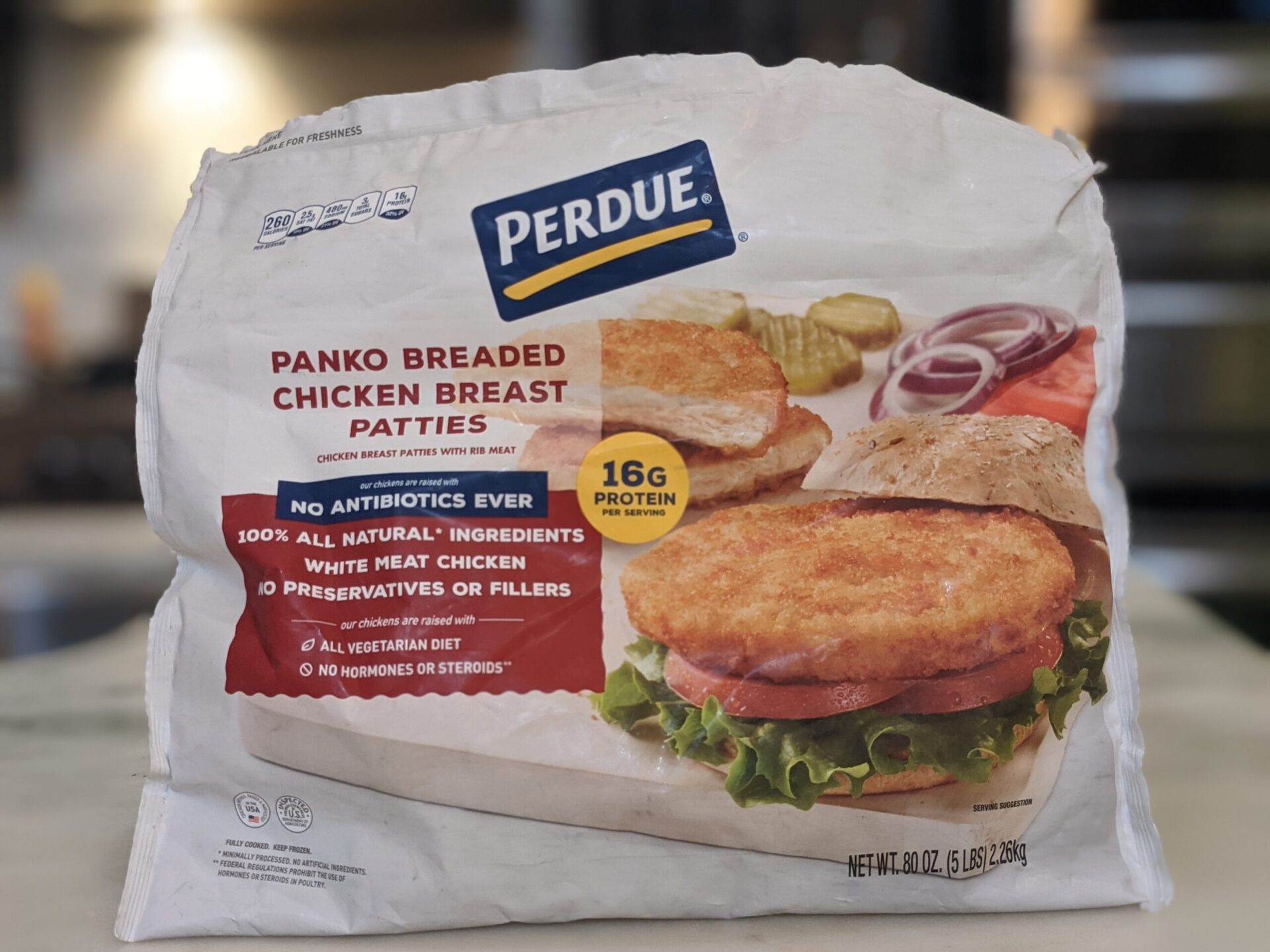 PERDUE PANKO CHICKEN PATTies AT COSTCO
Costco sells Perdue Panko Breaded Chicken Breast Patties for $12.99. They are sold in a 5-pound bag that contains approximately 20 chicken patties.
The price per pound is $2.60 and each patty costs $0.60. A pretty solid price as you can take a couple of chicken patties and make a nice sandwich for less than $2.
These are priced exactly the same as their Perdue Panko Breaded Chicken Nuggets that are also sold at Costco ($12.99 for a 5lb bag) and appear to be the chicken patty form of those nuggets. The ingredient list looks very similar, and they are nearly indistinguishable in looks and taste. 

The chicken is made with 100% all natural minimally processed white meat chicken with no preservatives or fillers. The chickens are raised with an all vegetarian diet and no hormones or steroids.

Have You Tried Costco's Chicken Patties?
Let the rest of the Costco Food Database community know what you thought of this product. Results and reviews are at the bottom of this page.
Please allow 24 hours for review moderation and approval.
First Impressions of Costco's Chicken Patty
These are going to be your typical chicken patties. Each patty is about 4 inches wide and covered in Panko bread crumbs. I've reviewed Perdue's Panko Breaded Nuggets in the past and had the same questions about the Panko breading used on this chicken.
The bag claims this is premium Japanese Style panko bread crumbs, but I would disagree. I'm almost certain most of us would disagree as well as the entirety of Japan. They do claim these are Japanese Style which implies these are not authentic Japanese panko bread crumbs, but their low cost budget version of actual Japanese panko bread crumbs.
To give Perdue some credit, the breading on the chicken patty does look better than expected. The panko is a nice medium brown color that has the potential to turn a nice golden brown after cooking. All areas of the chicken patty are fully covered and only a few crumbs of the breading will fall off when handling the frozen chicken patty. 
Each chicken patty weighs 4 oz which is a quarter pound. This is slightly small, considering Costco sells one-third pound hamburgers. I plan to at least eat 2 per meal if not 3 to be fully satisfied.
Chicken Patties from Costco Cooking Instructions
The bag lists 3 different methods for cooking these chicken patties from Costco.
Conventional Oven (Preferred)
Preheat oven to 425°F. Spray baking sheet with cooking spray.

Place Frozen chicken patties in a single layer on a baking sheet.

Bake in oven for 20-22 minutes or until heated through. Turn patties halfway through heating time. Internal temperature should reach 150°-160°F. 

Let stand for 2 to 3 minutes before serving these Costco chicken patties.
Preheat Air Fryer to 350°F.

Place one frozen Costco chicken patty in Air Fryer basket.

Heat for at least 12 minutes or until internal product temperature reaches 165°F. 

Let stand for 2 to 3 minutes before serving. 
Place frozen chicken patties from Costco in a single layer on a microwave safe plate. 

Heat, uncovered on High for 3 to 3 and a half minutes, turning halfway through heating time. 

?????

Let stand for 1 to 2 minutes before serving
Obviously, this is a typographical error on the part of Perdue. I did report the mistake to Perdue and I did request a hefty reward for finding the mistake but was unfortunately denied.
CFBD's Alternative Cooking Instructions
I personally use a couple of alternative cooking methods that work better for me. Back in the day, when I was a handsome young lad, and before air fryers really took off, I would use a hybrid microwave stovetop method that would create a crispy exterior quickly. I would microwave the chicken patty or chicken nugget for a third of the recommended microwave cook time. Then I would lightly oil a hot pan and saute the chicken patty until the breading got crispy. Usually about 4 minutes on each side and the total cook time would be about 10 minutes.
Nowadays with the air fryer, you can get just as crispy breading in the same amount of time with less work. I like to air fry almost everything at 400° F, so with these chicken patties, I've upped the recommended heat but decreased the time. They come out great at 400° for about 9 minutes. Each bag comes with 20 patties, experiment a little.
Perdue Chicken Patty from Costco Review
There are 3 main components that I'm looking at when I review a breaded chicken product. They are the chicken, the bread crumbs, and the taste.
Perdue's Panko Chicken Patty isn't the highest quality chicken. It's processed ground up chicken that is shaped into a patty. There is no real chicken texture to this chicken patty, but instead, I would call it more of a filling. It's without a doubt chicken, but it doesn't show in taste or texture. It doesn't taste bad, but it's not a whole chicken breast fillets or chicken breast chunks.
For taste, I don't mind these chicken patties at all. The sodium content is high, but I don't feel that they are overly salty to the tastebuds. These are salted just right and can be eaten as-is with no additional sides or condiments. They are salted properly and will also go well with most dips or sauces. I've eaten this with ketchup, bbq sauce, and even buffalo sauce.
I usually don't eat these chicken patties unless I'm in a rush, but I have combined them with other sides before. You can quickly whip up a chicken sandwich while these cook in the air fryer and you can make a double chicken patty sandwich for just $2 or less. I've eaten this with rice or even ramen-style noodles and the meal was great. These would probably also make a pretty good crispy chicken for a salad.
I've eaten a few of the patties out of this bag now, and I do have to say some of them did have an artificially sweet taste. I like savory foods, so sweetness really does jump out to me in places where it's not supposed to be. It wasn't a pleasant taste for me, but I only noticed it in about 2 of the chicken patties.
Cooking Method Comparison
Now, let's talk about the panko bread crumbs. The worst thing for me when it comes to breaded chicken products is a soggy soft exterior. There is nothing that can ruin good chicken faster than bad breading. The breading for these chicken patties is going to be directly affected by your cook method. 
I went through the cooking methods listed on the packaging and in this test, I'm going to take a look at the microwave option, air fryer method, and my own personal hybrid microwave stovetop fry. 
The microwave as it is with all frozen Costco foods is going to be the worst option. When it comes to breaded chicken, it will be the fastest method, but the bread crumbs will always turn out soggy. I actively avoid cooking any frozen food and especially chicken patties in the microwave. It's just not worth it.
The second chicken patty in the picture above is the air fry version. I cooked that one at 400° for 11 minutes. I recommend cooking them for about 9 minutes now to avoid over-cooking the sides. 
The air fryer version of these chicken patties is the easiest and most convenient way to get that perfect picturesque golden brown breading that you would expect. The panko bread crumbs browns so nicely and evenly and were adequately crunchy all the way around. With my test patty, the sides were a little overdone, but still a tasty chicken patty. The air fryer is my go-to method due to just how simple it is to create a beautiful chicken patty. 
My former favorite method before I had an air fryer was to microwave and then saute in a pan. There is a little bit of additional work and dishes to do but the end result is a crispy and crunchy chicken patty. As you can see in my photo, the chicken patty does burn in certain areas, but I do enjoy that extra char flavor. 
Cooking with this hybrid method brings the opposite problem of the air fryer. The sides do not crisp up at all because they never touch the hot pan. The breading overall is just as crispy and the softer sides do not detract too much from the finished product. 
Based on time, clean up, crispiness and overall enjoyment of these Costco chicken patties, I would have to say that my preferred cook method is with the air fryer.
Chicken Patty Nutritional Information
Essentially as giant chicken nuggets, nutritional expectations should be tempered. Each serving size is 1 Costco chicken patty and contains 260 calories. Those calories are made up of 13g of fat, 20g of carbohydrates, and 16g of protein. These macros are not bad by any means for a frozen chicken patty from Costco.
Like always, the sodium is going to be the silent killer. There is 480 mg of sodium per serving which is 21% of the recommended daily value. I like to eat at least 2 or 3 of these at a time so I'm looking at anywhere from 42%-63% of my recommended daily sodium intake from this one meal.
I've eaten Costco chicken patties for as long as I can remember. Between this Perdue brand or the old Foster Farms brand that came in a yellow bag, Costco's chicken patties have been part of my diet.
They aren't the most healthy food, but they fill a need as a quick, easy, and convenient meal. When you are pressed for time or just need a midnight snack, these Perdue Panko Bread Crumb Chicken Patties will do the trick. They are filling, easy to cook, and very versatile.
Costco also sells a grilled chicken patty if you are interested a more health conscious item.
Costco Food Database User Reviews
Have you tried this item? Let the rest of the Costco Food Database community know what you think. Leave a rating and review for this product.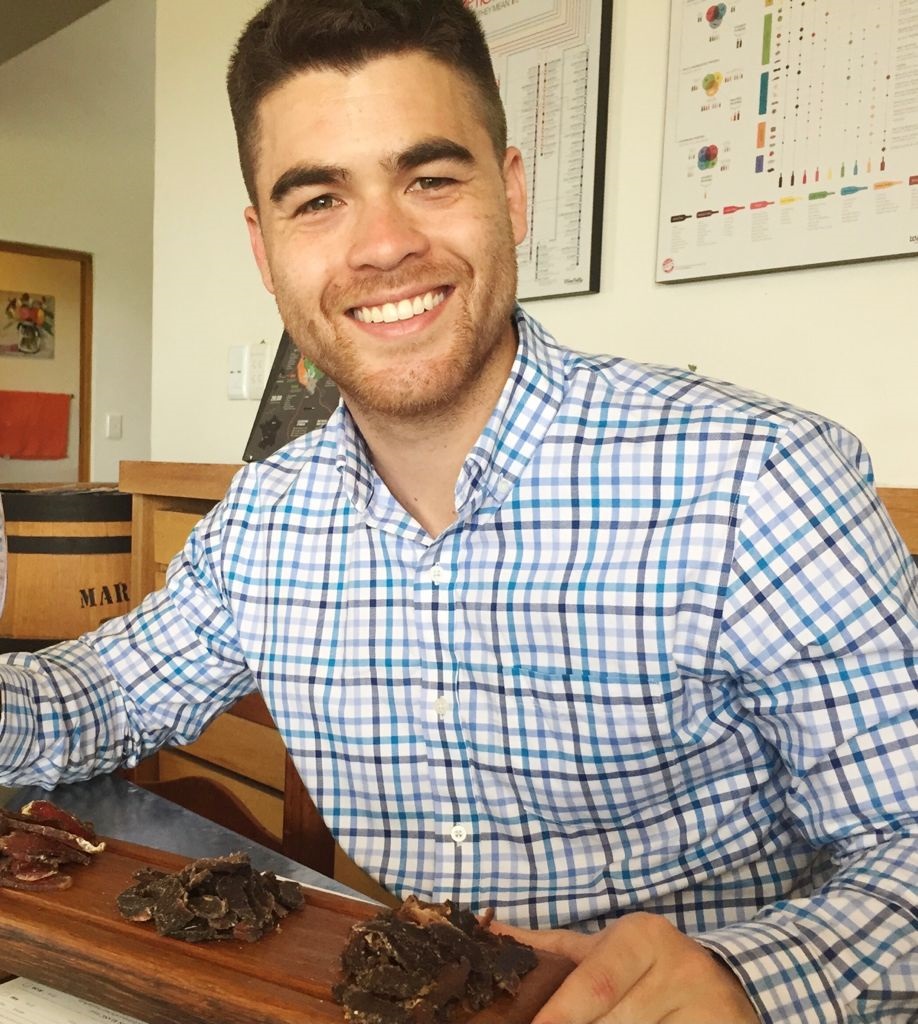 Greg Larkin is the founder and managing editor of Costco Food Database, the premiere site for honest takes on all things Costco food. A self-proclaimed Costco super-fan since childhood, Greg turned his obsession in a mission to properly rate and review all of Costco's delicious buys. When he's not busy navigating Costco aisles, you can find Greg smoking Kirkland Signature meats, meal prepping, or perfecting his homemade jerky recipes.