Costco Grilled Chicken Patties - Healthy and Affordable!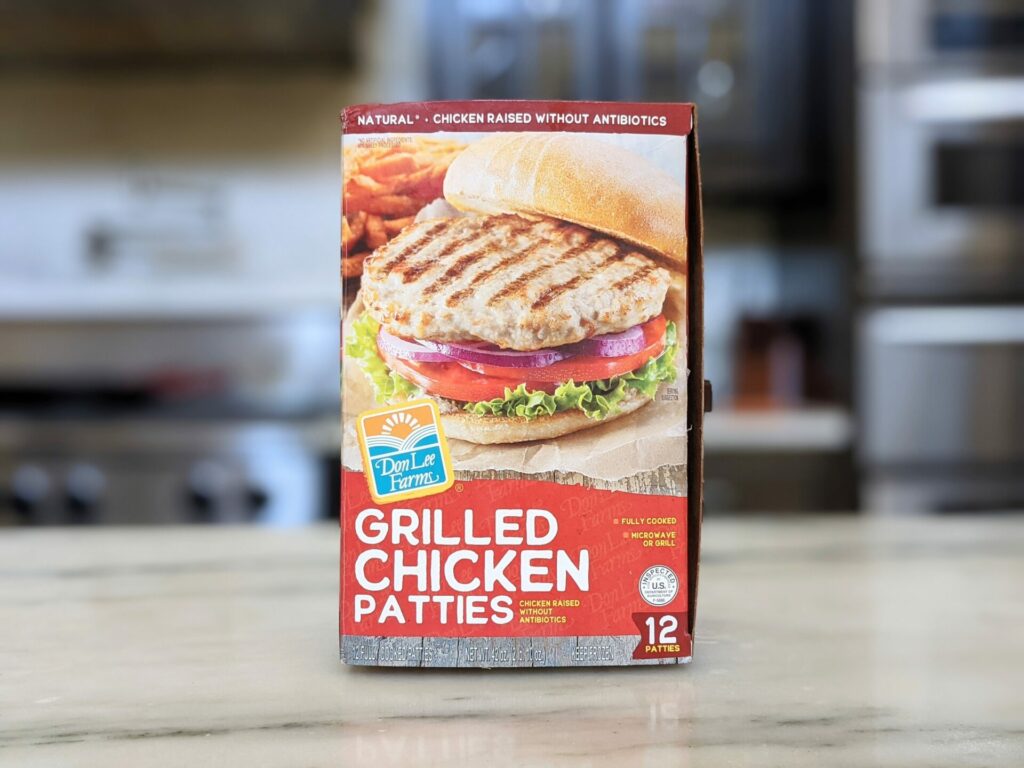 Don Lee Farms Grilled Chicken Patties at Costco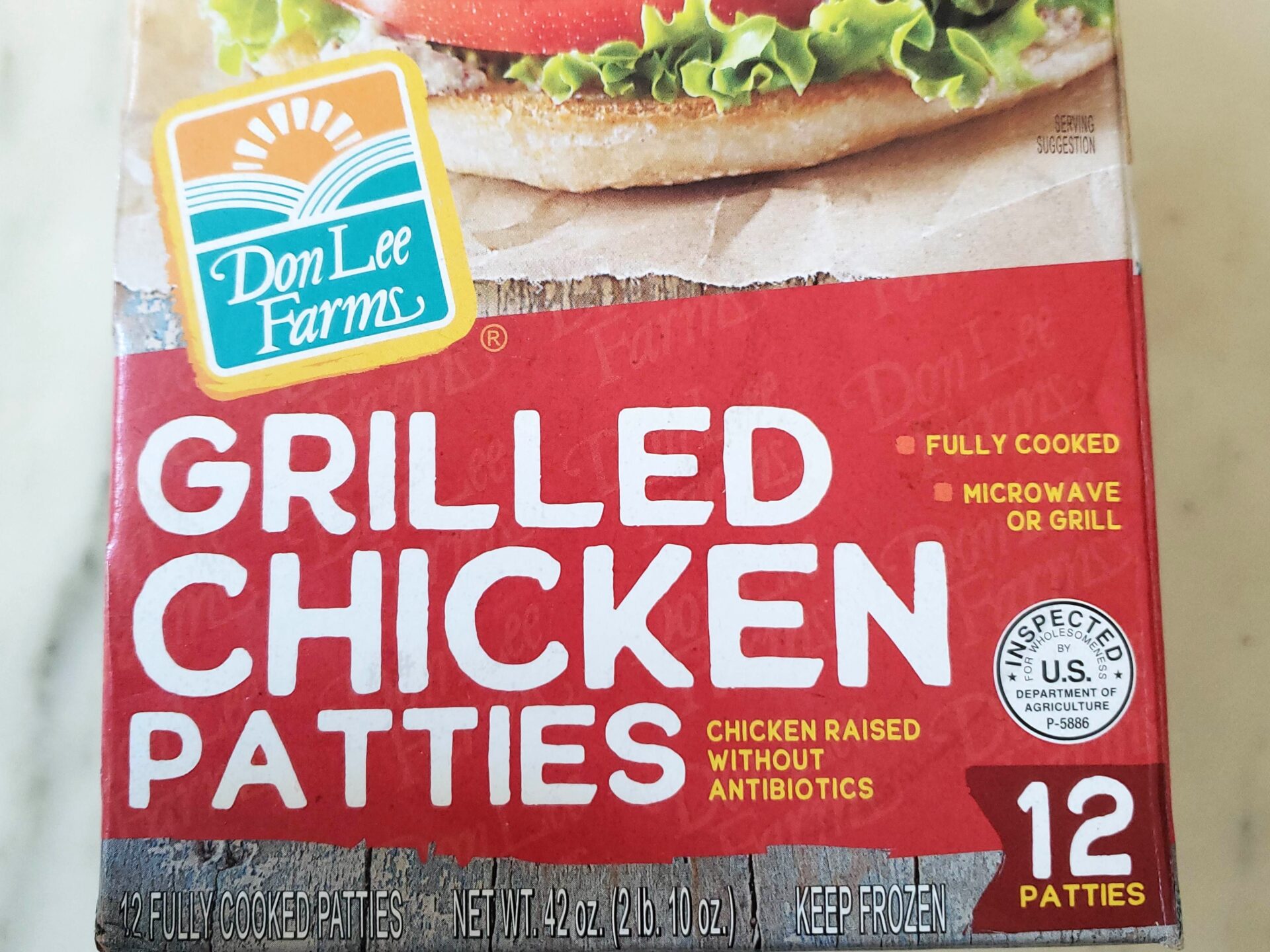 Don Lee Farms Grilled Chicken Patties are all natural and made with chicken raised without antibiotics.
Have You Tried Costco's Grilled Chicken Patties?
Let the rest of the Costco Food Database community know what you thought of this product. Results and reviews are at the bottom of this page.
Please allow 24 hours for review moderation and approval.
One of Many Costco Chicken Burger Patty Sandwich Options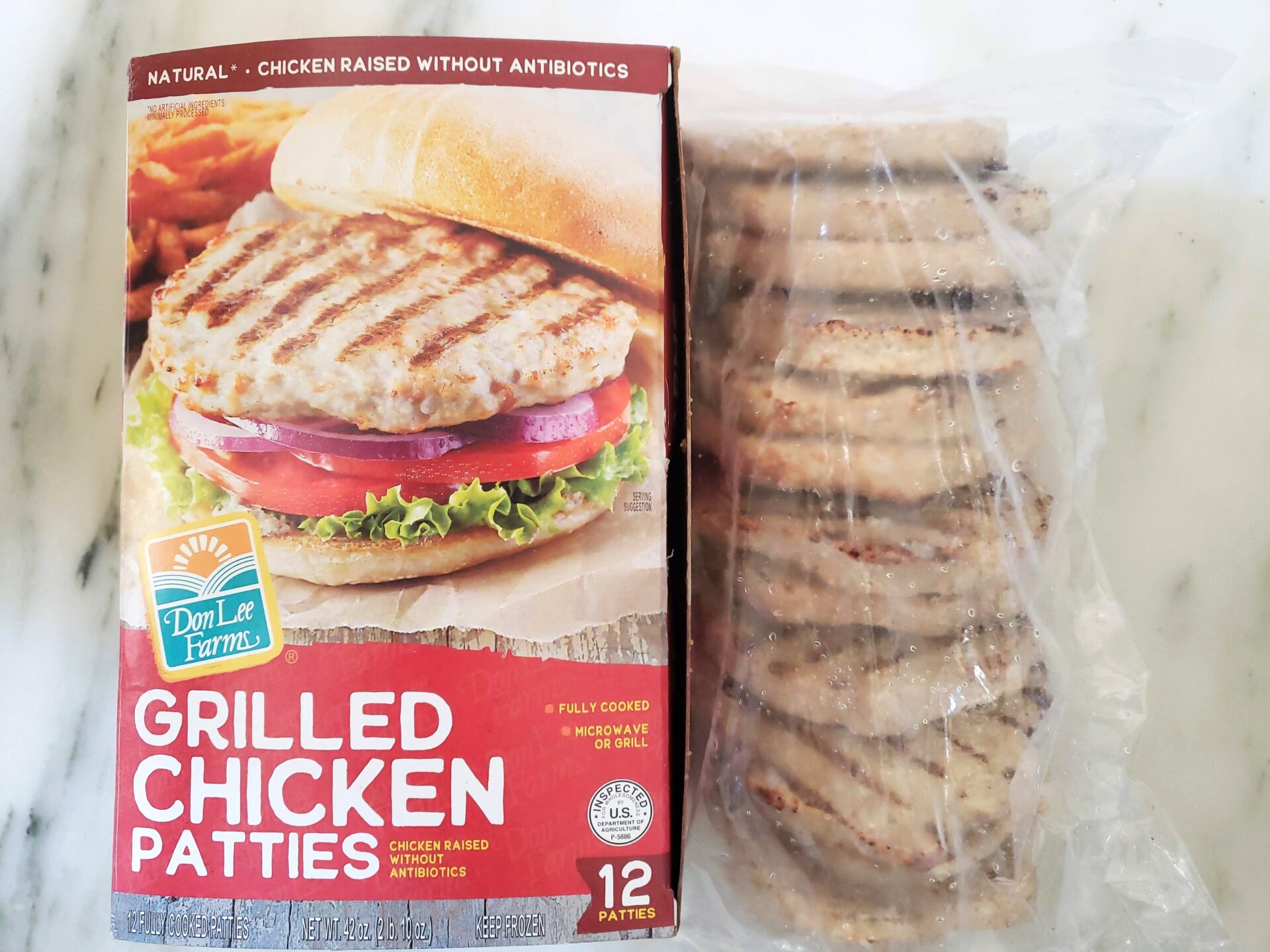 For a quick comparison, the AmyLu chicken patties are embedded with caramelized onion and aged white cheddar. They will also be quite a bit more expensive at $14.99 for only 8 patties vs Don Lee Farms $14.99 for 12 grilled chicken patties.
Don Lee Farms Grilled Chicken Patty Nutritional Information and Calories
How Many Calories in Costco's Grilled Chicken Patties?
One grilled chicken patty from Costco is going to be one serving and will contain only 120 calories. Those calories will come from 2.5 grams of fat, 2 grams of carbs, and 20 grams of protein.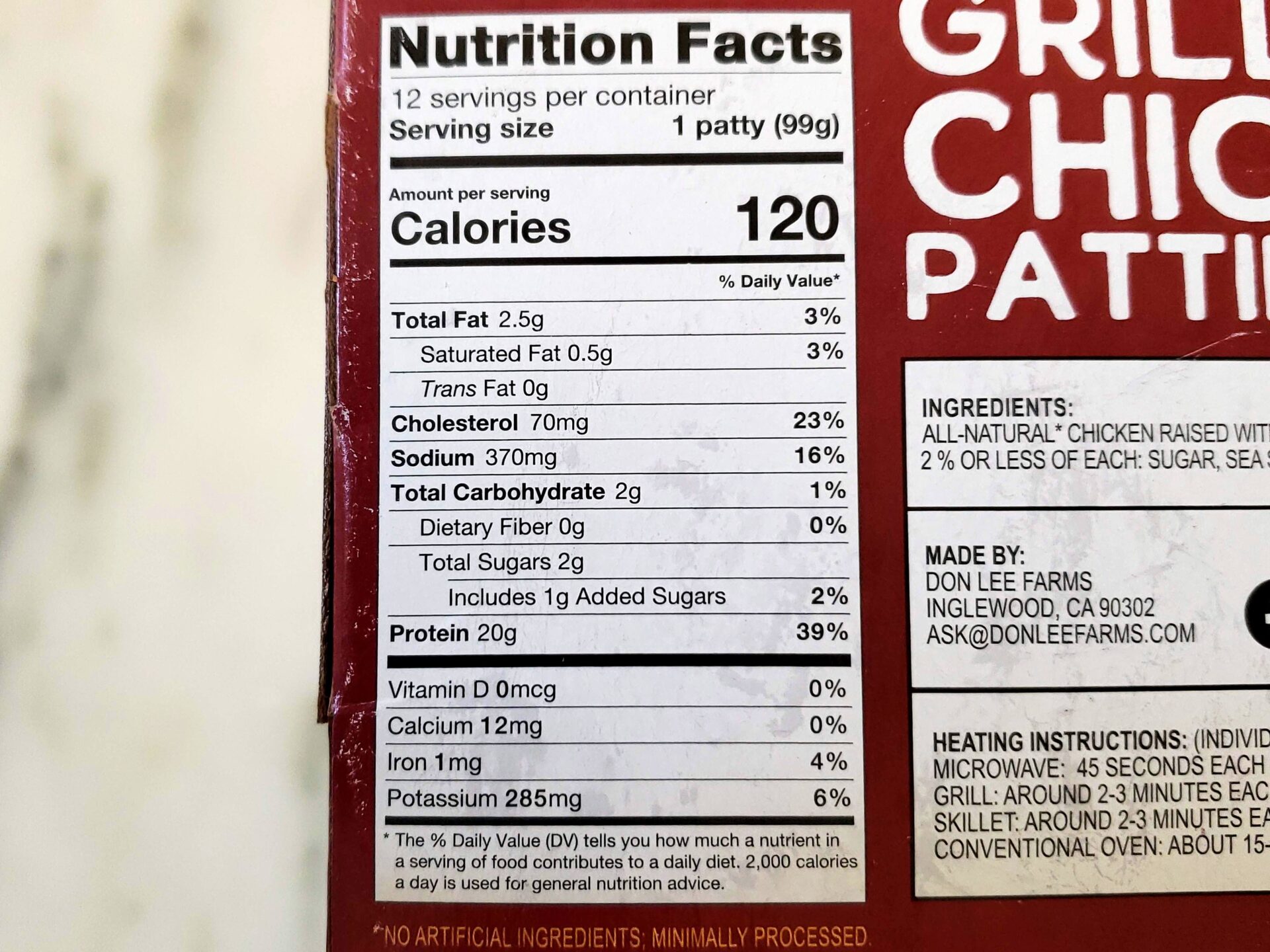 This is an absolutely amazing nutritional profile for a chicken patty as the protein significantly outnumbers the fat and carbohydrate content of the chicken patty burger.
Even when combined with a bun, these chicken patties will create a healthy and low calorie meal that is also filling.
Moderate Amount of Sodium
One thing to always watch out for with any frozen food item is going to be the sodium content. These Costco grilled chicken patties have 370 mg of sodium per patty which is 16% of the daily recommended value.
This isn't the most egregious amount of sodium that I've seen in a frozen chicken product, but keep in mind this will add up if you eat more than one grilled chicken patty at a time, especially when combined with cheese and/or other dressings and condiments.
How Much Do Don Lee Farms Grilled Chicken Patties Cost at Costco?
Costco sells the Don Lee Farms Grilled Chicken Patties for $14.99, but will occasionally discount the item to $9.99. This is a solid discount of $5 or 33%. Considering the ever rising cost of food nowadays, a huge discount like this is always appreciated.
At the $14.99 price tag, each grilled chicken patty cost $1.25 and when on sale at $9.99 the per patty price drops to $0.83. $0.83 per chicken patty is an absolute steal of a price.
Costco's Clearance Tricks
I didn't buy these when they were on sale, but instead I bought them on clearance at $9.97, saving me a massive $.02 on this item compared to its sale price.
Unfortunately, Costco will sometimes clearance an item at its usual sale price. I wasn't 100% sure of the original price or the standard sale price, so I did fall for the trick this time.
I thought I was scoring a solid deal, but instead it was just the regular sale price with a $.97 attached at the end. Not a bad price, by any means, but also nothing special.
Grilled Chicken Patties - Taste Test
I chose to cook these grilled chicken patties using a skillet and stove as that seemed to be the most optimal cooking method.
With just a few minutes per side, the burgers came out with a solid char and were thoroughly heated.
Processed Chicken Patties
My big complaint with the grilled chicken patties was that they immediately felt low quality and dare I even say rubbery. The chicken is extremely processed and didn't have a great feel to it. 
The packaging does say the chicken patties are minimally processed, but I have to disagree with them. I would liken this to a fast food value menu chicken patty.
The texture was off and not ideal, but the taste was fine. The chicken patties weren't bursting with flavor, but they were tasty enough.
They weren't overly salty, which is always a plus, and they are versatile and can take on a variety of different flavors. I highly recommend eating them with some sort of condiment to help with the flavor.
Easy & Healthy Grilled Chicken Burger
I chose to eat mine as a grilled chicken burger with some cheese, avocado mayo, and some guacamole. The burger was tasty and I had no problem eating the dish multiple days in a row.
Costco Grilled Chicken Patties Cooking Instructions
Don Lee Farms Offers 4 different heating methods for these grilled chicken patties. You can cook them in the microwave (least recommended), the grill, stovetop, and in the oven (20 minute cook time). 

The best options are going to be on the stove or on the grill if you really want to add a little bit of smoky flavor.
45 seconds each side or until hot.
Around 2-3 minutes each side or until hot.
Around 2-3 minutes each side or until hot.
About 15-20 Minutes at 375°F or until hot.

Now, I understand that everybody's appliances are going to be a little different but these may be the most simple and general directions I've seen on a Costco food item. The directions aren't very specific and give a lot of leeway.
Costco Food Database User Reviews
Have you tried this item? Let the rest of the Costco Food Database community know what you think. Leave a rating and review for this product. 
Costco Don Lee Grilled Chicken Patties (Guacamole Burger)
The Don Lee Grilled Chicken Patties from Costco are a healthy and tasty meal option. They make for one hell of a avocado chicken burger
Ingredients
1

Patty

Don Lee Chicken Patty

1

Bun

1

Slice

Cheese of your choice

1

Cup

Kirkland Signature Guacamole Cup
Instructions
Toast Bun to desired doneness

Heat grilled chicken patty on stovetop for 2-3 minutes on each side or until hot

Apply desired condiments on bun

Place grilled chicken patty on bun and top with cheese and guacamole
Notes
Nutritional information is for the grilled chicken patty only 
Nutrition
Serving:
1
Patty
Calories:
120
kcal
Carbohydrates:
2
g
Protein:
20
g
Fat:
2.5
g
Saturated Fat:
0.5
g
Trans Fat:
0
g
Cholesterol:
70
mg
Sodium:
370
mg
Fiber:
0
g
Sugar:
2
g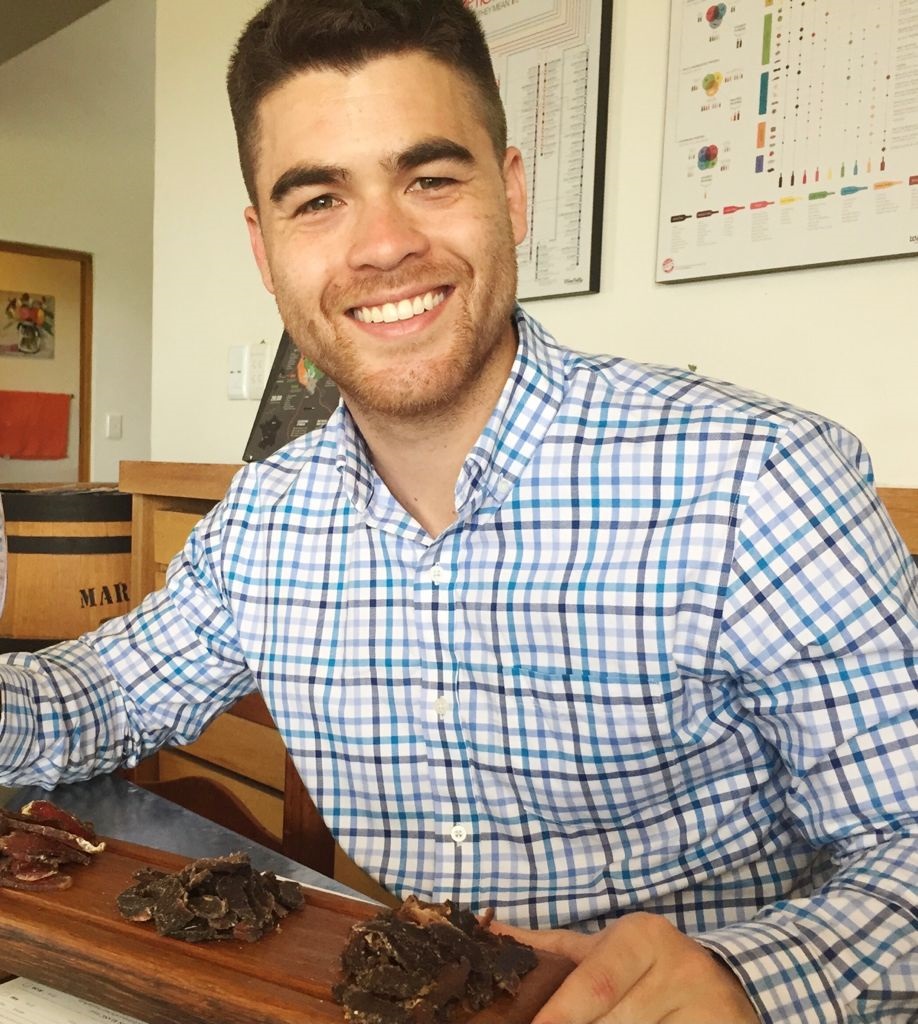 Greg Larkin is the founder and managing editor of Costco Food Database, the premiere site for honest takes on all things Costco food. A self-proclaimed Costco super-fan since childhood, Greg turned his obsession in a mission to properly rate and review all of Costco's delicious buys. When he's not busy navigating Costco aisles, you can find Greg smoking Kirkland Signature meats, meal prepping, or perfecting his homemade jerky recipes.