Costco Octopus (Fully Cooked) - El Rey Del Pulpo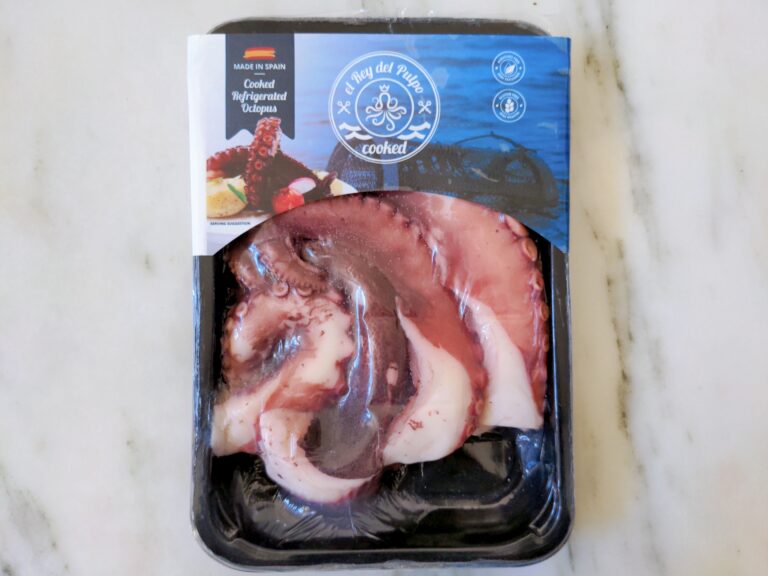 Costco Food Database's Octopus History
It's been a long time since I've had octopus at home. When my wife and I were younger, dumber, skinnier, and better looking, we attempted to cook an octopus for a nice dinner. We wanted to have a nice night in and make a special meal together. We followed a recipe online and boiled the octopus.
Yada yada yada we ended up with the most overcooked, tough, rubber tire-like piece of substance in the entire universe. It was a complete fail and we haven't even once brought up the idea about trying to cook an octopus again.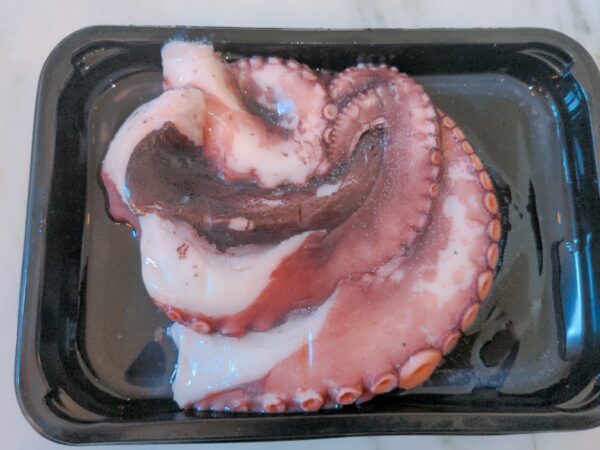 I've seen this item at Costco for many months now. I was content walking right by it every time, as I wasn't willing to bring another octopus home. I knew this one was cooked, and probably cooked sous vide to perfection. I just couldn't relive the shame and humiliation of the past. I was ok pretending this item never existed at Costco.
Have You Tried Costco's Octopus?
Let the rest of the Costco Food Database community know what you thought of this product. Results and reviews are at the bottom of this page.
Please allow 24 hours for review moderation and approval.
It wasn't until I saw the infamous asterisk on the label. I knew it was now or never for this fully cooked Costco octopus. There were only 3 left on the shelf, and I started to feel all these emotions. I was feeling embarrassed again, but I was also feeling some FOMO and even a chance at redemption. Yes, this is already cooked and essentially a layup, but sometimes that's what a man needs. And if I didn't buy these now, I wouldn't get to try this particular product. 
So I had to pull the trigger, and here we are. 
Fully Cooked octopus at Costco
Anyways, Costco sells these El Rey del Pulpo Cooked Octopus for $16.69 each. Each package contains 500g (1.1lbs for those using freedom units) of cooked octopus. The price per pound is $15.17. This isn't a cheap meal by any means, but I guess the hard work of cooking the octopus is done for you.
Costco sells these in the refrigerated deli section near the other seafood such as the smoked salmon or crab meat.
The Octopus is imported from Spain and "made in Spain". Maybe there are some translation issues or just differences in language, but I probably would have chosen to go with "Produced in Spain" instead of made. But maybe I'm just nitpicking here.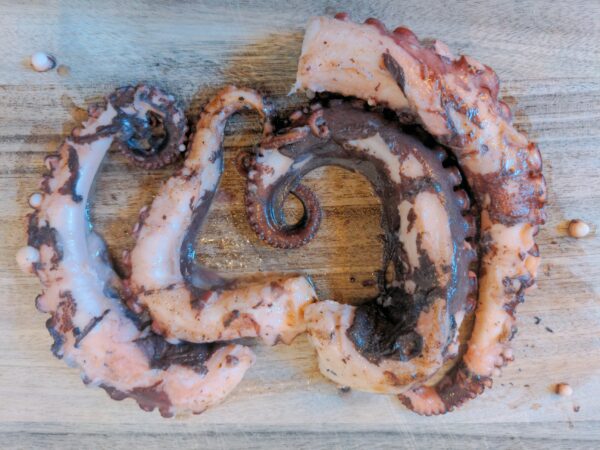 The octopus from Costco is already fully cooked and just needs to be reheated before eating. I opted to reheat the octopus in a cast iron for a few minutes. It was simple enough that I couldn't mess it up, and if anything I could have left it for another minute or so in the pan. 
We were serving pasta for dinner and wanted to have chopped octopus as an appetizer. My wife poured some balsamic vinegar and olive oil for dip while I sliced the octopus into bite size pieces.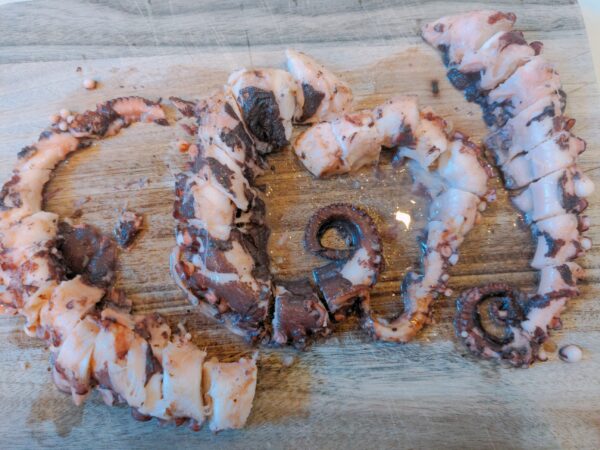 I have to say El Rey Del Pulpo Octopus is delicious. The sliced pieces were very tender and flavorful. The octopus is already salted but salted just enough to be noticeable. The olive oil and balsamic vinegar went great with the octopus and really accentuated the flavors. 
I also drizzled some Nonna Pia's balsamic glaze on one of the octopus tentacles. The balsamic glaze went great with the octopus and added just a touch of sweetness. I preferred the octopus with olive oil and balsamic vinegar over the balsamic glaze but both were very good.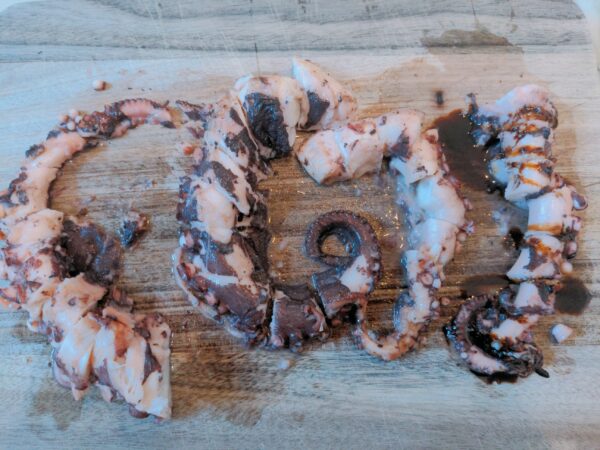 The 1 pound of octopus was a little much for my wife and I considering that it was not the main focus of the meal, but just an appetizer. Both of us thoroughly enjoyed it and will be happy to purchase this octopus from Costco if it ever does come back.
El Rey Del Pulpo Octopus Cooking Methods
El Rey Del Pulpo's octopus is already fully cooked, but can be reheated if desired. One of the listed preparation methods is to serve the octopus cold and chopped. 
The directions do say that if you want to serve the Costco octopus chopped, then you should cut it before heating. I didn't read that before I heated it and then chopped it because it was under the cold dish option and not listed first like it should have been. I'm only going to take partial blame for that, and the rest of the blame will be on El Rey Del Pulpo.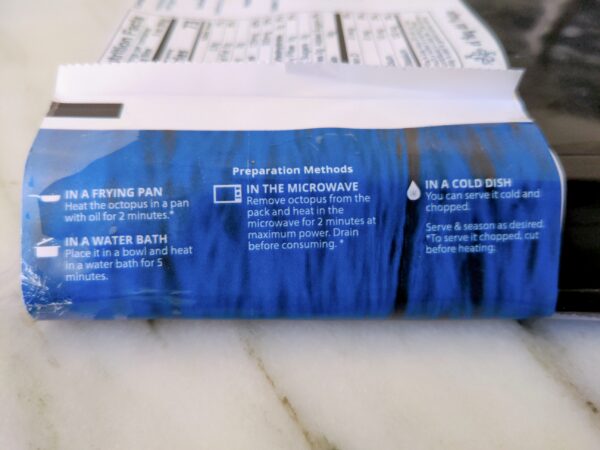 They do list 3 heating methods. You can microwave the octopus for 2 minutes at maximum power. You will have to drain the excess liquid before consuming the octopus.

Another option is to place it in a bowl and heat in a water bath for 5 minutes. They don't mention anything about temperature, so I have no idea what that actually means. Does it just need to sit in a bowl of room temperature water or do they mean to heat this by sous vide which some people also call a water bath?
Regardless, I decided to use the heat in the frying pan method. You just heat the octopus in a pan with oil for 2 minutes.
I have to say that these instructions were unsatisfactory. I'm not super familiar with octopus and I think these instructions should have been a little more in depth. Maybe the lack of clarity comes from being an international product.
Costco Octopus Nutritional Information
The only ingredients on the label are octopus and salt. This is essentially just octopus so the nutritional information is going to be very good. There are 73 calories per 3oz serving which includes .8g of fat, 0g of carbs and 16g of protein. The protein content is high while fat and carbs are low. This is an excellent nutritional label, and it's hard to ask for much more. 
The Costco octopus is a little high on sodium at 320mg per serving, but it's not a dealbreaker. This is an easy and healthy seafood dish that you can combine with other foods as you see fit.
This octopus from Costco was delicious. It was super easy to heat up and was succulent and tender. Each of the 4 tentacles was delicious and it was a nice addition to our simple pasta meal. It was a little pricey at $15 per pound, but I would gladly buy it again for a party or when we have guests over.
Costco Food Database User Reviews
Have you tried this item? Let the rest of the Costco Food Database community know what you think. Leave a rating and review for this product.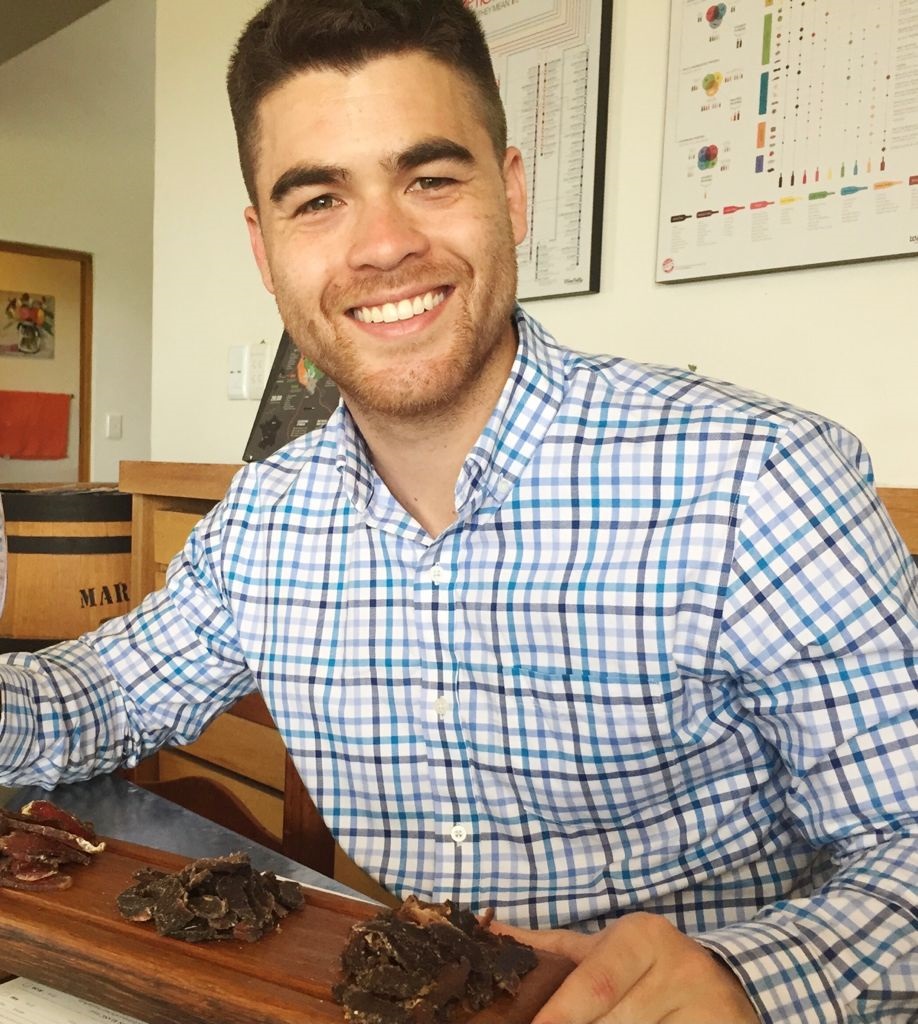 Greg Larkin is the founder and managing editor of Costco Food Database, the premiere site for honest takes on all things Costco food. A self-proclaimed Costco super-fan since childhood, Greg turned his obsession in a mission to properly rate and review all of Costco's delicious buys. When he's not busy navigating Costco aisles, you can find Greg smoking Kirkland Signature meats, meal prepping, or perfecting his homemade jerky recipes.