Costco Chicken Tortilla Soup - Best Soup At Costco?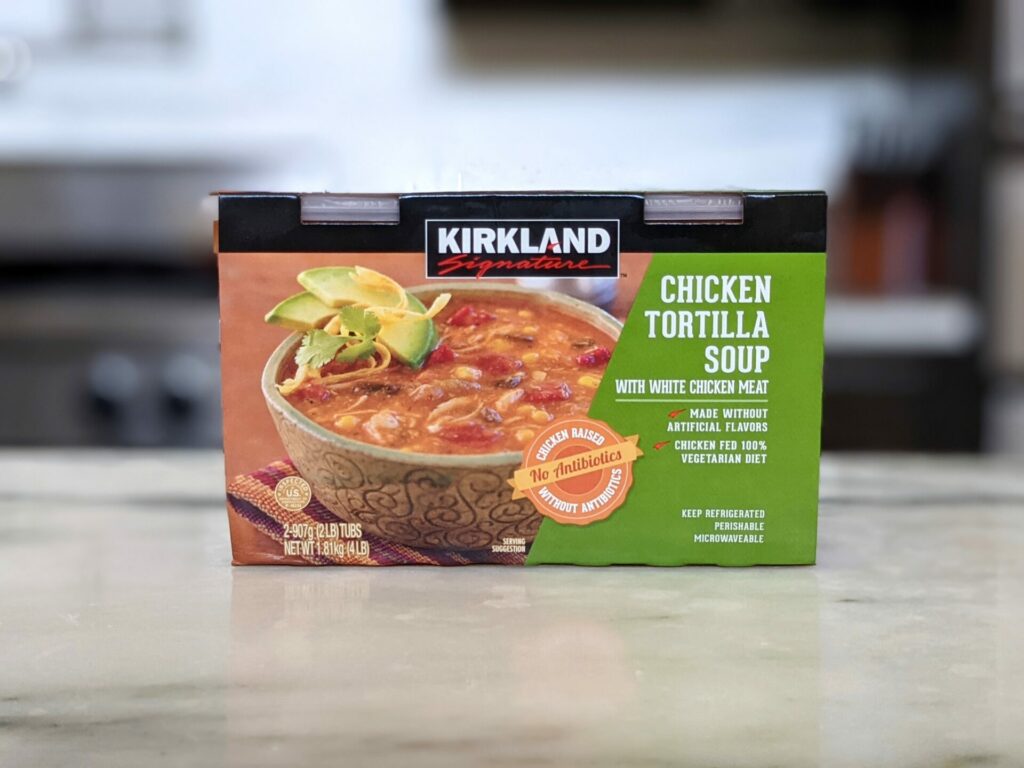 Kirkland Signature Tortilla Soup at Costco
Costco sells a 2-pack of Kirkland Signature Chicken Tortilla Soup for $9.99. The chicken tortilla soup is found in the deli area of the warehouse near other soups such as the lobster bisque, tomato basil soup, and the broccoli cheddar soup.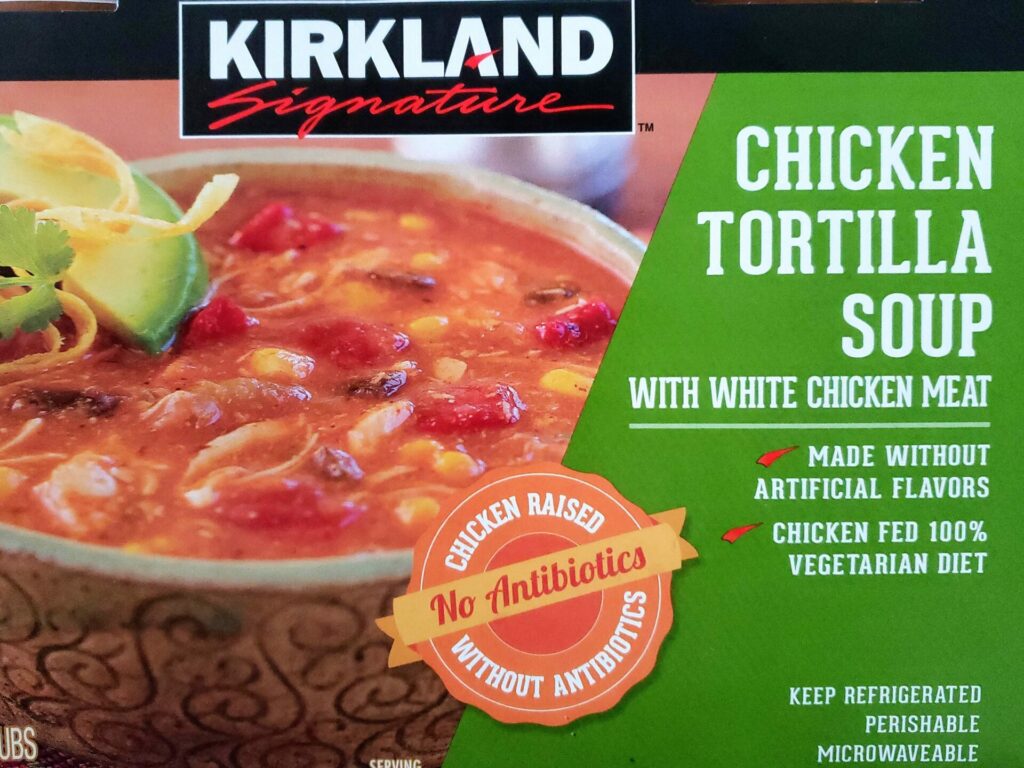 The Costco chicken tortilla soup is gluten-free (GF) and is made with white chicken meat that has been raised with no antibiotics.
Is Costco Chicken Soup Authentic?
The Costco chicken tortilla soup has a rich tomato and chicken broth base that is full of tender white chicken meat, corn, and roasted poblano chile peppers.
It's a taco in soup form and appears to stick closely to a traditional chicken tortilla soup. The only ingredient that sticks out to me is the carrots, but after some research online, it does appear to be a somewhat popular ingredient in tortilla soup.
Chicken Fed 100% Vegetarian Diet
The chicken in this chicken tortilla soup are fed a 100% vegetarian diet. This always sounded weird to me because chickens are not vegetarians and in fact, love to eat bugs.
But this actually means that the chickens are not fed any animal by-products and definitely not any chicken by-products.
Costco sells the 2 Tub (4 Pounds) Chicken Tortilla Soup for $9.99. This breaks down to $2.50 per pound and $5 per tub. 
This is a great price for soup and I could easily see myself getting 6+ meals from the two tubs.
Chicken Tortilla Soup Taste Test
I haven't had the best experiences with the soup from Costco, as most have been somewhat disappointing, but the tortilla soup was much better than I expected. The tomato and chicken soup base was flavorful, and the ingredients were tasty. This might be my favorite Costco soup.
Excellent Flavor - Just a Touch Spicy
The soup base was very nicely done. It wasn't overly salty, and there was quite a bit of flavor. I wouldn't call it spicy, but there is just enough spice to tickle the throat.
The soup had enough shredded chicken and even a few nice-sized chicken chunks. I would have liked a little more chicken, but I can probably say that about every soup ever made in the history of mankind. 
The vegetables were appropriately diced and very flavorful. This chicken tortilla soup hit on all levels for me, and I thought it was delicious.
The one ingredient that was missing from the chicken tortilla soup was the tortilla chips. I understand they couldn't possibly add tortilla chips to the soup, as they would just be soggy mush by the time we ate it, but the extra crunch would be nice.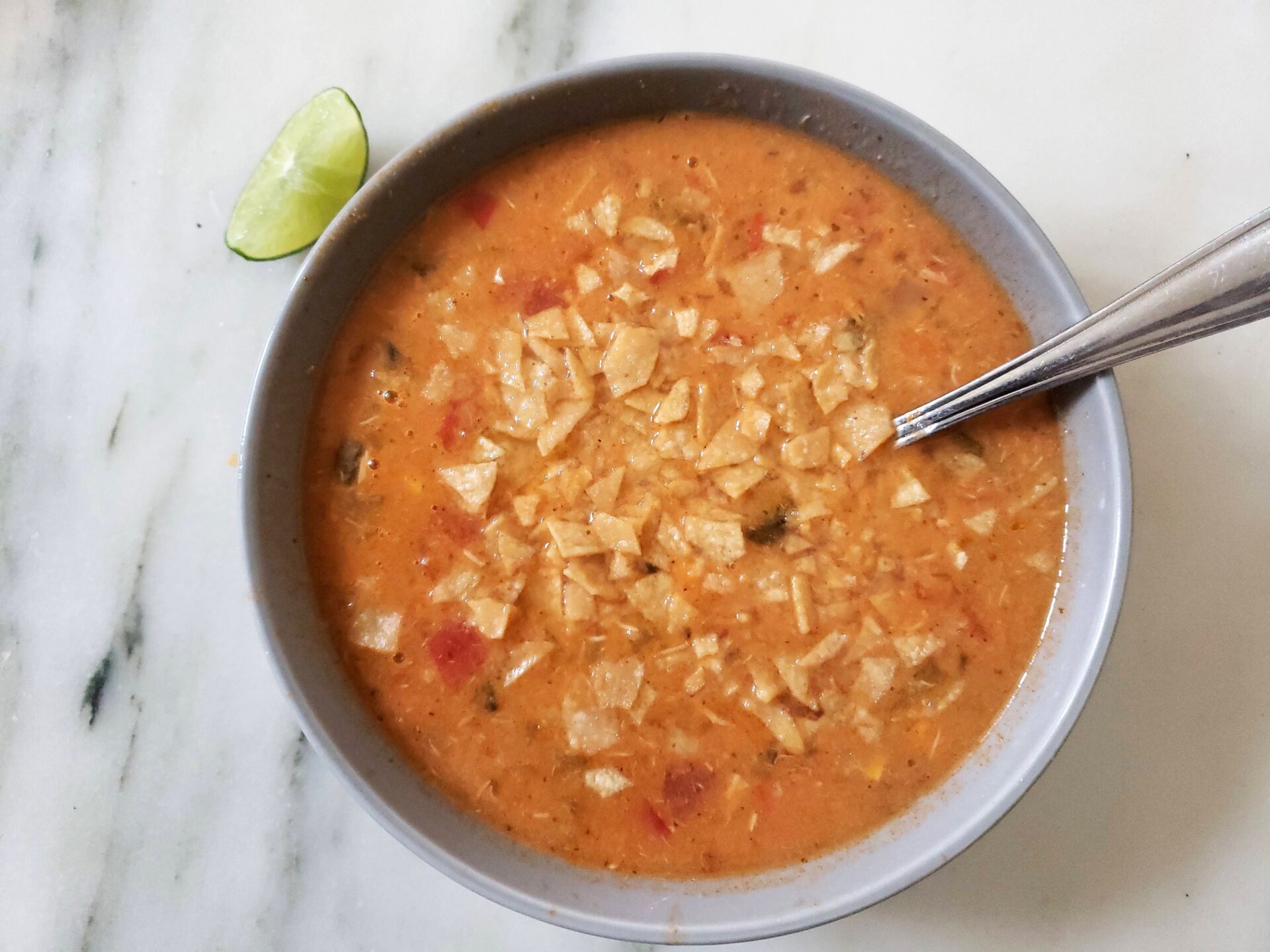 I did add some crushed tortilla chips and some lime juice to the soup for some extra texture and flavor.
Costco Chicken Tortilla Soup Cooking Directions
How to Heat Costco Chicken Tortilla Soup
There are two options when it comes to heating this tortilla soup; it can be microwaved or heated on the stovetop.
I prefer the stovetop for soups as it's easier to control the heat, and you can even add ingredients while it's warming up.

Pro Tip: You don't need to heat the entire carton of soup at one time when using the stove. Cook what you need and refrigerate the rest.
Microwave Heating Instructions
Remove the lid and peel back the plastic film about ½" to vent. 

Microwave on HIGH for 5 Minutes. 

Let stand in the microwave for 1 minute.

Caution: Container and Soup will be hot. Carefully grasp the container on the sides with potholders when removing it from the microwave. 

Stir thoroughly for an even soup temperature.
Note: After tasting, if you like warmer soup, heat it for an additional 30 to 60 seconds. 
Microwave ovens vary. Time is approximate. Uneven heating may cause popping, movement of container, or splattering.
Stovetop Heating Instructions (Recommended Method)
In a saucepan, cook on medium heat, stirring frequently. It took me about 5 minutes to fully heat up my chicken tortilla soup.
Kirkland Signature Chicken Tortilla Soup Calories and Nutrition
How Many Calories in Kirkland Chicken Tortilla Soup?
One serving of Chicken Tortilla Soup will be 1 Cup or about 8 ounces. There are 3.5 servings per tub and 7 total servings in the entire two-pack of soup. Each serving will have the following nutritional information:
Calories: 120

Total Fat: 3.5g (4% DV)

Cholesterol: 30mg (10% DV)

Sodium: 780mg (34% DV)

Total Carbohydrate: 13g (5%)

Dietary Fiber: 2g (7% DV)

Total Sugars: 5g

Added Sugar: 1g (2% DV)

Protein: 11g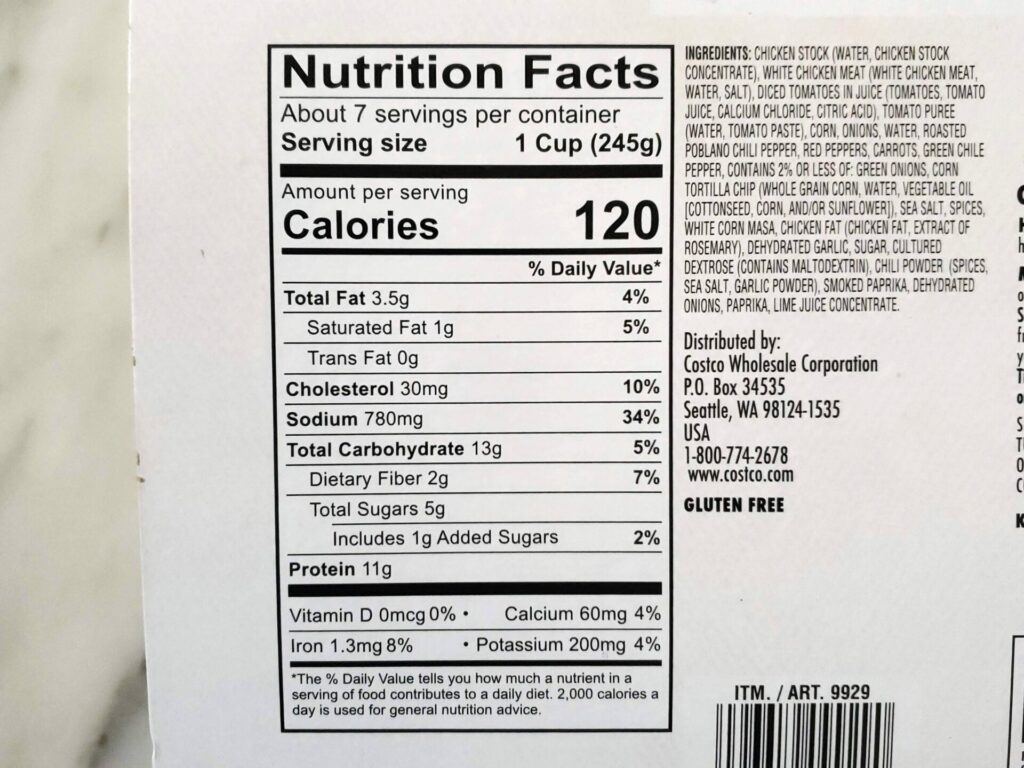 This is actually a fantastic nutritional profile. The calories are on the low end for soup at 120 calories per cup. 
The carbohydrates are manageable, and the protein is exceptional at 11 grams per serving. This is an excellent low-calorie soup. 
The one concern with the soup will be the sodium content. Each serving will have 780 mg or 34% of the recommended daily value, which is about average for soup, especially pre-packaged soups. 
I know 120 calories won't fill me up for a meal, so I'll be eating additional food with the soup, which in turn adds more sodium. This isn't the worst sodium content in the world, but something to make a note of.
Costco Chicken Tortilla Soup Review
Product Name: Kirkland Signature Chicken Tortilla Soup
Product Description:
Price: $9.99
Quantity: 4 Pounds (2 Tubs)
Location Within Costco: Refrigerated Deli Area
Price Per Pound: $2.50 ($5 Per Tub)
Summary
Costco's chicken tortilla soup is a winner and might be the best tasting soup at Costco. The soup was bold, flavorful, and appropriately spicy, and my only suggestion would be to add some crushed tortilla chips for extra texture. 
The price is fair, and nutritionally, this is a very low calorie soup. Give this one a try!
Value -

8/10

Convenience -

8/10

Taste -

8/10

Nutrition -

9/10

CFDB Score -

8/10
Pros
Great Flavors

Low Calorie