Costco Lobster Bisque - Is It Any Good?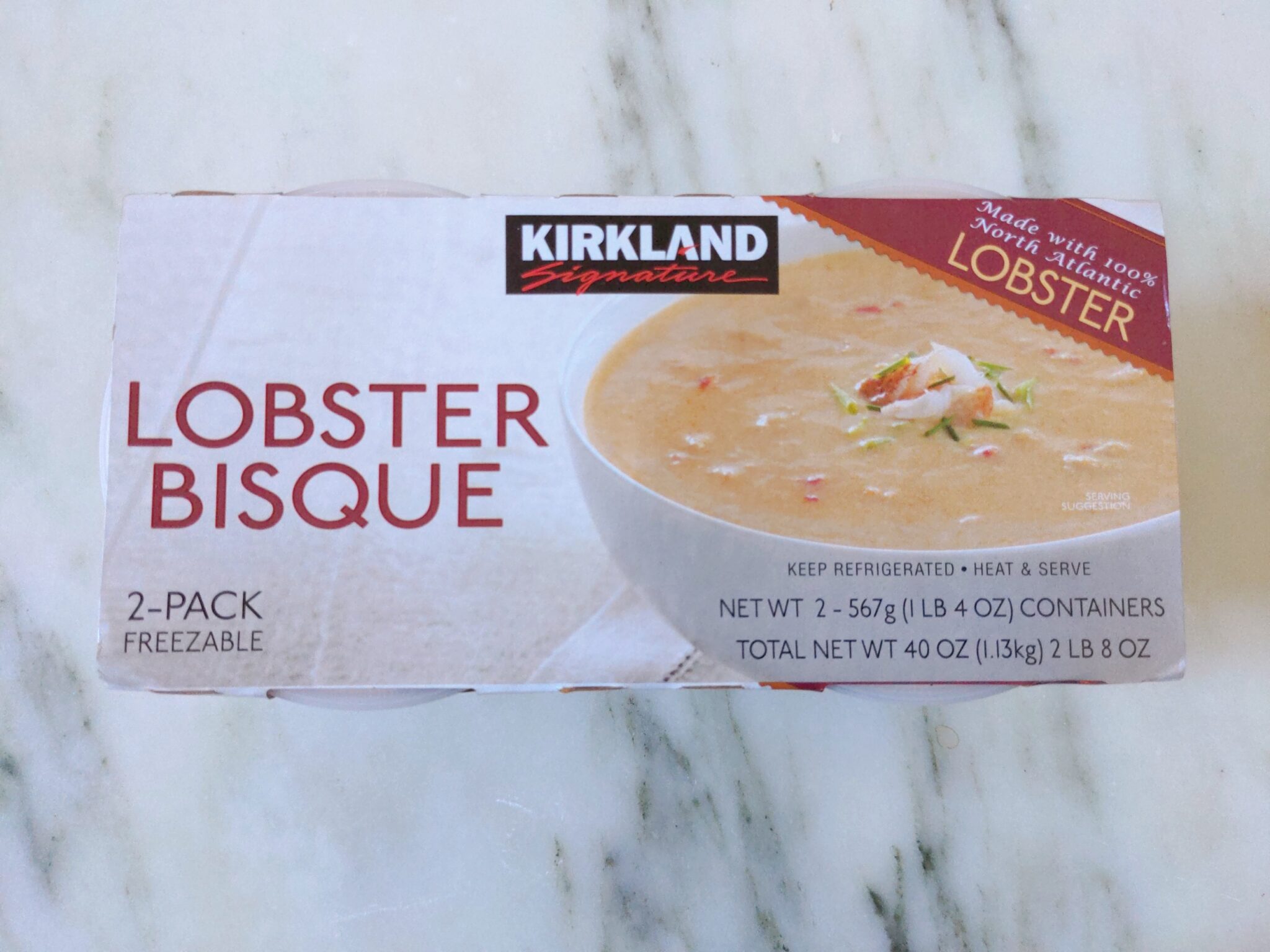 Costco sells the two pack of 20 ounce Kirkland Signature Lobster Bisque for $10.99. The Lobster Bisque can be found in the refrigerated deli area of the store near other items such as the Lobster Ravioli, Healthy Noodle, and Scalloped Potatoes.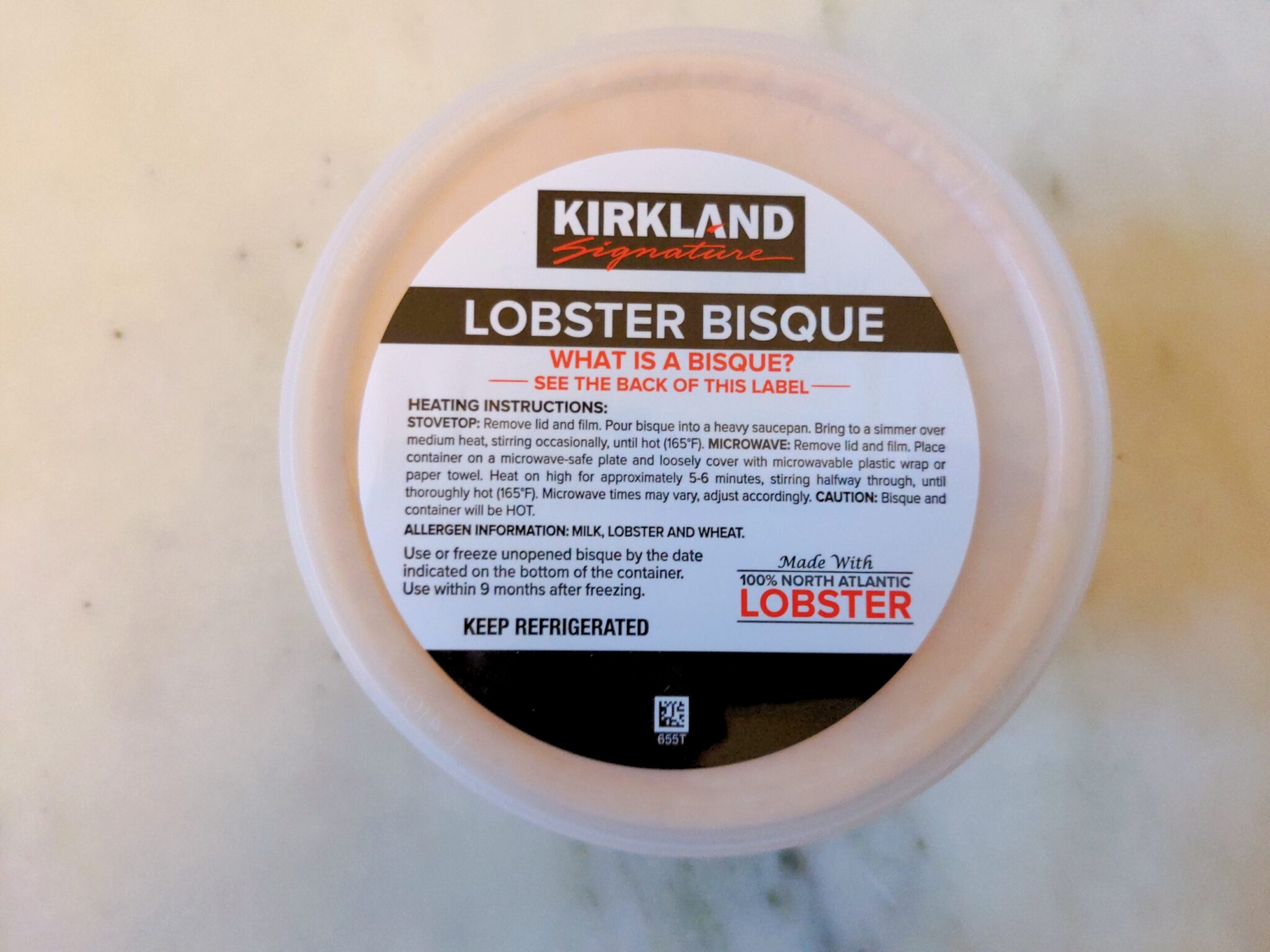 Have You Tried Costco's Lobster Bisque?
Let the rest of the Costco Food Database community know what you thought of this product. Results and reviews are at the bottom of this page.
Please allow 24 hours for review moderation and approval.
Are These Made With Maine Lobster?
The label does say that the soup is made with 100% North Atlantic Lobster, and I take that somewhat as a good sign. I'm not a lobster expert by any means, but I do know Maine lobsters are considered some of the best. 
I am wondering why it does say North Atlantic vs Maine, and what the difference in lobster actually is in that regard. One of my general rules is that higher quality foods will provide more precise locations when speaking of their product or ingredients.
Sidenote: There is something about the word "bisque" that I really love. It's a soup, but the name is so strong and abrupt. It feels like you are getting a thick and hearty soup instead of something that is more watery broth-based and I feel the name encapsulates that perfectly. 
I'll take a bisque over a soup any day.
How Much Does the Lobster Bisque at Costco Cost?
Costco retails their Kirkland Signature Lobster Bisque for $10.99 and will mark down the bisque to $7.49 during their monthly specials. This means each 20 ounce container of soup goes for $5.50 at retail or $3.75 when on sale.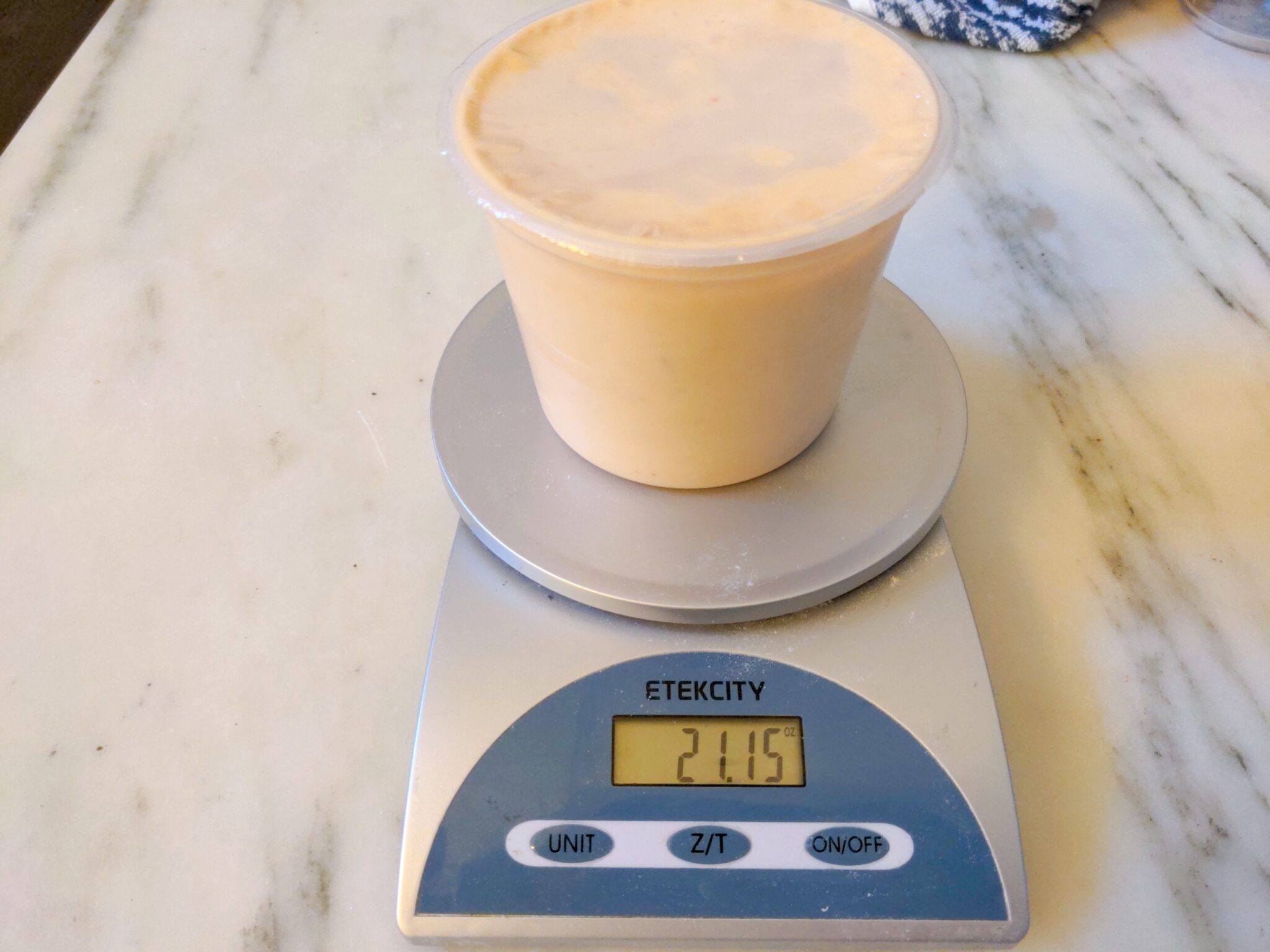 This is a pretty substantial discount for this soup and savings of $3.50 or over 30%.
Costco is also no exception to rising food prices, I recall this soup previously being in the $9.99 retail range.
For comparison, Costco sells similar sized Clam Chowder for $11.69 or $5.85 a tub.
Kirkland Signature Lobster Bisque Cooking Methods
How To Cook The Lobster Bisque from Costco
The label lists two ways to heat this Costco lobster bisque, and they are in the microwave or on the stove top. 
Stove Top Heating Instructions
Remove container from outer sleeve.
Remove lid and film.
Pour lobster bisque into a heavy saucepan.
Bring to a simmer over medium heat, stirring occasionally, until hot. (165°)
Microwave Heating Instructions
Remove container from outer sleeve.
Remove lid and film.
Place container on a microwave safe plate and loosely cover with microwavable plastic wrap or paper towel.
Heat on high for approximately 5-6 minutes, stirring halfway through, until thoroughly hot (165°).
I have microwaved this lobster bisque and many other soups in the past, and I will not be doing it again. 
The soup splatters all over the place and also crusts up along the edge. It is very unappealing to eat soup from a bowl that you had to wipe some burnt crust off of. And in order to get an evenly heated bisque, you have to mix it multiple times and heat it up way too hot. 
I only have two cartons of Costco Lobster Bisque, and I'm going to make sure I enjoy them best I can.  
Costco Lobster Bisque - Taste Test
How Does Costco's Lobster Bisque Taste?
This isn't my first time trying this bisque, and I have to say the item actually surprised me quite a bit. The soup was sweeter and had more of a cream flavor than I remembered. The soup was also more watery and less thick. It was puzzling to me because there was more cream flavor but it was less creamy.  
I'm not sure if there was a recipe change over the years, but this felt like a slightly different soup to me. The general flavor was there, there was a touch of lobster flavor in every bite. The soup was not overwhelmingly salty and considering the amount of sodium in this product, it still felt somewhat balanced.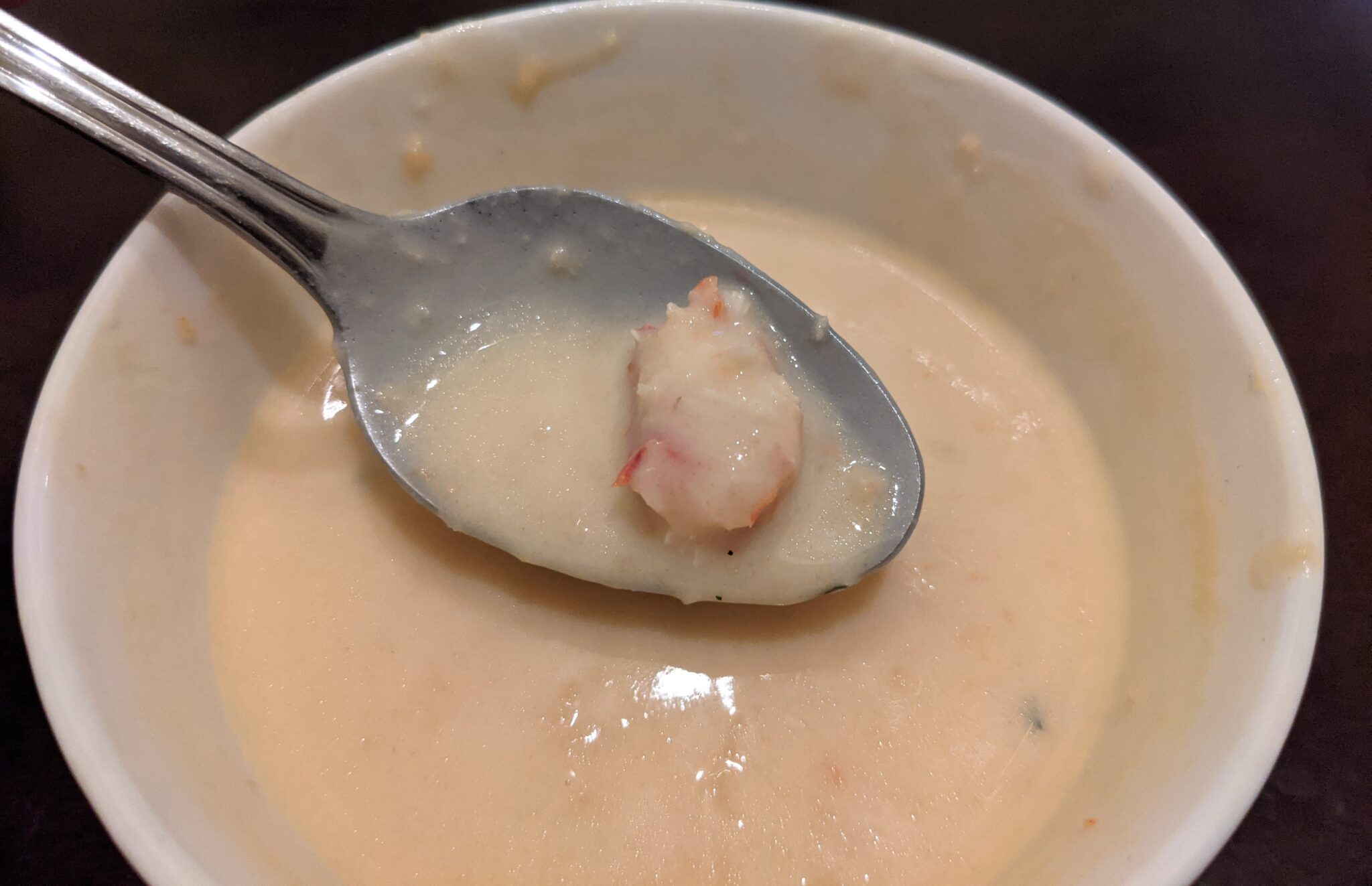 The lobster chunks were few and far between. I had one small-medium sized chunk in the entire carton and another chunk that I would call small at best. 
The majority of lobster came in little ground or diced up lobster pieces that were no bigger than half a grain of rice. Not too visible in my photos, but when eating the soup you could clearly see the teeny tiny lobster pieces. 
I wouldn't be surprised if there were 500+ little lobster pieces in each carton of Costco Lobster Bisque. They were too small to have any texture, but did provide the lobster flavor to every bite.
Is Costco's Lobster Bisque Worth the Money?
Considering, I paid about $3.75 for each carton, I would say they are worth just about that much. I would not pay the full price of $10.99 for 2 cartons. 
The label claims this Costco lobster bisque "has set the standard for lobster bisque in the world's finest kitchens", but that is a little far fetched. 
I would say it's a slightly above average soup and I wouldn't be surprised if you could find a soup of similar quality at a Panera bread. It's fine for what it is, it's not restaurant quality and it's not the best lobster bisque you will ever have.
Lobster Bisque Nutritional Information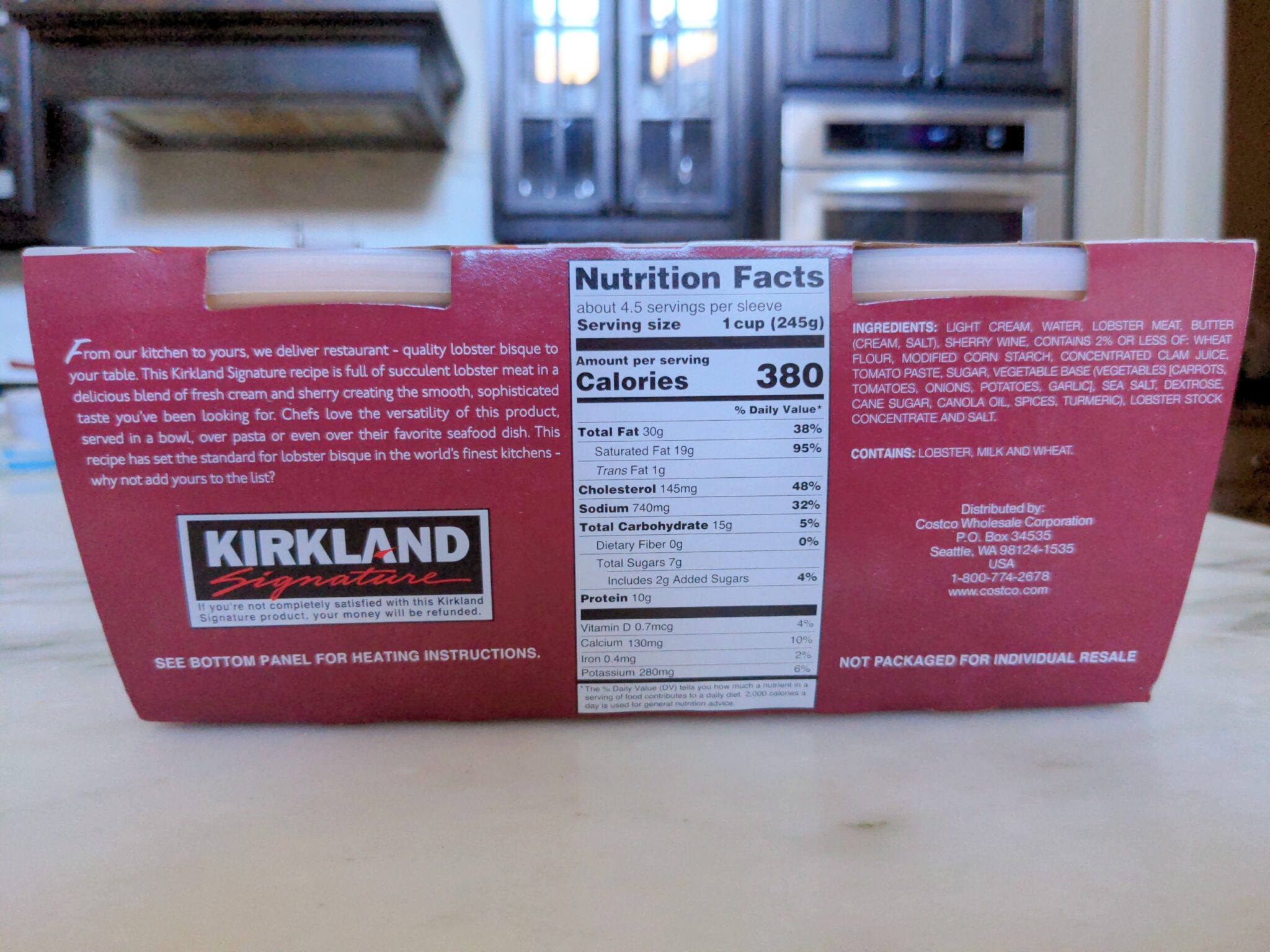 How Many Calories in Losbster Bisque?
Each serving is 1 cup of lobster bisque or 245 grams and contains 380 calories with 30 grams of fat, 15 grams of carbs, and 10 grams of protein.
I am a little surprised with the lower amount of carbs and the slightly high amount of protein for a soup or a bisque. This isn't necessarily a great nutritional profile due to the 30 grams of fat, but it definitely could have been worse.
One 20oz carton contains roughly 855 calories, 67.5g of fat, 33g of Carbs, 22.5 g of Protein, and over 1600 mg of sodium.
Each serving of the bisque contains 740 mg of sodium or 32% of your recommended daily value. If you eat the entire 20 ounce carton like I did, you would have taken in over 1600 mg of sodium or over 70% of the recommended daily value. 
No surprises here, this is not healthy food. A bisque is a creamy, highly seasoned food, and it's not going to be good for you. There is no way to spin it, this is a treat and not an everyday eat.
Every time I purchase and eat this Kirkland Signature Lobster Bisque from Costco, I end up with the same feeling. It's a mediocre soup that I don't recommend to others, unless you are looking for something to hit that lobster bisque craving. I have it about once a year, and that's good enough for me, until I get the craving again.
Costco Food Database User Reviews
Have you tried this item? Let the rest of the Costco Food Database community know what you think. Leave a rating and review for this product.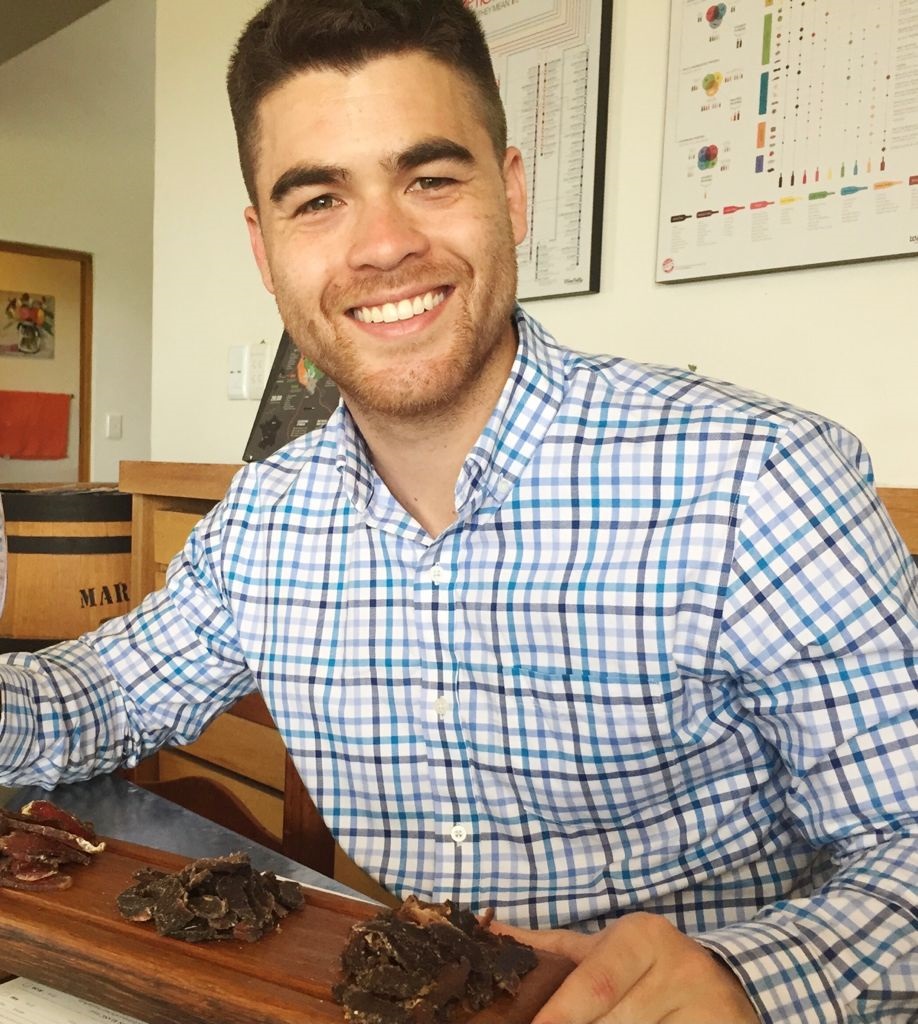 Greg Larkin is the founder and managing editor of Costco Food Database, the premiere site for honest takes on all things Costco food. A self-proclaimed Costco super-fan since childhood, Greg turned his obsession in a mission to properly rate and review all of Costco's delicious buys. When he's not busy navigating Costco aisles, you can find Greg smoking Kirkland Signature meats, meal prepping, or perfecting his homemade jerky recipes.