Costco Cilantro Lime Shrimp - A Hidden Gem? (Kirkland Signature)
Kirkland Signature Cilantro Lime Shrimp at Costco
Costco sells their Kirkland Signature Cilantro Lime Shrimp for $10.99/lb. The Cilantro Lime Shrimp can be found in the prepared foods area of the warehouse near other items such as the beef stew, meatloaf, and the Southwestern Chicken Wrap.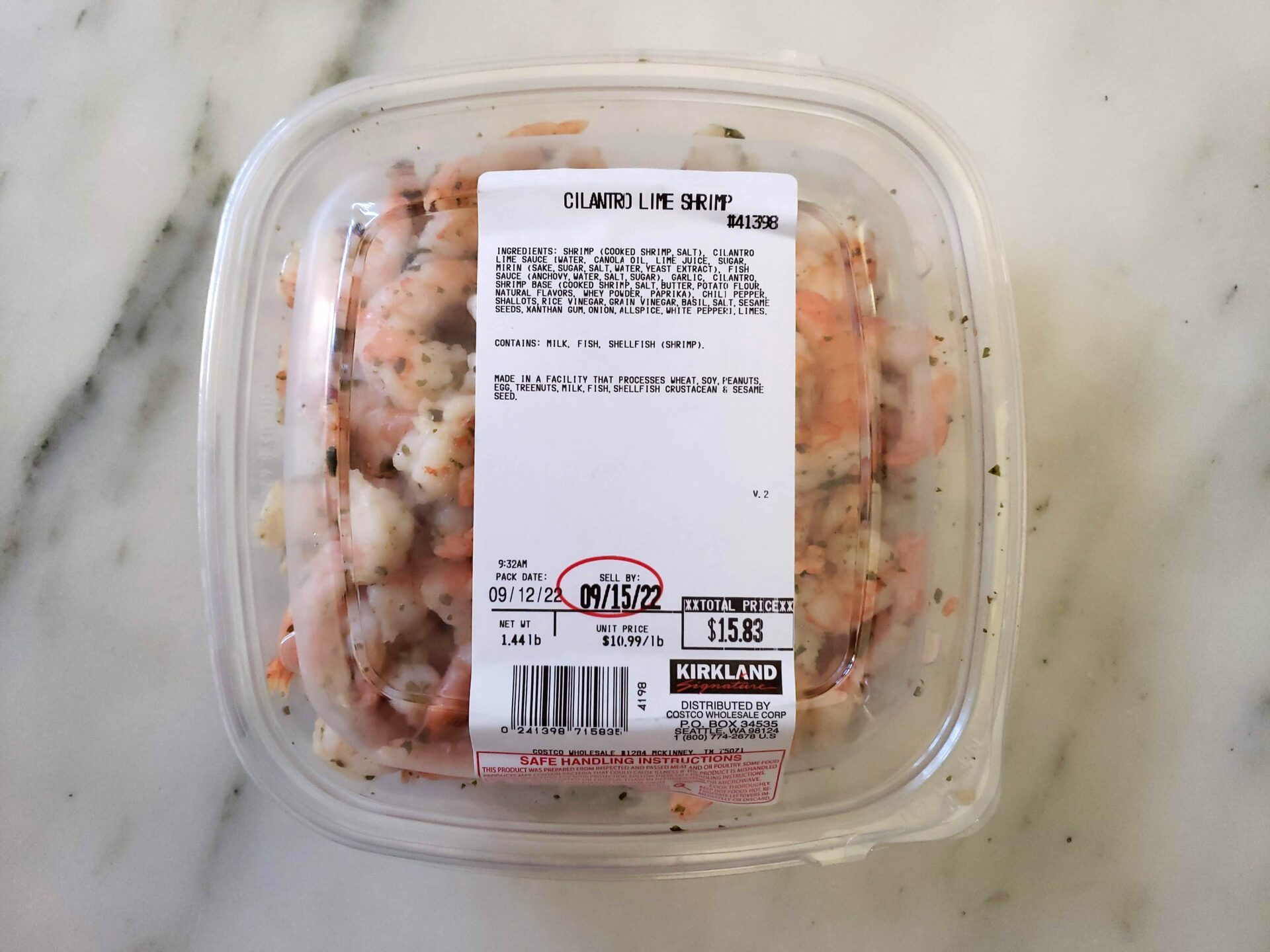 The Costco Cilantro Lime Shrimp is sold in approximately 1.5-pound packages, and my package of shrimp costs $15.83.
Costco also sells a shrimp ceviche grab-and-go meal.
Have You Tried Costco's Cilantro Lime Shrimp?
Let the rest of the Costco Food Database community know what you thought of this product. Results and reviews are at the bottom of this page.
Please allow 24 hours for review moderation and approval.
There are some foods in the prepared meal section that you have to cook, and others are ready to be eaten as is. This Cilantro Lime Shrimp is fully cooked, deveined, marinated, and ready to go.

The shrimp can be eaten cold straight from the packaging, or it can be combined with other ingredients to make a meal.
What's in the Cilantro Lime Shrimp?
I would have assumed cilantro and lime were enough to flavor the shrimp, but there is quite a bit more added to the shrimp. 
I'm not going to go over all of the ingredients, but in addition to cilantro and the lime sauce, there is fish sauce, shrimp base (cooked shrimp, salt, butter, potato flour, natural flavors, whey powder, paprika), garlic, sesame seeds, onion and addition seasonings.
There is definitely a lot going on in this shrimp, and it's a little disappointing that this couldn't just be made with simple and clean ingredients.
Cilantro Lime Shrimp Costco Comparison
The Cilantro Lime Shrimp at Costco sells for $10.99/pound or about $15-$17 per package. I was able to snag a package of the shrimp when it went on sale with a flat $3 off, bringing the price down to $12.83. 
After the discount, my price per pound was $8.55. This is a fantastic price for marinated shrimp.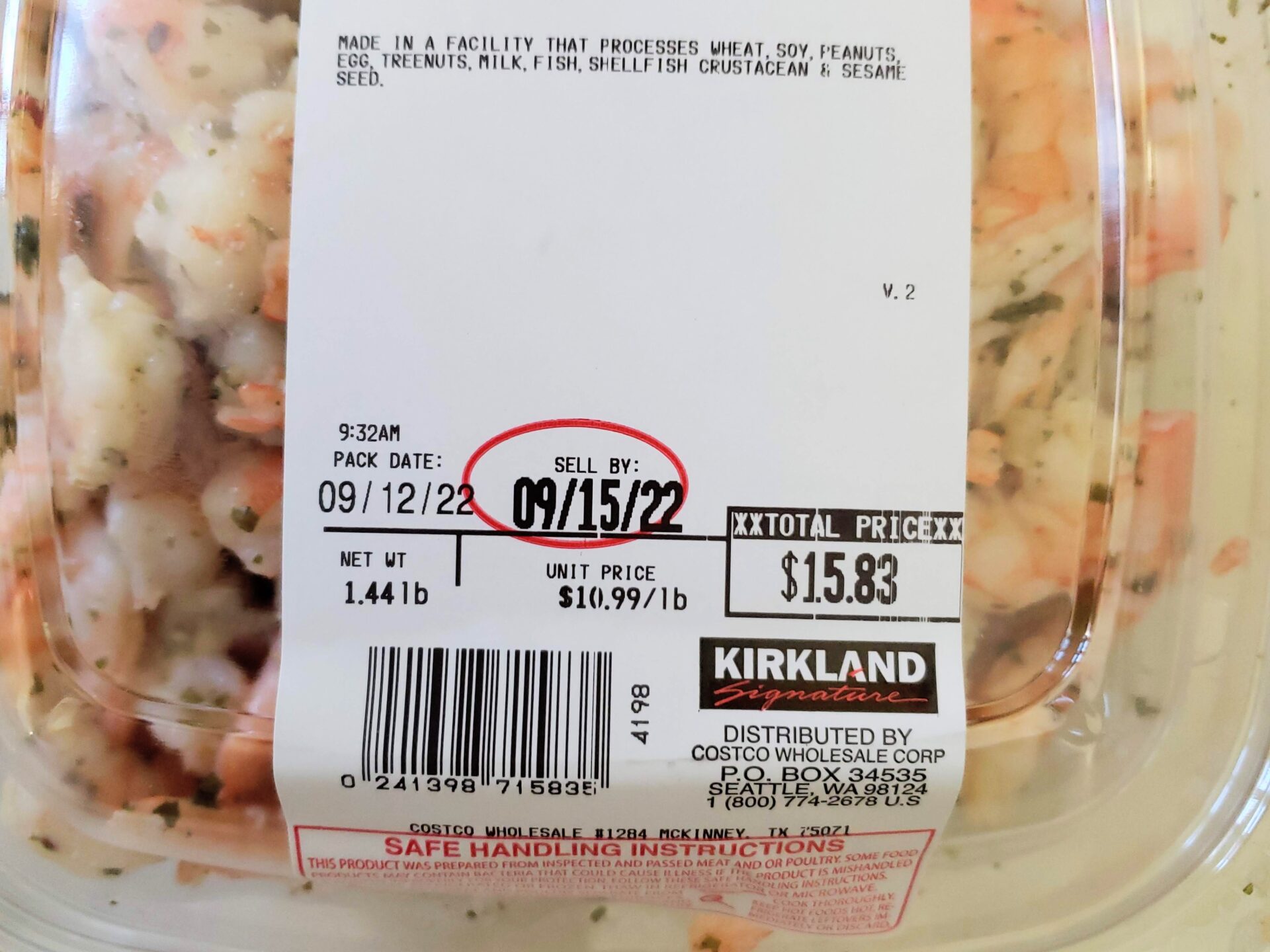 Costco vs The Competition
This Costco deli food appears to be a Kirkland Signature unique item. It doesn't seem that any other major retailers, such as Sam's Club, Target, or Whole Foods, sell a deli-prepared cilantro lime shrimp.
Costco Cilantro Lime Shrimp - Taste Test
The shrimp look great. They are already cooked, and you can tell they are covered in so much yummy goodness. The lime juice gives the shrimp a nice sheen in addition to the plethora of cilantro pieces, red bell peppers, and garlic.
There is no doubt in my mind that these are going to be packed with flavor.
This Costco cilantro lime shrimp is fully prepared and cooked. This means the shrimp has had the head removed and has been deveined and peeled. 
The shrimp is also pre-cooked and ready to be eaten. It is cooked very well, and the shrimp was still super juicy and tender.

Not only did I like the look of the Costco cilantro lime shrimp, but I also thought they tasted amazing. I ate the first few cold and directly from the container, and they were fantastic. 
The cilantro and lime flavors were not overpowering, and they blended in quite nicely with the other seasonings used.
I enjoyed eating the shrimp and was even surprised by how hard it was to stop snacking on them. I don't often say, "just one more" with shrimp.
They are delicious and very easy to eat as a simple finger food.
I did snack on a few more of the cilantro lime shrimp than I intended, but I also used the shrimp for some quick and tasty shrimp tacos and on a homemade salad.
The tacos were light and refreshing and paired well with some guacamole. The tacos took just a few minutes to prep and made for a healthy and delicious taco.
Another meal I made was a healthy shrimp salad. Shrimp is a great lean protein that can help keep calories down while still bursting with flavor.
The cilantro lime flavors of the shrimp are versatile and can be used in many different types of salads.
The $10.99 a pound price tag on the Costco Cilantro Lime Shrimp isn't ridiculous, but you can save a few bucks by purchasing the shrimp yourself and adding a few simple ingredients. Depending on the size of the shrimp, the lowest it goes for at Costco is about $8 per pound.
To make your at-home version of Costco's cilantro lime shrimp, you will need shrimp, lime juice, cilantro, garlic, olive oil, and salt and pepper.
The shrimp is easy to make, but depending on your purchase, you will have to peel and devein the shrimp, which is a necessary but annoying step.
After the shrimp have been cleaned, cook the shrimp on a medium hot skillet for about 90 seconds per side or until fully cooked through. Once they are cooked, put them in a bowl and mix in with the cilantro, lime, garlic, salt and pepper.
The end result will be an amazing-tasting Cilantro Lime Shrimp Costco clone.
One major drawback to Costco's prepared meals is that the nutritional information and calorie count are not readily accessible. 
I did some digging online, and according to Eat This Much, each 4-ounce portion of Costco Cilantro Lime Shrimp will contain 112 calories. Those 112 calories will be made from 1.2 grams of fat and 23.6 grams of protein.
Because this information doesn't come from Costco, I can't say for certain that the calories are accurate, but this is pretty close to the nutritional profile of shrimp. This may not be fully accurate, but it will be pretty darn close.
Either way, the cilantro shrimp will have an exceptional nutritional profile and will be a great addition to almost any meal or diet. There is as little fat as can be, and the shrimp are packed with protein. Great stuff!
Costco Food Database User Reviews
Have you tried this item? Let the rest of the Costco Food Database community know what you think. Leave a rating and review for this product.