Costco Meatloaf and Mashed Potatoes - Best Prepared Meal?
Kirkland Signature Meatloaf and Mashed Potatoes at Costco
Costco sells their Kirkland Signature Meatloaf and Mashed Yukon Potatoes with Glaze for $3.99 a pound. The Meatloaf and Mashed Potatoes combo prepared meal can be found in the refrigerated deli area near other items such as the beef bulgogi, macaroni and cheese, and the garlic drumsticks.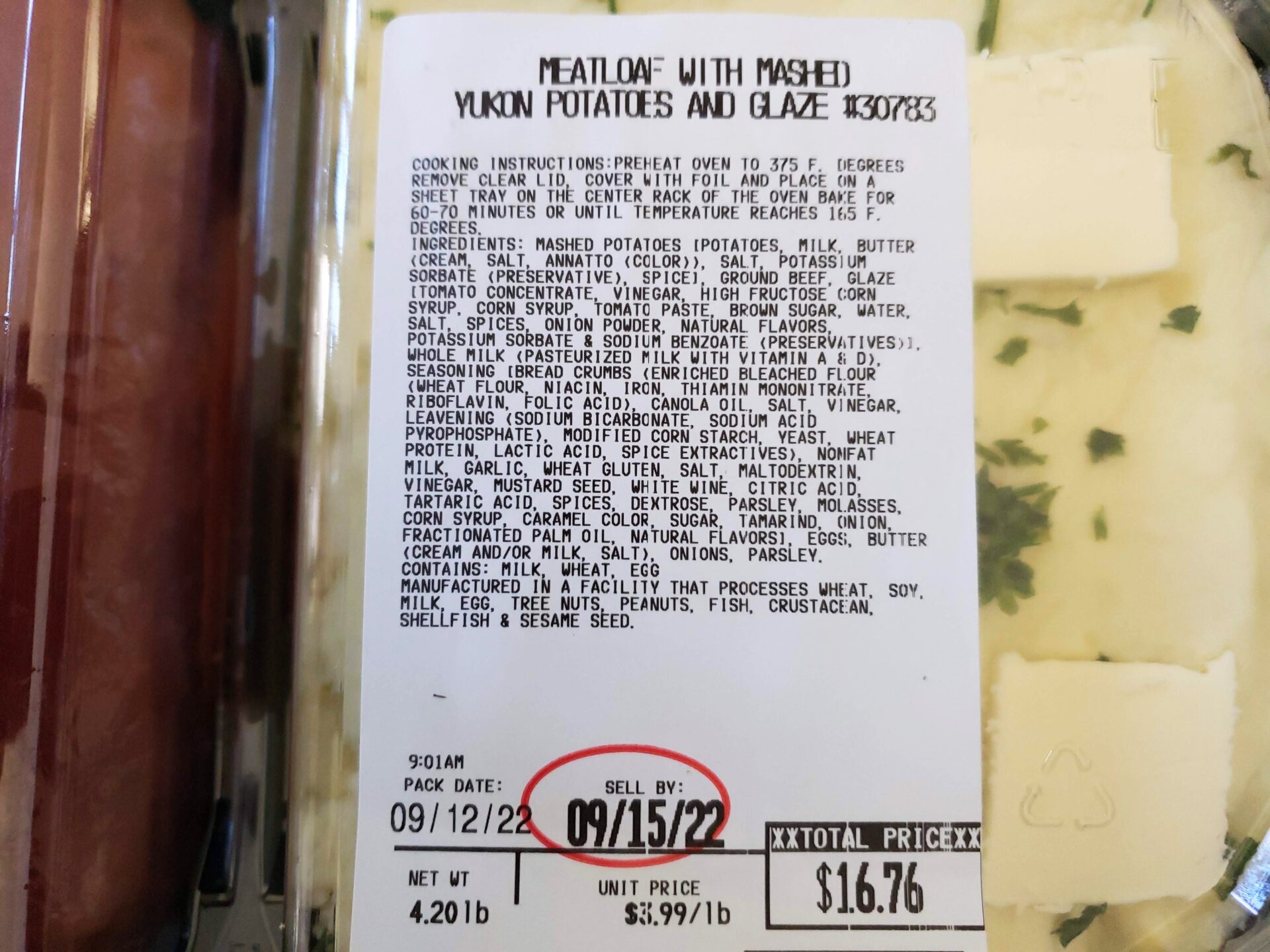 Each package of Costco's meatloaf and mashed potatoes weighs about 4.25 pounds and comes with a ground beef meatloaf with glaze and Yukon gold mashed potatoes.

Thing To Know - Long cook Time
The Costco Meatloaf and Mashed Potatoes will take about an hour to cook in the oven. Costco already takes care of a lot of the prep work, but there is still a long cook time.
Prepare your meal accordingly.
The Meatloaf is Made Fresh Daily!
When researching this article, I came across a reddit comment from user livin801, a Costco employee. They state that the Costco meatloaf is made fresh daily using ground beef they buy directly from the meat department.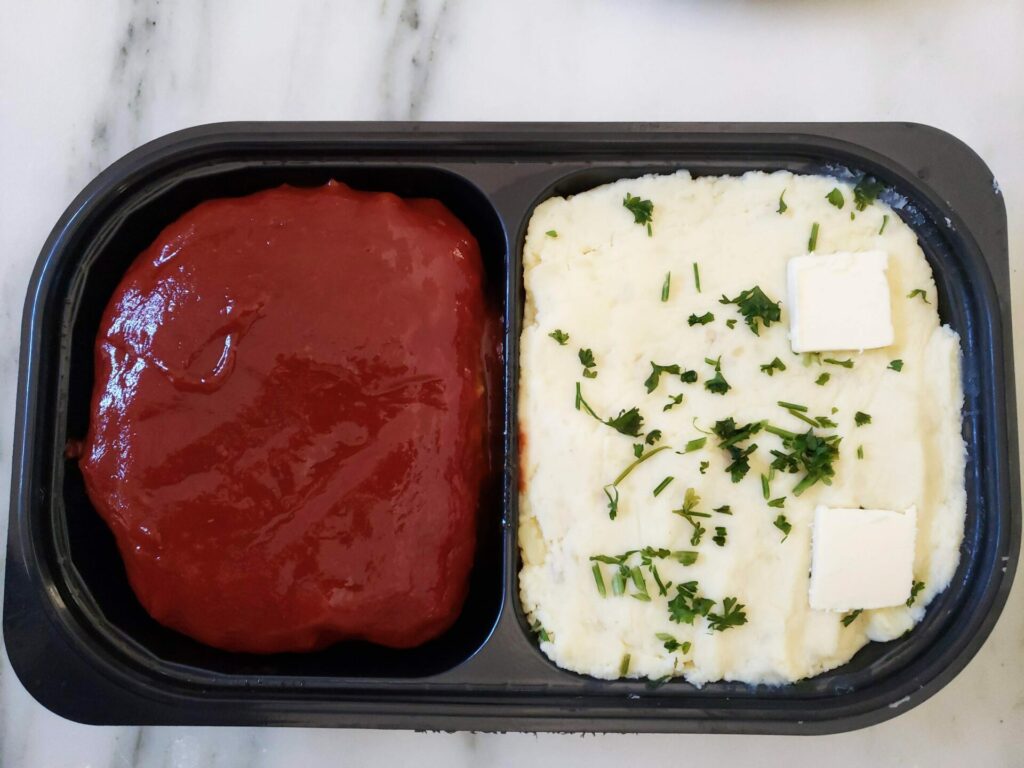 Costco grinds it fresh multiple times daily and adds fresh eggs, onions, and seasoning. They then cook it in the "Combi" oven, chill it, and apply the glaze. I always love to see freshly made food.
The Yukon Mashed Potatoes, however, are not made on site and are shipped to Costco prepackaged.
How Much Does Costco's Meatloaf and Mashed Potatoes Cost?
The ~4-pound Costco meatloaf and mashed potatoes for $3.99 a pound. The total price for my purchase of meatloaf was $16.76. This is a solid and fair price for an easy to make dinner meal.
$3.99 a pound for a meal seems pretty fair, but we do have to take into consideration that the mashed potatoes are going to cost significantly less to produce than the meatloaf.
 
Costco sells its ground beef for $3.99 a pound, and after preparing the meatloaf, there should be some markup.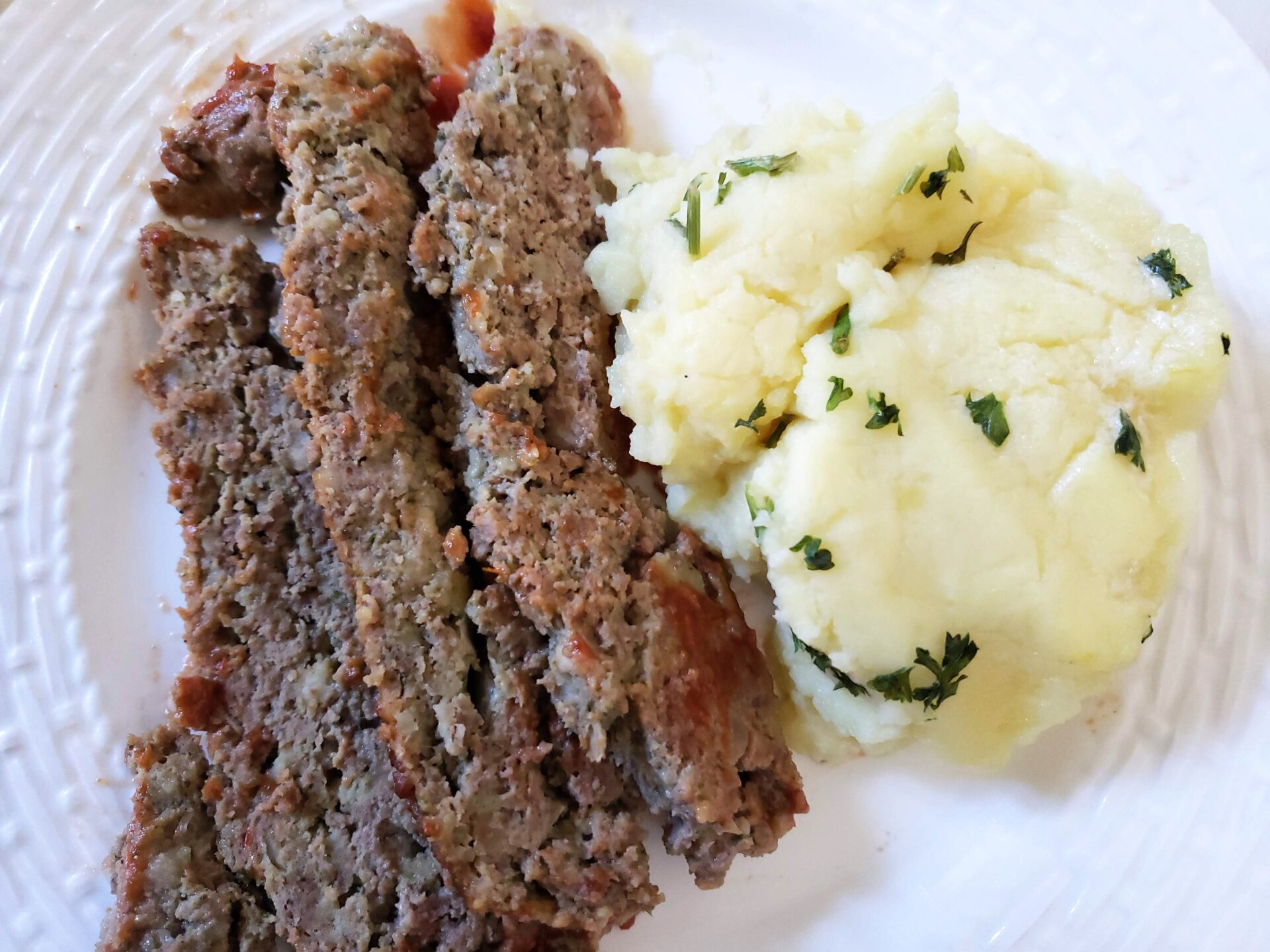 Looking at the meal holistically, the $3.99/pound price tag for both the meatloaf and mashed potatoes is appropriate.
Costco vs. The Competition
Whole Foods sells a pre-made 13.5-ounce package of meatloaf, mashed potatoes and green beans for $9.99.
This is a per-pound price of $11.89, nearly triple Costco's per-pound price. Hard to say how the quality compares, but this isn't even close for a price comparison.
Meatloaf and Mashed Potatoes Taste Test
The biggest turn off for me is the bright red glaze that covers the Costco meatloaf. It's not really the color I'm looking for on a meatloaf.

After the cooking process, the mashed potatoes look great. They have a nice golden-yellow color, and the parsley is a great addition.
Butter is always worth having in mashed potatoes, but during the cooking process, the butter just melted directly into the potatoes that it was sitting on and left a butter imprint.
The masthead potatoes must be mixed to spread and maximize the butter flavor.
The mashed potatoes in the dish are solid overall, as they are both chunky and creamy. They have a nice savory flavor with a hint of butter without being overly salty.

I enjoyed the mashed potatoes, which are sufficient for what they are in this meal.
I cooked the meatloaf and mashed potatoes for 65 minutes, which is between their recommended 60-70 minute cook time.
The meatloaf came out firm and still somewhat moist on the inside.
My meatloaf was slightly overdone but still very tasty and delicious. If cooking again, I would pull the meatloaf at 60 minutes instead.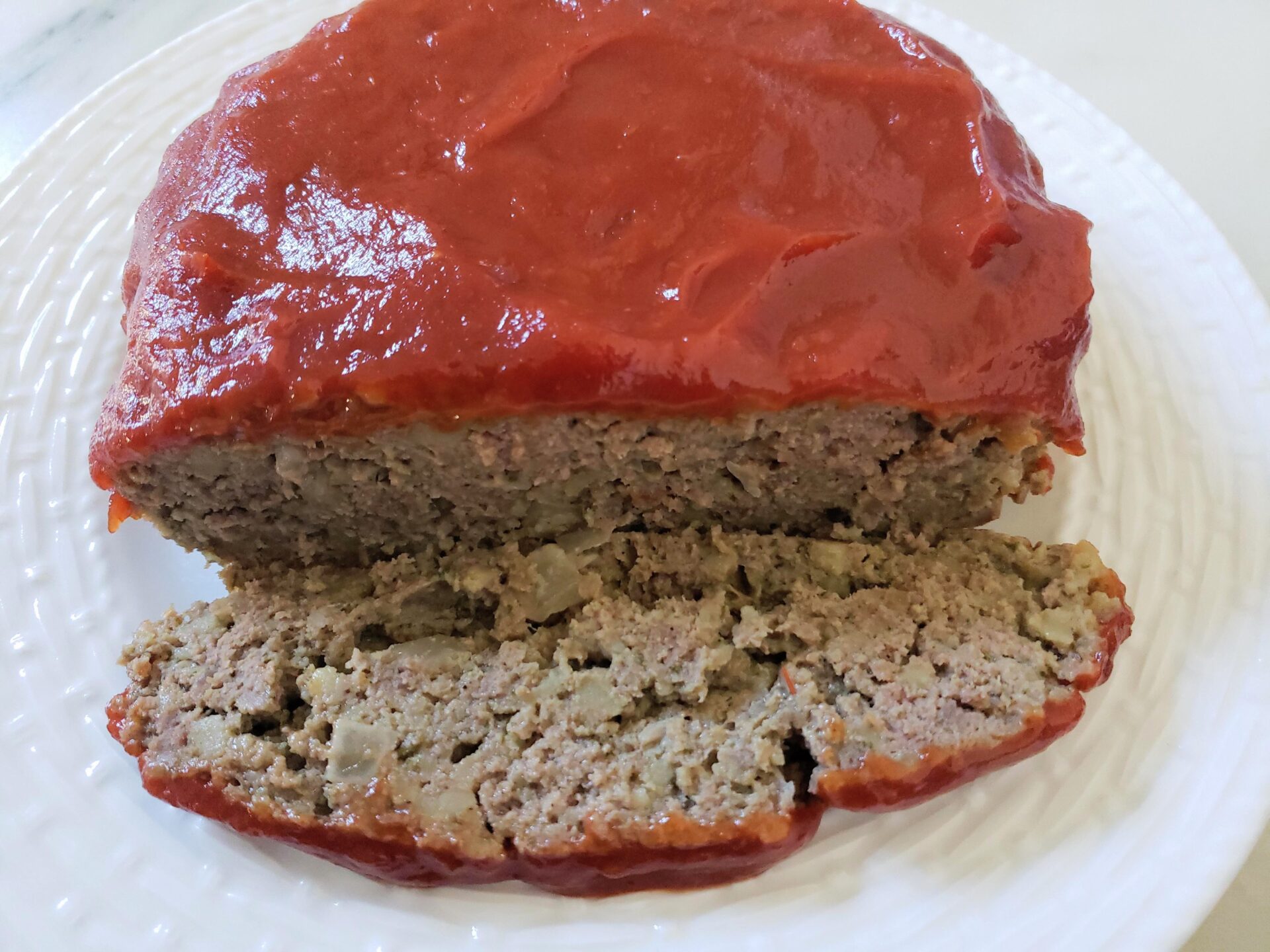 The Costco meatloaf flavors were awesome, it was quite savory, and the onion chunks were pleasant. The red ketchup glaze was very sweet and drastically contrasted with the meatloaf. 
I would have preferred the red glaze to be a little less sweet. 
When eating the glaze, I had to be conscious of grabbing enough meatloaf per bite. A small bite of meatloaf combined with the strip of glaze was a little too sweet for me.
Overall I thought it was pretty darn good for meatloaf. I'm not the biggest meatloaf fan, but Costco's meatloaf did impress.
I would have no problem buying the meatloaf and mashed potatoes again.
I ate this meatloaf and mashed potato combo just as is. The meal would benefit significantly by adding in some greens such as green beans or even a light salad. 
The mashed potatoes and meatloaf were both pretty savory, and an additional flavor profile would have improved the meal.
Costco Meatloaf Cooking Instructions
How to Cook Costco Meatloaf
Costco recommends only one way to heat these mashed potatoes and meatloaf, and that is to oven bake them. 
The oven cooking instructions take a little more than an hour to fully heat the dish, and that doesn't include oven preheating time. Make sure to plan ahead accordingly.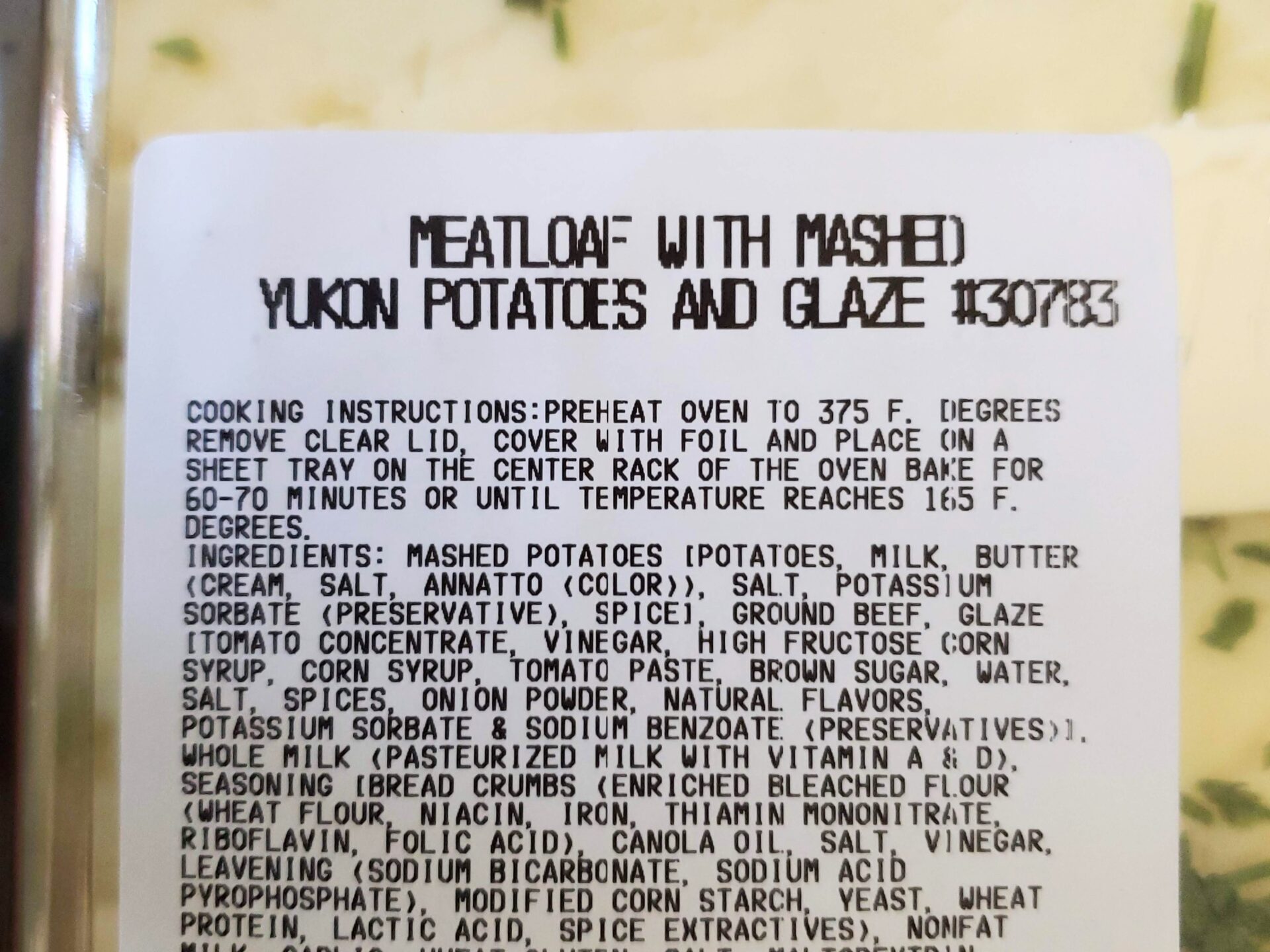 If you don't want to wait one hour for this dish, you can cut the cooking time down by using the air fryer. 
I am providing my air fry instructions in addition to Costco's oven meatloaf cooking instructions. 
Costco Meatloaf Conventional Oven Cooking Instructions
Preheat the oven to 375F.

Remove the clear lid.

Cover with foil and place on a sheet tray on the center rack of the oven.

Bake for 60-70 minutes or until temperature reaches 165°F.
Meatloaf Convection Oven Cooking Directions
The Costco Meatloaf can also be cooked in the convection oven. 
Preheat convection oven to 350°F 
Remove clear lid
Cover with foil and place the meatloaf and mashed potatoes on a sheet tray on the center rack of the oven.
Bake for 60 minutes or until temperature reaches 165°F. 
Air Fryer Costco Meatloaf Cooking Instructions
Depending on the style and size of your air fryer, you may be able to use it to cook the meatloaf and mashed potato dish. 
Preheat Air Fryer to 350°F
Remove Clear Lid
Cover with foil and place the Costco meatloaf in the air fryer.
Make sure the tray is not touching any of the air fryer sides.
Cook for 40 minutes or until internal temperature reaches 165°F
This method can save you approximately 20 minutes or even more, so I highly recommend using the air fryer to cook the meatloaf when you are in a crunch for time. 
Costco Meatloaf Calories and Nutritional Information
Unfortunately, when it comes to Costco's prepared meals, nutritional information isn't always readily accessible. Here is some information from what I gathered online about the nutritional information on generic meatloaf and mashed potatoes.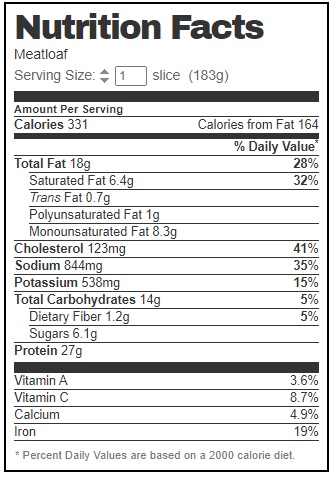 According to Nutritionix, a 6.5-ounce portion of meatloaf will have 331 calories coming from 18 grams of fat, 14 grams of carbs, and 27 grams of protein.
This is a pretty expected nutritional label for ground beef/meatloaf. There is going to be high fat and protein content.
Costco Mashed Potatoes Calories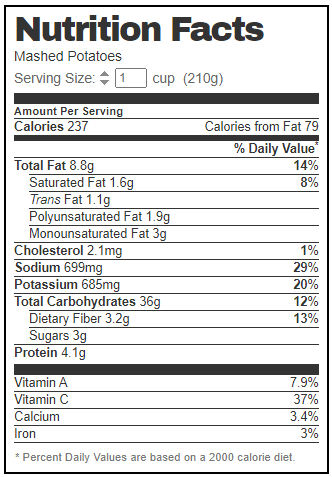 1 Cup of mashed potatoes will have 237 calories coming from 8.8 grams of fat, 36 grams of carbs, and 4.1 grams of protein.
Again this is a sample generic mashed potato nutritional label, but it will probably be pretty close to Costco's mashed potatoes nutrition.