Costco Danish Pastries - Calories, Price, Heating Tips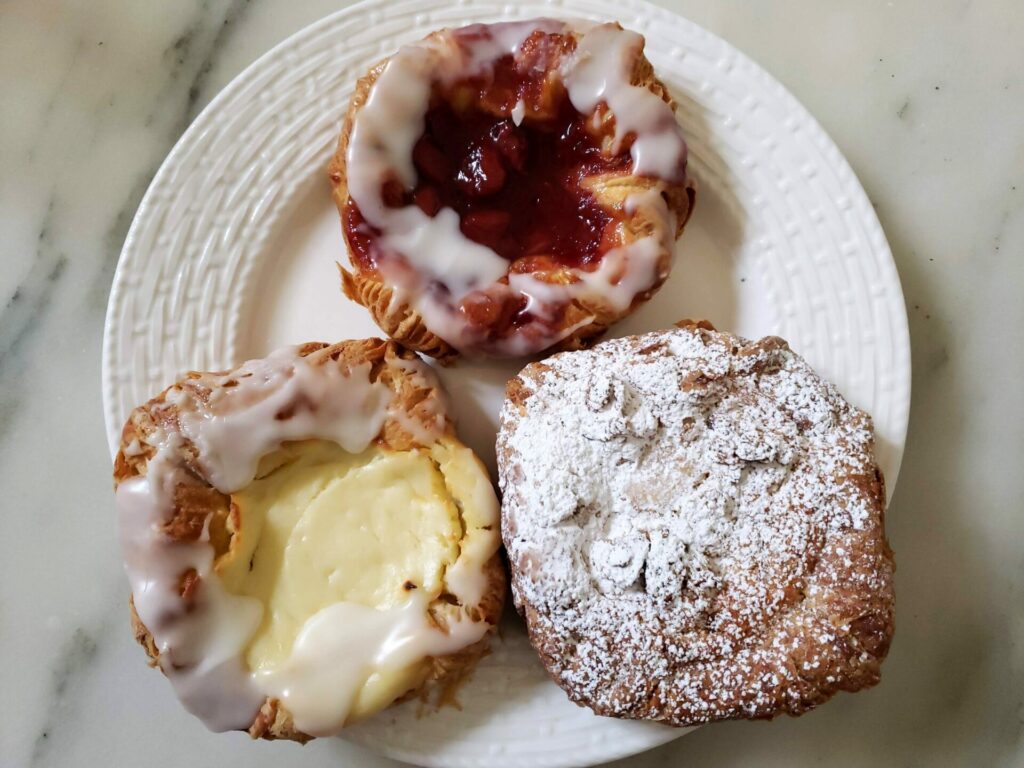 Kirkland Signature Danish Pastries at Costco
Costco sells 8 of their Kirkland Signature Danish Pastries for $11.99. The Danishes can be found in the bakery section of the warehouse near other bakery favorites such as the cheesecake, tuxedo cake, and the muffins.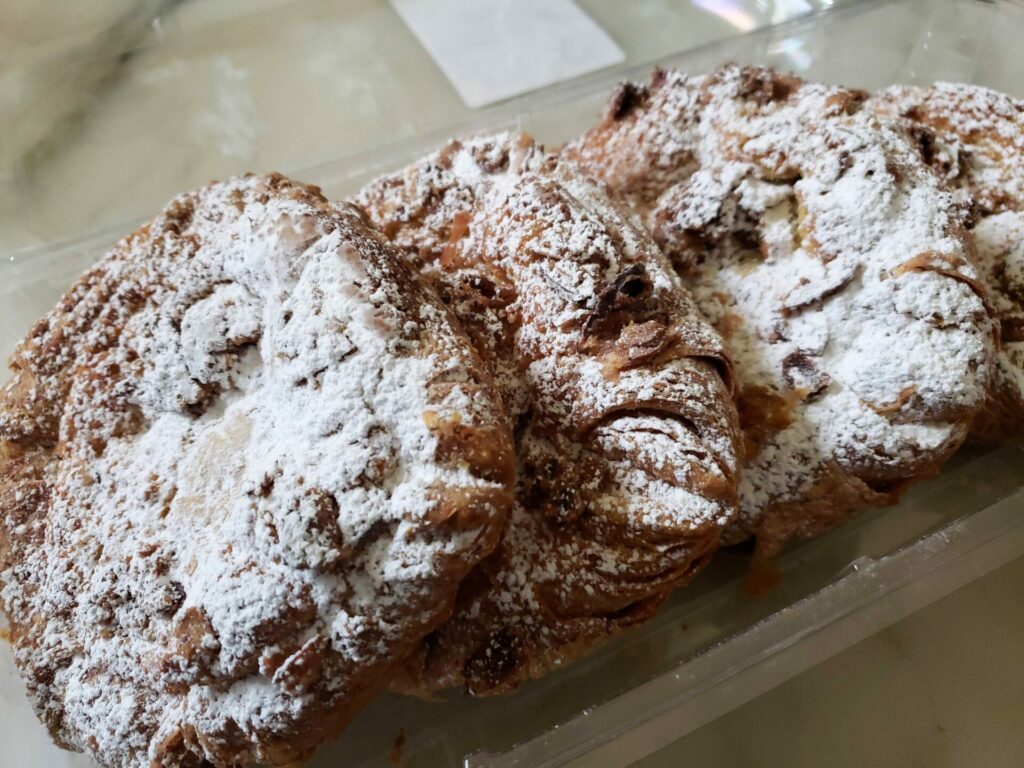 The Costco danish pastries are a mix-and-match item, meaning you can pick two 4 packs of any of the offered flavors. The most common flavors that Costco sells are cherry, cream cheese, and almond. 
Thing To Know: The price is $11.99 for two packs of 4, or 8 total danish pastries. You must buy two packages; there is no discount or option to purchase just one of the 4 packs.
Have You Tried Costco's Danishes?
Let the rest of the Costco Food Database community know what you thought of this product. Results and reviews are at the bottom of this page.
Please allow 24 hours for review moderation and approval.
Danish pastries are a sweet multilayered pastry with a filling that originated in Denmark. The dough is made from yeast and butter, which is folded to create the layers of the pastry. To be considered a proper danish pastry, the dough must be folded to create 27 layers.
Danish pastries can have various fillings ranging from savory to sweet.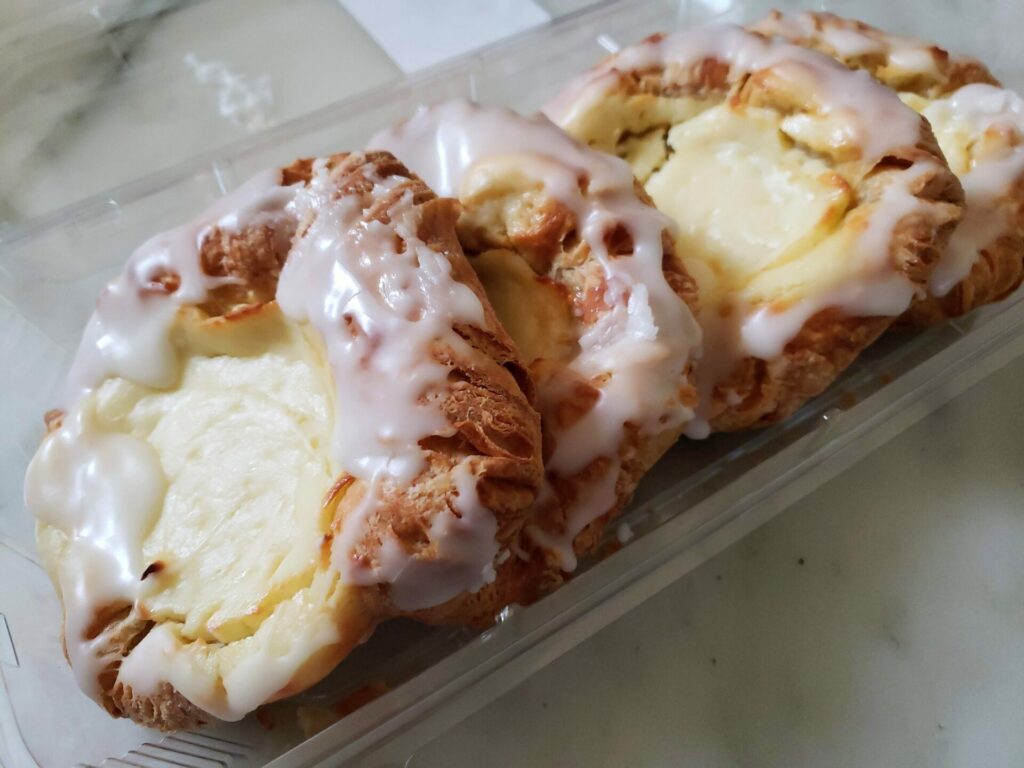 How Much Do Costco Danish Pastries Cost?
Costco sells the 2 packs of Danishes for $11.99. For the 8 danish pastries, this is a price of $1.50 each. This is a solid price for danish pastries, and most bakeries will charge $2-$3 per danish, if not more.
Costco Danish Price Increases
The one issue that many members are complaining about is how the Costco bakery has raised their prices and has made the danish pastries too expensive.
Most food items now have gone up in price, and a few months back (early 2022), Costco raised the cost of Danish pastries from $9.99 to $11.99. 
This is a 20% increase, which some members consider too lofty of a price increase.
Costco vs. The Competition.
Sam's Club sells a 3 count of the Member's Mark Danishes for $3.75 or $1.25 per danish. This does beat the Costco danish price, but the Sam's Club danish does not compare in quality. 
The Member's Mark danish are similar in size to Costco's (~4.5oz) but appear to have significantly less filling.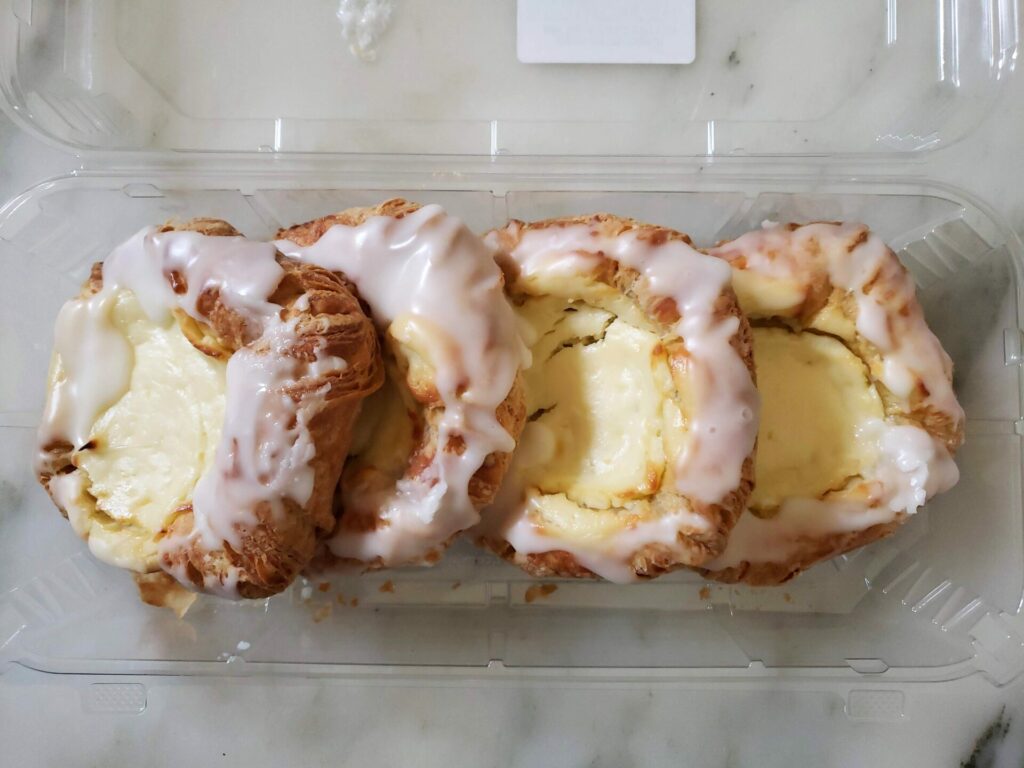 One benefit to the Sam's Club's Danishes is that you can purchase just 3 danish pastries compared to buying 8 at Costco.
Costco Danish pastries - Taste Test
All of the danishes from Costco were great. They each had a nice, crispy, flaky exterior and delicious filling. The pastries were incredibly buttery, doughy, and sweet.
Costco Almond Filled Danish
The almond filled danish pastry is awesome. The danish is packed with nutty almond flavor and is a fantastic blend of sweet and savory. 
The almond paste is extraordinarily flavorful and leaves no doubt that this is an almond flavored danish.
The toasted almonds add extra almond flavor and a nice crunch. The danish is pretty sweet already, and the powdered sugar dusting was a little unnecessary as it added even more sweetness to the pastry. The sugar also did crystallize when heated.
If you love almonds, you will love Costco's almond danish, but if you aren't an almond fan, this may not be the item that turns you into one.
Costco's cream cheese danish is much more traditional and is quite fantastic. This Costco danish pastry is covered with a sugar glaze that tasted fine but wasn't necessarily my favorite. 
I'm not the biggest sweets fan, so I could have done without the sugar glaze on the Costco cream cheese danish.
I was worried that the cream cheese filling may have been overpowering and overwhelming, especially at the center, but it worked really well. Each bite of the danish had a fair amount of cream cheese filling. 
The cream cheese filling was very cheesy, but also had hints of sweetness and tanginess. A subtle but present lemon taste gives the filling an extra depth of flavor. 
It isn't the strongest but it is a wonderful addition to the filling.
Everything worked together splendidly with the cream cheese pastry, and it was very delicious.
Like the cream cheese filled danish, Costco's cherry filled danish pastry is covered in a sugar glaze. The pastry is already packed with butter and sugar, and again I don't find the sugar glaze necessary.
The cherry filling looks sweeter than it is, but it's actually a very well balanced flavor. The cherry pieces are fantastic and give the danish pastry some enjoyable tartness. 
The filling consistency is excellent and right at the sweet spot of not too liquidy and not too thick. I really liked the Costco cherry danish pastry when it was warmed up and reheated.
Overall, the cherry danish is very solid. The pastry was crispy and flakey, and the cherry filling even exceeded my expectations.
Ranking the Costco Danish Pastries
Everyone is going to have their own opinion, and here is mine. 
Cream Cheese Danish

Cherry Danish

Almond Danish
All 3 of Costco's danishes are very close in quality and flavor, but the cream cheese just edged out the other two. It was just so well-balanced and flavorful.
The battle for second place was extremely close as well. I give the nod to the cherry danish solely because of the fruitiness and the filling. 
It felt a little more light and refreshing to eat. Costco's almond danish is great but was just a little too rich for me. 
How to Heat Kirkland Danish
The beauty of the Costco danish pastry is that it can be eaten at room temperature or warmed up. I personally enjoy a warmed-up danish as it significantly enhances the flavor and brings back that fresh baked smell. 
Costco recommends baking the danishes, but they can also be warmed in the microwave or air fryer.
Oven (Costco Recommended Method)
Preheat oven to 350°F 

Remove Danish from the package

Place on a baking pan and bake for 10 minutes

Wait 5 minutes before consuming
Heat 1 Danish for 30-45 seconds until warmed up.
Preheat Air Fryer to 320°F

Place Costco Danish in Air Fryer

Cook for 6-7 Minutes or until sufficiently toasted

Wait 3 minutes before consuming
Can you Freeze the Costco Danish?
Yes, Costco's Danishes can be frozen. Their lifespan can be significantly extended, and freezing the danishes is a great option to avoid feeling pressured to finish them as fast as possible.
Pro Tip: Determine how many danishes you plan to eat in the next few days and freeze the rest as soon as you get home from Costco.
How to Freeze Costco Danishes
Wrap each individual danish in plastic wrap

Place into a Ziploc bag

Seal and date the Ziploc bag.
Do Costco's Danishes Need To Be Refrigerated?
Costco's danishes do not need to be refrigerated but it is recommended to refrigerate the danishes after 1-2 days to extend their shelf life. 
The danishes can be kept in the refrigerator for 5-7 days and then transferred to the freezer for long-term storage.
Costco Danish Calories and Nutritional Information
Now for the unfun part. Each Costco Danish is going to have between 450 and 760 calories. Yes, this is a huge spread, and the Almond danish will be the worst offender. 
This information was sourced from Costco's bakery. 
Costco Cherry Danish Calories
Calories: 450

Total Fat: 22 grams

Carbs: 56 grams

Sugar: 23 grams

Protein: 6 grams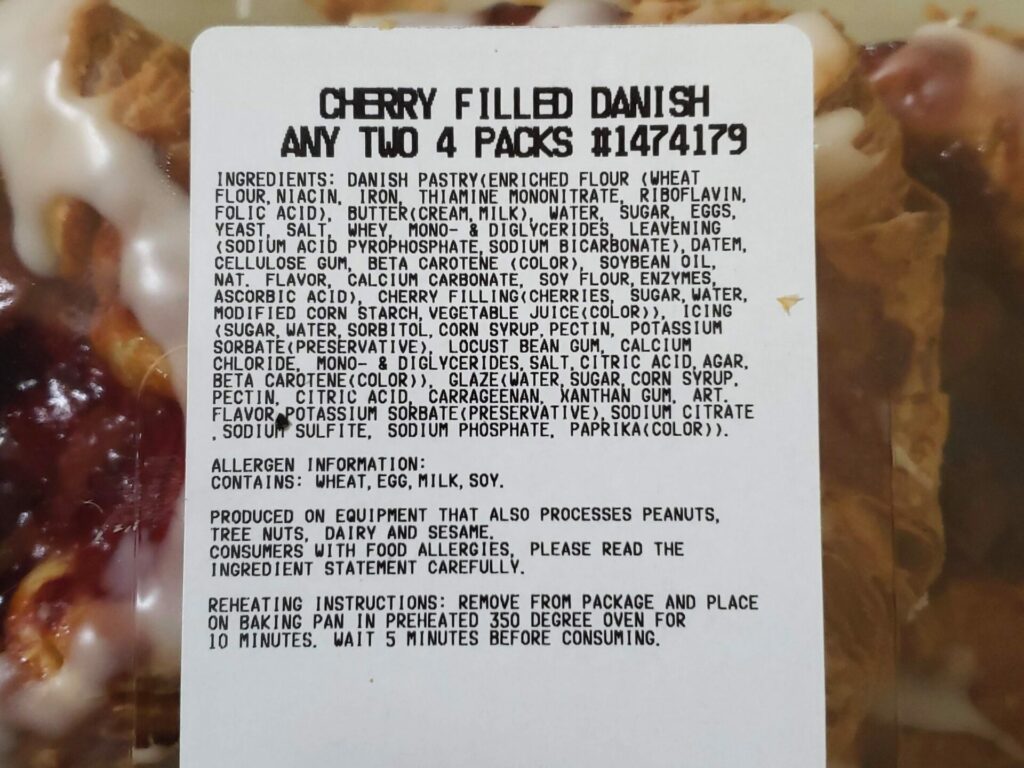 Costco Cream Cheese Danish Calories
Calories: 520

Total Fat: 17 grams

Carbs: 52 grams

Sugar: 21 grams

Protein: 8 grams
Costco Almond Danish Calories
Calories: 760

Total Fat: 47 grams

Carbs 72 grams

Sugar: 33 grams

Protein: 13 grams
Costco Danish Pastry Nutritional Analysis
These Costco Danish pastries are obviously not going to be healthy for you. The cherry and cream cheese danishes are acceptable and appropriate, considering these are buttery and sugary pastries.
Costco's almond danish pastry is on an entirely different level at 760 calories. To give you an idea, a 4-ounce piece of cheesecake will have about 360 calories or half the calories of this Costco almond danish. They may be delicious, but eat these danishes in moderation.
Costco Food Database User Reviews
Have you tried this item? Let the rest of the Costco Food Database community know what you think. Leave a rating and review for this product. 
Costco Danish - Fresh Baked Instructions
How to perfectly warm up Costco's danishes so they have the fresh baked feel
Ingredients
1

Almond Danish

1

Cream Cheese Danish

1

Cherry Danish
Instructions
Oven

Preheat oven to 350°F 

Remove Danish from the package

Place on a baking pan and bake for 10 minutes

Wait 5 minutes before consuming

Microwave

Heat 1 Danish for 30-45 seconds until warmed up

Air Fryer

Preheat Air Fryer to 320°F

Place Costco Danish in Air Fryer

Cook for 6-7 Minutes or until sufficiently toasted

Wait 3 minutes before consuming
Nutrition
Serving:
1
Danish
Calories:
450
kcal
Carbohydrates:
56
g
Protein:
6
g
Fat:
22
g
Saturated Fat:
11
g
Trans Fat:
0
g
Cholesterol:
25
mg
Sodium:
400
mg
Fiber:
2
g
Sugar:
23
g