Costco Muffin - Flavors Ranked, Storage Hack, Heating Tips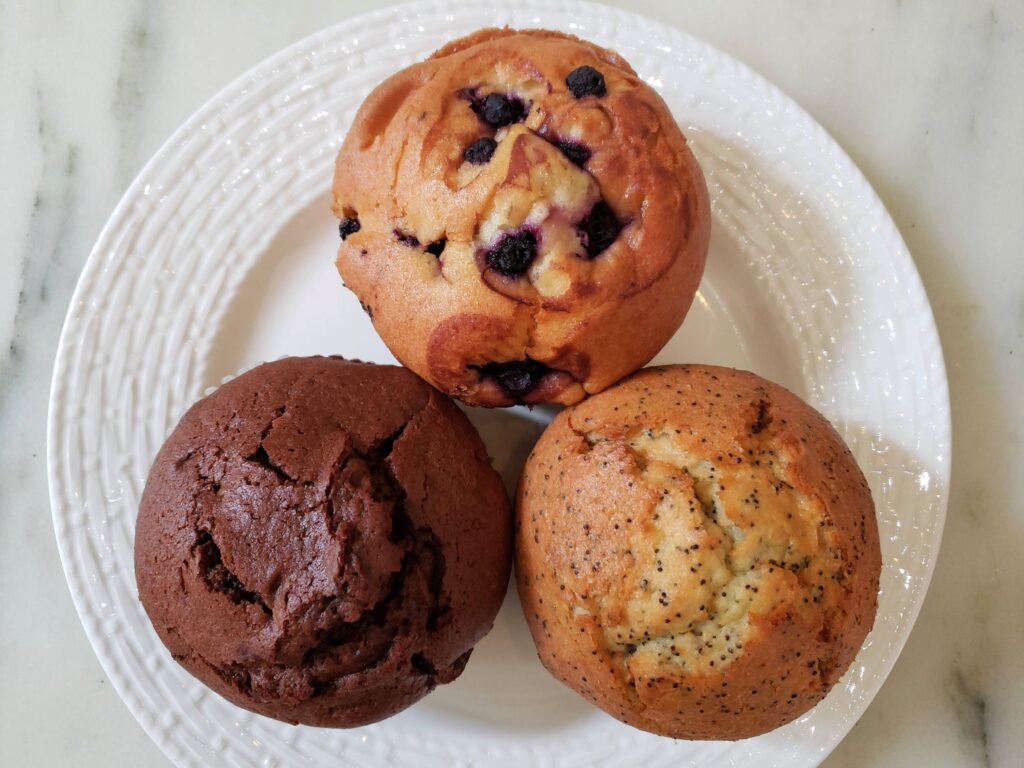 Kirkland Signature Muffins (Blueberry, Chocolate, Poppyseed) at Costco
Costco sells a dozen fresh baked muffins for $8.99. The muffins are made fresh daily at each Costco location and they are found in the bakery section of the warehouse. 
They are found near the croissants, cinnamon rolls, and bagels. 
To make your dozen muffins, you have the option to mix and match between the flavors that Costco is offering for that day.
Three Costco Muffin Flavors
Costco's three cornerstone flavors are chocolate, blueberry, and almond poppyseed. 
Costco has offered other muffin varieties over the years, but these three flavors have stood the test of time and are now timeless Costco classics.
How Big are Costco Muffins?
When it comes to the muffins, Costco doesn't mess around. These muffins are jumbo-sized and some of the biggest store-bought muffins around. Each muffin weighs nearly 6 ounces and has a diameter of 4 inches. 
The Costco muffins live up to the Costco name and they are definitely some of the largest store-bought muffins around.
Costco Cost Comparison - Muffins
How Much Do Muffins Cost at Costco?
Costco sells 12 fresh baked muffins for $8.99. This breaks down to $0.75 per muffin. While the price has recently been raised from $7.99 to $8.99, the Costco Muffins are still a bargain for their price due to their size, flavor, and variety.
Costco Vs The Competition
Sam's Club sells a 9 pack of their Member's Mark muffins for $6.74 or $0.75 each. This is the same price as Costco's muffin pack, but without the ability to select flavors. 
Sam's Clubs' 9 pack is preassembled with their 3 flavors of banana nut, blueberry, and double chocolate.
Kirkland Signature Muffin - Taste Test
Costco Chocolate Muffin Review
The double chocolate chip muffin is many Costco member's favorites and for good reason. The Costco chocolate muffin is essentially a chocolate cupcake dessert. 
The muffin is chocolate flavored and filled with an abundance of large chocolate chips.
Double Chocolate is Double Sweet
For taste, this Costco's chocolate muffin is of course going to be on the sweeter side. 
If this was considered a dessert, I wouldn't complain and say it wasn't. Since it's considered a muffin, I guess we can eat this double chocolate muffin cake for breakfast with no guilt. 
The one issue I do have with the chocolate muffin is that it is on the dryer side. I would easily consider it the most dry of the 3 Costco muffin flavors, but it is still tasty nonetheless.
Something to Know: If you warm the Costco double chocolate chip muffin, the chocolate chips will melt and will become melted liquid chocolate that is embedded within the muffin.
My personal favorite of the Costco muffin flavors is going to be the Blueberry Muffin. 
A much more traditional breakfast muffin compared to the chocolate version, this muffin is jam packed with blueberries and flavor.
The blueberries are fair in size and Costco definitely does not skimp out. On almost any given bite, you can expect on average 1 and a half blueberries.
Acceptably Sweet, But Can Be Too Much For Me
The Costco blueberry muffin can be sweeter than it should be at times. I'm not a sweet fan, so I would have preferred more of a buttery tasting interior.
Almond Poppy Seed Muffin Review
The Almond Poppy Seed Muffin from Costco is very nice, but my least favorite of the three main flavors. The poppy seed muffin has an interior that is somewhat moist. 
There could be some improvement on the moisture for the Almond Poppy muffin along with the rest of Costco's muffins.
There are plenty of poppyseeds spread throughout the muffin and they bring a very nice sweet and nutty flavor to the Costco poppyseed muffins. They also add a lot of texture to the muffin, and provide a very nice crunch.
On my most recent trip to Costco, I did spot the popular seasonal Pumpkin Streusel Muffin. The Costco pumpkin flavored muffin looked amazing and had a crunchy top with a buttery cinnamon streusel. 
This is going to vary from Costco member to Costco member, but here is how I rank the 3 muffin flavors from Costco.
Blueberry Muffin

Double Chocolate Chip Muffin

Almond PoppySeed Muffin
Agree? Disagree? How do you rank the muffins?
Discontinued/Seasonal Costco Muffin Flavors
Over the past few years, Costco has started to cut back on some of their baked goods. In particular, they shifted their muffin focus to the 3 main flavors of blueberry, double chocolate, and almond poppy.
Some Discontinued Costco Muffin Flavors
In the past, they would offer the Big 3 Costco muffins in addition to the occasional seasonal or limited time variety. 

A list of some of the discontinued or seasonal muffins:
Vanilla Chocolate Chunk

Coffee Cake

Apple Crumb

Lemon Raspberry

Mantecada 

Pumpkin Strudel Muffin
My favorite of the discontinued muffin flavors are the Coffee Cake muffin and the Apple Crumb Muffin.
Properly Storing The Muffins from Costco
Can You Freeze Muffins from Costco?
Eating 12 Costco sized muffins before they go bad is going to be a challenge for most people. Thankfully, the muffins do really well in both the refrigerator and the freezer, and the shelf life can be significantly extended. 
Typically Costco's muffins will last on the counter for about 3-4 days. For most, that isn't going to be enough time to eat a dozen muffins.
Store in the Refrigerator
The muffins' shelf life can be extended by simply placing the entire container in the refrigerator. 
The plastic containers do take up quite a bit of space, but this can nearly double the lifespan of the muffins. The muffins will stay fresh in the refrigerator for 7-10 days.
Yes, you can free Costco's Muffins. The easiest method is to simply put the muffins into a ziploc bag and place in the freezer. 

You can fit 4 of Costco's giant muffins in a standard 1 gallon freezer ziploc bag. I personally just place them in the ziploc bag, but if you want an extra layer of protection, you can always wrap each muffin individually in saran wrap before placing it in the freezer bag.
The muffins can be stacked 2 by 2 in a one-gallon ziploc freezer bag. This minimizes the amount of bags that are needed and helps efficiently use freezer space.  
The bottom of one muffin may freeze to the top of another, but they can easily be separated even from the frozen state. 
You can even cut the muffin in half or fourths before placing it in the freezer. Portion control is important with these giant Costco muffins.
The muffins are super easy to defrost, and there are a few different options. 

The easiest is to transfer a muffin from the freezer to the refrigerator the night before you want to eat one. The Costco muffins defrost rather quickly and will be ready to go the next morning.
If you aren't able to plan ahead, you can always microwave the frozen muffin until it is nice and hot. This will vary by microwave, but simply place the frozen microwave and heat for about 1 minute. 
If your muffin needs more time continue to heat in 20-30 second intervals until sufficiently warmed.
Costco Muffins Nutritional Information
Unfortunately, Costco's Muffins aren't going to be the healthiest bakery item available, and will actually pack in quite a bit of calories.
How Many Calories in Costco's Muffins?
Each of Costco's muffins is going to have approximately 650 calories with 30+ grams of fat, 70+ grams of carbs, and around 10 grams of protein. This will depend on the flavor of the muffin, but regardless, it isn't a pretty nutritional profile. 
Here is a full breakdown of the nutritional information for each of Costco's 3 Main Muffin Flavors with easy comparison chart at the end. 
Costco Chocolate Chip Muffin Calories
Costco's Chocolate Muffin has 690 calories, coming from 38 grams of fat, 79 grams of carbohydrates with a whopping 48 grams of sugar, and 10 grams of protein. 
Costco Blueberry Muffin Calories
Costco's Blueberry Muffin has 600 calories, including 32 grams of fat, 71 grams of carbohydrates with 40 grams of sugar, and 8 grams of protein.
Costco Almond Poppy Seed Muffin Calories
Costco's Poppy Seed Muffin has 672 calories made from 37 grams of fat, 75 grams of carbohydrates with 42 grams of sugar, and 10 grams of protein. 
Costco Muffin Nutritional Information

Blueberry Muffin
Chocolate Muffin
Almond Poppy Seed Muffin
Calories
600
690
672
Fat
32 grams
38 grams
37 grams
Carbohydrates
71 grams
79 grams
75 grams
Sugars
40 grams
48 grams
42 grams
Protein
8 grams
10 grams
10 grams
Costco Muffins Review
Product Name: Kirkland Signature Muffins (Blueberry, Chocolate, Poppyseed)
Product Description:
Price: $8.99
Quantity: 1 Dozen
Location Within Costco: Bakery
Price Per Muffin: $0.75
Summary
Costco's muffins are a solid buy at $8.99 for a dozen. Costco offers 3 everyday flavors of blueberry, chocolate, and almond poppyseed, and will occasionally offer new seasonal varieties. 
The muffins freeze very well and their shelf life can be extended by months when properly frozen. 
The major downside of the muffins is going to be their poor nutritional label. They are heavy in calories (600+ calories per muffin) and added sugars. 
Value -

7/10

Convenience -

9/10

Taste -

6/10

Nutrition -

5/10

CFDB Score -

5/10
Pros
Great flavor options

Huge in size
Cons
Can be somewhat dry

Poor nutritional information
Costco's Muffins are huge and awesome. A dozen muffins sell for $8.99, and you must buy the full dozen. They have recently gone up in price, but the value is still there. 
The three cornerstone flavors of blueberry, chocolate, and poppyseed are great, and there is something for everybody. The Costco chocolate muffin is absolutely delicious!
The muffins store really well in the freezer, which significantly helps with their shelf life. They aren't the best item in Costco's bakery, but are still worth a buy.