Costco Chocolate Tuxedo Cake - Calories + FAQ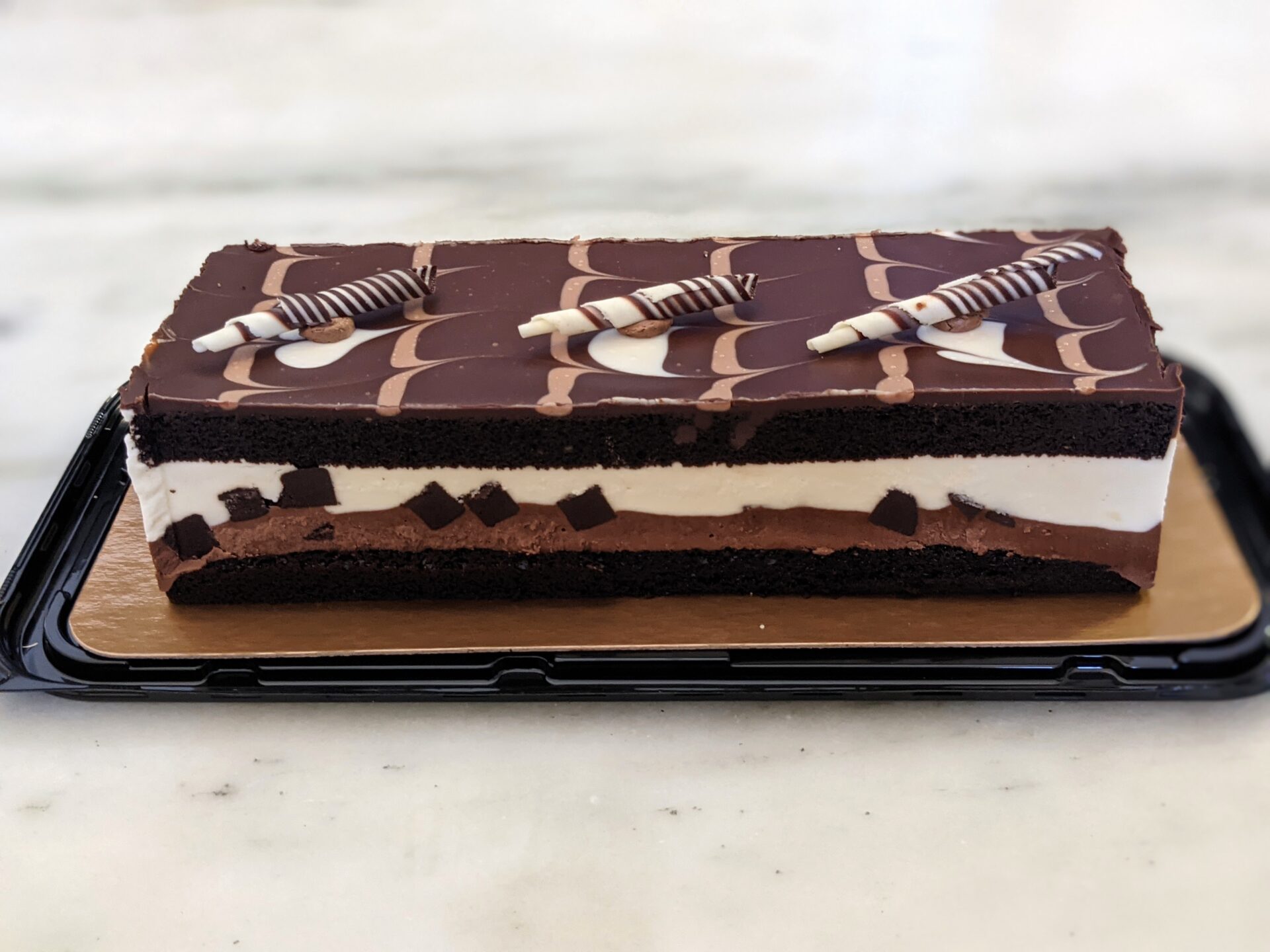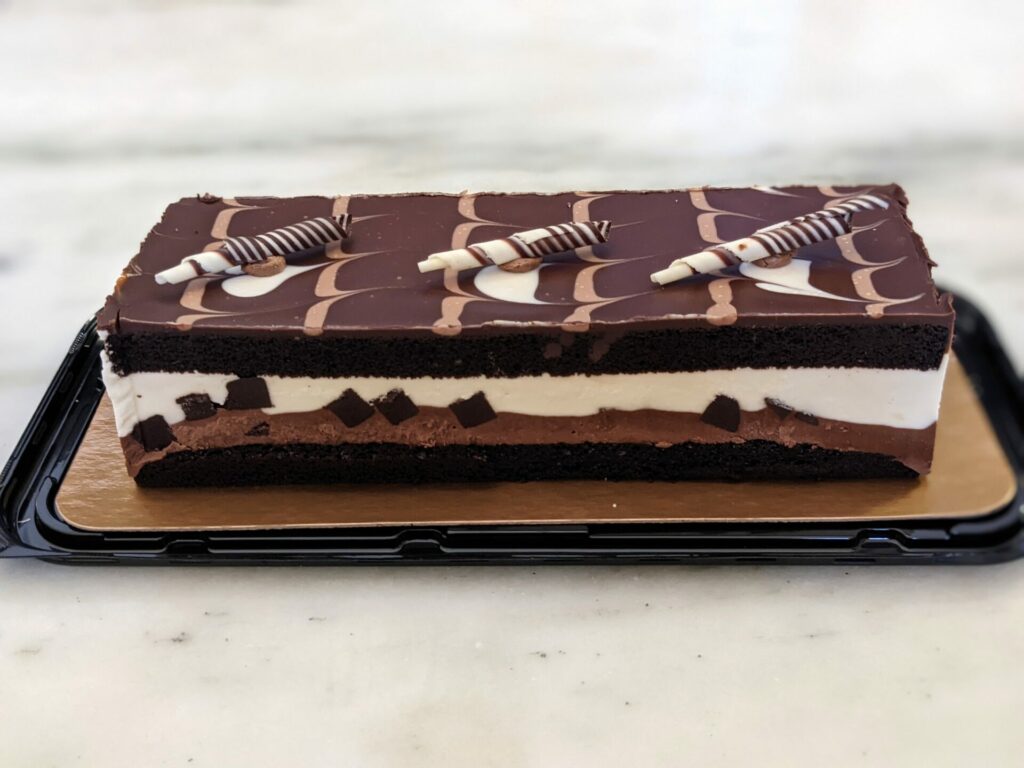 Chocolate Tuxedo Mousse Bar Cake at Costco
Costco sells their Kirkland Signature Chocolate Tuxedo Mousse Cake for $16.99. The cake can be found in the bakery area of the warehouse near other items such as the custom Costco cakes, muffins, and blueberry lemon loaf.

This is a seasonal item that is usually only available in the fall and winter months.
Each Costco Tuxedo Cake weighs 2.63 pounds and is almost 1 foot long.
Have You Tried Costco Tuxedo Cake?
Let the rest of the Costco Food Database community know what you thought of this product. Results and reviews are at the bottom of this page.
Please allow 24 hours for review moderation and approval.
This is a fancy-looking cake with a fancy name, but what exactly is a tuxedo cake? 
A tuxedo cake is a multi-layer cake alternating with black and white colors giving it an elegant tuxedo-like appearance.
What's in the Costco Tuxedo Cake
The base bottom layer of the Costco tuxedo mousse bar cake is chocolate cake. On top of the chocolate cake is a layer of chocolate mousse, followed by a layer of white chocolate/vanilla mousse. Embedded within both layers of mousse are delicious brownie bits.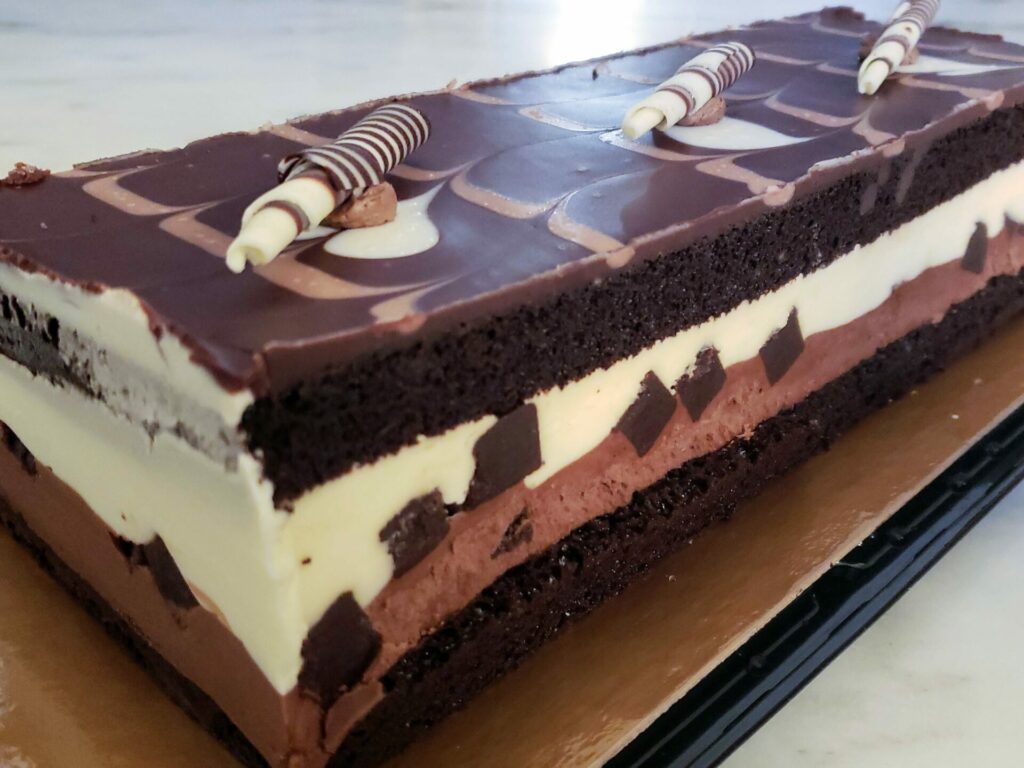 The mousse is topped with another layer of chocolate cake and then covered in a beautiful layer of chocolate ganache. Finally, the tuxedo cake is topped with rolled chocolate sticks. There is definitely plenty of chocolate! 
This is a great cake for special occasions, and I have even seen Costco put out both a special Christmas and New Year's version of their tuxedo cake.
How Much Is the Tuxedo Cake at Costco?
The 2.5+ pound Chocolate Tuxedo Cake at Costco sells for $16.99. 
This is one of the more expensive cakes at Costco, but considering the ingredients, presentation, and difficulty of baking this on your own, this one is well worth the higher price tag.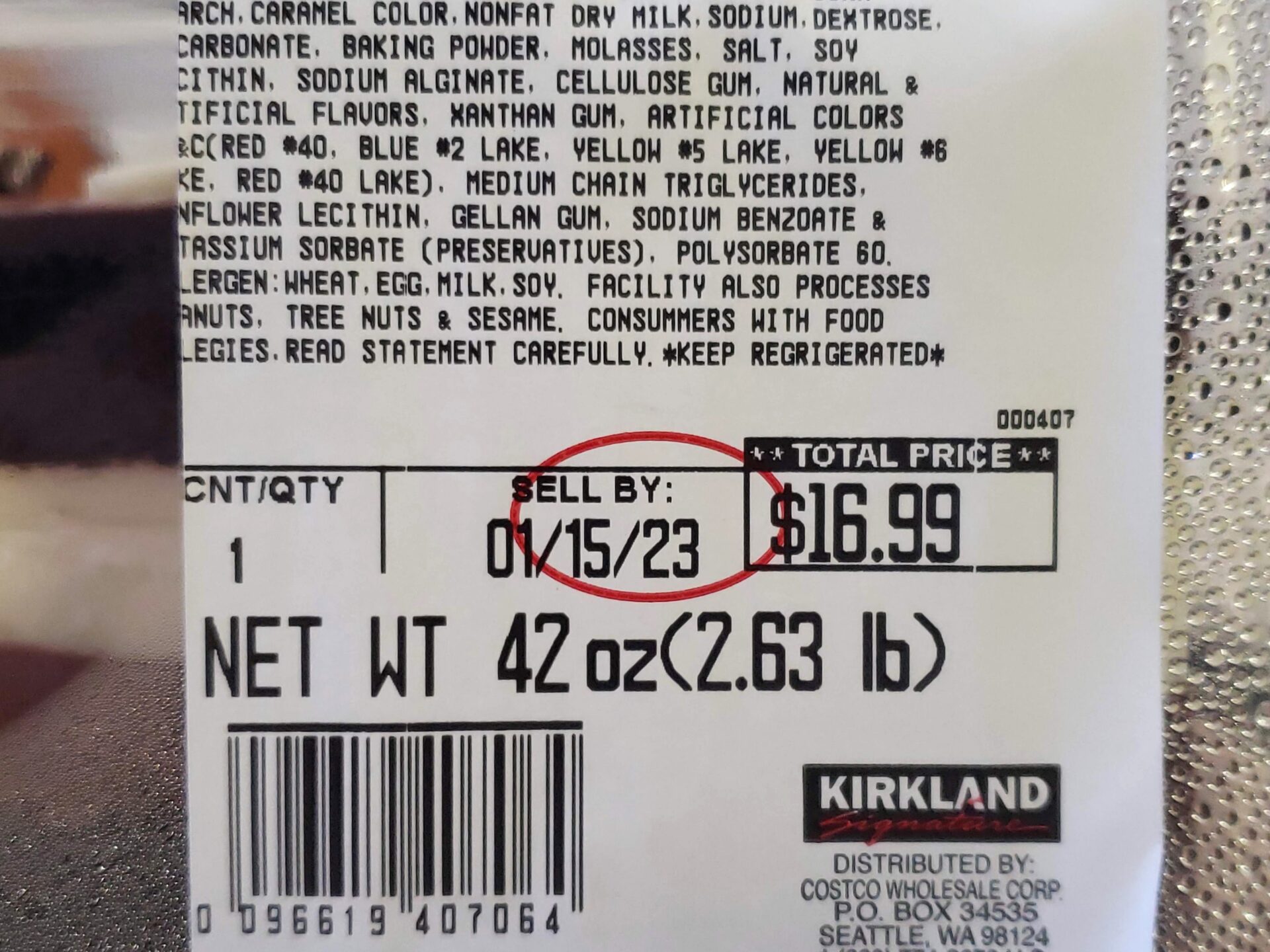 I have even seen Costco offer a $2 discount on the cake, bringing the price down to $14.99.
Costco Vs. The Competition
Sam's Club sells its own version of a chocolate tuxedo cake for the same price as Costco's at $16.98. Their tuxedo cake does weigh slightly less at 39 ounces compared to Costco's 42 ounces.

Most bakeries will charge double or even triple for a cake of this caliber.
Tuxedo Mousse Cake - Taste Test
The cake may be a little fancy for the occasion, but I purchased this cake for my young child's birthday. 
I figured this would be a perfect opportunity to give the cake a try considering that many Costco members consider this to be the best cake that Costco sells, with some going as far as to say the best cake they have ever eaten. Let's see if it can live up to the hype?
From the looks of it, I was expecting an extremely rich chocolatey sugar bomb, but the tuxedo cake was actually quite balanced and graceful. 
The cake had a fair amount of sweetness but wasn't too sweet. The chocolate cake was moist and perfectly complemented the two layers of mousse.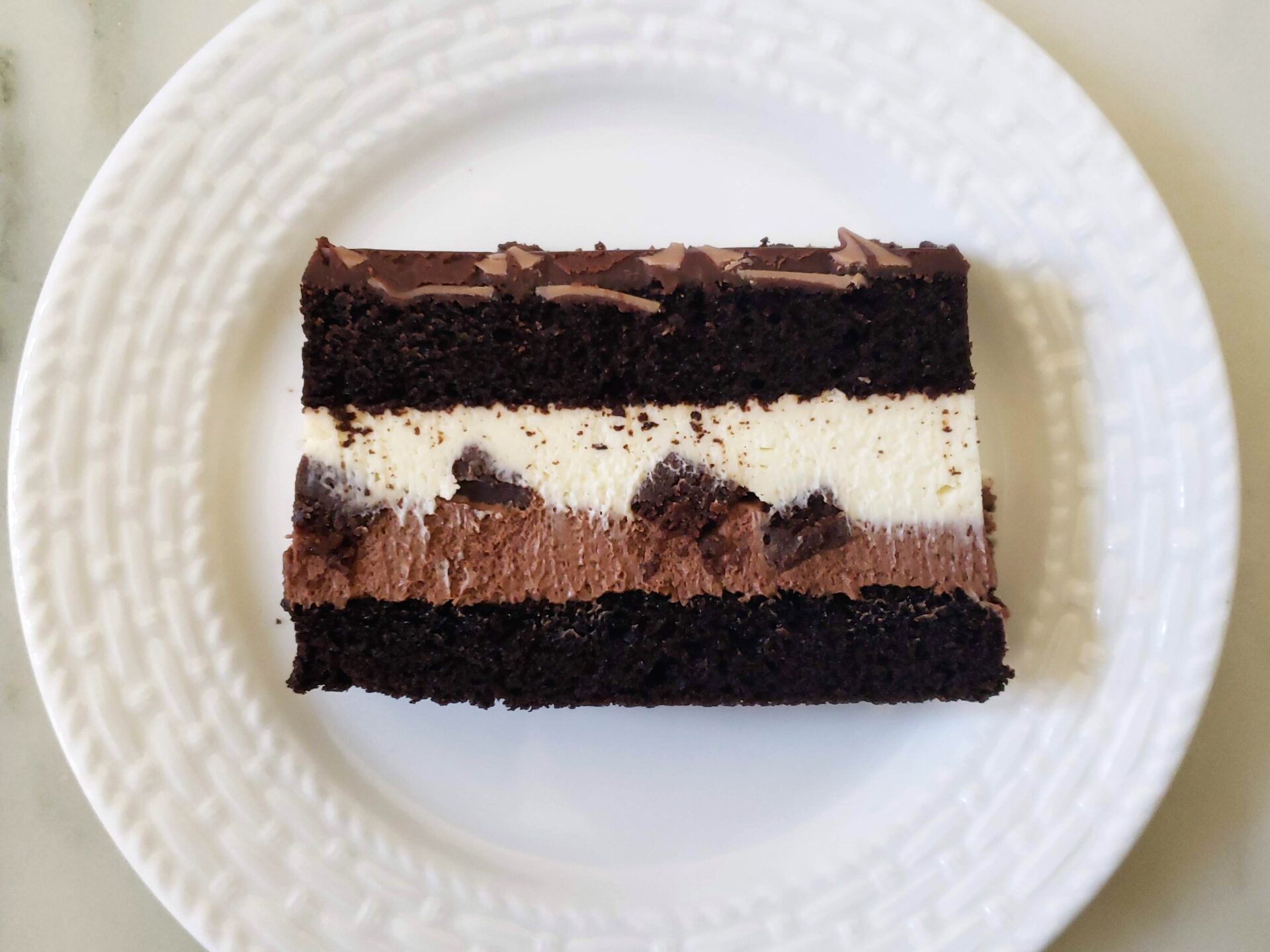 The mousse wasn't overpowering with sugar, and the flavors were delightful. I didn't care much for the baked-in brownie bits, but I could see how others would consider it a nice addition.
Both my wife and I aren't exactly sweets people. My wife prefers a mild sweetness at most, and I would much rather have an extra piece of meat as a dessert or at least something savory, but we both very much enjoyed the tuxedo cake. 
Costco's chocolate tuxedo cake was able to impart a lot of that chocolate goodness without unnecessarily blowing up the sugar taste buds.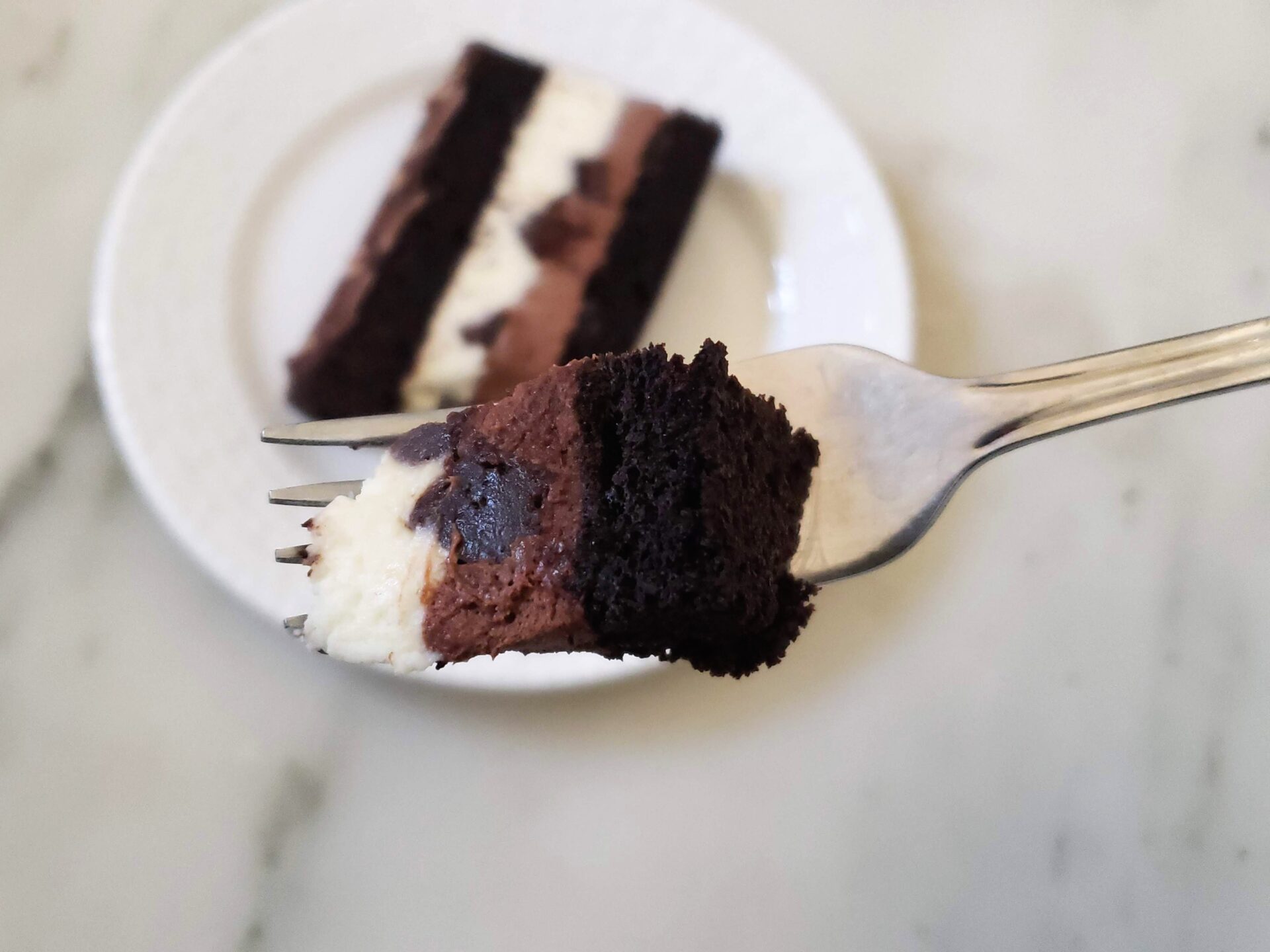 My wife paired her chocolate mousse cake slice with a cup of coffee, and she thought it was a match made in heaven. She highly recommends giving it a try.
Is the Costco Tuxedo Cake The Best Cake Ever?
I'm not qualified to make that call, but we did think the tuxedo cake was fantastic in presentation and taste. We don't have cake often, but we like the Costco tuxedo cake so much that it's on our list to have again in the future. 
I can definitely see how many Costco members call this the best Costco cake, and I'm not surprised that people consider this to be their favorite cake ever.
Costco Tuxedo Mousse Bar Cake Calorie and Nutritional Information
How Many Calories in Costco Chocolate Tuxedo Cake?
Costco's bakery doesn't have the best reputation when it comes to healthy nutritional labels and when the item is a cake, it isn't going to be pretty. 
One 3.5-ounce serving of Costco's tuxedo cake contains 370 calories, 23 grams of fat, 37 grams of carbohydrates and 5 grams of protein.
Nutrition Facts
Costco Chocolate Tuxedo Cake
Amount per Serving
% Daily Value*
* Percent Daily Values are based on a 2000 calorie diet.
This is a cake meant for a special occasion and not an everyday eat, so the nutritional label is forgivable.
Frequrnly Asked Questions
How Many Servings In the Costco Chocolate Tuxedo Cake?
According to the nutrition label, Costco's chocolate tuxedo cake will serve 12 people. Each serving is a fair portion at 3.5 ounces.

If you wanted to go with thinner slices, I could see this cake feeding 14-16 people. 
How Long Does The Tuxedo Cake Last?
My tuxedo mousse cake from Costco had a sell-by date that was two days after I purchased it. It will probably be good for another 4 or so days after the sell-by date.
On average, I would expect each tuxedo cake to last 4-6 days in the refrigerator.
Can You Freeze The Costco Tuxedo Cake?
Yes, you can freeze the tuxedo cake, and they do very well in the freezer. I like to slice the cake and wrap them individually with plastic wrap before freezing them in a Ziploc bag. This makes it easy to pull out a slice of cake whenever I am in the mood.
Pro Tip: Pre-freeze the cake for an hour to harden it so you can tightly wrap it with plastic wrap.
Costco Food Database User Reviews
Have you tried this item? Let the rest of the Costco Food Database community know what you think. Leave a rating and review for this product.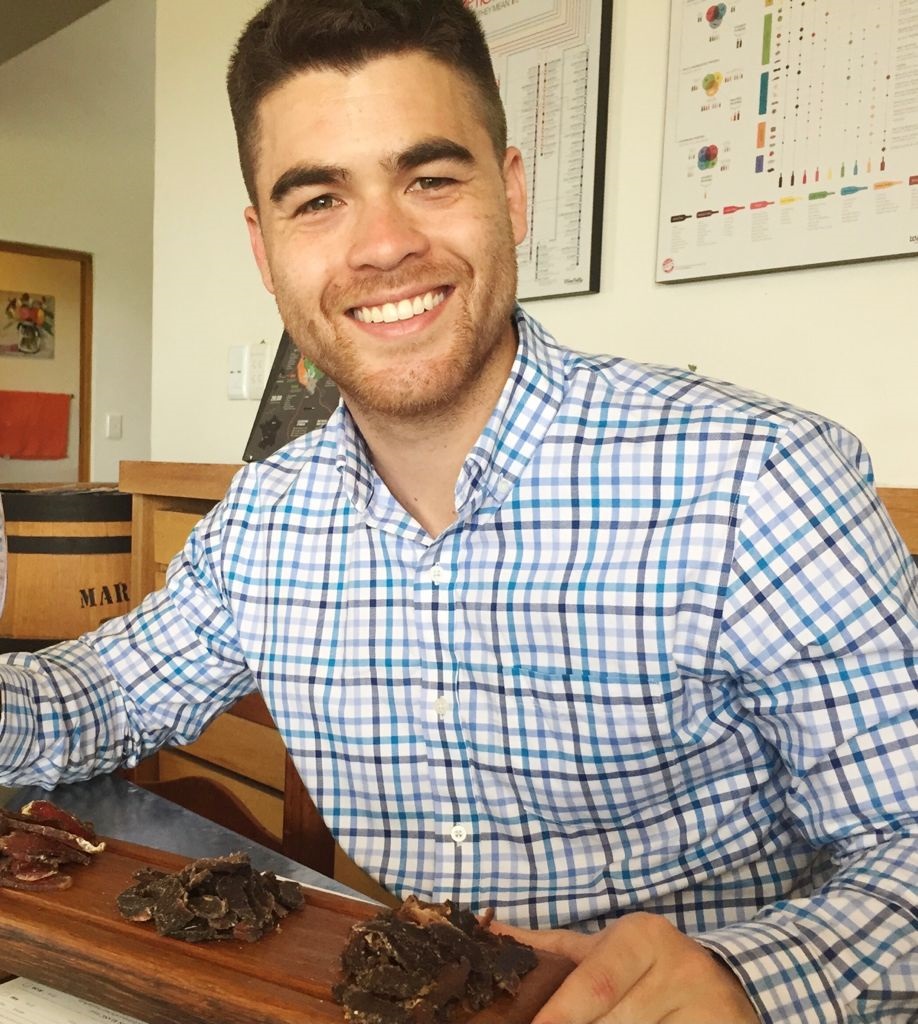 Greg Larkin is the founder and managing editor of Costco Food Database, the premiere site for honest takes on all things Costco food. A self-proclaimed Costco super-fan since childhood, Greg turned his obsession in a mission to properly rate and review all of Costco's delicious buys. When he's not busy navigating Costco aisles, you can find Greg smoking Kirkland Signature meats, meal prepping, or perfecting his homemade jerky recipes.