Costco Matcha Powder - Amazing Price + Pro Tips
Sencha Everyday Matcha Green Tea Powder at Costco
Costco sells a 12-ounce bag of Sencha Organic Everyday Matcha Green Tea Powder for $19.99. The matcha tea can be found in Costco's pantry and dry goods area of the warehouse, often near other items such as the other traditional green tea packs, cold brew cans, and the boba milk tea set.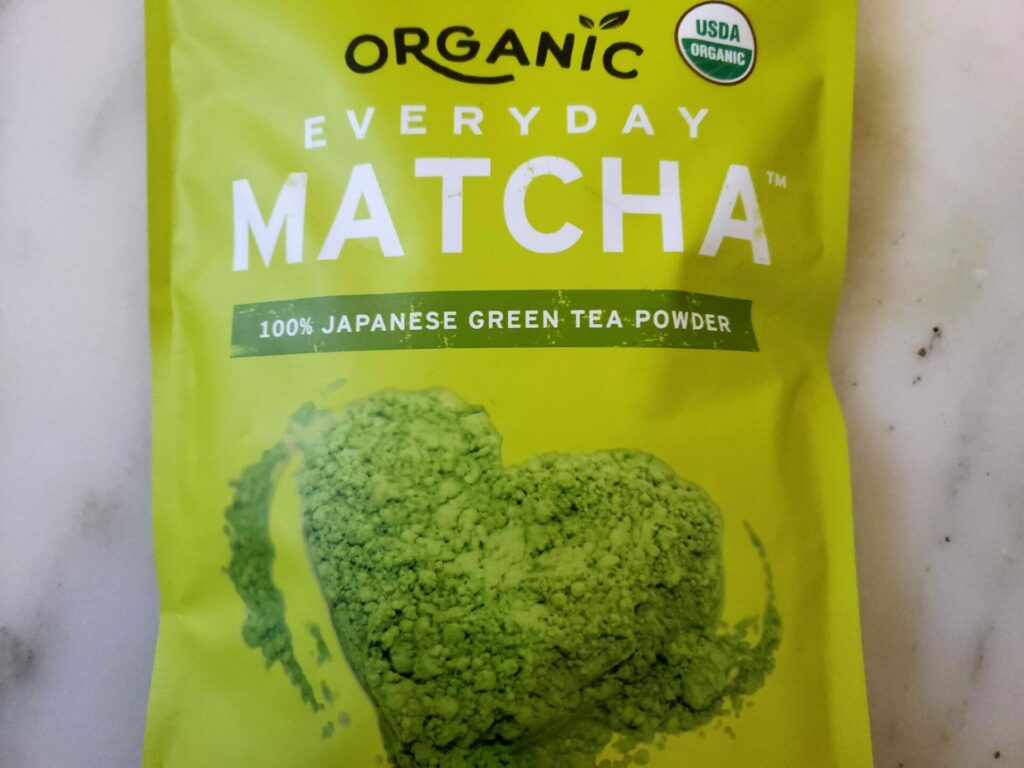 The Costco matcha powder is organic and 100% Japanese matcha green tea powder.
Have You Tried Costco's Matcha Tea?
Let the rest of the Costco Food Database community know what you thought of this product. Results and reviews are at the bottom of this page.
Please allow 24 hours for review moderation and approval.
What is Matcha Green Tea?
Matcha comes from specially grown green tea leaves that are ground into a fine powder. The green tea plants undergo a unique growing method where they are kept in the shade for 3-4 weeks before harvesting. The plant produces more theanine (relaxing effects) and caffeine during this process.
Ceremonial Matcha or Culinary Matcha
There are two grades of matcha tea; ceremonial and culinary. Ceremonial matcha tea is the highest grade and is used solely for drinking. This matcha tea has a vibrant green color, fine texture, and a pure and sweet flavor.

Culinary Grade Matcha is the lower of the two grades, but not necessarily a bad tea. Culinary grade matcha can be drunk, or it can be used in recipes as well.

Sencha's everyday matcha is a unique blend of ceremonial and premium matcha powder. I would guess that it doesn't qualify as ceremonial matcha tea if it's a blended version, and I wonder what proportions of ceremonial matcha are in the blend. 
After a long hiatus from the drink, I just picked up drinking matcha again. I realized I consumed way too much coffee throughout the day while still feeling lethargic and sluggish. One day, I said enough was enough, and I substituted my morning coffee for some of this Costco matcha green tea. 

It's been about 10 weeks since that day, and I am proud to say that I haven't had a sip of coffee in that time span. I'm hoping to make this a lifestyle change.
How Much Caffeine is in Costco's Matcha Tea?
One serving of Costco Matcha Tea will contain 30 mg of caffeine, which is ⅓ of the caffeine that a normal cup of coffee has. This helps control caffeine intake and is great for those who need a small pick-me-up.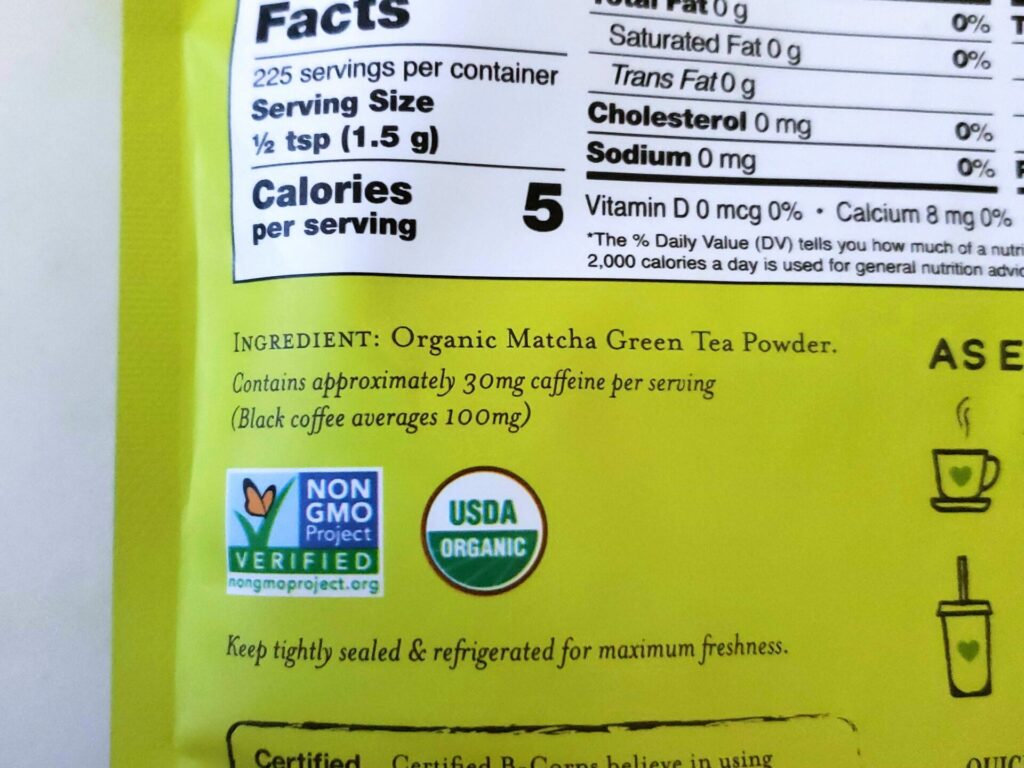 The energy it does provide is also very smooth and steady. I have never felt jittery, and it's a very constant uplifting energy that improves focus and clears the mind.
In addition to knocking off my coffee addiction, matcha also has various benefits. I'll list a few here, but if you want to go more in-depth, check out this article from Healthline. 
High in antioxidants

It may protect the liver

Sustained energy and focus

It may help prevent cancer

Helps boost metabolism
Where is Sencha Matcha Tea Harvested From?
Sencha Naturals has been in business since 2001, and they source their matcha powder from organic family tea farms in Kagoshima, Japan. On their older Matcha Tea packages, they also stated they sourced their matcha from Kyoto.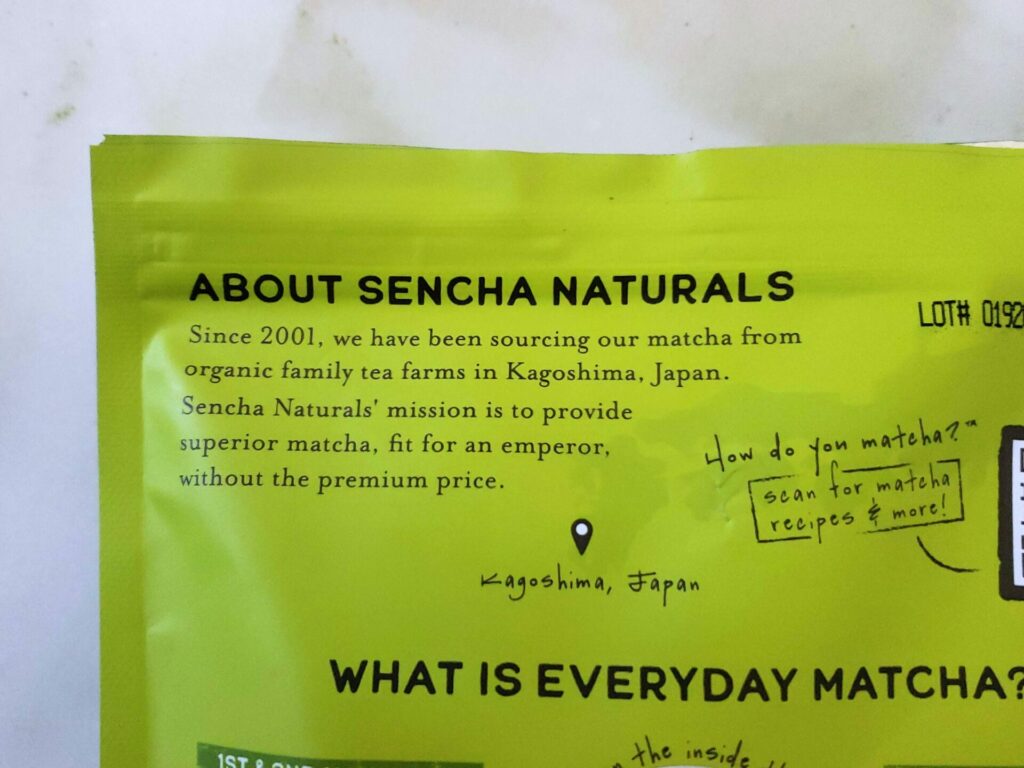 How Much Does The Matcha Powder Cost At Costco?
Costco sells 12 ounces of their organic matcha tea for $19.99. This breaks down to a stellar price of $1.66 per ounce or $26.65 per pound. This may seem high, but this might be the all around best deal on matcha tea anywhere around.

For reference, Sencha, the producer of this matcha green tea, sells a smaller 4-ounce bag for $19.95. This bag is one-third the size of Costco's but the same price.

I would normally do a cost comparison to other matcha powders, but because there is so much variety in origin, grade, and quality, I will be skipping the comparison.
I will say, in my limited cost comparison research, I did not find any 100% Japanese matcha powder that was more affordable than Costco's. 
Costco Matcha Powder Taste Test
I've been drinking it for a few years now, and I'm a big fan of Costco's matcha powder. 
I've enjoyed it in many ways, including warm, in a smoothie, and have made matcha lattes. The matcha has a unique flavor that is very versatile.
The Costco matcha powder has a beautiful light green color. When mixed with warm water, it transforms into a bright, vibrant green tea. The matcha tea is smooth, earthy, rich, and just slightly bitter. It has a complex, full-bodied flavor with grassy and nutty notes.
The matcha powder mixes fairly easily in warm water, which is my favorite way to drink matcha tea. 
I have a cup every morning, and it is absolutely fantastic. Remember to not use boiling water as that can burn the powder.
My wife loves making her iced matcha lattes. She uses the Costco matcha tea powder, oatmilk, and a splash of maple syrup.

The Costco Matcha powder is excellent for baking as well. The matcha adds an earthy green tea flavor to baked goods and pairs well with vanilla, honey, chocolate, ginger, and cinnamon.

Traditional matcha is quite the process to make, but the simplified version is as easy as mixing the matcha powder with hot water.
To make a cup of matcha tea, mix 1/2 teaspoon (1.5g) matcha powder with 1 cup (8 oz) warm water and mix thoroughly. Matcha doesn't dissolve like regular tea and instead will be suspended throughout the water.
Add 1/2 tsp (1.5g) matcha to 1 cup (8oz) milk or milk alternative. Add sweetener if desired. For an iced latte, pour over ice.
Additional Tips For Matcha Tea
Traditional matcha tea is made with a whisk, and for a good reason. 
The powder doesn't dissolve into the water, so the whisk will help break up some of the matcha clumps and provide a nice foamy layer of tea at the top.
This will be one of the best tips to help you maximize that green tea matcha flavor, which would be to not use boiling water.
Boiling water will burn the matcha powder and completely ruin the taste. Instead, use hot water between 158° and 180°, depending on your preferred flavor profile.
Serving Suggestions and Uses of Matcha Tea
Most of the time, I use this Costco matcha powder to make tea. It can either be drunk hot or cold. In addition to using it for tea, Sencha offers a few other suggestions on using matcha powder. 

The matcha green tea powder makes a great addition to smoothies; you can bake with it, mix it in with lemonade, or even mix it in your favorite greek yogurt bowl.
Costco Matcha POwder Calories and Nutritional Information
How Many Calories in Costco Matcha Powder?
One Costco matcha tea powder serving will be only 1/2 tsp (1.5g). Each serving will contain 5 calories with 0 grams of fat, 1 gram of carbs, and 0 grams of protein. The one gram of carb will actually be 1 gram of fiber.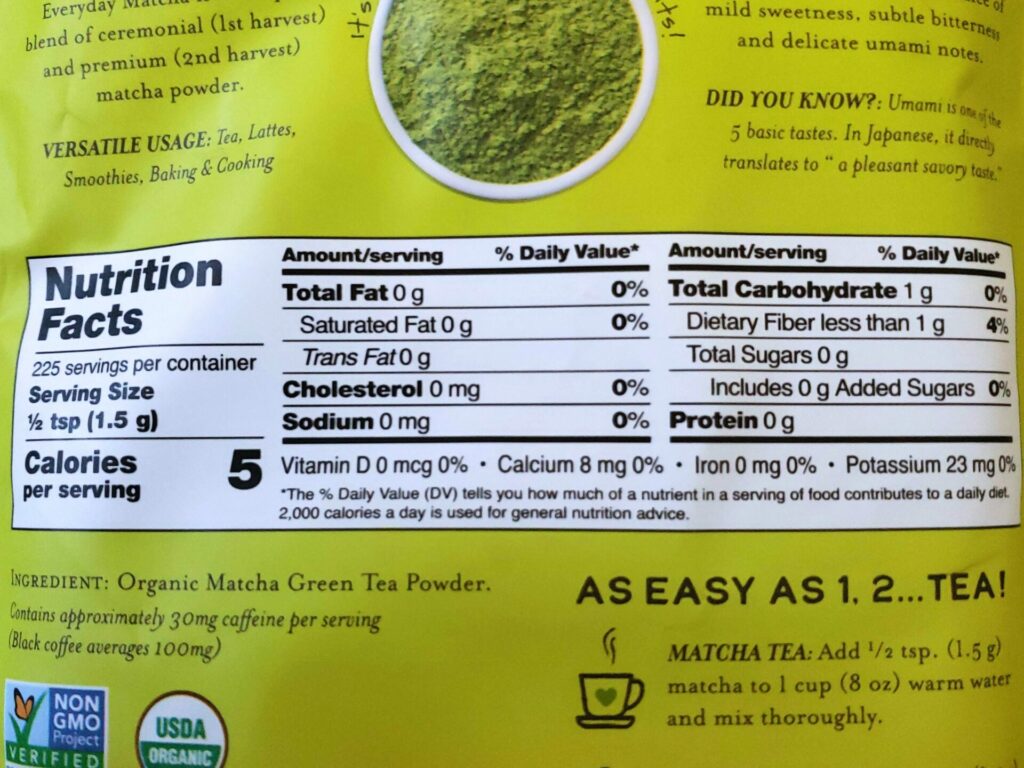 This green tea is super healthy in terms of macronutrients and the plethora of benefits it provides. Sencha's matcha green tea is a great addition to most diets.
Costco Food Database User Reviews
Have you tried this item? Let the rest of the Costco Food Database community know what you think. Leave a rating and review for this product.