Costco Holiday Mingle Mix (Bartons) - Price and Review
Bartons Holiday Mingle Mix at Costco
Barton's Holiday Mingle Mix is back at Costco! Costco sells the 24-ounce bag of holiday season treats for $9.49. I found the Holiday Mingle Mix at my warehouse in the seasonal section across from the frozen food aisles.
This may vary from warehouse to warehouse, so check near the frozen food aisles or in the snack sections.
Have You Tried Costco's Mingle Mix?
Let the rest of the Costco Food Database community know what you thought of this product. Results and reviews are at the bottom of this page.
Please allow 24 hours for review moderation and approval.
What's Included in the Holiday Mingle Mix?
Each bag will have 24 ounces (1.5 Pounds) of holiday goodness. The Mingle mix is made with the following:
Dark Chocolate Pretzels with Sprinkles & White Drizzle

Milk & Dark Chocolate Caramel Corn with Almonds

Milk & Dark Chocolate Mini Peanut Butter Cups

Milk Chocolate Pretzel Balls

Milk Chocolate Nonpareils (Sprinkles)

Chocolate Sandwich Cookie Pieces

Red Gems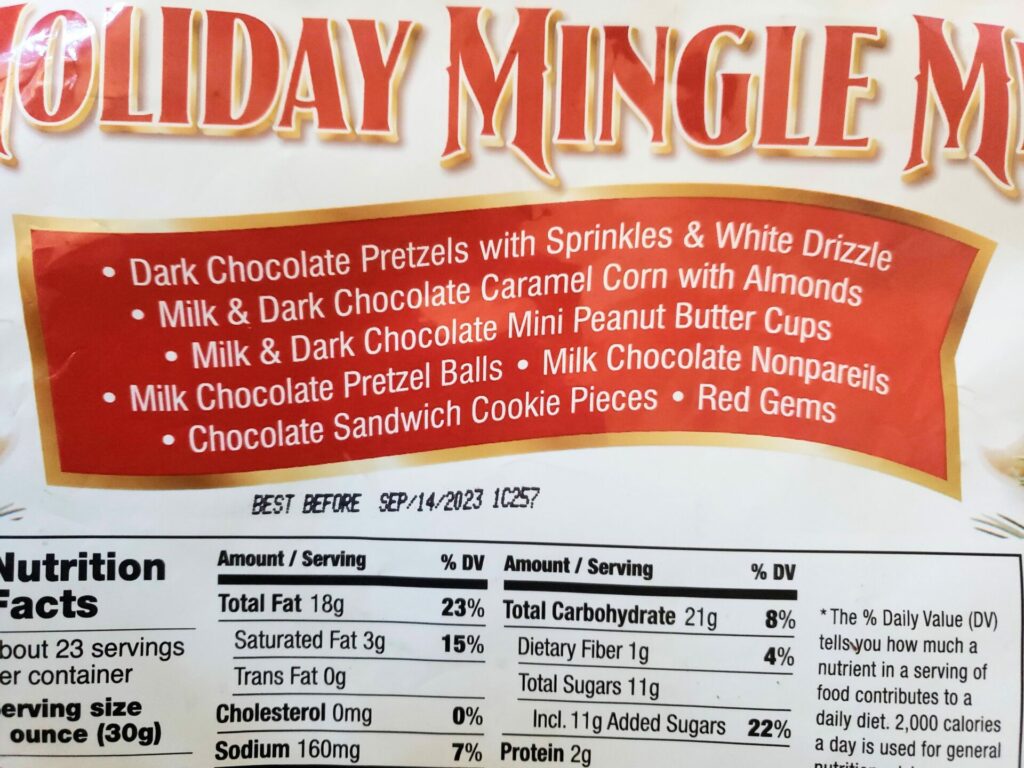 This mix sounds darn good to me, and I would bet these would go very quickly at a Christmas party. 
Thing to Note: There are milk and dark chocolate varieties of the peanut butter cups and the caramel flavored popcorn.
How Much is Barton's Mingle Mix at Costco?
Costco sells Barton's Holiday Mingle Mix for $9.49. This breaks down to a per-pound price of $6.32 or $0.40 per ounce. 
This will definitely be on the higher end for a candy treat mix, but it is reasonable considering the theme and the uniqueness of some of the included items.
Costco vs. The Competition
If you are looking for Barton's Holiday Mingle Mix, Costco will be the place to get it. After some vigorous searching online, it appears this will be a Costco exclusive item. I found a few other sources reselling the Holiday Mingle Mix, but no other reputable sellers selling the treat at retail price.
For reference, other mixes such as Hoody's Peanut Butter mix sells for $0.20 an ounce.
Holiday Mingle Mix - Taste Test
I've only heard good things about Barton's Holiday Mingle Mix, so I was super excited to try these. 
I poured a small bowl full, and I must admit that I had difficulty stopping. Just a forewarning, these can be addictive.
All the pieces of the Holiday Mix were pretty good. My favorite pieces were both the milk and dark chocolate peanut butter cups, but that is also my absolute favorite piece of candy. So I do have some bias there.
The least exciting piece to me was the chocolate sandwich cookie, aka the oreo knockoff. Both the flavor and texture were off, and a bit of a letdown. 
The chocolate sandwich cookie didn't contribute much, and I wouldn't miss them if they weren't included next year.
I did notice that my holiday mix didn't have too many of the "Red Gem" pieces. If I had to estimate, I would say I had less than 10 or so pieces in the entire bag. A little disappointed with the distribution numbers. 
Overall, it's a solid holiday treat. The theme is on point, and these will go quickly at any party or gathering.
Costco Holiday Mingle Mix Calories and Nutrition
How Many Calories in Barton's Holiday Mingle Mix?
One serving of the Holiday Mingle Mix will be 1-ounce (30grams) and will contain 140 calories. The 140 calories will come from 18 grams of fat, 21 grams of carbs (11 grams of added sugars), and 2 grams of protein.
Obviously, this is an expected nutritional profile for a treat like this. It isn't going to be healthy for you, and the good majority of macronutrients will be fat and carbs.
No surprises here; this isn't something you want to eat too much of when on a diet. 
Leave them out on a small plate for your guests to enjoy, and hope they get eaten before you have a chance to really binge on them.
Costco Food Database User Reviews
Have you tried this item? Let the rest of the Costco Food Database community know what you think. Leave a rating and review for this product.