Costco Mochi Ice Cream - Fun Dessert, But Not Perfect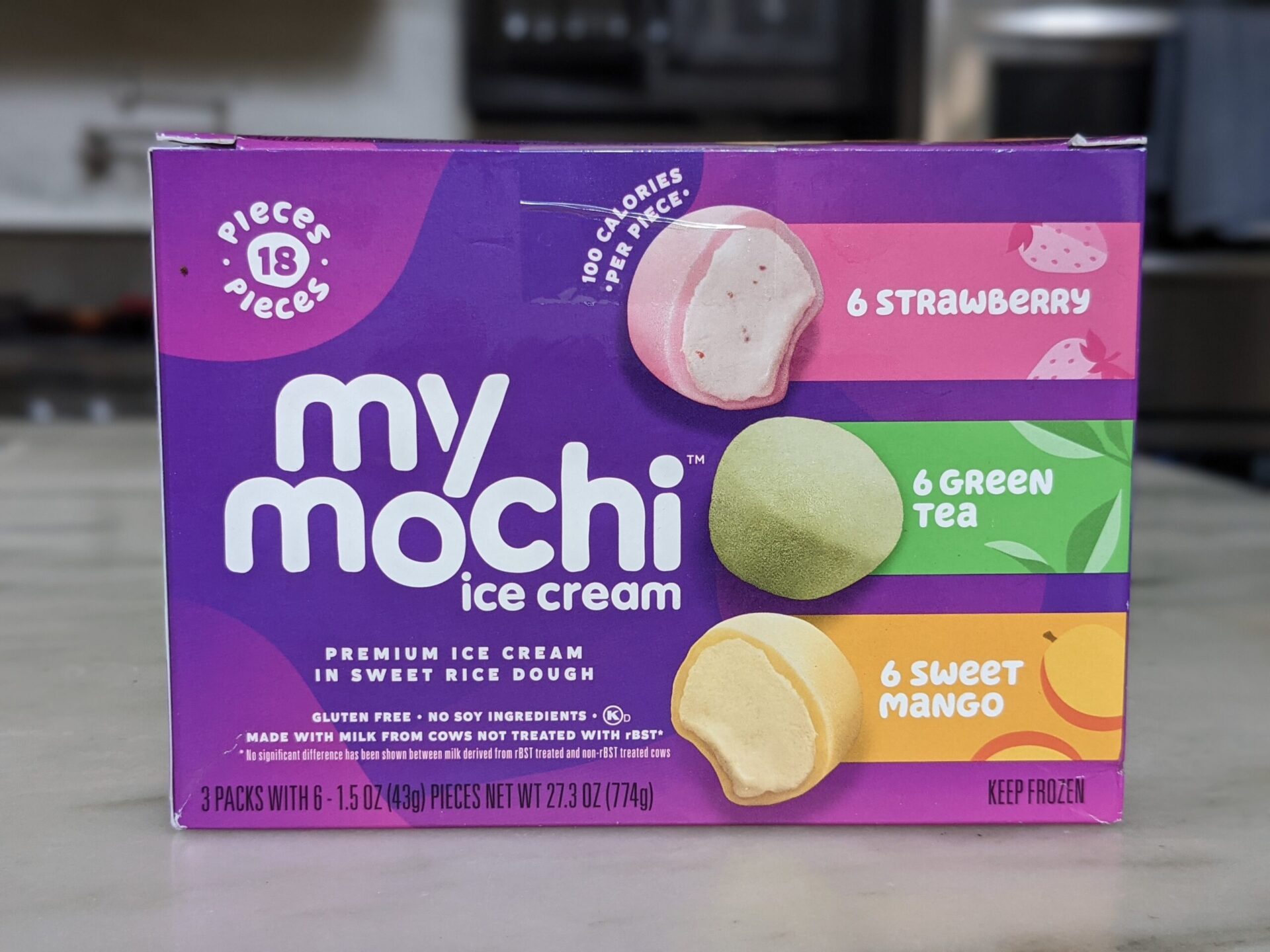 Ice Cream Mochi is one of my all time favorite desserts. Does Costco's Mochi compare to some of Japan's finest?
My Mochi Ice Cream at Costco
This My Mochi package includes 3 of their most popular flavors – Strawberry, Sweet Mango, and Green Tea. 
Store-bought mochi are typically sold in 6 packs and with the Costco mochi it's no different; you will be getting 3 trays of 6 mochi each.
Have You Tried Costco's My Mochi Ice Cream?
Let the rest of the Costco Food Database community know what you thought of this product. Results and reviews are at the bottom of this page.
Please allow 24 hours for review moderation and approval.
Mochi Ice Cream takes the typical Japanese mochi which is a rice cake made of glutinous rice and fills it with ice cream. The end result is an ice cream ball covered with chewy soft dough. The mochi dough's texture is a mix of a soft gummy candy and a marshmallow.
Sounds a little bit out there, but as an ice cream lover, I would dare say the sweet mochi dough outshines the actual ice cream. It really is that delicious.

Costco also sells a non ice cream mochi. The brown sugar boba mochi treats can be found in the snack area of the warehouse.
Costco Cost Comparison - My Mochi
How much does Mochi cost at Costco?
Costco retails the 18 pack of My Mochi Ice Cream for $10.99, but will discount the item to $7.99. This is a $3 discount or 28% off the retail price. 
The price per mochi at retail is $0.61 and that price drops down to $0.45 when the 18 pack of mochi is on sale.
Does Costco have the best price on Mochi?
Walmart and Target each sell a 6 pack of My Mochi Ice Cream for $4.88 and $4.99 respectively. This averages out to $0.82 per mochi! This is significantly higher than Costco's retail price per mochi of $0.61. 
Costco once again comes in with the best price at retail and when on sale the price per mochi drops to an astounding $0.45. This is nearly 50% of the price you would pay at other retailers or grocery stores. 
The Big Problem! - Costco Doesn't Have All the Flavors!
I don't have a problem buying mochi in bulk, especially when the cost savings are this dramatic. The one downside is that you don't have the option to pick and choose specific mochi flavors at Costco. 
If you buy My Mochi at Costco you are going to get Strawberry, Green Tea, and Sweet Mango.
Other retailers will have flavors such as Cookies and Cream, Guava, S'mores, Horchata, and more. Costco will not be able to provide you some of the more exotic and fun flavors. 
The flavors they do provide are fine in their own right, and probably the best combo to meet the general populations taste, but I would have loved to have seen additional options at my local Costco warehouse. 
My Mochi Variety Pack First Impression
I first was introduced to mochi ice cream about 15 years ago, and I remember distinctly that the box design was Japanese and very formal. 
The colors were dull and the text was in Japanese. If you didn't know what it was, you wouldn't know what it was. 
The Costco My Mochi Ice Cream is a complete 180 from what I remember. This box is bright purple and gives a very friendly, modern, and fun vibe. 
The colors are vivid and the box uses statements like "nom nom time" and "amazeballs". It's clear that My Mochi wants to sell some ice cream to the masses.
In the Costco Mochi Pack, you get 6 mochi of 3 different flavors. Each flavor comes in its own 6 pack tray and is covered in plastic wrap. 
I will say, I was very disappointed with the presentation of the mochi in the pack that I received. 
Some of the ice cream appears to be oozing out of the rice dough balls. This leads me to believe that there is some carelessness in the manufacturing process. 
Costco Mochi Ice Cream - Taste Test
Before we get to the review, let's go over the directions to "desquishious" town. 
Chill in the freezer until My Mochi nom nom time

Let the Mochi Ice Cream sit a minute or two

Sink your teeth into Amazeballs
The My Mochi brand is fun and playful
My Mochi doesn't seem to take themselves too seriously and their packaging is very playful. You need to let the mochi sit out for just a few minutes to allow the rice dough to soften. 
This is a very important step and the difference between completely frozen mochi ice cream and one that is defrosted with a soft and squishy rice dough is night and day. Follow the instructions here and let the mochi sit at room temperature for just two minutes.
The star of the show here is going to be the dough. It's imperative that the Mochi dough be sweet, chewy, stretchy, and soft. The mochi balls from My Mochi are pretty good.
They aren't the best mochi ice cream balls I have ever eaten but the dough still is soft and chewy.
Is My Mochi Ice Cream good?
The inner ice cream filling is also just above average. The flavors are not extremely pronounced, but you can still clearly tell which flavor you were tasting. 
The ice cream was less sweet than most other ice creams, but for me that was just fine. 
These particular mochi really lacked that addictiveness for me. Usually I'll want to eat 2 or 3 mochi balls at a time, but with these, I haven't even thought about eating more than 1 per sitting.
Which My Mochi flavor is best?
My personal ranking of the flavors. 

Strawberry 

Sweet Mango

Green Tea
These My Mochi ice cream balls tasted fine but were lacking in the wow factor. The texture was there but the flavor was lacking. They are a tasty dessert but I'm not so sure that they satisfy the mochi craving.
My Mochi Nutritional Information
Let me start this off with a standing round of applause to My Mochi. Finally, a nutritional label that is meant for the gluttonous like me. One serving of Mochi is actually 4 individual Mochi Ice Cream pieces. 
Can you believe it?! I like to eat, and I like to indulge, but even I think 4 pieces of mochi in one serving is a little overboard for a nutritional label.
How many calories in My Mochi?
Regardless, let's take a look at the nutritional value. Each serving of 4 pieces of mochi is 400 calories consisting of 11g of fat, 71g of carbs, and 5g of protein. 
One serving will contain 47g of added sugars which is 94% of your daily recommended value…worth it??
In more realistic portions, each piece contains 100 calories with 3g of fat, 18g of carbs with 12g coming from added sugars, and 1g of protein. 100 calories for an ice cream dessert isn't the worst thing in the world.
Mochi Ice Cream Ingredients
As expected, Costco provides the most competitive mochi prices. When on sale, Costco's mochi is half the price of competitors and worth a buy. Even at retail price, these are a great deal, but the My Mochi brand makes just an average to above average mochi ice cream ball. 
They didn't have that bingeability (maybe that's a good thing), and also didn't fully satisfy that mochi desire. I might buy this again maybe 6 months from now if they are on sale, but otherwise this is a pass for me. 
Costco Food Database User Reviews
Have you tried this item? Let the rest of the Costco Food Database community know what you think. Leave a rating and review for this product.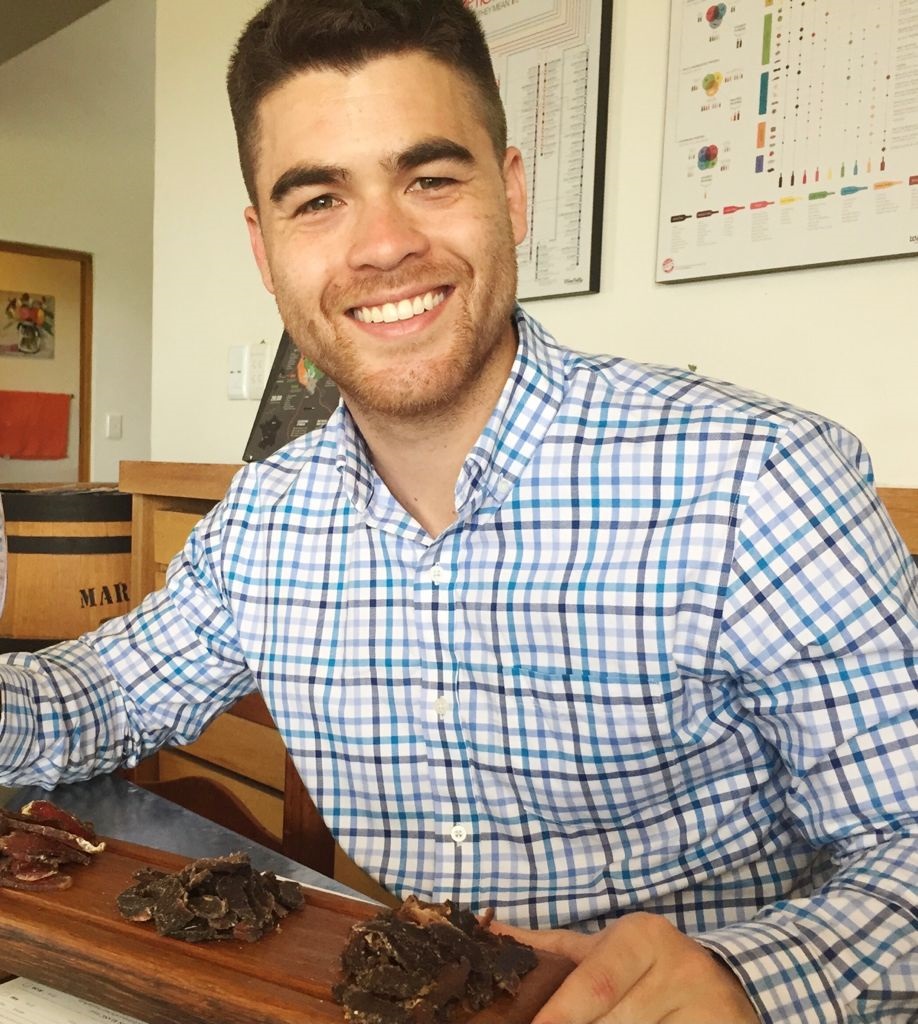 Greg Larkin is the founder and managing editor of Costco Food Database, the premiere site for honest takes on all things Costco food. A self-proclaimed Costco super-fan since childhood, Greg turned his obsession in a mission to properly rate and review all of Costco's delicious buys. When he's not busy navigating Costco aisles, you can find Greg smoking Kirkland Signature meats, meal prepping, or perfecting his homemade jerky recipes.