Costco Tonkotsu Ramen - Best Ramen at Costco?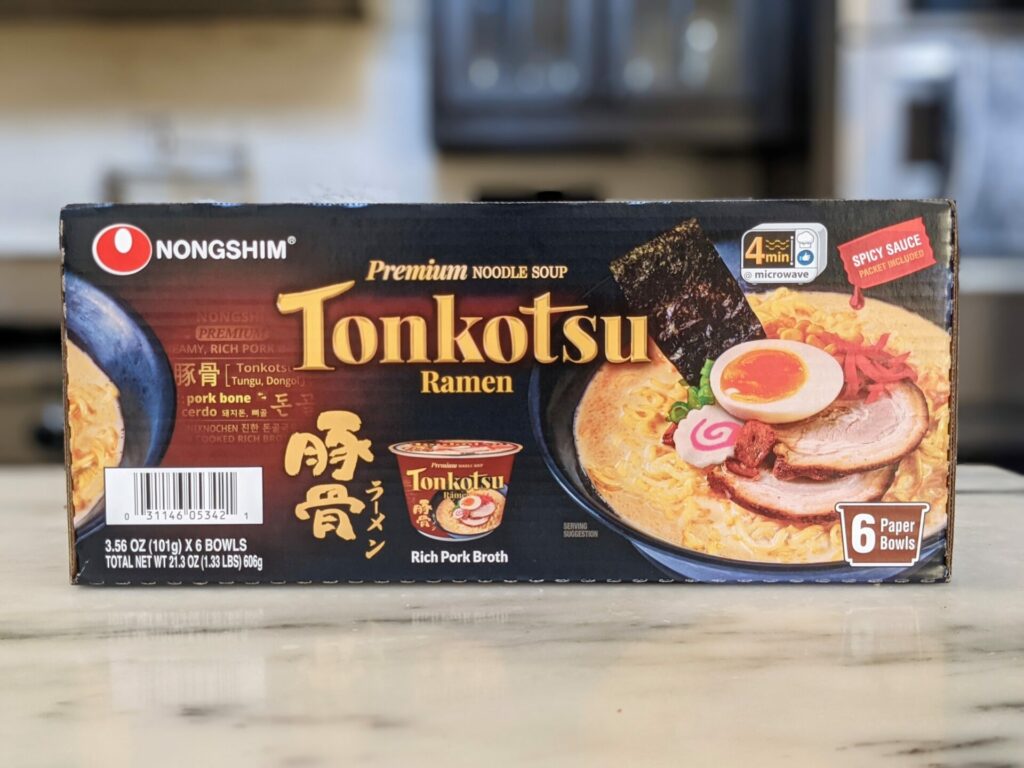 Nongshim Tonkotsu Ramen at Costco
Costco sells a 6 pack of Nongshim Tonkotsu Ramen for $11.99. The Tonkotsu ramen can be found in Costco's pantry and dry goods area of the store near other quick prep meals such as the madras lentils, pho noodles, and the udon bowls.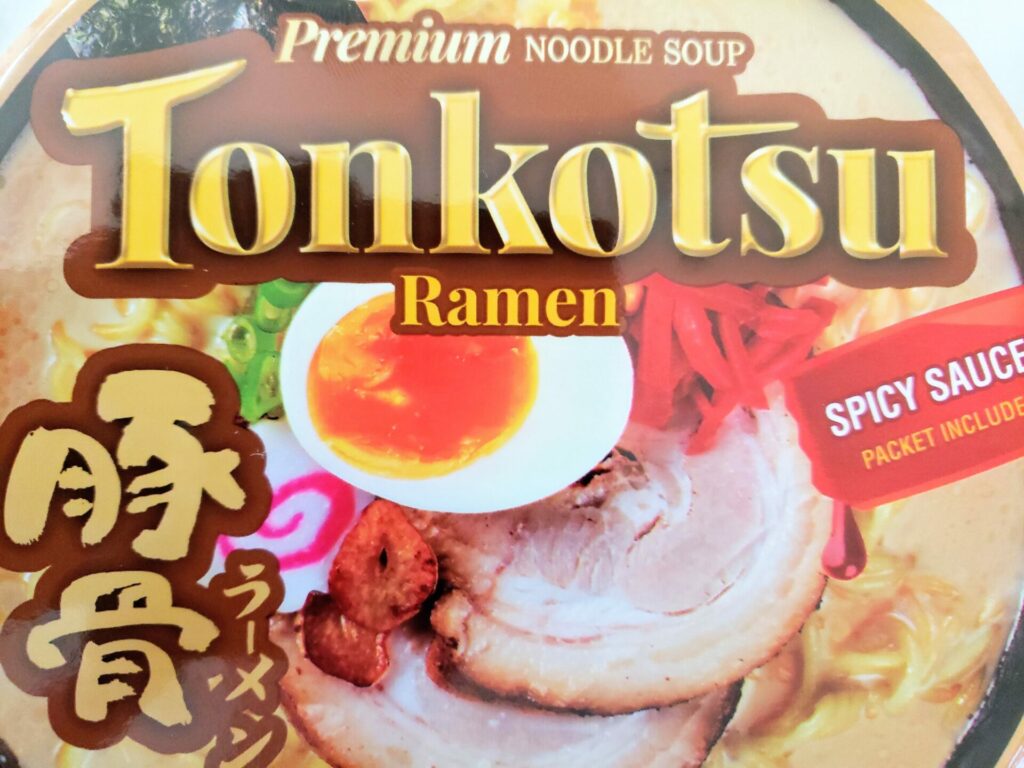 Nongshim's Tonkotsu Ramen includes 6 paper bowls of ramen with a rich pork broth and spicy sauce packets. The ramen takes between 3 and a half and 4 and a half minutes to heat, depending on if you like your ramen al dente, medium, or soft.
Have You Tried Costco's Tonkotsu Ramen?
Let the rest of the Costco Food Database community know what you thought of this product. Results and reviews are at the bottom of this page.
Please allow 24 hours for review moderation and approval.
Tonkotsu ramen is a ramen dish where the soup broth is pork based and typically made from pork bones. The broth is usually boiled for hours and sometimes for 15-18 hours.
Traditional tonkotsu ramen will have a yellowish-brown color and will be cloudy in appearance. It is also known for its bold, thick, and hearty pork broth flavor.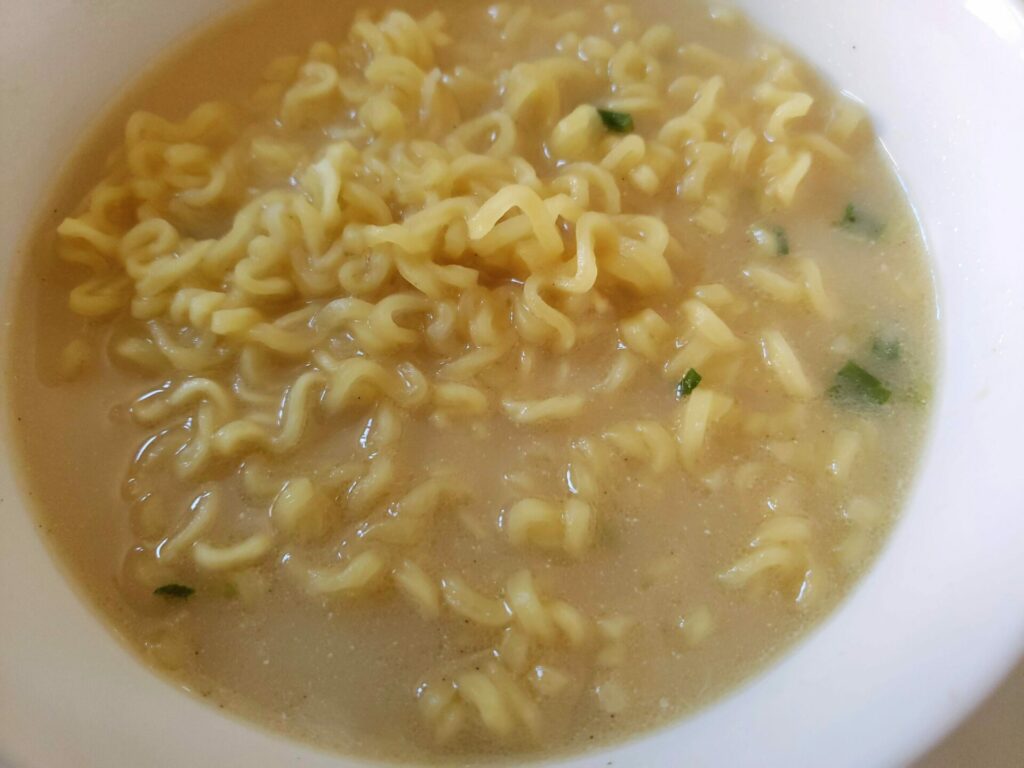 How Much Does Costco's Tonkotsu Ramen Cost?
Costco sells this 6 pack of Nongshim Tonkotsu ramen for $11.99. These go on sale regularly for $9.59, a price drop of $2.40 or a 20% discount.
At retail, each bowl goes for $1.99, and when on sale, the price per bowl is $1.60.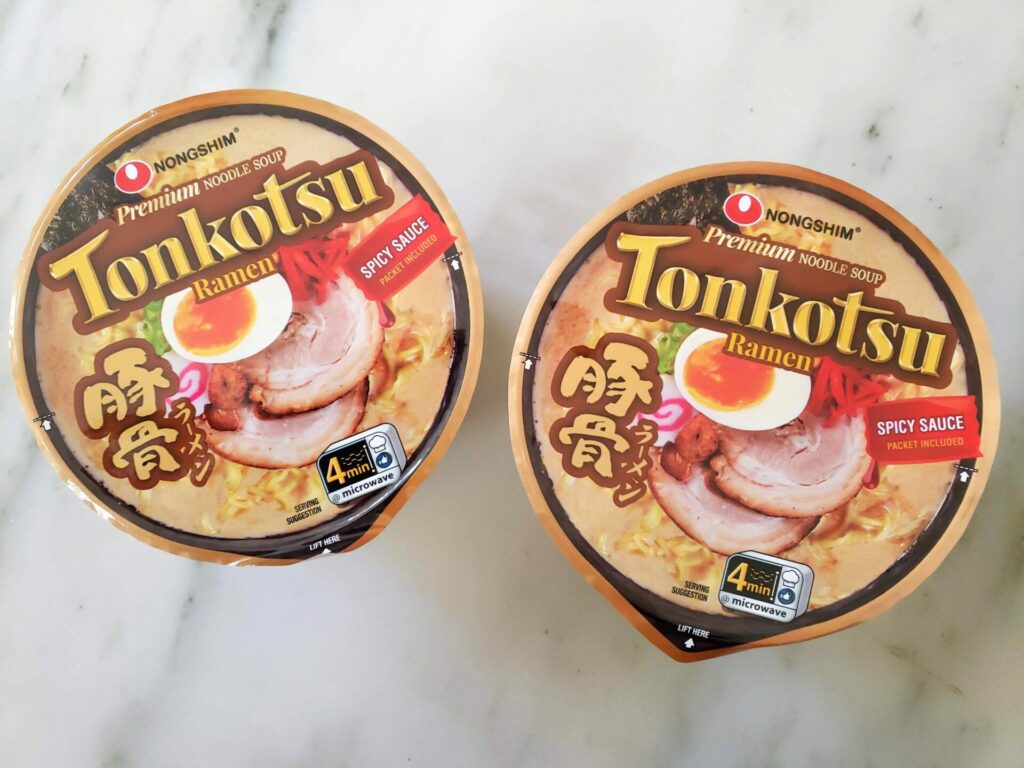 When Costco does discount these tonkotsu ramen bowls, it will be a great time to stock up on them. It's not uncommon to see people buy 2-3 boxes of this ramen when they go on sale.
The ramen has a best-before date about a year from the day I purchased it, so you don't have to worry about these going bad anytime soon.
Costco vs The Competition
Sam's Club also sells Nongshim Tonkotsu Ramen Noodles, but their version is the Kuromayu Black Garlic Oil flavored ramen bowl. 
Their 6-pack of bowls sells for the same price as Costco's, which is $11.98.
Sam's Club's price is the same as Costco's, but they do have the Black Garlic Oil Flavor Tonkotsu Ramen. Is that one better? I'm not sure, but I am interested in trying that flavor out as a garlic fan.
Costco Tonkotsu Ramen Taste Test
One thing I will mention is how Nongshim provides cooking directions for specific noodle textures. I opted to cook my tonkotsu ramen in the microwave as I like my ramen noodles al dente, and the microwave gave me the easiest method to track the time.
The noodles came out perfectly firm with a slight chew. I am a big fan of the microwave method for 3 and a half minutes. The noodle texture was fantastic.

The broth comes from seasoning in a packet, so it's not going to have a rich and creamy feel like an authentic pork bone broth would have, but I still thought the broth was very, very tasty. 
The broth tried to look the part, but it was still relatively light, and there was still quite a bit of seasoning that didn't fully dissolve. There is only so much you can do with a soup base packet, so the looks are forgivable if the taste is there.
Odd Aftertaste - Mystery Solved?
One thing I must say is that I tasted a heavily processed aftertaste with the ramen a few times. This isn't my first time eating this ramen, nor is it the first time I've noticed this taste, so I know I didn't get a bad batch.
I actually bought this tonkotsu noodle years ago but couldn't finish it all because the aftertaste bothered me so much. 
I even have leftover bowls in my pantry that have expired years ago.
After eating this a few more times, I think I narrowed it down to the dehydrated vegetables that are hidden at the bottom of the ramen bowl.
I started pouring the green onion and the garlic out before heating up the ramen, which solved that problem for me.
There doesn't seem to be much posted about this online, so I might be one of the few with this problem.
The spice packet is an excellent addition to the tonkotsu ramen. It gives the soup another depth of flavor and a nice little kick.
I'm a big fan of spicy ramen, so I add the chili oil every time, and if it didn't come with the chili oil, I would be adding in my own sriracha.

Nongshim Tonkotsu Cooking Directions
Nonghim's Tonkotsu ramen noodles come in paper bowls, which can be used to heat the noodles and broth. This makes the ramen super convenient as they can be quickly heated, eaten on the go, or even stored as a backup snack at work.
There are two different heating methods for this ramen: either add water and microwave or directly add hot water to the bowl.
Controlling Noodle Texture
I really appreciate Nongshim's cooking directions because they have a little diagram that tells you how long to cook the noodles, depending on the desired texture.
Their typical directions call for 4 minutes of heating or steaming time, but that should be adjusted depending on how you like your noodles.
For Al dente noodles, cook them for only 3 and a half minutes.

Medium Noodles will cook for the default 4 minutes.

Soft noodles will need an additional 30 seconds bringing the total cook time to 4 and a half minutes. 
I prefer my ramen noodles al dente, and I'm grateful they provide this easy-to-use chart.
Completely remove the lid, soup base & spicy sauce packet.

Pour room temperature water up to the inside line (330 ml, about 3/8 cups).

Microwave for 4 minutes. Add soup base and serve. 
Caution: The product is very hot after heating. Handle with care to avoid spilling or burning yourself. Never microwave without water.
Open the lid half way, and remove soup base & spicy sauce packets.

Pour hot water into the inside line (330 ml, about 3/8 cups).

Close the lid for 4 minutes, add soup base, and serve. 
Caution: The product is very hot after heating. Handle with care to avoid spilling or burning yourself. Never microwave without water.
TOnkotsu Ramen Serving Suggestions
The Tonkotsu ramen is great on its own, but instant ramen can always be made better. Here is a list of some of the additions I would make to enhance the ramen bowl and take it to the next level. 
Sriracha

Soy Sauce

Rice Vinegar

Soft Boiled Egg

Spam

Garlic

Onion
Tonkotsu Ramen Nutritional Information and Calories
How Many Calories in Costco's Tonkotsu Ramen?
One serving of this Costco Nongshim Tonkotsu Ramen will be one bowl containing 450 calories.
Those 450 calories will come from 18 grams of fat, 64 grams of carbs, and 8 grams of protein.
As you can see, the carb count is ridiculously high, and the fat is also slightly higher than expected. These tonkatsu ramens bowls will not be healthy for you and should be eaten in moderation. 
With the high fat and carb count, I do recommend taking in a little additional protein with the meal.
Aside from the nutritional profile, the tonkotsu ramen also has an extremely high sodium count. Each bowl will have 1550 mg of sodium which is 67% of the daily recommended value. This is almost an outrageous number considering that each bowl only has 450 calories, is a light meal at best, and makes up just one meal of the day.
To cut down on some of that sodium, I recommend not finishing off the broth after eating all the ramen noodles.
Costco Food Database User Reviews
Have you tried this item? Let the rest of the Costco Food Database community know what you think. Leave a rating and review for this product. 
Costco Tonkotsu Ramen - Perfectly Cooked
Costco's Tonkotsu ramen is one of their most popular ramen items. The nice part about the dish is that the noodles can be cooked to your liking and the heat level is controllabe.
Ingredients
1

Bowl

Tonkotsu Ramen

1

Pack

Spicy Sauce
Instructions
Completely remove the lid, soup base & spicy sauce packet.

Pour room temperature water up to the inside line (330 ml, about 3/8 cups).

Microwave for 4 minutes. Add soup base and serve. 

For Al dente noodles, cook them for only 3 and a half minutes.

Medium Noodles will cook for the default 4 minutes.

Soft noodles will need an additional 30 seconds bringing the total cook time to 4 and a half minutes. 

Optional: Add in desired amount of spicy sauce
Nutrition
Serving:
1
Bowl
Calories:
450
kcal
Carbohydrates:
64
g
Protein:
8
g
Fat:
18
g
Saturated Fat:
7
g
Trans Fat:
0
g
Cholesterol:
5
mg
Sodium:
1550
mg
Fiber:
5
g
Sugar:
3
g