Costco Lobster Tail Skewers - Worth The Money?
Ocean Pier Lobster Tail Skewers at Costco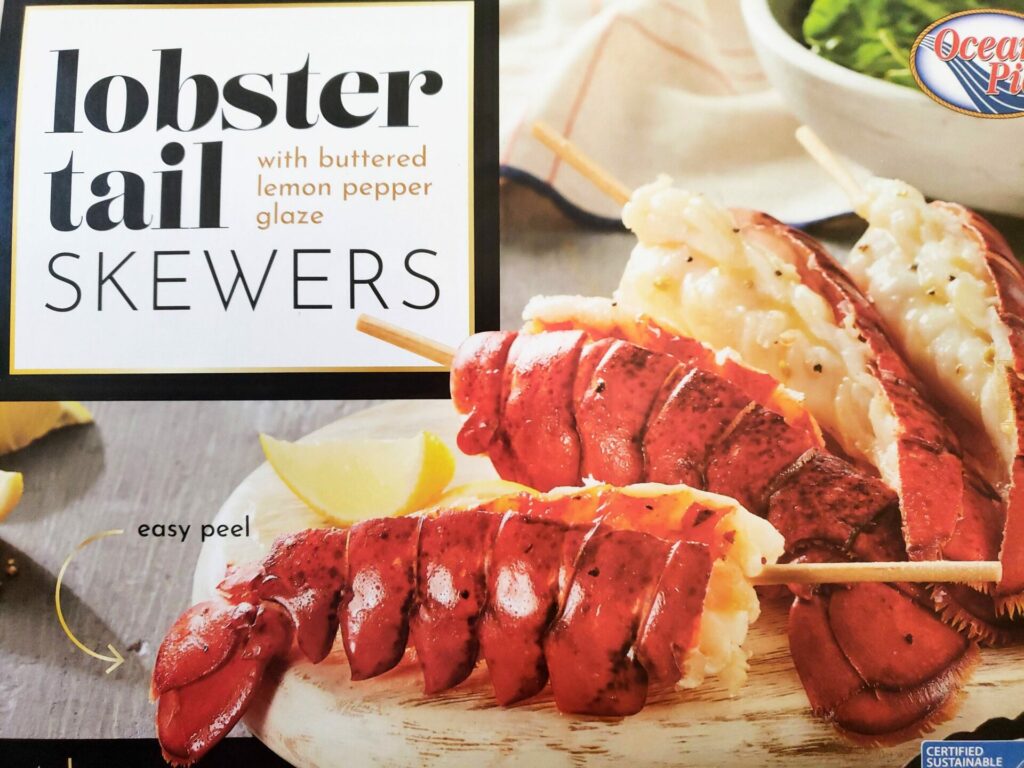 Each pack of Ocean Pier Lobster Tail Skewers will contain four skewers holding half a lobster each. 
The entire package weighs 9.5 ounces, and each skewer will weigh approximately 2.37 ounces consisting of lobster, lobster shell, and buttered lemon pepper glaze.
Have You Tried Costco's Lobster Tail SKewers?
Let the rest of the Costco Food Database community know what you thought of this product. Results and reviews are at the bottom of this page.
Please allow 24 hours for review moderation and approval.
How Much Do The Lobster Tail Skewers Cost at Costco?
The lobster tail skewers at Costco sell for $17.89. Each small skewer costs $4.47; since each skewer is only half of a lobster tail, each full lobster tail costs $8.94. 

The per-pound price for the lobster tail is $30.16!
This is a high price for lobster tail, and especially frozen lobster tail. Costco sells lobster tail in the meat and seafood department for $24.99 a pound, and those lobster tails are quite a bit meatier. 
Of course, value is added with the skewers and the butter lemon pepper glaze, but I have a hard time justifying $5 a pound for that addition.
Costco Vs The Competition
Since these are essentially just 4-ounce lobster tails, I think it would be pretty fair to compare other retailers' 4-ounce lobster tails.

My local grocery store, Tom Thumb, sells their 4-ounce lobster tails for $8 each or $32 a pound. They often hold sales for $6 per lobster tail or $24 per pound.
Sam's Club sells their warm water lobster tails for $34.98 a pound, which is definitely up there in price. 
Compared to other retailers, the $30 per pound price tag doesn't seem too far-fetched.
Lobster Tail Skewers - Taste Test
I opted to cook the lobster tails on the grill as skewered food always does great on the grill. I also wanted to impart a little bit of that delicious smoky flavor. 
The lobster tails were super easy to cook, and I cooked them to about 140°F internal temperature instead of the suggested 165°F.
Unfortunately, I was disappointed with the lobster tails in terms of taste. They were cooked fine, but they weren't as juicy as I had hoped, and there wasn't a lot of flavor. 
The lobster tails took on some flavor from the grill but were still underwhelming.
The buttered lemon pepper glaze sounded delicious, but I could barely notice or taste it on the lobster tail. 
I had to supplement with my own lemon and melted butter to give the lobster a much-needed flavor boost.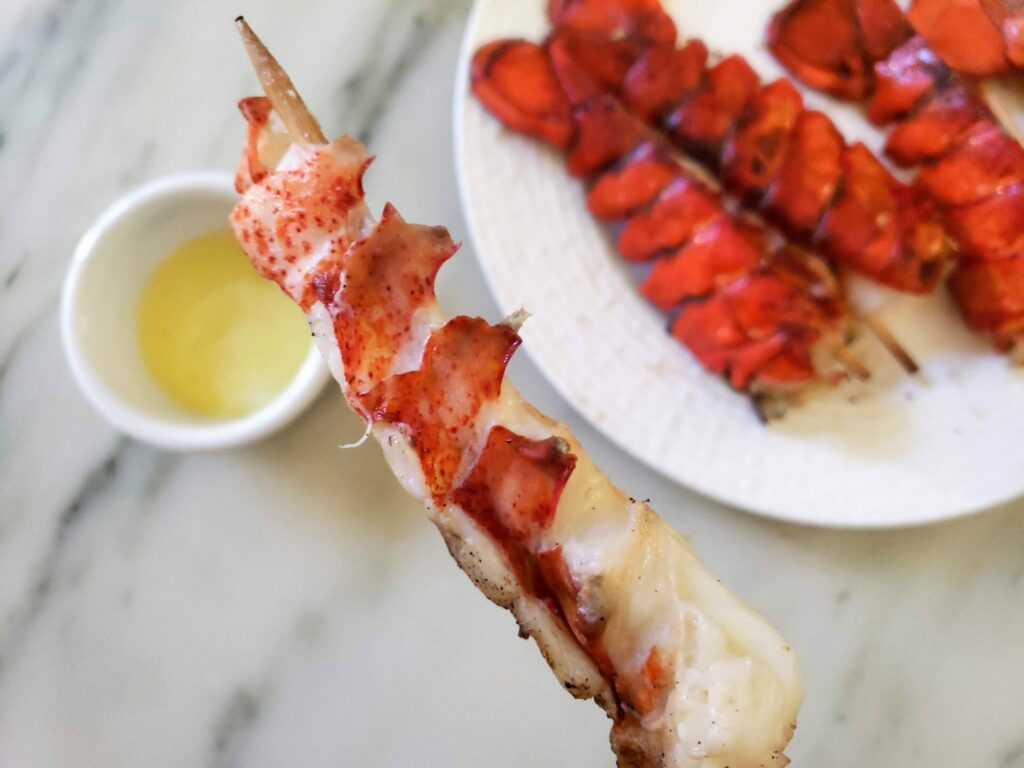 I'm a big fan of lobster, but these frozen lobster tail skewers just didn't do it for me. The quality was mediocre, and the flavors were missing.
Are the Lobster Tails Worth it?
I don't see the value in the frozen lobster tails, and I would have to say no, they are not worth it. The tails are on the small side, which is acceptable, but I don't really see much value in their lemon butter glaze or the skewers.
Wood skewers don't cost much, and the lemon glaze is barely noticeable. The better option would be to buy fresh lobster tails from Costco and skewer them yourself if you so wish.
The only benefit I see with the frozen lobster tail skewers would be that they are frozen and can be eaten on demand.
How To Cook Costco Lobster Tail Skewers
Ocean Piers offers two methods to cook the lobster tails. You can cook them on the grill or bake them in the oven. I chose the grill option as it's a little more fun to grill lobster.
The directions also suggest cooking to an internal temperature of 165°, but most other sources on the internet, including Lobster Anywhere, recommend cooking to an internal temperature of 140° to 145°F.
Preheat oven to 450°F 

Arrange lobster skewers, shell side down, in a single layer on a baking sheet.

Cook on the middle rack for 14 minutes, separate skewers halfway if stuck together. 

Cook until opaque throughout (do not flip).

Let stand for 2 minutes before serving. 
Caution: Filling will be hot
Preheat the barbecue on high.

Barbecue skewers 4 minutes, shell side down.

Reduce heat to medium. Grill for 6 to 8 minutes, frequently turning until fully cooked.
Lobster Tail Skewers Calories and Nutrition
How Many Calories In Costco's Lobster Tail Skewers?
The nutritional label for Costco's lobster tail skewers is a little confusing. They list a serving size as 2 skewers, but also say there are 4 servings per container. 
If I'm doing my math right, that sounds like 8 skewers per pack. Is that a typo, or do they owe me 4 more skewers?
Anyways, with 2 skewers (1 whole lobster tail) per serving, each serving will contain 90 calories coming from 4 grams of fat, 0 grams of carbs, and 13 grams of protein. If you ate all 4 skewers or both full lobster tails, that would only be 180 calories.

This is an excellent nutritional profile as the calories are extremely low, and the protein count is very high. This is also a standard nutritional profile for lobster tails.
The big issue here is going to be the sodium content. 2 Skewers will contain 650 mg of sodium, or 28% of the daily recommended value. This is a considerable amount of sodium for such a small amount of food. 
2 skewers or 180 calories isn't going to fill you up, and you'll most likely need to take on additional calories to make it a meal. In that case, the sodium can be detrimental when combined with other medium or high-sodium foods.
Costco Food Database User Reviews
Have you tried this item? Let the rest of the Costco Food Database community know what you think. Leave a rating and review for this product.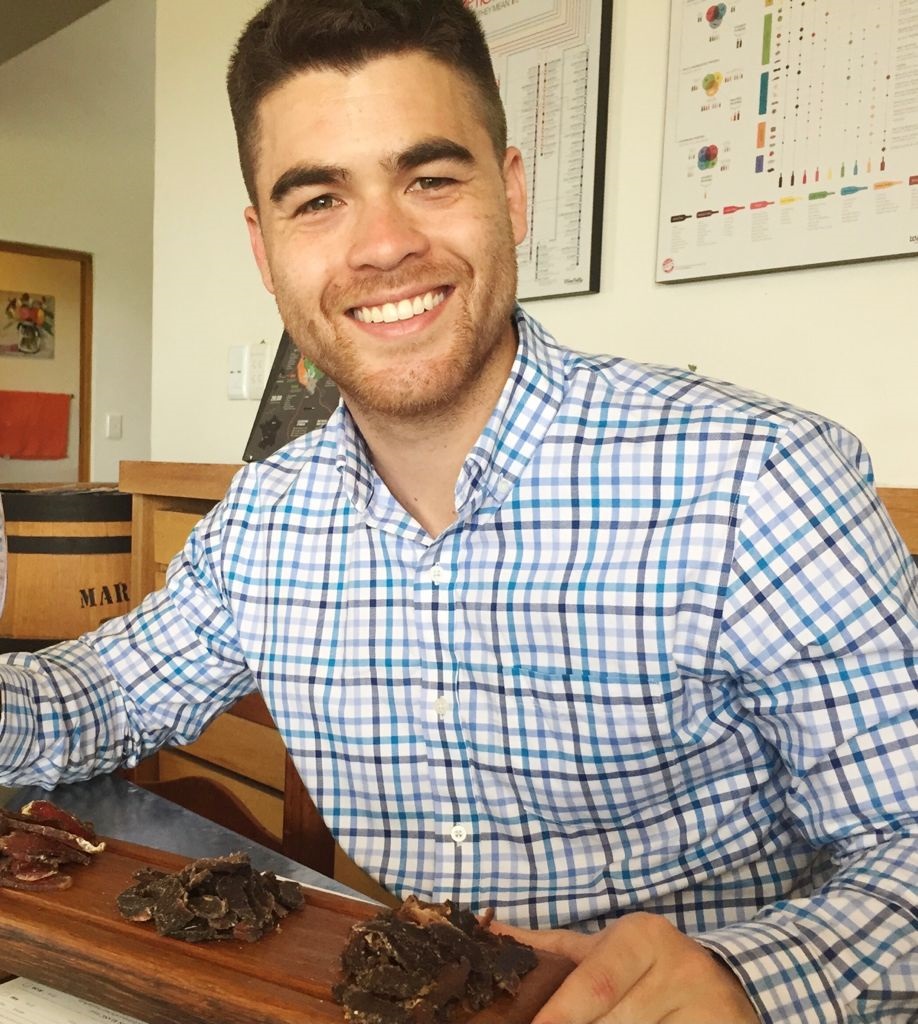 Greg Larkin is the founder and managing editor of Costco Food Database, the premiere site for honest takes on all things Costco food. A self-proclaimed Costco super-fan since childhood, Greg turned his obsession in a mission to properly rate and review all of Costco's delicious buys. When he's not busy navigating Costco aisles, you can find Greg smoking Kirkland Signature meats, meal prepping, or perfecting his homemade jerky recipes.