Costco Jalapeno Beef Smoked Sausage (Costco's Best?)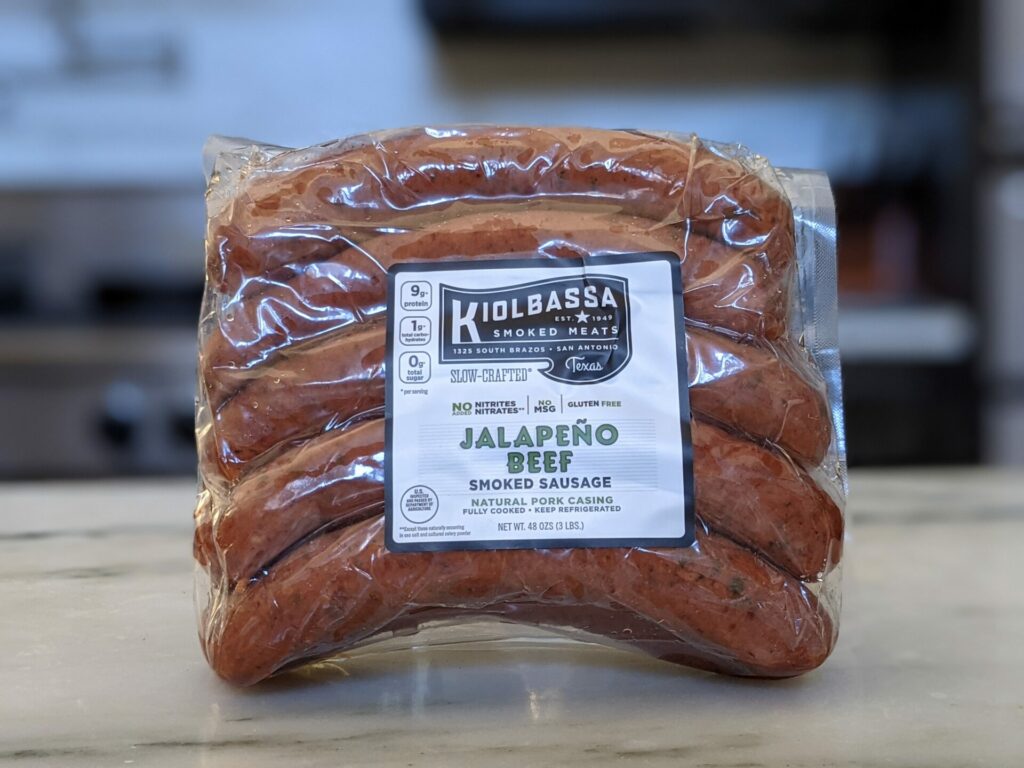 Kiolbassa Jalapeno Beef Smoked Sausage at Costco
I've been looking for a suitable replacement for Costco's Evergood Hot Links, which are no longer available at my local Costco, and I'm hoping this 10-pack of Kiolbassa Jalapeno Beef Smoked Sausages will satisfy my sausage needs.
I found them in the refrigerated deli area of the warehouse near the chicken sausage, Bratwurst, and grass-fed beef sausage.
Have You Tried Costco's Jalapeno Sausage
Let the rest of the Costco Food Database community know what you thought of this product. Results and reviews are at the bottom of this page.
Please allow 24 hours for review moderation and approval.
The Kiolbassa Jalapeno beef sausage is fully cooked and made with a natural pork casing. There are also no added nitrates, no msg, and it is gluten-free.
Costco carries everything from small local brands to giant conglomerates, so whenever I have a chance to try a small local company, I like to highlight their brand.

Kiolbassa Smoked Meats was created in 1949 in San Antonio by Rufus and Juanita Kiolbassa. They wanted to develop true hand-crafted sausages made the old-fashioned way with real wood and fresh meat. Due to their dedication to their craft, the company has experienced tremendous success, and their sausages are available at Costco and other retailers nationwide.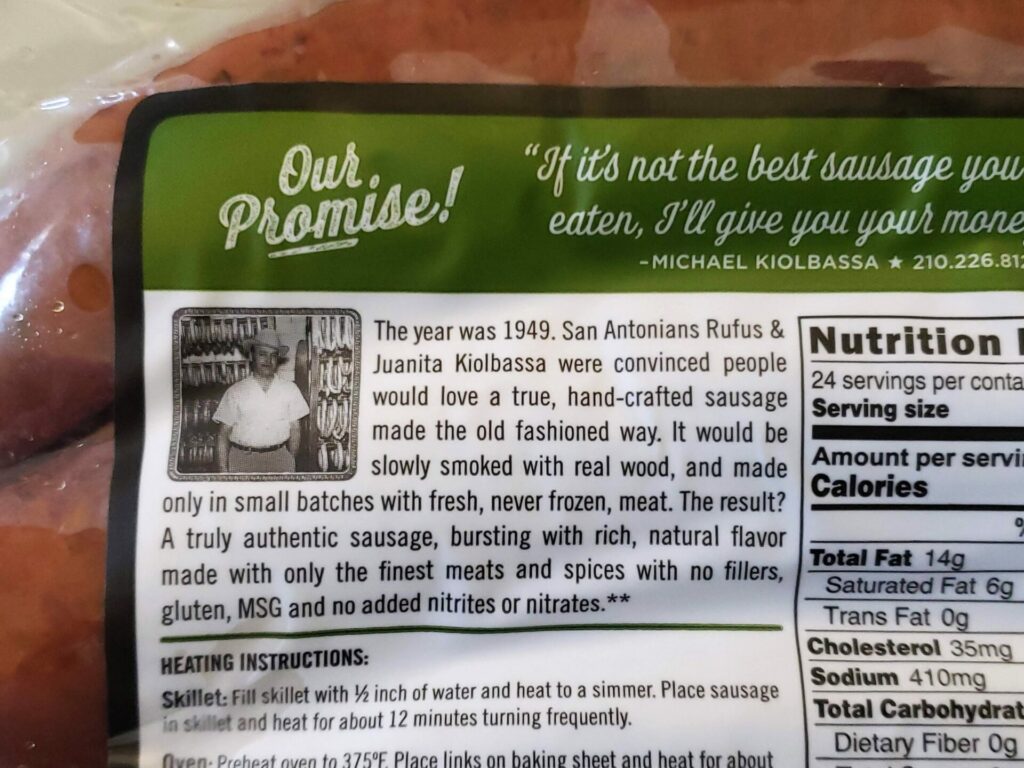 In addition to being a small business, they also make real food. And what I mean by that is the food that is not pumped with unpronounceable chemicals and ingredients that make you feel like you are in a science lab. The ingredients are simple, and I love it. 
The ingredients for the Jalapeno Beef Sausage are as follows:

Beef
Water
Jalapeno Peppers
Sea Salt
Black Pepper
Organic Cane Sugar
Cultured Celery Powder
Garlic
Cherry Powder
Encased in a natural pork casing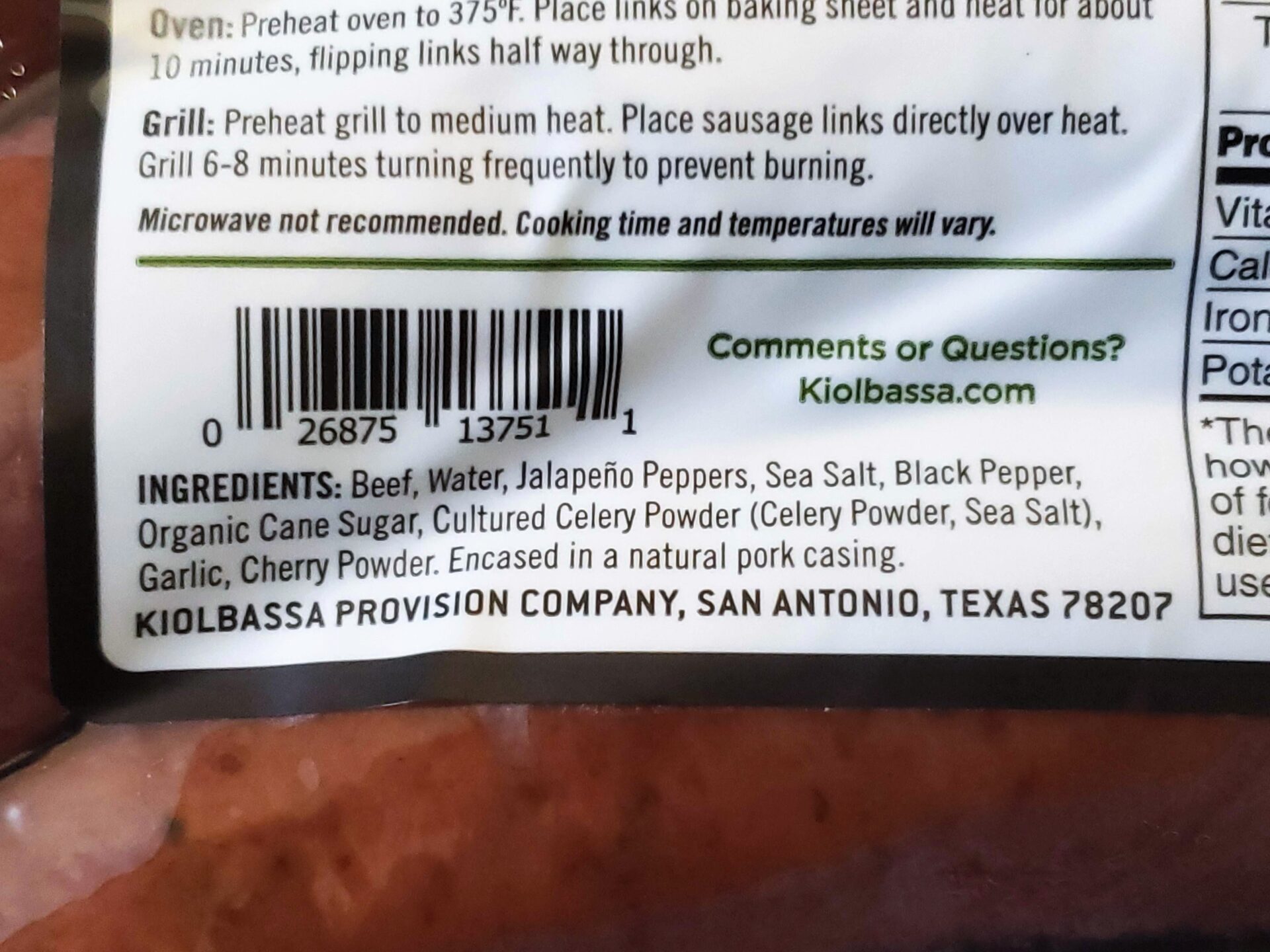 How Much Does The Beef Sausage Cost?
The normal retail price at Costco for 10 Kiolbassa Jalapeno Smoked Sausages is $17.89. I was able to pick up the sausages when they were on sale for $12.89. This is a massive discount of $5 or 28%.
At retail, each sausage goes for $1.80, and when on sale, that drops to $1.29. This is a fantastic price for a premium sausage.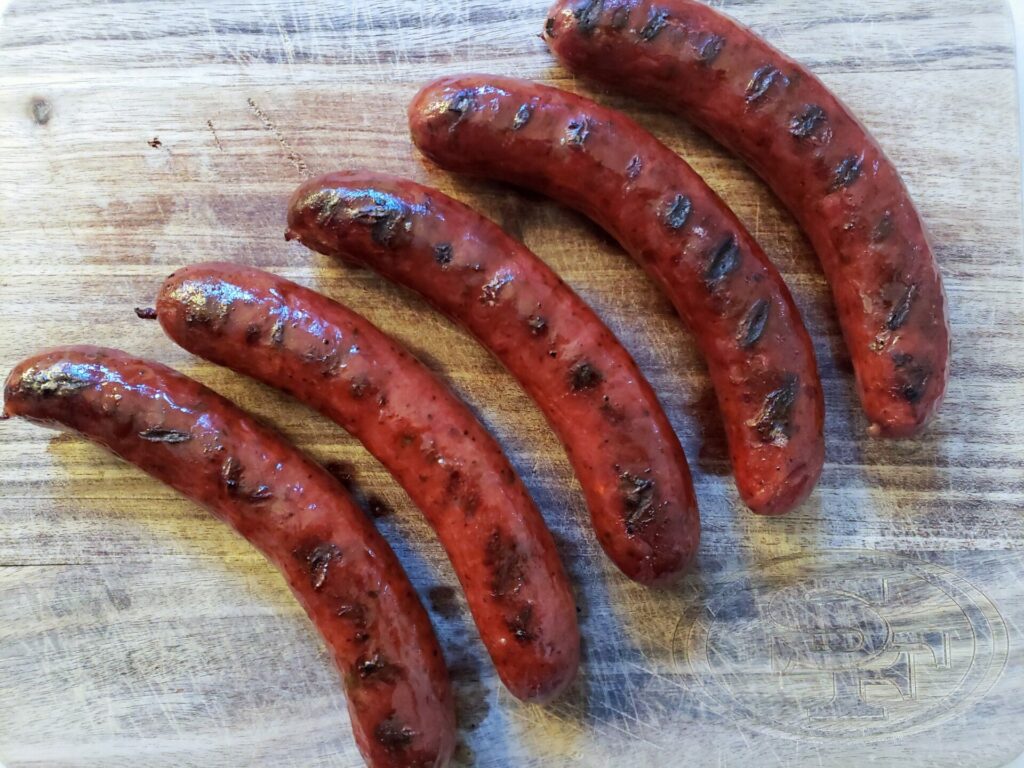 Jalapeno Beef Sausage Taste Test
I cooked my jalapeno sausage on the grill, and I couldn't be happier. The sausage link took on some nice grill marks, and the casing had a very nice bite-through.
For taste, I consider this one of the best, if not the absolute best sausage in all of Costco. Here is my full Costco sausage rankings.
The jalapeno sausage is tender, flavorful, and infused with smoky goodness. It is seasoned very well and has a nice beefy flavor that blends perfectly with the jalapeno.
The spice level is a true mild. There was definitely some nice spice, but it wasn't overwhelming. Those who don't handle spice well may consider this to be beyond their limits.
This is a top tier store-bought sausage that puts most other mass produced sausages to shame. The price, taste, and value are amazing, and this is a Costco winner. 
Costco Jalapeno Beef Sausage Cooking Instructions
There are 3 different cooking methods listed on the package. You can cook the jalapeno sausage on a skillet, in the oven, or on the grill. My personal favorite option is to cook them on the grill to add just a touch more smokiness.

Microwave is not recommended. Cooking time and temperatures will vary. 
Fill a skillet with ½ inch of water and heat to a simmer. Place sausage in the skillet and heat for about 12 minutes, turning frequently.
Preheat the oven to 375°F. Place links on a baking sheet and heat for about 10 minutes, flipping links halfway through.
Preheat the grill to medium heat. Place sausage links directly over heat. Grill for 6-8 minutes, frequently turning to prevent burning.
Jalapeno Sausage Calories and Nutritional Information
One serving of these Jalapeno Beef sausages will be 2 ounces. Each individual sausage weighs about 4.8 ounces, so each serving is approximately a little less than half a sausage. 
One serving will have 170 calories, 14 grams of fat, 1 gram of carb, and 9 grams of protein. Each whole sausage will have 410 calories, 34 grams of fat, 3 grams of carbs, and 22 grams of protein. The full nutritional label is below:
Serving Size: 2oz
Calories: 170
Total Fat: 14g
Saturated Fat: 6g
Trans Fat: 0g
Cholesterol: 35mg
Sodium: 410mg
Total Carbohydrates: 1g
Dietary Fiber: 0g
Total Sugars: 0g
Protein: 0g

This is a standard nutritional profile for beef sausage. Sausages will be high in fat, low in carbs, and have a moderate amount of protein. It's not exactly healthy for you, but the calories and nutritional label will be what you expect from a product like this.
Costco Food Database User Reviews
Have you tried this item? Let the rest of the Costco Food Database community know what you think. Leave a rating and review for this product.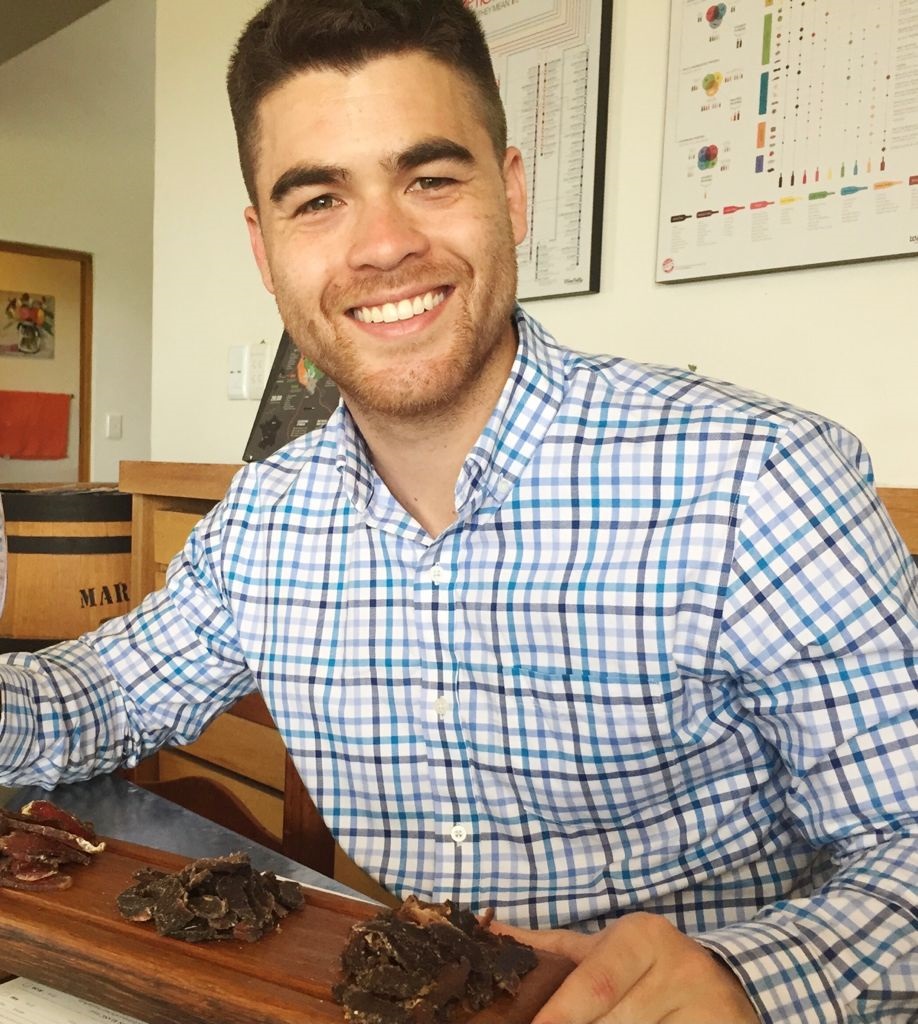 Greg Larkin is the founder and managing editor of Costco Food Database, the premiere site for honest takes on all things Costco food. A self-proclaimed Costco super-fan since childhood, Greg turned his obsession in a mission to properly rate and review all of Costco's delicious buys. When he's not busy navigating Costco aisles, you can find Greg smoking Kirkland Signature meats, meal prepping, or perfecting his homemade jerky recipes.