Costco Chicken Sausage (Aidells) - Made with Pork?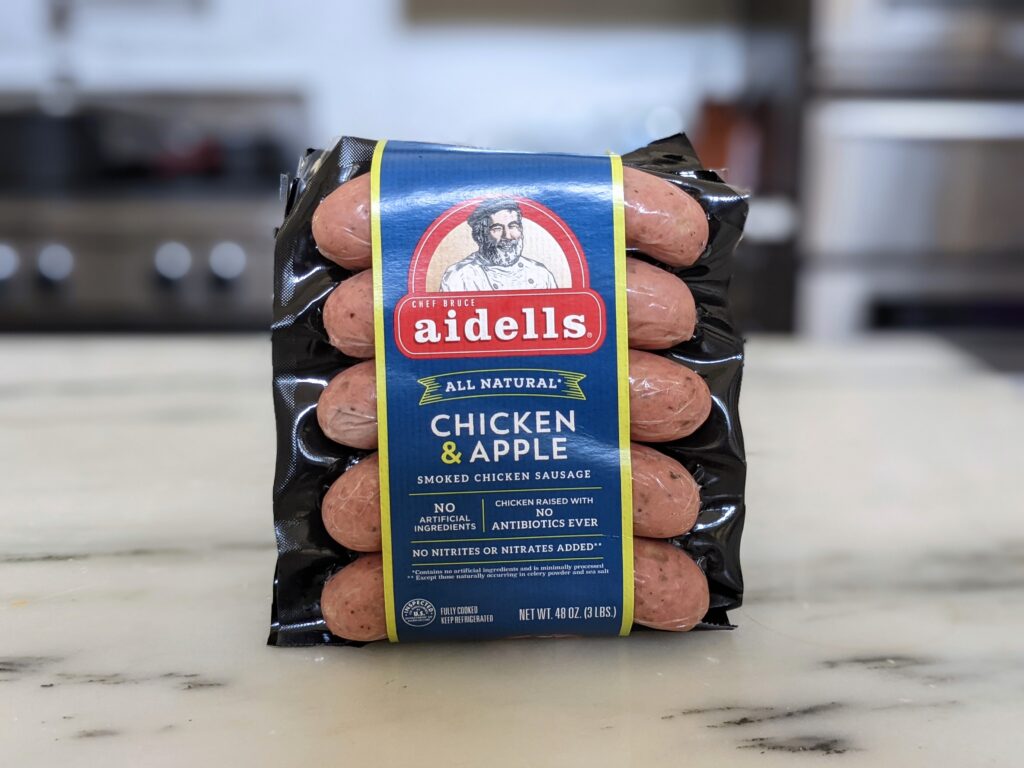 Aidells' All Natural Chicken & Apple Sausage at Costco
Costco sells 3 pounds of Aidells' Chicken & Apple Sausages for $14.99. 
The chicken sausages can be found in Costco's refrigerated deli area of the store, often near items such as the smoked salmon, breakfast sausage, and mini chicken tacos.

Each package weighs 3 pounds and contains 15 total chicken sausages.
No Artificial Ingredients
I really like that Costco's Chicken & Apple Sausages are all natural and smoked. There are no artificial ingredients and the chickens are raised with no antibiotics ever as well as with no nitrates or even added nitrates. 
The chicken sausages do contain artificial ingredients and are minimally processed. The sausage is already fully cooked and just need to be reheated before serving.
The ingredient list for this Costco chicken sausage is actually quite short, which is nice, but there is something I need to point out because this is a chicken sausage.
The last ingredient on the list is a natural pork casing.
For most sausages, this is expected, but I know that some people may not eat pork. I have a friend who eats chicken, but does not eat red meat or pork. 
If I didn't check the ingredient list, I would have served her this chicken and apple sausage that had a pork casing. 
Most people may not have a problem with this, but I do think it needs to be pointed out.
There are two main brands of chicken sausage/meatball products at Costco. They are Aidells and AmyLu. 
Depending on your local Costco, one of these brands is going to offer the flavored chicken meatballs (usually teriyaki) as well as the chicken sausages.
My local Costco carries AmyLu chicken meatballs, as well as Aidells chicken sausage. 
When I was living in the bay area, both the chicken meatballs and chicken sausage were sold by Aidells.
How Much Do Costco Chicken Sausages Cost?
Costco sells the 3 pounds of Aidells Chicken sausages for $14.99. I purchased the chicken sausage when they were on sale for $10.69. 
This turns out to be a discount of $4.30 or 28%. Very solid!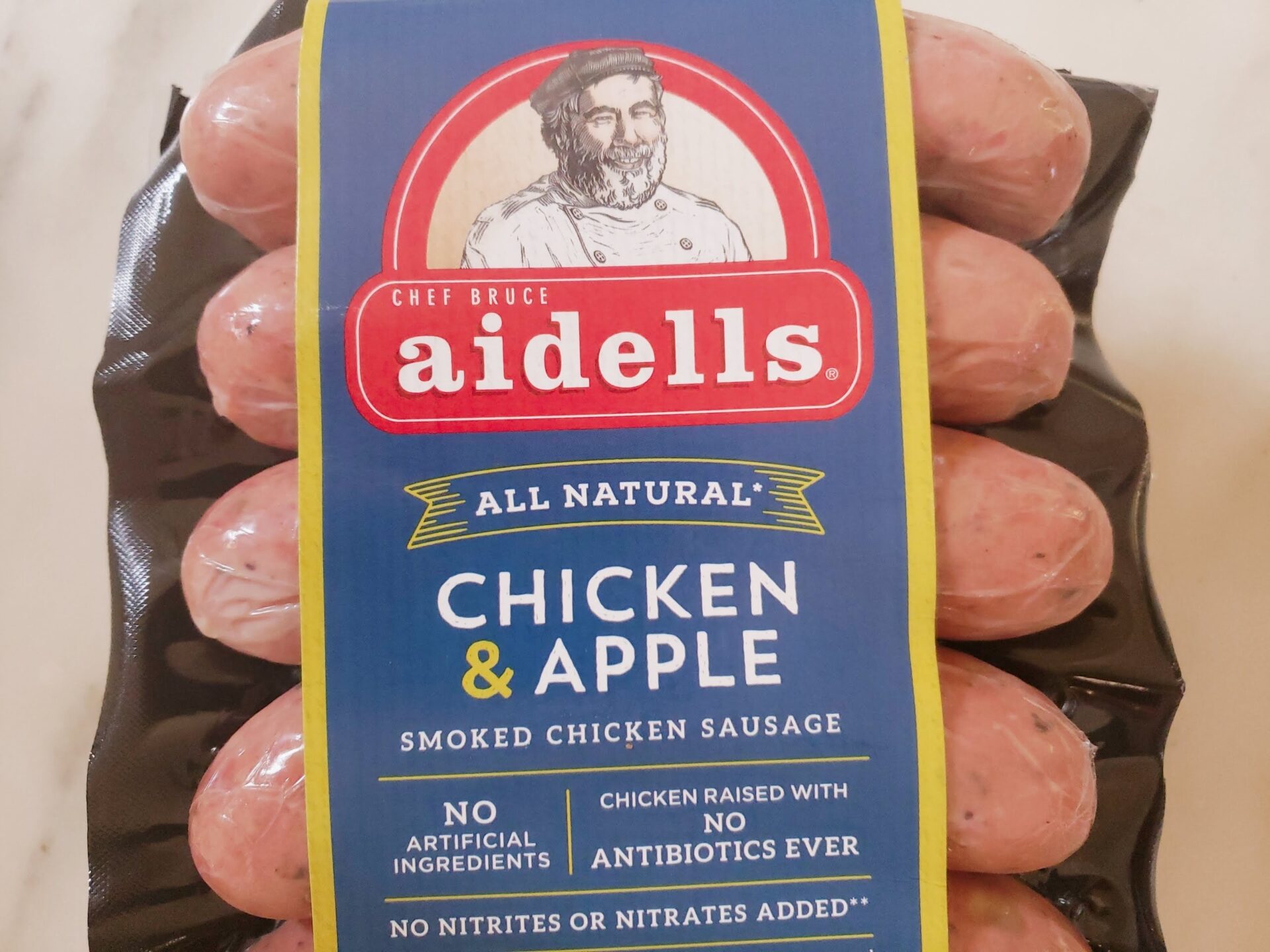 At retail, the price per pound for the Costco chicken sausage is $5 and when on sale, the price per pound drops down to $3.56. 
I would say $5 per pound is a little pricey for this particular sausage given the quality and taste, and that $3.56 per pound is a much better price where you can get some significant value. 

Each chicken sausage from Costco costs $1 at retail and $0.71 when on sale.
Costco vs The Competition
Target sells 12 ounces or 4 Aidells Chicken & Apple Sausages for $5.99. This is a per pound price of $7.98 and a per sausage price of $1.50. 
This is considerably more expensive than Costco's price and for just $2.70 more you can get nearly 4 times as many sausages at Costco.
Costco Chicken Sausage Taste Test
There are a few ways to cook these chicken sausages, but I prefer my air fryer cooking method the most. 
It isn't an officially recommended cooking option, but it does provide a nice crisp sausage skin and a juicy interior.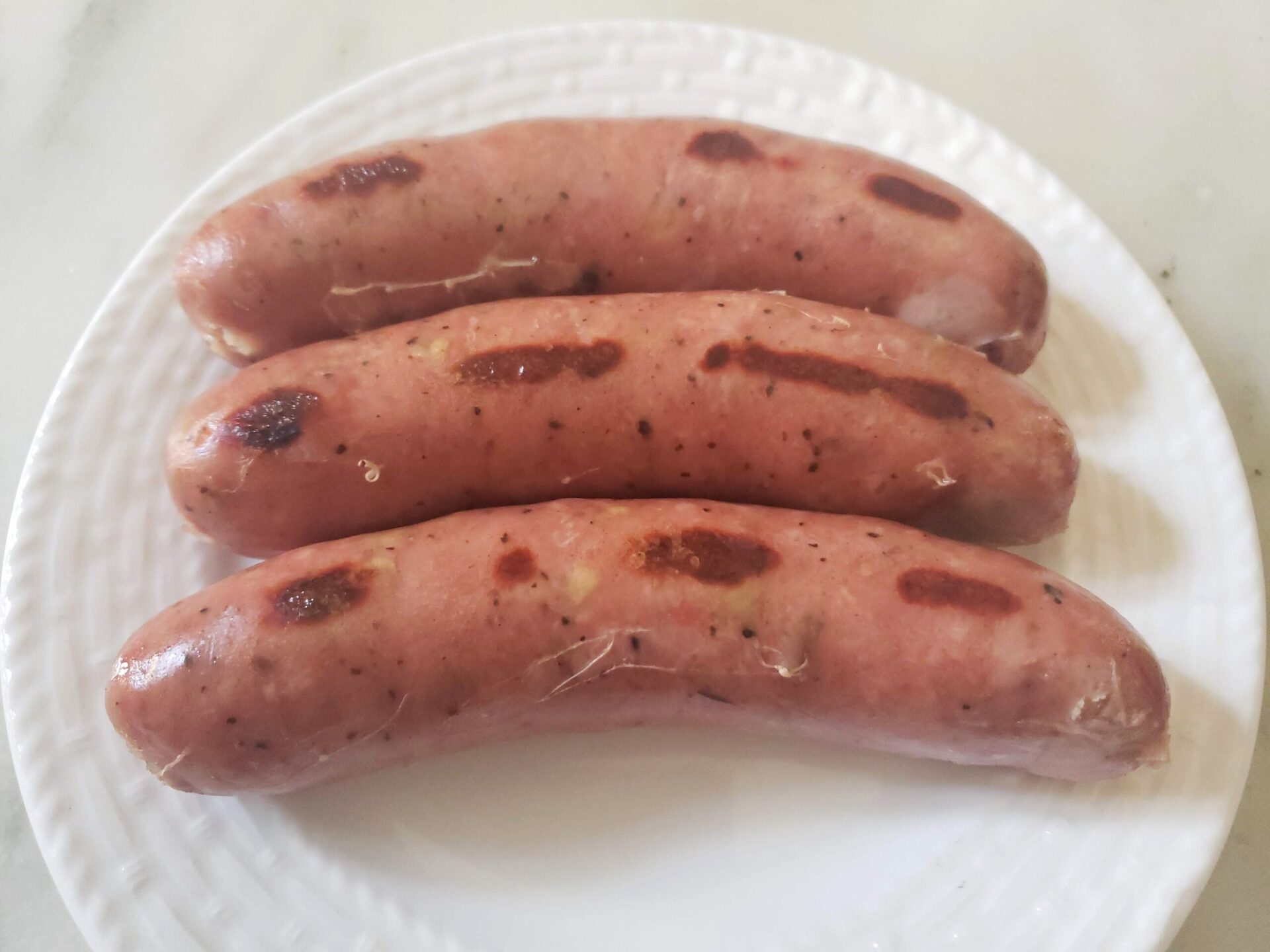 For taste, I liked the sausage and thought it was very good. It brings a nice combination of savory, sweet, and smoky. There's a ton of flavor and the sausages are very easy to eat. 

The Costco chicken sausage has a very sweet flavor, but the taste of apple is rather light.
While these are chicken sausages, there is a slight bit of that hot dog taste in the sausage. Looking at the ingredient list, the only thing that makes sense of where that flavor would come from is the pork casing. 
This may be a turn-off for those purchasing the sausage solely because it is a chicken sausage. 
I know this would have caused problems for me if I served this to my non pork eating sister in law. 
The nice part about the chicken sausage is that they are extremely versatile. I had no problem eating the sausage for breakfast, lunch, or dinner. 
I paired the sausage at breakfast with eggs and hash browns.
Chicken Apple Sausage Heating Instructions
How to Cook Aidells Apple Chicken Sausage
Aidells really maximizes their packaging space by providing minimal heating instructions on the outside of the package and keeping the full cooking directions on the inside of the cardboard packaging.
They offer two options to cook their chicken sausages and that is to use the stovetop or a grill.
My favorite method is to air fry the sausages as they come out really juicy and I liked the cooked up texture of the skin. I am including those instructions here as well.
Chicken Sausage Air Fryer Instructions
Preheat Air Fryer to 350°F.

Place chicken sausages in a single layer in the tray.

Cook for approximately 5 minutes until sausage is fully heated.
These chicken sausage are already cooked and just need to be reheated. The air fryer method will provide a nice dried out and crispy skin, while keeping the interior sausage moist and flavorful. 
Air Frying the sausages provides a great combo of taste and convenience.
Stovetop Cooking Instructions
Add Costco chicken sausage links and 1 cup of water to large saute pan. 

Heat over medium heat for 8-10 minutes or until hot. 

Turn Occasionally.

Drain water, brown for 2 minutes.
Grill chicken sausage links covered over medium-low heat.

Cook for 8-10 minutes or until hot. 

Turn frequently for even browning.
Smoked Apple Chicken Sausage Recipes & Serving Suggestions
As I've mentioned before, these Costco chicken sausages are versatile and can be used in a variety of different meals/dishes. 
I used the chicken sausage for breakfast with eggs and hashbrowns, as well as at dinner with spaghetti and meatballs.
Apple Chicken Sausage Sheet Pan
If you are looking for an easy weeknight dinner option, look no further than this simple and quick sheet pan meal. 
This meal tastes great and only involves a handful of ingredients.
I used the Costco chicken sausage with spaghetti and meatballs, but the sausage is also great with penne.
Danielle from The Creative Bite uses Aidells chicken sausages in her 15 minutes Chicken Sausage Penne Skillet.
Chicken Sausage Nutritional Information
How Many Calores in Costco Chicken Apple Sausage?
Each 3 ounce Costco chicken sausage is going to be considered one serving and will contain 170 calories.
Those 170 calories come from 12 grams of fat, 4 grams of carbs, and 13 grams of protein.
Not The Best, Not The Worst
This is a great nutritional profile for a sausage, but it's just ok for a chicken sausage. Pork Sausage will usually have quite a bit more fat and maybe a few grams less of protein.
With these chicken sausages, I expected there to be even less than 12 grams of fat.
Each Chicken and Apple Sausage is going to contain 690 mg of sodium, which is 29% of the daily recommended value. These sausages aren't huge, and I would have no problem comfortably taking down 2 sausages in a meal.
The sodium content will add up and is something to be aware of.
Costco Chicken Sausage Review
Product Name: Aidells Chicken & Apple Sausage
Product Description:
Price: $14.99 Retail / $10.69 Sale
Quantity: 3 Pounds
Location Within Costco: Refrigerated Deli Area
Price Per Pound: $5 / $3.56
Summary
I think Aidells' chicken sausages are pretty darn good. My one concern is that these chicken sausages are made with a pork casing. 
At retail, I find the price to be a little expensive, but when Costco puts them on sale, I have no problem buying them. 
Nutritionally, they are ok. There is a little more fat than I would like to see in a chicken sausage.
Value -

6/10

Convenience -

8/10

Taste -

8/10

Nutrition -

7/10

CFDB Score -

6/10
Pros
Sweet sausage
Tasty
Easy to cook
Versatile
Cons
Pork casing
Ok nutritional profile
Aidells chicken sausage from Costco is solid. The flavors are there and the chicken sausage is extremely versatile. The sweet chicken sausage goes great at breakfast, lunch, or dinner. 
The price is a little on the high end for a sausage, but is a bargain when they are on sale. 
Nutritionally, the sausage is just ok considering that it is made with chicken. The protein is acceptable, but the fat content is high.