How To Order Costco Catering - Sandwich & Party Platters + Order Form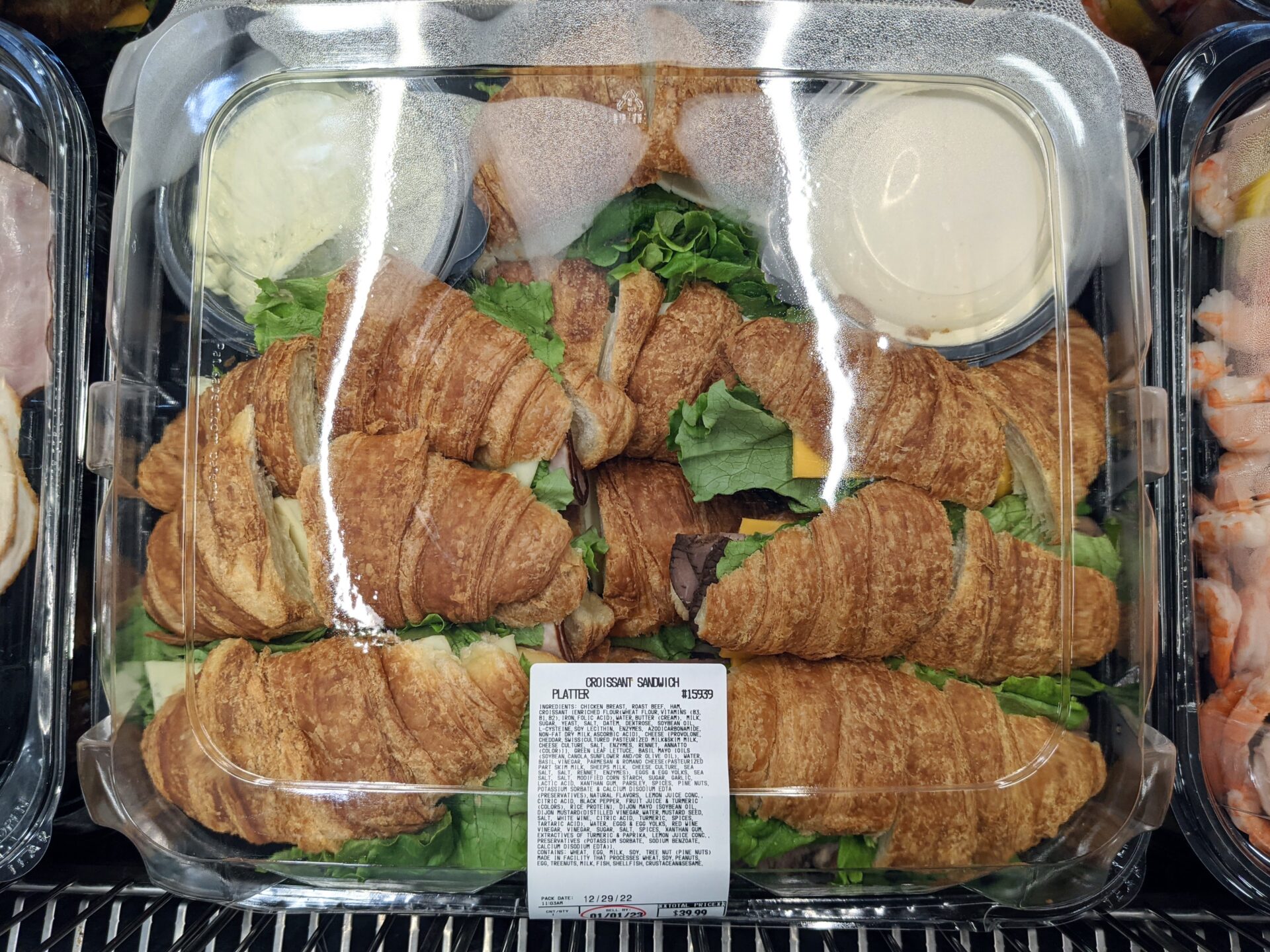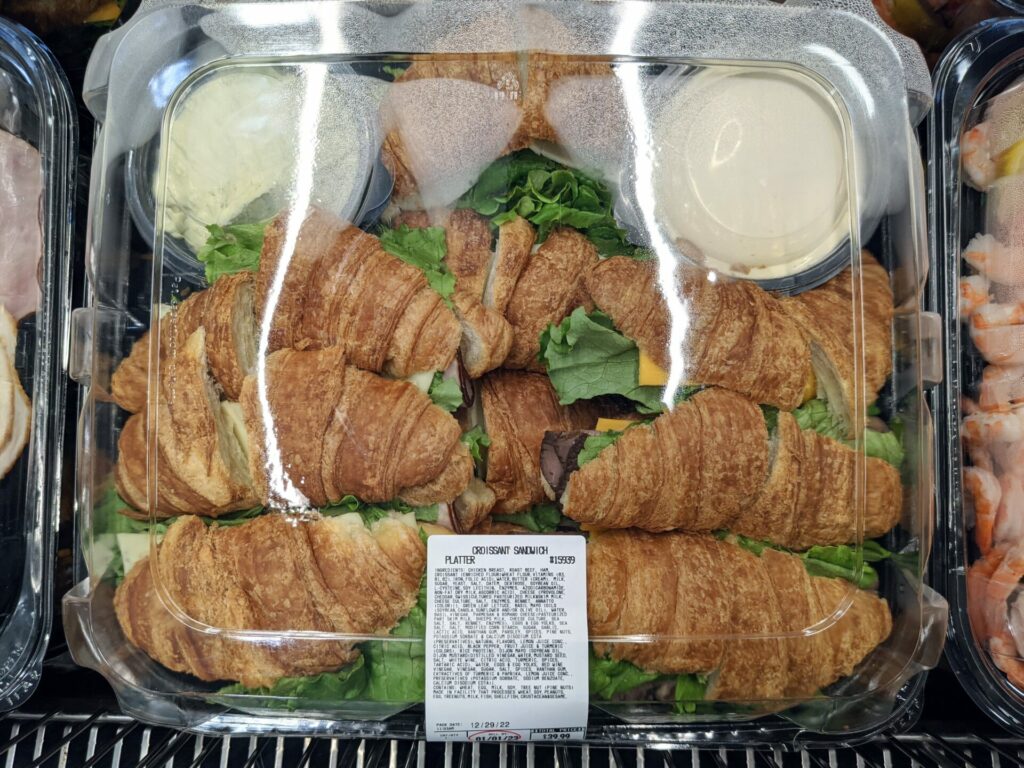 Looking for easy catering and party platter options? Costco has got you covered. Costco offers a variety of party platters, sandwiches, and prepared meals that can easily feed a crowd of any size. The Costco catering menu is perfect for all budgets, and mixing and matching food options for the perfect party is easy.
Update: I have added a PDF version of the Costco Catering & Party Platter Ordering Form
Costco Catering, Sandwich, & Party Platter Menu
Costco Doesn't Actually Do Catering
Before I get too far into the article, Costco doesn't actually offer catering, at least not in the traditional sense where a group of professionals come to your event and provide food service. 
Costco's catering is actually premade meals, party platters, and sandwich trays that are extremely affordable and convenient. You will have to go to your local Costco location to pick up the food, but that is the trade-off for the low prices.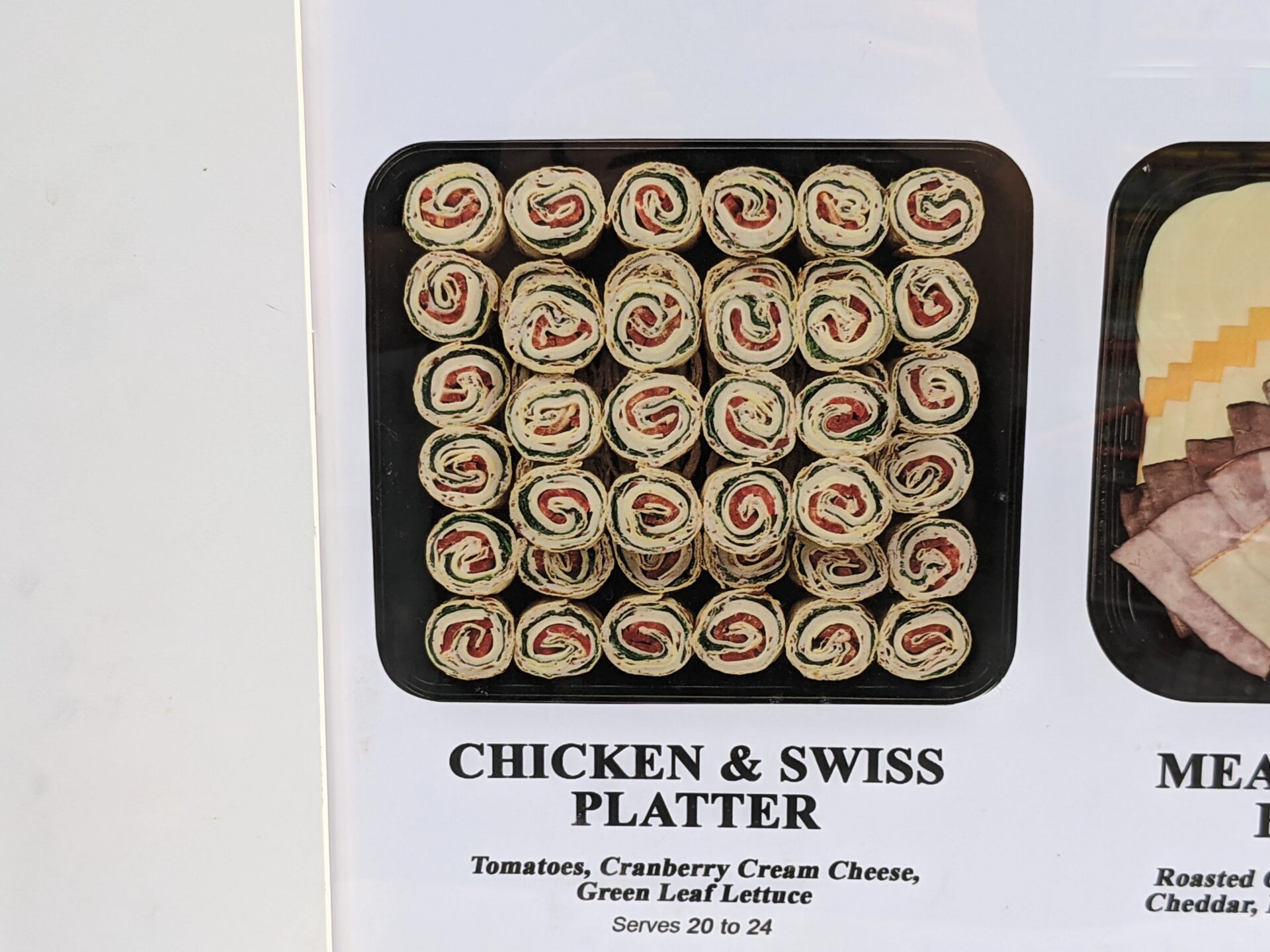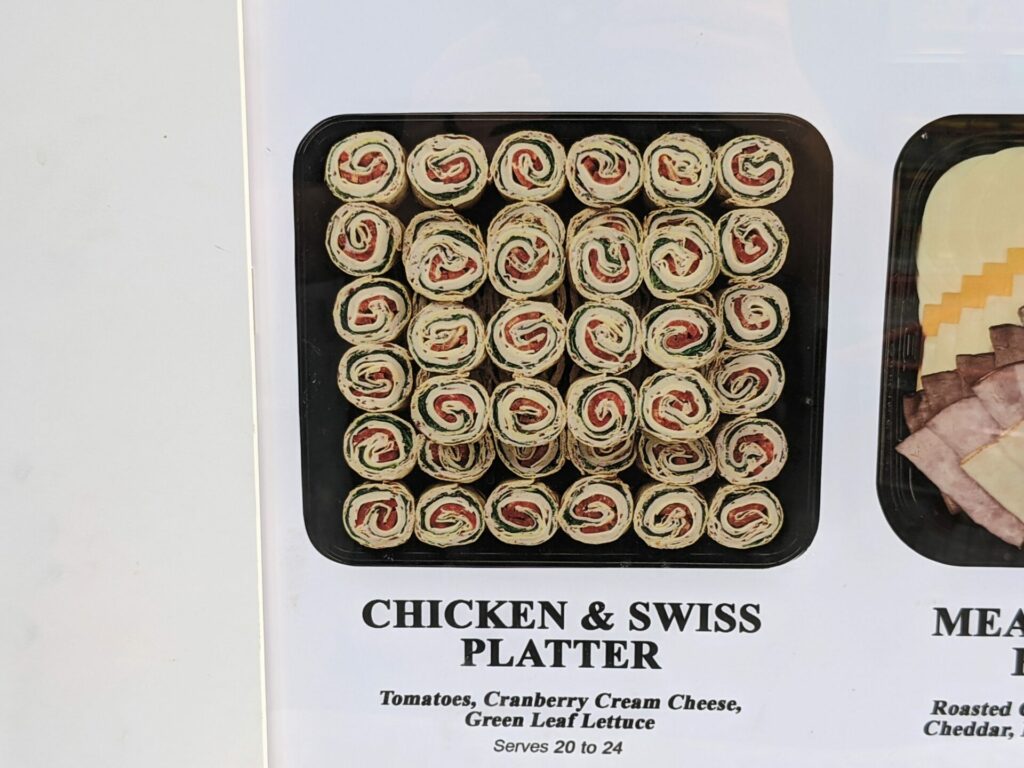 Costco Does Have Party Platters and Sandwich Trays
There are a few different options to feed the guests at your party, you can go with the large party platters which are great for parties of 20+ people or by mixing and matching some of Costco's best premade options.

I will cover the party platters first and then some of Costco's best mix-and-match items for smaller gatherings.
Costco Deli Party Platters
Croissant Sandwich Platter
Serves: 16-20
The Costco Croissant Sandwich Platter is another all-time classic. Each party platter tray has 10 croissant sandwiches that are cut in half, and will include 3 sandwich varieties:
Chicken and Provolone

Roast Beef & Cheddar

Ham & Swiss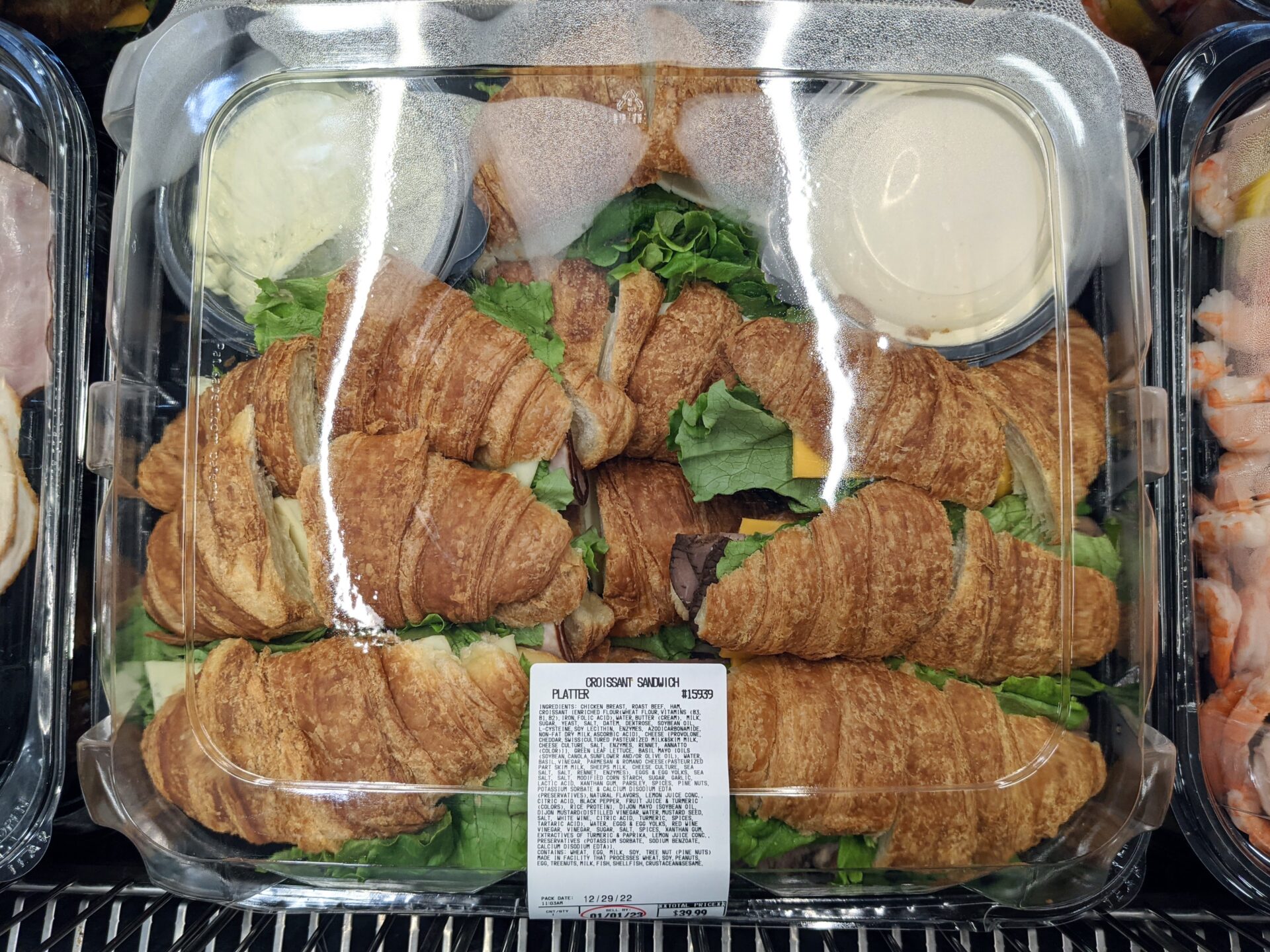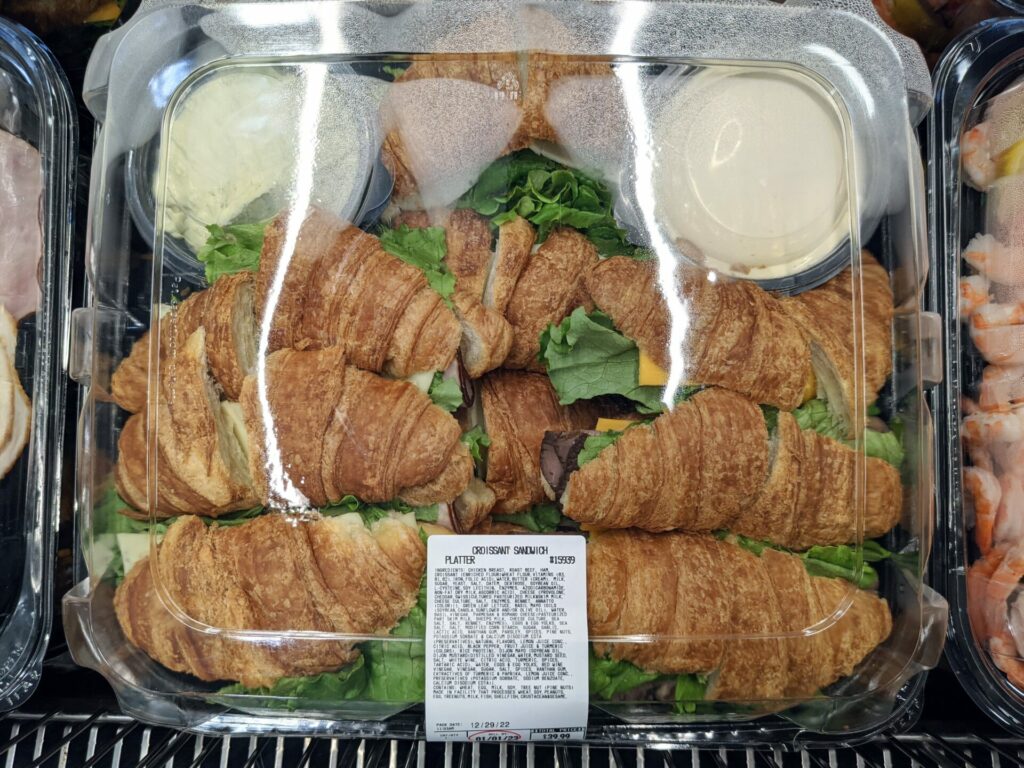 The croissant sandwiches will, of course, be made with the famous Costco Kirkland Signature Croissants and will include a basil garlic mayo spread, fresh green leafy lettuce, sliced tomatoes, and dijon and mayo spread. Both dips/spreads are served on the side and are great for those looking to customize their own sandwiches. 
Chicken and Swiss Roller Platter
Serves: 20-24
The roasted chicken and swiss roller platter at Costco is a fan favorite and has been a staple of Costco deli for many years. The chicken swiss rollers include:
Lavash Flatbread
Cranberry cream cheese
Sliced tomatoes
Roasted chicken
Swiss cheese
Green leaf lettuce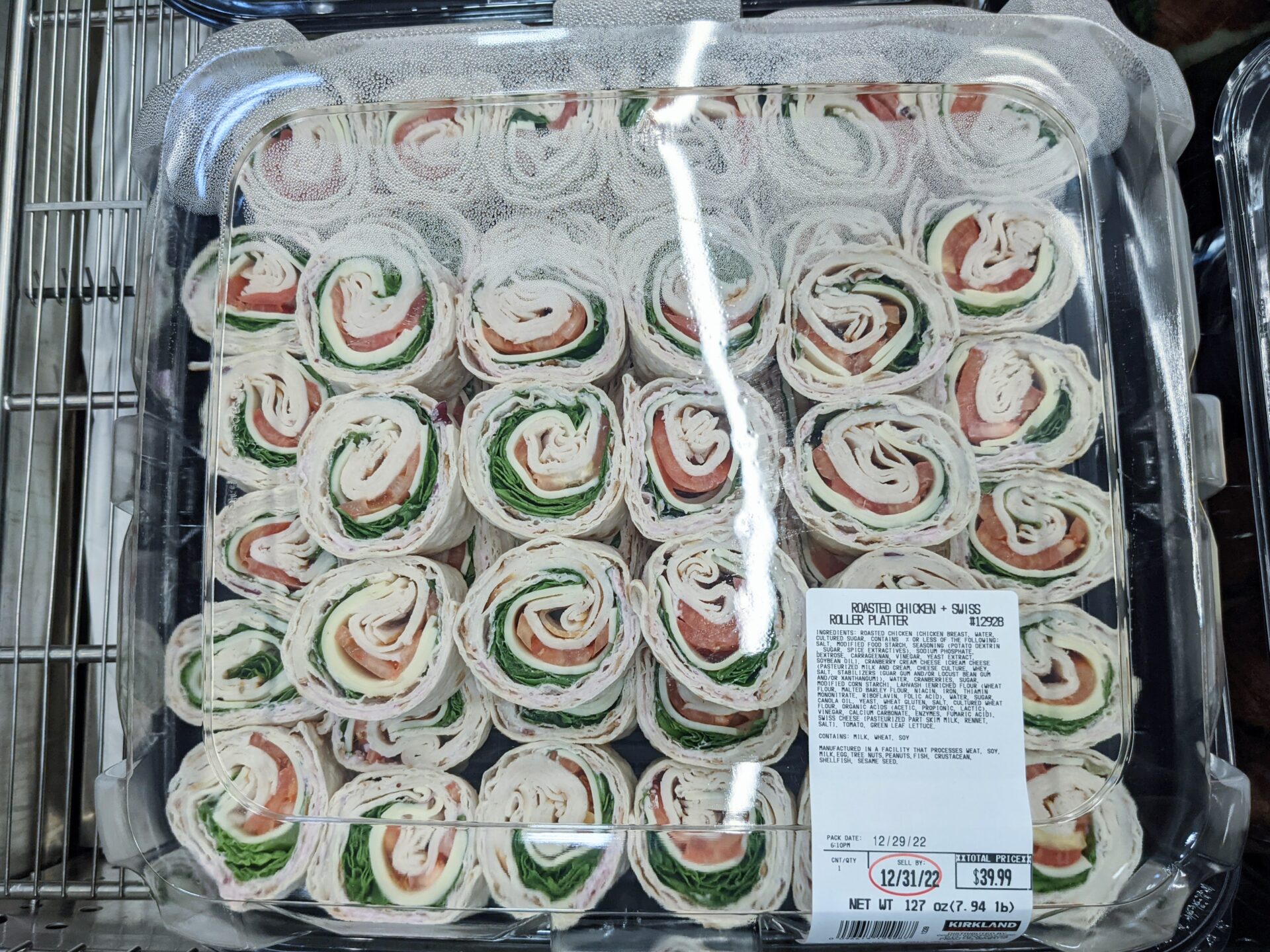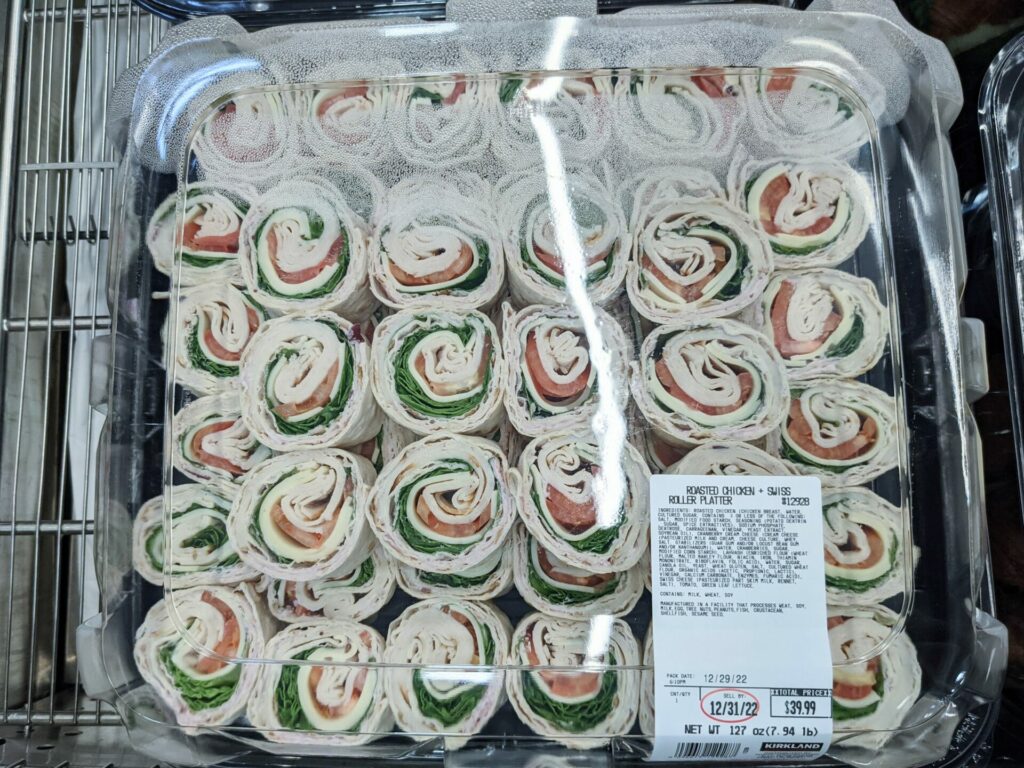 The chicken and swiss roller wraps are light, refreshing, and easy to eat and are essentially chicken wraps that are cut into individual slices. Super easy and convenient chicken wraps platter. 
If you are like me and haven't heard of Lavash Flatbread, it's similar to traditional flatbread but is softer and meant to be folded or "rolled."
Shrimp Cocktail Party Platter
Serves: 20-24

The Costco shrimp cocktail platter weighs 3.5 pounds and contains Kirkland Signature 31/40 tail-on shrimp, cocktail sauce, and fresh lemon wedges. The shrimp platter serves 20-24 people and is the perfect party finger food.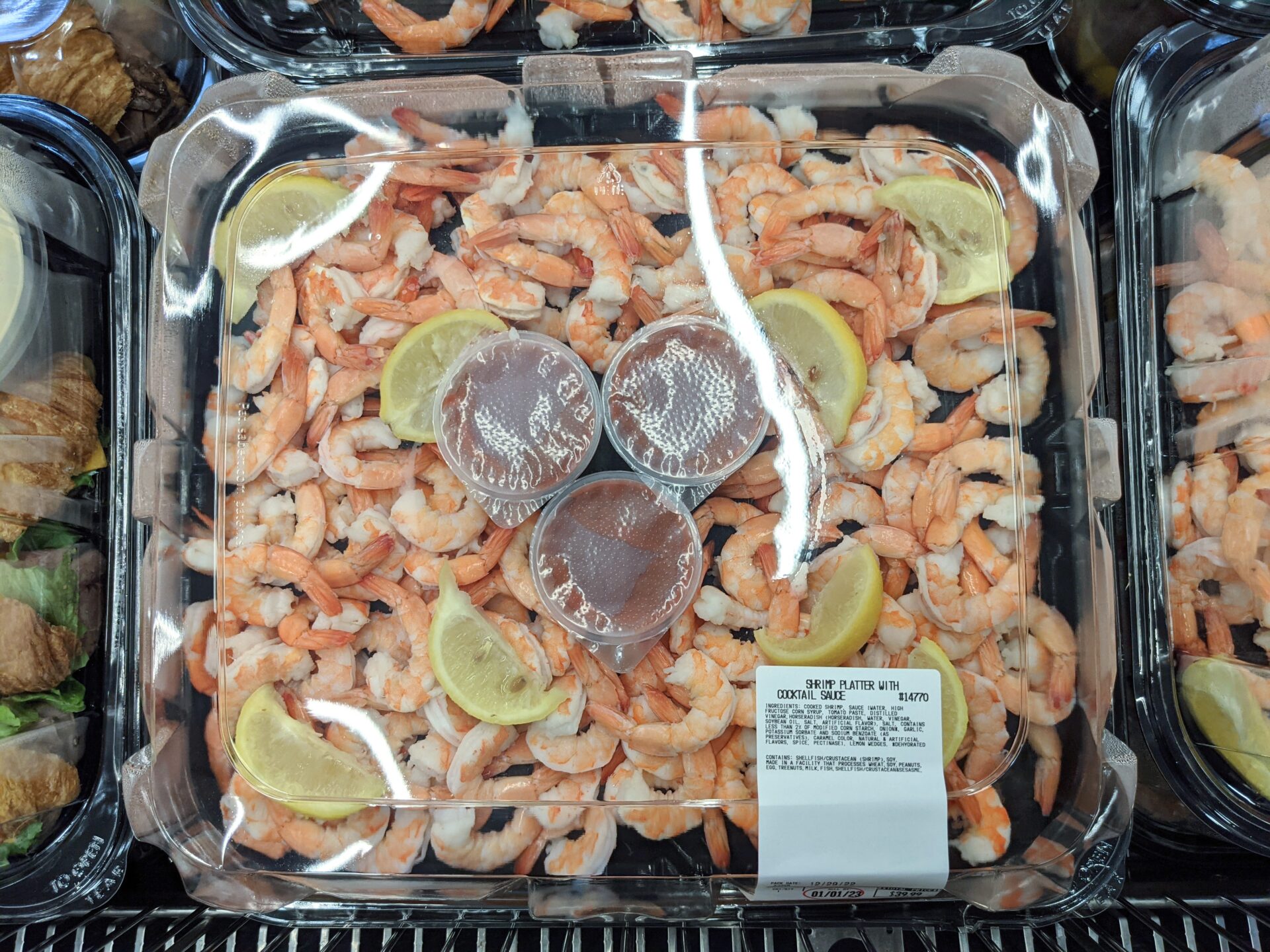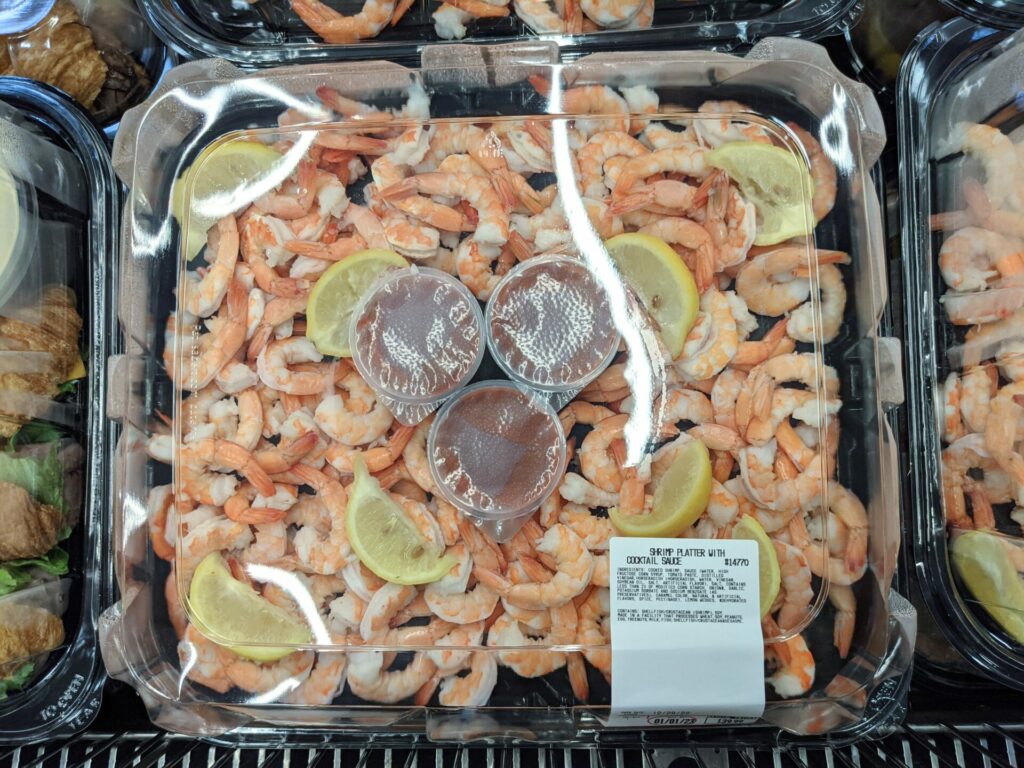 Serves: 16-20
Costco meat and cheese party platter may be a simple deli tray, but it packs a punch. Each meat and cheese party platter tray comes with 1 pound each of sliced roasted chicken, black forest ham, and roast beef, in addition to 10 slices each of cheddar cheese, provolone cheese, and swiss cheese. 
All of this with a side of Dijon Mustard. Essentially this is the croissant sandwich without the croissant. The meat eaters will appreciate this one.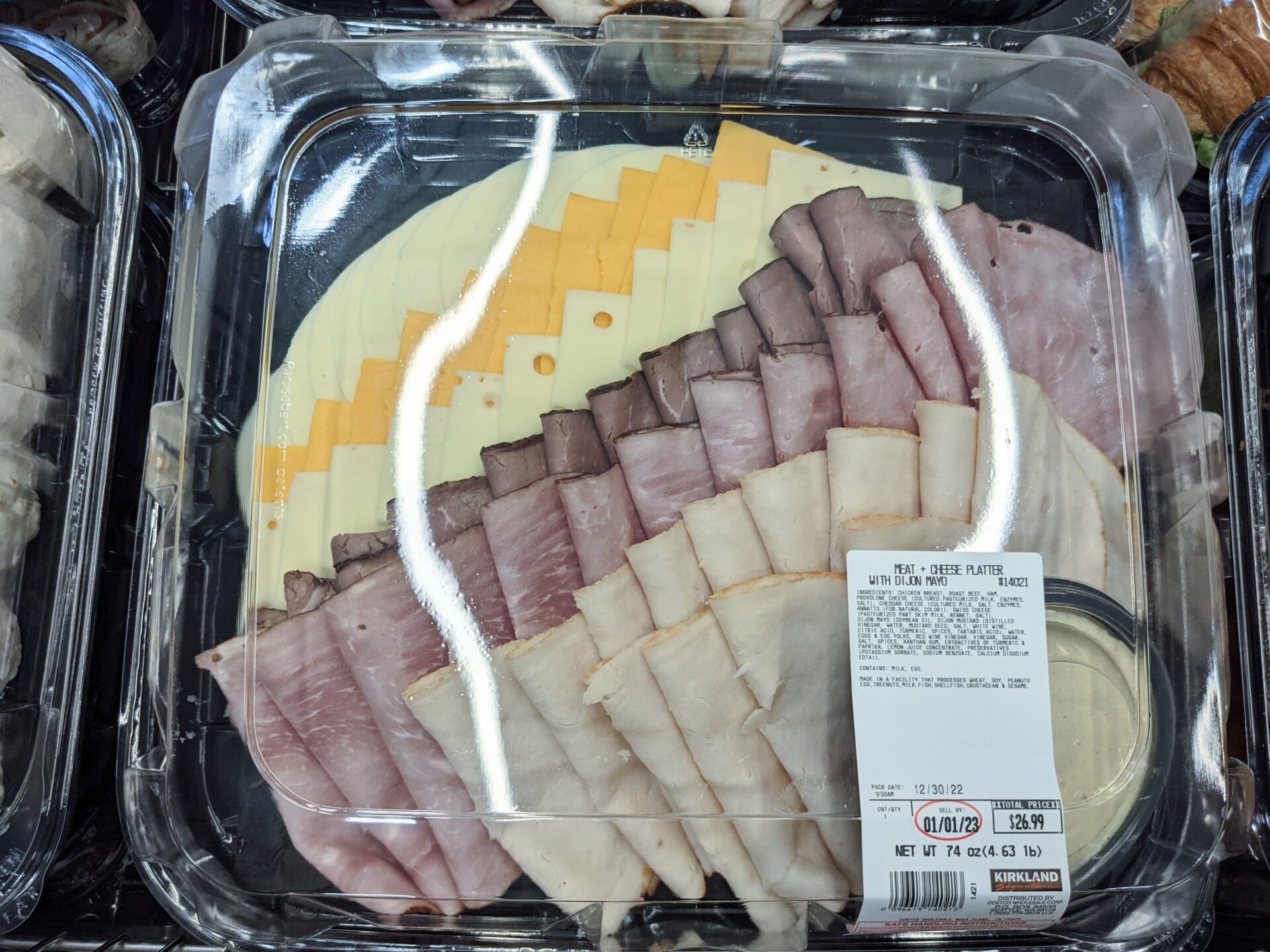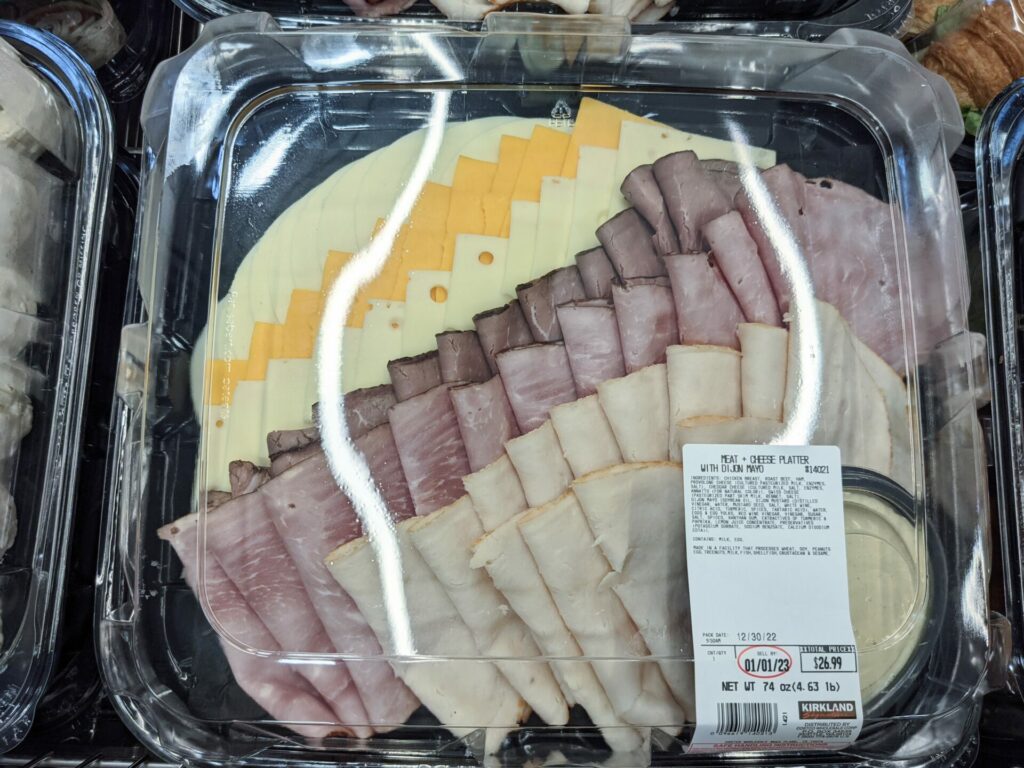 Have You Tried Costco Party Platter Trays?
Let the rest of the Costco Food Database community know what you thought of the Costco catering menu. Results and reviews are at the bottom of this page. 
Please allow 24 hours for review moderation and approval. 
How Many People Can Each Costco Party Platter Feed?
I have listed the recommended number of people each party platter serves, but you should know how that number is determined.
This number isn't how many people the party tray can feed and fill up, but instead how many individual portions are in the tray.
Costco Party Platter Trays - Serves Vs. Feeds
The croissant sandwich party tray serves 16-20 people. Well, there are only 10 whole croissant sandwiches in each party tray which means 20 half sandwiches. There is enough for 20 servings but not enough food to feed 20 hungry party guests. 
These Costco party platter trays are meant to be served as part of a spread and not as a complete meal.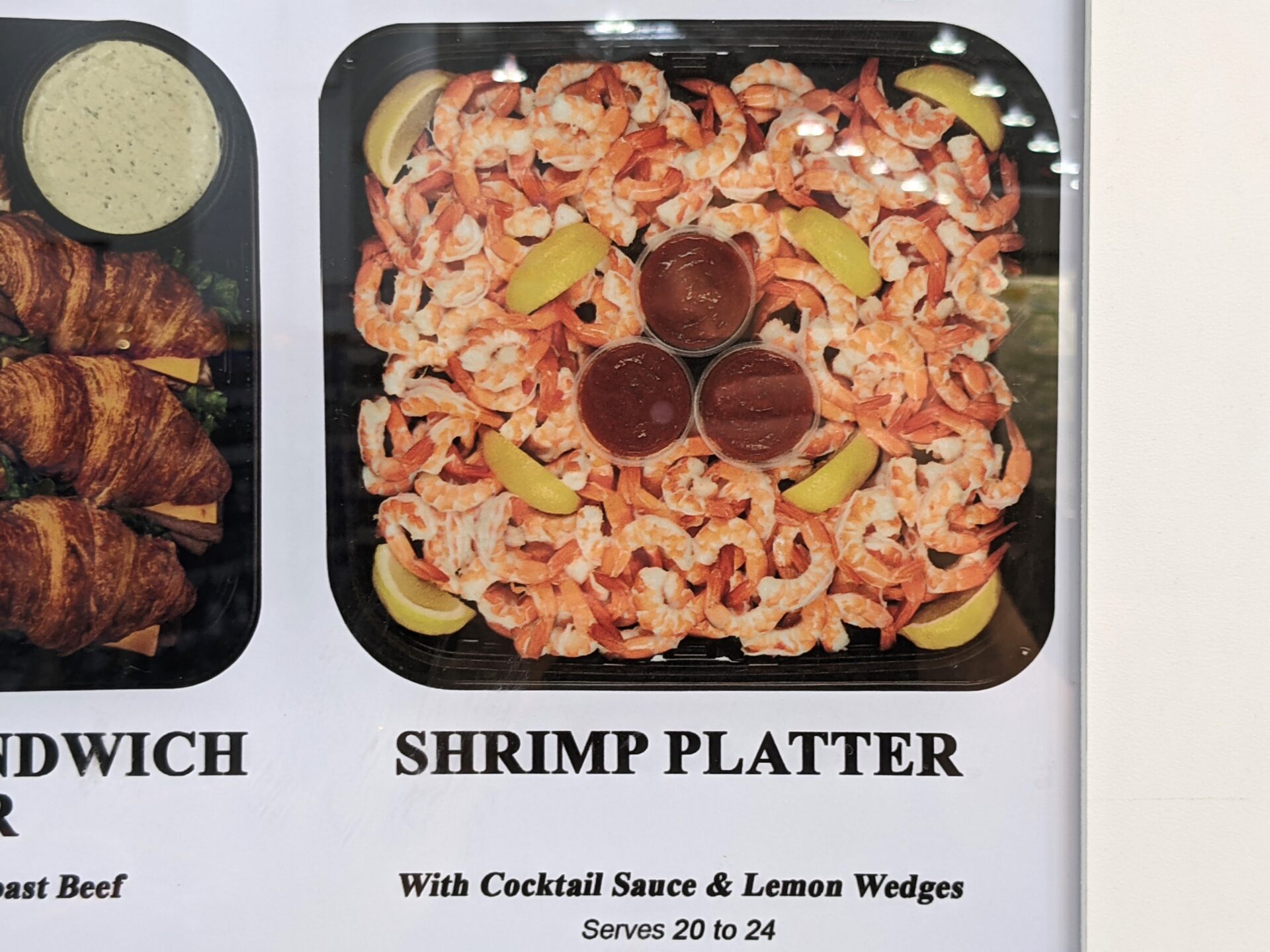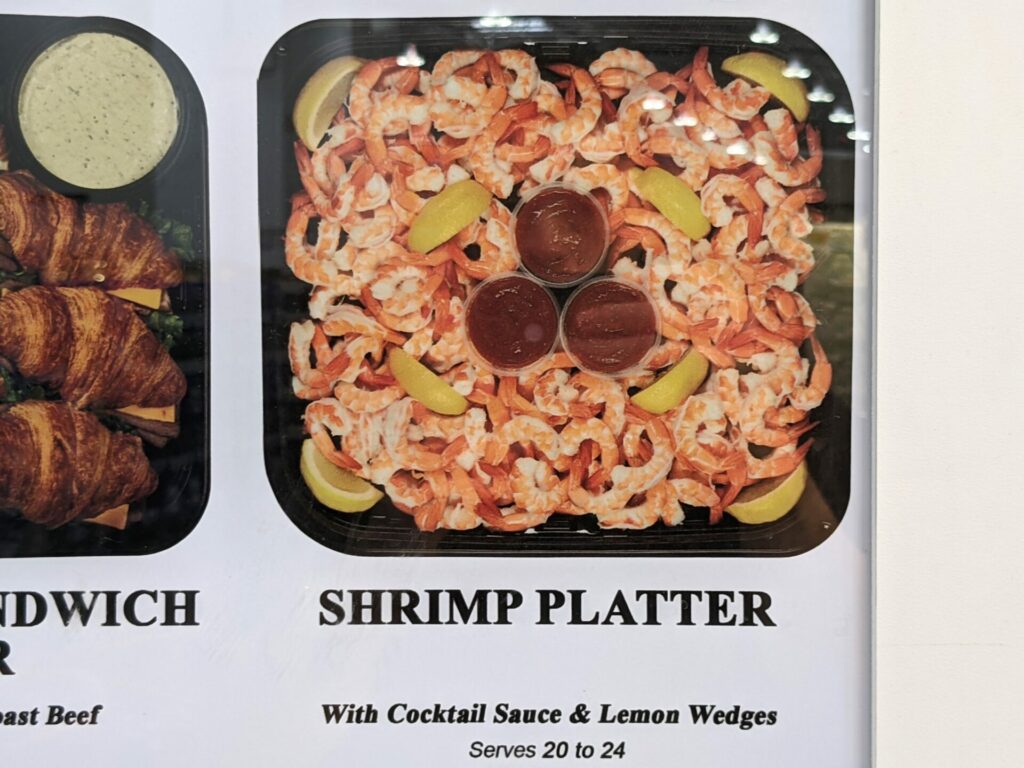 Costco Is Strict On Substitutions
One downside to Costco catering menu is that it cannot be modified, and substitutions can not be made. You can't trade out the roast beef in the croissant sandwiches for turkey, and you can't swap the shrimp platter for Costco shrimp ceviche. 
Costco makes what they make, and you buy it if it works for you and your party.
The Costco Catering Order System is Antiquated
Costco Only Takes Orders Filled Out With Pen And Paper
Costco is still fairly antiquated when it comes to ordering from their catering or party platter menu. All orders will have to be done on pen and paper and in-store. The party platters cannot be ordered over the phone or online.
If you want to fill out Costco's party platter form at home, feel free to use our downloadable printable pdf version.
How To Place A Catering/Party Platter Order
Find The Costco Party Platter Kiosk
To place an order for a Costco party platter, head to the back of the warehouse to the deli area and look for the Party Platter order kiosk. My local Costco has the kiosk along the back wall near the premade deli meals, but some locations will have it near the bakery.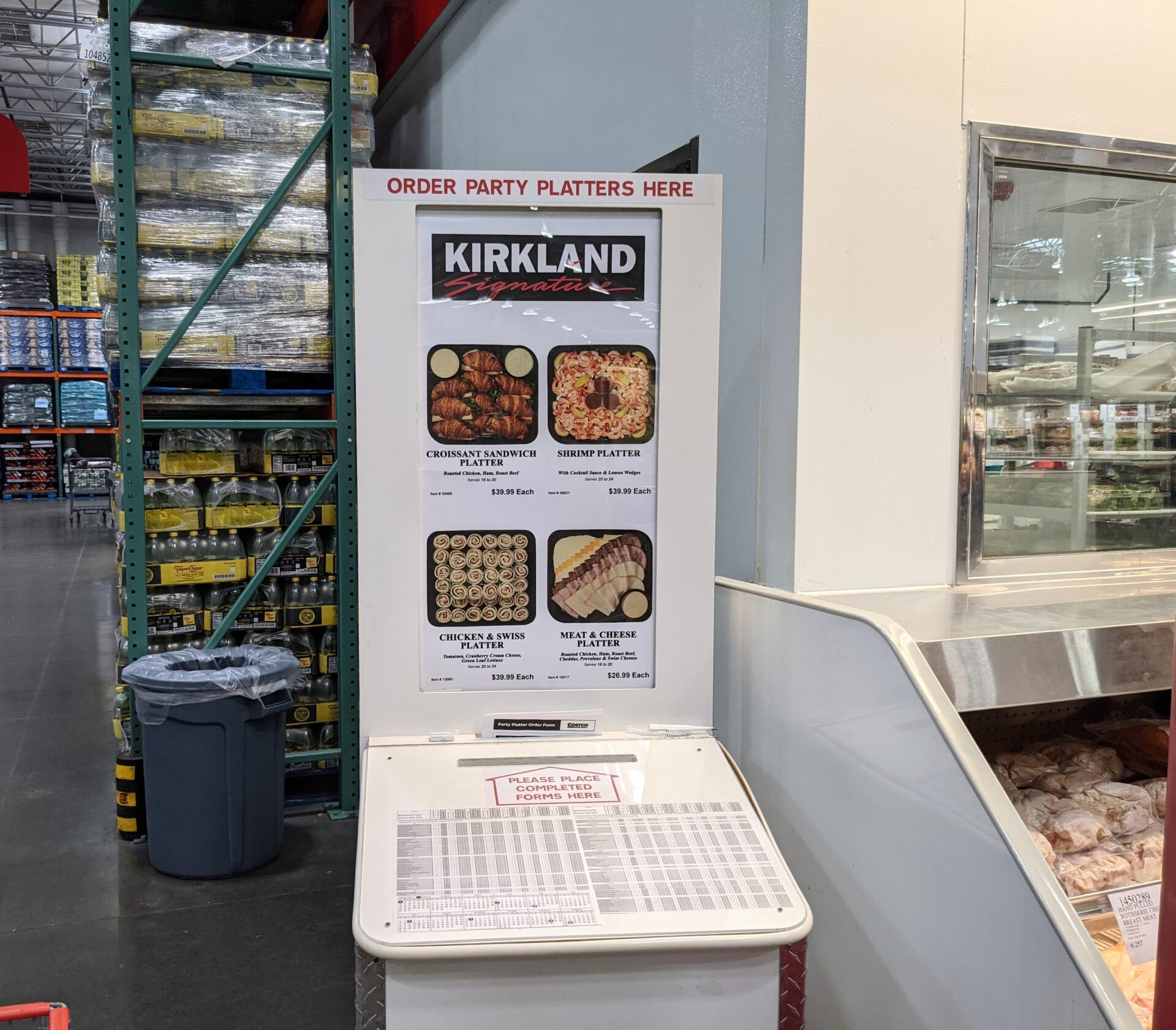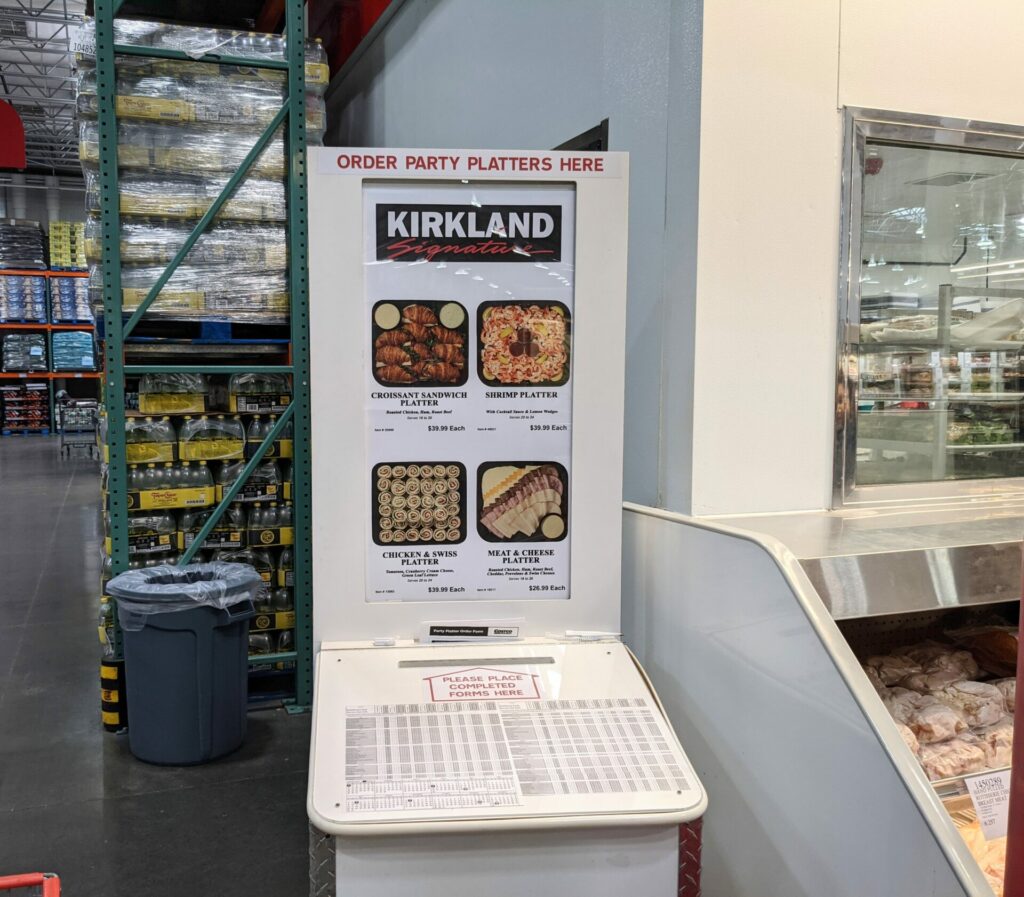 Fill out the form with the desired party platter order information and your contact information and drop it into the slot on the kiosk. 
You will need to fill in your name, membership number, phone number, pick-up date, and pick-up time.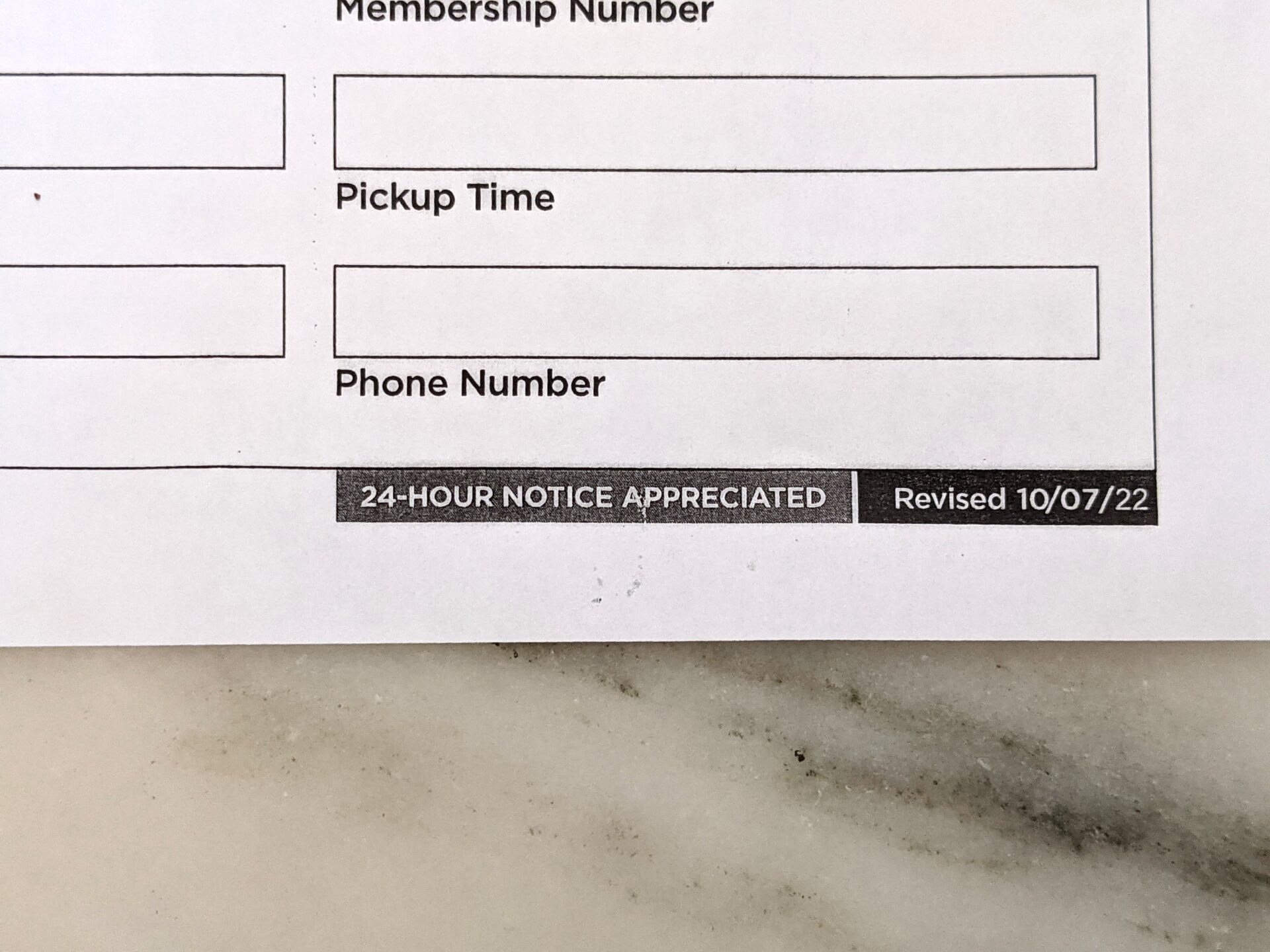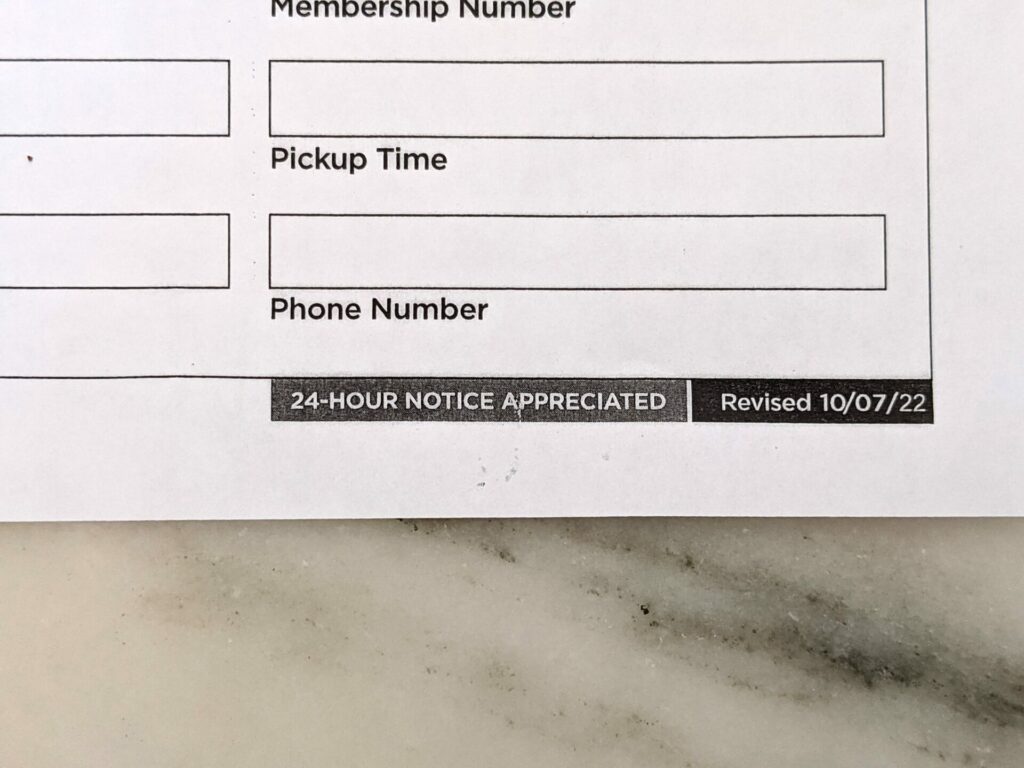 Please note: Costco does request 24-hour notice to fulfill the party platter requests. You can also drop the order form off a few days before the pickup date.
Costco Party Platter Menu and Ordering Form
Download The Costco Catering Menu & Order Form Before You Go
Here is a PDF version (10/07/22 Version) of the Costco catering menu and party platter ordering sheet. Feel free to print this and fill it out at home before dropping it off at Costco.
Costco doesn't change their party platter offerings very often, but please confirm that your local Costco has the same catering food menu.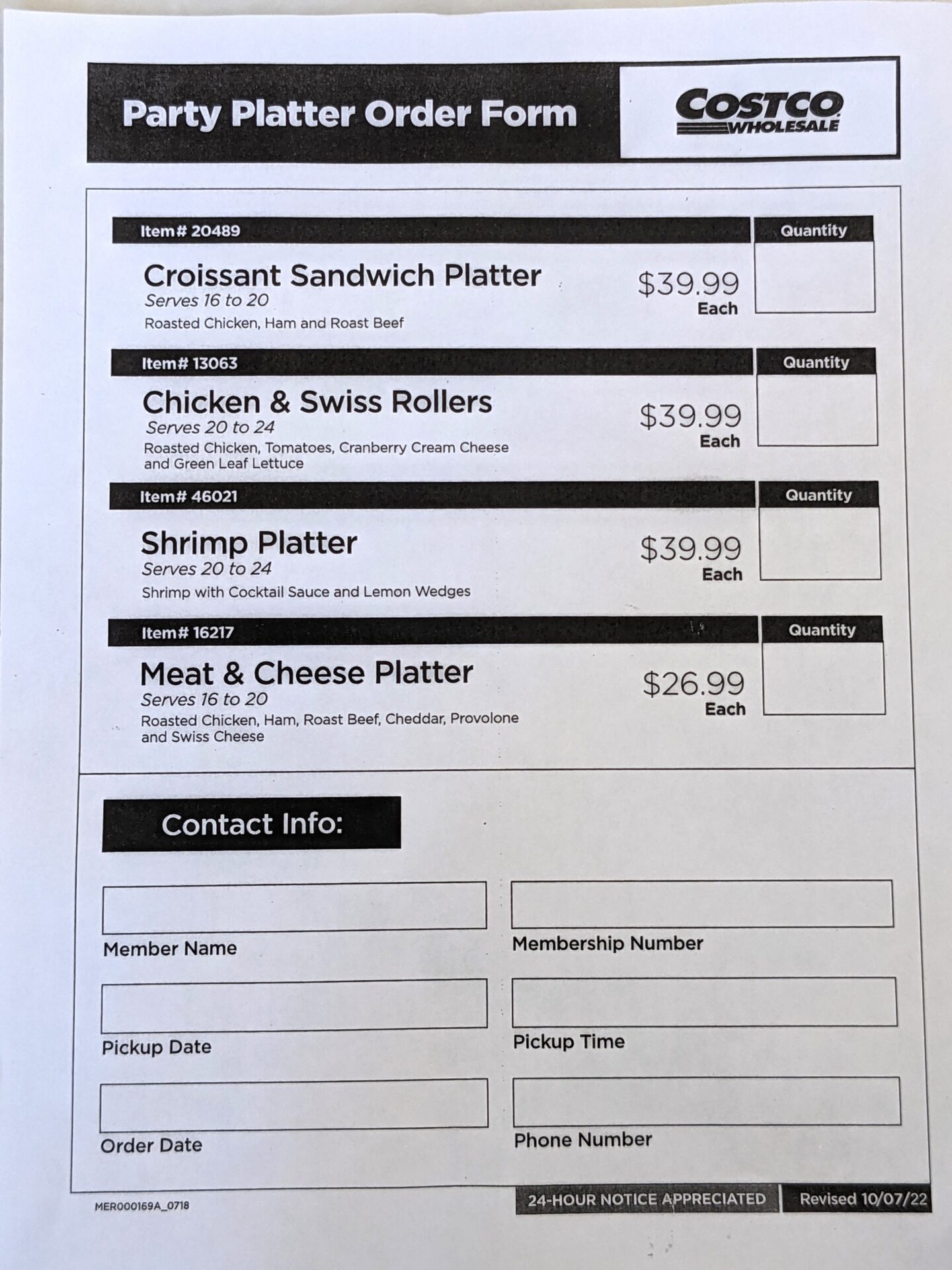 Costco Sandwich and Party Platter Prices
The price is the best part of the Costco catering and party platter menu. The food is quite economical, and Costco offers some of the best prices around for party trays.
Croissant Sandwich Party Platter - $39.99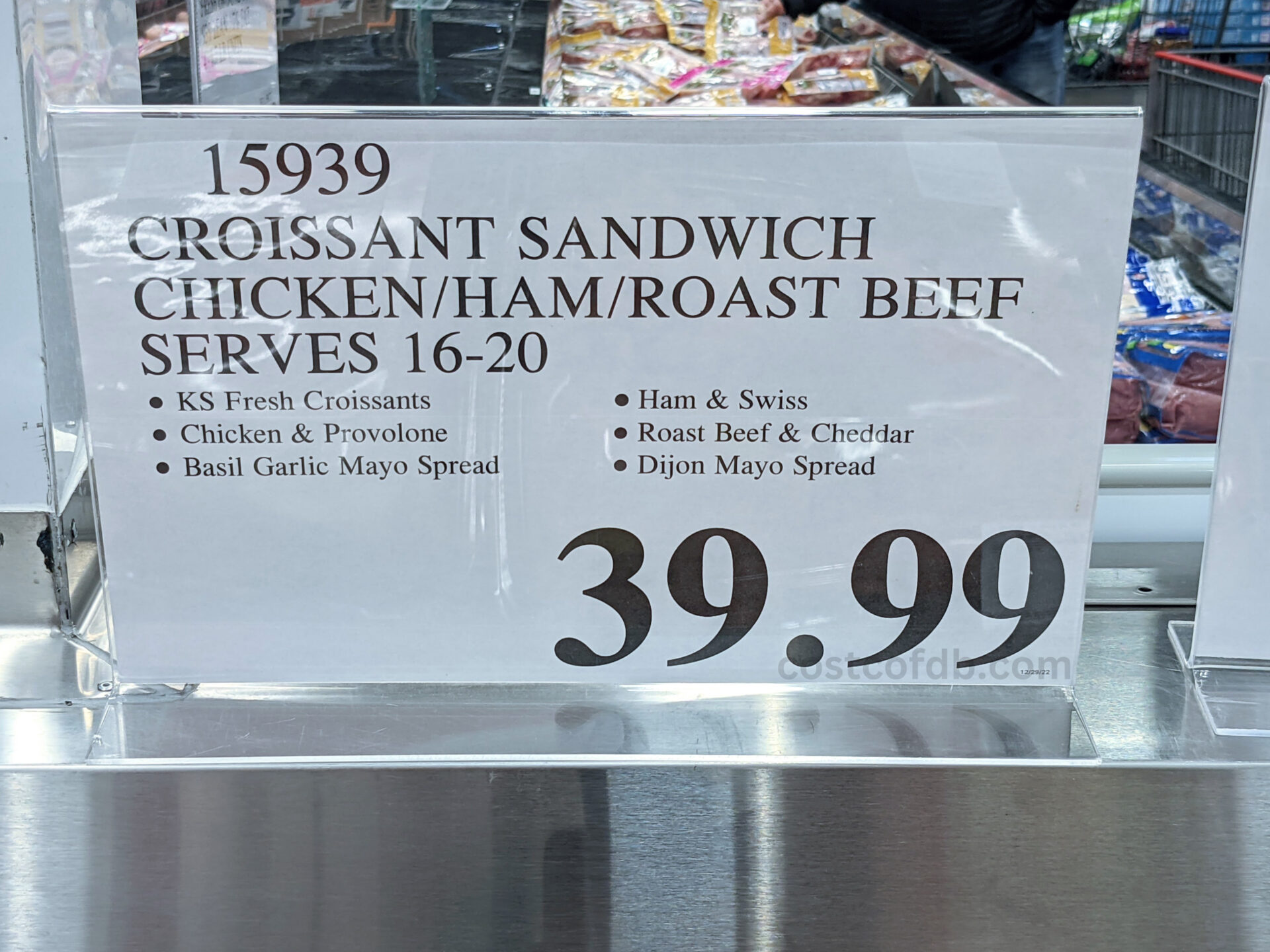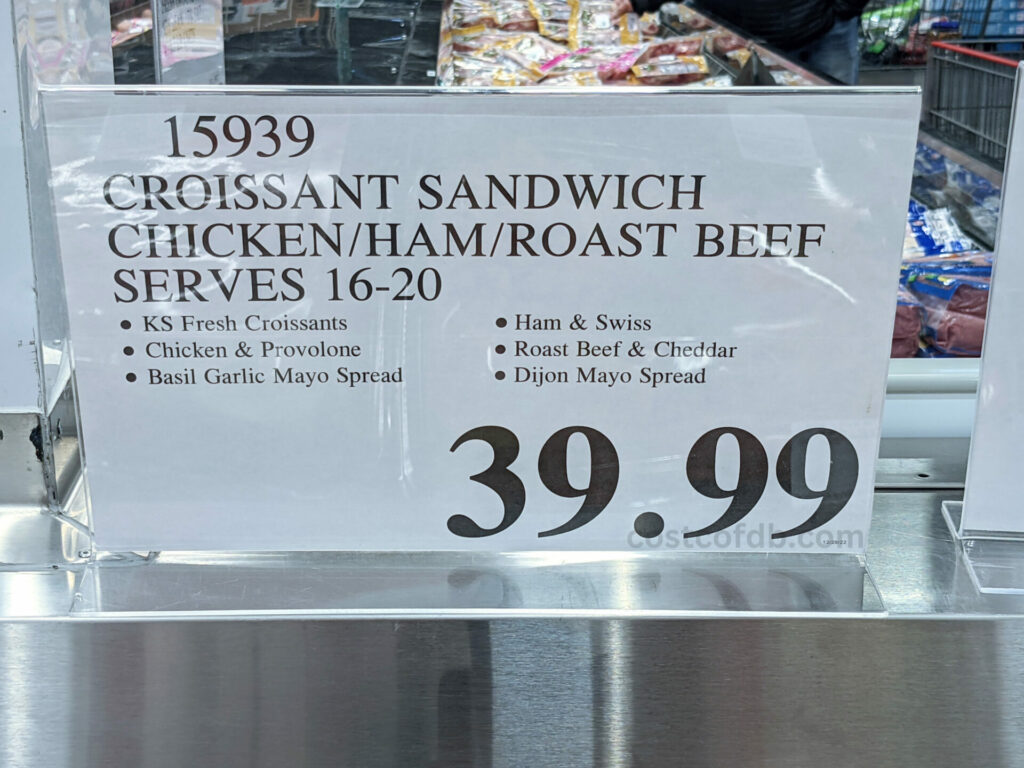 Chicken & Swiss Roller Platter - 39.99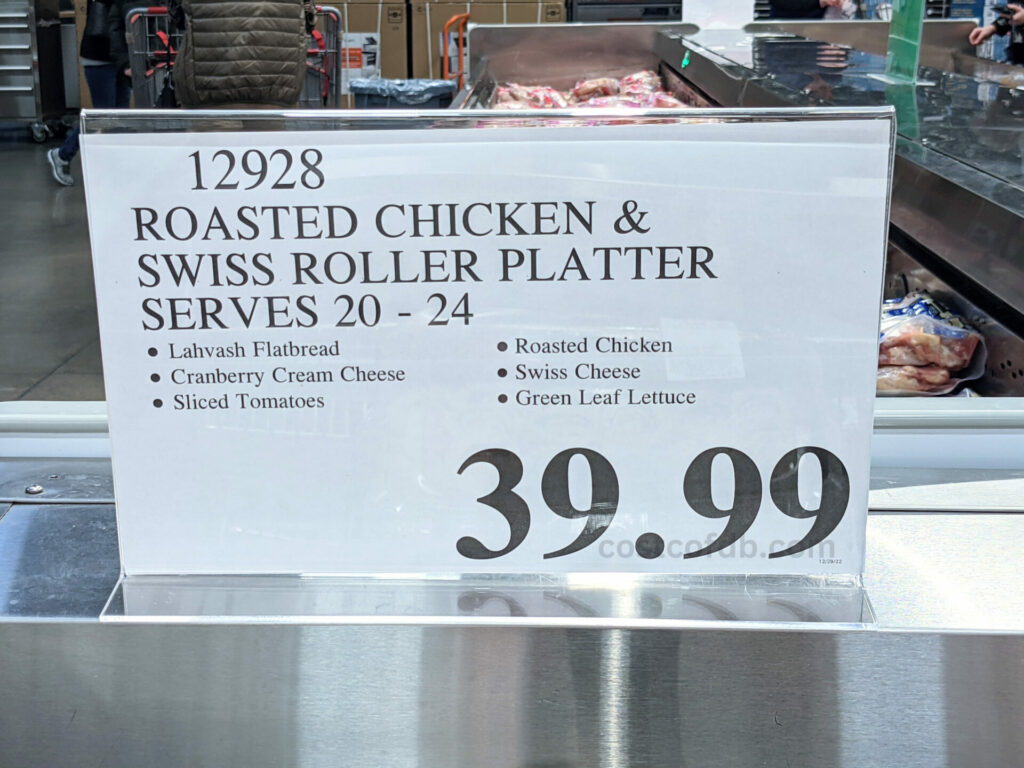 Shrimp Platter With Cocktail Sauce - $39.99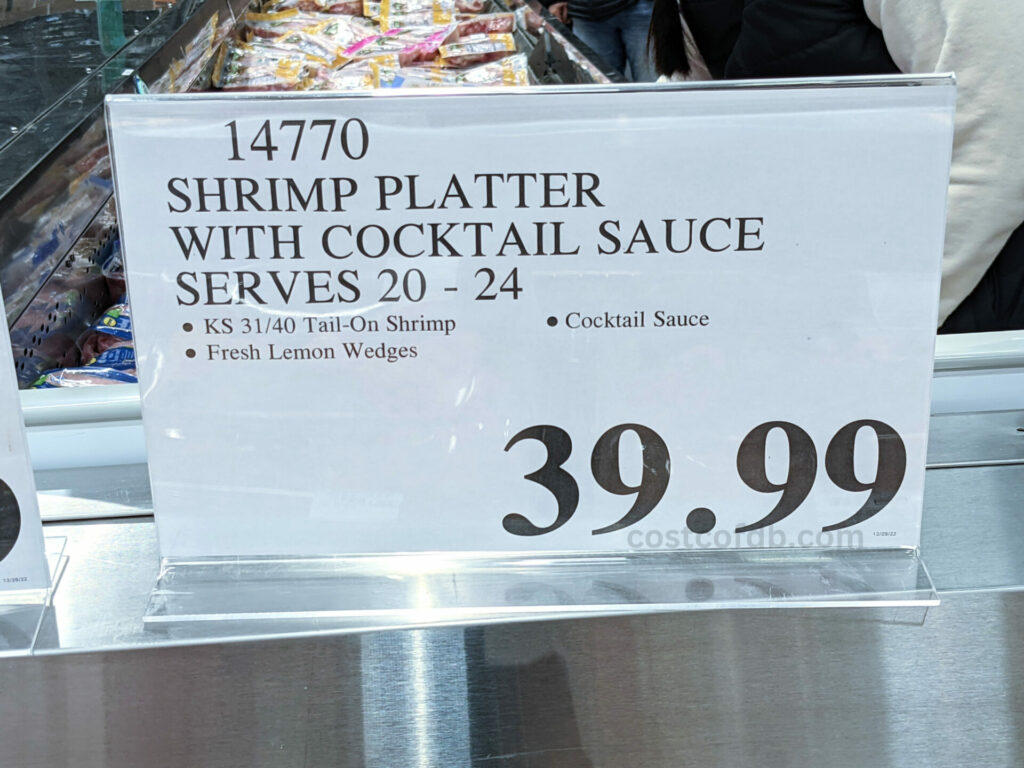 Meat & Cheese Platter - $26.99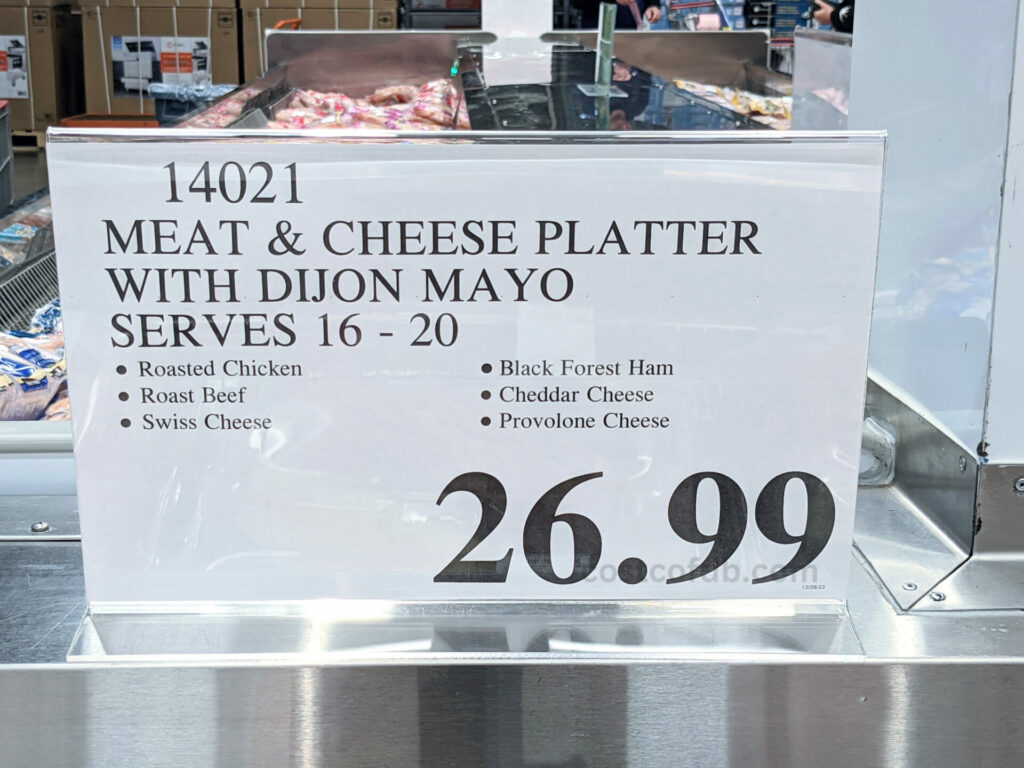 Costco Catering/Party Platter Menu & Prices

Item
Price
Serves
Price Per Serving
Croissant Sandwich Party Platter
$39.99
16-20
$2.00-$2.50
Roasted Chicken & Swiss Roller Platter
$39.99
20-24
$1.67-$2.00
Shrimp Platter With Cocktail Sauce
$39.99
20-24
$1.67-$2.00
Meat & Cheese Platter
$26.99
16-20
$1.35-$1.68
Costco Party Platter Ordering Pro Tips
Pro Tip: Try Costco Party Platters Before You Commit
Yes, you can try Costco party platters before buying the whole tray. While Costco doesn't offer free samples, 3 of the 4 party platter menu items are sold in smaller individual or 2-person serving sizes at the deli. They are the:
Swiss Rollers
Shrimp Cocktail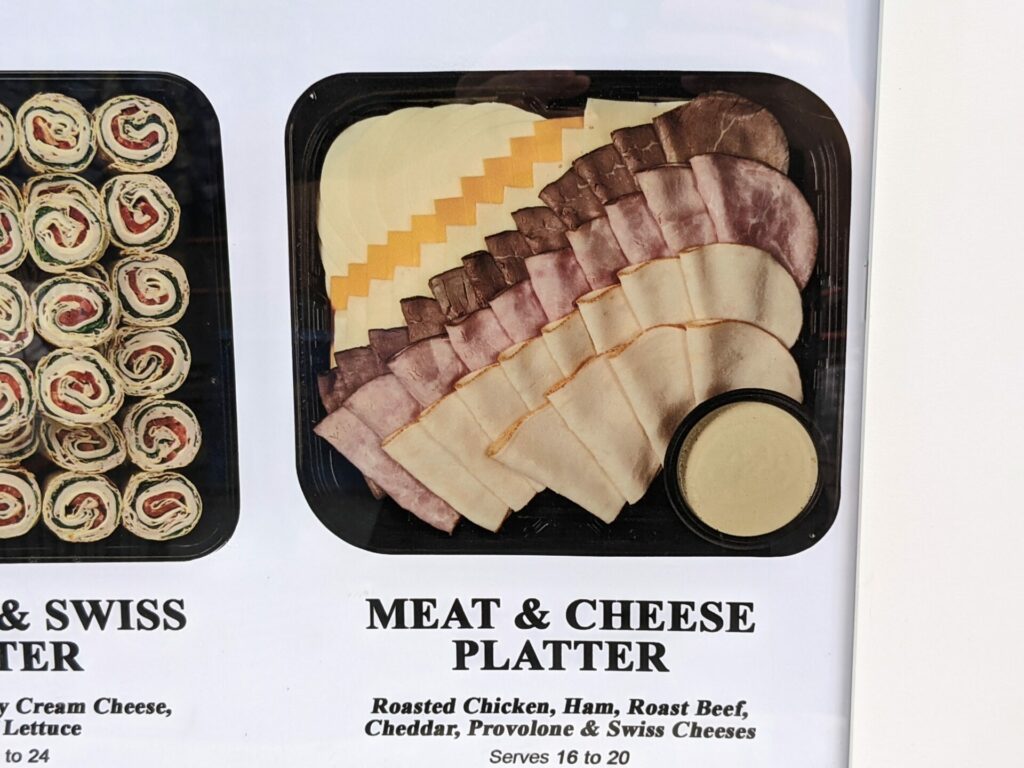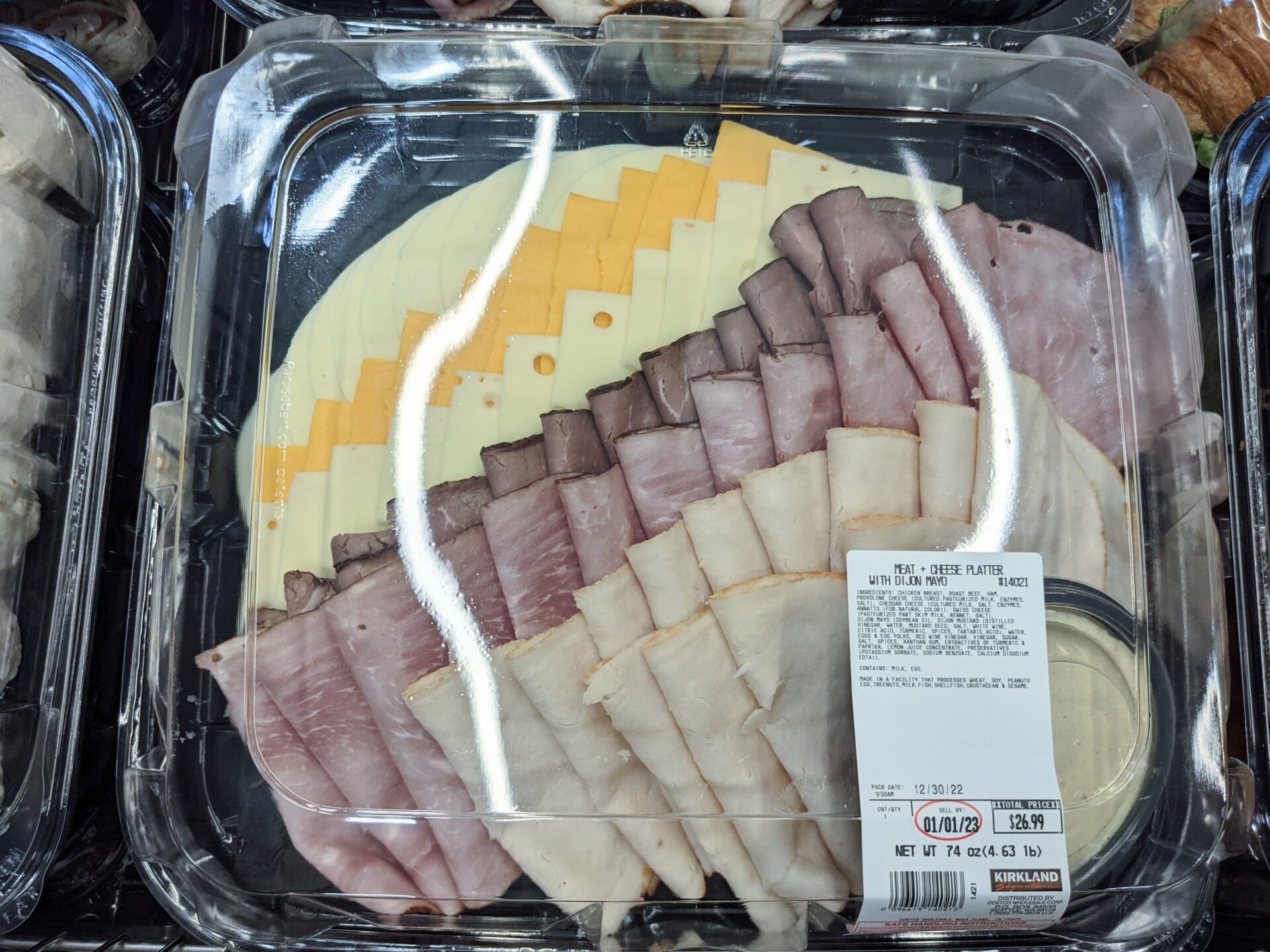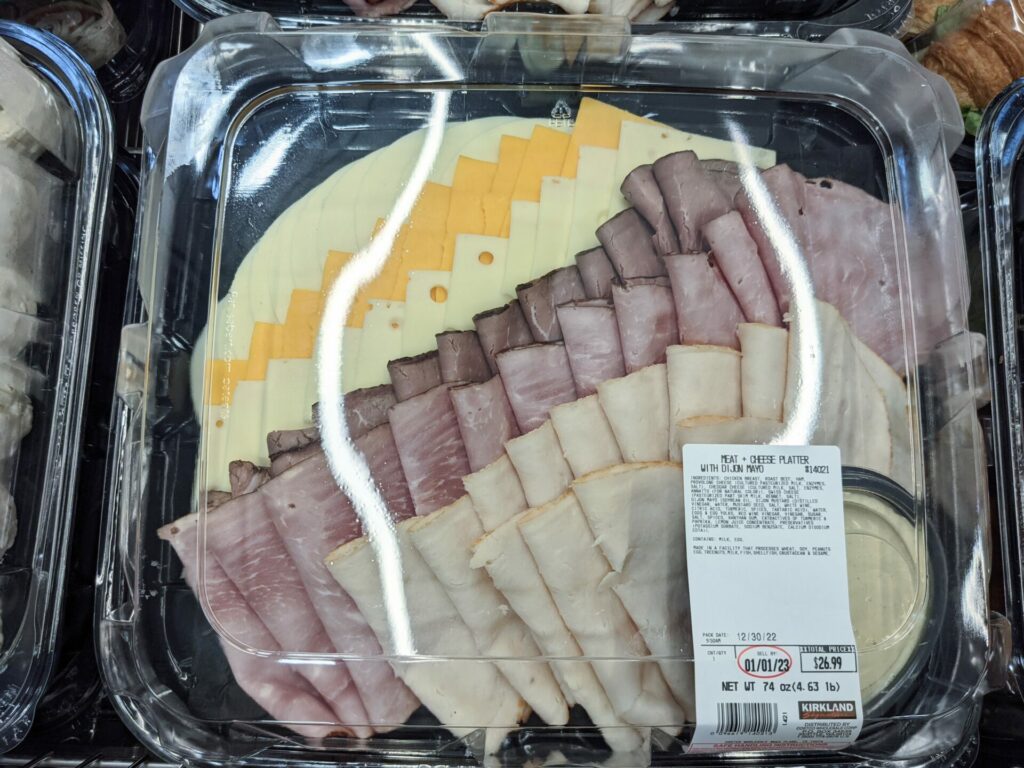 If you aren't 100% convinced that a party or sandwich tray will be suitable for your party, buy the smaller portion and give it a taste test. 
Pro Tip: 24 Hour Notice Not Always Required
As noted on the order form, Costco does request 24 hours notice for catering orders, but from my experience, as long as the order is put in the day before, it should be ready the next morning. 
Even if you were to hand in the form 10 minutes before closing on Friday night, the party platters should be ready Saturday morning at opening. YMMV! 
The one exception may be for exceedingly large orders that cannot be fulfilled in a timely fashion.
Pro Tip: Pick And Choose From Costco's Premade Deli Items
It is possible to pick up multiple packs of their premade items to cater for your party. 
The options will be limited, but some great options will be the Caesar salad, Asian chicken wrap, Quinoa Salad, Chicken Salad, Shrimp Cocktail, and Cilantro Lime Shrimp Cocktail. 
Additional Ideas for Costco Parties
Costco catering menu is great for large parties, but the food isn't necessarily the most elegant and doesn't bode well for smaller, more intimate parties. 
Here are some great choices if you are looking for party options that are more sophisticated or designed for smaller gatherings.
Vegetable Platter With Dip - $11.99
The vegetable platter with ranch dip is the ultimate party food and can be found in Costco's produce section for $11.99. 
The platter includes 4 pounds of broccoli, cauliflower, carrots, bell peppers, snap peas, and a delicious ranch dip.
Fresh Fruit Bowl - $10.99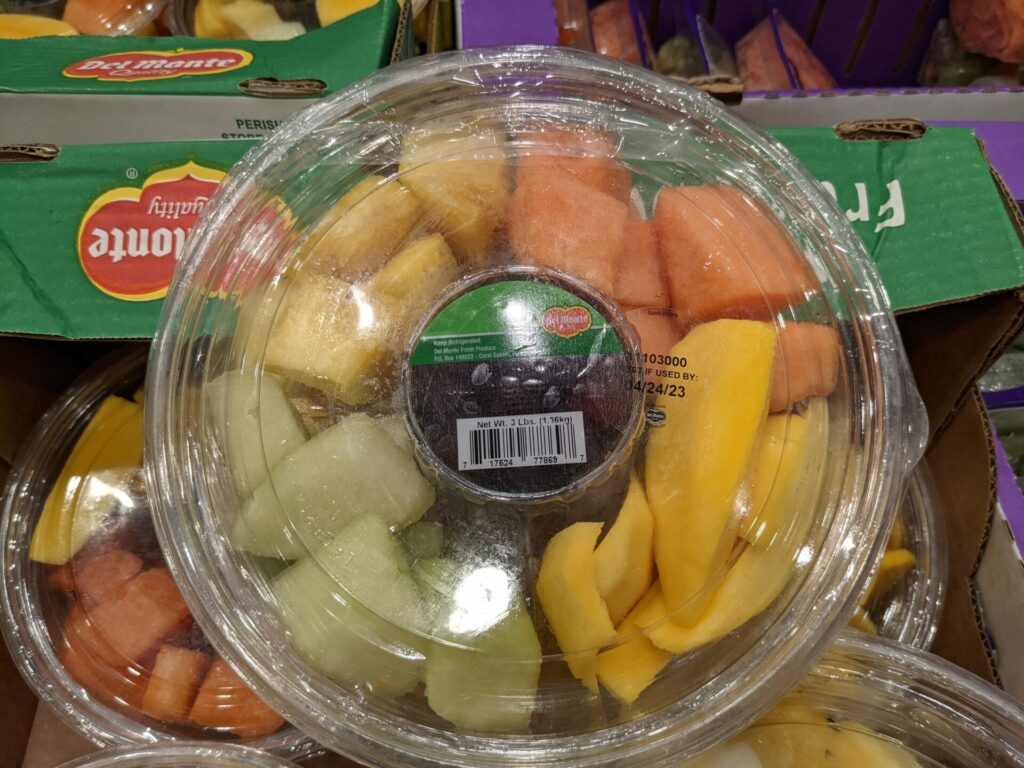 I often get asked if Costco even sells fruit bowls or fruit trays, and of course, the answer is yes! Costco's fresh fruit bowl is another easy, ready-to-go party option. The 3-pound bowl of fresh fruit will vary by season but will usually include grapes, strawberries, pineapples and melon.
Each bowl costs $10.99
Premade Cheese and Fruit Trays - $4.99/lb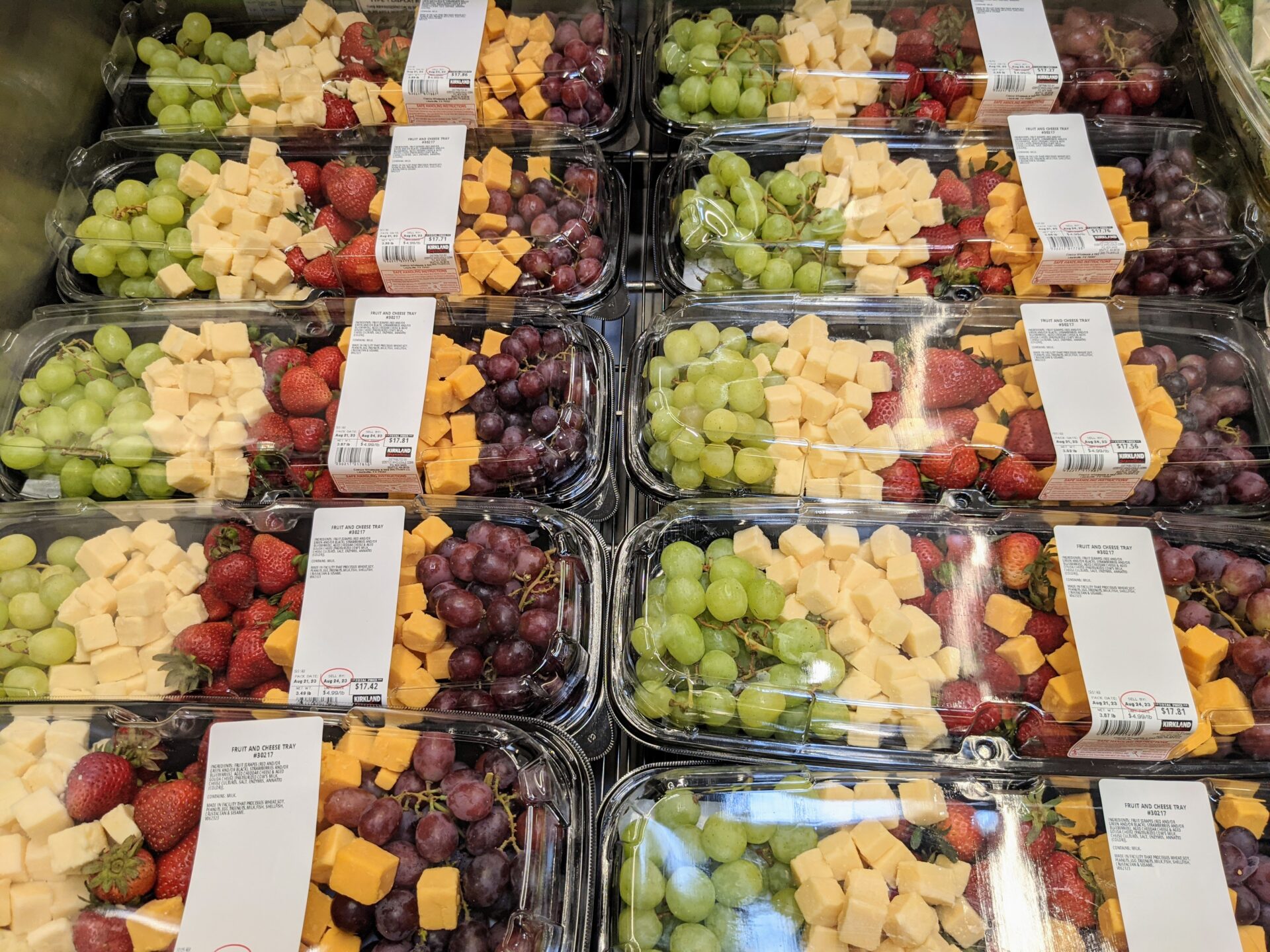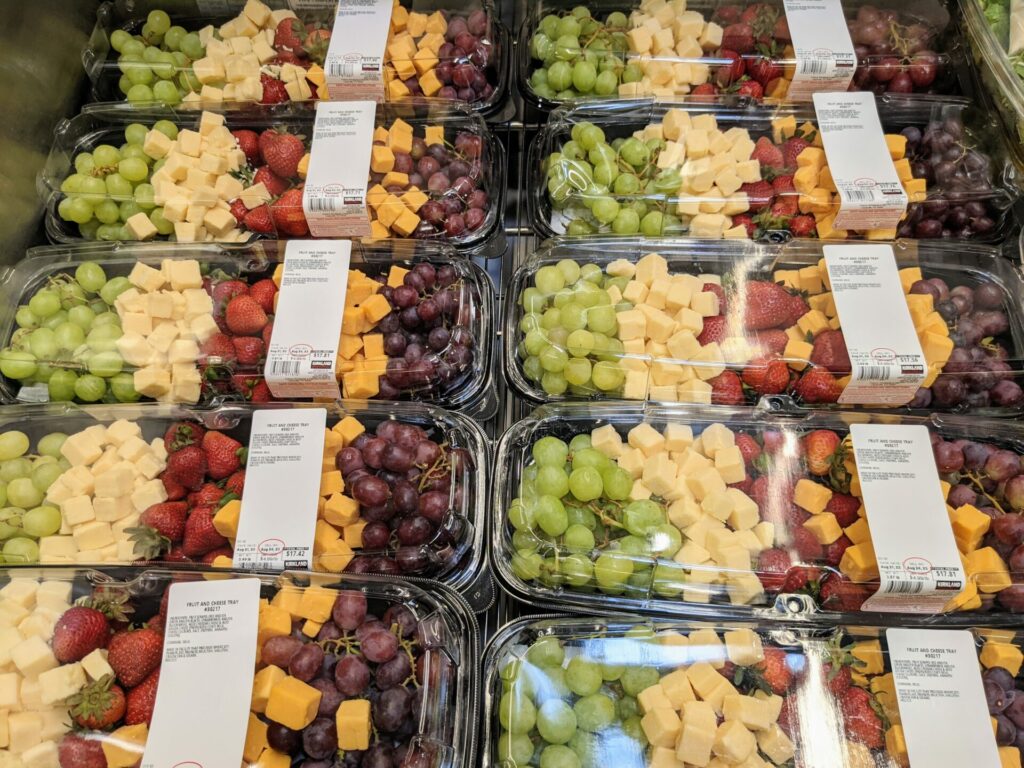 You can also find premade cheese and fruit trays at Costco. Each tray costs $4.99 a pound and includes grapes, strawberries and/or blueberries, aged cheddar cheese, and aged gouda cheese. The fruit and cheese trays are simple and super easy to lay out for a party. 
Each tray contains about 3 and a half pounds of cheese and fruit and costs about $17.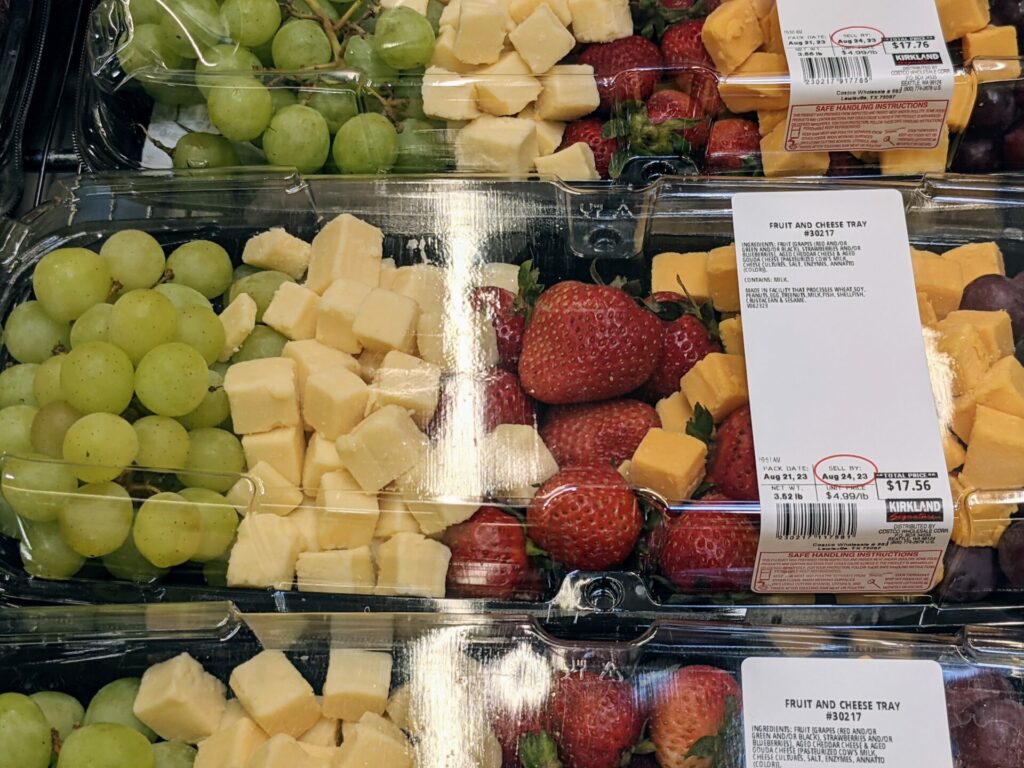 Asian Chicken Wrap - $6.49/lb
Located in the premade food area of the deli, the Asian chicken wrap sells for $6.49 a pound (about $15 a package) and is made with chicken and Asian coleslaw.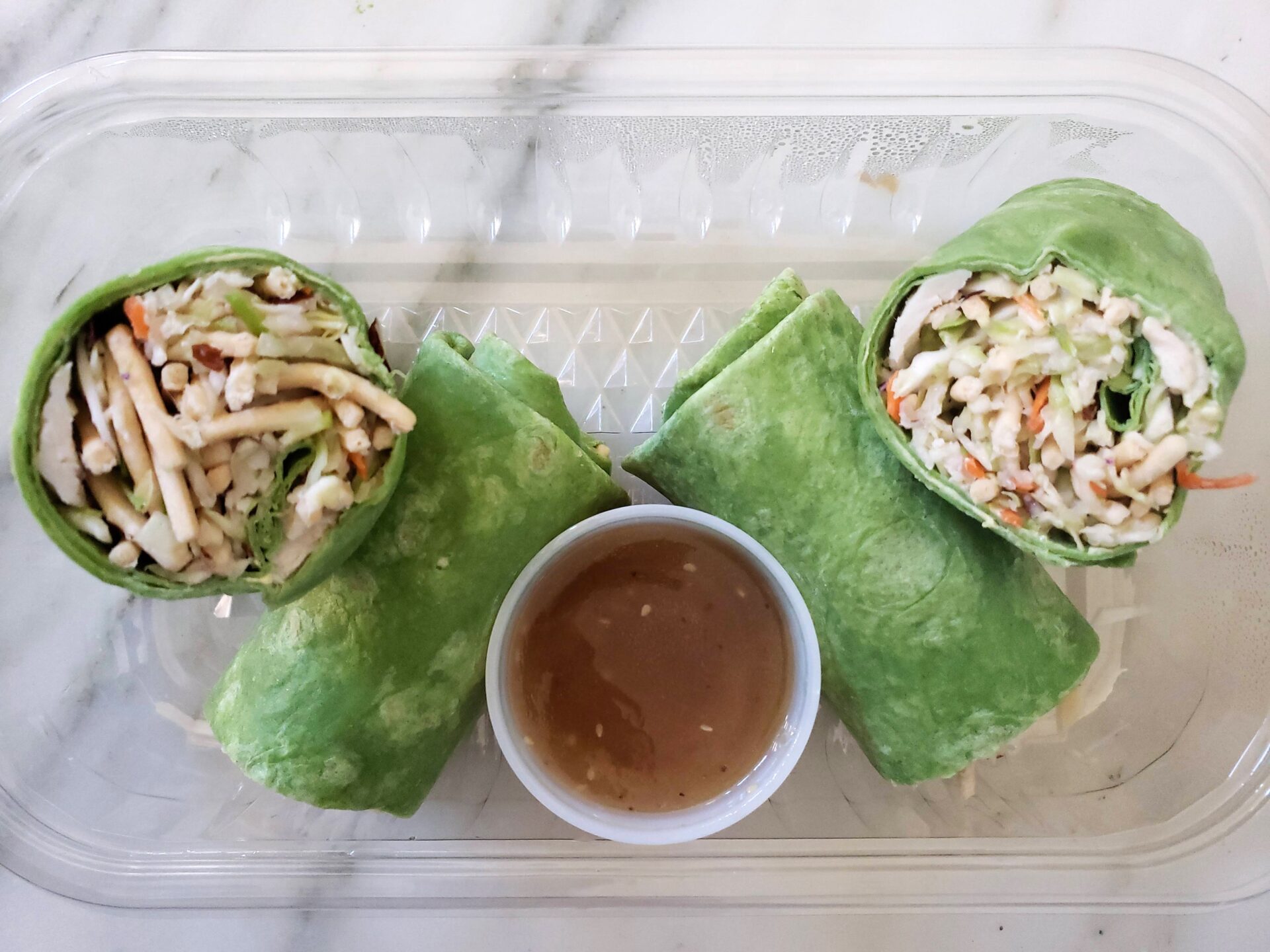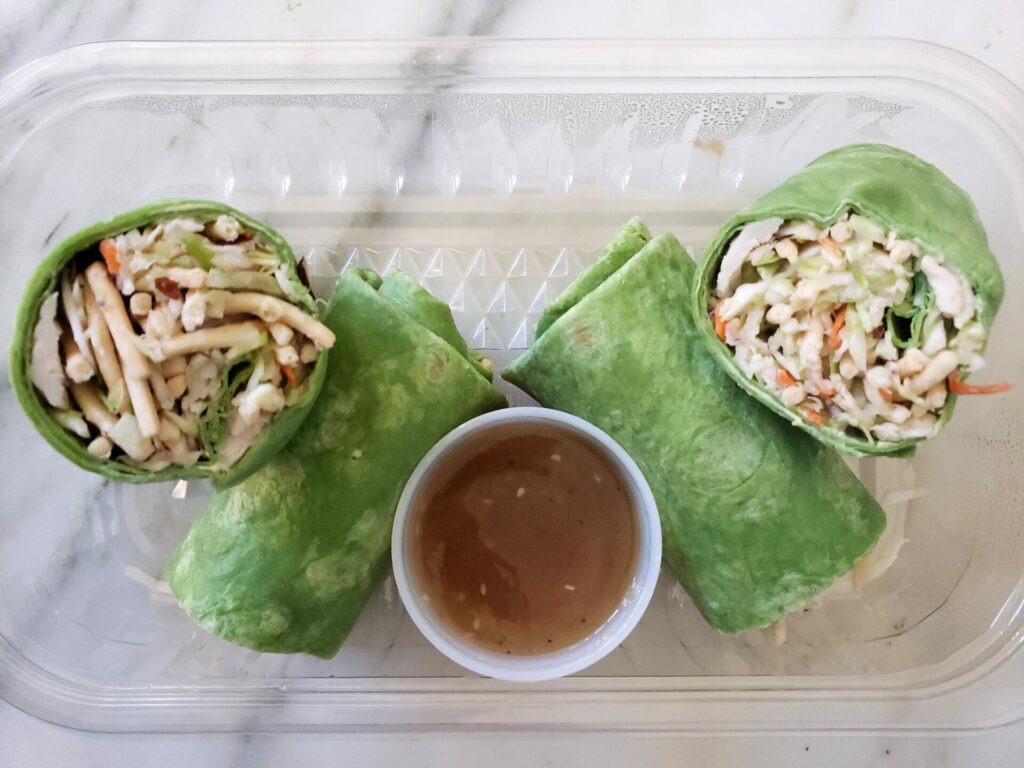 The sesame dip is fantastic; each package will serve 8 people.
Costco's fresh caesar salad sells for $3.99 a pound. It contains everything you need to whip up a quick salad, including chopped romaine lettuce, garlic and cheese croutons, shredded parmesan cheese, caesar dressing, and fresh lemon wedges. 
You can pick up a pack in the premade meals section of the deli for about $9 each, and each package serves about 6 small side salads.
Cilantro Lime Shrimp - $10.99/lb
A direct alternative to the Costco Shrimp Cocktail Platter is the Cilantro Lime Shrimp. The Cilantro lime shrimp can be found in the premade meals area of the deli and sells for $10.99 a pound or about $15 per pack. 
The shrimp is delicious, and each pack serves 6-8.
Bitchin' Dip is my absolute favorite dip in all of Costco and an absolute hit at parties. It's an unforgettable name matched with unforgettable flavor. The chipotle almond dip is delicious, and a 24 ounce tub sells for $8.99.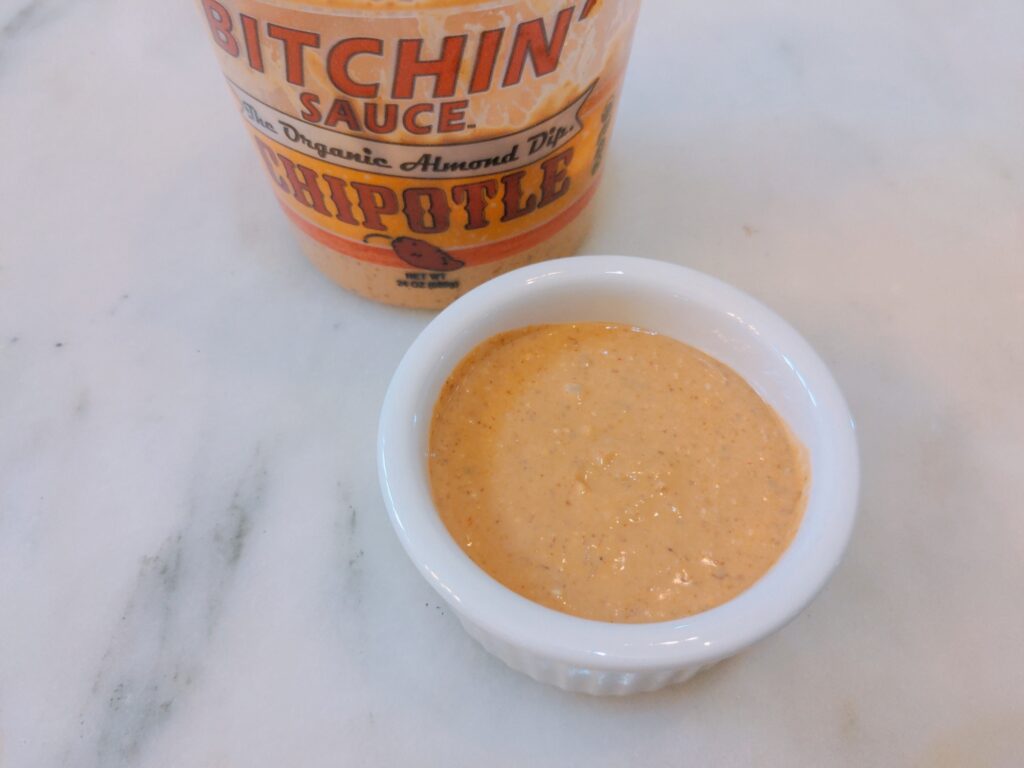 Smoked Salmon - $11.99-$21.99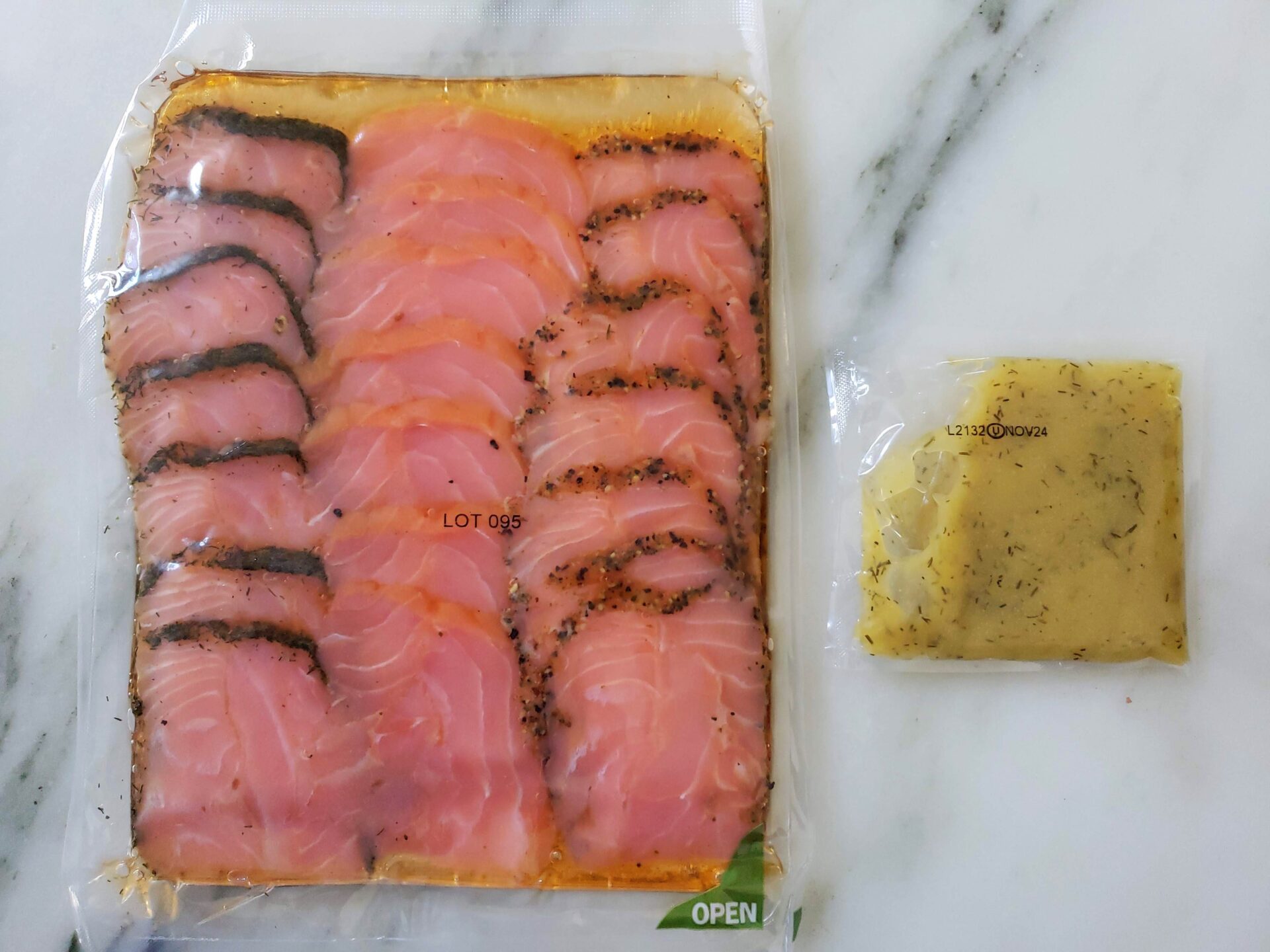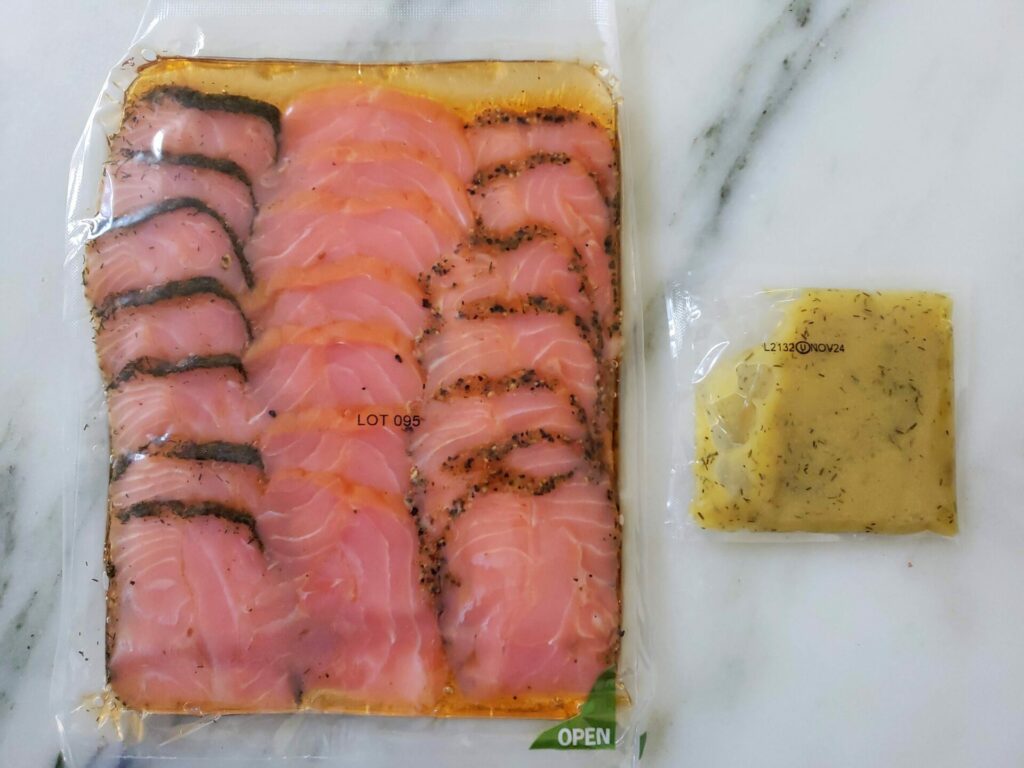 If you are looking for the ultimate in value, nothing competes with Costco's 18″ whole pizzas. They come in pepperoni, cheese, or half and half and are perfect for any size parties.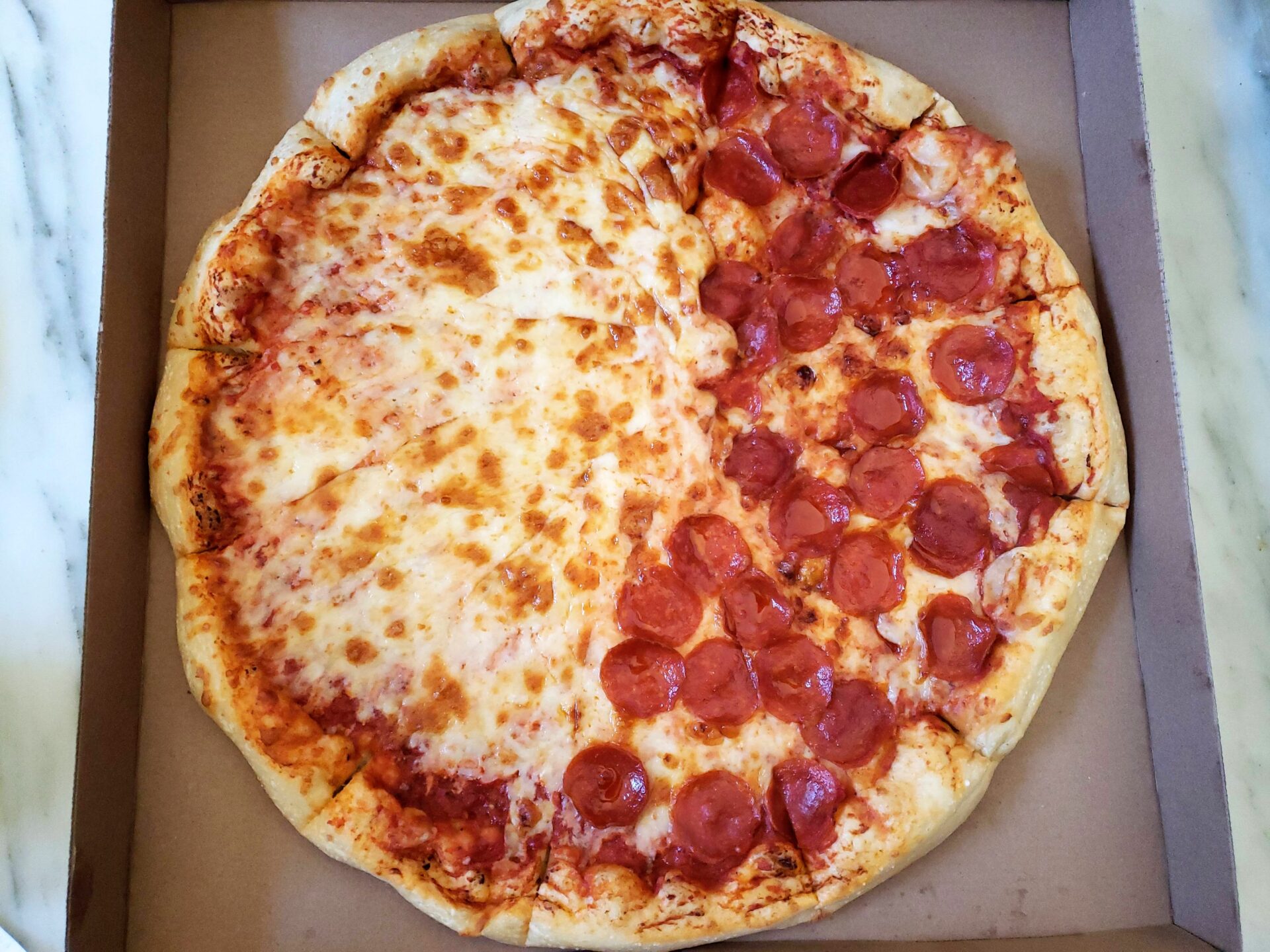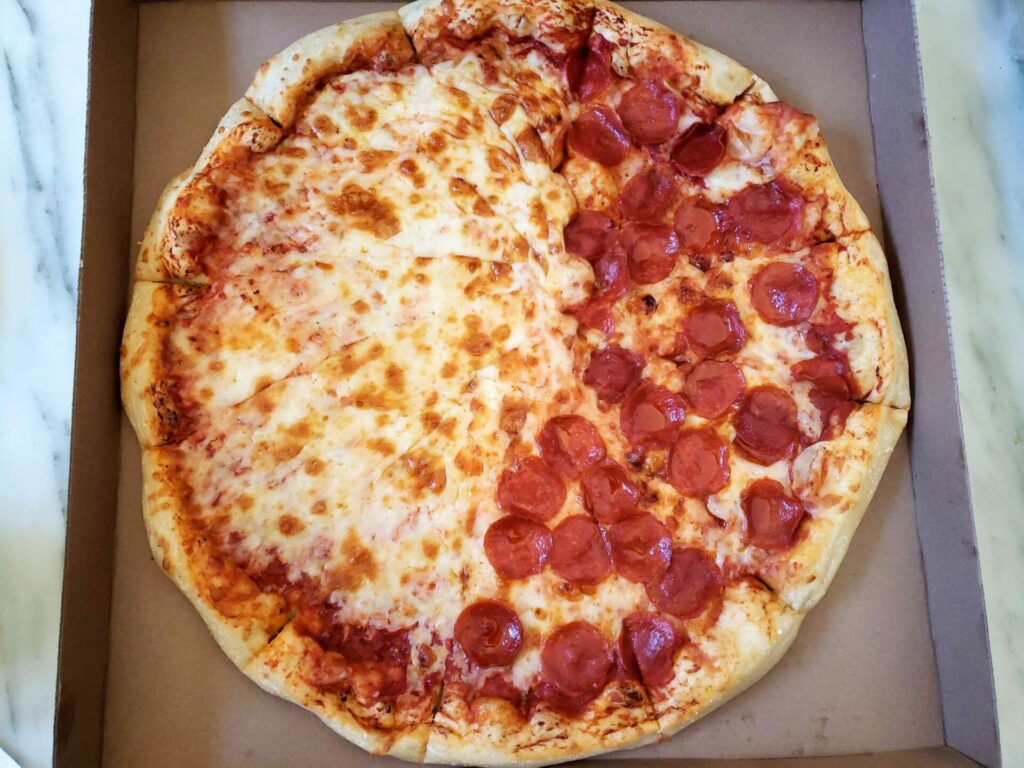 I love Costco's Tiramisu Cups because they are individually packed and the perfect party size. A 6-pack sells for $9.99.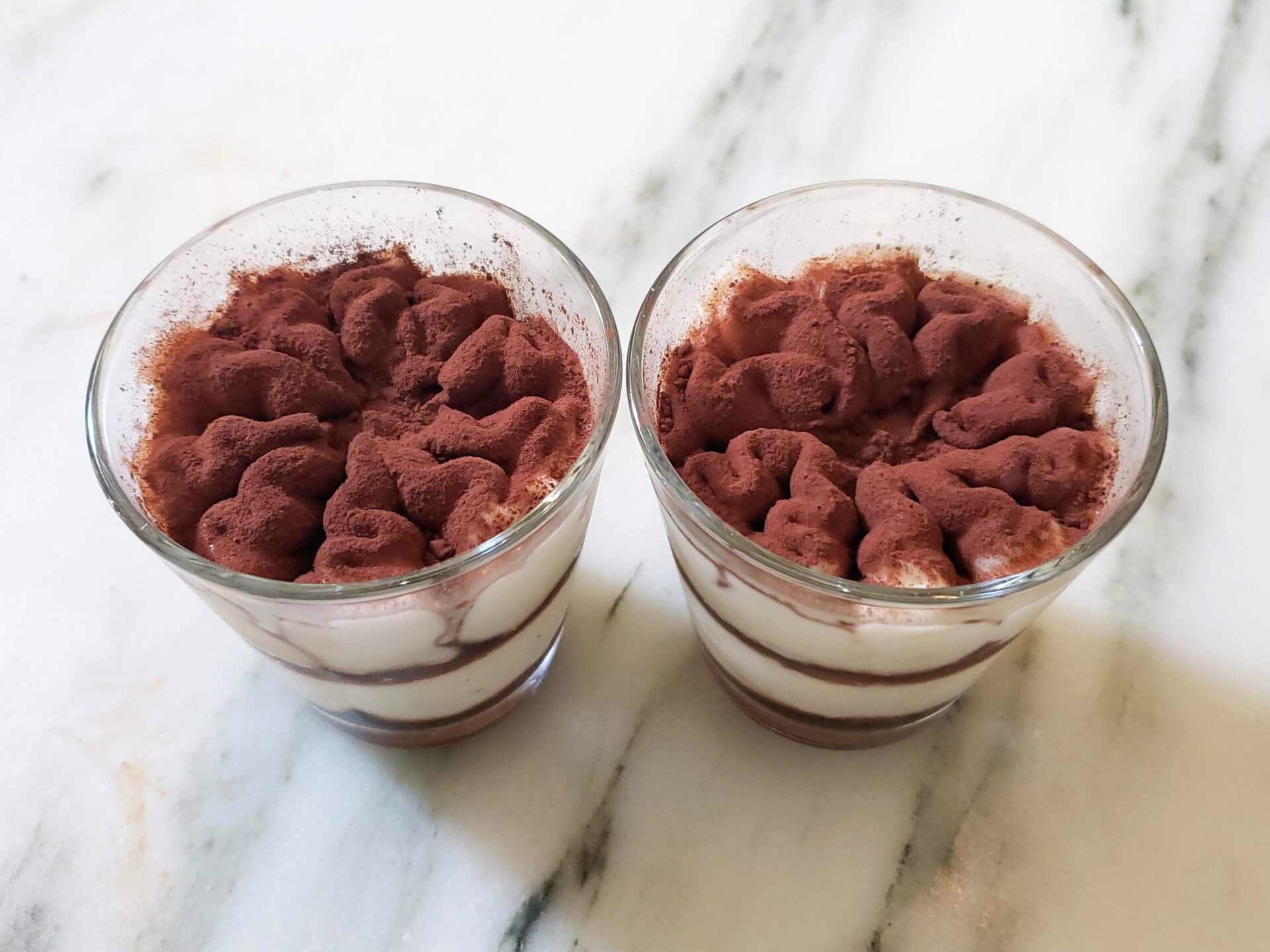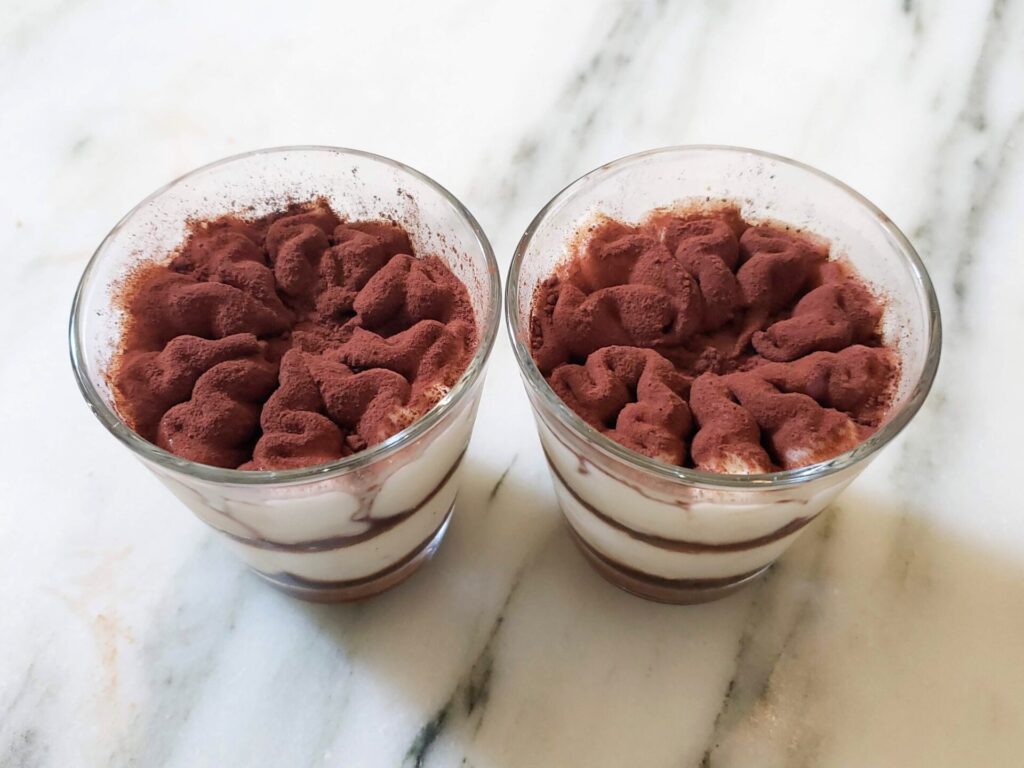 A 36 count of French imported macarons goes for $16.99 or $0.47 each. The macarons come in various seasonal flavors and are sure to be a hit.
Costco has no shortage of cake options, but I love the Chocolate Tuxedo Cake. It's a high-quality layered cake that is perfect for parties. It beats a traditional round cake in design and flavor.

Need more cake? Check out our guide on How to Order a Costco Cake.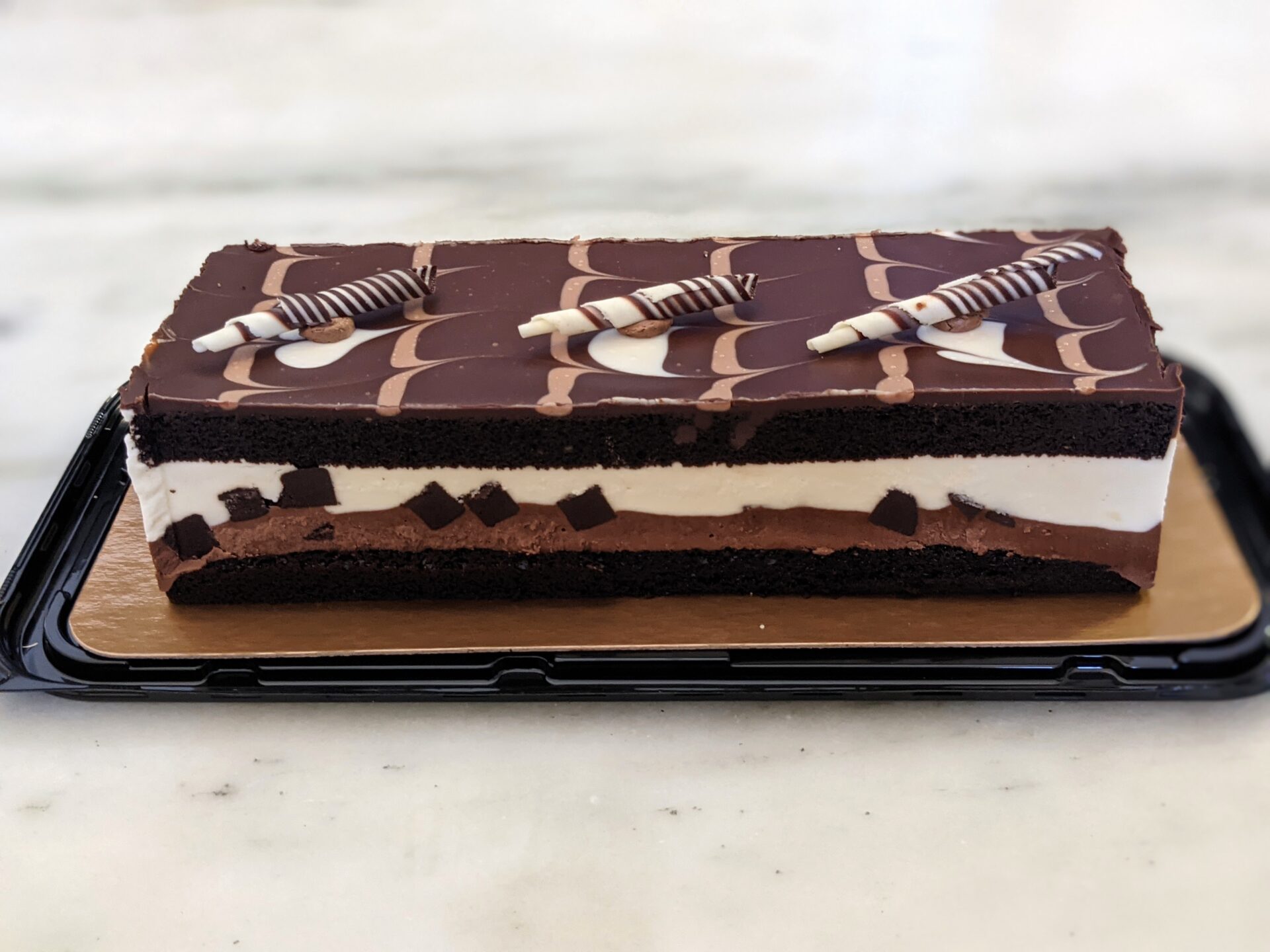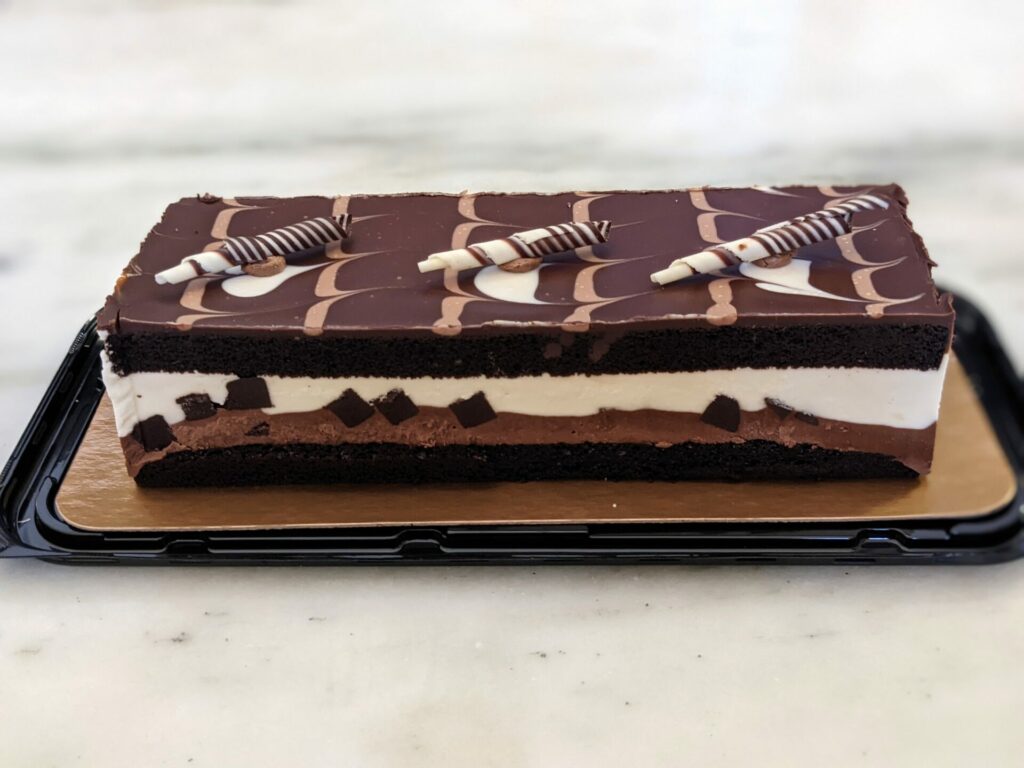 Frequently Asked Questions About Costco Catering and Party Platter Menu
Do you need a membership to order from Costco Party Platter menu?
Yes, you will need a membership to order from the Costco party platter menu. The membership card will need to be shown when entering the warehouse, inputted on the catering order form, and shown at checkout. 
It is not possible to order any of the party platter items or sandwich trays without a membership card.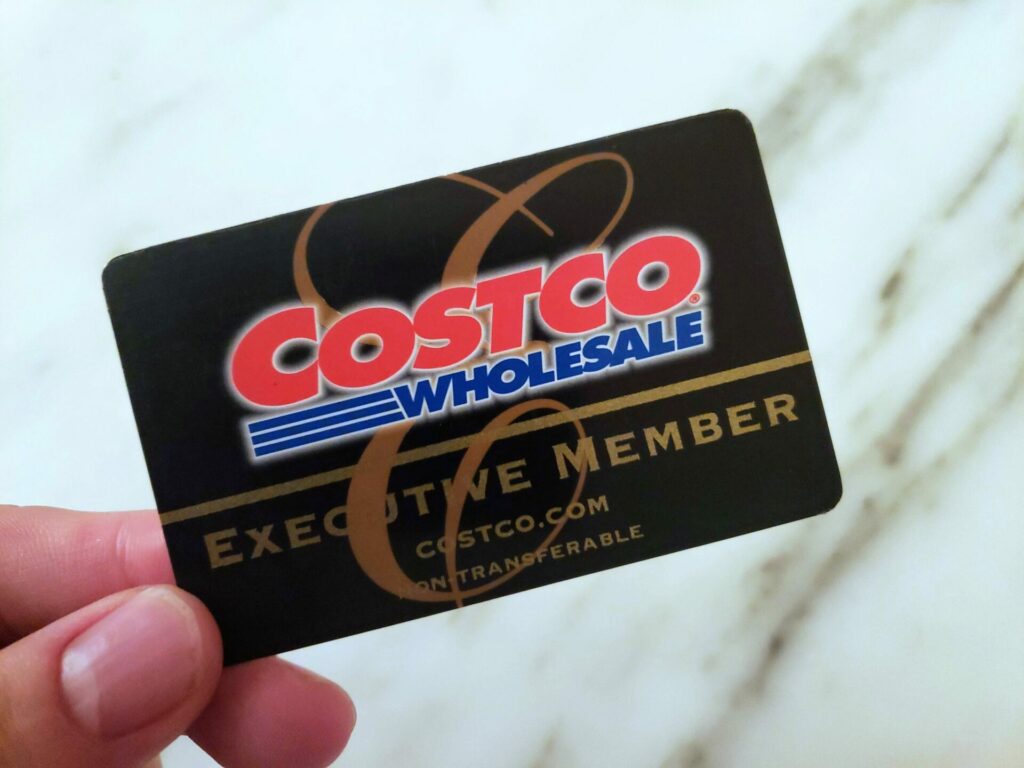 Does Costco make sandwich platters?
Yes, Costco makes a croissant sandwich platter, and if you will count it, a chicken and swiss roller platter. Both of these platters are part of their party platter catering menu and are meant to feed 16-24 people. 

If you are looking for smaller individual-sized sandwich platters, then check out Costco's Asian chicken wrap, croissant sandwich and salad combo, and the individual portion of chicken and swiss rollers.
Do I have to pre-order Costco Sandwich platters?
Yes and no, but it will depend on the size of the party you are looking to feed. It is possible to purchase multiple individual-sized portions of their premade deli sandwich options to feed a small crowd, but if you are looking for anything larger than 10+ people, I would highly recommend ordering the sandwich platter from the Costco catering menu.
Costco Catering & Party Platter - User Ratings and Reviews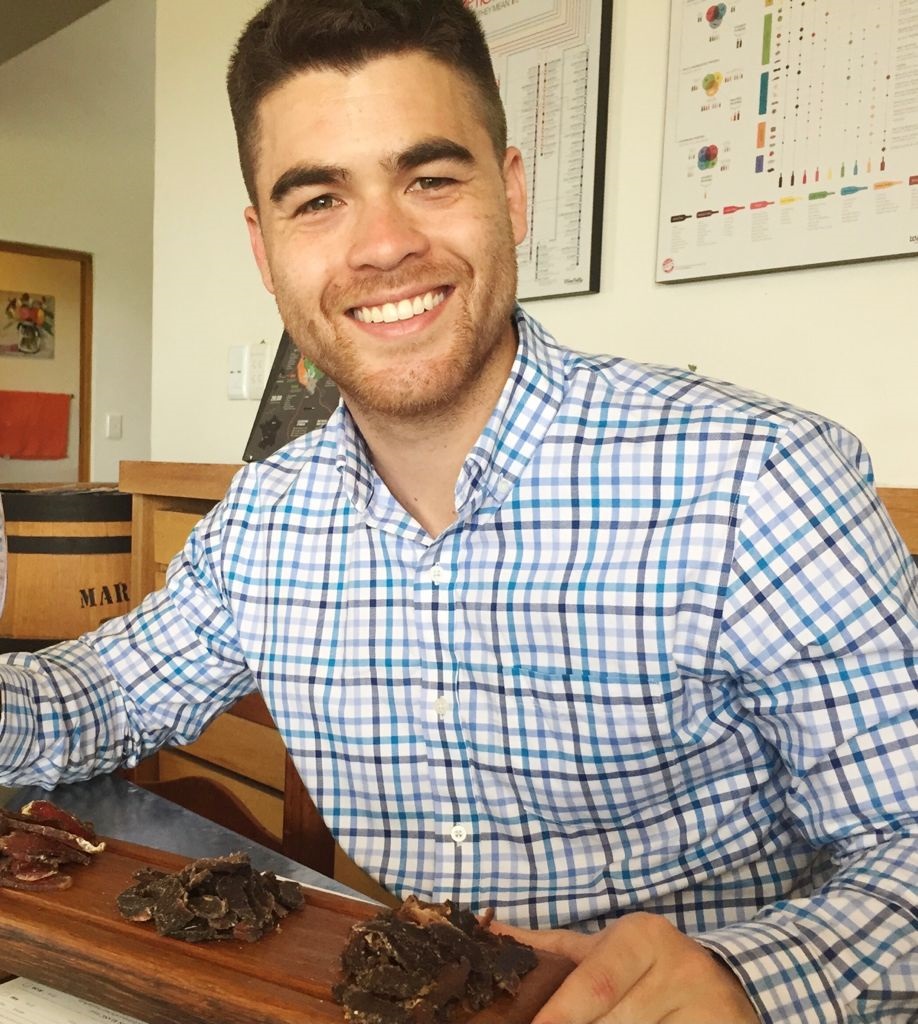 Greg Larkin is the founder and managing editor of Costco Food Database, the premiere site for honest takes on all things Costco food. A self-proclaimed Costco super-fan since childhood, Greg turned his obsession in a mission to properly rate and review all of Costco's delicious buys. When he's not busy navigating Costco aisles, you can find Greg smoking Kirkland Signature meats, meal prepping, or perfecting his homemade jerky recipes.