Costco Chinese Sausage - Cook Tips + Recipe Ideas
Kam Yen Jan Chinese Sausage at Costco
Costco sells 21 ounces of Kam Yen Jan Chinese Style Sausage for $12.49.
The chinese sausage can be found in Costco's Pantry and Dry Goods area of the store, often near other items such as the seaweed snack, Belgian Waffles, and Tonkotsu Ramen.
Have You Tried Costco's Chinese Sausage?
Let the rest of the Costco Food Database community know what you thought of this product. Results and reviews are at the bottom of this page.
Please allow 24 hours for review moderation and approval.
Chinese sausage is a very generic term, but it typically refers to the southern flavor chinese sausage which is known as lap cheong or on the package as lap xuong thuong hang.
Lap Cheong or Chinese sausage is a very unique sausage and I would consider it to be a sausage jerky hybrid.
It's usually not eaten on its own and is a more of a complement to dishes such as fried rice, stir fry, or even buns or baos.
What Is Chinese Sausage Made of?
The Chinese Sausage from Costco is made with pork and pork fat. It is sweetened and seasoned with soy sauce, salt, and grain alcohol. The sausage is in a beef collagen casing.

The sausage is also cured and smoked.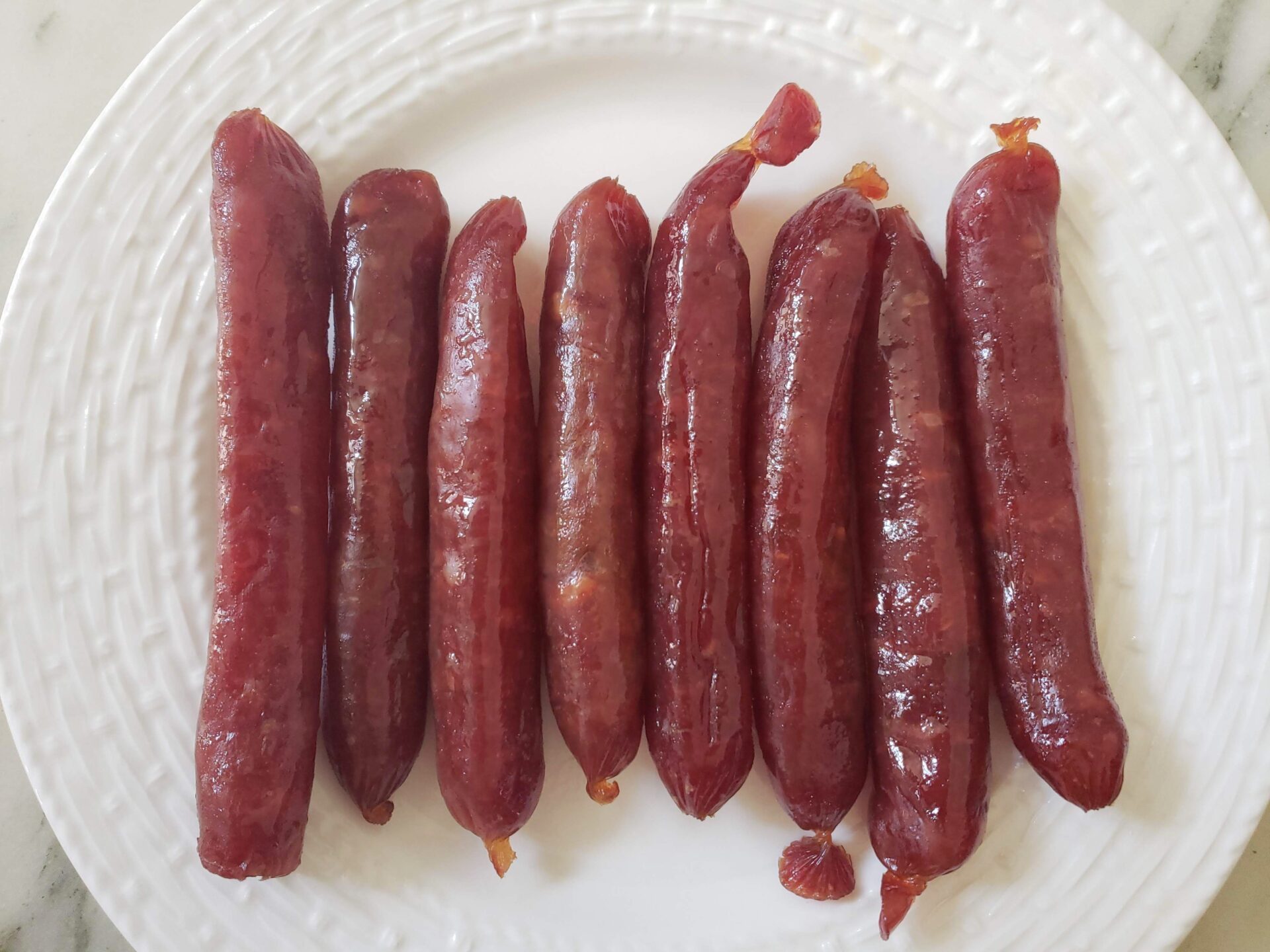 Costco's chinese sausage comes in a 2 pack weighing a total of 21 ounces. There are approximately 24 total sausages in each pack. 

The Chinese sausage is a product of the USA.
How Much Does Chinese Sausage at Costco Cost?
Costco sells 21 ounces of Chinese sausage for $12.49. This is a per pound price of $9.53 per pound. This is definitely on the expensive end for sausages. 
To give you an idea of the value, in the $9.50 a pound range at Costco you can get USDA Choice New York Strips, Cod, and sometimes even Salmon.

Costco vs the Competition
Sam's Club sells 16 ounces of Chinese sausage or Lap Cheung for $13.98. This is 50% more expensive than Costco's price per pound. 
Amazon sells a 36 ounce pack for $17.99 or $8 per pound. This is better than Costco's price, and one of the handful of times where Amazon has better value.
Chinese Sausage Taste Test
There are a couple of somewhat major differences between Chinese sausage and traditional sausages.
The first thing you may notice is the very distinct red color of the sausage. The color comes from the curing process where it is marinated, salted, and smoked.
One of the biggest differences about Chinese sausage is going to be the texture. The sausage is juicy but has an extremely firm texture.
The texture is very unique and I would classify it somewhere between a traditional sausage and beef jerky. It is interesting but doesn't seem to be out of place.
The first thing you will notice is the sweetness of the sausage. The Chinese sausage has a strong and flavorful sweetness that doesn't overwhelm. 
The sweetness is great, and it allows the other flavors to come through as well. 
In addition to sweetness, the sausage is appropriately salty and even somewhat smokey. 
There is a nice blend of flavors that gives the Chinese sausage its special taste.
How to Use Chinese Style Sausage
Chinese sausage isn't a super common food, so here are a couple of dishes that go great with the inclusion of Chinese Sausage.
Chinese sausage is often eaten on a bed of white rice, but I really prefer to add it to fried rice. Costco's Chinese sausage greatly improves the medley of flavors in the fried rice.
The lap cheung also goes great in stir fry dishes. The sausage adds a nice sweetness to the stir fry that goes well with the other meat and vegetables. 
Throw some steamed Chinese Sausage into a stir fry as a great last minute addition.
Kam Yen Jan only lists one cooking direction on the package of the Chinese Sausage and that is to steam them. 
It is very important to steam the sausage as other cooking methods like pan frying or baking could lead to a hard, tough and chewy sausage.
Place sausage in a dish set above water in a pot.

Place the lid over the pot.

Heat water until boiling.

Keep boiling for 15 minutes.

Serve in slices or cubed as preferred.
Alternative Steaming Options
Kam Yen Jan's method is pretty simple, and a little different as it involves putting dishware in a boiling pan. If you are uncomfortable with that there are a few additional options.
Many rice cookers or instant pot type devices have steamer options that can assist in the cooking of the Chinese sausage.
Pro Tip: Throw the chinese sausage directly in the rice cooker with rice and it will steam during the cooking process.
If you don't have the proper size bowl and pot you can try steaming the chinese sausage with a metal colander or roasting rack over a pot of boiling water or even using foil balls inside the pot to prop up a plate. These tips come from food52.com.
Nutritional Information - Costco Chinese Sausage
How Many Calories in Chinese Sausage?
One sausage is going to be one serving and will contain 120 calories. The calories are made up of 7 grams of fat, 5 grams of carbohydrates and 10 grams of protein. 
This is a pleasantly surprising nutritional label. This chinese sausage is not exactly a healthy food, but the macronutrients are more than tolerable for this sausage and its unique taste and texture.
The big downside is going to be the high sodium content. Each Chinese sausage contains 520mg or 23% of the recommended daily value. 
Kam Yen Jan's Chinese sausage are rather small, and it is quite easy to take in 2 or even more per meal.
Costco Food Database User Reviews
Have you tried this item? Let the rest of the Costco Food Database community know what you think. Leave a rating and review for this product. 
Costco Chinese Sausage Fried Rice
Costco's chinese sausage is perfect for your next fried rice meal. Follow this recipe for perfect chinese sauasage fried rice
Ingredients
1

Pack

Chinese Sausage

Fried Rice
Instructions
Place sausage in a dish set above water in a pot.

Place the lid over the pot.

Heat water until boiling.

Keep boiling for 15 minutes.

Serve in slices and serve with fried rice
Nutrition
Serving:
1
Sausage
Calories:
120
kcal
Carbohydrates:
5
g
Protein:
10
g
Fat:
7
g
Saturated Fat:
2
g
Trans Fat:
0
g
Cholesterol:
5
mg
Sodium:
520
mg
Fiber:
0
g
Sugar:
4
g