Costco Mandarin Noodles - A-Sha (How to Cook + Calories)
A-Sha Mandarin Style Noodles at Costco
Costco sells a 12-pack of A-Sha Mandarin Style Noodles for $9.99. The mandarin style noodles are found in Costco's pantry and dry goods area near other items such as the tonkotsu ramen, instant ramen noodles, and the pho noodles.
The Costco mandarin noodles are 18-hour air dried, include 11 grams of plant-based protein, and have 40% reduced sodium compared to instant ramen noodles. 
A-Sha uses a non deep fried air drying method that creates a fragrant and springy tasting noodle without preservatives.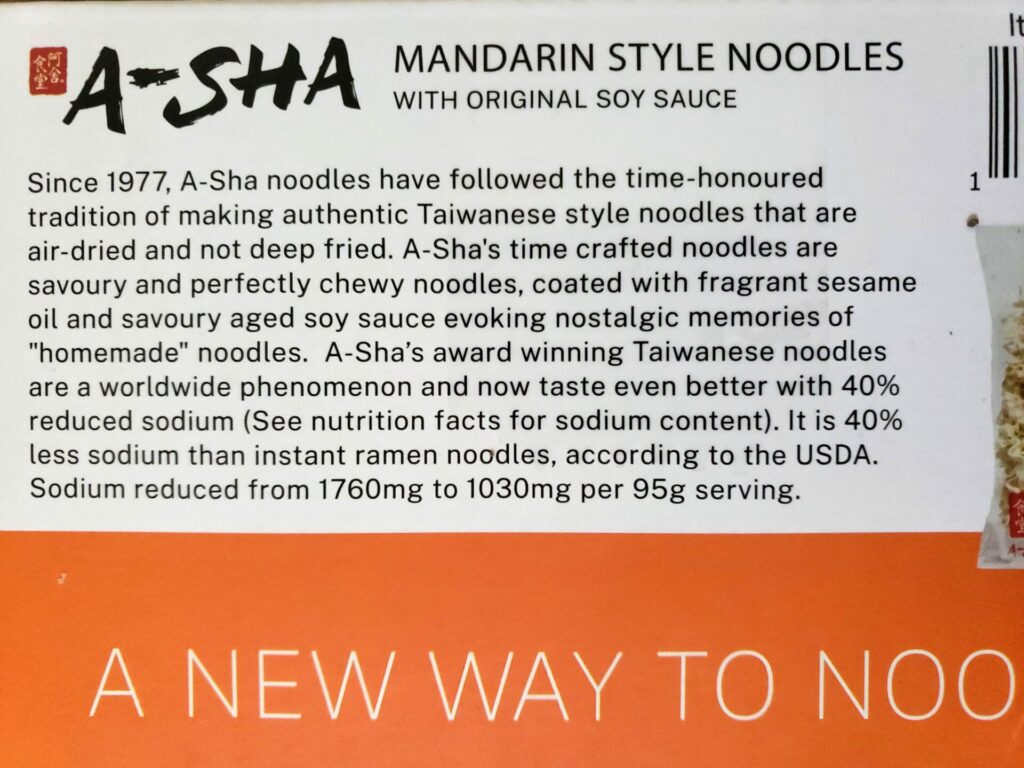 Have You Tried Costco's Mandarin Noodles?
Let the rest of the Costco Food Database community know what you thought of this product. Results and reviews are at the bottom of this page.
Please allow 24 hours for review moderation and approval.
What Are Mandarin Style Noodles?
Mandarin style noodles are a thick classic chinese noodle. These are dry noodles which means they will be served without a soup or a broth. The A-sha version is made of wheat and is flat in shape, similar to fettuccine.
How Much Do A-Sha Mandarin Noodles Cost at Costco?
The 12-pack of A-Sha Mandarin noodles retails for $9.99 at Costco. I was able to snag a box when it was sale for $2 off or $7.99 a box. At retail, the price per pack of noodles is $0.83 and when on sale, the price per pack of noodles drops to $0.66 per pack. 
This is a fantastic price for a premium pack of dried noodles and sauce. 
Target sells a 5-pack of A-Sha noodles for $7.99 or over twice the price of Costco's sale price! 
Cost Plus World Market sells the same 5-pack of mandarin noodles for $6.99 or $1.40 per pack. Better than Target, but still much more expensive than Costco's price.
Mandarin Noodles Taste Test
I cooked my A-Sha mandarin noodles for a little less time than recommended as I prefer them slightly al-dente. 
The cooking instructions mention cooking them a little longer for a softer noodle, so I took a chance and did the opposite for a little bit more firm noodle.
The gamble paid off, and the firmness, texture, and springiness of the noodle were perfect for me. I couldn't imagine cooking the noodles longer to make them softer. 
I just can't imagine myself enjoying soft dry noodles, and it brings me flashbacks of the overly soft and mushy Healthy Noodles.
When you are finished cooking the noodles, they are extremely white and plain looking. You will need to use the provided sauce packets to give them some color and flavor. 
The sauce seems to be a sesame soy sauce mix.

I didn't use the full sauce packet as I thought that half a packet was more than enough. No need for the extra sodium or the intense flavor. 
The mandarin noodles with just half a packet of sauce were more than flavorful enough for me.
That being said, the noodles benefited from a little chili oil. (What doesn't benefit from chili oil?) The extra spice added another flavor profile and another layer of depth to the mandarin noodles. Adding in some Japanese mayo may be a great addition as well. 
Overall, the A-sha noodles are just A-OK. They are more than an acceptable noodle that can be easily combined with veggies and chicken for a nice meal. 
The noodles have a relatively long shelf life of about 8 months and are great to keep on hand for any type of food emergency.
How to Cook Costco's Mandarin Style Noodles
The A-Sha mandarin noodles will be fairly simple and straightforward to cook. They basically follow the same directions as any dried noodles, but I will still be including them here for reference.
Bring at least 4 cups of water to a rolling boil

Add noodles and cook for 3 minutes (Please adjust cook time longer for a softer noodle)

Drain noodles from the water after cooking

Add sauce packet to the noodles

Mix and enjoy while warm.
These are super simple directions, but always best to follow them for the best results. 
Costco A-Sha Mandarin Noodles Calories and Nutrition
A-Sha makes a couple of claims on their packaging about their noodles, including the 40% reduced sodium and 11 grams of plant based protein. We will explore that further, but first, we'll take a look at the full nutritional label:
Calories: 340

Total Fat: 6g

Saturated Fat: 1g

Trans Fat: 0g

Cholesterol: 0mg

Sodium: 1030mg

Total Carbohydrates: 60g

Dietary Fiber: 2g

Total Sugars: 6g

Added Sugars: 4g

Protein: 11g
This is a pretty standard nutritional label for dried noodles. The carbohydrates are high but appropriate for noodles. 
The sodium is also a whopping 1030 mg or 45% of the recommended daily value. This is 40% less than other instant noodle brands, but still, this is a lot of sodium to consume at one sitting. 
The noodles also have 11 grams of protein which I guess has to come from plants in this case so that statement appears to be true.
The Mandarin noodles exceeded expectations and were actually quite tasty. I've always been a fan of dry noodles, and the A-Sha mandarin noodles from Costco didn't let me down. The price is very fair at $9.99 for a 12-pack, and the noodles make for a great quick and easy meal. 
The biggest concern is the 60 grams of carbohydrates per pack of noodles, but this is expected with any sort of instant noodle pack.
Costco Food Database User Reviews
Have you tried this item? Let the rest of the Costco Food Database community know what you think. Leave a rating and review for this product.