Costco Gyro Kit - Cooking Instructions, Calories, & Review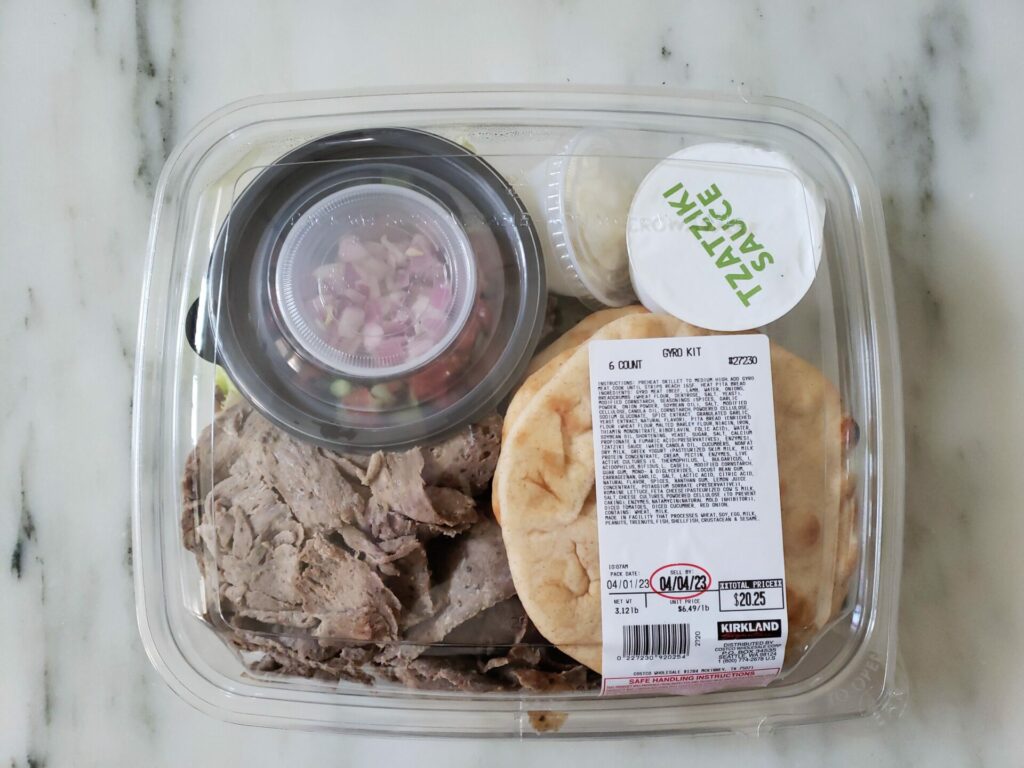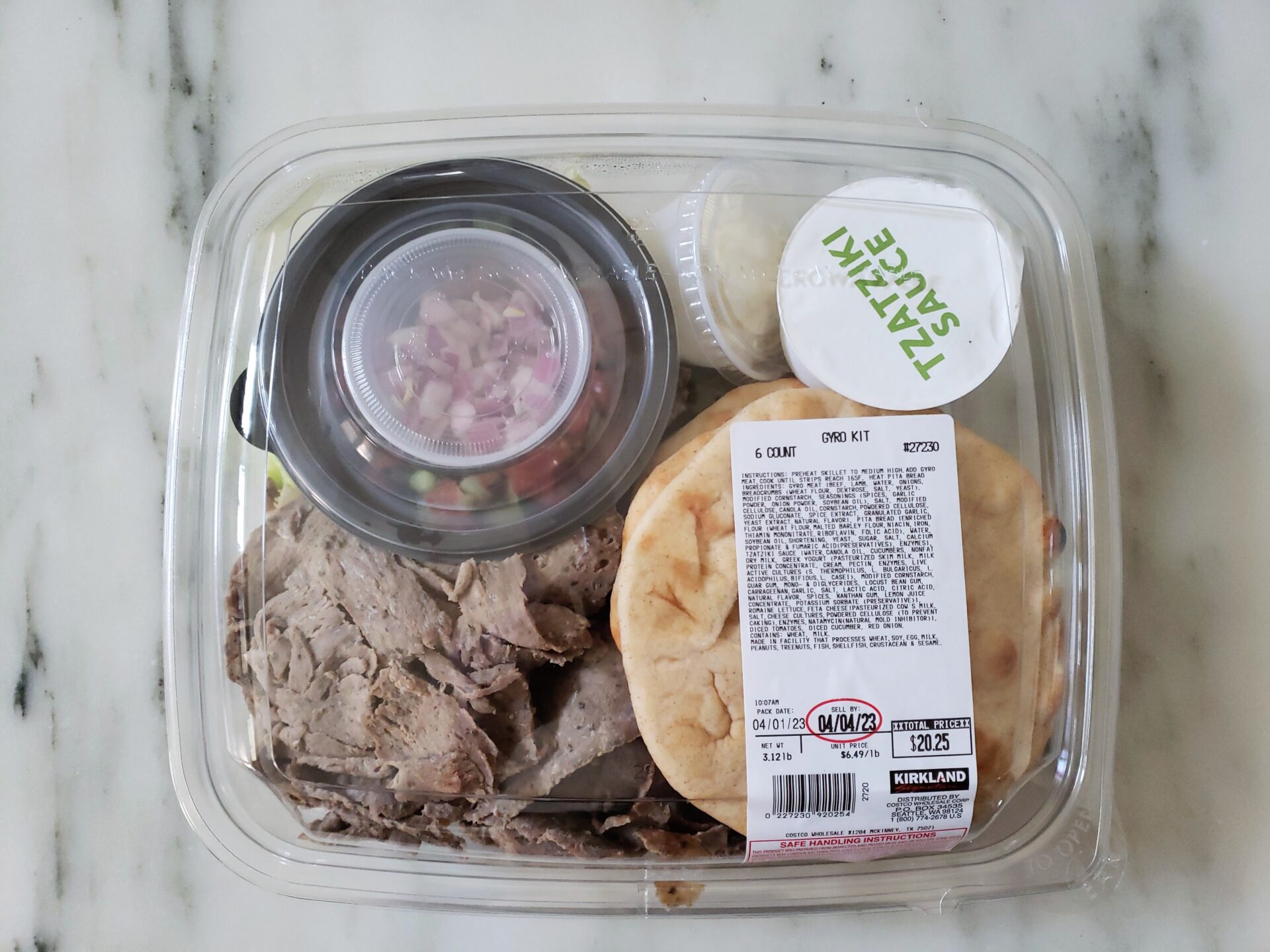 Kirkland Signature Gyro Kit at Costco
Costco sells its Kirkland Signature 6 Gyro Kit for approximately $20. Costco's gyro kit is located in the refrigerated deli area near some of the other premade meals, such as the enchilada bake, ravioli lasagna, and the chicken street taco kit.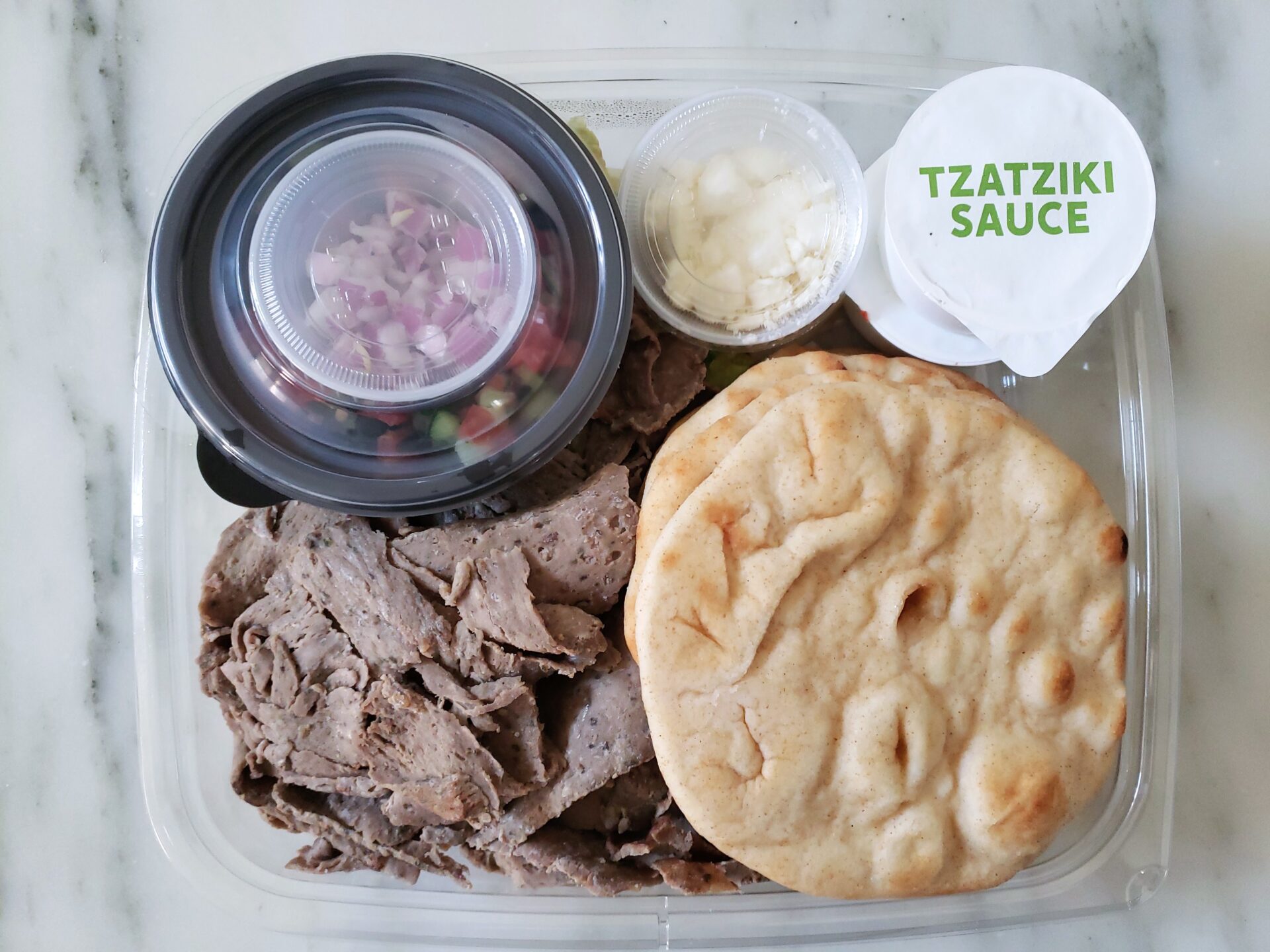 The Gyro Kit is the newest of Costco's premade meals as of 4/1/2023. This is an excellent alternative to the Beef and Lamb gyro meat that Costco also sells.
What's Included In the Costco Gyro Kit
The main benefit of Costco's gyro kit is that it contains everything you need for some at-home gyros. The kit includes the following:
6 pita breads

One pound of beef and lamb gyro meat

Two handfuls of chopped romaine lettuce

A medium-sized diced cucumbers and tomatoes

A small container of chopped onions

A small container of feta cheese

Two 3.5-ounce containers of Tzatziki sauce
Altogether, this is everything you will need for a greek gyro dinner without needing to purchase any additional ingredients.
Have You Tried Costco's Gyro Kit
Let the rest of the Costco Food Database community know what you thought of this product. Results and reviews are at the bottom of this page.
Please allow 24 hours for review moderation and approval.
How Much Is Costco's Premade Gyro Kit?
Costco sells their 6-count gyro kit for $6.49 a pound or about $20 per container. Most of the gyro kits at my local Costco ranged in price between $19.50 and $20.50. They seemed to be pretty consistent in weight and price.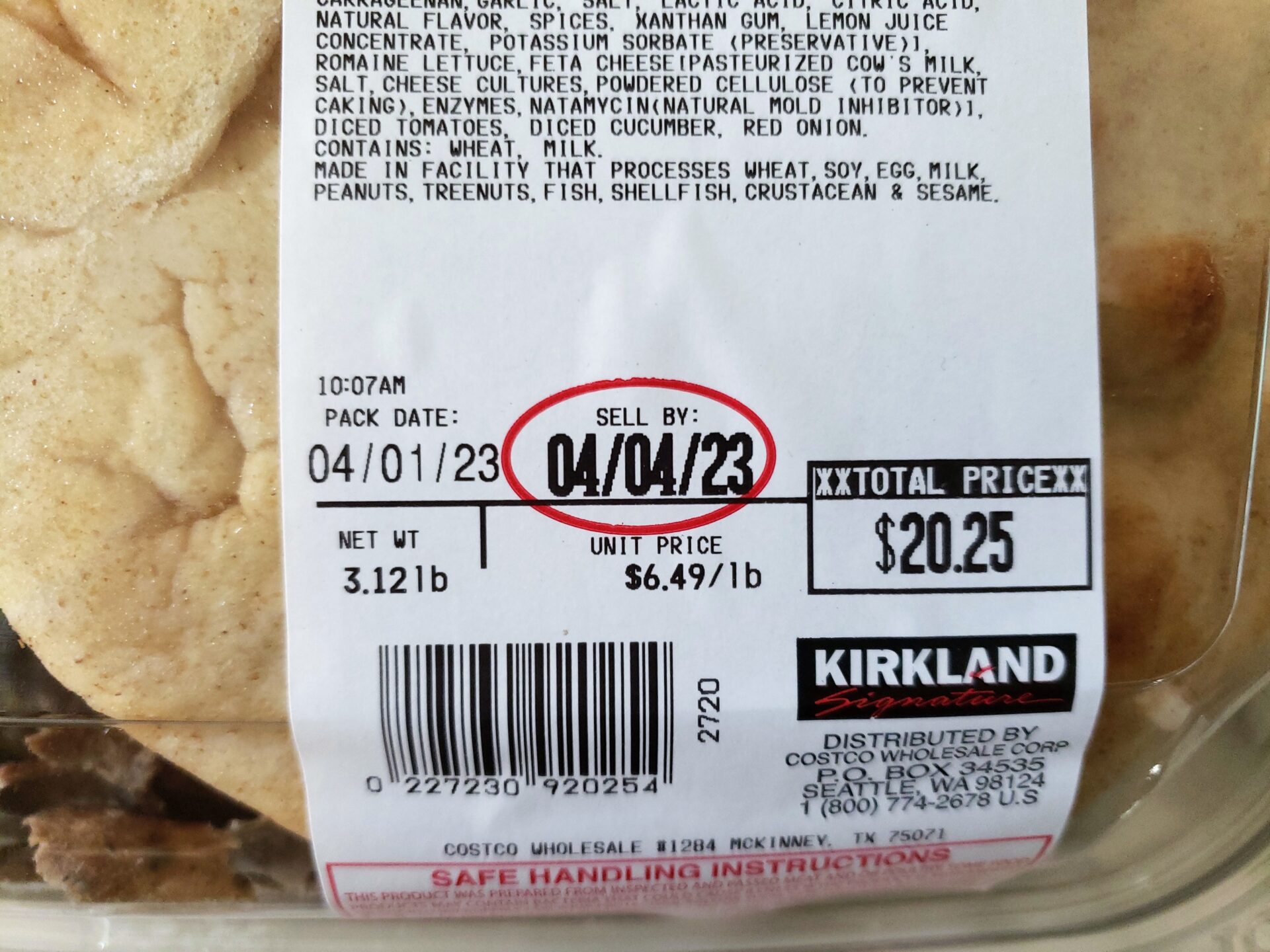 Costco's gyro kit may seem pretty expensive at $6.49 a pound, considering you are paying for diced vegetables and sauce, but it's still great value when you break it down per gyro. 
Each fully made gyro with all the fixings cost about $3.33.
Costco vs. The Competition
My local Sprouts Farmers Market sells a 28-ounce premade gyro kit for $14.99, which breaks down to about $8.57 a pound. It's a little smaller in size and costs a little more per pound than Costco's gyro kit.
In comparison to Costco's refrigerated gyro meat, it is also quite a good deal since the entire kit has everything you need to make your own gyros. If you were to purchase the Daphne's lamb and beef gyro meat, in addition to all the other necessary ingredients, the price per gyro and naan bread is about $1.50 per gyro. 
This is a great price if you can effectively use all of the ingredients, but if you can't, Costco's gyro kit is a great option.
I'm a big fan of gyros and a regular buyer of Daphne's sliced gyro meat, so I was super excited to try the Kirkland Signature gyro kit when it finally arrived at my local Costco warehouse. 
I followed the heating instructions and laid everything out, and presentation-wise, I was very satisfied. It's always nice to see different ingredients and colors laid out for a build-your-own style meal.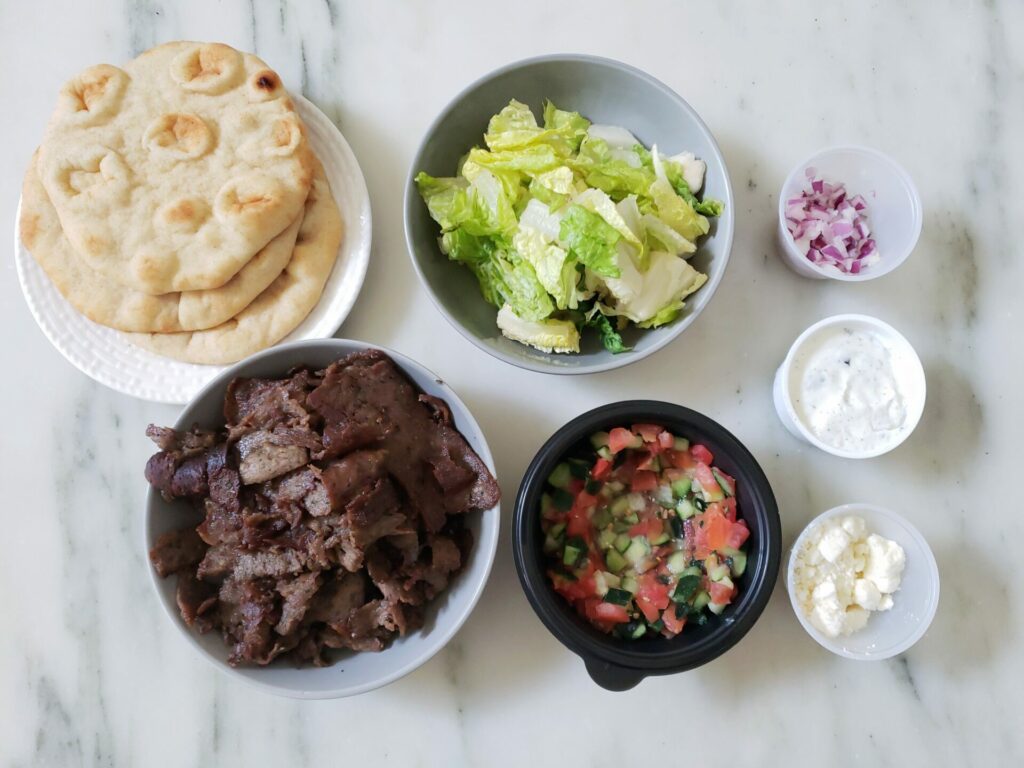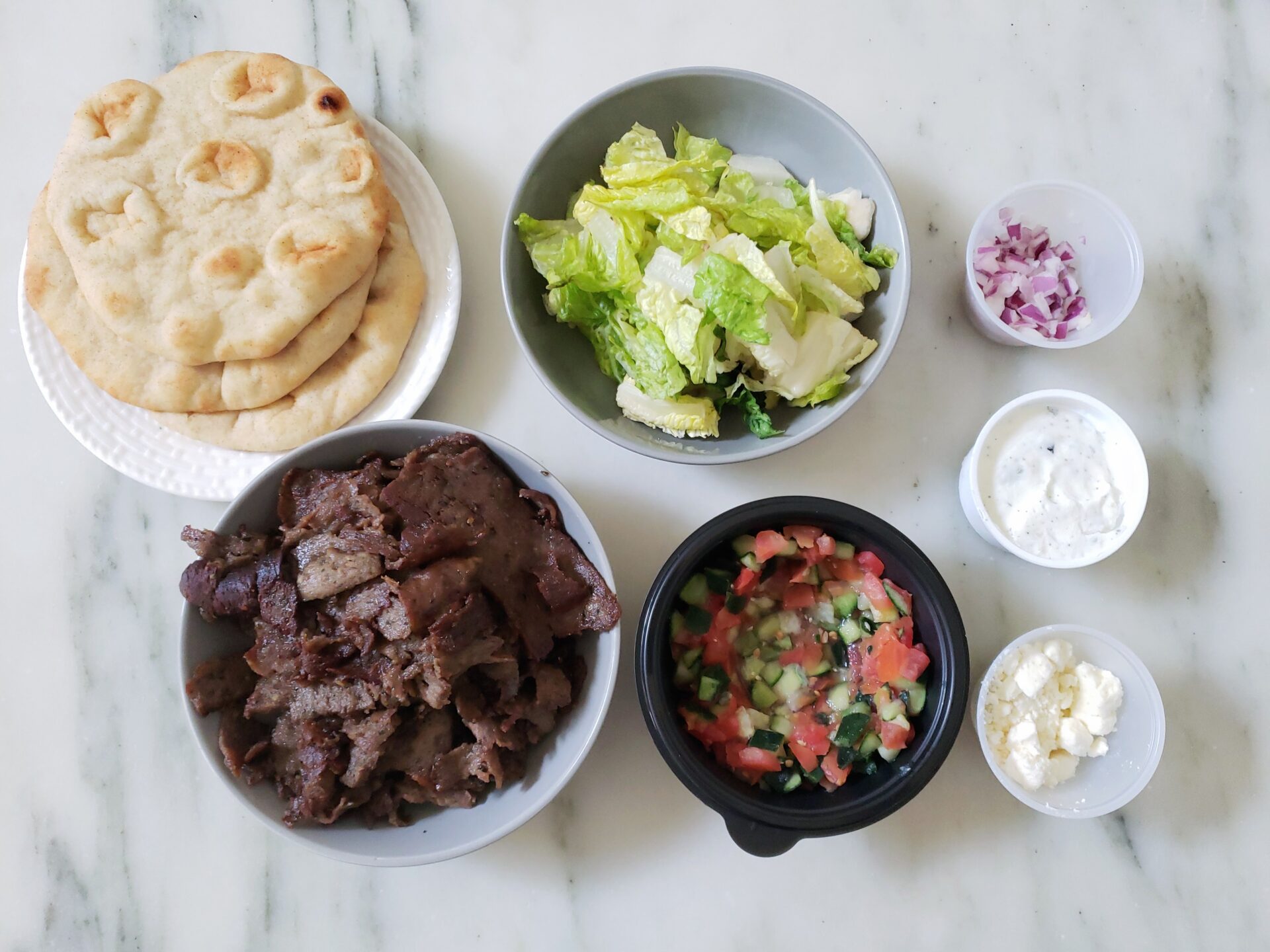 My one complaint about the presentation and quality of the kit is the chopped romaine lettuce. The quality was on the lower end, and it looked wilted. I didn't notice until I got home that I purchased a gyro kit that was packed the day before, over 24 hours ago.
Lettuce doesn't keep very long, so make sure you purchase a freshly packed gyro kit. Each kit will be printed with the date and time it was packed. I'm also not even sure if romaine lettuce is needed on a gyro as I've never had a gyro with lettuce in it before.
The onions, tomatoes, and cucumbers all were fresh and tasty. The cucumbers were a great addition and gave the gyros a refreshing light feel. The feta and tzatziki sauce were delicious as well. 
Each kit comes with 2 mini tubs of tzatziki, and I highly recommend using as much as needed. It adds great flavor and keeps the gyros very moist.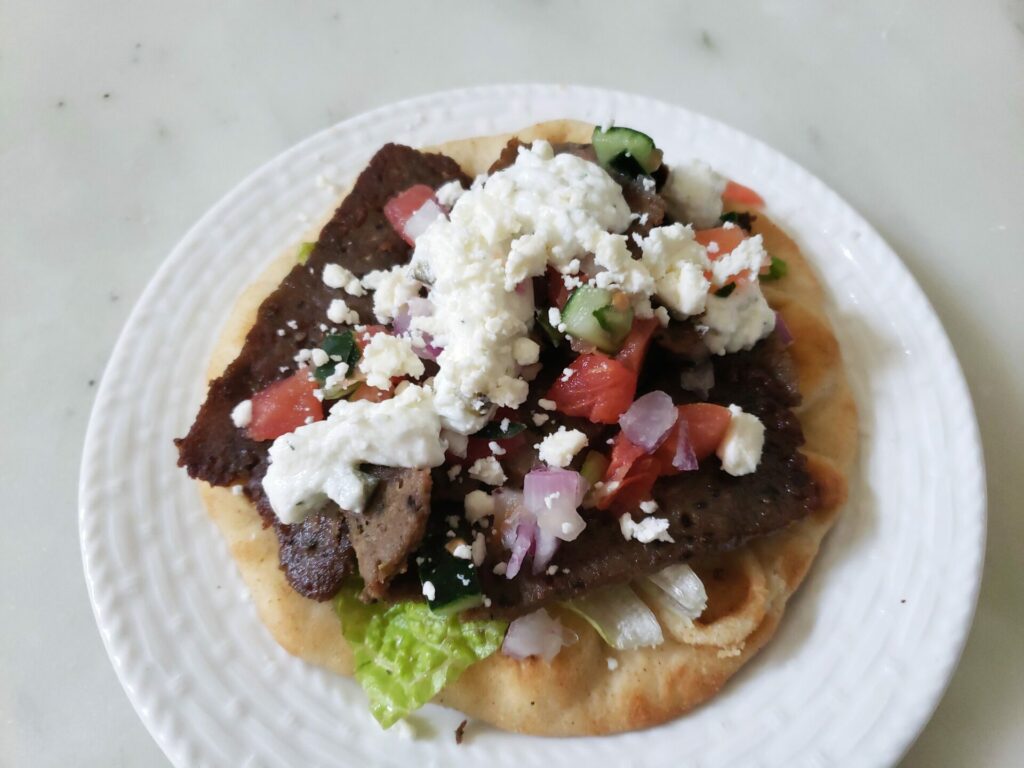 The beef and lamb gyro meat was good, considering it comes from a Costco prepared meal. The meat developed a nice char and browned up very nicely. 
The gyro slices were thin and tender but were a little on the salty side. It's not a big problem if you eat the gyro with the pita bread, but it is salty if eaten as is.
How to Cook Costco's Gyro Kit
The interesting thing about Costco's prepared meals is that they are sometimes effortless to prepare while other times are a little more difficult and time-consuming. The gyro kit is on the easier side to prepare as all you need to do is to cook the gyro meat and warm up the pita bread. The whole process takes between 5 and 10 minutes. 
I will go over the full cooking instructions and give you some pro tips.
Costco Gyro Kit Cooking Instructions
The instructions are going to be straightforward. Heat up your skillet, add just a little bit of oil and warm up your beef/lamb gyro slices. I like my gyro strips to be a little more browned, so I cook them on high heat. 
Pro Tip: Add just a touch of cooking oil before adding in the gyro slices. The gyro meat will release a lot of its own oil into your pan, so you don't need a lot of oil to start.
Again, straight forward, heat the pita until sufficiently warm. The pita bread will soften when ready. 
Pro Tip: Use the same pan as the gyro meat after dumping the excess gyro meat oil. There still should be some leftover oil to crisp up the bottom of the pita bread.
Costco Gyro Kit Calories and Nutrition
Costco doesn't provide the calories or nutritional information on the labels of the Kirkland Signature prepared meals, but I was able to get the nutrition information from a helpful Costco employee. 
One serving of Costco's Gyro Kit is 1 fully made gyro or about 8.15 ounces and contains 520 calories. The calories come from 31 grams of fat, 39 grams of carbohydrates, and 21 grams of protein. This calorie count comes from utilizing an appropriate portion of all of the included toppings and dressing for this gyro kit.
Nutrition Facts
Costco Gyro Kit - Fresh and Fun!
Amount per Serving
% Daily Value*
* Percent Daily Values are based on a 2000 calorie diet.
Overall, this is a solid nutritional profile but not the healthiest. There is a lot of fat from the sliced beef and lamb gyro meat, and the carbohydrates are also fairly high. 
The protein is a little on the lower end considering the macronutrients of the rest of the meal.
I didn't love Costco's gyro kit, but I didn't hate it, either. The convenience is nice, and that should be the main reason to purchase the Kirkland Signature premade gyro kit. 
The beef and lamb meat slices were tasty and paired well with the rest of the dish. I wish Costco would have used fresher lettuce, but otherwise, I don't have any major complaints. I would have no problem purchasing this gyro kit again.
Costco Food Database User Reviews
Have you tried this item? Let the rest of the Costco Food Database community know what you think. Leave a rating and review for this product. 
Costco Gyro Kit - Fresh and Fun!
How to Prepare Costco's 6 Count Gyro Kit
Instructions
Heat Gyro Meat on medium high skillet for 5 minutes or until browned.

Heat Pita Bread for 1 to 2 minutes or until soft

Assemble gyros by placing desired topping on pita bread
Nutrition
Serving:
8.15
oz
Calories:
520
kcal
Carbohydrates:
39
g
Protein:
21
g
Fat:
31
g
Saturated Fat:
11
g
Trans Fat:
0
g
Cholesterol:
65
mg
Sodium:
980
mg
Fiber:
2
g
Sugar:
4
g