Costco Quiche - Air Fryer Recipe & Pro Tips!
La Terra Fina Quiche at Costco
Costco sells a 2 pack of La Terra Fina Quiche for $13.99. The quiche 2 pack can be found in Costco's deli area near other items such as the Egg Bites, Guacamole, and the Smoked Salmon.
The La Terra Fina Quiche 2-pack comes in 2 different flavors; Spinach & Artichoke and Cheddar and Broccoli. Each quiche is made with egg whites and weighs 23 ounces each (1 pound 7 ounces).
The quiches have no artificial flavors, colors, or preservatives and are made with cage-free eggs.
The easiest way to describe a quiche (Keesh) is as savory custard served in a crust. In America, these are mostly egg-based, but quiches do not necessarily have to be made with eggs.
The Costco quiche is sold in a 2-pack with two different flavors. Both will have egg white custard filling with cheese, and the big differentiator will be the filling (Spinach & Artichoke or Broccoli & Cheddar).

Costco also sells frozen mini quiches in a Florentine flavor and a three cheese flavor.
The quiches can be served hot or cold and be eaten at breakfast, lunch, or dinner. Essentially they are a super versatile food that can be eaten anytime, anywhere, anyhow.
When I purchased the quiche from Costco, I didn't realize these were made with egg whites. The quiche is visible through the packaging, and I saw a yellow quiche, so I assumed the color came from the egg.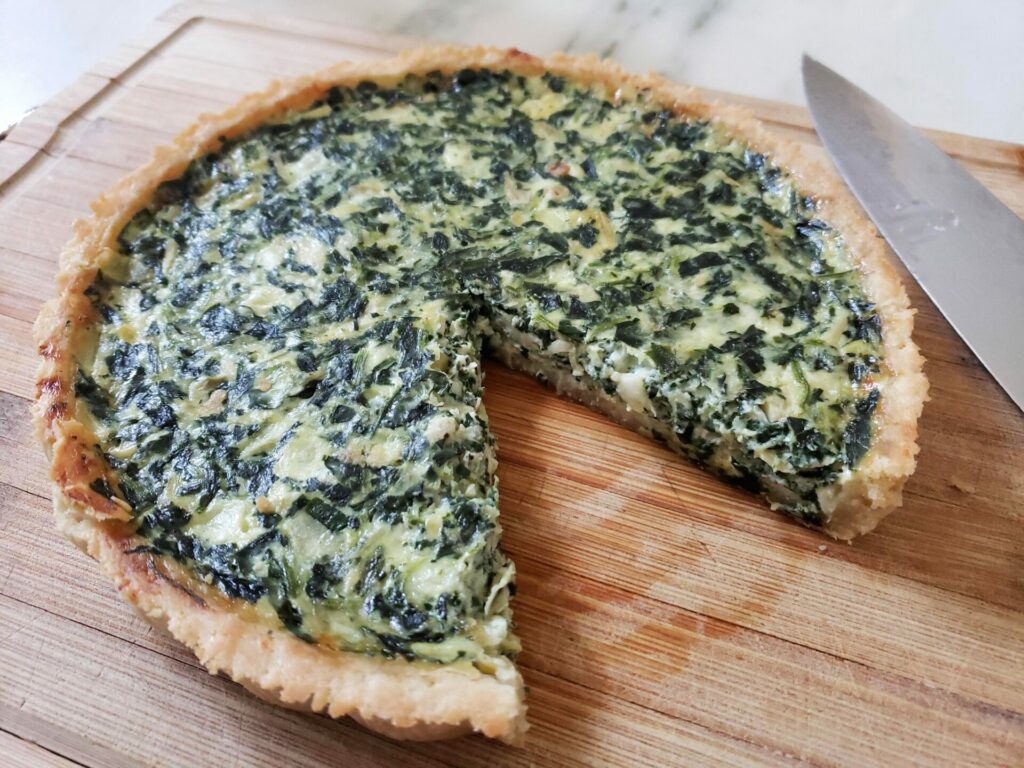 In actuality, the quiche is made with egg whites, and the color comes from the cheddar cheese. After looking at both quiches, it's clear these will be packed with ingredients and flavor. It does not appear that La Terra Fina skimps out on the cheese or vegetables. 
The question is, will the egg white carry enough flavor for this quiche?
Can You Freeze The Quiche?
Yes, the quiche is individually packed and can be frozen. They are sold in the refrigerated deli section of the Costco warehouse, but they can be thrown in the freezer to extend the shelf life up to one year.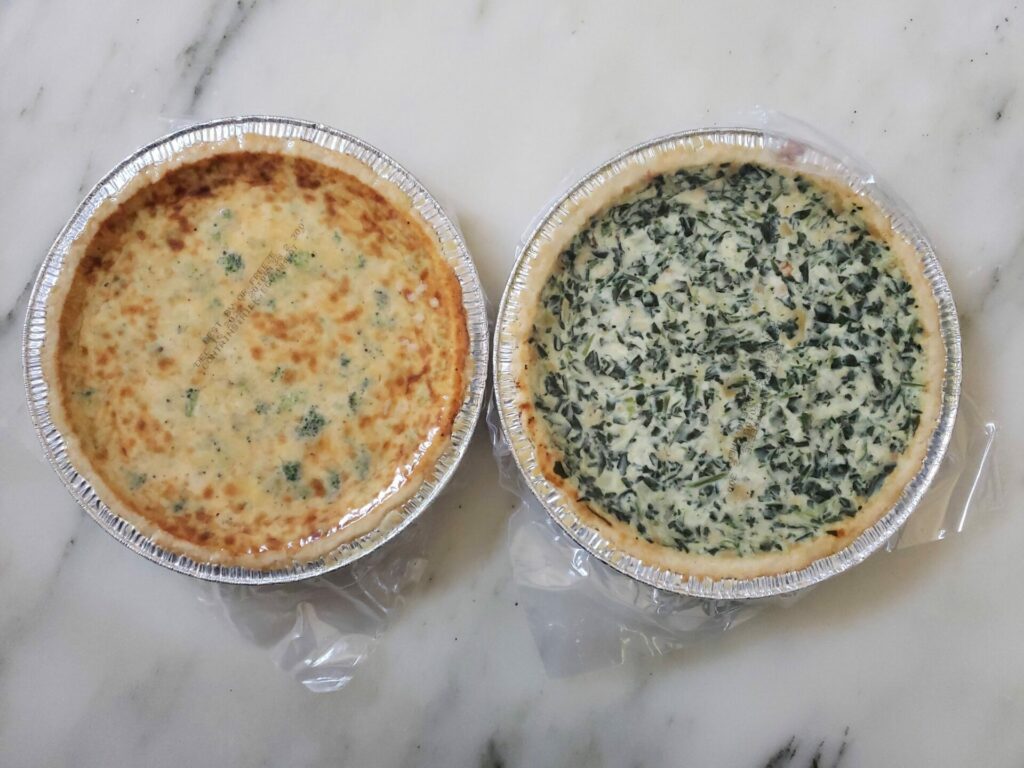 The quiche can also be cooked directly from frozen (add 10 minutes to baking time) or defrosted overnight in the refrigerator.
How Much Does Costco Quiche Cost?
The La Terra Fina Quiche sells for $13.99 at Costco. This breaks down to $7 per quiche. $7 is a fair price for quiche as each pie is medium-sized but quite heavy. There are also a lot of ingredients in each quiche.
I didn't buy the Costco quiche when they were on sale, but I did spot the 2-pack for $9.99. This is a great price of $5 per quiche.
Costco vs. The Competition
La Terra Fina is a fairly large brand, and they sell its products in many retail and grocery stores. 
One La Terra Fina Quiche at Walmart will sell for $8.97 or about $2 more than Costco's price per quiche.
My local grocery store, Tom Thumb, sells the same 23-ounce La Terra Fina quiche for $11.49. For $2.50 more, you could purchase Costco's 2-pack of quiche. Costco will save you money!
La Terria Fina Quiche - Taste Test
The Costco quiche's individual flavors were quite different, but they share the same characteristics and qualities.
The first quiche I ate (Spinach & Artichoke), I baked in the oven, and unfortunately, the crust was sub-par. It didn't harden up like I wanted it to and was actually quite soft. 
The crust held up enough and didn't fall apart, but it was soggy and significantly detracted from the quiche. 
The second quiche I made, I cooked in the air fryer, and it came out much firmer. I wouldn't necessarily say crispy, but it was easily more enjoyable. 
I highly recommend using the air fryer for cooking this quiche if you have the option. It won't be perfect, but it will be a significant upgrade. 
The egg and filling will also develop a chewy crust, which I love. (My air fryer instructions are included below)
Both quiches are also quite creamy. There is a strong presence of cheese in the Costco quiche in addition to the ingredients. 
This goes for both the Spinach and Artichoke quiche as well as the Broccoli Cheddar flavor.
When you think of quiche, the first thing that comes to mind is the egg. The egg is an essential ingredient to quiche, but these Costco quiche were lacking. They were packed with filling but, unfortunately, seemed to only utilize the egg white as a binder. 
I would have liked a little more egg and egg flavor in the quiche.
Spinach and Artichoke Quiche
This quiche should be more aptly named artichoke and artichoke quiche. There is plenty of spinach, but the artichoke is overpowering and overwhelming. Every bite had a very intense artichoke flavor.
I still thought the spinach and artichoke quiche was good, but I would have liked a little more balance between the two flavors. If you are an artichoke fan, you will really enjoy this quiche.
This quiche is a fun take on the classic broccoli and cheddar combo. The filling is very good and seasoned well. 
There are plenty of bite-sized broccoli pieces, and it has a robust cheddar flavor. I'm not the biggest fan of broccoli, but I still really enjoyed this broccoli cheddar quiche.
How To Cook Costco Quiche - Directions
La Terra Fina recommends two cooking options for their quiche; oven baking or microwaving. The oven-baking option is for the entire quiche in one shot, and the microwave option is for heating individual portions or slices.
My favorite option for cooking the Costco quiche is going to be in the air fryer. I will include the Costco Food Database air fryer directions as well.

Pro Tip: The entire quiche does not have to be cooked all at once; it can also be individually sliced and heated.
Conventional Oven Cooking Directions
Preheat the oven to 375°F. 

Bake in a foil pan for 25-28 minutes (add 10 minutes if frozen) or until the center reaches 165°F. 

Carefully remove from the oven and set aside for 5 minutes.
Cut into serving portions and place one serving on a microwave safe dish. 

Heat on high for 2 minutes or until the center of the quiche reaches 165°F.

Let stand for 5 minutes before serving.
Air Fry Costco Quiche Instructions
I enjoyed the Costco quiche when it was cooked in the air fryer, but I could only cook a portion of it at a time. I cooked ¼ of the quiche using these directions, and it came out perfectly. 
If you want to cook a larger portion, add a few minutes to ensure the filling is sufficiently warm.
Preheat the air fryer to 350°F. 
Cook ¼ quiche for 7 minutes. 
Let stand for 2 minutes before serving. 
Costco Quiche Calories and Nutritional Information
How Many Calories in Costco Quiche
Each flavor of La Terra Fina Quiche will have a different nutritional profile. For both options, one serving will be ⅕ of quiche or about 4.5 ounces (130 grams).
Spinach & Artichoke Quiche Calories
⅕ of the La Terra Fina Spinach & Artichoke Quiche will have 280 calories. Those calories come from 17 grams of fat, 22 grams of carbohydrates, and 11 grams of protein.
Cheddar & Broccoli Quiche Calories
One serving of the cheddar and broccoli quiche will have 300 calories from 18 grams of protein, 23 grams of carbohydrates, and 11 grams of protein.
I do find it odd that a serving size is ⅕ of a quiche rather than ¼. I'm not really sure how to properly and can consistently measure ⅕ of a quiche or pie. The only reason I can think of as to why La Terra Fine has chosen ⅕ of a quiche over ¼ is to keep the calorie count around 300 calories. 
Eating ¼ of the quiche would bring the calorie total closer to 375 per serving.
Are Costco Quiches Healthy?
The La Terra Fin Quiches are going to be moderately healthy for you. The calories are fair, considering the portion size and how filling the quiche is. There are 18 grams of fat which is somewhat surprising, but this will mostly come from the milk and cheeses blended into the quiche. 
The carbohydrates are also on the higher end at around 22/23 carbs per serving, and the protein is acceptable at 11 grams.