Costco Frenched Rack of Lamb - Cooking Instructions & Tips
Costco sells the Kirkland Signature Lamb Rib Roast (Rack) for $15.99 a pound. The Frenched Lamb Racks can be found in the meat and seafood department.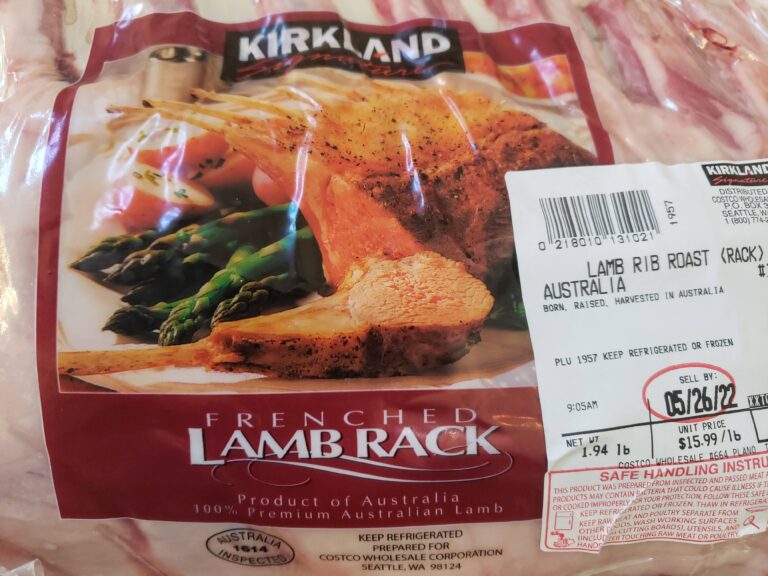 At my local warehouse they are usually on one of the end caps of the fresh chicken or seafood refrigerated rows and next to the Lamb Loin Chops.
The racks of lamb are from Australia and from 100% Premium Australian Lamb. The lamb are born, raised, and harvested in Australia. 

Lamb is one of my wife's favorite foods, and she loves this rack of lamb from Costco. 
We don't have it often, usually to celebrate an event or after a great week at work, but we really enjoy the ease of cooking the meal and how special and great tasting it is.
What are Frenched Lamb Racks?
Lamb ribs are going to have the fat and meat extend all the way to the end of the bone, kind of like a typical beef or pork rib. 
Costco's rack of lamb ribs are frenched, meaning the meat and fat is removed off one end of the bone, leaving some bone exposed. 
By removing the meat, fat, and membrane, the lamb rack has a much cleaner look and presentation. The end result is a beautiful lamb chop with an elegant looking handle. 

It's also nice to not have to pay for the meat and fat that is cut off and discarded
Costco Cost Comparison - Frenched Rack of Lamb
How Much is the Rack of Lamb at Costco?
Costco sells the Australian rack of lamb for $15.99 a pound. On my most recent visit to my local warehouse, I found the lamb ribs in packages as small as 1.5 pounds and up to 2.2 pounds. 
It is nice to have some variety in size between the packages. It allows us as Costco members to pick the best rack of lamb for our family. 
Costco Lamb Price Increase
As big fans of the rack of lamb, we've noticed the price has gone up quite a bit at Costco. About a year ago we would be able to pick up a package at $12.99/pound and now we are nearly 25% higher at $15.99. 
Does Costco beat Sam's Club in Price?
Sam's Club sells their rack of lamb from New Zealand for $14.88 per pound. The New Zealand Lamb is grass-fed, raised without antibiotics or hormones, and free-range. 
Kirkland Signature usually keeps their packaging labels clean and concise, but I'm pretty sure if their lamb was grass-fed and free-range, they would advertise it. The second bummer is that Sam's Club offers potentially a better product at a better price.
Costco Rack of Lamb Ribs Taste Test
I've already mentioned this, but my wife and I love the rack of Costco lamb. 
It's one of our favorite dishes for a nicer special event meal, and I'm not 100% sure, but I think the lamb's gamy smell really gets her going. 
That being said, I will try to be as unbiased with the review as possible.
How I cooked the Lamb - Cooking Tips
To cook the lamb ribs, I followed Costco's instructions and went with the Roast/Bake method. I heated a cast iron skillet on high for about 5 minutes and added some avocado oil. 
I scored the fat and then seared the rack of lamb for a few minutes to crisp it up and lock in the flavor.
I baked the lamb in the oven for about 18 minutes then covered it in foil for another 10 as per the instructions. 
I was shooting for medium rare, but ended up with a cook that was closer to medium (100% my mistake). 
While not as pink as I would have liked the meat to be, it was still very very appetizing.
Is the Rack of Lamb Gamy?
The fat is my favorite part and it rendered down amazingly with a nice caramelized crust. The fat was super delicious as always and truly melted in our mouths. 
Even cooked to medium, the lamb meat was super tender and flavorful. 
The meat had a slightly gamy but mild flavor. I seasoned the outside fairly heavily, but I always like to add a little more salt to the inner meat after cutting the ribs. Absolutely incredible.
Costco Lamb Rib Rack - Cooking/Heating Instructions
Costco recommends 3 different cooking options for their lamb rib racks. My favorite is the Roast/Bake method because I think it's the easiest and minimizes the chances to make mistakes.
How to cook The Rack of Lamb
Pre-heat oven to 400°F. Place a saute pan over high heat and add a little oil. Sear lamb racks then place in the pre-heated oven. 
Cook lamb until it reaches an internal temperature of 145°F (approximately 16-20 minutes for medium). Remove racks, cover with foil and let it rest for 10-15 minutes. 
Place Costco lamb rib rack 4 inches from moderate coals rib bones down. Grill for approximately 8-12 minutes per side. 
Cooking tip: Wrap the rib bones in foil to prevent them from burning. 
Cut the rack into chops by slicing down between the ribs. Place chops into a preheated skillet. Cook over moderate heat for approximately 4 minutes per side.
I personally have only tried the Roast/Bake method and the lamb has always turned out wonderful. If it ain't overcooked, don't fix it. 
Rack of Lamb Ribs - Nutritional Information
Unfortunately Kirkland Signature doesn't post the nutritional information and the website they list doesn't work. (Auslamb.com) So I had to do a deep dive Google search to find the nutritional facts for this Costco lamb rack.
How Many Calories in a Rack of Lamb?
Nutritionix lists each serving as one lamb chop (1.9 ounces) and contains 165 calories with 11 grams of fat, 0 grams of carbs, and 15 grams of protein. Obviously as you can see from the pictures, there's going to be a lot of fat and that is part of the appeal. 
Considering that, I think the nutritional label is fairly decent. There is a high amount of protein, and 165 calories per lamb rib is more than tolerable.  
We love the rack of lamb ribs in the CFDB household and one of our favorite items from Costco's meat and seafood department. I loved them a little more at $12.99 a pound, but it is what it is now. 
We have never been disappointed with this purchase and we always end up with some delicious fat and tender meat.