Costco Ribeye Steaks (Amazing) Price + 137°F Best Cook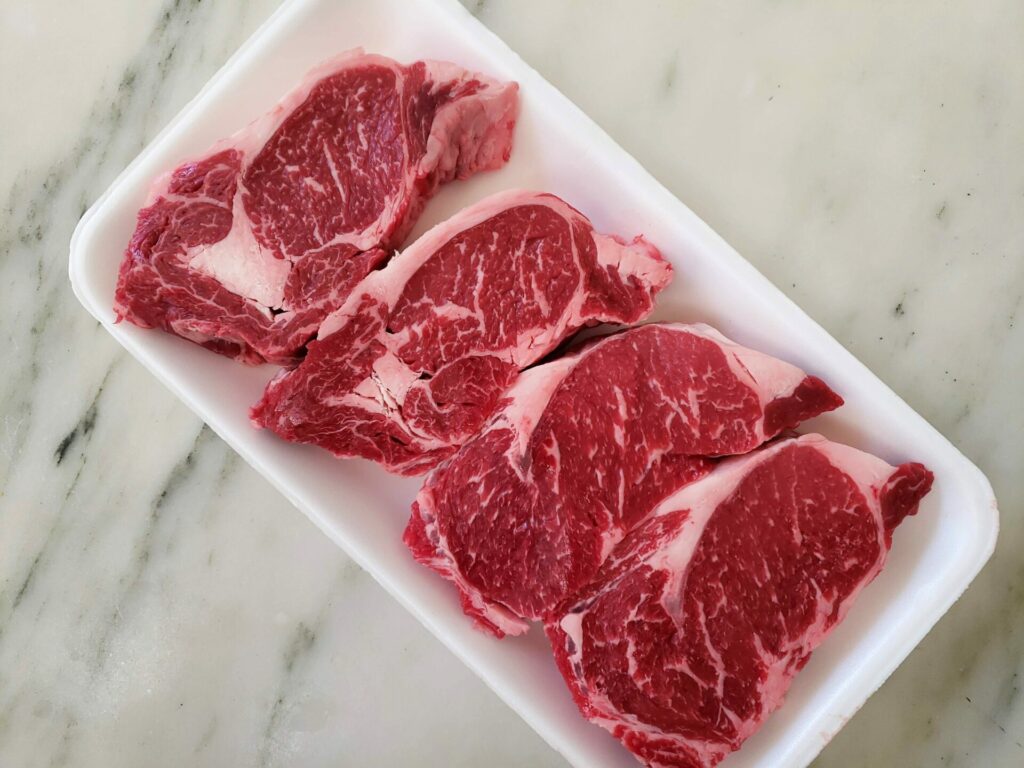 Kirkland Signature Ribeye Steak USDA Prime at Costco
Ribeye is a steak that comes from the rib section of a cow and is an extremely tender, juicy, and flavorful piece of beef. Ribeyes can be purchased from Costco boneless as these are, or bone in. When bone-in they are often called tomahawk steaks.

Ribeyes are best cooked on high heat, and for me personally, they are my favorite cut of steak as they maximize taste and flavor while still being reasonably priced for an absolutely tender and delicious steak. 

Costco sells both USDA Choice and USDA prime Ribeye options. These grades refer to the quality of the meat and are determined by the amount of marbling that is present within the ribeye itself. The marbling or fat streaks are a great indicator of quality and ideally, you want as much marbling as possible.

USDA Choice Ribeye steaks are a great option for the price of $10.99 and will include a moderate amount of marbling. The ribeye will still be delicious, tender, and flavorful.
The Costco USDA Prime Ribeye steaks will be the best available option and the Prime designation is reserved only for extremely high quality pieces of beef. Usually USDA Prime steaks are sold in 5 star hotels and restaurants.
Having the opportunity to purchase USDA Prime Ribeye from Costco is great to save some money while still having an absolutely delicious and amazing steak meal.
Costco Ribeye Steak Options
Costco sells a few different variations of the Ribeye steak. Their most common option is going to be the four pack of 1.5-2 inch ribeye steaks as shown in this review.
I have occasionally seen them sell thick cut ribeye steaks that are 3+ inches thick. With the thick cut ribeye, you also get approximately 3-4 pounds of beef but only two total steaks. 
That is definitely a great sous vide option for perfectly medium rare ribeye steak.
During the summer months, they will also sell tomahawk steaks which are ribeye steaks with the long rib bone still attached. The actual meat is the same as the boneless ribeye, but the long bone or handle significantly adds to the presentation.
Costco will also offer ribeye pinwheel caps which are considered an extremely tender portion of beef. I haven't seen one in a while, and they are rare to find, but if you have the opportunity, make sure to pick one up.
How Much Does Ribeye Cost at Costco?
Costco sells their USDA Prime Ribeye for $15.99 and they are often sold in 3-4.5 pound packages. On my most recent trip to Costco, most of the ribeye packages were priced between $60 and $75. My $58 pack of ribeye steaks was the smallest that Costco offered on that day. 
Costco also sells USDA Choice ribeye for $10.99 which is also sold in 3-5 pound packages.
Costco vs The Competition
Costco is usually never going to be the most economical option for steak or beef, but I do believe they offer the best overall value. 
Grocery stores will often discount their steaks as loss leaders to get you into the door, and Costco will never be able to compete with those prices.
While both the grocery store option and Costco's ribeye may be USDA choice, Costco's meat is usually fresher and of higher quality.
Most grocery stores also do not offer USDA Prime and will usually only have USDA choice.
Sam's Club sells their USDA Prime Ribeye for the same price of Costco's at $15.98. Whole Foods offers their USDA Prime Boneless Beef Ribeye for a price of $18.99.
You can be certain that when you purchase a USDA prime steak from Costco, you are going to get a great price and an amazing quality steak.
Costco Ribeye (USDA Prime) - Taste Test
I opted to sous vide my Costco USDA Prime Ribeye steak. With such a beautiful and expensive steak like this, I really wanted to be certain that I was going to cook it perfectly. 
I used the 137° Sous Vide method (listed below) for this steak and finished it off on a hot cast iron to create a nice crust.
After the cooking process, my ribeye steaks looked absolutely amazing. They developed a nice crispy crust over the exterior and the inside was a beautiful pinkish color all throughout.
The ribeye itself was super tender and very flavorful. There was a strong beefy and savory flavor in every bite and the meat was extremely moist. 
The seared exterior added a very nice crispy and crunchy texture that blended perfectly with the inside juiciness. A truly amazing piece of steak.
I ate my ribeye with some Pura Vida Brussel Sprouts and Bacon that I also purchased from Costco. The meal was so delicious and is great for any at home special occasion meals.
How to Cook Costco Ribeye Steaks
Ribeye steaks are extremely versatile and can be cooked in a variety of different ways that all produce delicious and tender beef. Ribeyes do great with high heat on the grill, in the oven, or can be cooked perfectly sous vide style.
Here are some basic cooking options for Ribeye steaks.
Preheat Grill to high heat.
Season with rub on both sides of the ribeye steak.
Cook for 4 to 6 minutes on each side for medium rare.
Cook longer if desired.
Let ribeye steak rest 5-10 minutes before slicing.
This recipe comes from Alton Brown and the Food Network. 
Place a cast iron skillet in the oven and heat the oven to 500°F. 

When the oven reaches temperature, remove skillet and heat on the stove on high for 5 minutes.

Coat the ribeye with oil and season with salt and pepper.

Place ribeye on hot cast iron for 30 seconds.

Flip ribeye and cook for 30 seconds more.

Place cast iron skillet with ribeye in the oven for 2 minutes.

Flip ribeye and cook for 2 more minutes (for medium rare).

Remove steak from skillet and cover loosely with foil for 2 minutes.
I like the reddit sous vide directions for ribeye which is cooking to 137° F. This is considered closer to medium than medium rare, but also the temperature where fat starts to render and melt into the beef.
Set Sous Vide for 137°F. 

Place Ribeye Steak in a ziploc or vacuum sealed bag.

Place bag in sous vide bath for 2-3 hours

Remove from sous vide, cool, and pat dry

Sear ribeye steak on hot cast iron or finish on grill
Blade Tenderized Meat at Costco
What is Blade Tenderized/Mechanically Tenderized Meat?
One issue of concern with Costco's beef is that the steaks are blade tenderized. What this means is that Costco will pierce the meat with tiny sharp blades to make the meat more tender. 
Of course, this sounds great, but there may be some concerns. 

Concerns with Blade TEnderized Meat
One issue that gets brought up with the blade tenderizing process is that it can push bacteria that is found on the surface of the beef to deep within the beef itself. In order to effectively kill the bacteria, the beef will need to be cooked to Costco's recommended temperature of 145° F. 
The problem is that when cooking to a medium rare temperature it may not be hot enough to kill the bacteria that gets pushed from the surface of the meat to the center of the meat and can lead to E. coli sickness.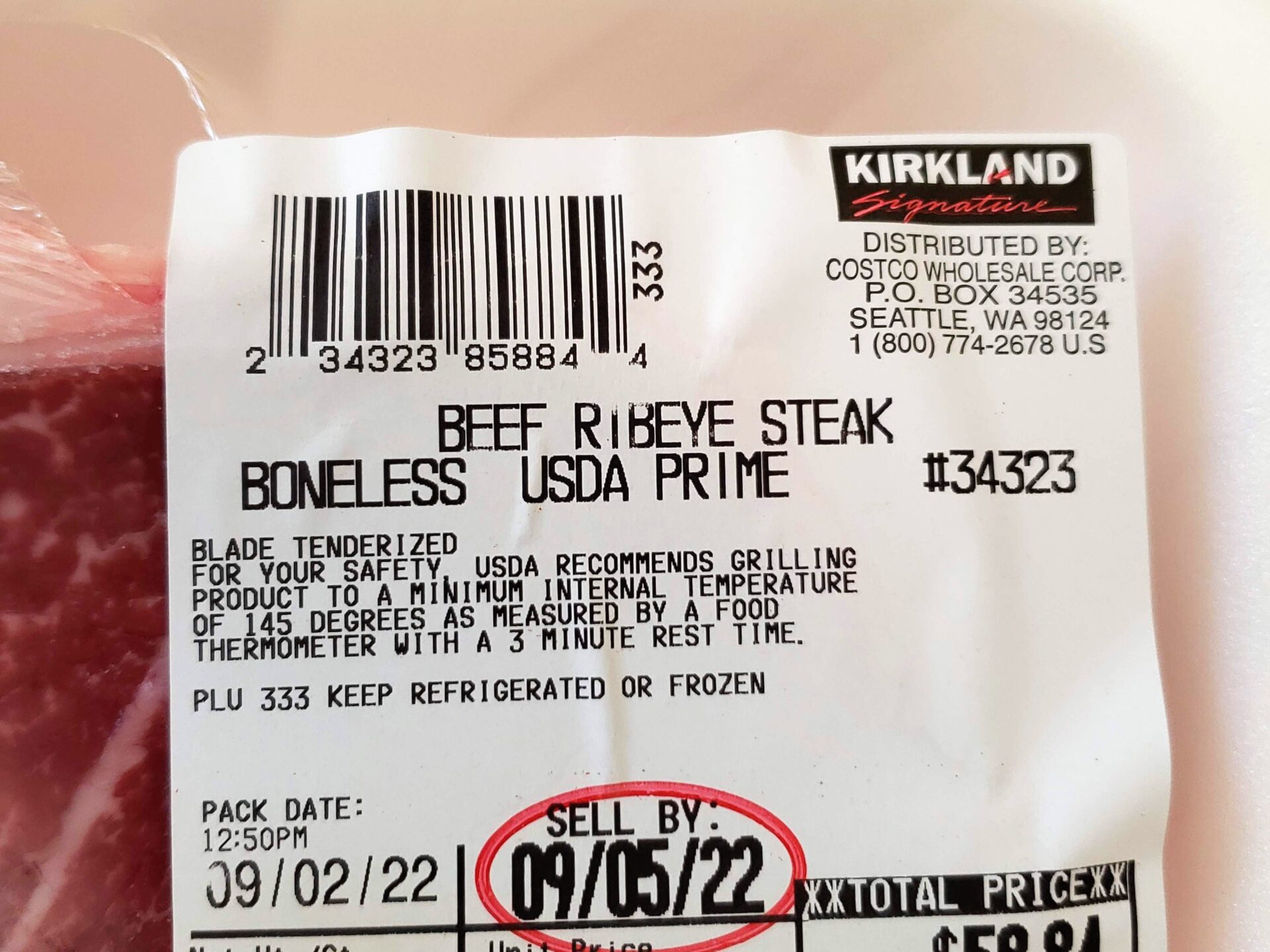 Actual Dangers are Extremely Rare to Non-Existant
This can potentially pose a problem because most people, myself included, enjoy eating beef that is cooked to medium rare or even below.  
E. coli outbreak with blade tenderized beef is extremely rare, and I haven't found any evidence of this type of outbreak, but this is one issue that does get brought up and I feel it is important to share.
I Cook Costco Beef to Medium Rare
I personally still cook my Costco beef to medium rare temperatures and have never had any problems. Costco sells 100s of thousands of pounds of beef a year, and they too seem to feel the increased tenderness is worth it.
Sous Vide for 100% Safety
If you want to be 100% certain that any sort of bacteria in the beef is killed, then the best option is to cook the beef using a sous vide. When using a sous vide the beef will maintain a specific temperature for a longer period of time and that can be enough to 100% kill any bacteria. 
Please use this chart as reference on specific temperature and time needed to kill bacteria using a sous vide.
| Temperature | Cook Time Needed to Kill Salmonella |
| --- | --- |
| 130° F | 86.42 Minutes |
| 135° F | 27.33 Minutes |
| 140° F | 8.64 Minutes |
| 145° F | 2.73 Minutes |
| 150° F | 51.85 Minutes |
| 160° F | 5.19 Seconds |
| 165° F | 1.64 Seconds |
USDA Prime Ribeye Nutritional Information
There is a lot of differing information about the exact calories and nutritional information of ribeye steak, but typically a 4 ounce serving will have about 300 calories. Those calories will from 21 grams of fat, 0 grams of carbs, and 28 grams of protein.
This is standard nutritional profile for beef. The high fat content will come from the high amount of fat and intramuscular fat that is prevalent throughout the USDA Prime Costco Ribeye.
Costco Ribeye Steak Review
Product Name: Kirkland Signature Ribeye Steak (USDA Prime)
Product Description:
Price: $60-$75
Quantity: 3.5-4.5pounds
Location Within Costco: Meat & Seafood
Price Per Pound: $15.99
Summary
The USDA Prime Ribeye from Costco is an amazing steak at a very good and fair price. The ribeye is top notch quality and is a great alternative to eating out. 
The beef is super flavorful, tender, juicy, and delicious. You can easily create restaurant quality meals for a fraction of the cost. Well worth the buy!
Value -

8/10

Convenience -

8/10

Taste -

10/10

Nutrition -

8/10

CFDB Score -

8/10
Cons
Large Costco size portions