Costco Tomahawk Steak - How To Cook, Recipes, + Pro Tips
Kirkland Signature Tomahawk Steak at Costco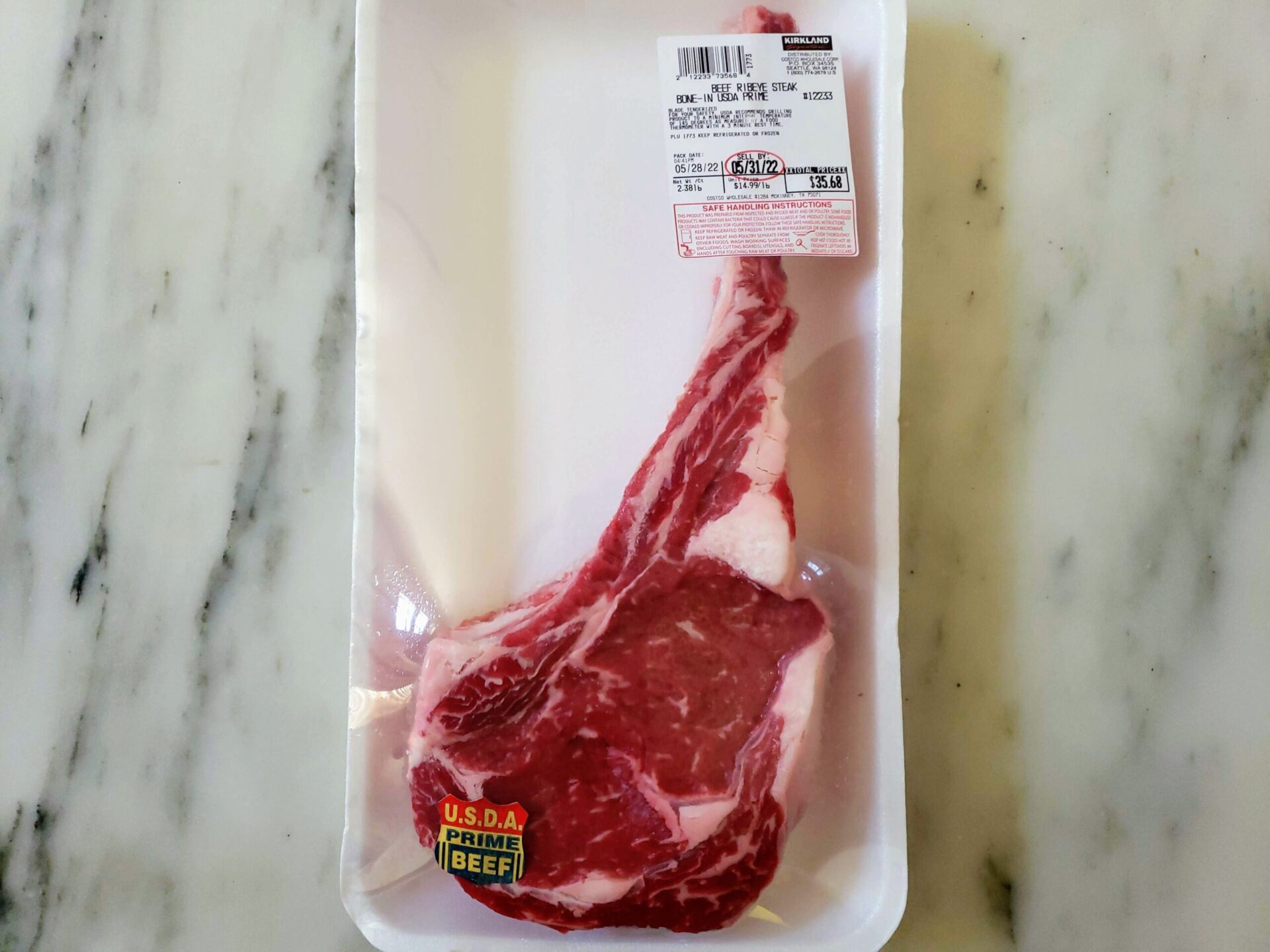 The Tomahawk Steaks that Costco sell come in packages anywhere between 2 and 3 pounds and will include a 2-2.5 inch thick beef portion as well as the extra-long bone. 
Our full guide on Costco's Beef is found here.
Have You Tried Costco's Tomahawk Steak?
Let the rest of the Costco Food Database community know what you thought of this product. Results and reviews are at the bottom of this page.
Please allow 24 hours for review moderation and approval.
The bone has been frenched or trimmed to remove the fat and meat; another similar example is Costco's frenched rack of lamb. 

The remaining bone portion looks like a handle for a giant piece of steak, and all together the steak resembles a tomahawk axe.
What is a Tomahawk Steak?
To be more specific, tomahawk steaks come from the rib portion of the cow. Tomahawk Steaks are actually the same portion of meat as the Ribeye steak and the only difference being the thickness of the cut as well as the bone which is left in.
Otherwise, the meat portion of the tomahawk is the same exact meat as Ribeye.
Ribeyes are known for their exquisite intramuscular marbling and their fatty, tender, and juicy taste. They are considered one of the best all around pieces of steak.
The US Department of Agriculture (USDA) grades all beef sold at Costco. The USDA has 8 grades in total, but Costco only sells the two highest grades: Prime and Choice. 
Prime, the highest grade, is the most expensive and is used in steakhouses, hotels, and high end restaurants across the world. Costco brings USDA prime steaks to the masses at a very reasonable and fair price.

USDA Prime beef will have an abundance of marbling or intramuscular fat and results in the most tender and delicious pieces of beef.
Costco Only Sells Prime or Choice
While it is a step down, USDA Choice is still a very strong grade for beef. There is a little less marbling, but the meat still is rather tender and flavorful. 

Costco does not sell any beef below a choice grade at their regular warehouses. Costco Business Centers will go down one more grade and sell USDA Select Beef.
Costco Cost Comparison - Tomahawk Ribeye Steak
USDA Prime Tomahawk Steak Price at Costco
Costco sells their behemoth USDA Prime Tomahawk Steaks for $14.99 a pound. This is more than a fair price for Prime Tomahawk/Ribeye.
One thing to keep in mind is that when purchasing the Tomahawk Steak, you are going to be paying for the meat as well as the bone. 
If you are not interested in the bone, the better option would be to buy Costco's USDA Prime Ribeye steaks which also go for $14.99/pound. 
With the Ribeye, you are only paying for the beef, and will get quite a bit more food for the same price per pound.
The Real Price of the Tomahawk Steak Meat
After finishing the meal, I weighed the Tomahawk bone and it weighed 5.4 ounces. This means the price for just the meat is roughly $17.50 a pound or a 17% price increase over the price of Costco's ribeye steaks. 

Is the presentation of the dish worth 17%? Sometimes it is, sometimes it isn't. 
How to Cook Tomahawk Steaks from Costco
Like any steak, there are multiple ways to cook and enjoy a Tomahawk steak. 
I personally went for the sous vide option with my cook to minimize risk and turn out a perfectly cooked steak. 
All cooking options can turn out medium rare Tomahawk Steak. 
Steak Temperature Chart
Rare
120°F-130°F
Medium Rare

130°F-135°F
Medium
135°F-145°F
Medium Well
145°F-155°F
Whoopsies
155°F+
Pro Tip: Dry brine the beef by liberally seasoning with kosher salt and refrigerating for at least one hour and up to 48 hours. The beef will come out much more juicy and flavorful when dry brined. Give it a try!
Tomahawks do very well in the sous vide and the end result is often a perfectly cooked steak that is juicy and flavorful all the way through. I cooked this tomahawk steak at 137°F for 3 hours.

It is recommended to cook the tomahawk steak at least 1 hour per inch. The tomahawk steaks that Costco sells will be about 2 inches thick and you can expect a minimum cook time of at least 2 hours.
After cooking the steak for the recommended amount of time at your desired internal temperature, you will have to use a grill, stove, or oven to sear the meat and give it a nice golden crust. This provides a much nicer looking appearance for the steak.

Pro Tip: Try 137°F for your sous vide temperature. This is the rendering temperature of fat! The end result is an extra tender and juicy steak. 
This grill recipe is by Amy from Fed & Full and is fantastic for tomahawk steaks.
Amy recommends grilling the tomahawk steak for 22 minutes at medium high heat. Cook the front and back for 8 minutes each and sear the outer sides for 6 minutes. 
Remove the steak at 120°F, cover with foil, and let rest for 15 minutes. Slice, Serve, and Enjoy.
There are two ways to cook a tomahawk steak in the oven; the classic method and the reverse sear.
The classic oven method starts with a hard sear in a hot cast iron skillet or on the grill before transferring to an oven to finish cooking. 

Cook in the oven until the desired internal temperature is achieved and rest 10-15 minutes before serving. 
The reverse sear method involves using the oven before finishing the steak off with a sear. 
Preheat the oven to a temperature of 300°F or 250°F if you have the time and cook until an internal temperature of 100-110°F. Finish the tomahawk steak over a hot grill or a large skillet until a crust has formed and the desired internal temperature has been reached. Rest and Serve. 
Pro Tip: No matter which method you use, let the steak rest for 10-15 minutes after cooking. Resting the steak will help retain juices when it comes time to cut and serve.
This Tomahawk Steak has it all. It looks fantastic and tastes amazing. When cooked properly, the meat is super tender and creates an absolutely wonderful meal.

My 137°F sous vide cook produced a steak with that was perfectly pink all throughout, and when finished off with a hard sear, it was nearly flawless.
The tomahawk steak itself tastes amazing and has a strong beef flavor. The intramuscular fat creates a very tender, rich, and buttery steak. 
The Tomahawk/Ribeye is definitely one of my favorite cuts of beef and as long as you're careful, it's rather hard to mess up in the cooking process. 
Pro Tip: With a large high quality and rather expensive steak like the tomahawk steak, be sure to use a meat thermometer to best achieve the desired internal temperature.
There are two ways to essentially ask this question, and I have different responses for each.
Is the Costco tomahawk Ribeye steak worth the money?
Yes, the tomahawk steak is one of the most unique cuts of meat that is extremely tasty and has an outstanding presentation.
For a once in a while treat where presentation, experience, and atmosphere are of the utmost importance, the tomahawk steak is easily worth the money.

This steak tastes great and is here to impress.
Is a Tomahawk Steak a Good Value?
Unfortunately, there are better steak options that return better value. Keep in mind, a Tomahawk steak is a ribeye with a giant bone. There is no difference in the meat quality of a USDA Prime Ribeye and a USDA Prime Tomahawk Steak. 
Quality is the same, and the price is also the same for both at $14.99 a pound at Costco. This means with the tomahawk steak you are paying $14.99 per pound for the meat and the bone, but with a ribeye, you are paying $14.99 a pound for just the meat. 
With Costco's pricing, the ribeye offers much more value compared to that of the Tomahawk steak.
Costco Mechanically Tenderized Beef
Like the majority of Costco's beef or steaks, this Tomahawk steak is mechanically tenderized. 
Each piece of steak that Costco sells goes through a process where it is pierced by tiny blades in order to tenderize the beef. This breaks up the connective tissue and makes the meat more tender. 

This sounds absolutely great, because who doesn't like tender beef, but the problem is that it can increase the risk of E Coli. The blades that tenderize the beef can potentially transfer E Coli that is on the surface of the beef to deep within the meat.
Normally any bacteria will be killed during the cooking process once the meat hits 160°F, but many people, myself included, prefer medium rare beef where the internal temperature only reaches 135° or so. 

There is some risk, albeit very small, that E coli bacteria may not be fully killed if the beef is not cooked up to 160°F. Keep in mind, this risk is very very small and almost non existent, but I do feel the need to put the warning out there. 
From my personal experience, I have had no problems with cooking any of Costco's beef below the CDC and USDA recommended 160°F internal temperature. I cook the great majority of the beef I eat at medium rare or 135°F. 
Tomahawk Steak Nutritional Information
Just to reiterate, a tomahawk steak is essentially a bone in ribeye, so we can ignore the big large bone handle and just look at a Ribeye Steak's nutritional profile.

According to Nutritionix.com a 4 ounce ribeye steak is going to have 306 calories coming from 21 grams of fat, 0 grams of carbs, and 28 grams of protein.
The high fat content comes from the intramuscular fat that is abundant in the ribeye and creates that juicy deliciousness, but of course doesn't make this the healthiest or leanest cut of steak. 

The Tomahawk/Ribeye is going to have some of the highest fat content amongst the steak options at Costco.
Costco doesn't offer the Tomahawk Steak on a regular basis, but when they do, it's a well worth it treat. 
The Ribeye meat is flavorful, tender and just fantastic, while the large bone adds to the presentation and experience of eating this unique and fun meal. 
Costco Food Database User Reviews
Have you tried this item? Let the rest of the Costco Food Database community know what you think. Leave a rating and review for this product. 
Costco Tomahawk Steak - Perfect Medium Rare
Costco's tomahawk steak is one of their absolute most impressive cuts of meat. Follow these instructions for your perfectly cooked medium tomahawk steak.
Ingredients
1

Costco Tomahawk Steak

Salt and Pepper
Instructions
Liberally Season Tomahawk Steak with salt and pepper or desired seasoning

Flip and cook for 8 additional minutes

Cook the outer sides/edges for 6 minutes.

Remove at 120°F and let rest. Slice and then serve
Nutrition
Serving:
4
oz
Calories:
290
kcal
Carbohydrates:
0
g
Protein:
20
g
Fat:
23
g
Saturated Fat:
10
g
Trans Fat:
0
g
Cholesterol:
80
mg
Sodium:
65
mg
Fiber:
0
g
Sugar:
0
g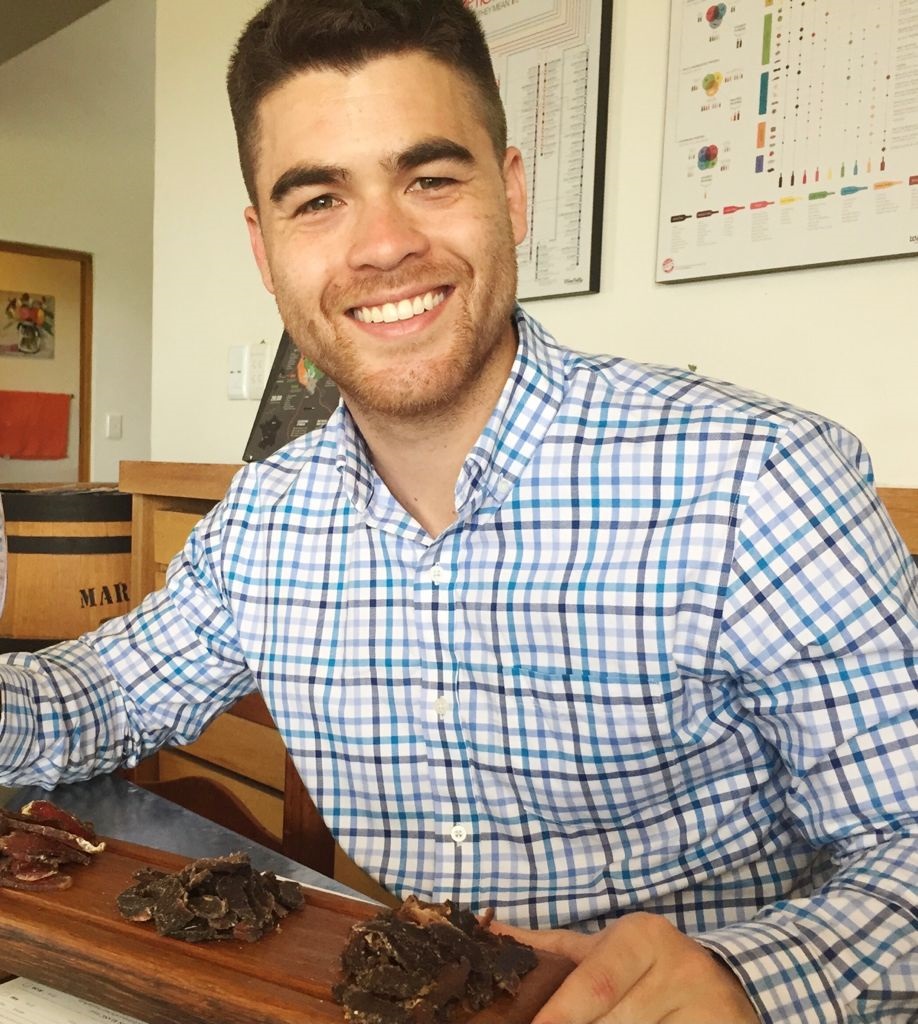 Greg Larkin is the founder and managing editor of Costco Food Database, the premiere site for honest takes on all things Costco food. A self-proclaimed Costco super-fan since childhood, Greg turned his obsession in a mission to properly rate and review all of Costco's delicious buys. When he's not busy navigating Costco aisles, you can find Greg smoking Kirkland Signature meats, meal prepping, or perfecting his homemade jerky recipes.