Costco Smoked Salmon Slices - Perfect for Parties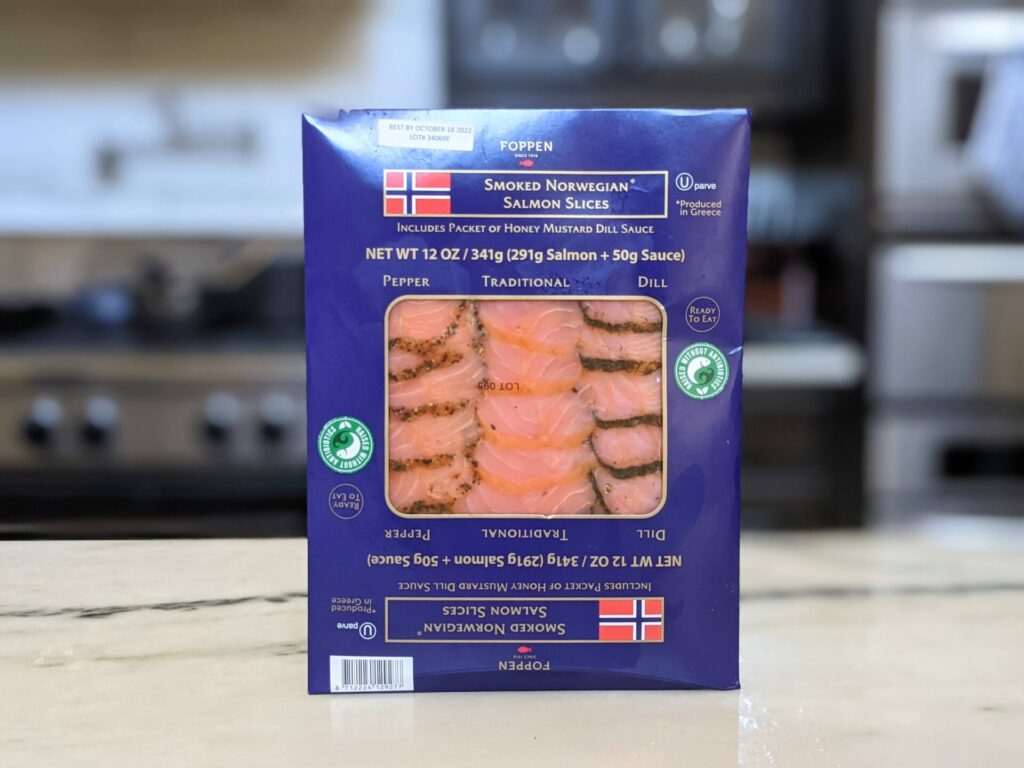 Foppen Smoked Salmon Slices at Costco
Costco sells a 12-ounce pack of Foppen Smoked Norwegian Salmon Slices for $10.99. The smoked salmon slices can be found in the refrigerated deli area of the store near the fresh poke and the other smoked salmon. 
Check out our complete Costco Smoked Salmon Guide for reviews, price comparisons, and rankings.
Foppen's Smoked Norwegian Salmon Slices include 3 different flavors: traditional, pepper, and dill.
There are approximately 21 slices of smoked salmon, and the package also includes a small packet of honey mustard dill sauce.
Have You Tried Costco's Smoked Salmon Slices?
Let the rest of the Costco Food Database community know what you thought of this product. Results and reviews are at the bottom of this page.
Please allow 24 hours for review moderation and approval.
What I found really interesting about this salmon is how many countries have a hand in producing it.
The salmon is farmed in Norway, smoked, processed and packaged in Greece, and to top it all off, it is distributed by Foppen Eel and Salmon, a company from the Netherlands.
Hot vs Cold Smoked Salmon
There are two types of smoked salmon that Costco sells. They sell hot smoked salmon as well as cold smoked salmon. 
These Foppen salmon slices are cold-smoked, which means they are smoked at a low temperature that does not actually cook the salmon meat.
The salmon is infused with smoky flavors but will retain its raw texture. Most of the smoked salmon options that Costco sells will be cold-smoked.
Hot smoked salmon, on the other hand, is salmon that is smoked at a hot enough temperature that the salmon is smoked and cooked at the same time.
Hot smoked salmon will have a more traditional salmon texture and delicious smoky flavors.
Foppen's salmon is farmed in the cold water of Norway and is then smoked with oak and beech wood. This gives the salmon a fine flavor with a delicate smoky taste.

The salmon is pre-sliced, which makes these great for serving as appetizers or hors d'oeuvres for parties.
Out of all the smoked salmon options at Costco, this is the only smoked salmon that is pre-sliced into bite-sized portions.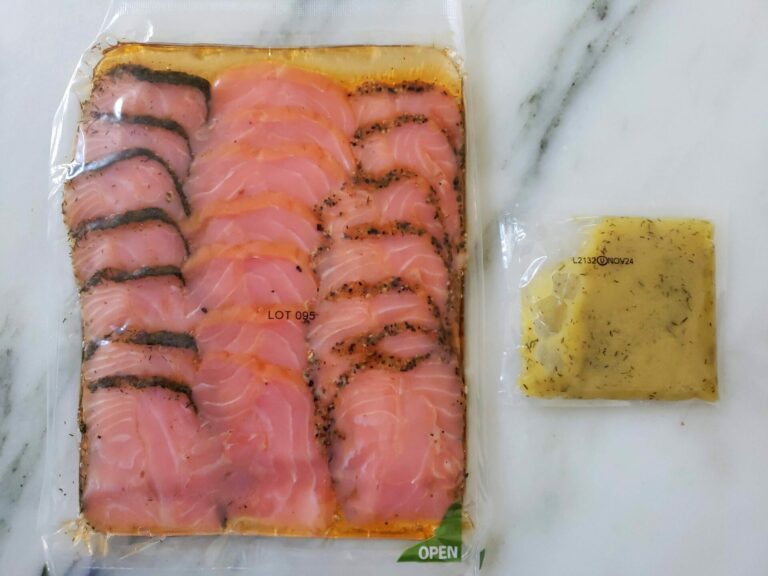 This is great as it's pretty easy to serve these at a party, but I think that limits its versatility. It may be a little trickier if you want to eat the salmon with cream cheese and a bagel or if you want to combine it with eggs for a fantastic smoky breakfast. 
The slicing is both a blessing and a curse.
How Much Does Costco Sliced Smoked Salmon Cost?
Costco sells this 12-ounce pack of Foppen Smoked Salmon Slices and Sauce for $10.99.
This breaks down to a per-pound price of $14.65, which is about the same price per pound as Costco's other smoked salmon offerings.
One thing to note with Foppen's smoked salmon is that it does include a 1.8-ounce packet of honey mustard sauce. This means the package only consists of 10.2 ounces of actual smoked salmon.
With 10.2 ounces of smoked salmon at $10.99 a pound, you are looking at $17.23 per pound for just the smoked salmon.
Smoked Salmon - Taste Test
These party salmon slices come in three different flavors, which I appreciate as they add variety to the item. The honey mustard dill sauce is also an enjoyable addition, but I will review the smoked salmon slices without the sauce.
The honey mustard sauce will be reviewed on its own.
Of course, I had to start with the traditional unflavored smoked salmon, which I thought was pretty good. 
There is no doubt the salmon is smoked, as there is a very nice amount of super tasty smokiness. The salmon slices are also appropriately oily.
My one issue with the salmon is that it lacks a little bit when it comes to the salmon flavor. It is still delicious on its own and is impressive as a party appetizer or hor d'oeuvres, but the salmon itself can be a little lacking.
The appearance says salmon, the texture says salmon, but I wish the flavor said salmon just a little bit more.
The dill and pepper-crusted salmon slices are a great addition and pair really well with the smokiness of the salmon.
Both options have a crust of seasoning made from either real dill or a variety of peppers.
The edge of the dill-flavored salmon is absolutely covered in dill pieces. It seems to be adhered or binded on, and there is plenty of dill in each bite. I like that the dill adds a pleasant herby taste that is an excellent compliment to the smoky salmon.
Dill goes great with traditionally cooked salmon, so it makes perfect sense why the dill-smoked salmon tastes great as well.
I found the pepper-flavored salmon to be equally as tasty. The pepper crust provides a nice contrast to the other salmon slices. 
The added earthy flavors pair well with the salmon's savoriness and are rather enjoyable.
I slightly prefer the pepper-smoked salmon slices over the dill salmon slices.

The honey mustard dill sauce can be a nice inclusion for parties, but it isn't necessary for the salmon slices.
The honey mustard sauce is very sweet and has excellent flavor, but it easily overpowers the salmon.
It's definitely super tasty when you add the sauce to the salmon, but it kind of defeats the purpose of smoked salmon. The salmon is already fairly light on salmon flavor, and when combined with the sauce, it is barely noticeable.
The honey mustard is more of an optional sauce topping for the smoked salmon, and I would even be ok if it was not included.
Foppen recommends two simple serving suggestions for their Norwegian smoked salmon slices.
First, they suggest the party platter tray, where you spread some cream cheese on a cracker and top it with the salmon. You can then drizzle the provided honey mustard dill sauce on each smoked salmon slice.
This is definitely super tasty and one of the easiest ways to eat Foppen's cold smoked salmon slices.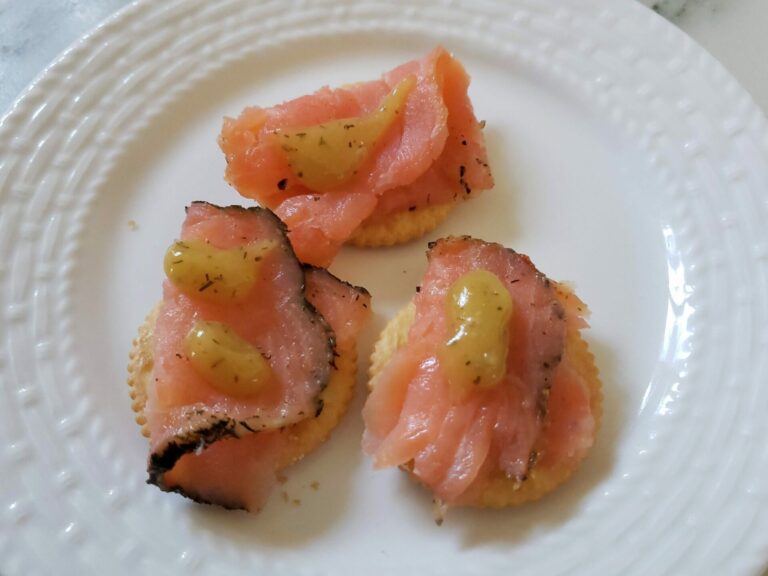 They also recommend serving the slices as a salmon carpaccio. This dish is quite easy to make as you simply need to lay out the salmon slices on a bed of arugula leaves.
Finish with a drizzle of the honey mustard sauce, and you have your own homemade smoked salmon carpaccio.
Smoked Salmon Slices Nutritional Information and Calories
One serving of smoked salmon will be 2 ounces (5 slices) and 2 tsb of honey mustard sauce. Each serving will contain 120 calories from 6 grams of fat, 4 grams of carbs, and 11 grams of protein.
This is a solid nutritional profile as the servings are mostly salmon, and salmon is a very nutritious fish to eat.
I don't particularly appreciate that they automatically include the honey mustard sauce in with each serving. It would be more helpful and informative if they provided separate nutritional labels for salmon and honey mustard. 
The salmon doesn't need the honey mustard, and I have no problem eating the salmon without it. It's unfortunate because now I don't know exactly how many calories I'm taking in with just the smoked salmon.
I have to point out this smoked salmon's extremely high sodium content. Each serving of 2 ounces of fish will contain 690 mg sodium or 30% of the recommended daily value.
The salmon is extremely easy to eat; if combined with other food items, the sodium can compound and add up quickly. Be cautious when eating this smoked salmon!
Costco Smoked Salmon Slices - Perfect Party Platter
Costco's pre sliced smoked salmon is the ultimate in party appetizers. The smoked salmon can be served in a multitude of ways and are absolutely delicious.
Ingredients
1

Package

Foppen Smoked Salmon Slices

1

Pack

Included Honey Mustard Sauce

6

oz

Cream Cheese

1

Pack

Fancy Crackers of Your Choosing
Instructions
Spread cream cheese on crackers of your choice

Add smoked salmon slices on the crackers

Drizzle the included honey mustard dill sauce onto each cracker and salmon. Enjoy!
Nutrition
Serving:
2
oz
Calories:
180
kcal
Carbohydrates:
8
g
Protein:
14
g
Fat:
9
g
Saturated Fat:
3
g
Trans Fat:
0
g
Cholesterol:
30
mg
Sodium:
690
mg
Fiber:
0
g
Sugar:
6
g
Costco Food Database User Reviews
Have you tried this item? Let the rest of the Costco Food Database community know what you think. Leave a rating and review for this product.