Costco Ahi Tuna Poke Bowl + 13 DIY Topping Ideas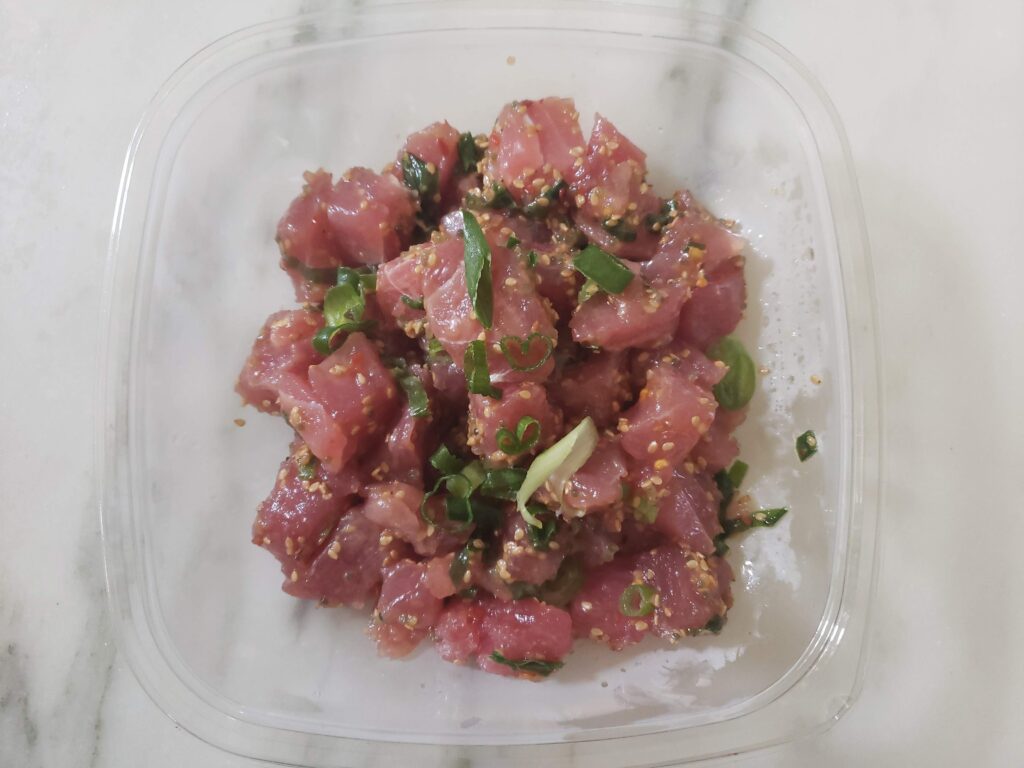 Ahi Wasabi Tuna Poke at Costco
I'm a big fan of poke, but not a fan of poke prices. Luckily, some Costco locations carry a premade but freshly made Ahi Wasabi Poke. You can find the tuna poke in the deli area with the other prepared meals such as the beef stew, salmon milano, or the Korean beef bulgogi.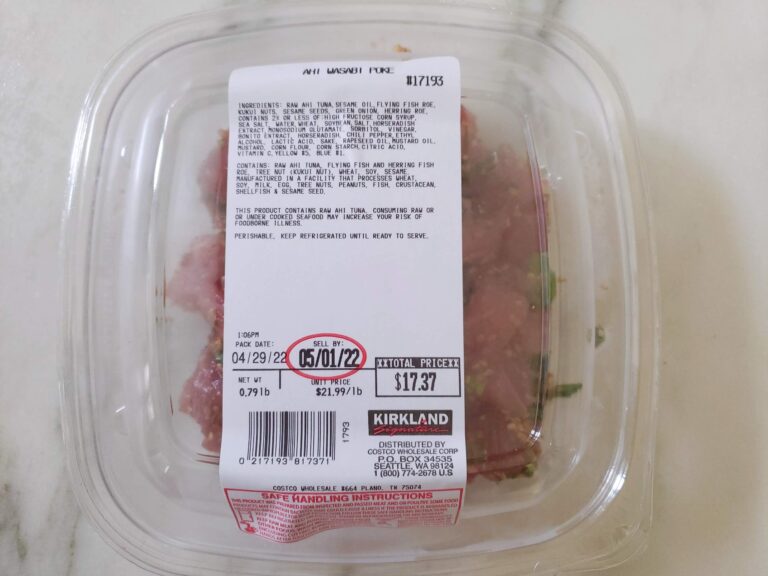 Have You Tried Costco's Tuna Poke?
Let the rest of the Costco Food Database community know what you thought of this product. Results and reviews are at the bottom of this page.
Please allow 24 hours for review moderation and approval.
Costco's poke is made with their ahi tuna and is prepared in house. This particular poke is called Ahi Wasabi poke which would lead me to believe that there is at least ahi tuna and some wasabi in this poke mix. Reasonable, right? 

But from a quick run through of the ingredients list, I don't see wasabi listed anywhere at all. I did see horseradish which is not wasabi but comes from the same family of plants. I'm hoping Costco isn't trying to pass horseradish off as wasabi.
Costco Cost Comparison - Poke Bowl
How Much Does Poke Cost at Costco?
Costco's poke sells for $21.99 a pound. At my local warehouse, each package weighed approximately .75 pounds, with my packaging being the heaviest at .79 pounds (12.8 ounces) of poke. 
This breaks down to $1.37 per ounce of tuna poke from Costco.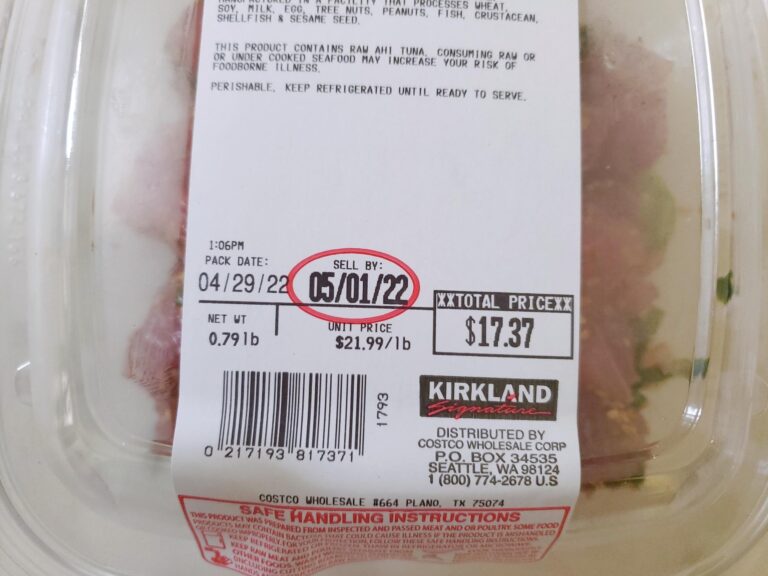 One thing to note, like everything else in the world, the price has gone up in the past year. Poke from Costco used to sell for $19.99 a pound, but it's up 10% to $21.99 a pound now.
Is this a good price for poke?
I would say it's on the average to pricey side. It's definitely not an absolute steal of a deal where I would feel compelled to purchase some everytime I went to Costco, but for the amount of poke it isn't the worst price in the world.
This poke is going to be made from their ahi tuna that they sell in the seafood department, and that goes for $15.99 per pound. 
For $5 more per pound, Costco will turn their ahi tuna into ready to eat poke.
Costco Tuna Poke vs Poke Shops
Compared to poke shops, this may be an ok price. Poke bowls go for about $12-$15 on average and will usually include ~6-7 oz of fresh poke. Of course, poke bowls from poke shops offer quite a bit more customizability as well as ingredient options. 

In addition to selecting your base items such as rice and side dishes such as crab salad or seaweed salads, poke shops also provide a plethora of topping options as well as dressings, sauces, and aioli to really spruce up your poke meal. 
Is a $14 fully loaded poke bowl from a poke shop better than a $9 plain white rice Costco poke bowl that includes 1.5 times more poke? Let me know in the comments what you think the better deal is?
I've been wanting to try Costco's poke for quite some time now, and I'm super excited that I finally have the opportunity. According to the label, my poke was packed at 1:06pm. 
I purchased it right around 2pm and ate it around 3pm. It was about 2 hours since the poke was made, but it still smelled and tasted super fresh.
One thing that really jumped out to me was the strong smell of sesame. There are plenty of sesame seeds spread all over the poke and Costco must have used a healthy amount of sesame oil as well.
How does Costco's Tuna Poke Taste?
For taste, the poke is good. The tuna is high quality and the flavors are great. The sesame oil and seeds add a nice nutty taste and a light crunch. The ingredients include flying fish and herring roe, but both were barely noticeable.
I love the little orange fish eggs, but I could barely tell they were in this poke at all. Maybe once or twice did I feel that squish of the fish roe. 
I know roe can be expensive, but I would love to see a little more roe in this poke from Costco.
While the poke was tasty, it wasn't spicy and didn't live up to its wasabi name. Costco does sell a spicy ahi tuna poke, but I think it's fair to expect a little bit of spice from an item with wasabi in its name. 
The flavors are there, and the poke is delicious, but its not spicy in the slightest.
To enjoy the raw fish, I ate a few pieces of delicious poke on its own. But of course, I had to make a poke bowl. I had some white rice cooked up that I let cool and I made my own poke bowl. 
I wasn't planning for today to finally be Costco poke day, so I had to make due with the limited ingredients I had at home. I simply added some furikake seasoning, ponzu sauce, and some wasabi sauce that we had in the fridge.
My wife added some furikake seasoning as well as some mango to her bowl. We really didn't have too much around the house to create a true poke bowl, but at the end of the day Costco's poke was delicious and very enjoyable.
DIY Poke Bowl Topping Ideas
The poke comes already seasoned, but it doesn't hurt to add toppings and additional flavors to your DIY homemade poke bowl. 
Some easy toppings to add:
Cucumbers
Edamame
Carrot Strips
Pineapple
Green Onion
Wasabi
Scallion
Crispy Onion
Mango
Nori
Masago
Sesame Seeds
Avocado
This is just a quick list of toppings that most poke shops offer and many of which are easily available at home. 
If you are interested in a simple Costco Salmon Poke bowl you can check out my salmon guide. By using Costco's fresh Atlantic Salmon, you can make your own basic poke bowl for only $2-$3. That is going to be a hard price to beat!
Poke Nutritional Information & Ingredients
How Many Calories in the Ahi Wasabi Poke from Costco?
One serving of Costco Ahi Wasabi Poke will be 4 ounces and have the following nutritional information:
Calories: 150
Total Fat: 3.5g (4% DV)
Cholesterol: 70mg (23% DV)
Sodium: 630mg (27% DV)
Carbohydrates: 3g (1% DV)
Protein: 28g
Nutrition Facts
Costco Ahi Wasabi Poke
Amount per Serving
% Daily Value*
* Percent Daily Values are based on a 2000 calorie diet.
There's a very solid amount of protein and its pretty standard nutritional profile for a tuna poke, nothing really seems outrageous either way. Poke is a very low calorie and healthy food. 
Kirkland Signature Poke Ingredients
I am going to include the full ingredients list. Costco calls this poke Ahi Wasabi Poke but there doesn't seem to be any wasabi in the actual ingredients.
Raw Ahi Tuna

S

esame Oil

Flying Fish Roe

Kukui Nuts

Sesame Seeds

Green Onion

Herring Roe
Contains 2% or less of:
High Fructose Corn Syrup
Sea Salt
Water
Wheat
Soybean Salt
Horseradish Extract
Monosodium Glutamate
Sorbitol
Vinegar
Bonito Extract
Horseradish
Chili Pepper

Ethyl Alcohol
Lactic Acid
Sake
Rapeseed Oil
Mustard Oil
Mustard
Corn Flour
Corn Starch
Citric Acid
Vitamin C
Yellow #5
Blue #1
There are a lot of ingredients on this list that I don't recognize, but the one thing I don't see is wasabi. I'm betting Costco went with the horseradish mustard combo to create a wasabi type flavor.
At $21.99 a pound it ain't cheap, but if you are looking for a unique Costco prepared meal, then poke is not a bad option. Costco's tuna poke is made fresh and tastes great.
The flavors are on point, but could use some more roe and some authentic wasabi. Costco's poke makes a good, but expensive lunch or dinner.
Costco Food Database User Reviews
Have you tried this item? Let the rest of the Costco Food Database community know what you think. Leave a rating and review for this product.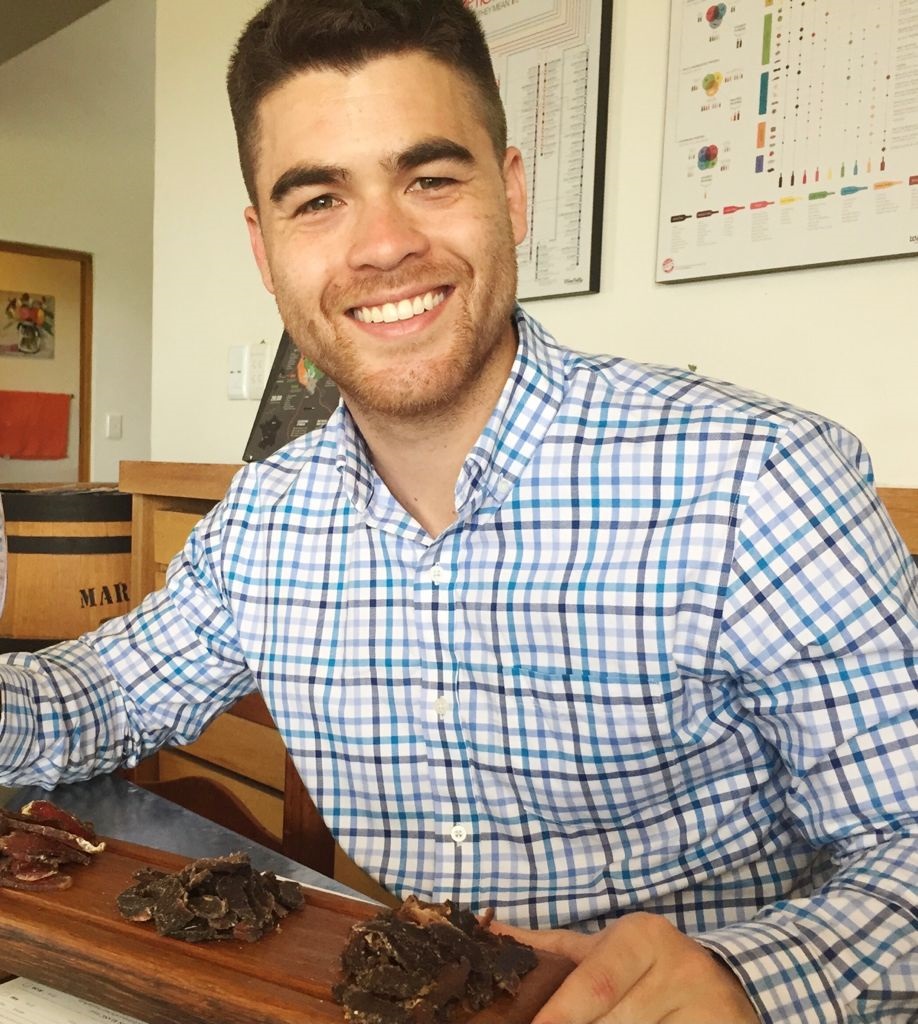 Greg Larkin is the founder and managing editor of Costco Food Database, the premiere site for honest takes on all things Costco food. A self-proclaimed Costco super-fan since childhood, Greg turned his obsession in a mission to properly rate and review all of Costco's delicious buys. When he's not busy navigating Costco aisles, you can find Greg smoking Kirkland Signature meats, meal prepping, or perfecting his homemade jerky recipes.