Costco Wild Sockeye Smoked Salmon + Recipe Ideas (Kirkland)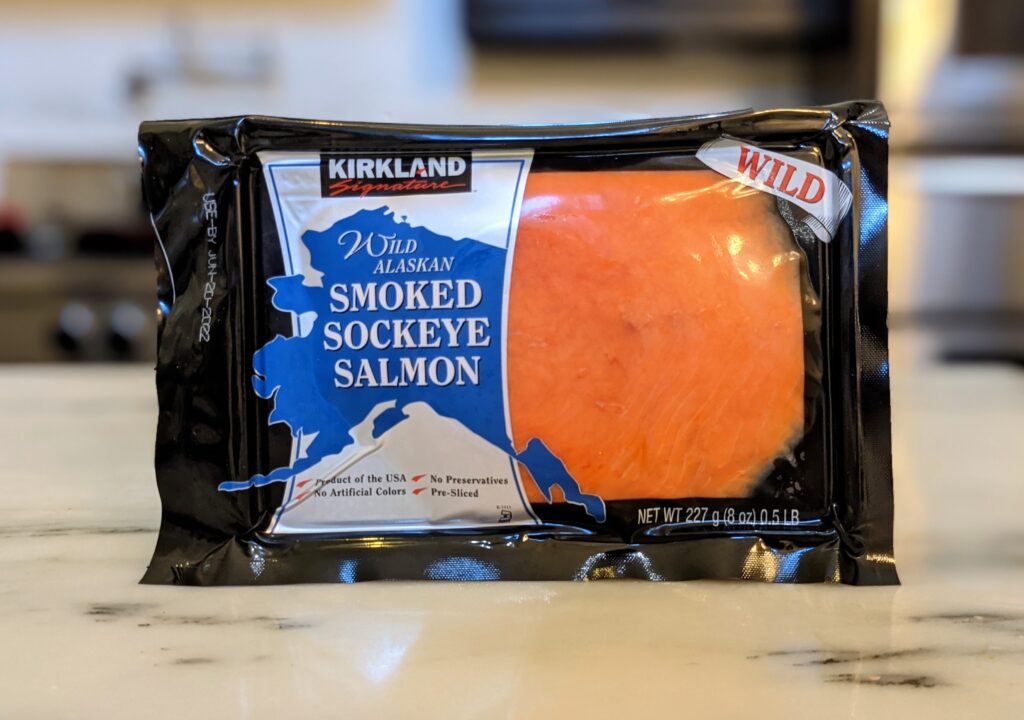 Kirkland Signature WIld Alaskan Smoked Sockeye Salmon at Costco
Costco sells two 8 ounce packs of Wild Smoked Sockeye Salmon for $21.99. The smoked salmon can be found in the refrigerated deli area near other items such as the hot smoked salmon, Tuna Poke, and the Lobster Ravioli.

Check out our full Costco Smoked Salmon Guide for reviews, price comparison, and rankings.

Have You Tried Costco's Smoked Sockeye Salmon?
Let the rest of the Costco Food Database community know what you thought of this product. Results and reviews are at the bottom of this page.
Please allow 24 hours for review moderation and approval.
Costco's Kirkland Signature Wild Sockeye Smoked Salmon is made with Sockeye Salmon that is caught off the coast of Alaska. The salmon is immediately frozen to preserve the freshness and quality.
The Salmon is Cold Smoked
Costco smoked Sockeye Salmon is cold-smoked using time-honored traditions and minimal ingredients (4 total ingredients including the salmon). 
Cold smoked salmon is typically smoked below 90°F and has a less smoky taste than hot smoked salmon.
Costco Smoked Salmon Options
Costco does offer multiple smoked salmon options.

They sell:

Kirkland Signature Wild Alaskan Smoked Sockeye Salmon

Kirkland Signature Farmed Atlantic Smoked Salmon

Foppen Norwegian Smoked Salmon Slices

Foppen Hot Smoked Salmon Variety Pack.
All 4 options, if available, will be found in the deli area of the warehouse.
Costco's Fresh Sockeye Salmon
This review will be focused on the Kirkland Signature Wild Sockeye Smoked Salmon. The Wild Sockeye is my favorite type of salmon as it is extremely healthy, and is a very tasty fish with a strong salmon flavor. 
My full review and guide of Costco's fresh salmon can be found here.
Costco Smoked Salmon - Taste Test
Is Costco Smoked Salmon Good?
I was able to taste test this salmon a few different ways and I think the smoked sockeye salmon is pretty darn good.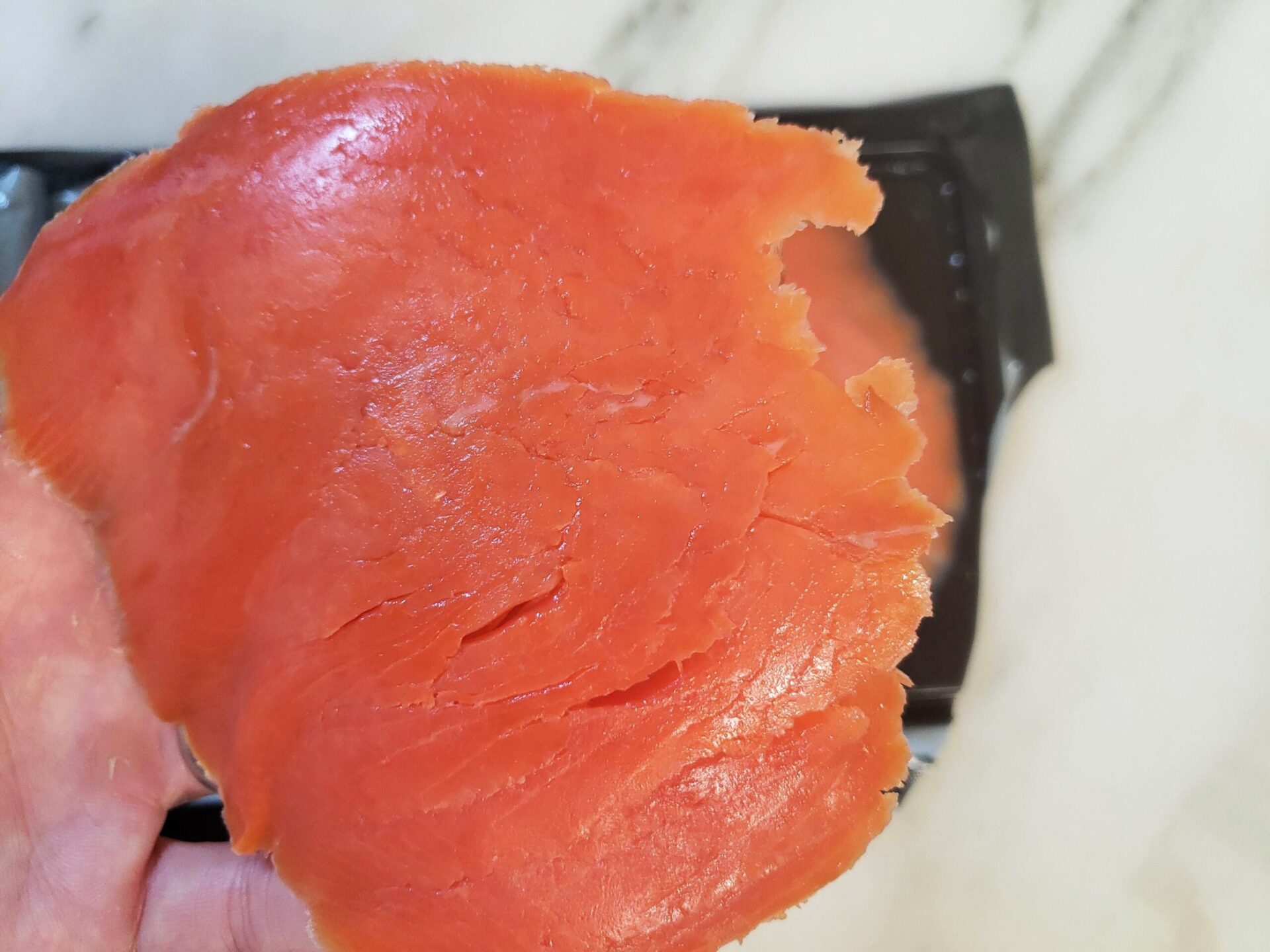 The wild sockeye smoked salmon is slightly salty and slightly smoky, but lacks the strong and distinct salmon taste that cooked sockeye salmon has.
Cold Smoked Smoked Salmon Texture
Costco's Sockeye Smoked Salmon is cold smoked which makes the texture fairly similar to raw salmon which is slightly rubbery or chewy. 
The salmon may seem raw, but due to the curing process, it is safe to eat. Hot smoked salmon will have more of a traditional cooked salmon texture.
The salmon is very good when eaten on its own, but is fantastic when combined with other items. 
I really enjoy the smoked salmon with the Kirkland Signature Bagels and cream cheese. It makes for a fancy but easy and quick to prepare breakfast.
High Quality and Enjoyable Smoked Salmon
Overall, Kirkland Signature Sockeye Salmon is high quality and tasty. I would have liked a little stronger of a smoky flavor as well as a stronger salmon taste, but the Costco smoked salmon is more than adequate.
Smoked Salmon Recipe Ideas and Uses
Believe it or not, there are many uses and recipes for smoked salmon. Most people might immediately think of bagels and lox or smoked salmon and crackers, but there are actually quite a few different uses or recipes for smoked salmon.
My wife loves smoked salmon in her salads. The texture and flavor is so unique that it can really enhance any salad. Salmon salads are easy to make and can be extremely healthy.
Here is a great Smoked Salmon Salad Recipe.
Smoked Salmon may not be the first thing you think of for breakfast, but salmon is soo good with eggs. Here is an amazing smoked salmon omelet recipe.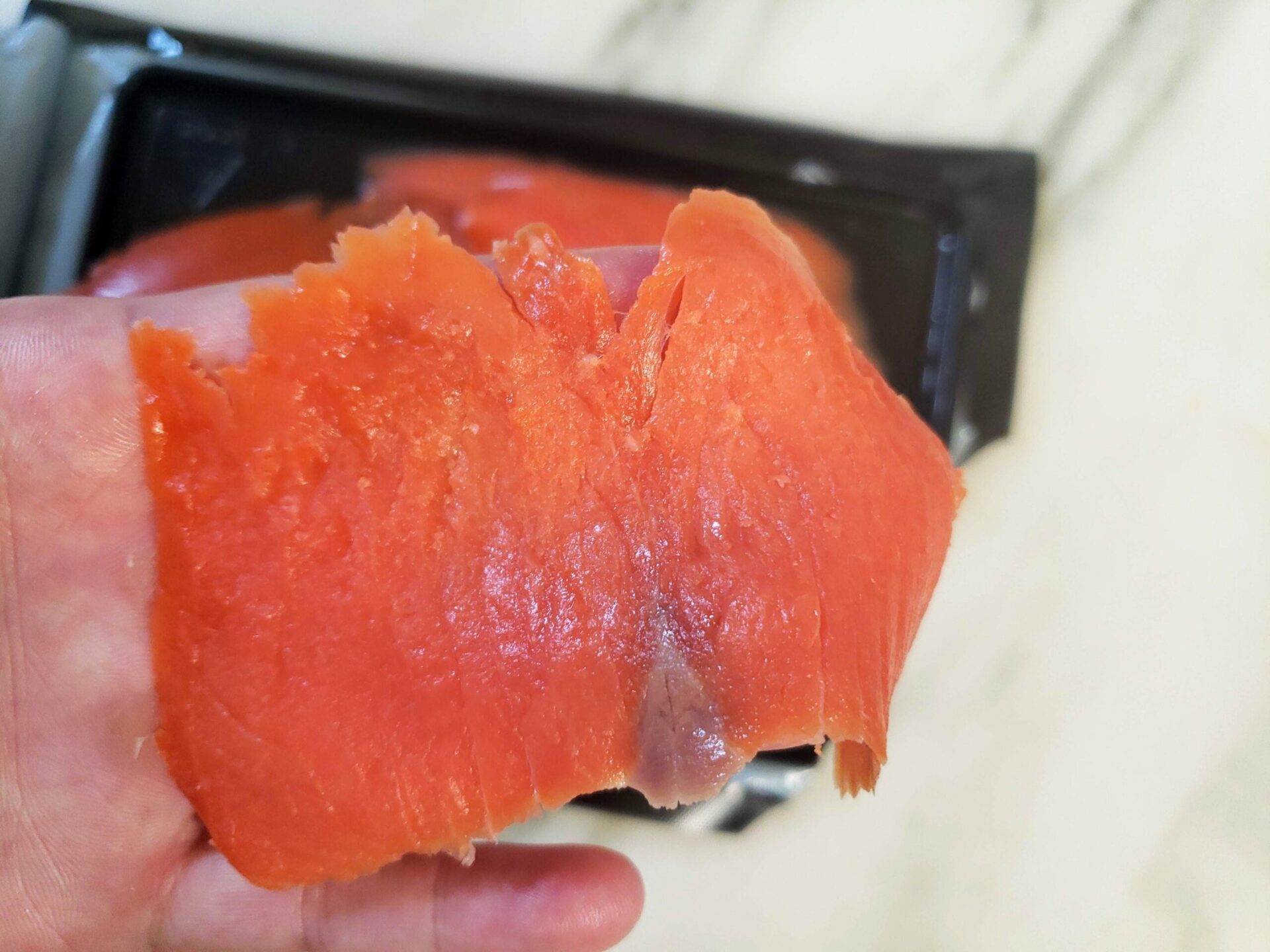 Remember: Don't add the salmon in the egg. It will cook!
Creamy Pasta with Smoked Salmon might be one of my favorite fun eats. The smokiness of the salmon combines so well with the creaminess of the sauce and is so easy to make. Give this one a try.
Costco Cost Comparison - Smoked Salmon
Costco's 16 ounce smoked sockeye salmon sells for $21.99. This of course makes an easy breakdown of $21.99 a pound. 

Costco's 24 ounces of Atlantic Smoked Salmon sells for $19.99 or $13.33 a pound. Foppen's 12 ounces of Smoked Salmon slices go for $10.99 or $14.65 per pound. 
The smoked sockeye salmon is going to be the most expensive of Costco's smoked salmon options.

Smoked Sockeye Salmon - Nutritional Information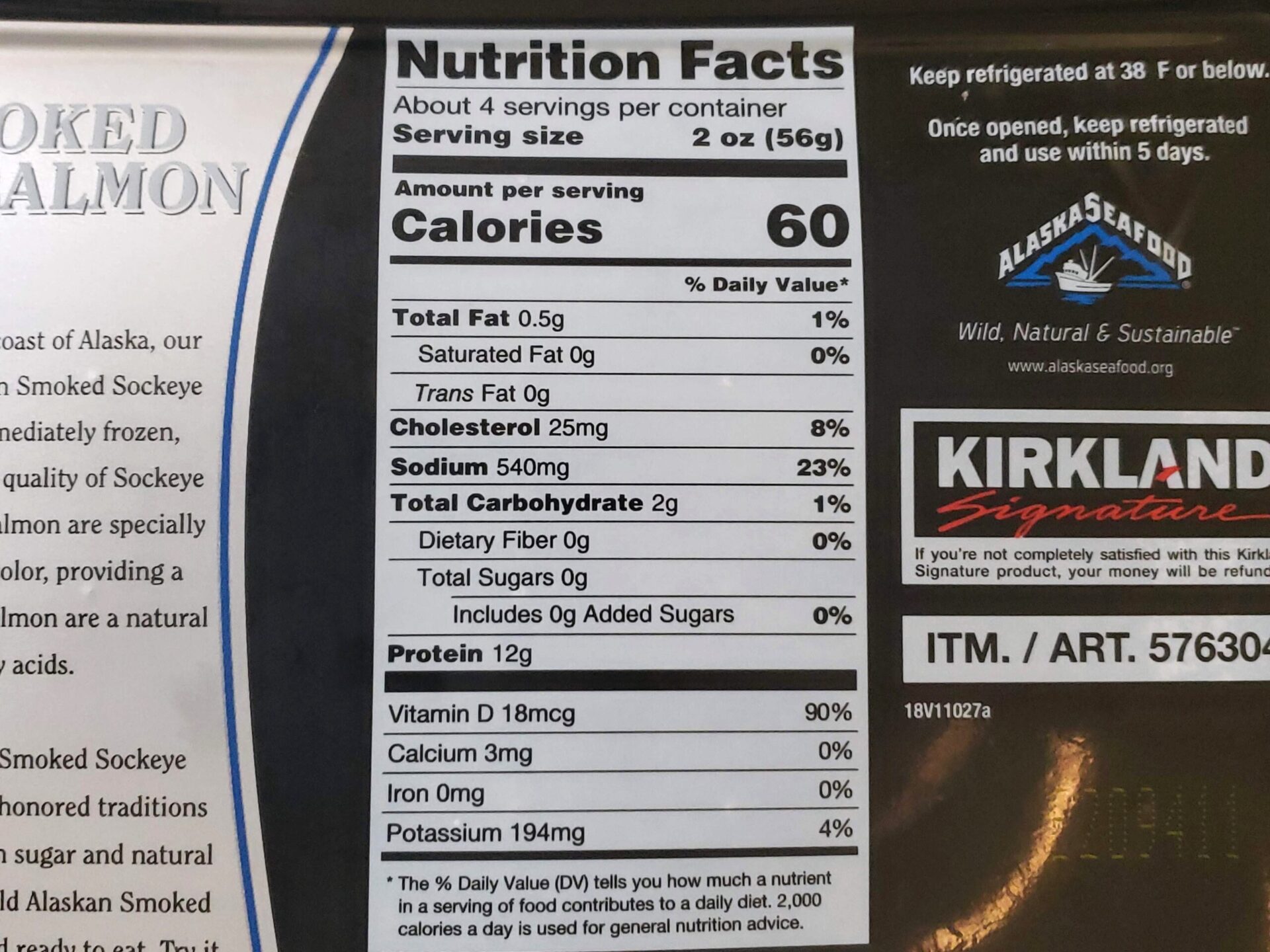 How Many Calories in Kirkland Signature Smoked Salmon
Each serving of Smoked Sockeye Salmon is going to be 2 ounces and will contain 60 calories. Those calories come from 0.5 grams of fat, 2 grams of carbs, and 12 grams of protein. 
This is a fantastic nutritional profile as there is a high amount of protein and very little carbs and fat in each serving of smoked salmon.
Beware of the Sodium Content
Cold smoked salmon is salt cured and then preserved by smoke. During the salt curing phase, the salmon does absorb some of the salt which leads to a higher than normal sodium levels for salmon. 
The Kirkland Signature Wild Alaskan Sockeye Smoked Salmon has 540mg or 23% of the recommended daily value in each serving. This is rather high as each serving is only 2 ounces of smoked salmon, which is not hard to eat. Keep this in mind when enjoying this delicious treat. 
Is Smoked Salmon Healthy?
In addition to being fairly low calories and high in protein, there are a plethora of health benefits with salmon. Salmon includes a ton of vitamins and nutrients and in particular there is an abundance of Vitamin B. Salmon in general is also a great source of Omega 3 Fatty Acids.
Salmon also helps reduce the risk of heart disease and stroke and can lower your cholesterol and blood pressure as well as reduce artery inflammation. Some studies have also shown that consuming salmon can reduce the risk of some cancers as well as cognitive decline and disease.
Not only does salmon have a great macronutrient nutritional profile, but it also contains a bunch of healthy vitamins and nutrients that are great for overall health. There really is no reason to not include salmon in your diet!
I like but don't love Kirkland Signature's Sockeye Smoked Salmon. There is only a light smoky flavor, but the fish tastes great and can be added to a variety of meals. 
Compared to the other smoked salmon options at Costco, the sockeye smoked salmon is on the pricier side, but worth the money. The better value option will be Kirkland Signature's Atlantic Smoked Salmon which is about 30% less expensive. 
Do you need to Cook the Kirkland Signature Wild Sockeye Smoked Salmon?
No, smoked salmon does not need to be cooked before being eaten. You can eat it straight out of the package or throw it on a bagel first, but no further heating is required.
What's the difference between Hot and Cold Smoked Salmon?
Cold smoked salmon is cured and smoked at a temperature of less than 90°F. The salmon maintains its raw texture while absorbing the delicious smokiness.

Kirkland Signature's Wild Sockeye Salmon is cold smoked.

To be considered hot smoked, the salmon will have to be cooked at a temperature of 120°F or more. The hot smoked salmon produces a texture closer to traditionally cooked salmon. The salmon also ends up with an incredibly smoky flavor.
Can You Freeze Costco's Sockeye Smoked Salmon?
Yes, you can free the Kirkland Signature Smoked Salmon. There may be some slight texture changes to the salmon, but the Salmon can indeed be frozen to preserve the fish. You can freeze the smoked salmon for 3-4 months. 
Costco Food Database User Reviews
Have you tried this item? Let the rest of the Costco Food Database community know what you think. Leave a rating and review for this product. 
Costco Smoked Salmon Salad - Super Healthy
Costco's smoked salmon has a million and one uses. Have you tried the smoked salmon with salad?
Ingredients
1

Large Bowls Worth of Chopped Romaine/Arugala/Spinach

6-8

ounces

Smoked Salmon

1

Large

Avocado

10

Slices

Red Onion

Pepper to Taste

Sesame Seeds

2

tbsp

Extra Virgin Olive Oil

1/4

Cup

Chopped Almonds
Instructions
Add leafy greens, then top with smoked salmon

Add in avocado slices, red onions, chopped almonds (Optional)

Drizzle with olive oil, add sesame seeds and pepper.
Notes
Nutritional Value is for the Kirkland Signature Smoked Salmon Only. All additional ingredients will increase the calorie count. 
Nutrition
Serving:
2
oz
Calories:
60
kcal
Carbohydrates:
2
g
Protein:
12
g
Fat:
0.5
g
Saturated Fat:
0
g
Trans Fat:
0
g
Cholesterol:
25
mg
Sodium:
540
mg
Fiber:
0
g
Sugar:
0
g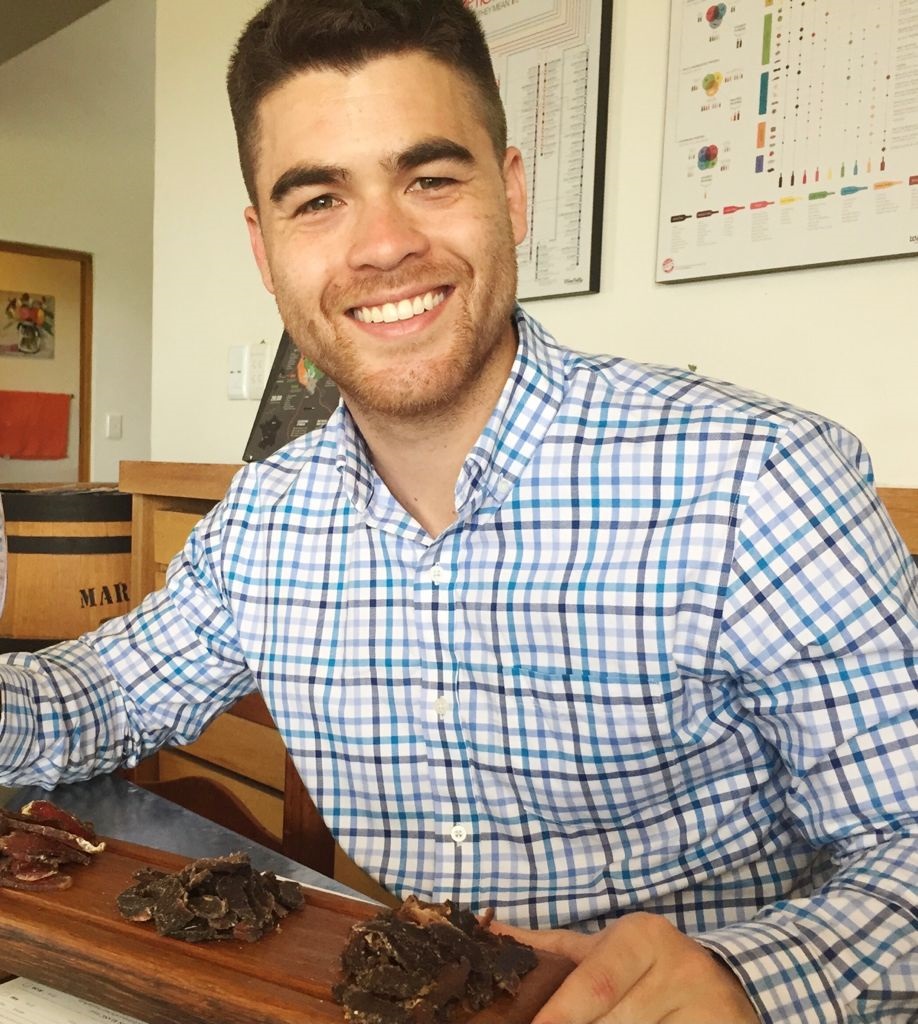 Greg Larkin is the founder and managing editor of Costco Food Database, the premiere site for honest takes on all things Costco food. A self-proclaimed Costco super-fan since childhood, Greg turned his obsession in a mission to properly rate and review all of Costco's delicious buys. When he's not busy navigating Costco aisles, you can find Greg smoking Kirkland Signature meats, meal prepping, or perfecting his homemade jerky recipes.