Costco Pomegranate Juice - Kirkland vs POM - Who Wins?
Kirkland Signature Pomegranate Juice at Costco
Costco sells its Kirkland Signature Pomegranate Juice for $6.79. I found the pomegranate juice in the frozen food aisles near the other beverages such as the dragon fruit juice, acai juice, and the kombucha. 
Further down in the article, I will take a look at the Kirkland Signature Pomegranate Juice and how it compares to POM Wonderful's. 
Costco's Pomegranate Juice is sold in a 64-ounce bottle and contains 100% pomegranate juice from concentrate.

Have You Tried Costco's Pomegranate Juice?
Let the rest of the Costco Food Database community know what you thought of this product. Results and reviews are at the bottom of this page.
Please allow 24 hours for review moderation and approval.
Why Drink Pomegranate Juice?
Pomegranate juice is made from the delicious pomegranate plant and are packed with nutrients and antioxidants. In addition to its great taste, pomegranate juice has many health benefits.  
Studies have also shown that pomegranates may help reduce inflammation, have anti-cancer properties, and offer heart health benefits. Pomegranate juice is a great juice to drink for some secondary health benefits.
Kirkland Signature Replacing Pom Wonderful
The most prominent brand of pomegranate juice is made by a company called POM Wonderful. POM Wonderful used to be sold at Costco but has since been replaced with the Kirkland Signature version.

User Thoughts on The Switch To Kirkland Signature Pomegranate Juice
Usually, the Kirkland Signature product version is well received, but there have been some complaints about the KS pomegranate juice vs. the POM version. 
JC wasn't a fan of the change "Not as much flavor. The color isn't as dark. They need to drop this and go back to Pom. Costco does this too often with popular brands – moves them out and replaces them with a lesser Kirkland product. I won't purchase again."
Art had some strong words as well:
"As a long time consumer of Pomegranate Juice, I find Kirkland's attempt to private label the category an utter failure. The product is very bitter and leaves one's mouth dry with a bad aftertaste.
Every bottle has 1/4 inch of sludge that collects at the bottom, and no matter how much you shake the bottle, it does not dissolve.
My Costco store stopped selling the POM branded juice to force us to buy this, but we cannot buy this product. It is awful, and we go to other grocers to find POM brand even though it is more expensive."
More user thoughts on Kirkland Signature vs. POM are below. 
How Much Does Kirkland Signature Pomegranate Juice Cost at Costco?
Costco sells the large 64-ounce (2 quart) bottle of Kirkland Signature Pomegranate Juice for $6.79. I was able to snag the bottle when it was on sale with a $1.50 discount bringing the price down to $5.29.

At retail, the price per ounce is $0.10; when on sale, the price drops to $0.08. Costco's price for pomegranate juice is very competitive, and it is an absolute steal when the item is discounted.
Costco Vs The Competition
Sam's Club sells 60 ounces of POM Wonderful pomegranate juice for $9.28 or $0.15 per ounce.
Target sells a 48-ounce bottle of POM Wonderful for $9.99 or $0.20/ounce.
Costco will have by far the best price for pomegranate juice with their Kirkland Signature brand.
Kirkland Signature vs POM wonderful Pomegranate Juice
I received quite a few user comments/reviews on this Kirkland Signature Pomegranate juice and, in particular, how it compared to POM wonderful.
The majority of Costco members are disappointed that Costco no longer sells POM Wonderful pomegranate juice. Here is some of what they had to say.
Bitter With a Bad Aftertaste?
A few Costco Food Database users thought that the Kirkland version of the juice was bitter and left a sour aftertaste in their mouths.
Mark: "A bit bitter. Not sweet at all. They must press the whole fruit but hopefully makes this a healthier drink. I use a small cup of this to down my vitamins every morning."
Josh also wasn't a fan of the bitterness. "I buy this juice all the time, but this time, I have a bottle that's wayyy too bitter /sour. Almost like the fruit wasn't ripe yet when they juiced them."

Ron wishes for Costco to bring back POM, "I agree it is way more bitter/sour than POM. I wish they would go back to selling POM."
Other users thought the juice lacked in flavor or was even diluted.
Mary: "This juice is diluted!!"
Raymond: "Weak diluted. I will never again say anything negative about my beloved Pom."
Mateo stated if this was his first pomegranate experience, he wouldn't buy or try the juice again.
"Correct, I was trying to explain myself at home and was being called crazy! Thank you for the similarities in experience. This Costco brand is truly a disappointment. If it were my first choice of pomegranate juice, I would have never tried it again, this truly is diluted in which its placed in liked it looks brown compared to Pom. Brown, in my opinion, is as if the fruit is going bad based on water dilution."
There are Some Fans of Kirkland Signature Pomegranate Juice
About 20% of the reviews were positive and thought the juice was equally as good as POM's version. For those users, the cost savings were fantastic.


Sue: "I like it just the same as POM.
Less expensive"


Crystal: "I agree this is a little bit more bitter than POM, but I also agree I feel like it might be the healthier choice. I will for sure buy again."
Anna: "Loved it! I got it really cold, and it was wonderful. There was no bitterness and just enough sweetness."

Controversial - Your Thoughts?
There were mixed thoughts on the Kirkland Signature pomegranate juice from the comments and reviews. Some were very unhappy with the removal of POM and forcing of the KS juice, while others were able to still enjoy the pomegranate juice.
The decision by Costco to completely remove POM and only sell the KS version is controversial, to say the least.
I would love to hear more feedback in the comments in regards to which pomegranate juice you prefer and your thoughts on Costco's decision to only sell their in-store Kirkland Signature brand.
Costco Pomegranate Juice - Taste Test
There is an extensive discussion in regard to the Kirkland Signature brand of pomegranate juice vs. Pom Wonderful. The user reviews are posted above.
This portion of the review will focus solely on the Kirkland Signature Pomegranate juice.
I have never tried POM wonderful's juice, and this will be my first pomegranate juice experience.
Visually, the juice was a lot darker than I expected it to be. I know pomegranates as a bright pinkish-red color, so I was pretty surprised to see the juice has more of a dark brownish-red color.

For taste, I also found the Kirkland Signature Pomegranate juice to be much more sour than I thought it would be. The juice had just a hint of sweetness, with the majority of the flavor being sourness/tartness or even a slight bitterness. 
The juice had a raspberry cranberry type of flavor profile.
I even tried the juice in a smoothie that included Costco's smoothie packs, greek yogurt, and chia seeds, and the tartness was still very noticeable and prevalent.
 
There is no denying how intense the tart flavor in this juice can be.
I'm not the biggest fan of the juice; it lacks the sweetness that traditional juices have and instead is slightly bitter and harsh.
I can understand drinking this for the health benefits, and it's great that there are no added sugars, but it's not my favorite for everyday consumption.
Nutritional Information and Calories
Calories in Pomegranate Juice
One serving of Kirkland Signature's Pomegranate juice will be the standard 8 fluid ounces and will contain 160 calories. Those calories will come from 9 grams of fat, 39 grams of carbohydrates (0 grams of added sugar), and 0 grams of protein.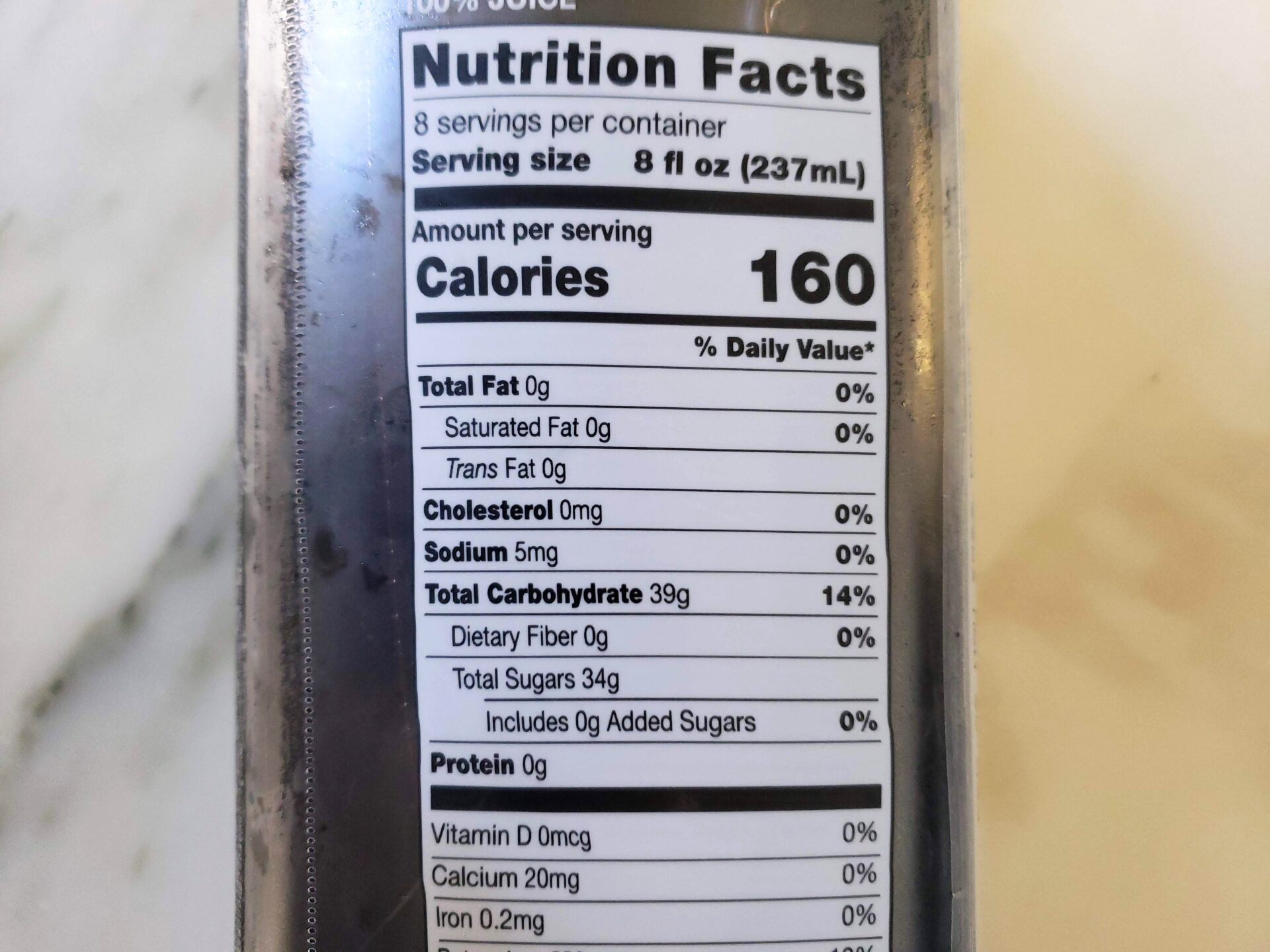 There are better nutritional labels than this, but fairly standard for juices. The juice will be made purely with carbohydrates and sugars (34g), but it is great to see that there are no addtional added sugars.
This is 100% pomegranate juice!
Costco Food Database User Reviews
Have you tried this item? Let the rest of the Costco Food Database community know what you think. Leave a rating and review for this product.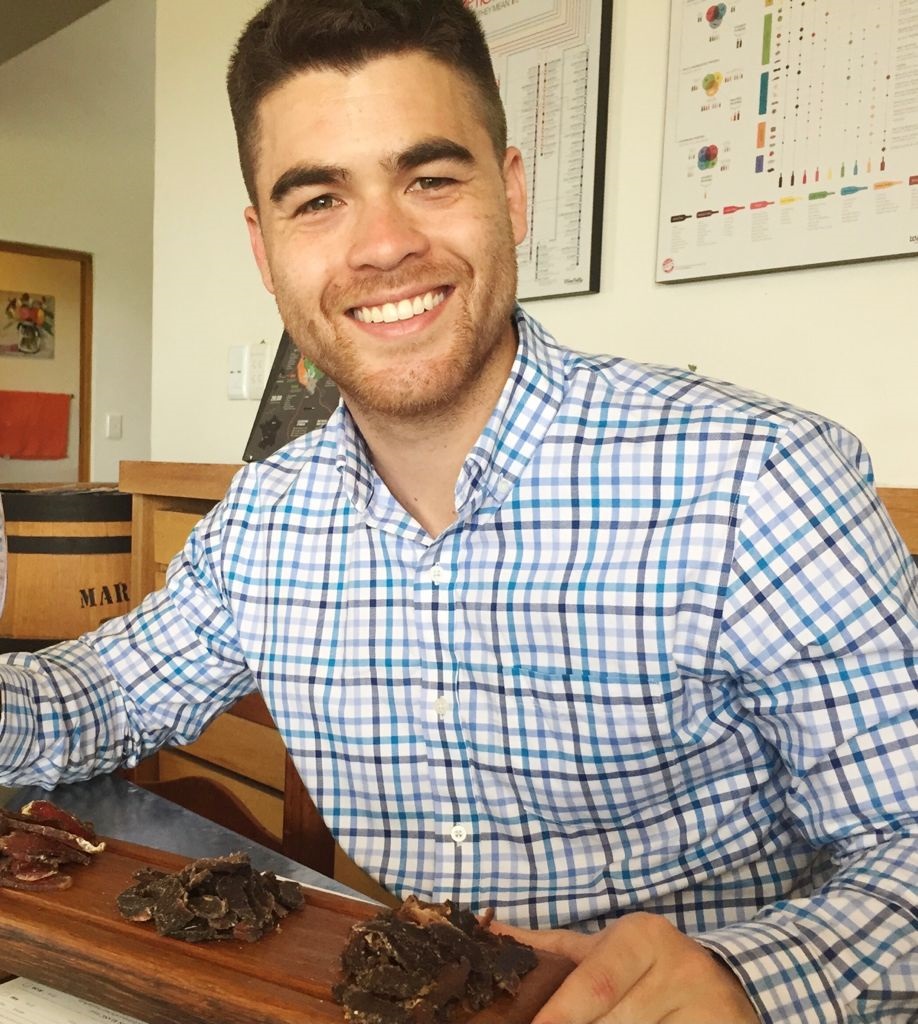 Greg Larkin is the founder and managing editor of Costco Food Database, the premiere site for honest takes on all things Costco food. A self-proclaimed Costco super-fan since childhood, Greg turned his obsession in a mission to properly rate and review all of Costco's delicious buys. When he's not busy navigating Costco aisles, you can find Greg smoking Kirkland Signature meats, meal prepping, or perfecting his homemade jerky recipes.