Costco Sourdough Bread - Better Than Fresh Baked?
Sourdough Bread at Costco
Costco sells a 3-pack of The Essential Baking Company's Sourdough Bread for $9.79. The Sourdough can be found in the pantry and dry goods area near the bread and other items such as the naan bread, pita bread, and the aussie bites.
The Costco sourdough bread is organic, has no preservatives, and is made with natural starters. Each loaf of sourdough bread weighs about 18 ounces and takes as little as a few minutes to prepare.
How Does The Costco Sourdough Bread Stay Fresh?
The Costco sourdough bread is organic and made with no preservatives, so how exactly does it stay fresh? The secret is Essential Baking's "Essential FreshSEAL" packaging which locks the freshness.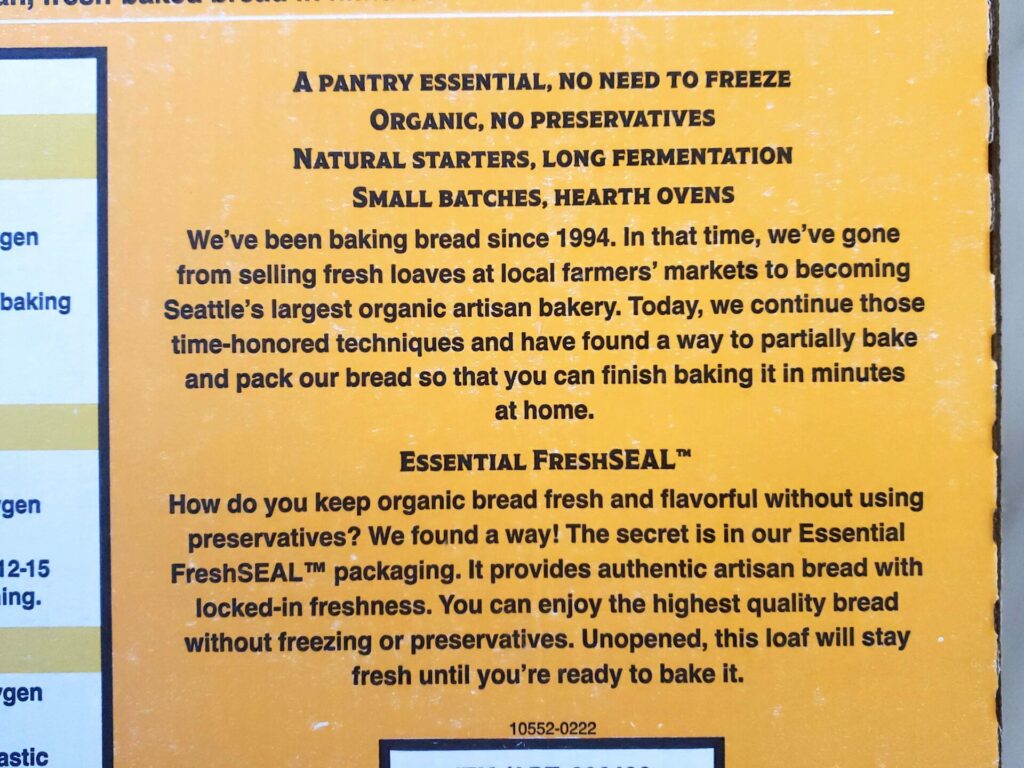 Unopened, the sourdough loaf will stay fresh until you are ready to bake and eat it. My sourdough bread from Costco has a best-by date about 6 months from the day I purchased it.
Who is The Essential Baking Company?
The Essential Baking Company is a Seattle based company that sells various baked goods. They primarily sell loaves of bread or pizza dough and do not have any physical storefronts. 
Most of their baked products will be sold at retailers across the country, like Costco, Safeway, Target, and select high-end grocery stores.
How Much Does Costco Sourdough Bread Cost?
The 3 pack of Sourdough bread sells for $9.79 at Costco. This breaks down to a price of $3.26 per loaf of sourdough.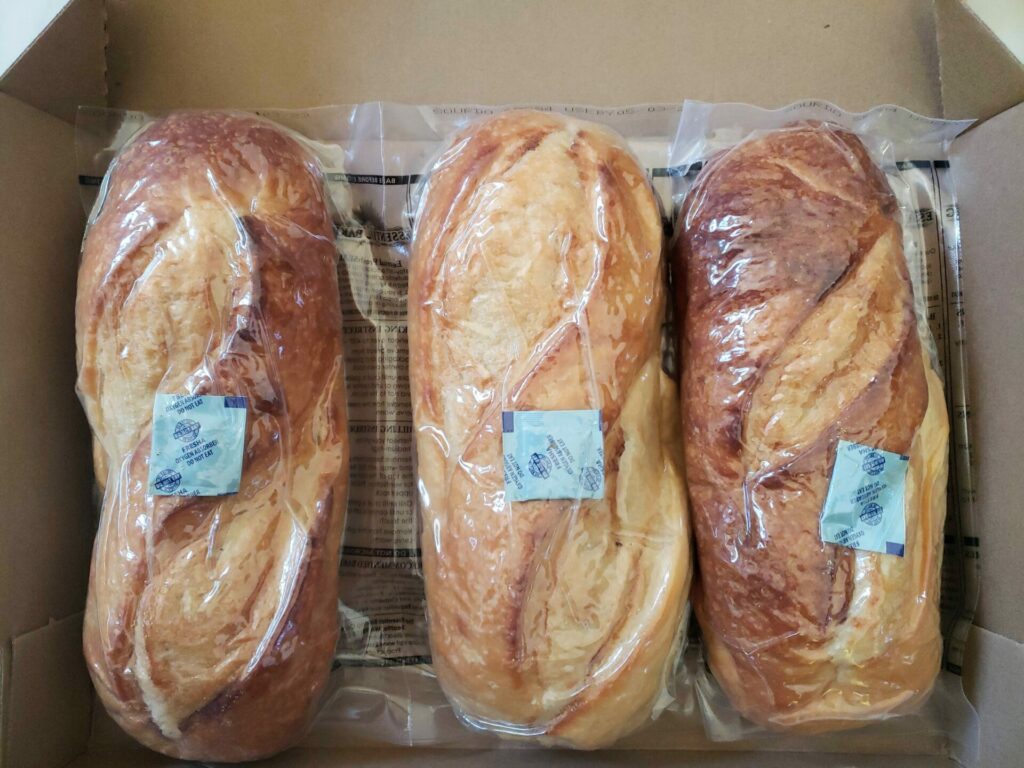 This is a fair price for take and bake sourdough, as freshly baked sourdough can cost $5-6 per loaf or even more.
Costco vs. The Competition
The Essential Baking Company does sell its sourdough at other retailers like Target and Safeway, but both options will be significantly more expensive than Costco's sourdough bread.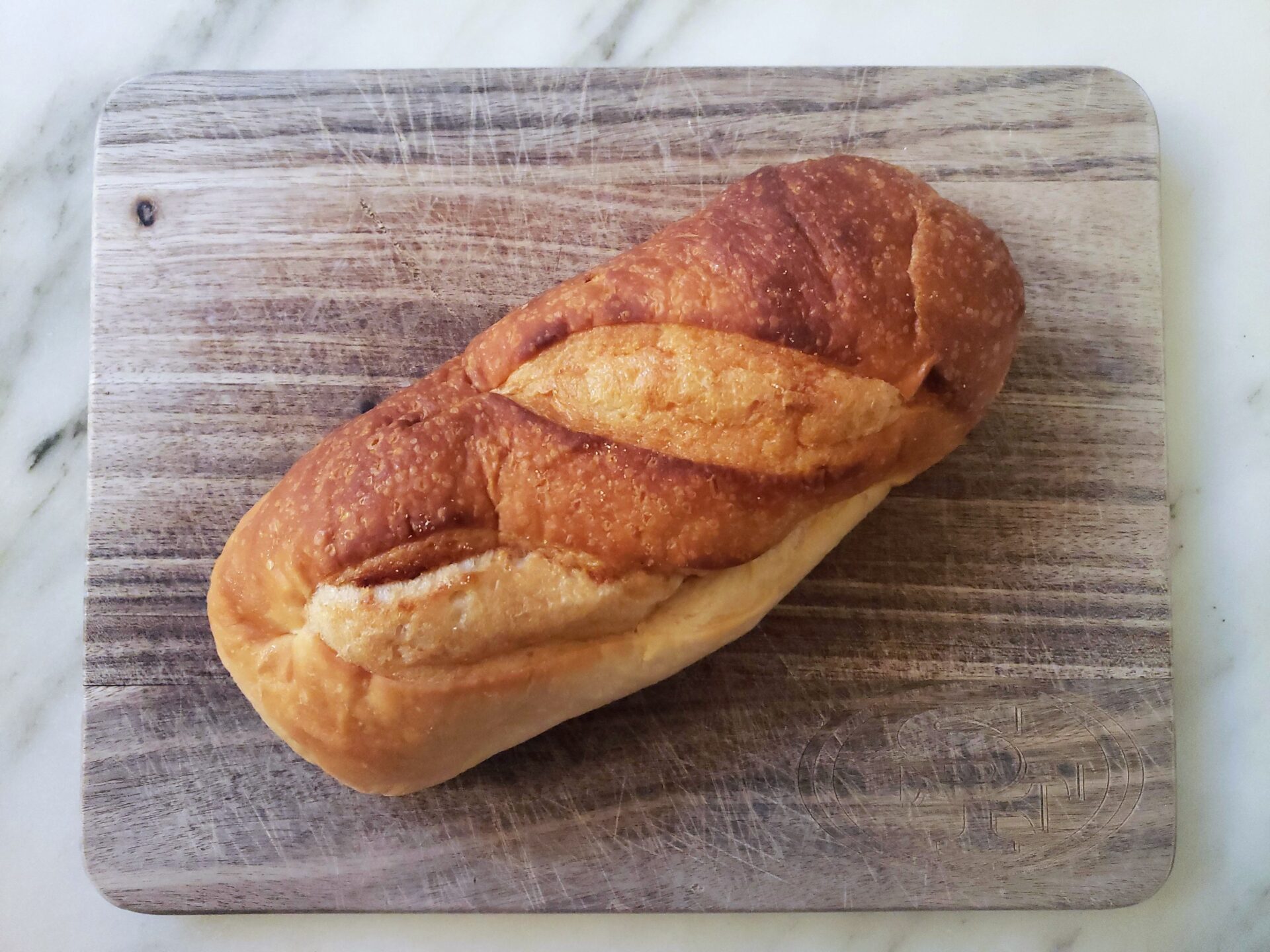 Target sells a 16-ounce (smaller than Costco's) Take & Bake Sourdough Loaf for $5.29. Safeway also sells the 16-ounce take and bake sourdough bread for $5.49.
Costco's Sourdough Bread Taste Test
I'm somewhat familiar with sourdough bread as my wife has made some at home in the past. It's a long and tedious process, but the end result is usually a fantastic piece of rustic looking sourdough.
Unfortunately, the Costco sourdough bread was quite the letdown. The sourdough loaf looked great, but it looked more like a regular loaf than sourdough. 
It came out of the oven piping hot with a lovely golden brown exterior, but it didn't have the crackly sourdough crust we all desire. 
When I sliced open the sourdough bread, I was looking for an open, airy slice of bread with an even dispersion of holes. Again, the Costco sourdough disappointed me. 
The interior looked just like a standard loaf of white bread. It was flat, dense, and underwhelming.
For taste, the sourdough was acceptable. The bread was dense but still soft and slightly springy. The tangy sourdough taste was light, but it was there. It is easy to tell this is clearly sourdough bread.
It's fine to keep in your pantry for a quick sourdough fix, but it's not going to win any awards and isn't something I would be serving to guests. It will not beat out any freshly baked sourdough.
Costco Sourdough Bread Heating Instructions
The Essential Baking Company provides 3 different heating methods for the Costco sourdough bread. 
The sourdough can be baked, toasted, and even grilled on the BBQ! I'm sure that will give the sourdough a nice smoky flavor.
Preheat oven to 425°F.

Remove the sourdough bread from the package and discard the oxygen absorber packet. 

Place the loaf directly on the center rack of the oven, foil, or baking sheet pan. 

Bake for 12-15 minutes or until golden brown.
Preheat your girl to medium heat. 

Remove Costco sourdough bread from the package and discard the oxygen absorber packet. 

Wrap loaf in foil and grill over medium-high heat for 12-15 minutes, flipping it over occasionally to prevent burning.
Remove the bread from the package and discard the oxygen absorber packet. 

Cut the sourdough loaf into slices, store any unused bread in a plastic bag, and freeze for later use. 

Toast for 2-4 minutes or to desired crispness.
Costco Sourdough Air Fryer Instructions
Air Fryer instructions are not provided by The Essential Baking Company, but the sourdough can still be reheated in the air fryer. This will be much more efficient than heating in the oven.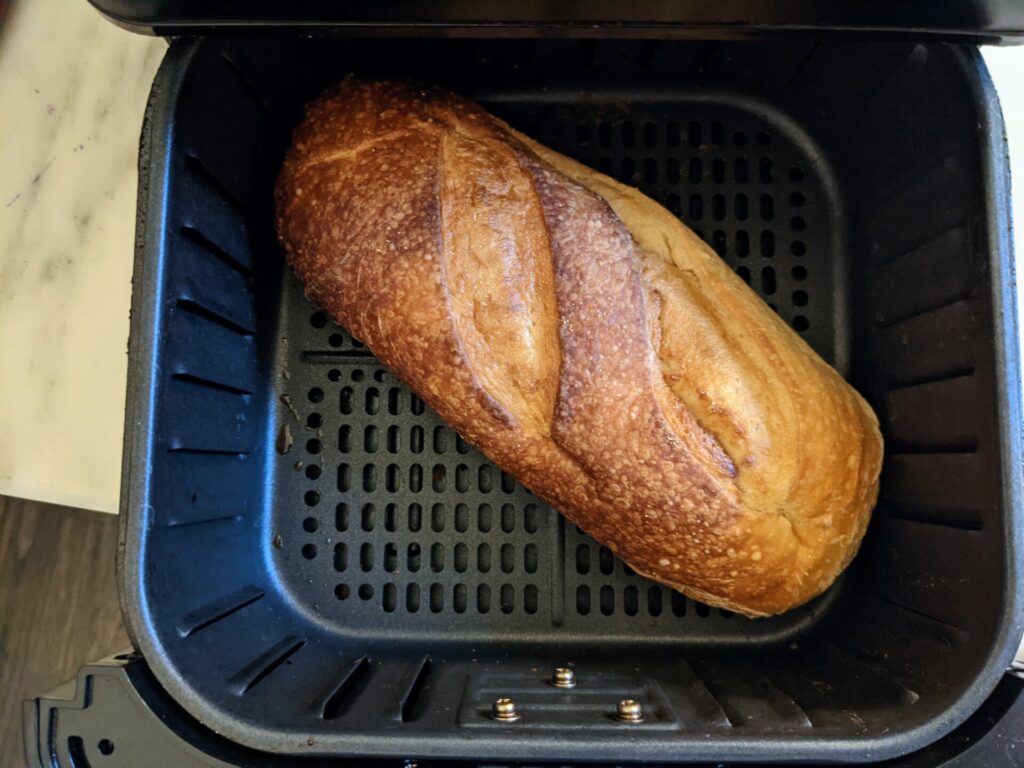 If you can fit the whole loaf into your air fryer:
Preheat the air fryer to 400°F

Remove the bread from the package and discard the oxygen absorber packet. 

Air fry for 10-12 minutes or until golden brown. 
If you can't fit the entire loaf, you can use the air fryer for sliced sourdough.
Toast for 2-4 minutes on toast setting or at 325°F.
Sourdough Bread Calories and Nutritional Information
How Many Calories in Costco Sourdough Bread?
One serving of Costco's sourdough bread will be 1/9 of a loaf or 56 grams (2 ounces). Each serving will have 130 calories coming from 0.5 grams of fat, 25 grams of carbohydrates, and 4 grams of protein.
From what I gathered online, this seems to be a standard sourdough nutritional label, and maybe even light in calories. 
Most sources say 2 ounces of sourdough bread have about 150-165 calories. For some reason, this comes in at slightly fewer calories.
Costco Sourdough Bread Review
Product Name: The Essential Baking Company Take & Bake Sourdough
Product Description:
Price: $9.79
Quantity: 3 Sourdough Loaves
Location Within Costco: Pantry and Dry Goods (Bread)
Price Per Loaf: $3.26
Summary
The Costco sourdough loaf is a miss. The packaging looks great, and the sourdough loaves look like they have potential, but they lack some of the key characteristics of sourdough. 
The price is fair for what it is, and the sourdough makes a great backup bread option that you can keep in the pantry.
Value -

8/10

Convenience -

8/10

Taste -

4/10

Nutrition -

8/10

CFDB Score -

6/10
Pros
Easy to make

Good shelf life (6 Months)

No Preservatives