Costco Just Bare Spicy Chicken Strips - How to Cook + Calories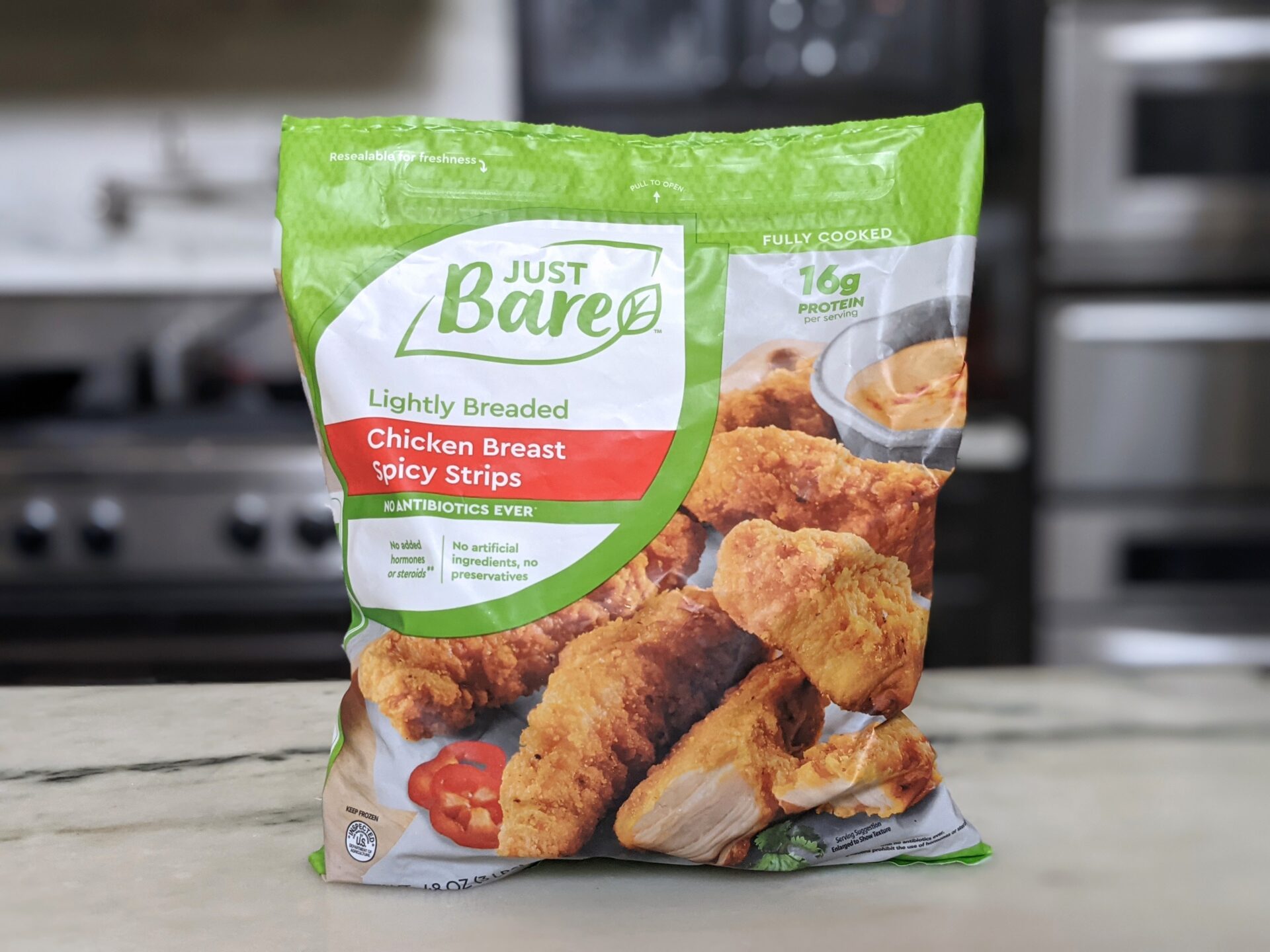 Just Bare Chicken Breast Spicy Strips at Costco
Costco sells a 3-pound bag of Just Bare Spicy Chicken Strips at Costco for $14.99. The Just Bare chicken strips can be found in Costco's frozen food aisles near other items such as the Rotisserie Chicken Strips, Chicken Patties, and Chicken Burgers.
The Lightly Breaded Just Bare Chicken Spicy Strips use chickens with no antibiotics ever, have no added hormones or steroids and do not use any artificial ingredients or preservatives. 
Have You Tried Costco Spicy chicken Strips?
Let the rest of the Costco Food Database community know what you thought of this product. Results and reviews are at the bottom of this page.
Please allow 24 hours for review moderation and approval.
The Just Bare Brand AT Costco
If you've been shopping at Costco for any amount of time, you may recognize the Just Bare brand. They sell chicken nuggets as well as breaded chicken patties at Costco as well.
The unique selling point of the Just Bare brand is that they use full chicken breast pieces. They don't use ground chicken or a spongy chicken filling. When you buy the Just Bare brand, you get recognizable chicken breast pieces reminiscent of homemade breaded chicken strips/nuggets.
Their chicken chunks, which also use chicken breast pieces, were their first product in Costco and were a hit instantly. 
They are such a high quality that they are even considered a Chick-Fil-A Clone. The Just Bare chicken chunks are still extremely popular today and even have a cult following.
How Much Do The Just Bare Strips Cost
Costco sells 3 pounds of the Just Bare Spicy Chicken Strips for $14.99 or $5 per pound. This is on par with the other Just Bare products, which are also in the $5 range. 
Costco also sells Tyson' Crispy Chicken Strips for $4.66 a pound, which is slightly less than the Just Bare Chicken Strip price per pound. These chicken strips are not spicy and will be the better option for those with a spice intolerance.
Costco Vs. The Competition
The Just Bare brand is also available at other grocery stores and large retailers. 
My local grocery store, Tom Thumb, retails a 24-ounce pack of the nonspicy Just Bare Chicken Strips for $13.99, and they are currently running a sale for the chicken strips at $9.99. 
The retail price per pound is an astronomical $9.32, or nearly double Costco's price. On sale, the price per pound drops to $6.66, which is a little more reasonable but quite evil.
Just Bare Chicken Strip Taste Test
I followed the recommended directions to cook the Just Bare Spicy Chicken Strips in the air fryer, and they came out super crispy and crunchy. 
They were just on the edge of being slightly burnt, so I could have taken them out a minute earlier.
For taste, the chicken strips are pretty good but not as enjoyable as the other two Just Bare products sold at Costco. 
The red appearance was nice, but that to me usually means salty, which they were. There was also a slight taste that just felt out of place for me. I'm not exactly sure what it was.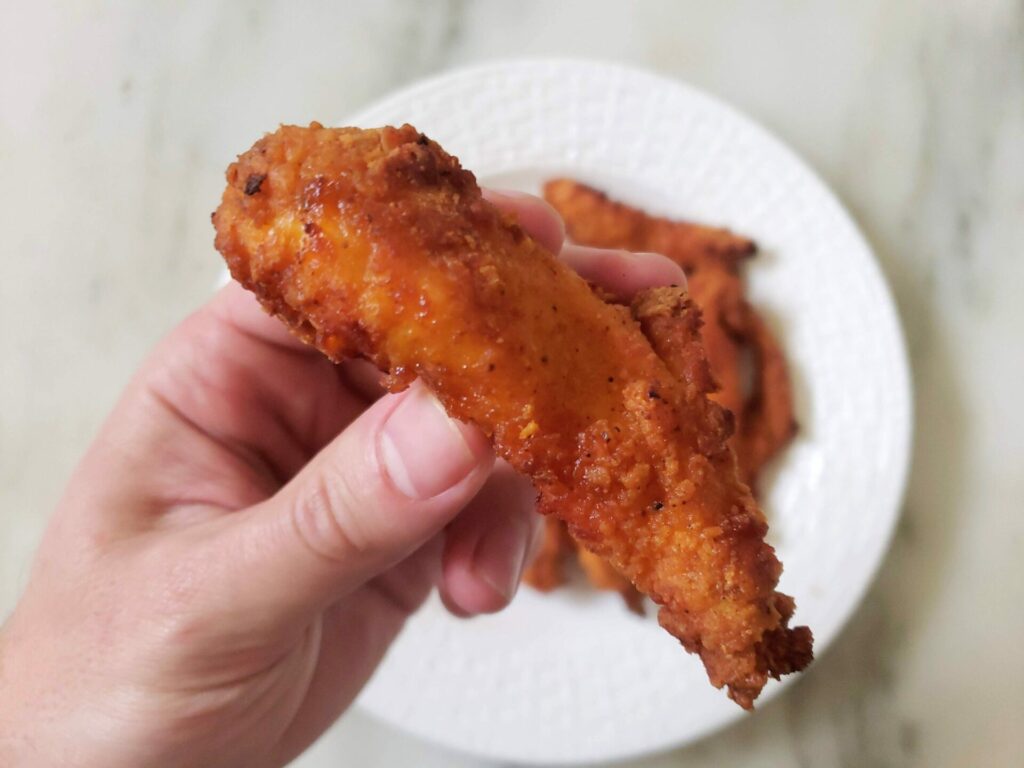 The chicken had a nice spicy level and was hotter than expected. It's nothing to write home about, but it isn't bad for frozen food.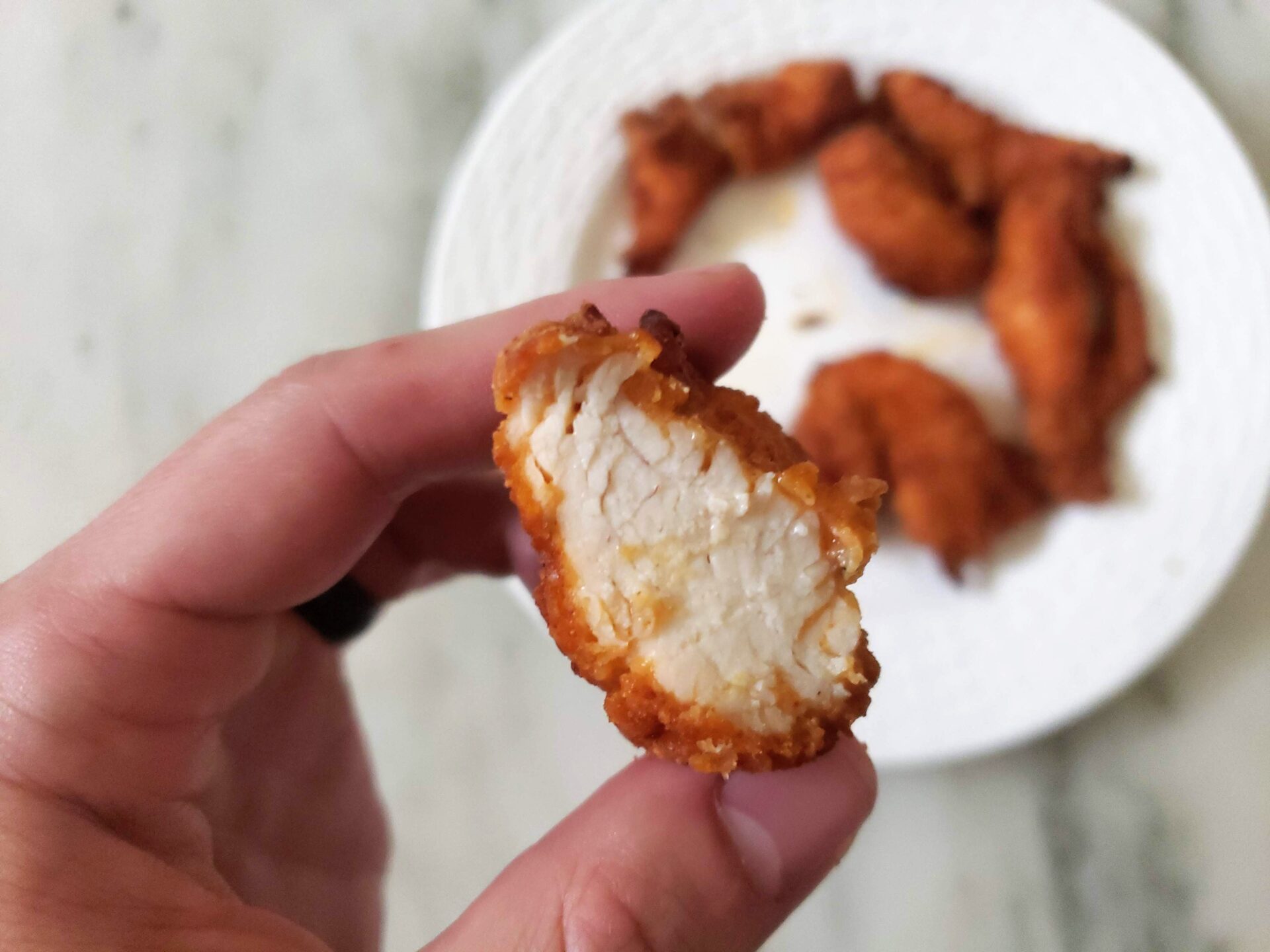 The best part was the cut chicken breasts in the strips. The chicken was flavorful, juicy, and delicious. It's always nice to know that you are eating little processed chicken as possible. 
Overall they were enjoyable, and I will have no problem finishing off the bag. Next time, I'll dip them in some ranch.
How to Cook Just Bare Chicken Strips
Just Bare lists 3 different heating methods for their spicy chicken strips. They can be cooked in the air fryer, conventional oven, or even microwaved. 
I always choose to air-fry breaded food as it really allows the breading to crisp up and have a nice crunch.
Preheat Air Fryer to 360°F 

Place frozen chicken pieces in the basket in a single layer.

Air Fry chicken for 13 minutes.
Preheat oven to 375°F

Place frozen chicken pieces in a single layer on an ungreased baking pan.

Bake uncovered for 12 minutes. Turn. Bake for an additional 12 minutes. Total time 24 minutes.
Place 3-4 frozen chicken pieces in a single layer on a microwavable safe dish. 

Microwave on high for 4 minutes. Do not overheat. 

Let stand for 2 minutes before serving. 
Continue to heat chicken until a meat thermometer inserted into the thickest portion of the product reads 165°F.
Costco Just Bare Spicy Chicken Strips Calories and Nutrition
How Many Calories In Costco Just Bare Chicken Strips?
One serving of the Just Bare Spicy Chicken Strips will be 2 pieces and contain 150 calories. There are 6 grams of fat, 10 grams of carbs, and 16 grams of protein. The complete nutritional label is below. 
Calories: 150

Total Fat: 6g

Saturated Fat: 1g

Trans Fat: 0g

Polyunsaturated Fat: 3g

Monounsaturated Fat: 1g

Cholesterol: 45mg

Sodium: 700mg

Total Carbohydrates: 10g

Dietary Fiber: 0g

Total Sugars: 2g

Added Sugars: 2g
Protein: 16g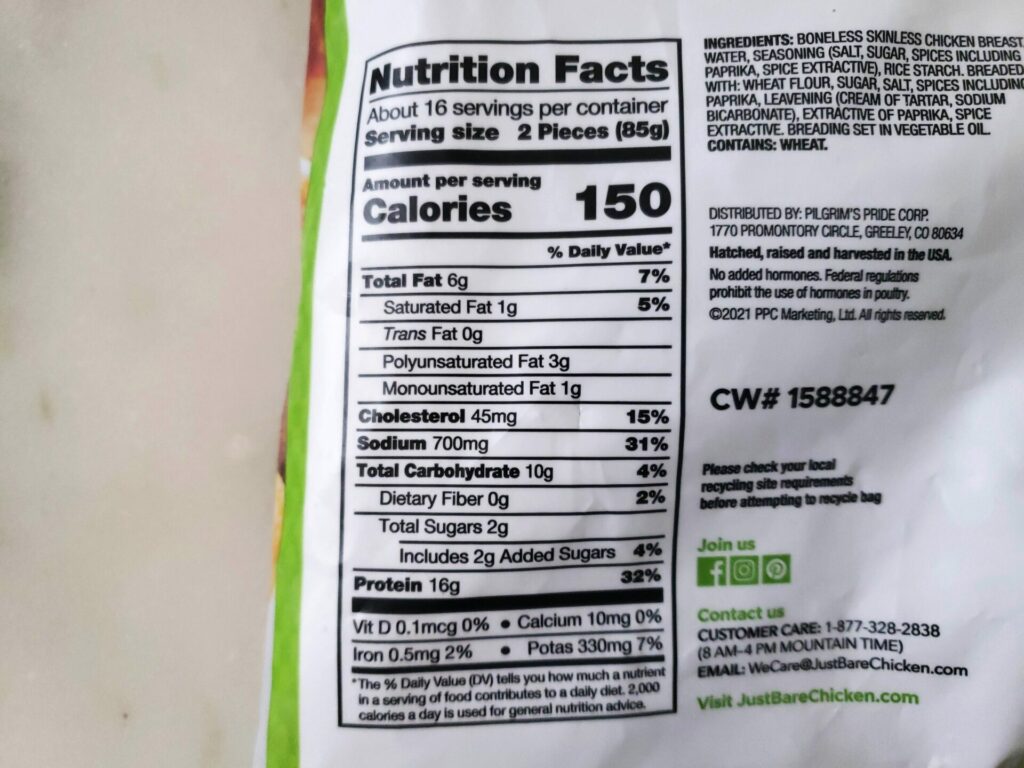 This is a solid nutritional label for a frozen chicken strip. The fat and carbs are kept to a minimum, and there are 16 grams of protein per serving. 
My only concern is that the sodium is a little high at 700 mg or 31% of the recommended daily value, but at a macro nutritional level, these are more than acceptable.
The Just Bare Chicken Strips have finally arrived at Costco, but I think they fall just a little short of the Just Bare Brand. The chicken is great as always, and the breading is sufficiently crispy, but the flavor was just a little off.
Costco Food Database User Reviews
Have you tried this item? Let the rest of the Costco Food Database community know what you think. Leave a rating and review for this product.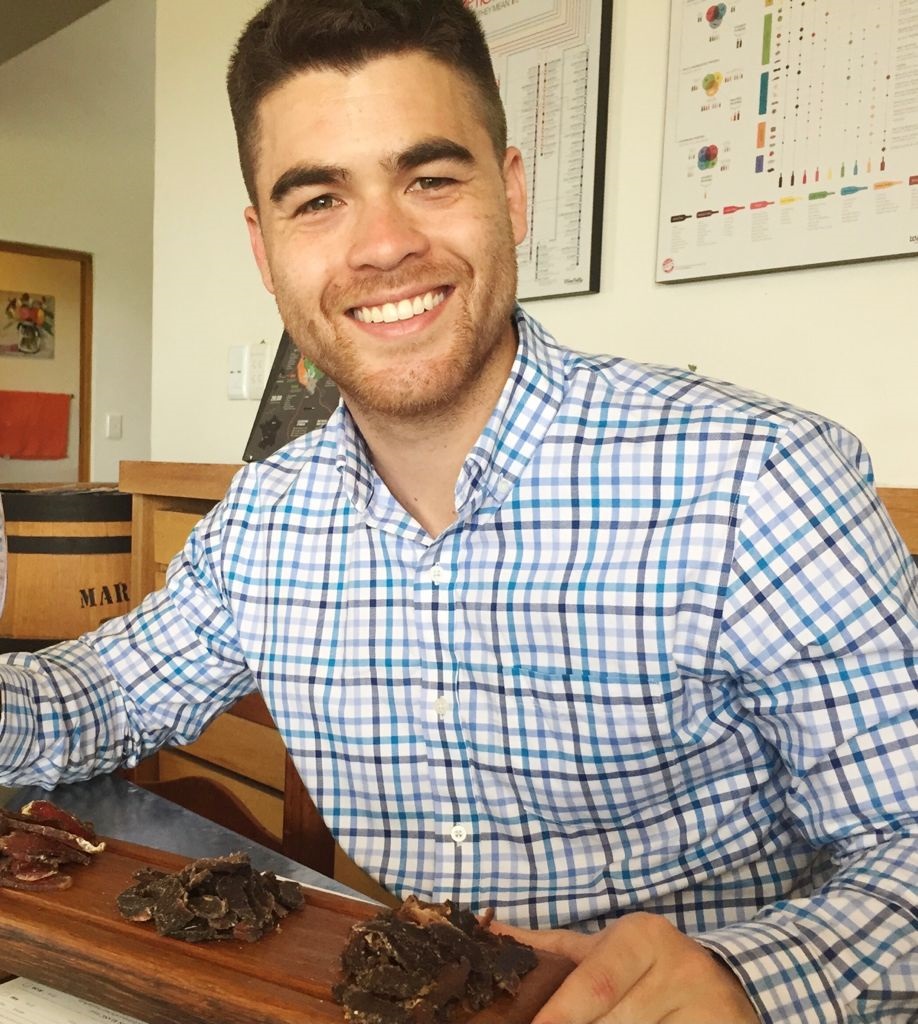 Greg Larkin is the founder and managing editor of Costco Food Database, the premiere site for honest takes on all things Costco food. A self-proclaimed Costco super-fan since childhood, Greg turned his obsession in a mission to properly rate and review all of Costco's delicious buys. When he's not busy navigating Costco aisles, you can find Greg smoking Kirkland Signature meats, meal prepping, or perfecting his homemade jerky recipes.