Costco Chicken Nuggets - Just Bare Vs. Chick-Fil-A?
The Costco Just Bare Chicken Breast Chunks have been around for over a year now, and unsurprisingly the demand for these has not died down. 
Many Costco fans have dubbed them a Chick-Fil-A chicken nugget clone that you can make any time in your own home.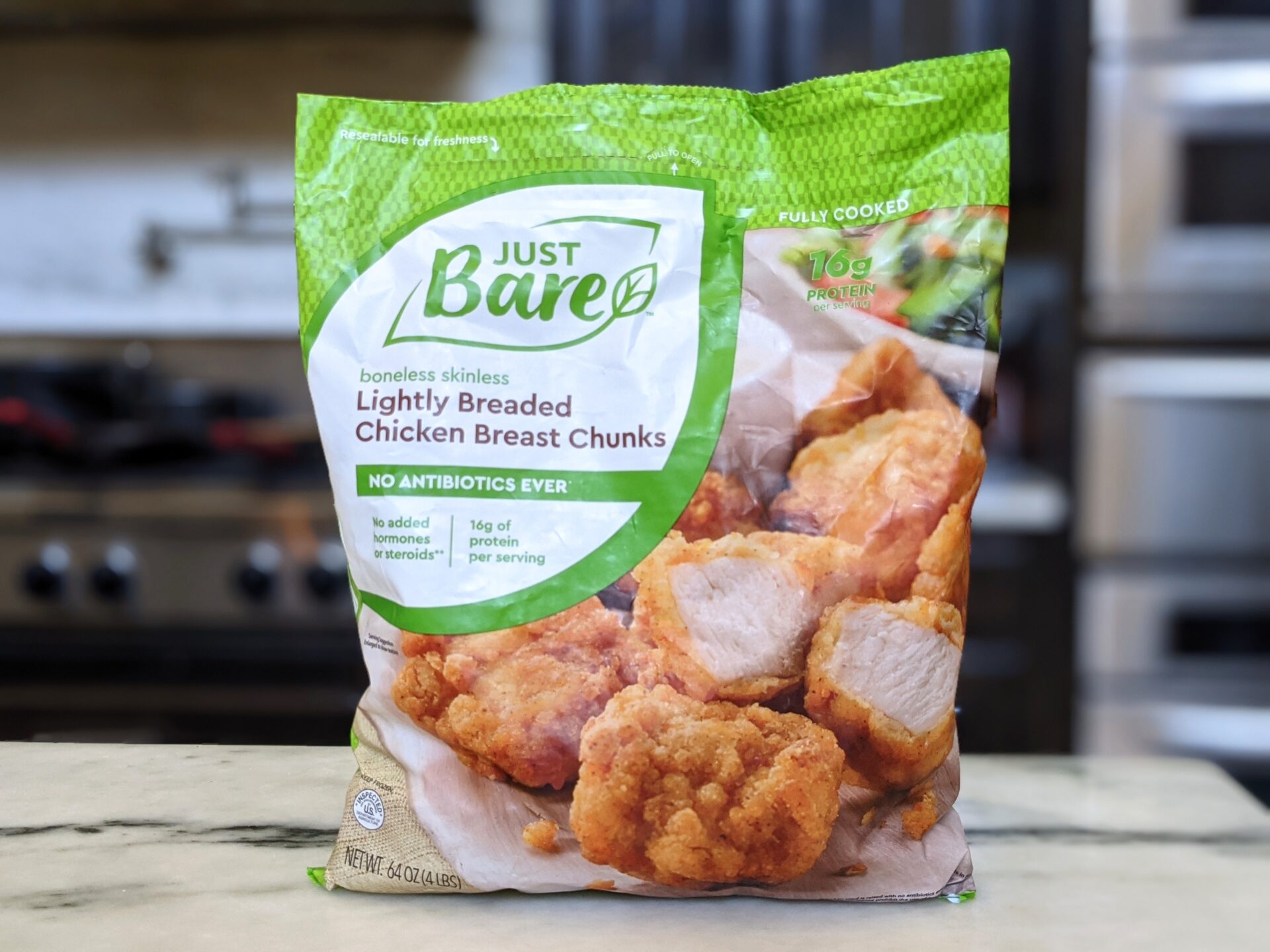 I've included the Just Bare vs. Chick-Fil-A Comparison after the main review!
Just Bare chicken Nugget Breast Chunks at Costco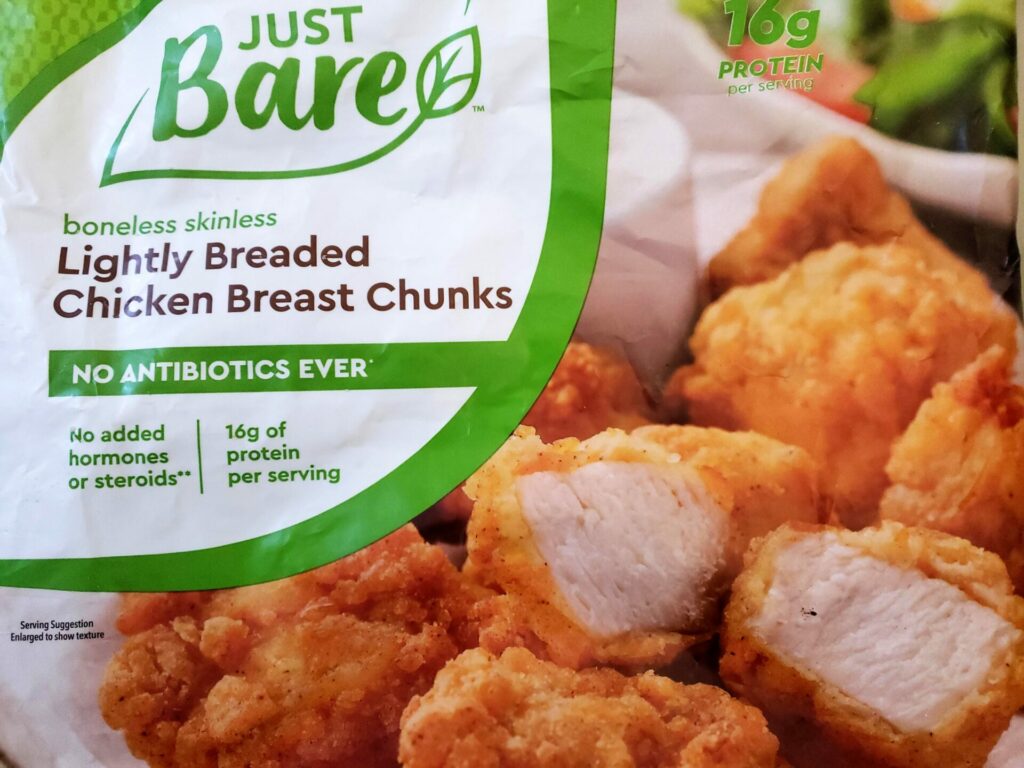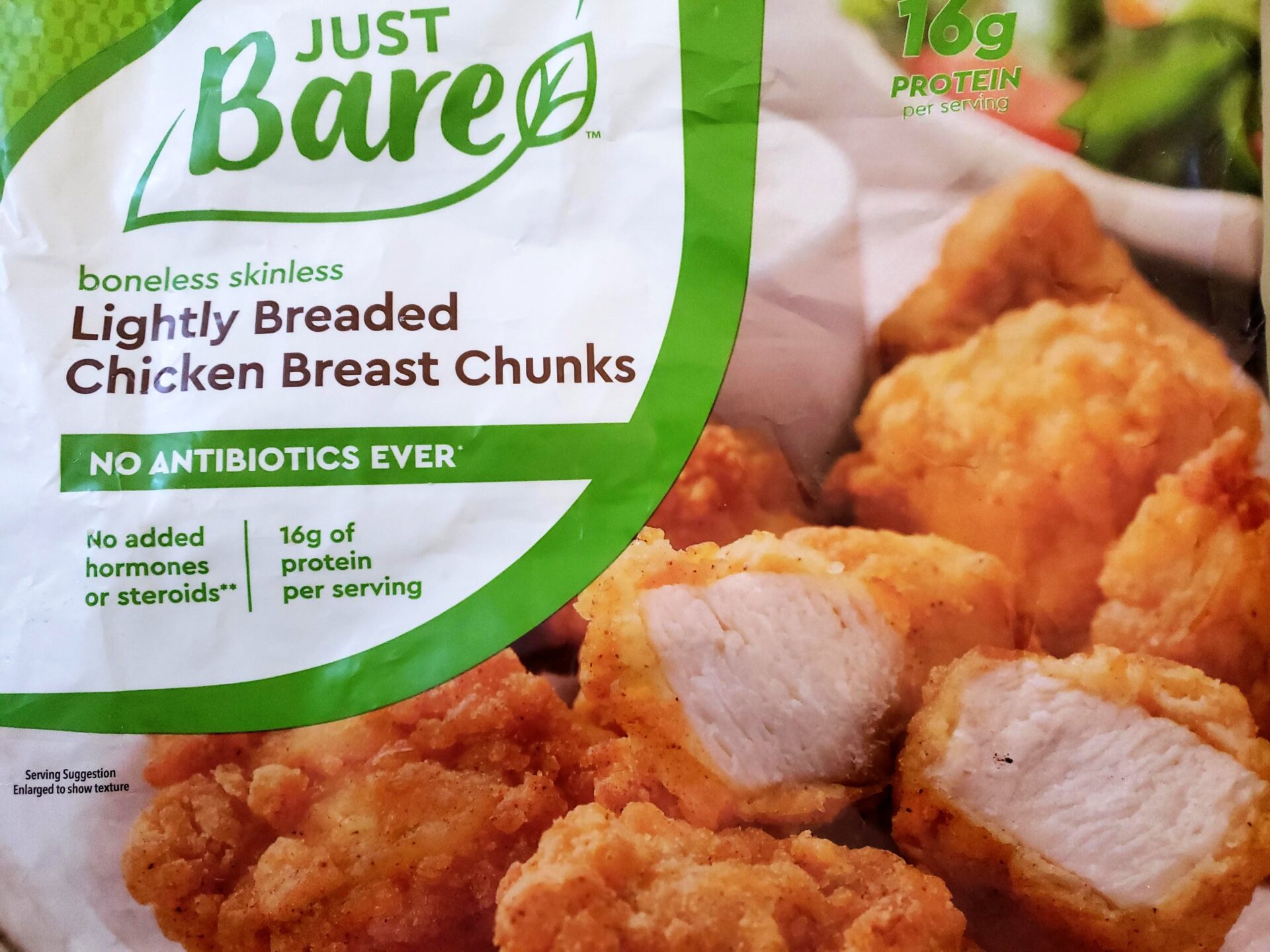 Unlike many of the competitor Costco Chicken Nugget options, these are not called chicken nuggets but chicken breast chunks.
I like that these nuggets are made with cut pieces of chicken breasts instead of ground-up chicken filling. These feel closer to what I believe a chicken nugget should be and closer to a chicken nugget that I would make at home.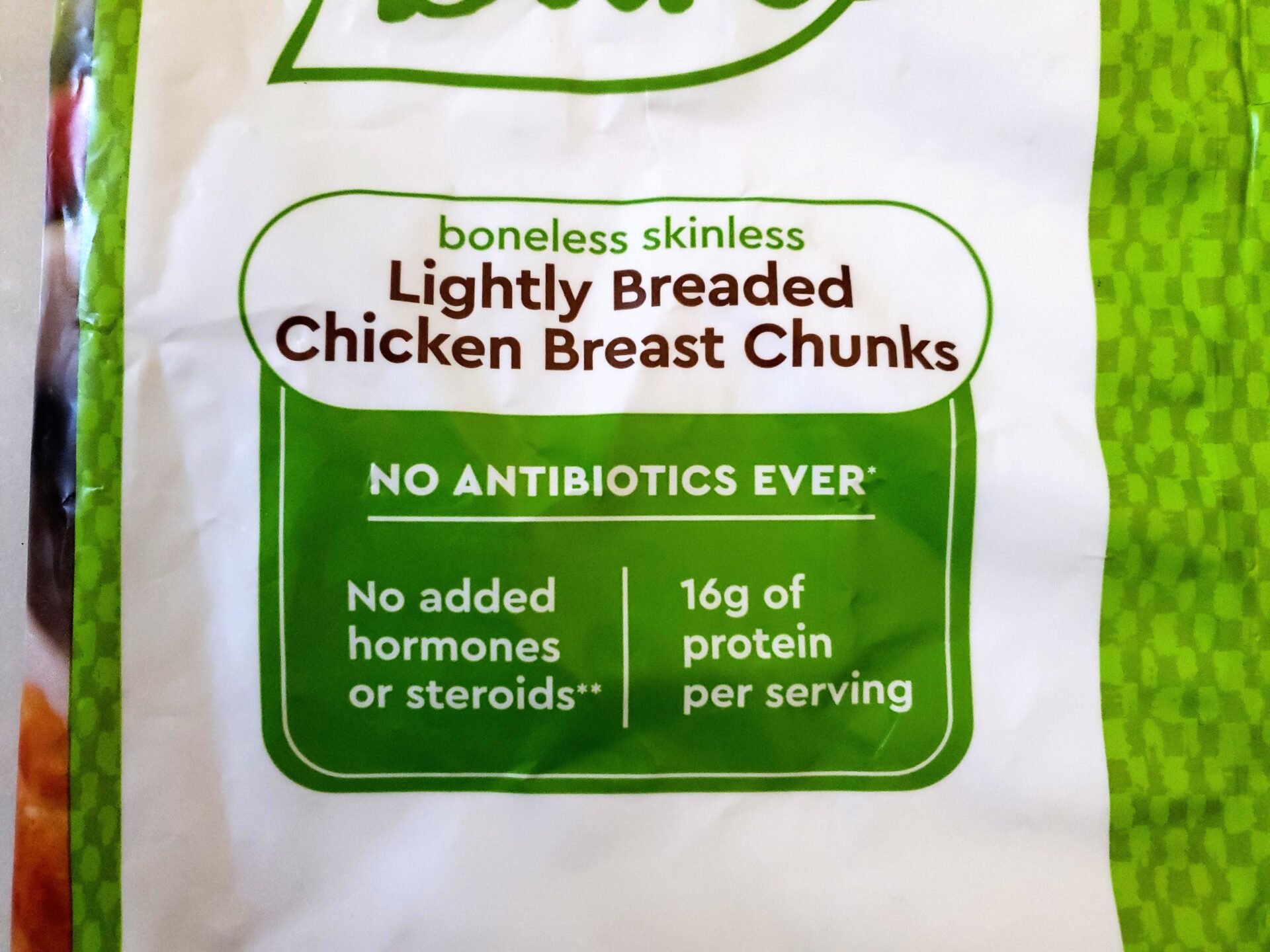 The Just Bare chicken nuggets also have no antibiotics, added hormones, or steroids.
How Much Do These Costco Chicken Nuggets Cost?
Are Just Bare Nuggets Worth it?
The major difference between Just Bare's chicken nuggets and their competitor's chicken nuggets is that they use boneless skinless chicken breast chunks instead of ground-up chicken filling.
Their nuggets are also lightly breaded and cover the chicken breast just enough to provide adequate crispiness.
I consider these the best Costco chicken nuggets, and they are well worth the premium price. I would even say at $3.75 a pound that these are quite the steal.
Update:
The price has jumped to $19.99 a bag and is now in overpriced territory. No matter how good they are, I have a hard time justifying $20 for a pack of chicken nuggets. 


Update #2:
The price of these Costco Chicken Nuggets has been reduced back down to $17.99. The price is still high, but tolerable. 
Even in their frozen state, I could tell immediately that these would be fantastic chicken nuggets.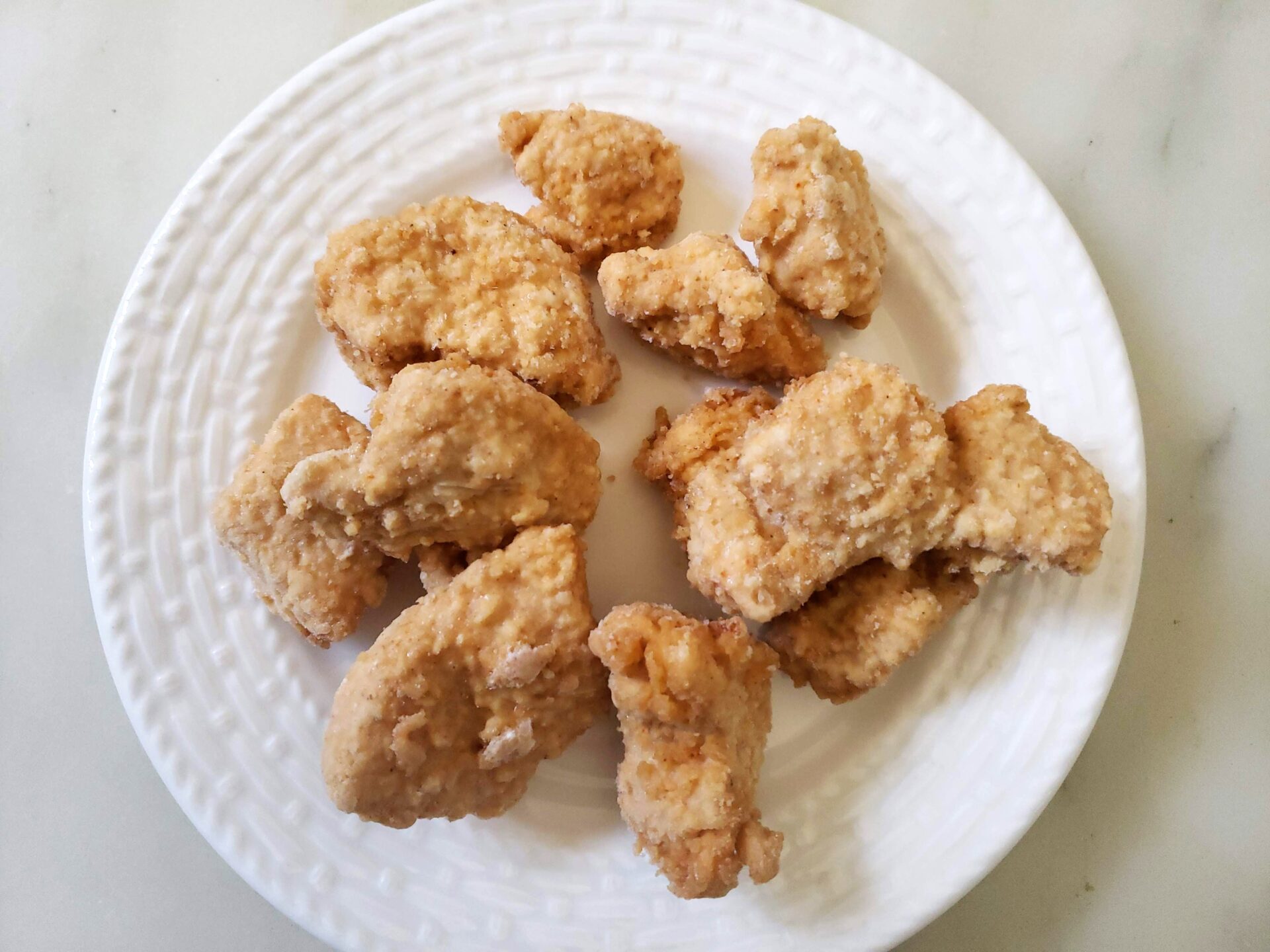 The frozen chicken nugget breading is light brown, and the quality looks top-notch. There's a lot of surface area that can lead to an extra crispy chicken nugget.

These are obviously processed, but I do like that not all of their chicken nuggets come in the same size and shape.
The chunks vary wildly, with the smallest around the size of a quarter and some as large as 2 inches by 2 inches.
This indicates that Just Bare uses chopped chicken breasts instead of grinding up all their chicken and reforming them into nuggets.
From the looks of it, Just Bare's Costco chicken nuggets could pass for homemade nuggets.
The varying size and shape, combined with the homestyle flour breading, has me really excited for these nuggets.
Costco Chicken Nuggets - Just Bare - Taste Test
I'm a big fan of these Costco chicken nugget chunks. I found the breading to be very high quality and the chicken chunk pieces are tasty and flavorful.
When it comes to taste, I honestly can't find much to complain about. They are easily the best of the Costco chicken nugget options.
All around, the breading is impressive but not perfect. I didn't find it a touch salty, and I really loved the crispiness of the breading. 
The seasoning is on point, and the flavors are there. 
I believe if I deep-fried these frozen chicken nuggets, the breading would be excellent.
The big appeal to me is the chicken, which is just as good as the breading, if not better. The whole breast chicken chunks are a game changer and easily surpass any competitor's ground chicken filling.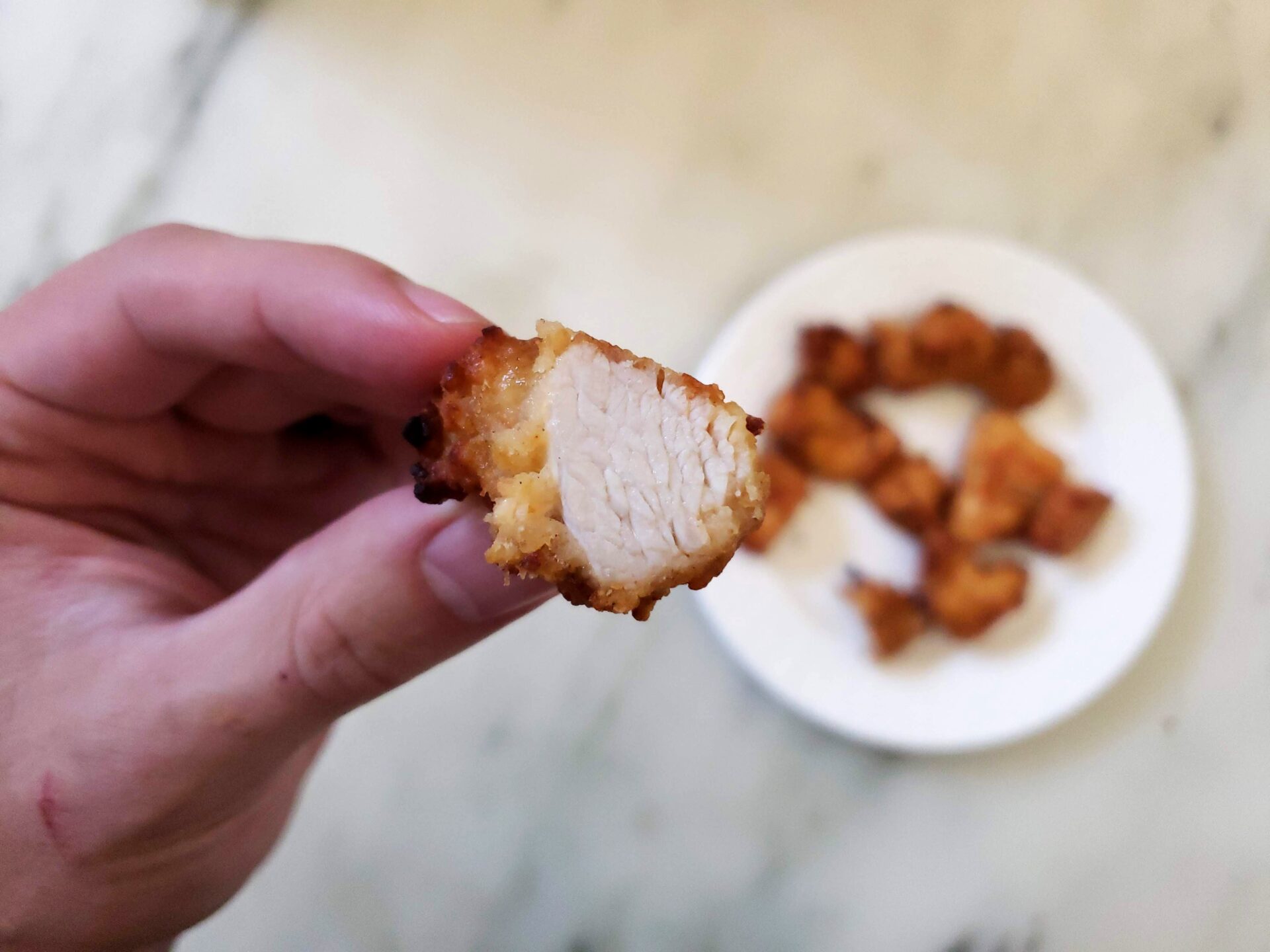 The texture is fantastic, and without a doubt, you know that you are eating an actual chicken breast nugget.
If I were to make my own version of homemade nuggets, I would be ecstatic if they could feel and taste as good as these Just Bare Chicken Chunks from Costco.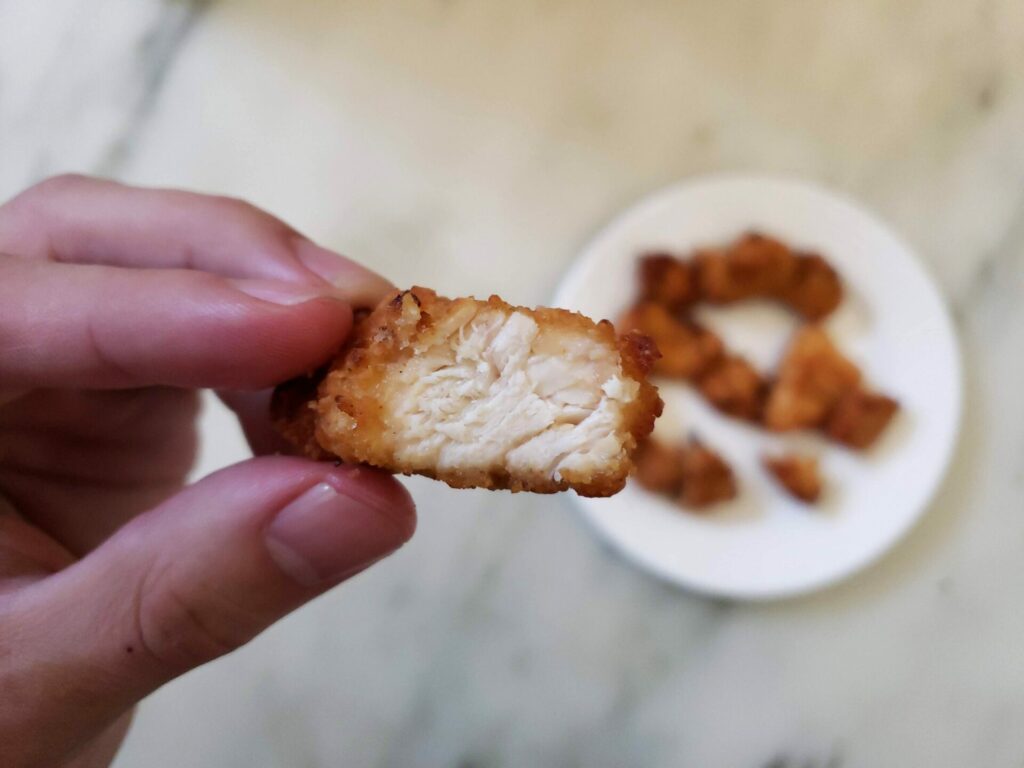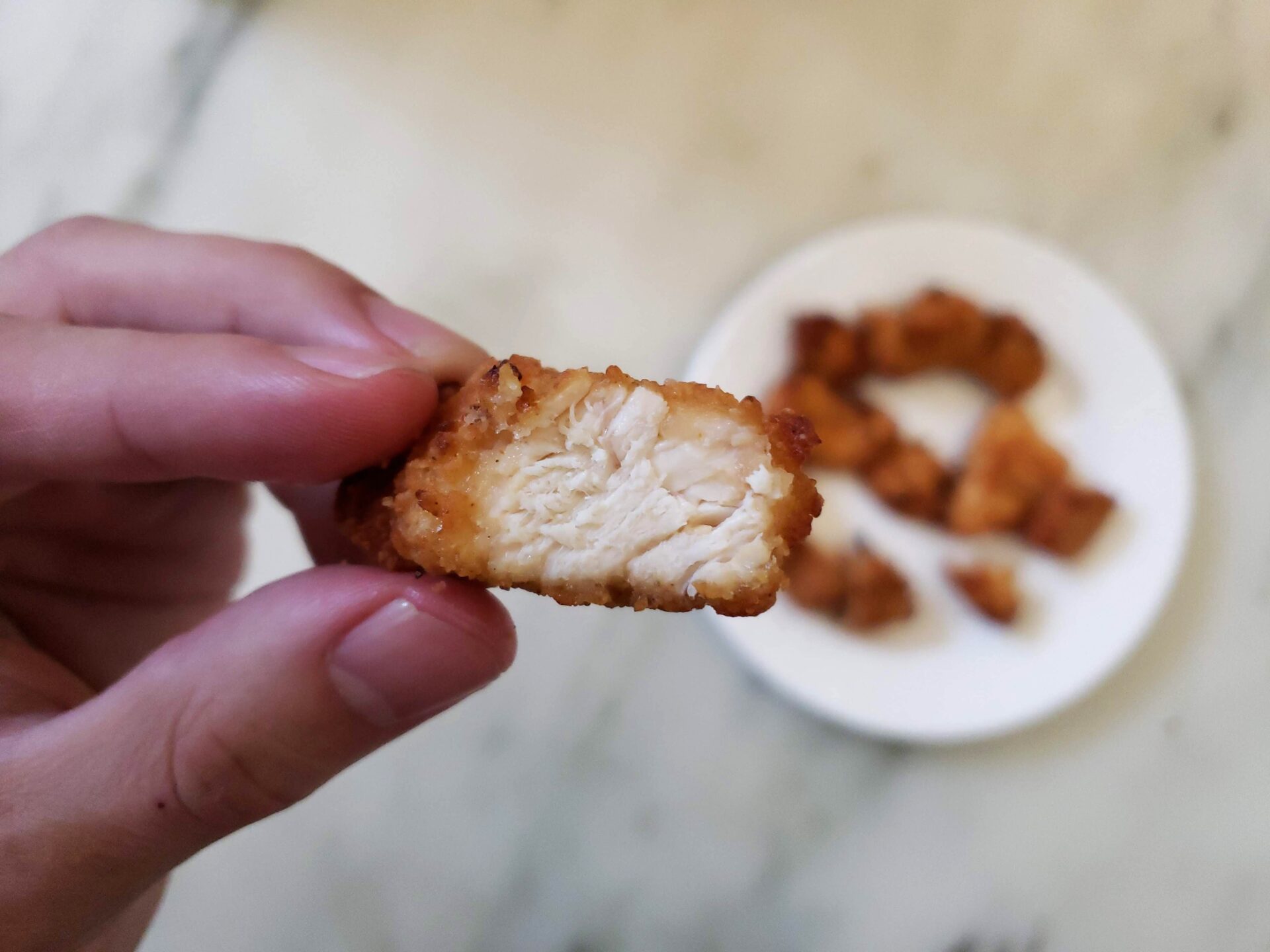 Overall, these nuggets are amazing. The breading is crispy and flavorful, while the chicken is authentic and juicy. Coming in at $3.75 a pound, I have these Costco chicken nuggets in contention for best frozen food item in the warehouse.
Costco Just Bare Chicken Chunks - Cooking Directions
Just Bare offers three different methods for cooking its chicken nuggets. You can cook them in the oven, air fryer, or microwave.
Like most of Costco's frozen foods, I actively try to avoid cooking in the microwave. It will be the quickest method, but the breading will be soggy and unappetizing.
I always prefer to use the air fryer if possible.
Preheat Oven to 375°F.

Place Costco chicken nuggets in a single layer on an ungreased baking pan.

Bake uncovered for 23 minutes.
Preheat the air fryer to 350°F.

Place frozen chicken pieces in an air fryer basket in a single layer.

Air Fry for 8 Minutes.
Place frozen chicken pieces in a single layer on a microwavable safe dish.

Microwave on high for 2.5 minutes.
Just Bare chicken Nugget Calorie and Nutritional INformation
How Many Calories in these Costco Chicken Nuggets?
One serving of Just Bare Chicken Nuggets from Costco is 3-ounces and contains 160 calories. There are 6g of fat, 9g of carbs, and 16g of protein in each serving.
This is a pretty darn good nutritional label for a stereotypical unhealthy food.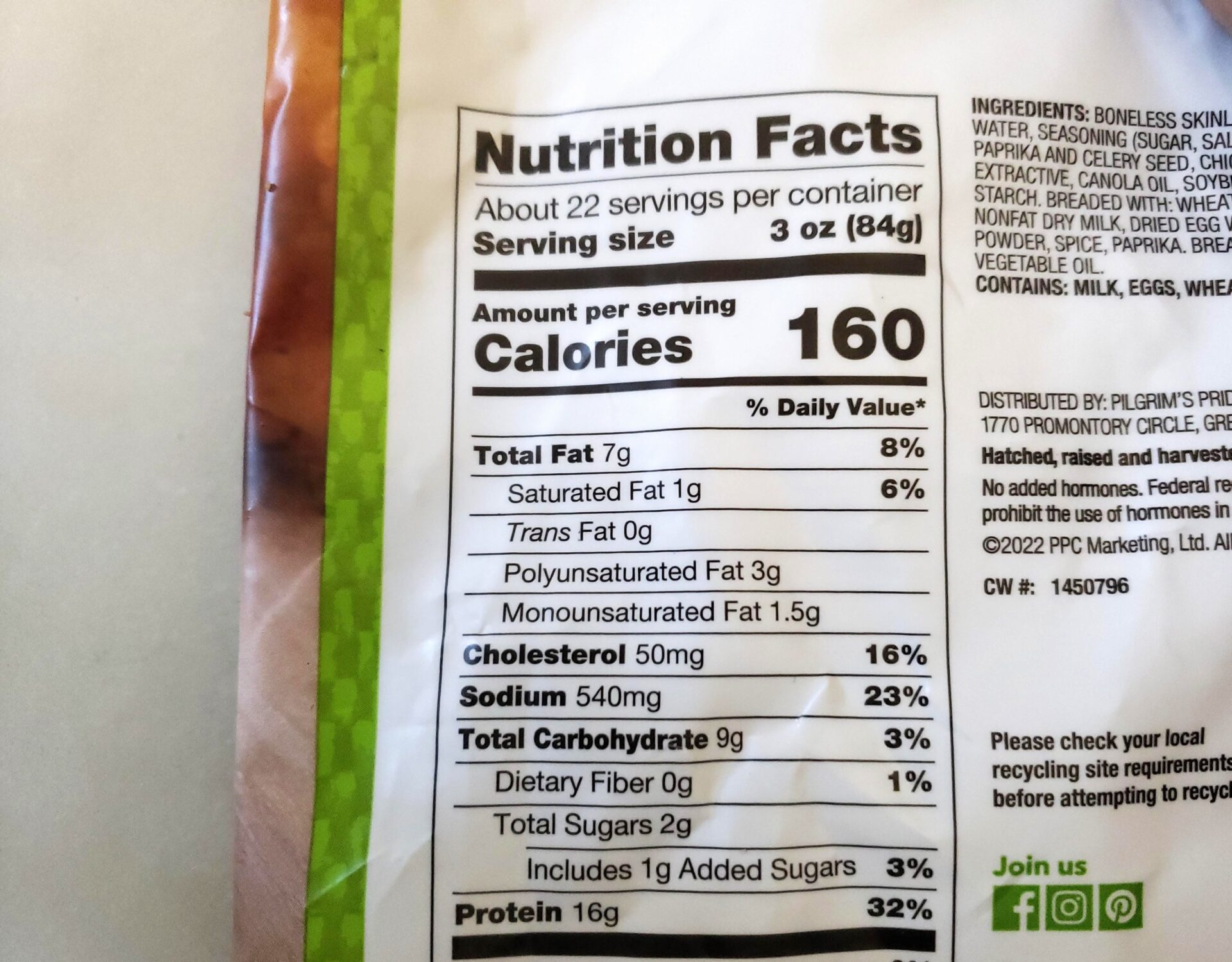 I can't complain about a frozen food item when there is more protein than fats and carbs combined. Anytime I find a food with high protein that tastes as good as these chicken nuggets, I am a happy man.
They aren't exactly healthy per se, but the macros in this nutritional label do not concern me one bit.
The issue, as always, is going to be the sodium. There is 540 mg of sodium in each serving which is 23% of the recommended daily value.
3-ounce servings are on the small side, and I would easily eat double or even triple that amount. Calories-wise, it isn't bad, but I don't even want to calculate the sodium amount because I know it will add up.
Are Just Bare Nuggets Healthy?
Yes, they are healthy for a chicken nugget. They are high in protein and low in carbs and fat. They aren't exactly a diet food, but I have no problem eating them in moderation.

JUST BARE NUGGETS VS CHICK-FIL-A CHICKEN NUGGETS
Cooking Just Bare Nuggets to Rival Chick-Fil-A
Many Costco fans place the Just Bare Chicken Breast Chunks on a pedestal because they resemble Chick-Fil-A's chicken nuggets.
They are definitely great nuggets, but can they actually compare to a billion-dollar chicken empire that deep fries its chicken?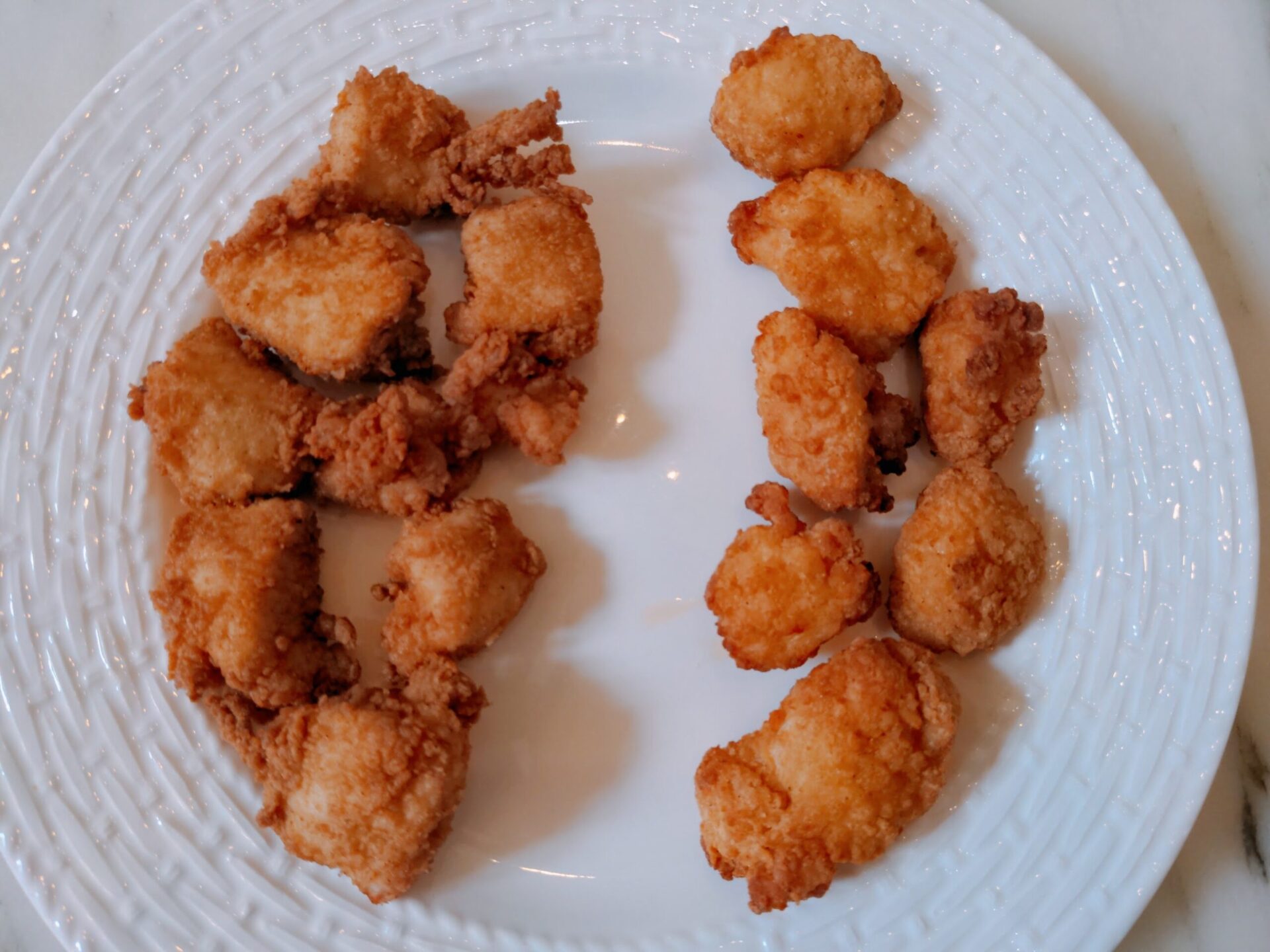 For this comparison, I cooked the Just Bare Chunks in the air fryer at 350° for about 12 minutes. I felt that the recommended 8 minutes wasn't enough to crisp up these nuggets adequately, and 10 minutes in the air fryer did a better job.
The first test is going to be the eye test. I laid out the Chick-Fil-A nuggets and some of the Just Bare nuggets on a plate. Can you tell me which one is which from the image above?
Costco Chicken Nugget - Chick Fil A Clone?
It is Very Hard To Tell the Difference Between Just Bare and Chick-Fil-A
If you don't know what Chick-Fil-A nuggets look like or if you haven't eaten one in a while, it may be hard to tell which is a fast food nugget and which is the Costco chicken nugget. 
They look different, but quality-wise, they are a lot closer than I expected. The Just Bare nuggets are the group of nuggets on the right, and they definitely pass the eye test.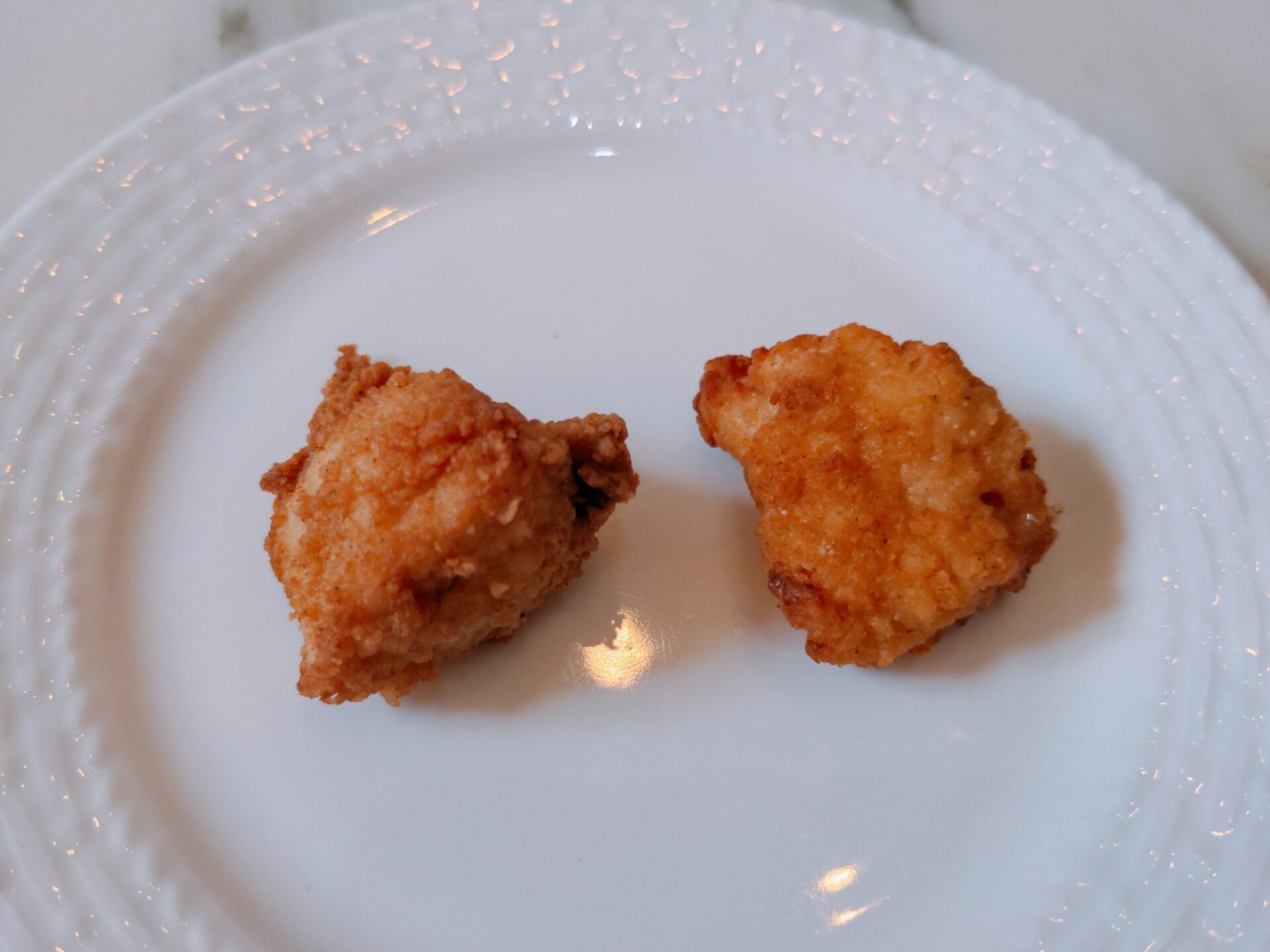 Now, the taste will determine how these nuggets stack up. There's a difference between looking like a fast food nugget and tasting like a fast food nugget.
The Chick-Fil-A nuggets are deep-fried, while my Just Bare Chicken Chunks are air fried. It's not really a fair comparison in that regard, but the Just Bare nuggets do hold their own.
Do Just Bare Nuggets taste like Chick Fil A Chicken Nuggets?
In regards to taste, there is a slight, slight advantage to Chick-Fil-A. Taste and quality are very close, but the simple fact is that you can't beat a deep-fried nugget using alternative cooking methods.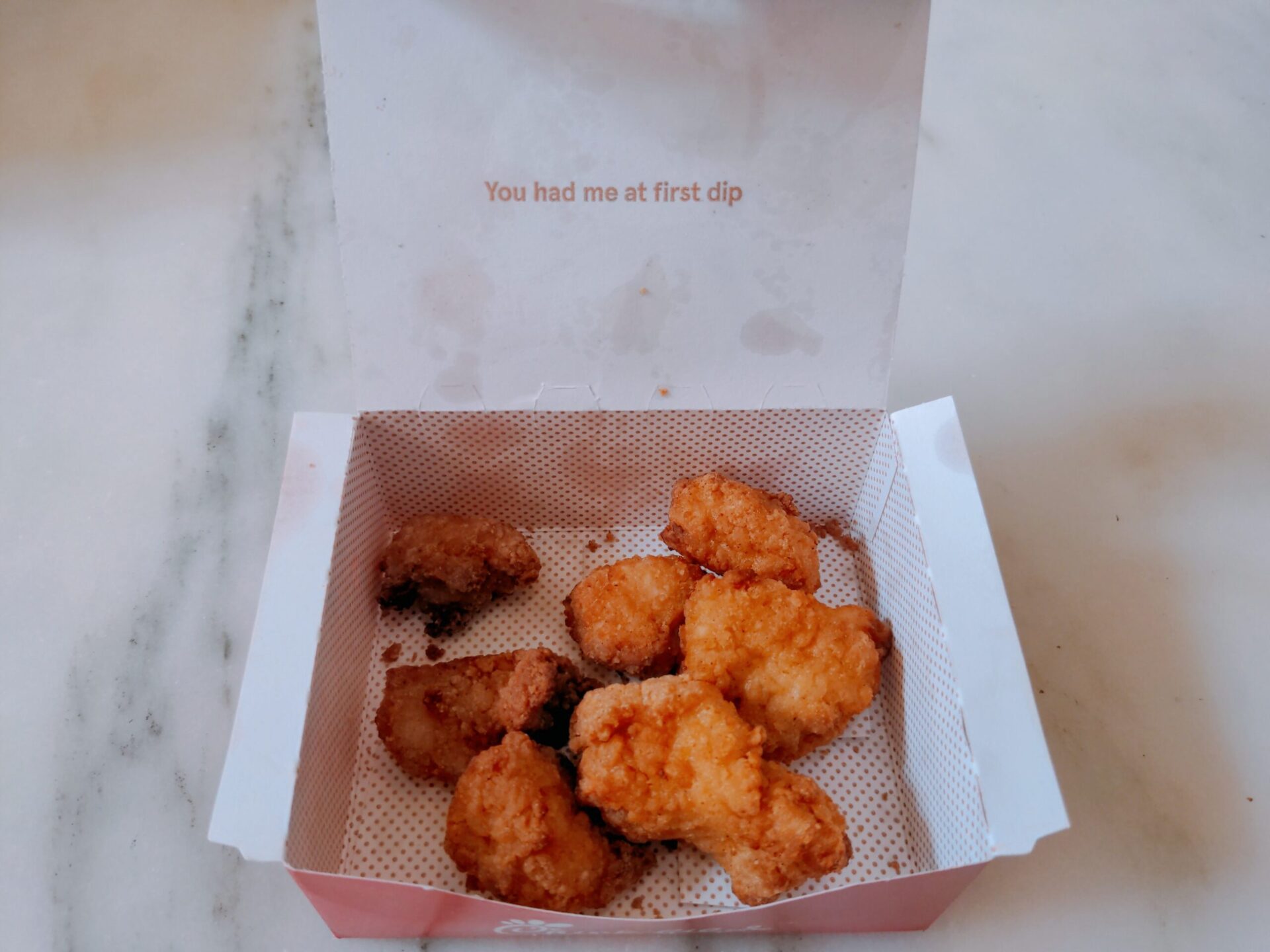 A deep-fried nugget will be crispier, and some excess breading will also fry up and provide extra crunch. The excess breading that gets fried was the main difference between the two nuggets.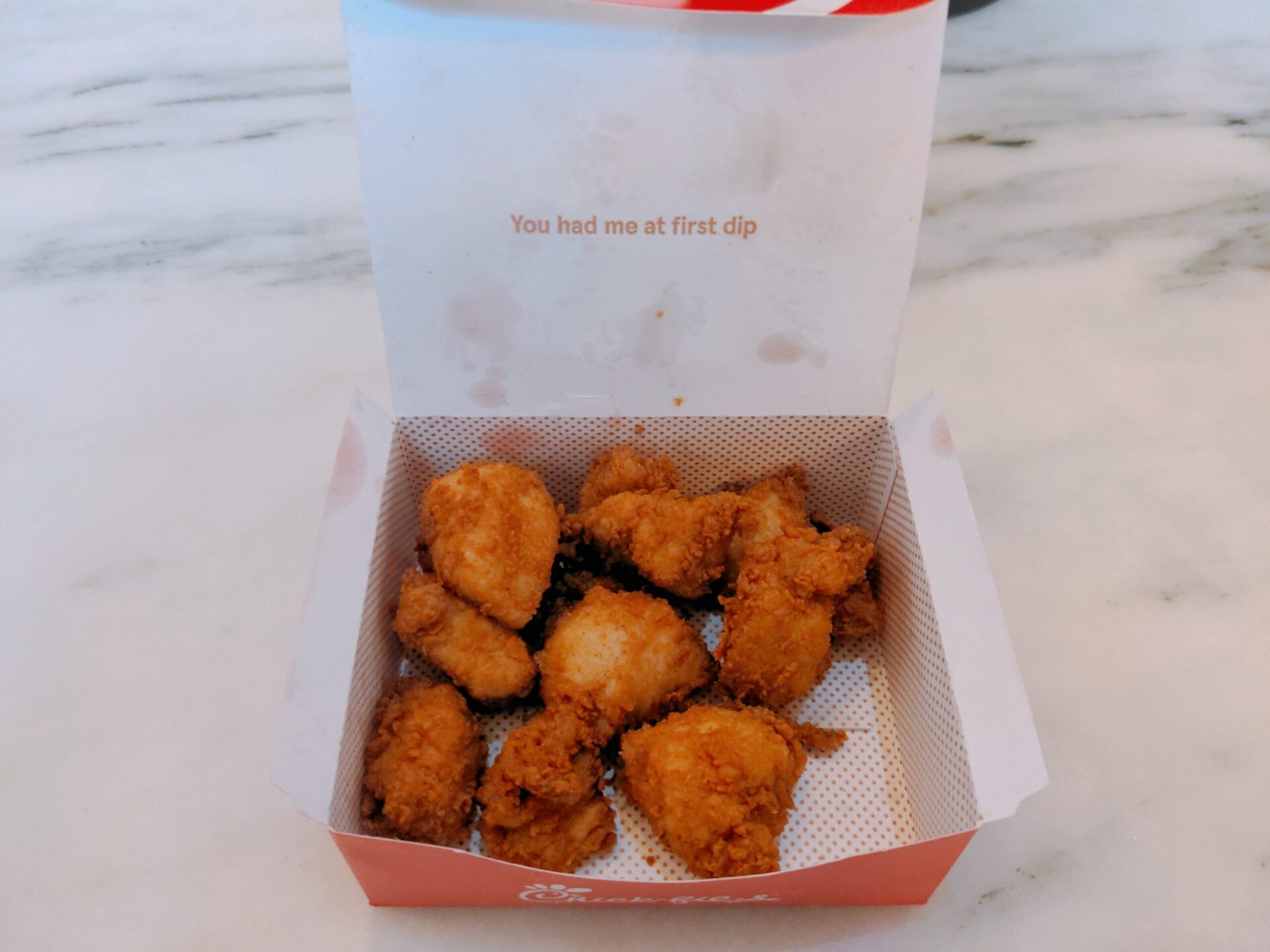 Chicken quality is nearly identical, and both were flavored and seasoned appropriately. Both nuggets go great with dips, and honestly, the difference between the two is minimal.
Chick-Fil-A has the better nugget, but the Costco Just Bare Nuggets are no slouch and hang in there as best a frozen chicken nugget could. In terms of value, the Costco chicken nuggets are a clear winner.
For $6, I could get 12 Chick-Fil-A nuggets or over 1.5 pounds of Just Bare Chicken Nuggets from Costco. If price is any factor, it's a no-brainer to go with the Just Bare chicken nuggets.
The Just Bare nuggets don't beat Chick-Fil-A, nor should they, but I don't have a problem with some Costco fans calling these Chick-Fil-A clones. While they are clearly different, and maybe a better term is a substitute or a replacement, they are darn good.
The Just Bare nuggets will satisfy your chicken craving, and I'll be glad to eat them any day of the week, including Sundays.
Costco Just Bare Chicken Chunks
Product Name: Just Bare Lightly Breaded Chicken Breast Chunks
Product Description:
Price: $14.99
Quantity: 4 Pounds
Location Within Costco: Frozen Food Aisles
Price Per Pound: $3.75
Summary
The Just Bare Chunks are one of my all-time favorite Costco frozen foods. The chunks are more than just chicken nuggets; they can be eaten in salads, pasta, or even rice.
They are juicy, flavorful, and everything a breaded chicken product strives to be. They are reasonably priced, and their nutritional label is fantastic for a chicken nugget. This is a must buy!
Value -

10/10

Convenience -

8/10

Taste -

10/10

Nutrition -

6/10

CFDB Score -

8/10
Pros
Great price
Unique and versatile
Super tasty
These are definitely a Costco winner. They are easy to make, absolutely delicious, and relatively healthy for you. They have quite the reputation; in my mind, they actually lived up to it.
The Just Bare Nuggets are easily my favorite of the Costco chicken nugget options and one of the better-frozen foods available at Costco. These raise the bar for what a chicken nugget should be.