Costco Chicken Street Taco Kit - Pros & Cons + Taste Tips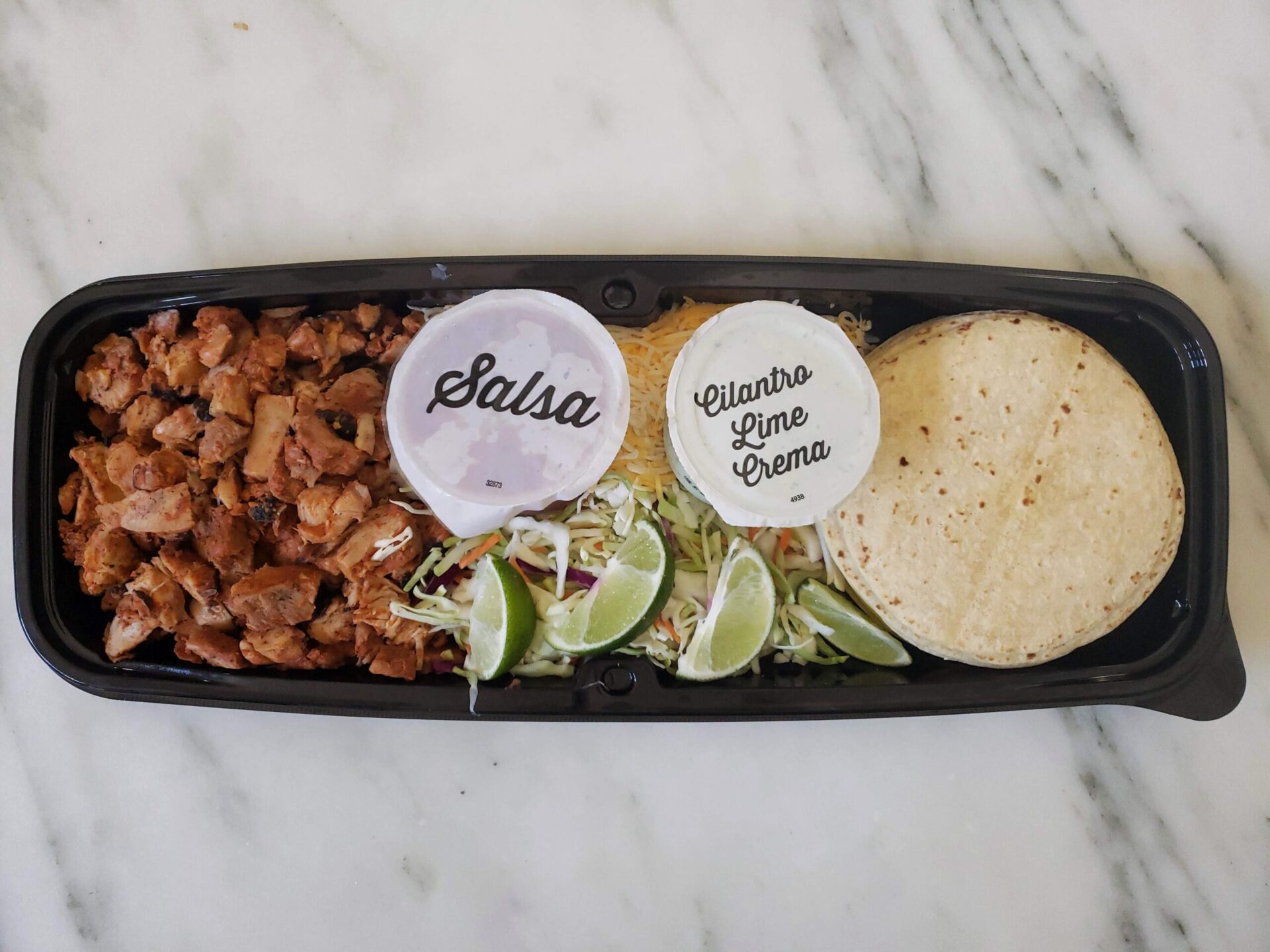 Chicken Street Taco Kit at Costco
Costco sells their 12-count Chicken Street Taco Kit for $5.49 a pound. This taco kit can be found in the prepared meals section of Costco's deli area and will often be near other items, such as the beef bulgogi.

Costco also sells beef barbacoa, carne asada, and pork carnitas, which are great proteins for taco meat.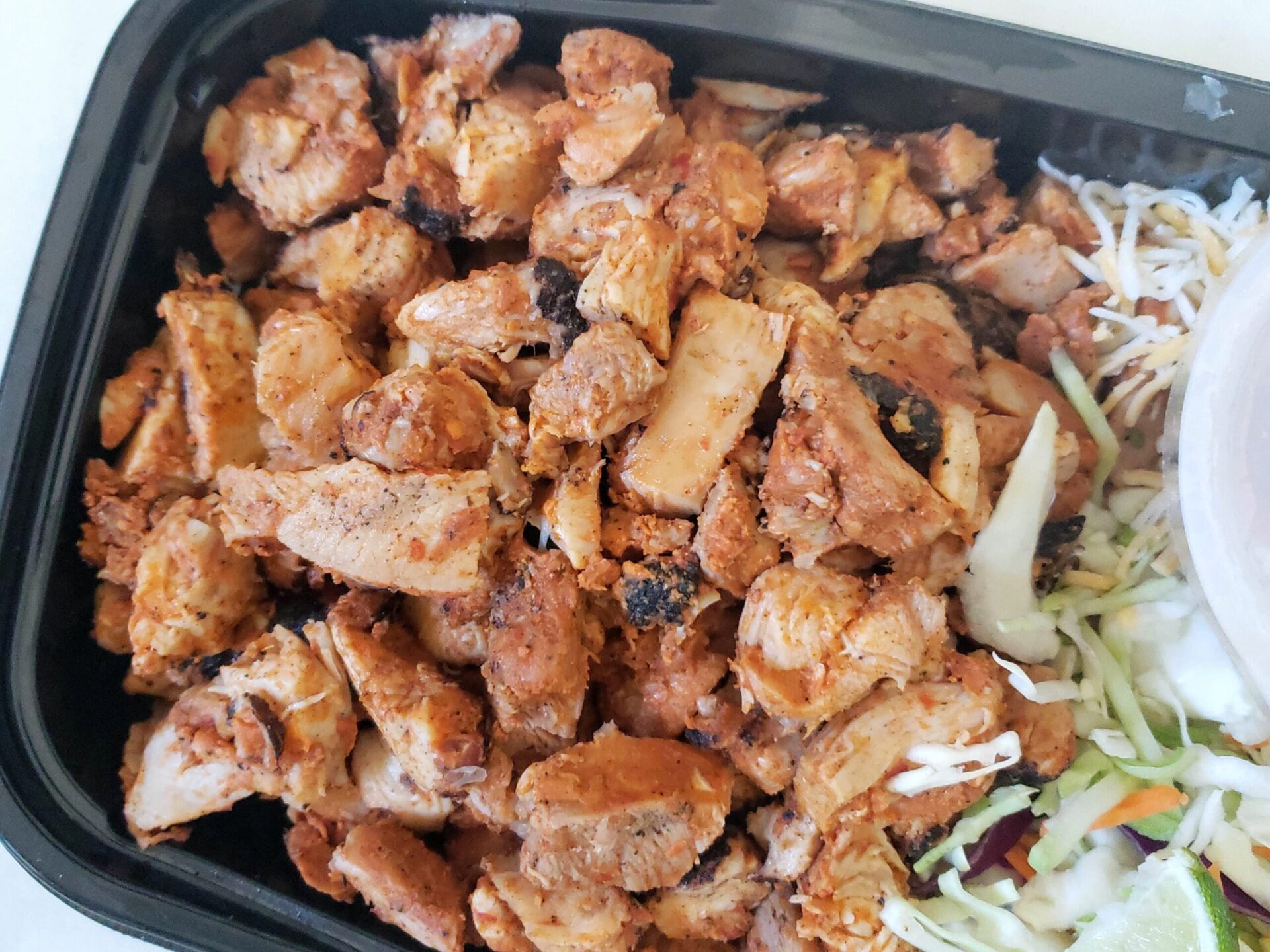 Each Costco street taco kit contains approximately 2.75-3 pounds of total food and includes

12 tortillas

marinated and cooked chicken

coleslaw

shredded cheese

salsa

cilantro lime crema

lime wedges
This Costco taco kit has everything you need for a simple heat and eat taco night.
Have You Tried Costco's Chicken streeT Tacos?
Let the rest of the Costco Food Database community know what you thought of this product. Results and reviews are at the bottom of this page.
Please allow 24 hours for review moderation and approval.
How Authentic are Costco's street tacos?
The Costco Street Taco Kit Is Not Authentic
Unfortunately, the Costco chicken street tacos don't do too well on the authenticity test. This is definitely Costco's version of a Mexican street taco.
The Tortilla is Too Thick
The tortilla provided in the Costco taco kit is more of a traditional tortilla and not really a street taco tortilla. Street Taco tortillas are typically smaller, made with corn, and can be doubled up. These Costco tortillas are thicker and made with flour. 
The Costco chicken meat is fine and will do well in this taco kit. I also have no problem with the shredded cheese, which appears to be from Costco's Mexican-style blend of shredded cheese, which can be found in the frozen food aisles.
The big authenticity killer of the Costco tacos is going to be the coleslaw. Street tacos do not have coleslaw as a topping; coleslaw is usually found in baja style fish tacos.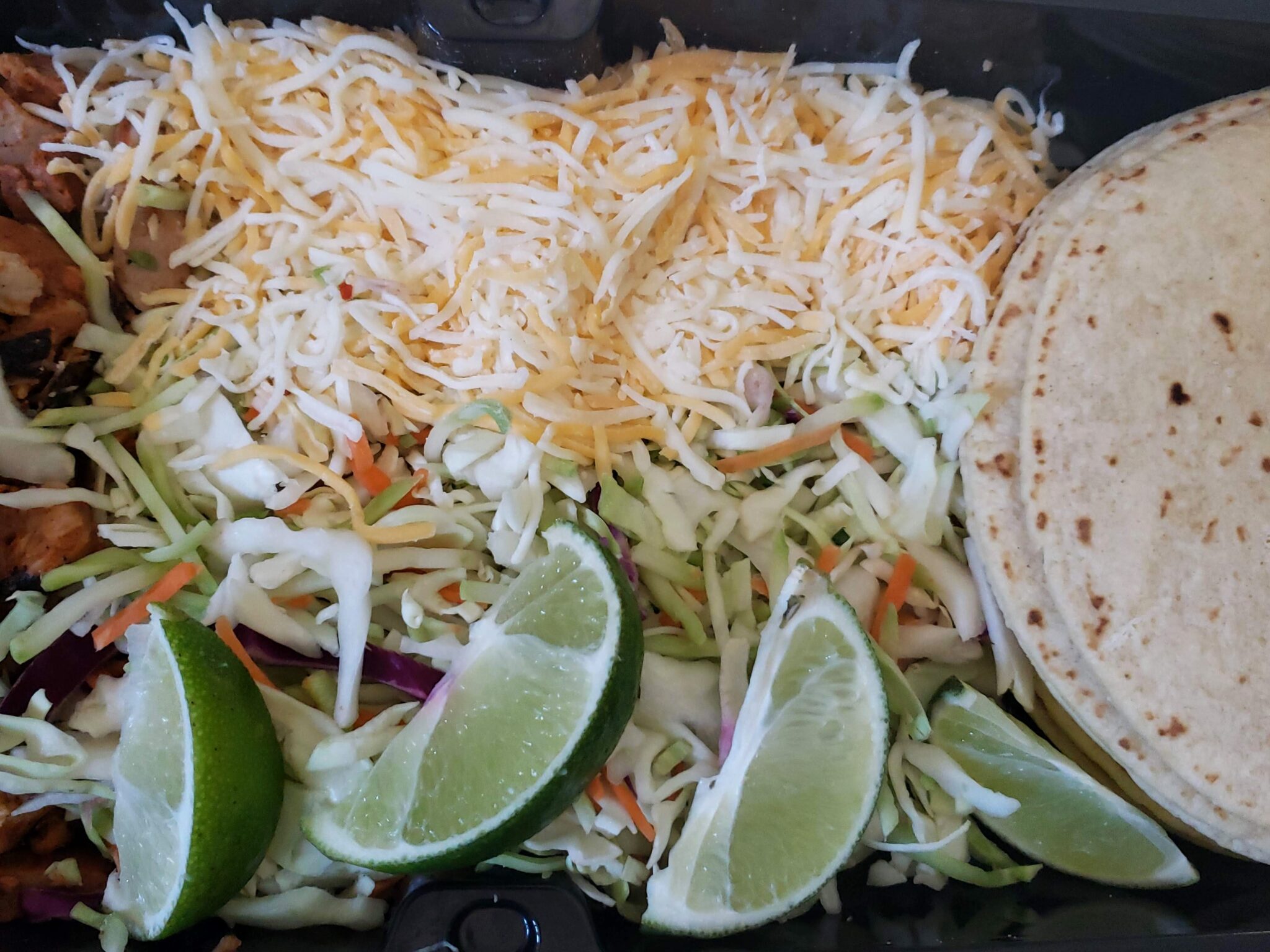 Typically, a street taco will consist of meat and is topped with onions, cilantro, and salsa.
Salsa & Cilantro Lime Crema
The salsa that is included in the Costco taco kit seems to be Kirkland Signature Salsa. It's a little bit thick for a street taco, but the major drawback is that it lacks heat.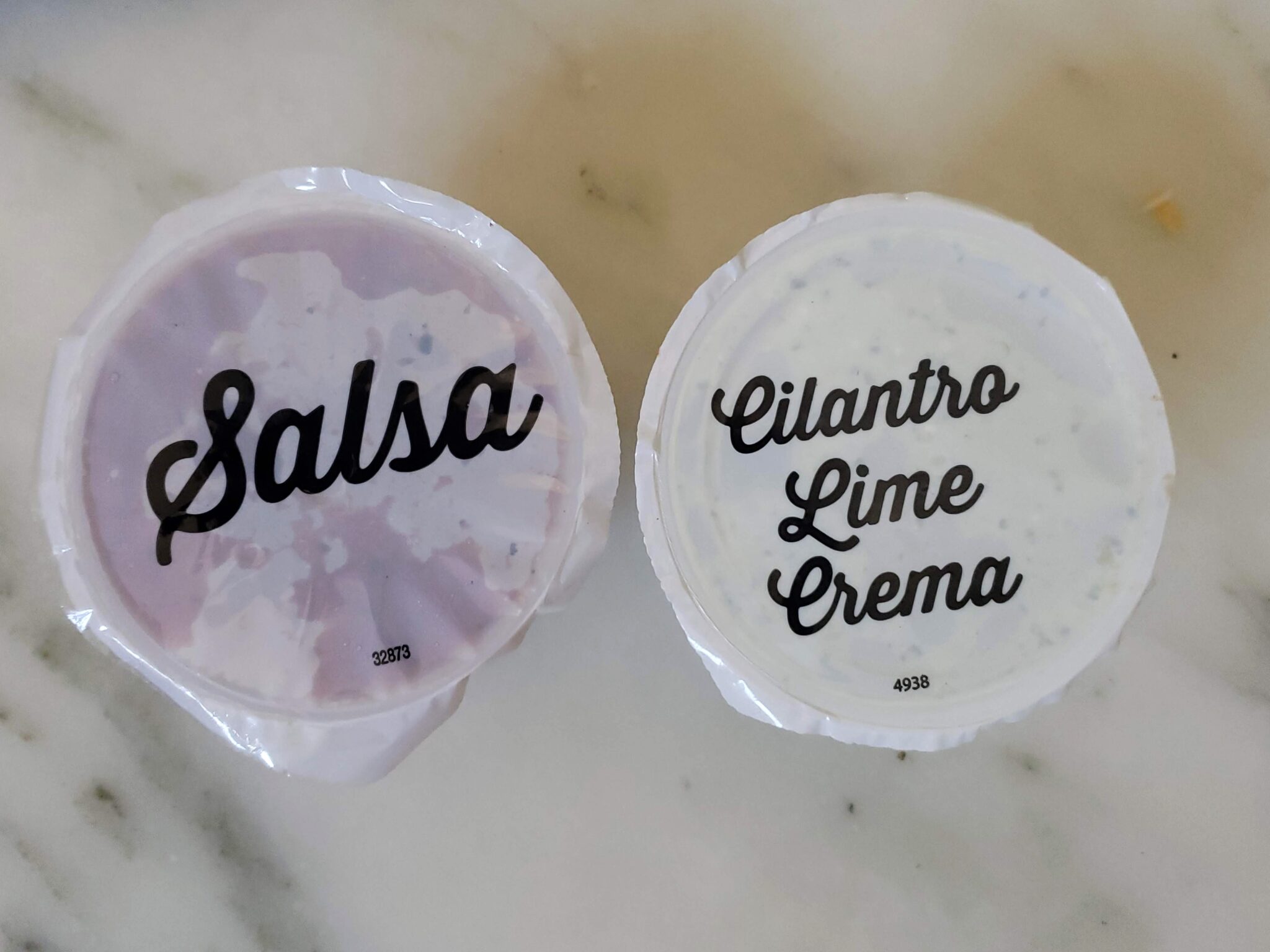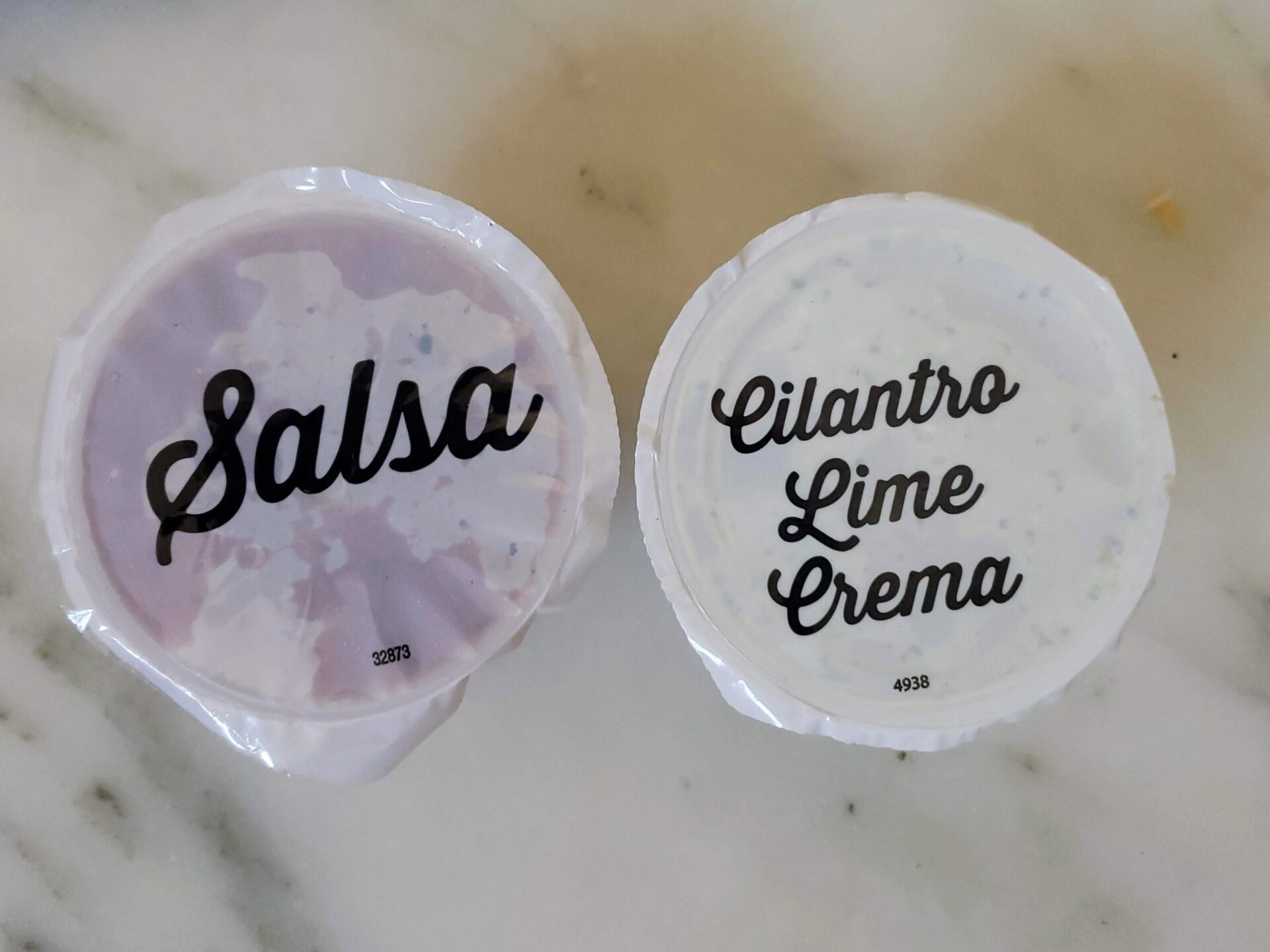 The cilantro lime crema is also rarely found in street tacos.
Source: Mexican Wife
Costco Cost Comparison - Street Taco Kit
How much is the taco kit at Costco?
The Chicken Street Taco at Costco costs $5.49 a pound and, in total, will cost approximately $15-$17, depending on the exact size of the taco kit you select.
I first thought the price of the taco kit was too damn high, but upon further consideration, it seems to be only slightly too damn high.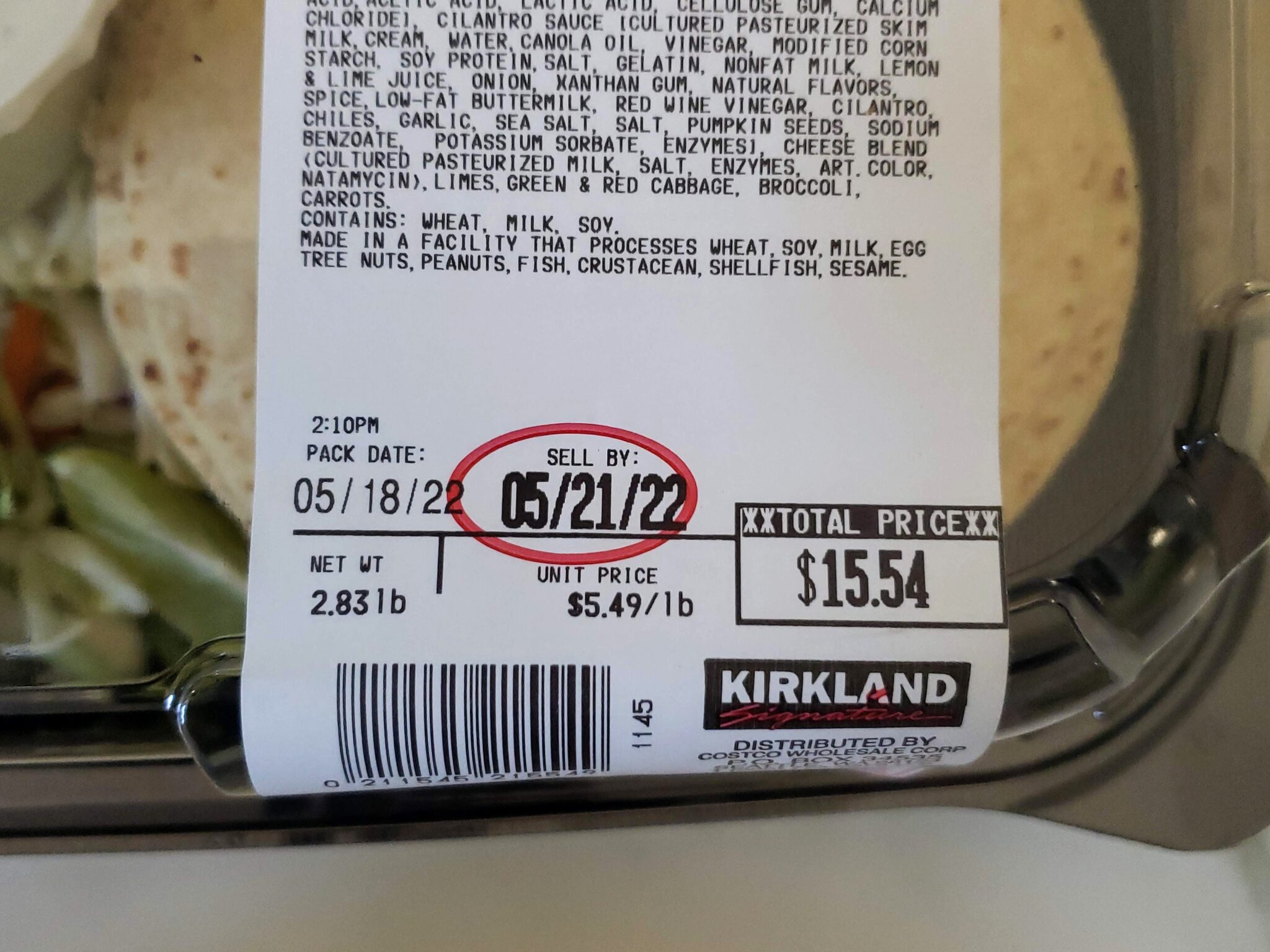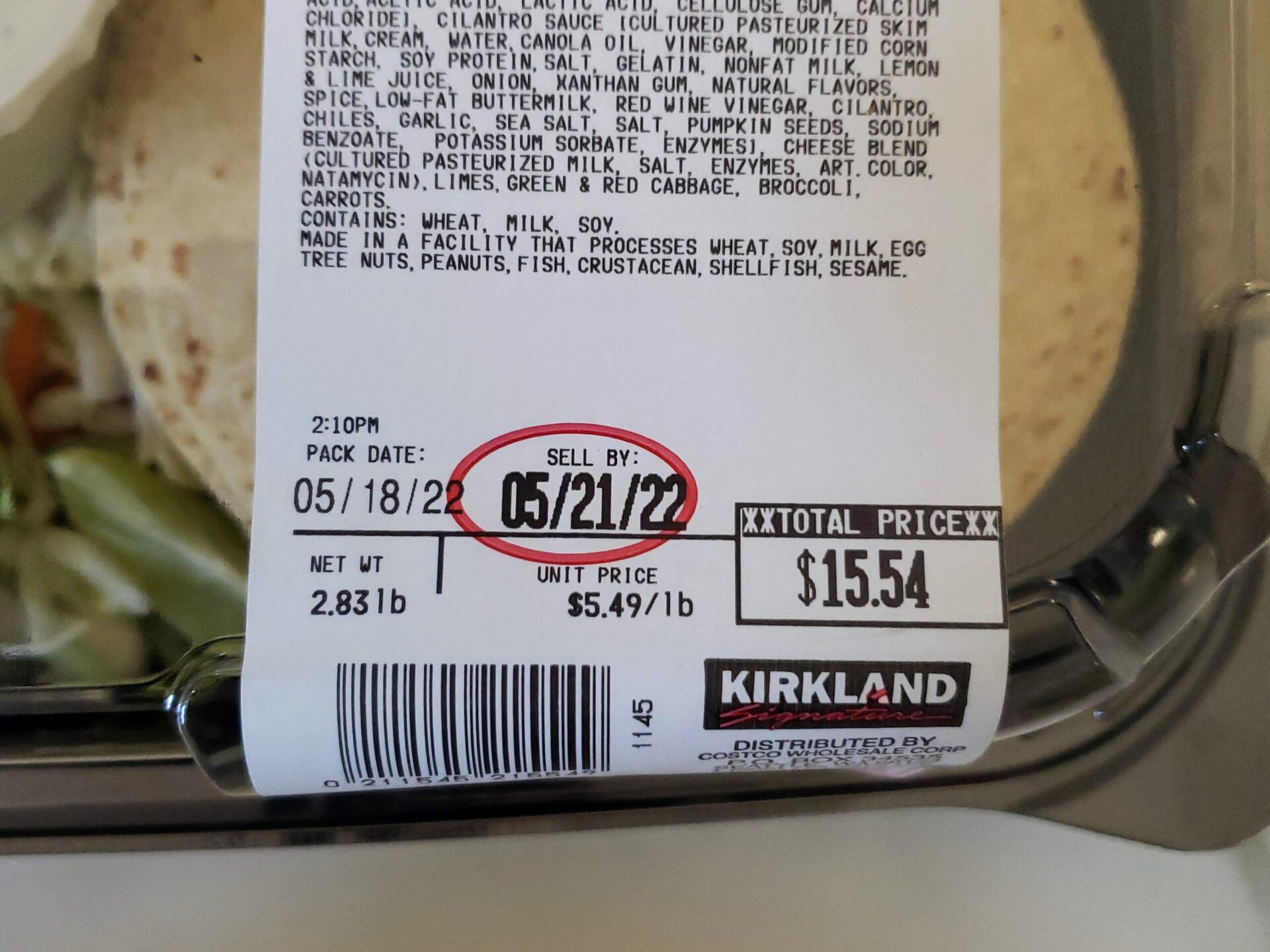 Are The Costco Tacos Fairly Priced?
When looking at it at the price of $5.49 per pound for the Costco street taco kit, it seems expensive. The chicken, even cooked and marinated, should cost $5 or $6 per pound max. Everything else in the taco kit, including the cheese, tortilla, salsas, and coleslaw, should only cost $1-$3 per pound, depending on the item.
When looking at it on a per taco basis, I think its more fairly priced. There are 12 tortillas and allegedly enough meat and toppings for 12 tacos which breaks down to a price of $1.33 a taco. I know, in my area at least, I can't find tacos for less than $1.50.
Costco Tacos vs Sam's Club Tacos - Price Comparison
Sam's Club does sell their own near-identical 3-pound chicken taco kit for $4.98 a pound. Their street taco kit is similar to the Costco street taco kit and includes 12 tortillas, cheese, coleslaw, chicken, cilantro lime crema, salsa, and limes.

Sam's Club's tacos come in at 10% or $.50 cheaper than Costco's taco kit.
Costco Street Taco Kit - Taste Test
The major appeal of Costco's taco kit is the convenience and the fun of building your own tacos. When I prepped these street tacos, it took me about 5 minutes total to heat the chicken and tortilla and a few more minutes to assemble the tacos.  
I will never complain about a meal that takes just 5-7 minutes to go from the packaging to the table.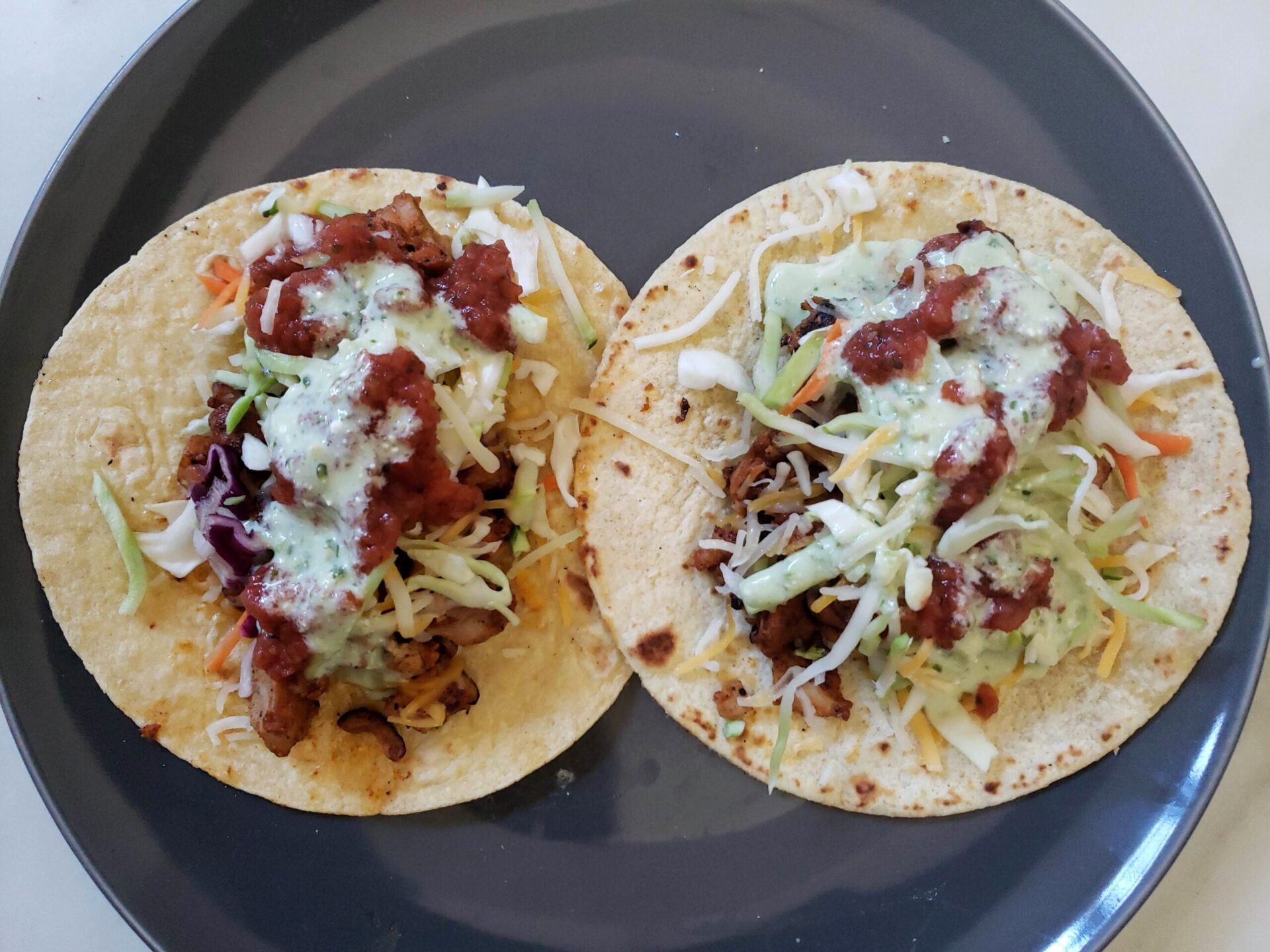 As a whole, I didn't mind the taste of chicken tacos. I've already accepted these Costco street tacos aren't going to be authentic tacos, but they are not bad tasting. 
I did think the coleslaw felt slightly out of place, but even with the unique ingredient, I still enjoyed the tacos. 
I really liked the chicken breast pieces, as I thought they were tasty and flavorful. The chicken has a flavorful Mexican-spice rub made of cumin, chili peppers, and oregano that provides just a touch of spice and warmth. 
The level of spiciness was pleasantly surprising for a mass-produced taco kit like this one, and the flavors were definitely on point. The seasoned chicken breast was still juicy and moist even after being cooked and refrigerated.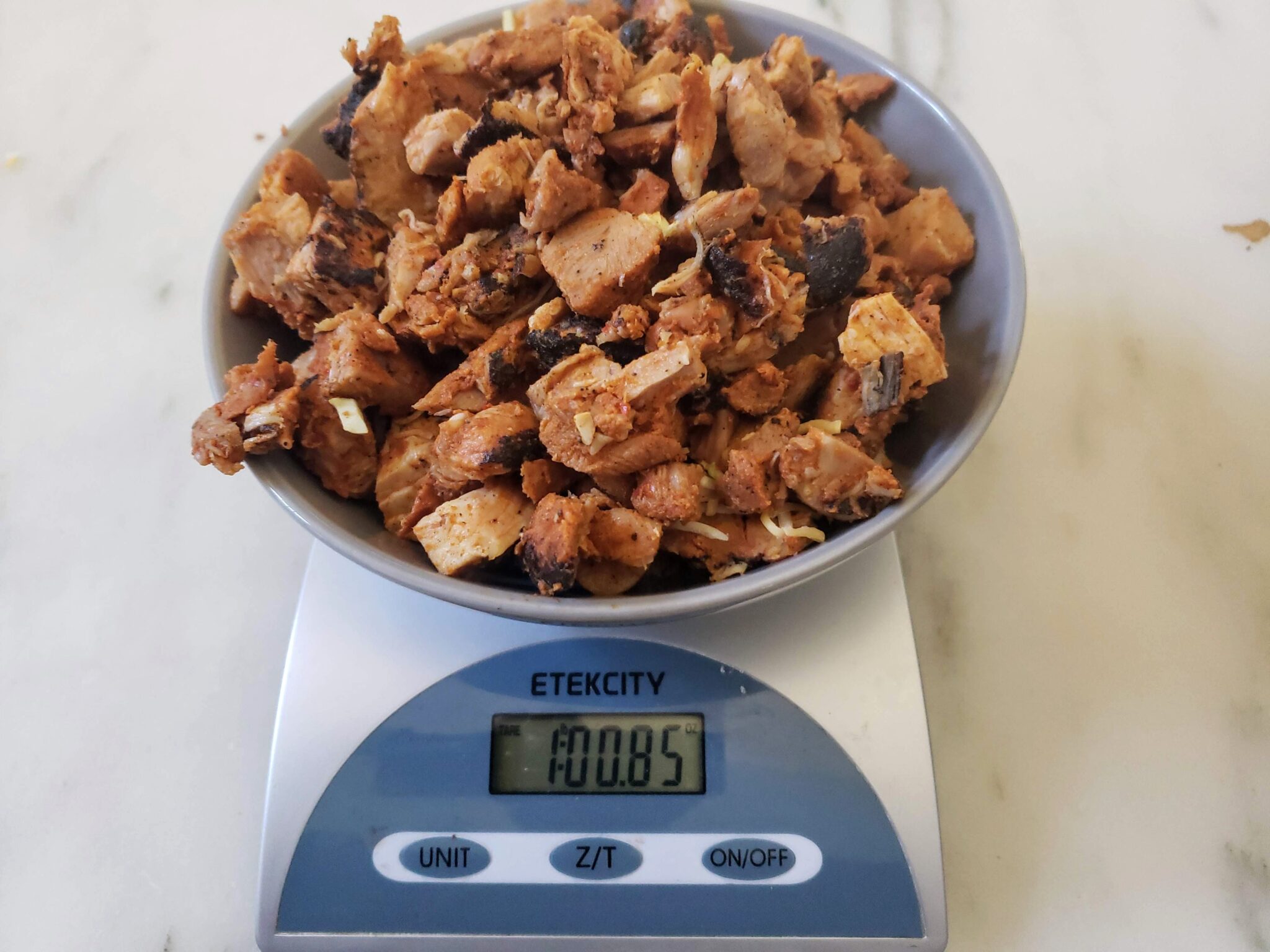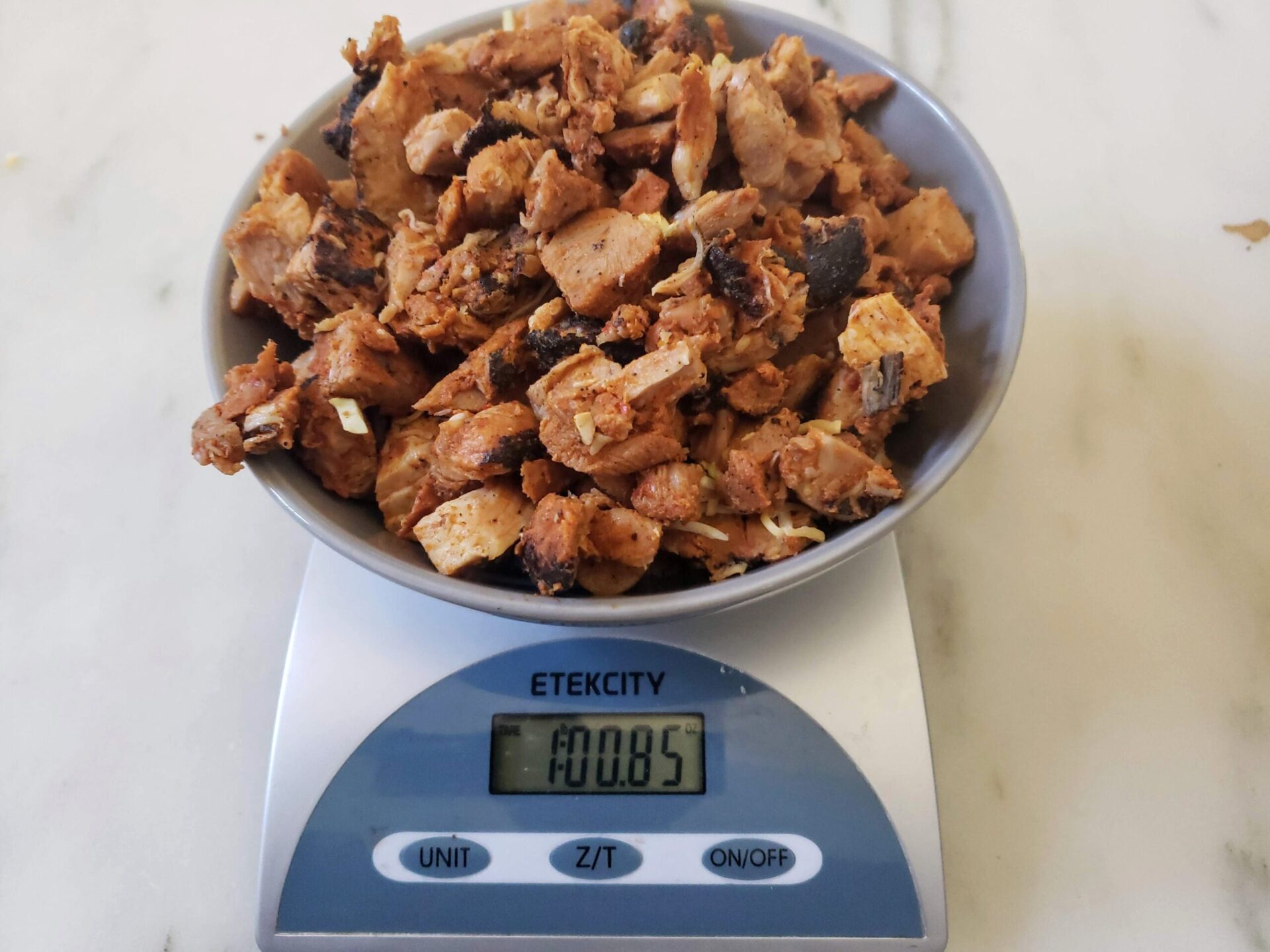 The Costco taco kit does come with approximately one pound of chicken, which when divided by 12 tacos leaves a little more than an ounce of chicken per taco. 

The cheese was fine and nothing special. This is the same shredded cheese from Costco's frozen food/dairy aisle.
How is the Coleslaw?
The coleslaw was the least authentic ingredient, but it didn't ruin the taste of taco for me. The coleslaw offered a nice crunch and mix-up to traditional street tacos and was tasty in its own right. 
I didn't hate it, but I would have enjoyed these Costco street tacos just as much without the coleslaw. If you are looking for a more authentic street taco experience, go ahead and skip the coleslaw. Set it aside and enjoy it as a nice side dish with another meal. 
The cilantro lime crema and the salsa that are included in Costco's street taco kit are both surprisingly good.  
I thought the crema had a tangy, creamy lime flavor that complemented the meat and tortillas perfectly. And the salsa provided just the right amount of spice and acidity without overpowering the other components. It has a chunky texture with tomatoes, onions, cilantro, and jalapenos.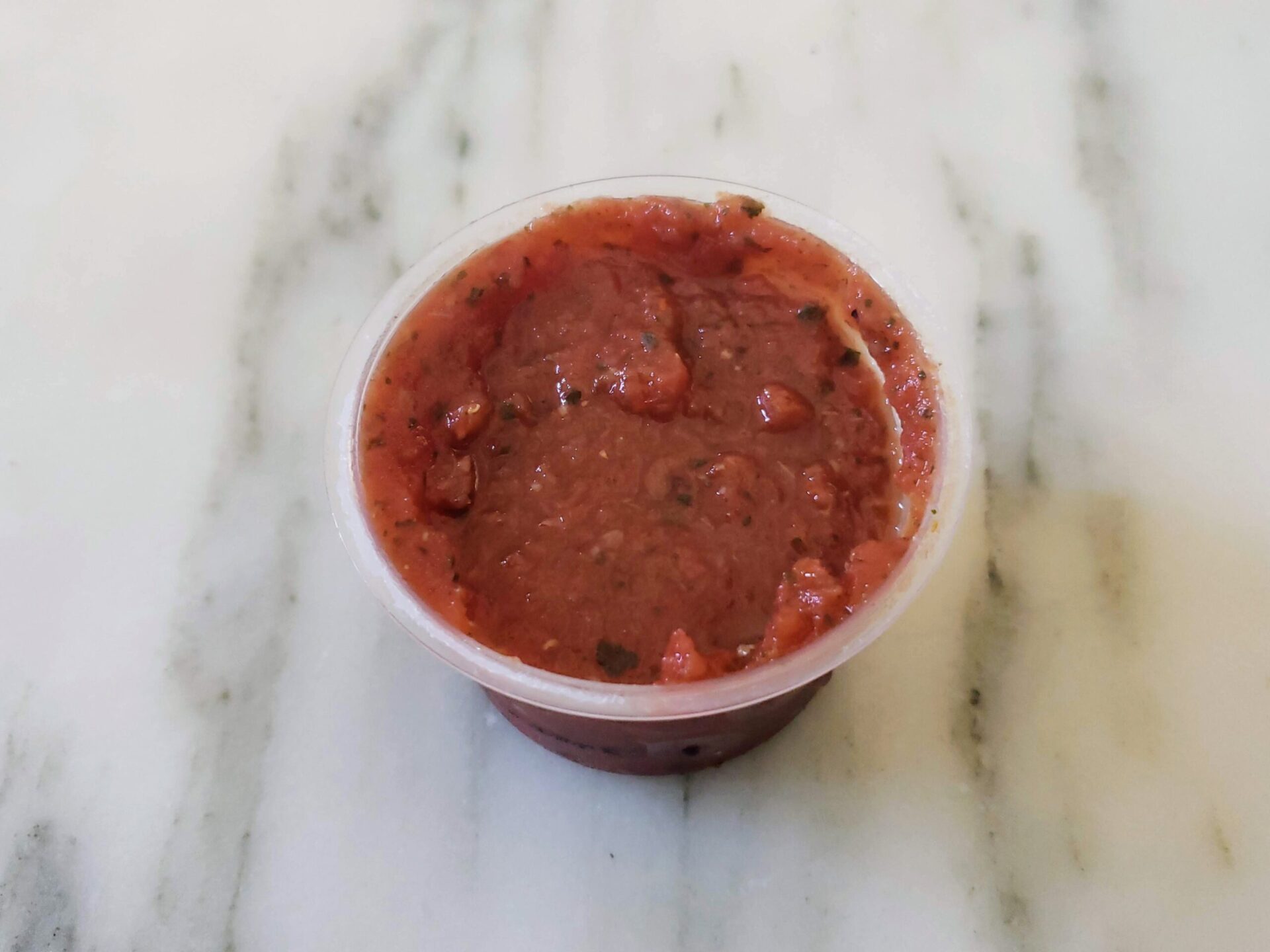 The salsa is Kirkland Signature's organic salsa, which I currently have a jar of in my refrigerator, and the cilantro lime crema can also be purchased at Costco.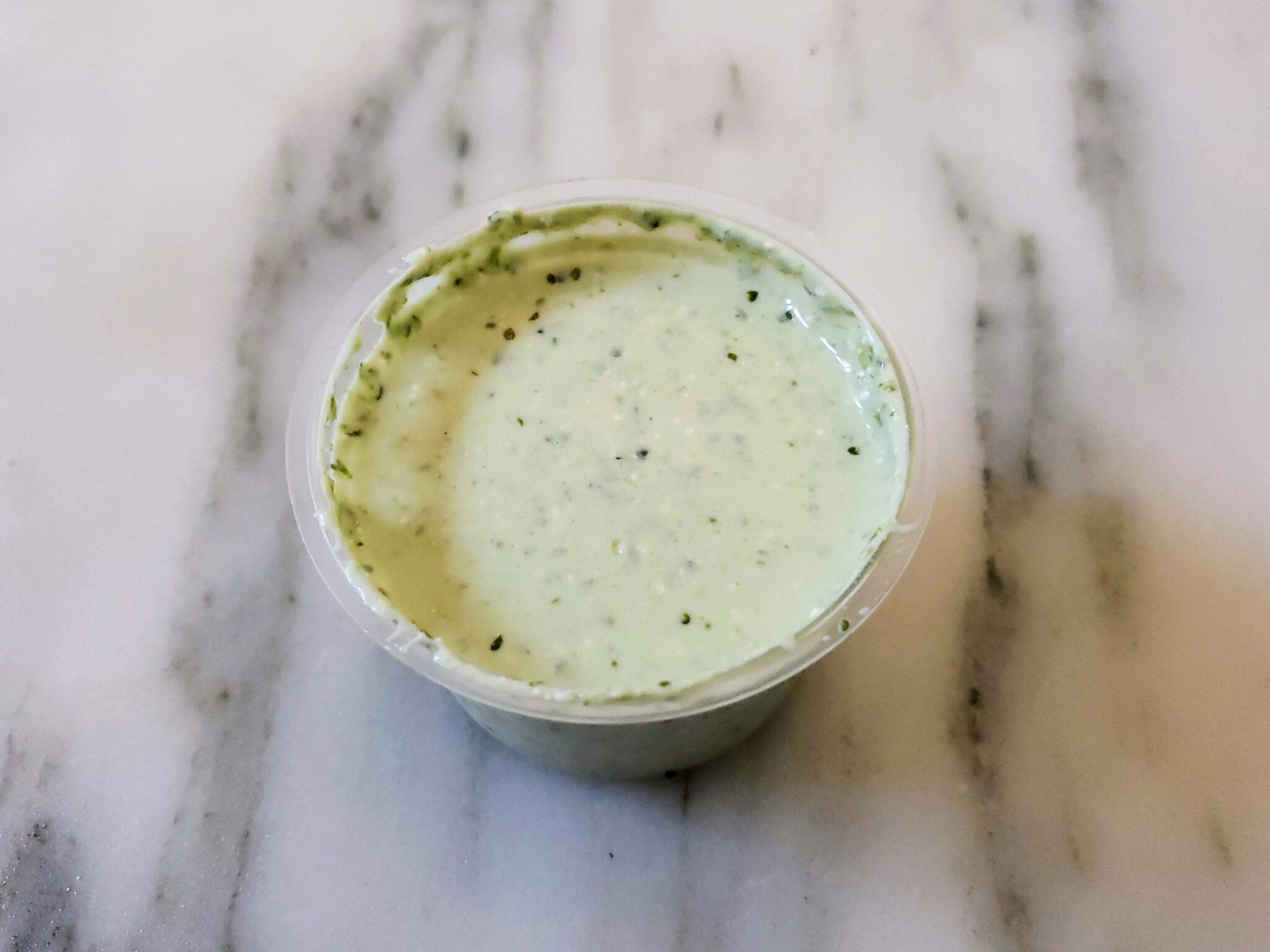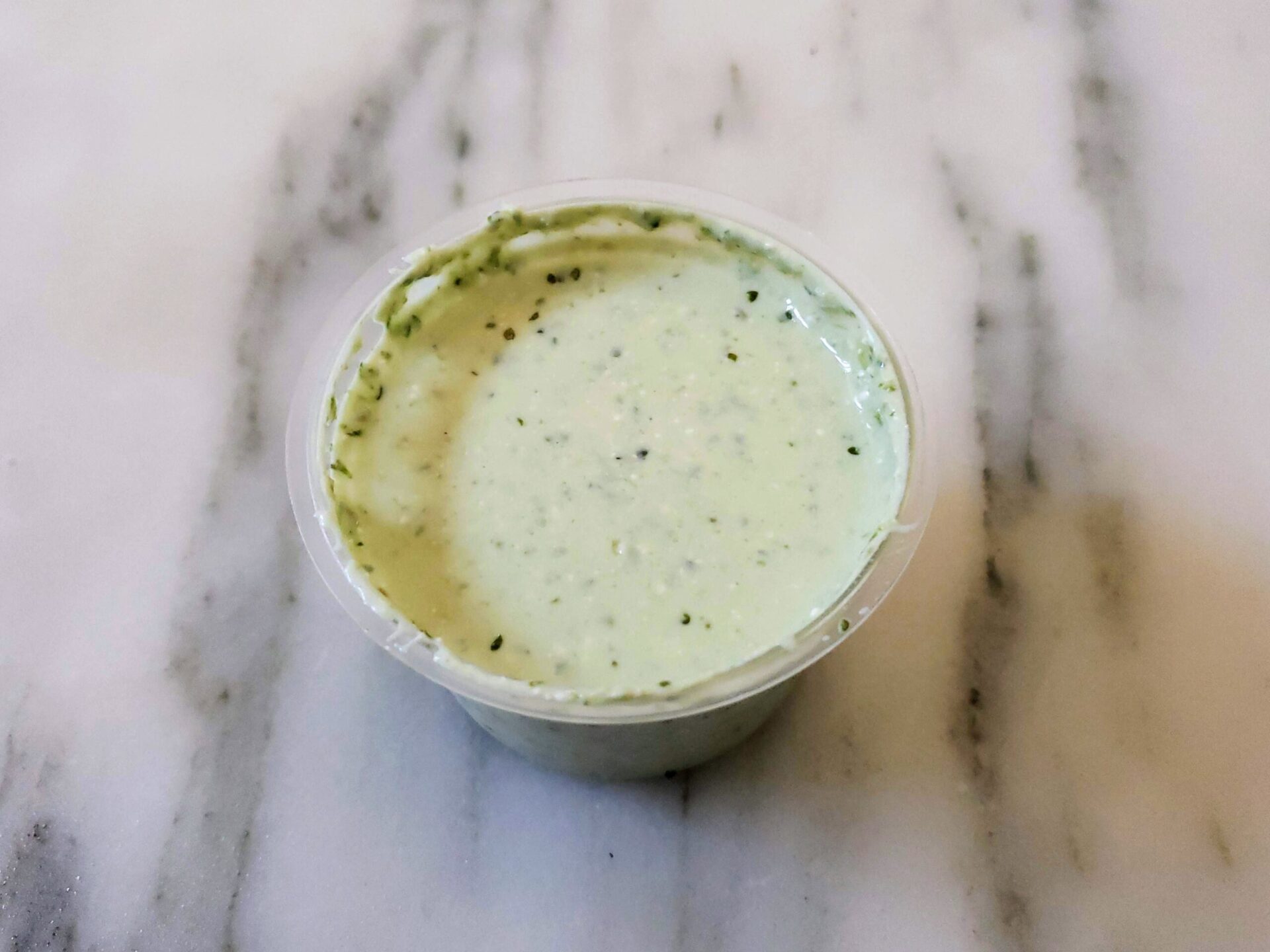 When combined, the salsa and cilantro lime crema blended together perfectly. 
The flavor was refreshing and super flavorful. It added a really nice depth and a layer of flavor to the chicken tacos.
Taco Kit from Costco Portion Sizes
Costco does call this a 12-count taco kit, and after going through the whole container, this is closer to an 8-10 count taco kit.

The only ingredient that is an appropriate portion for 12 tacos is going to be the 12 tortillas.
Not Enough Meat or Cheese
There was 1 pound of chicken in the Costco street taco kit, which split between 12 tacos is 1.33 ounces of chicken per taco. This is actually an acceptable amount for street tacos, but I would have liked maybe 1.75 ounces of chicken to go with each of Costco's double thick flour tortillas.
The cheese was significantly lacking, as there was maybe enough for 6 tacos. This is a significant problem with a DIY taco night kit if you don't have shredded cheese at home.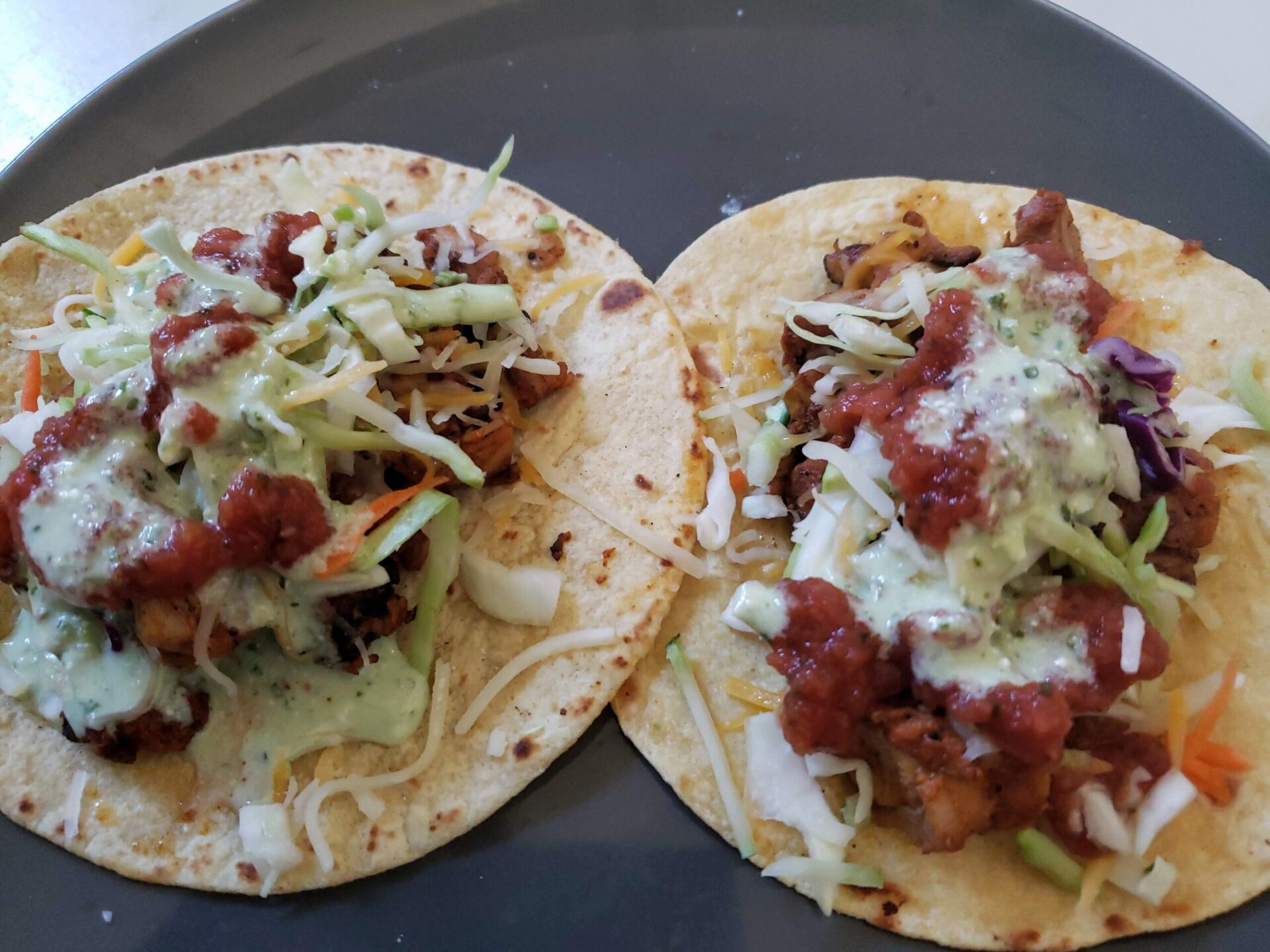 The coleslaw, while unneeded, would have been adequate for about 8-10 tacos.
The salsa and lime crema were also slightly under-portioned. The salsas are best when combined, and there was realistically enough for 10 tacos.
Overall, these Costco street tacos make for a fun and easy taco night. The portion sizes are a little underwhelming, but the kit makes some fun and tasty tacos. The cilantro lime crema was surprisingly delicious, and the chicken was also flavorful.
Costco Chicken Street Tacos Heating Instructions
Costco doesn't provide much direction when it comes to their Kirkland Signature chicken street tacos aside from noting that you need to heat the chicken and the tortilla to 165°F.

Pan-Fry Costco Chicken Street Taco Heating Instructions
The packaging of the Costco street taco kit doesn't provide any specific instructions, but here is what I did:
For the tortillas
Cook them 1-2 at a time on a medium-heat skillet until the tortillas are cooked through.
Flip the tortillas halfway through the cooking process to avoid burning them.
Preheat pan on medium heat. 

Lightly coat pan with olive oil

Heat the chicken breasts in a pan for 2-3 minutes. 

Flip at least once during cooking process.
 
Pro Tip: Coat the pan with a tablespoon of oil and give the chicken pieces a nice sear.
Air Fryer Costco Street Taco Kit
The chicken from the street taco kit can also be heated in the air fryer. 
Pre-Heat the air fryer to 325°F.
Place the street taco chicken in the air fryer in a single layer.

Cook the chicken for 3-5 minutes (depending on portion size) until they are adequately heated.

Heat Tortilla for 2 minutes at 325°F in the air fryer. 
Costco Street Tacos - Microwave
The Costco street taco kit can also be quickly prepared in the microwave. 
Place chicken in a microwave safe bowl.

Heat the chicken for 1-2 minutes in the microwave or until thoroughly heated. 

Heat the tortillas in the microwave for 30 seconds each.

Assemble and enjoy! 
The microwave is probably the most convenient way to cook these tacos, but some of the other cooking methods will produce better results. 
Thing to Note: The chicken that is included in the Costco street taco kit is already fully cooked, and you don't necessarily have to heat the chicken all the way to 165°F.
 
After heating the tortilla and chicken, build your street taco and add the cheese and coleslaw before topping with the salsa or cilantro lime crema.
 
Finally, squeeze a little bit of lime on the taco for a refreshing citrus flavor boost.
Costco Chicken Taco Kit Nutrition And Calories
There is a lot of misinformation out there regarding the Costco street taco kit. This nutritional label and calorie information is officially sourced from Costco. 
One serving of Costco's Chicken Street Tacos will be 3.9 ounces or 110 grams. This nutritional label takes into consideration that each of the included ingredients in the taco kit is used evenly per taco. Each serving will have the following nutritional information. 

Calories: 170
Total Fat: 6g 
Cholesterol: 35mg
Sodium: 540mg 
Carbohydrates: 17g 
Total Sugar: 2g 
Protein: 12g
Nutrition Facts
Costco Chicken Taco Kit
Amount per Serving
% Daily Value*
* Percent Daily Values are based on a 2000 calorie diet.
Is The Costco Street Taco Kit Healthy?
The chicken breast is a high protein, low fat and carb food which is great. The cheese is standard, and the coleslaw is low-calorie. The thick tortillas may be somewhat of a carb issue, but it seems manageable when combined with the rest of the taco.
Salsa is a low-calorie food, and the Cilantro Lime Crema isn't the worst dressing/sauce/salsa out there.
Overall, this taco kit is one of the healthier street style tacos.
Is The Costco Street Taco Kit Gluten Free?
No, Costco's street tacos are not gluten-free. The tortilla is made with flour which makes these not a suitable option for those looking for a gluten free meal. 
Are Costco's Street Tacos Low in Carbs?
The tortillas that are used in the Costco street taco kit are traditional flour tortillas and are not low carb or keto friendly. If you are looking to make this into a low carb meal, I suggest substituting the Costco tortillas for your own low carb tortilla.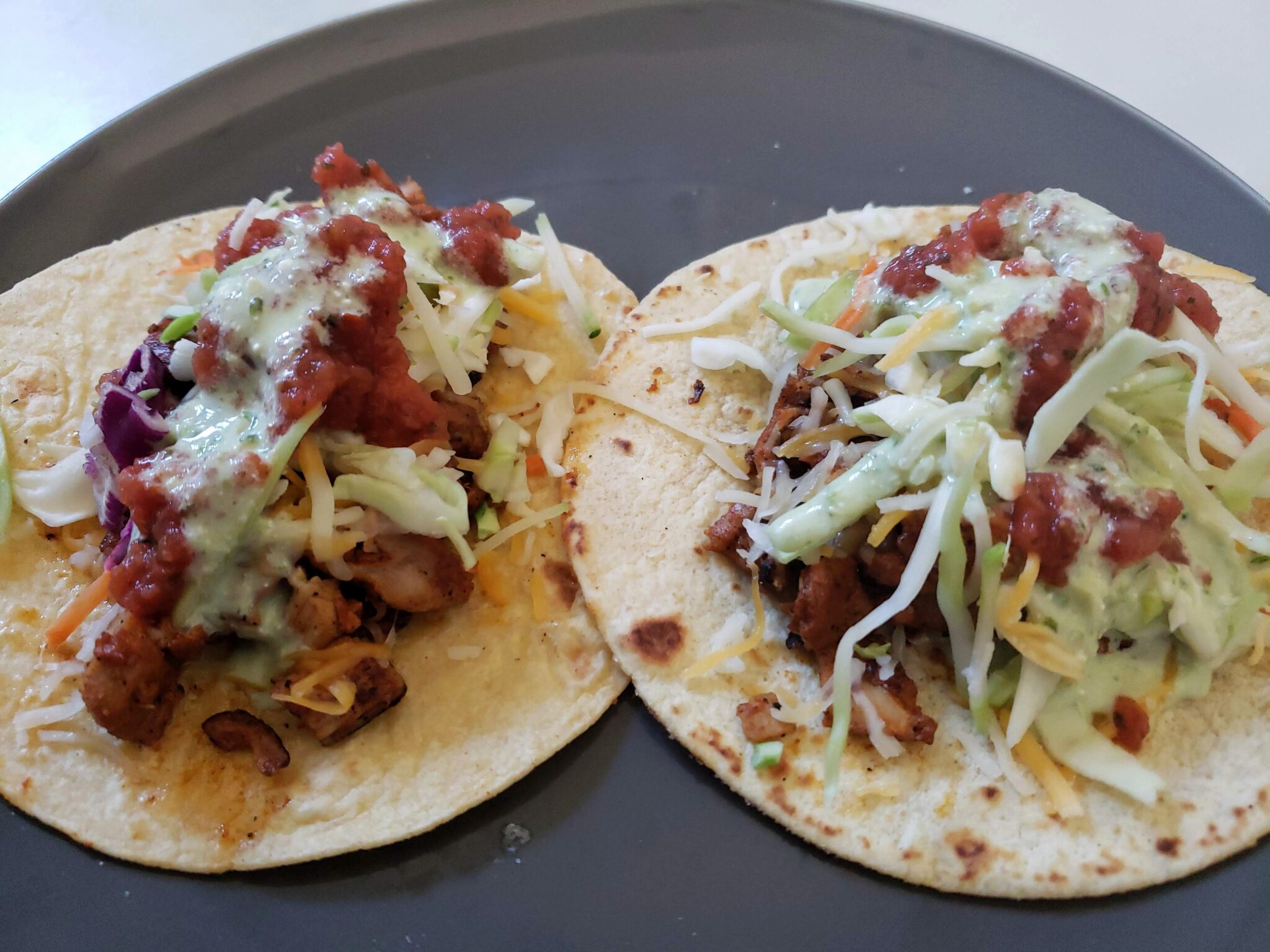 Chicken (chicken, water, salt, maltodextrin, paprika, honey, cornstarch, sugar, peppers, onion, spices, citric acid, yeast extract)
Tortilla (water, corn masa flour, bleached enriched flour (wheat flour, vitamins (b3, b1, b2), iron, folic acid) wheat gluten, salt, dextrose, leavening (sodium aluminum & monocalcium phosphates. baking soda, sodium acid pyrophosphate), oat fiber, SSL, safflower oil, mono- & diglycerides, fumaric acid, potassium sorbate, calcium propionate, sodium propionate, sorbic acid, cellulose gum, guar gum, lime)
Salsa (tomatoes, onion, peppers (chili, jalapeno, bell), water, tomato paste, cilantro, spices, onion, celery, garlic, corn gluten, xanthan gum, yeast extract, spice extracts, salt, vinegar, citric acid, acetic acid, lactic acid, cellulose gum, calcium chloride)
Cilantro Crema Sauce (cultured pasteurized skim milk, cream, water, canola oil, vinegar, modified corn starch, soy protein, salt, gelatin, nonfat milk, lemon & lime juice, onion, xanthan gum, natural flavors, spice, low-fat buttermilk, red wine vinegar, cilantro, chiles, garlic, sea salt, salt, pumpkin seeds, sodium benzoate, potassium sorbate, enzymes)
Cheese Blend (cultured pasteurized milk, salt, enzymes, art. color, natamycin)
Limes
Green & Red Cabbage
Broccoli
Carrots

Contains: wheat, milk, and soy. Made in a facility that processes wheat, soy, milk, egg tree nuts, peanuts, fish, crustaceans, shellfish, and sesame.
The Costco chicken street taco kit may seem like it's made from simple, wholesome ingredients, but a closer look reveals that it's highly processed. The long list of unpronounceable ingredients are not things you'd find in homemade tacos. 
This meal gives the illusion of being healthy while actually containing many artificial and chemically modified components.
Costco Street Tacos Ingredient List
DIY Chicken Street Tacos from Costco
The beauty of these Costco street tacos and most other deli prepared meals is that you can often recreate these meals at home for a fraction of the cost.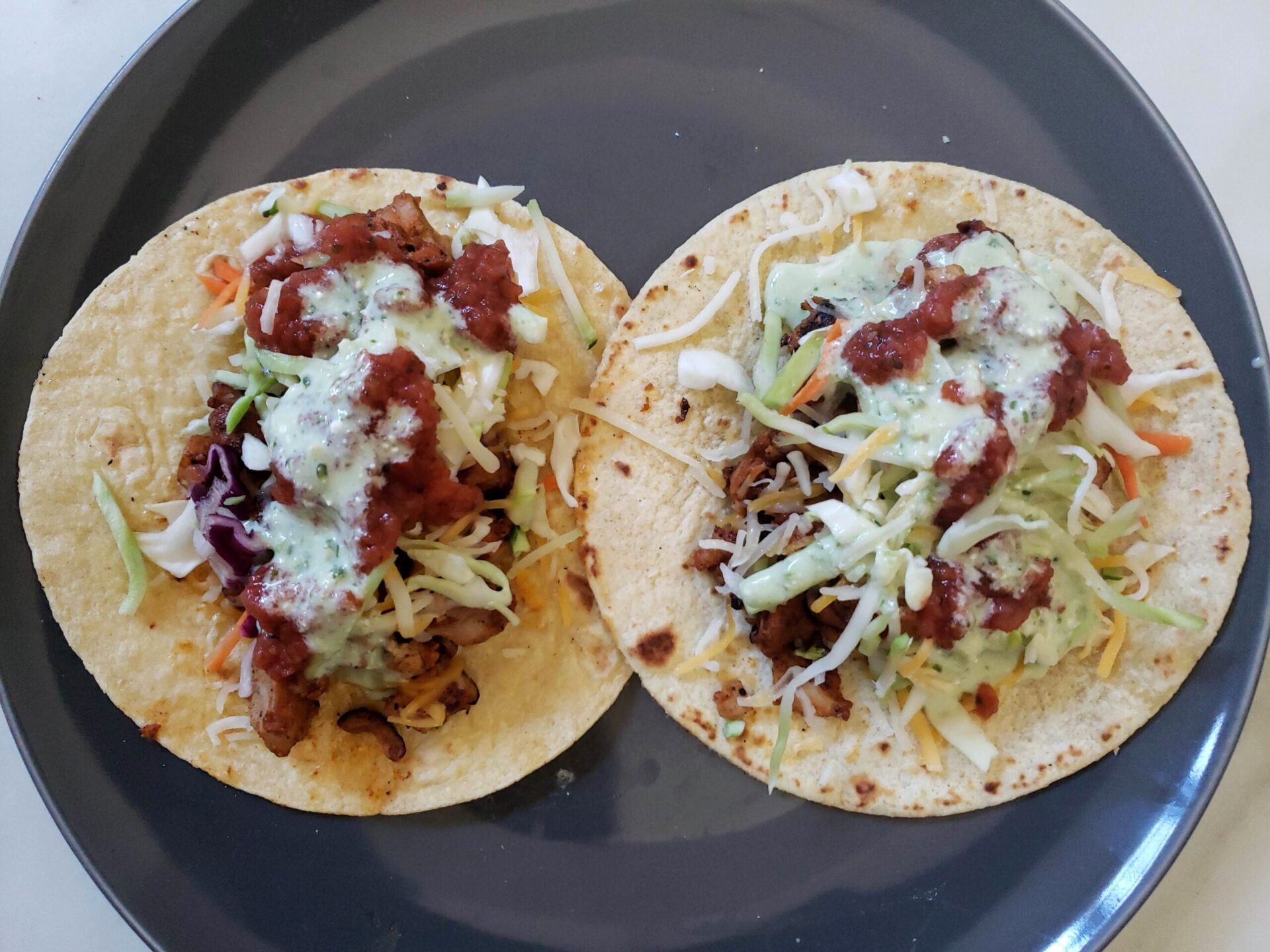 In this case, all the ingredients can be found at Costco except for the cole slaw. Only the Costco business center near me has coleslaw, and they sell it in a 5-pound bag!
Either way, the coleslaw is not authentic when it comes to tacos, and you will be better off dicing up a white onion and some cilantro.
Cilantro Lime Crema at Costco
Do you enjoy the Cilantro Lime Crema from Costco's taco kit? Well, Costco also sells a 2 pack of Don Pancho Cilantro Lime Crema Everything Sauce for $7.79. This crema salsa is found near the other salsa and dips in the refrigerated deli area.

How Much Does Don Pancho Cilantro Lime Sauce Cost at Costco?
Each 16-ounce bottle of Don Pancho Cilantro Lime Crema costs $3.90. This is a little pricey for a jar of sauce or salsa, but this is the exact same Cilantro Lime Crema that Costco uses in their Kirkland Signature street taco kit. 
Don Pancho proudly announces they are the official crema for the taco kits on both the bottles and the packaging! 
According to the packaging, this sauce is excellent on Tacos, wraps, burritos, protein bowls, nachos, salads, quesadillas, grilled corn, tostadas, taquitos, grilled seafood & more!
 
Thing to Know: Don Pancho Cilantro Lime Crema is made by Reser's Fine Foods, which makes the scalloped potatoes at Costco. This seems like a do it all type of company.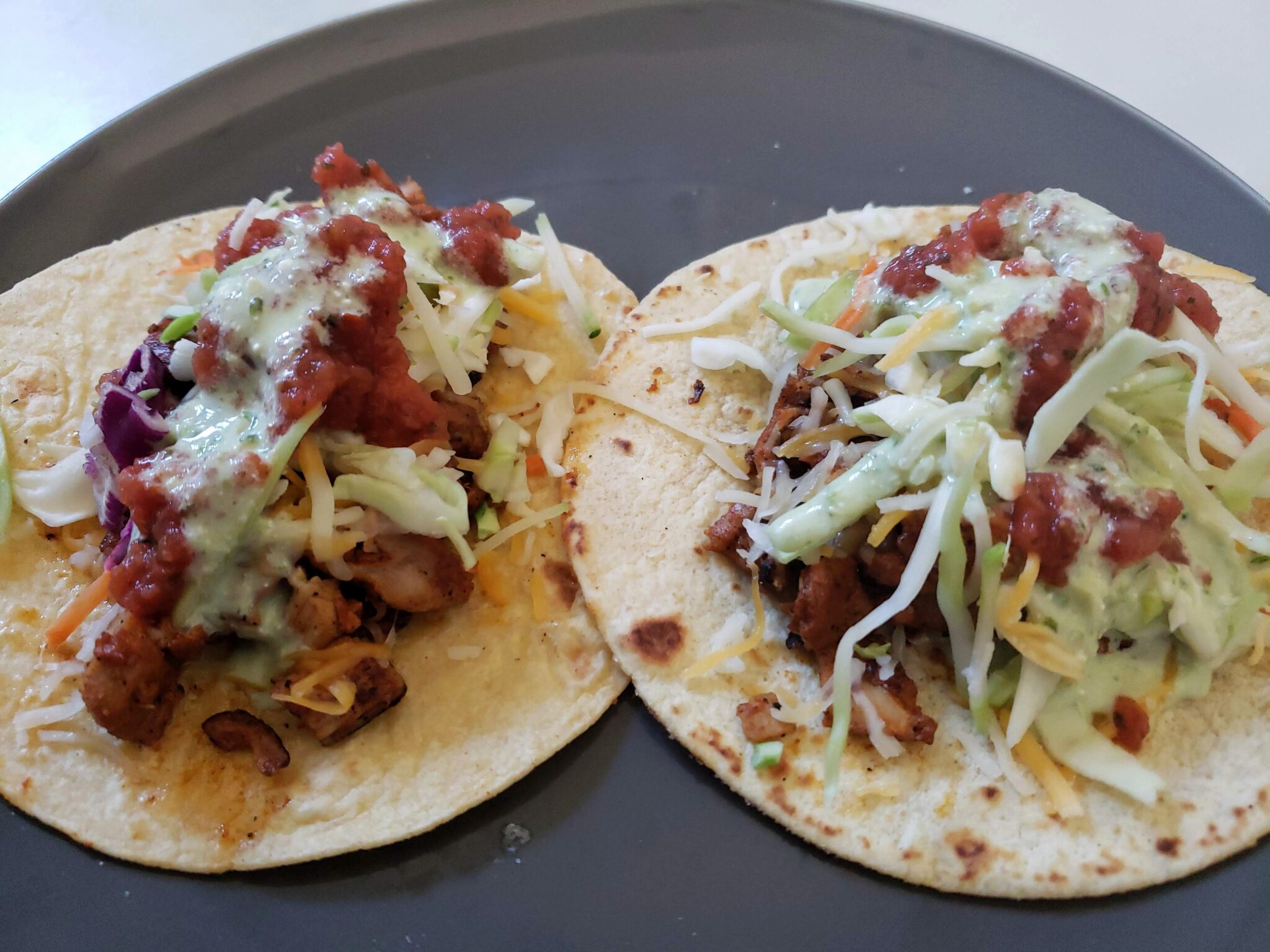 The crema tastes as great as it does from the Costco taco kit and is exceptional when paired with the Kirkland Signature Salsa. The one issue will be the short shelf life of the crema. 
I have about 5 weeks from my purchase date to finish both of the Don Pancho Cilantro lime Crema bottles. It can be done, but there might be a challenge near the end to make sure we use up the crema without waste. 
Costco Cilantro Lime Cream Nutritional Information
How Many Calories in Cilantro Lime Crema?
Each serving of the salsa sauce is 2 Tbsp and contains 40 calories with 3 grams of fat, 2 grams of carbs, and 1 gram of protein.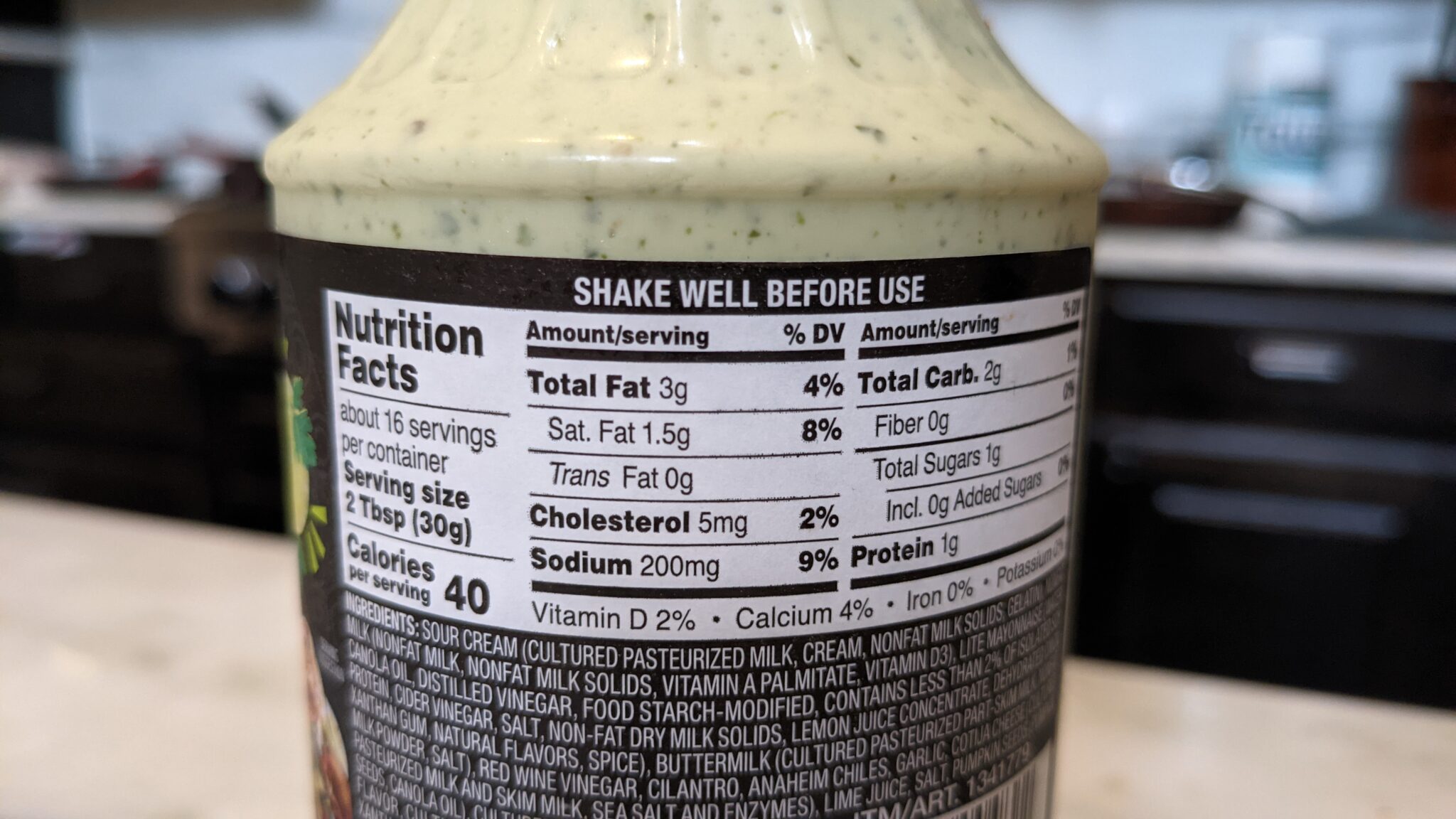 This is a fairly low-calorie sauce with a low amount of carbs. With a nutritional profile like this, the sauce can be used often.

Final Thoughts on the Costco Chicken Street Taco Kit
Initially, I had low expectations because of the ingredients and the slightly high price, but the Costco taco kit did impress for what it was. The tacos weren't authentic, but they were enjoyable.

The portion size was a little small, but the meal was flavorful, and the salsa and cilantro lime crema was terrific. This is a great and fun purchase for a quick and easy build your own taco kit!
Costco Food Database User Reviews
Have you tried this item? Let the rest of the Costco Food Database community know what you think. Leave a rating and review for this product. 
Costco Chicken Street Tacos + Pro TIps
How to perfectly cook and assemble the street tacos from Costco's premade meal.
Ingredients
Costco Street Taco Kit

Guacamole
Instructions
Heat tortillas on medium warm skillet for 1-2 minutes or until tortillas are cooked through

Heat chicken breast pieces in a pan over medium heat for 3-4 minutes. (Coat pan with oil for an additional sear). Stir occassionally.

Assemble tortilla with chicken, cheese, coleslaw, salsa, and cilantro lime crema. Squit on lime juice.
Nutrition
Serving:
3.9
ounces
Calories:
170
kcal
Carbohydrates:
17
g
Protein:
12
g
Fat:
6
g
Saturated Fat:
3
g
Trans Fat:
0
g
Cholesterol:
35
mg
Sodium:
540
mg
Fiber:
2
g
Sugar:
0
g