Costco Coconut Shrimp - Great, But Extremely Unhealthy?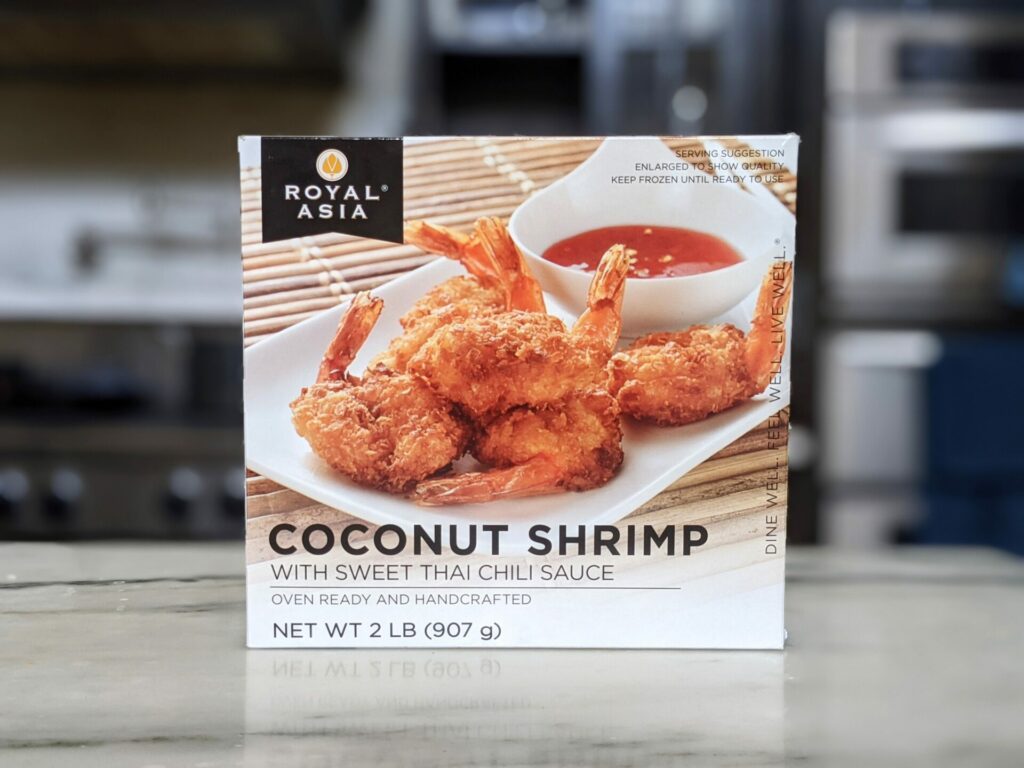 Royal Asia Coconut Shrimp at Costco
Costco sells a 2-pound box of Royal Asia Coconut Shrimp for $15.99. I found Costco's coconut shrimp in the frozen food aisles near other shrimp items such as the Panko Breaded Shrimp, Shrimp Tempura, and the raw frozen shrimp.

Each box contains 2 pounds of Coconut Panko Breaded Shrimp and Sweet Thai Chili Sauce. Royal Asia uses farm-raised Pacific white shrimp.
Have You Tried Costco's Coconut Shrimp?
Let the rest of the Costco Food Database community know what you thought of this product. Results and reviews are at the bottom of this page.
Please allow 24 hours for review moderation and approval.
In addition to this Coconut Shrimp, Royal Asia also sells spring rolls at Costco. I thought the spring rolls were just okay, but they seem pretty popular as they have been continuously stocked at Costco for multiple years now.
I'm hoping to see the same with this coconut shrimp.
Royal Asia Coconut Panko Shrimp
To make this product, Royal Asia uses farmed Pacific white shrimp that are naturally processed without the use of chemicals.
The shrimp are lightly coated with a blend of crunchy panko breading and tropical coconut flakes. They are pre-cooked to just the right temperature, where they can be easily finished off in the air fryer or oven.
After heating, the result is a crunchy golden brown breaded coconut shrimp that pairs exceptionally well with the included sweet Thai Chili dipping sauce.
How Much Does Royal Asia Coconut Shrimp at Costco Cost?
Costco sells the 2-pound box of Royal Asia Coconut Shrimp with Sweet Thai Chili Sauce for $15.99.
This breaks down to an easy $8 per pound and is appropriately priced for frozen breaded shrimp products.
For comparison, Kirkland Signature's Panko Breaded Shrimp also retails at $8 a pound. The Kirkland Signature Tempura Shrimp sells for an amazing $7.08 a pound (extremely great value), and the P.F Chang Kung Pao Tempura Shrimp sells for $6.95.
The P.F. Change Tempura Shrimp includes large packets of sauce to lower the price per pound.
The Royal Asia Coconut Shrimp also includes Sweet Thai Chili Sauce, but thankfully, the sauce is kept to a minimum for us consumers. Each box contains three small packets of sauce, each weighing about 2.15 ounces and totaling 6.5 ounces. 
This does account for 20% of the total weight but isn't egregious by any means, and after tasting the sauce, I think it's a great addition to the coconut shrimp. 
Coconut Shrimp Taste Test
I went with the easy air fryer cooking option with this shrimp, and as expected, the shrimp came out super crispy and had a nice golden brown panko breading exterior.
I cooked my coconut shrimp for less than the recommended 8 minutes in the air fryer, and even then, they came out with just a few too many burnt spots. 
The breading was a very nice golden brown, but some spots did blacken a bit. I would recommend keeping an eye out on the last few minutes in the air fryer.
Visually, these also look very much like Costco's Kirkland Signature Panko Shrimp.
From the looks of it and from reading the box, the big differentiator is the addition of the coconut flakes.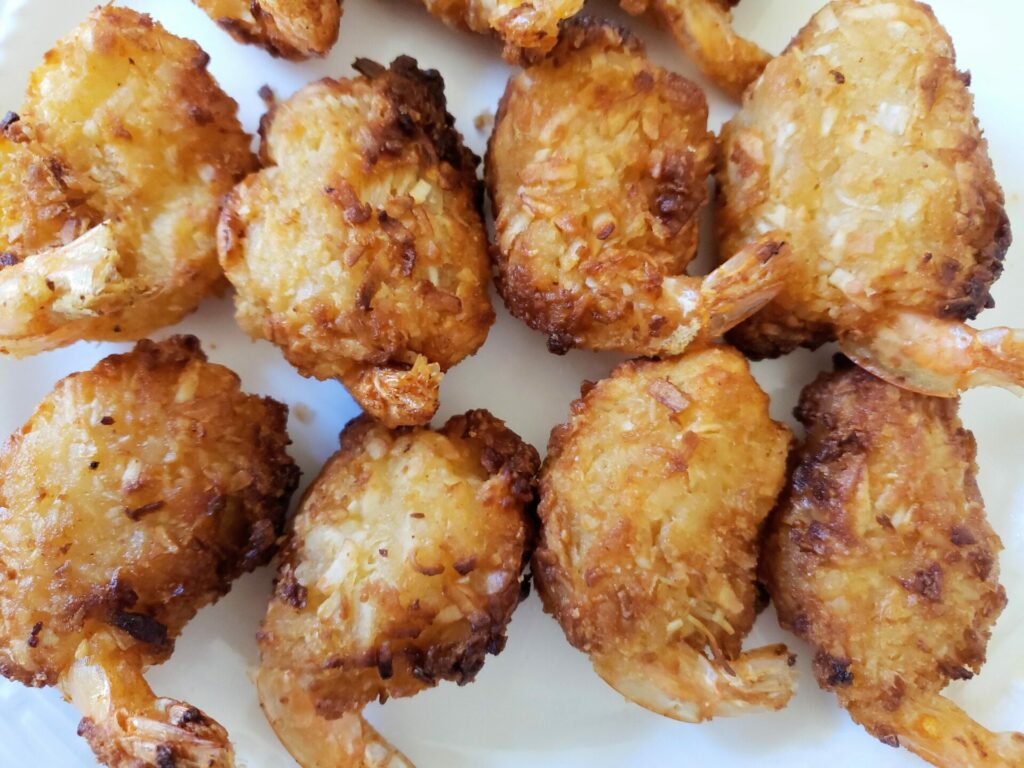 The nice thing is that the coconut flakes can easily be seen in the breading of the shrimp.
Taste-wise, I am a big fan of these. The panko breading is crispy and seasoned perfectly. There is flavor, but they are not overly salted. The coconut flavor is heavily present but not overpowering. 
I don't necessarily care for coconut very much, but Royal Asia does a great job of balancing out the sweetness of the coconut and the savoriness of the breading and shrimp.
The biggest downfall with the coconut shrimp is, unfortunately, going to be the shrimp. I thought the flavor was a little lacking, and it's possible to eat this without even realizing that you are eating shrimp.

I had some moments where I was eating this, and the shrimp didn't matter to me at all. This could have been chicken for all I care because the shrimp flavor just wasn't there, and the breading and coconut were that good.
I really enjoyed the sweet chili Thai sauce that is provided by Royal Asia and thought it was fantastic. The bright orange sauce looks the part and has plenty of chili flakes throughout.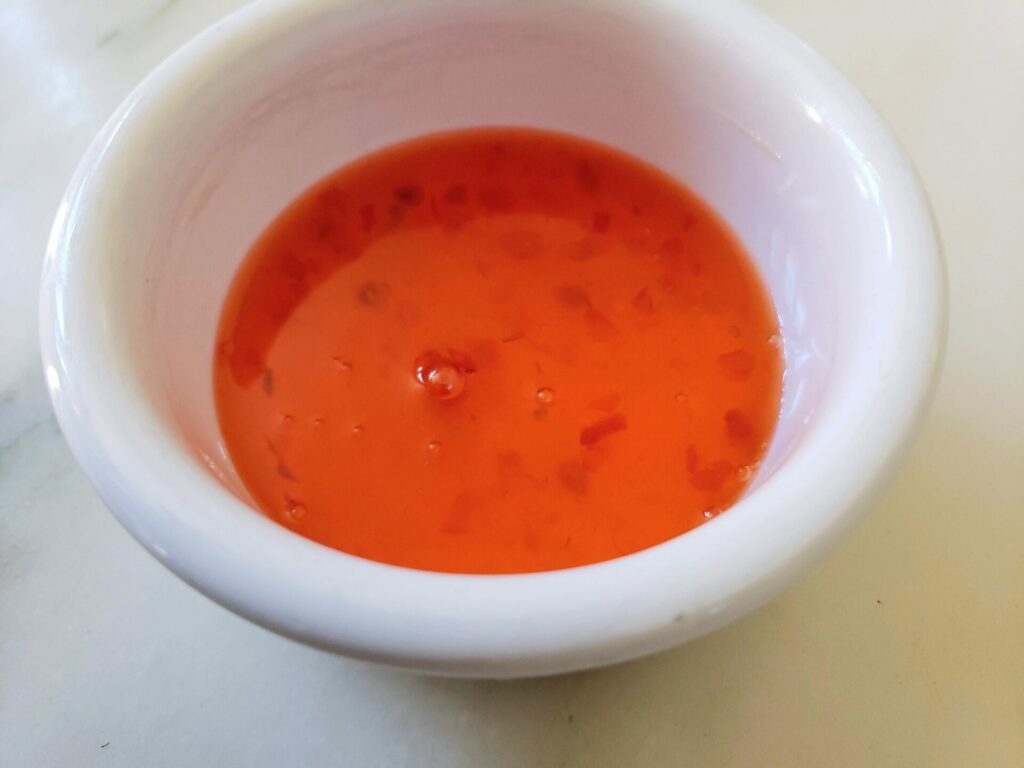 The sauce also lives up to its sweet name and is an excellent combination of sweet, savory, tangy and just a touch spicy. 
This sauce really is good and is something I would even gladly buy in bottle form. It would go great with some wontons, chicken wings, and even the Just Bare chicken nuggets.
How to Cook Costco's Coconut Shrimp
Easy Cooking/Heating Instructions
Royal Asia keeps it simple and only provides two methods for cooking their Coconut Shrimp. They recommend either baking the coconut shrimp or air frying them.
As per usual, I went with the air fry method as that is the quickest and will usually create the crispiest finished product.
In this case, the air fryer only takes about ten total minutes, including preheating, and the coconut shrimp turn out amazingly crispy and crunchy.
Place the shrimp in a single layer on an ovenable pan.

Bake at 400°F for about 18 minutes.

Flip halfway through.

Coconut shrimp are ready to eat when crispy and golden brown.
Heat coconut shrimp at 400°F for about 8 minutes.

Flip halfway through. 

Coconut shrimp are ready to eat when crispy and golden brown.
My total cook time for 11 coconut shrimp was about 7 minutes, and the shrimp were perfectly done and extra crispy.
I thought the 8 minutes were a little much, so keep an eye on the shrimp when they are cooking in the air fryer.
The Thai chili sauce is effortless to prepare as you just need to thaw the sauce under warm water. 

I like to fill a little sauce bowl with water and place the sauce bag in the bowl. By the time the shrimp is done cooking, the sauce will be thawed. Then you pour out the water, maybe wipe it down with a paper towel if you wish, and then pour the sauce into the little sauce bowl. 
With this method, you don't have to use as much water to thaw the sweet Thai chili sauce.
Royal Asia Coconut Shrimp Nutritional Information and Calories
One serving of Costco's coconut shrimp will be 4 ounces, including sauce, and contains 390 calories. Those 390 calories will come from 24 grams of fat, 34 grams of carbs, and 11 grams of protein.

This is a breaded product, so the nutritional label will not be the greatest, but even then, it surprised me how bad this shrimp is nutritionally. 
The amount of fat is high, and the amount of carbs is excessive. I would not be eating these regularly, and if I were on a diet, I would look for healthier alternatives.
Unhealthy Compared To Other Panko Breaded Shrimp
The very similar Kirkland Signature Panko breaded shrimp will contain only 220 calories coming from 12 grams of fat, 14 grams of carbs, and 13 grams of protein. This is a smaller serving size at 3 ounces and doesn't include any sauce, but the nutritional label is still vastly superior compared to this Royal Asia Coconut Shrimp.
Neither product is necessarily healthy, but if nutritional value is a concern when choosing which breaded shrimp to indulge in, then it's clear the winner will be Costco's Kirkland Signature panko shrimp.
Costco Food Database User Reviews
Have you tried this item? Let the rest of the Costco Food Database community know what you think. Leave a rating and review for this product. 
Costco Coconut Shrimp With Dipping Sauce
Costco's frozen coconut shrimp with dipping sauce is a great option for a light snack or even a meal!
Ingredients
8

Coconut Shrimp

1

Pack

Sweet Chili Sauce
Instructions
Oven Bake

Place the shrimp in a single layer on an ovenable pan.

Bake at 400°F for about 18 minutes.

Flip halfway through.

Coconut shrimp are ready to eat when crispy and golden brown.

Air Fryer

Heat coconut shrimp at 400°F for about 8 minutes.

Flip halfway through. 

Coconut shrimp are ready to eat when crispy and golden brown.

Serve with Thai Chili Sauce
Nutrition
Serving:
4
oz
Calories:
390
kcal
Carbohydrates:
34
g
Protein:
11
g
Fat:
24
g
Saturated Fat:
9
g
Trans Fat:
0
g
Cholesterol:
65
mg
Sodium:
390
mg
Fiber:
2
g
Sugar:
17
g