Costco Garlic Chicken Drumsticks + Air Fryer Recipe
Costco has a wide variety of prepared meals or ready to cook meals to make dinnertime easy. Are the Garlic Seasoned Chicken Drumsticks worth it?
Garlic Pepper Chicken Drumsticks at Costco
Costco sells their prepared Garlic Pepper Seasoned Chicken Drumsticks for $1.49 per pound. The drumsticks are sold in containers that approximately weigh 7-8 pounds.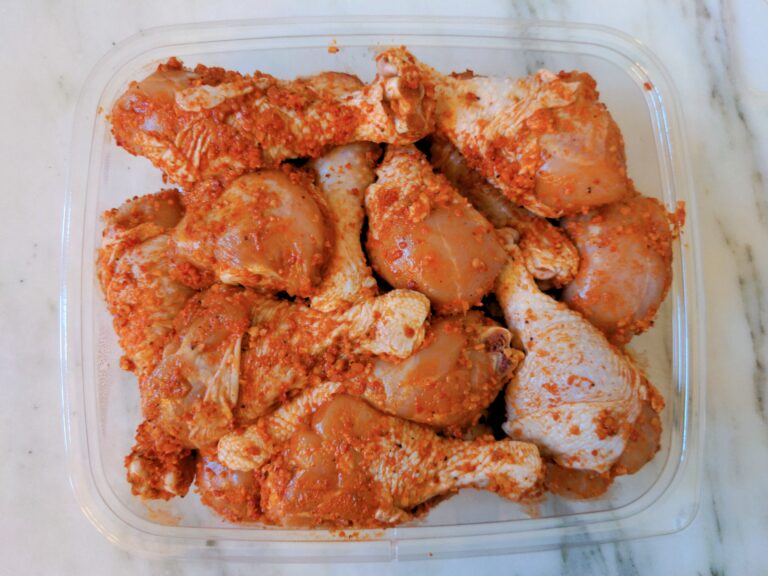 In The Prepared Meal Section
The pre-seasoned garlic chicken drumsticks can be found in the prepared meal section or even occasionally in the meat and seafood section.
When they are in the prepared meal section of the warehouse, the chicken drumsticks are usually found near the chicken tacos, beef bulgogi, and the yakisoba stir fry.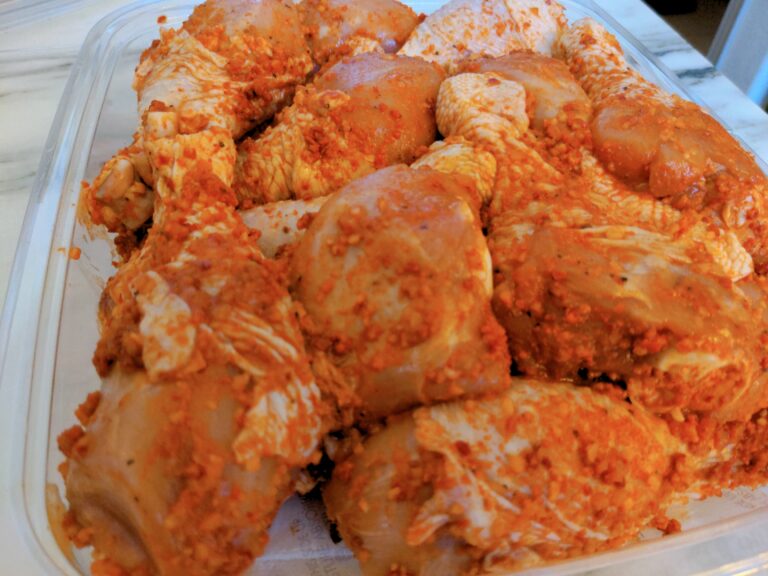 These Costco chicken drumsticks are pre-seasoned with a garlic seasoning and they look amazing. The color is a very nice bright orange and the drumstick at a minimum looks extremely flavorful. 
How Much Do the Garlic Seasoned Drumsticks Cost at Costco?
The price per pound for these pre-seasoned drumsticks is $1.49 and the average package weight is about 7 or 8 pounds. 
You can expect to pay on average about $12 for this package of garlic chicken drumsticks. 
Price Comparison to Regular Drumsticks
Regular fresh drumsticks from Costco sell for $.99 a pound, so in essence we are paying $.50 per pound for Costco to add in some seasoning and garlic.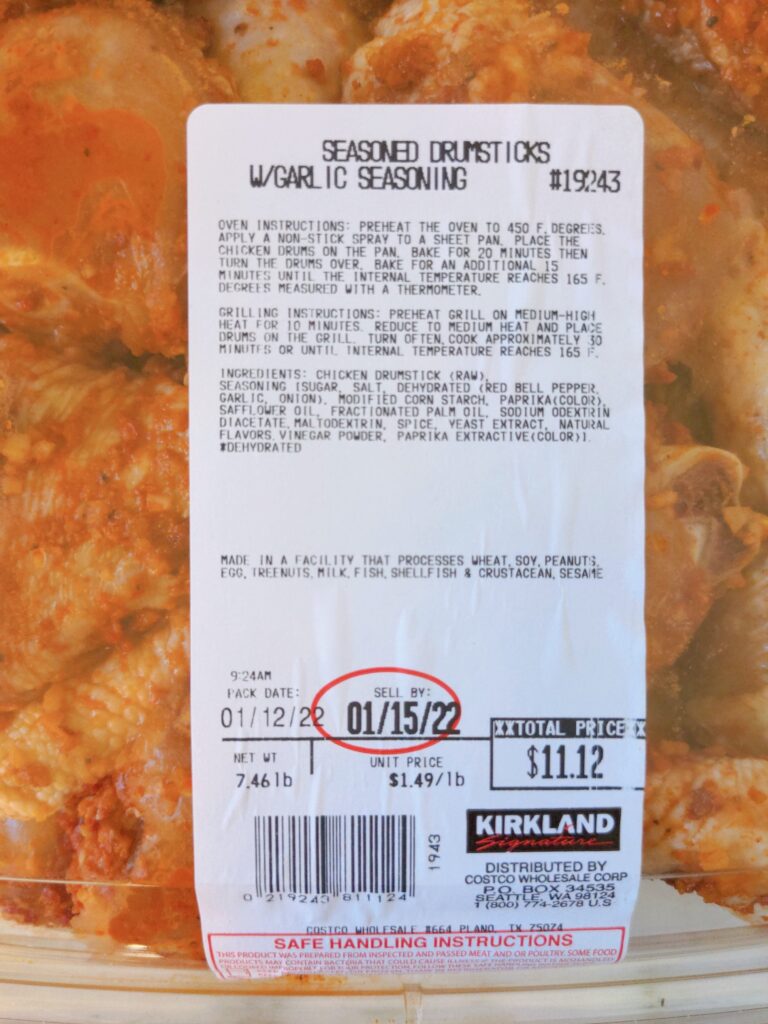 I'm aware that anytime a store sells a pre-marinated or seasoned food item, there is a markup and the store usually does pretty well. 
In this case there is a 50% increase in price per pound which is a hefty amount for some seasoning, and considering it comes in an 8 pound package, we are talking about a $4 markup for seasoning. That is some very expensive seasoning! 
Costco Pre-Seasoned Garlic Drumstick Taste Test
Cooked and Compared 3 Different Ways
I cooked this garlic pepper chicken 3 different ways to see which one turned out the best overall drumstick. I'm a recent air fryer convert, and I've been cooking a large majority of my meals in the air fryer lately, but unfortunately the air fryer did not produce the best drumsticks in this test.
The winning chicken was actually the oven baked chicken. 
Oven Baked Chicken Drumsticks
Even though I think the recommended oven instructions were a little off, the chicken came out very moist, juicy, and flavorful. The meat was tender and tasted very good.
The skin even at 450°, wasn't as crispy as I like it, but was more than passable.
The air fryer chicken created the crispiest skin as expected, but the chicken meat wasn't as tender or juicy as the oven baked chickens.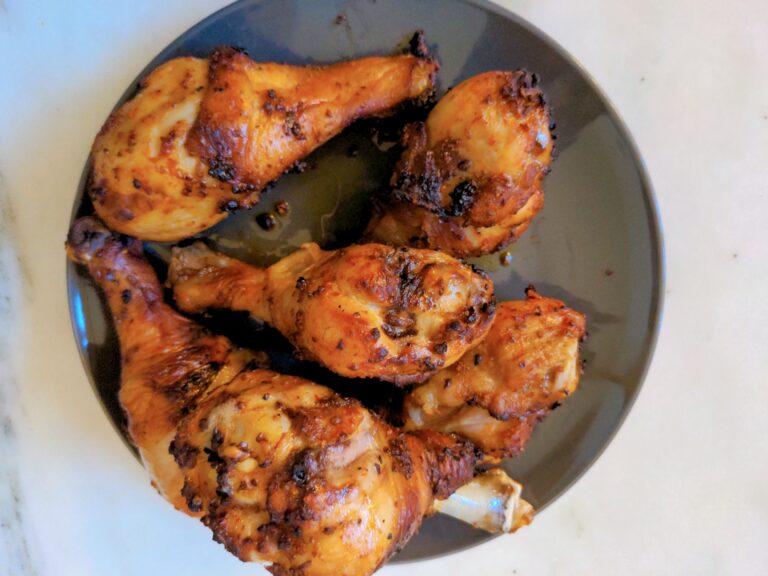 The air fryer will usually produce the crispiest food, but sometimes it can also dry out the food as well. 
The grill performed the worst out of the 3 methods. The garlic pepper chicken had the smoky taste that naturally comes with the grill, but wasn't as crispy and the meat was dried out.
This very well may have been user error, but I attempted to follow the directions as best I could. 
Now for actual taste, there is a garlic flavor, but overall the seasoning was on the lighter side. 
The flavors didn't really penetrate far into the skin, and due to the size of some of these drumsticks, there was quite a bit of meat in the middle that was bland and unflavored.
The flavor that you could taste, was ok at best. Nothing special and the garlic marinade didn't really jump out to me.
Garlic Chicken Drumsticks Kirkland Signature - Cooking Methods
The label offers two ways to cook these raw pre seasoned chicken drumsticks. For this review, I've cooked some in the oven and on the grill as they recommended as well as taking the liberty and throwing some in the air fryer as well. 
Not All Chickens Created Equally
One observation that I had was that the drumsticks varied in size quite noticeably. There were some absolutely gigantic drumsticks and some more average sized ones. 
This could potentially be a factor during the cooking process, where some drumsticks will cook more quickly than others.
Their oven directions suggest cooking these in a preheated oven at 450° for 20 minutes and then flipping and cooking for an additional 15 minutes. 
Typically when I make fresh drumsticks on my own, I will put them in the oven for about 30 minutes at 385°. The label recommended their own cooking temp and time, so I followed Costco's directions to a T, as they are the experts on this particular item. 
But with about 5 minutes left of the final 15 minutes, I heard a chicken pop and split, so I decided to pull the chicken out early, as they were clearly done. 
Grilled Drumstick Cooking Instructions
Costco also recommends grilling these garlic pepper drumsticks. Their label states to grill them on medium-high heat for 30 minutes while flipping occasionally. 
This is pretty close to how I would cook these drumsticks so I felt confident with these directions. 
I normally just cook things on high heat, hoping to get a nice char on the meat, but decided to turn the temp down for these and give the Costco directions a chance.
Air Fryer Chicken Directions
Finally, I always like to see how the air fryer compares. The oven directions suggested 450° which actually took about 15-20 minutes to preheat to that temperature. 
My air fryer only goes to 400° and was able to pre-heat in about 3 minutes. 
From my experience drumsticks only take 18-20 minutes in the air fryer so I was almost done with my first batch of drumsticks before my oven even preheated to the desired temperature.
I was able to get 2 batches in the air fryer done before the oven finished cooking the drumsticks.

I didn't love it, and I didn't hate it. Costco's garlic chicken drumsticks are great if you are looking for a pre-seasoned meal and ok paying a slight premium for it. 
I personally would opt for Costco's fresh drumsticks and season them myself. Doing it yourself, provides much better value, but you also really can't go wrong with 8 pounds of garlic drumsticks for $11. 
This won't be a buy for me very often, but every once in a while its a nice easy mix up meal.