Costco Basil Pesto - Kirkland Signature
Have You Tried Costco's Basil Pesto?
Let the rest of the Costco Food Database community know what you thought of this product. Results and reviews are at the bottom of this page.
Please allow 24 hours for review moderation and approval.
Kirkland Signature Basil Pesto at Costco
The Kirkland Signature Basil Pesto retails at $9.49 for a 22 ounce jar. The basil pesto can be found in the deli area of the store near other items such as the Gyro Slices, Lobster Ravioli, and other dips such as the Bitchin' Sauce.

Additionally, Costco uses their Kirkland Signature pesto on their Salmon Milano prepared meal. 
Costco's Authentic Genovese Basil
According to the label, the Kirkland Signature Pesto uses Genovese Basil from Genoa Italy, the birthplace of pesto sauce. 
While I personally can't speak to the regional taste differences of basil, I can appreciate that this particular pesto comes from its origin city and it does give me a more authentic feel to this item.
Costco Cost Comparison - Pesto!
How Much Does Pesto Cost at Costco?
Costco sells their 22 ounce jar of basil pesto for $9.49. This breaks down to $0.43 per ounce, which is a fantastic price for pesto. 
The pesto is going to be more expensive than some of Costco's sauces like the Teriyaki Sauce or the BBQ sauce, but it will be made with much higher quality ingredients and be much more complex in flavor. 
Costco vs the Competition
Sam's Club sells their 22 ounce Member's Mark Pesto for $7.98. There are a lot of pesto options out there, and this might be one of the few that beats Costco in price per ounce. 
This does beat out Costco in price, but the question is, how is the quality?

Costco Basil Pesto Sauce - Taste Test
Kirkland Signature Pesto Color
The thing that stands out the most about this pesto, whether in Costco or in your refrigerator is going to be the beautiful green color. It is such a bright and vibrant green that looks so appealing and catches my eye every time. 
Pesto is made with green basil, but the added ingredients of cheese and oil didn't seem to detract much from the color. The color of this Costco basil pesto sauce absolutely shines and is exactly what you would look for in a quality pesto product.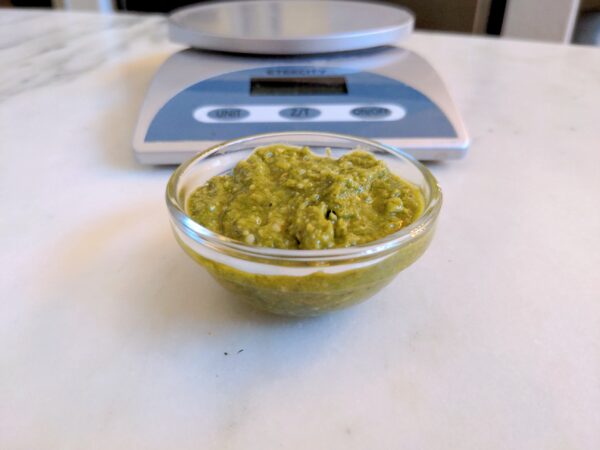 Costco hit the ball out of the park on this one. The Costco pesto is very thick and chunky with just the right amount of oil. 
The first time you open the bottle, there will be a healthy amount of oil sitting at the top, but it blends in nicely with the pesto after giving it a little stir. 
There are some nice chunks of garlic, cheese, and pine nuts all throughout the pesto that give it a little more texture and crunch to each bite. It is the perfect balance where it can be mixed into pasta or spread on toast easily without being too oily or runny. 
The flavor of this Costco basil pesto is wonderful. 
The combination of basil, garlic, pine nuts, cheese, and olive oil creates a very unique and enjoyable taste. The rich and salty cheese as well as a touch of herby basil can be found in every bite. 
When I ate the basil pesto directly it was much saltier than combined with other foods. The saltiness isn't noticeable when combined with other food items, but it is apparent when eating the pesto directly. 
While still pretty darn good on its own, I recommend enjoying the Kirkland Signature pesto as part of a meal or snack. 
My Improvement Recommendation for this Pesto
If I had one suggestion, it would be for a touch more basil flavor. I want to taste the Genovese Basil. 
The pesto has a very strong taste of cheese and garlic, and a little more basil will really boost the overall flavor. 
I personally used the pesto as a spread for a grilled cheese sandwich as well as a sauce for a pasta dinner. 
The pesto adds another layer of depth to a simple grilled cheese and definitely made the meal memorable. 
The pasta pesto was in a completely different realm than a traditional marinara pasta. The Pesto provides a nice taste of cheese and salt, and provides such a flavor boost to the noodles. 

The Costco pesto does a great job of adding a significant flavor profile to each of those meals.
Pesto is actually rather easy to make and requires only a few simple ingredients such as basil, parmesan cheese (or Romano), garlic, olive oil, and salt and pepper to taste. 
If Costco's pesto wasn't so tasty, I would probably be one to make my own on the occasions I really crave some. 
I like this recipe from My Baking Addiction.
My Favorite Uses for Pesto
Believe it or not, pesto is extremely versatile and can be used as a dip. Pesto goes great with all types of foods including chicken wings, vegetables, shrimp and even potato chips!
Pesto is great when dipped on its own, but can also be combined with sour cream, greek yogurt, or even cream cheese to create the ultimate dipping item.
Wow wow wow. Adding pesto to sandwiches really brings them alive. There is an additional layer of freshness to accompany the vegetables and the saltiness is perfect. 
Most people add pesto to turkey sandwiches, and they are fantastic. One of my favorite ways to eat pesto. It also goes great with vegetable sandwiches too. 
There is just something about breakfast and pesto. I love pasture raised eggs with pesto as they pair perfectly together. Toast and pesto can be combined with some of your favorite toppings to make a great breakfast toast.
A side of potatoes with pesto is also amazing. Some foods are just good for breakfast, and Pesto is one of them.
Costco Pesto Nutritional Information
How Many Calories in Costco Pesto?
There are 10 servings in the 22oz jar and each 2.2 ounce serving has a whopping 330 calories including 30g of fat, 9g of total carbs, and 6g of protein. 
There is some nutritional label shock when you first see the nutritional information, because this is up there as one of the worst nutritional profiles for a sauce, dressing, or dip. Calories and macronutrient wise, this is not something to eat when on a diet. 
Why Are There So Many Calories in Pesto?
It doesn't seem like something so green and vibrant like this would have so much fat and so many calories. But, when you really think about it, pesto is made from oil, cheese, and nuts, which are all very high fat and high calorie foods.
When you combine all three together, its going to be a high fat item. No way around it. 
Moderate Amount of Sodium
The Costco pesto is also very heavy on the sodium at 630mg per serving which is 25% of the average daily value. Keep in mind, you aren't just taking a spoonful of pesto, you are going to be combining it with other food items.
Combined with something salty such as a pizza, and the sodium will really start to add up quickly. 
At first glance, the nutritional label may scare you away from this pesto or even pesto in general, but when you sit down to look at the calories and ingredients, it may not be as bad as it seems.  
When you break down the ingredients list, most of the calories are going to come from the oils, cheese, and nuts. These ingredients are all part of the Mediterranean diet, which is often considered to be the healthiest diet in the world. 
Simply put, these are high-calorie high-fat foods that may not necessarily be bad for your health. They are primarily unsaturated fats, which are the fats you want to take in, and can actually provide some heart benefits. 
Garlic and basil which are near zero in calories will also provide some additional health boosts. 
Freezing Kirkland Signature Basil Pesto
How Long Does Pesto From Costco Last?
Like most Costco items, the Kirkland Signature Basil Pesto comes in a larger than average container at a price too good to pass up. Unfortunately, for this large jar of pesto, it generally comes with a best by date about a month away from purchase. 
My most recent purchase of the pesto was on January 7th and the Basil Pesto had a best by date of January 28th. 
How to Freeze Costco's Pesto
If you want to free the pesto from Costco, you can simply freeze the entire jar or split the pesto in multiple mason jars and freeze those. The Pesto freezes very well and it only needs 1 night in the refrigerator to defrost. 
I like to proactively split the pesto into thirds, taking some out and splitting it between two mason jars. I found this portion to be enjoyable without overwhelming. 
Overall, this is a great Costco product that I would recommend to anybody who is looking for pesto. The price at $9.49 for authentic Genovese basil is a bargain and the flavors are amazing. 
A little high on sodium and a touch salty at times, but well worth it. With a 22oz jar of Costco pesto, you'll have plenty to go around and can even freeze some for later meals if needed
Costco Food Database User Reviews
Have you tried this item? Let the rest of the Costco Food Database community know what you think. Leave a rating and review for this product.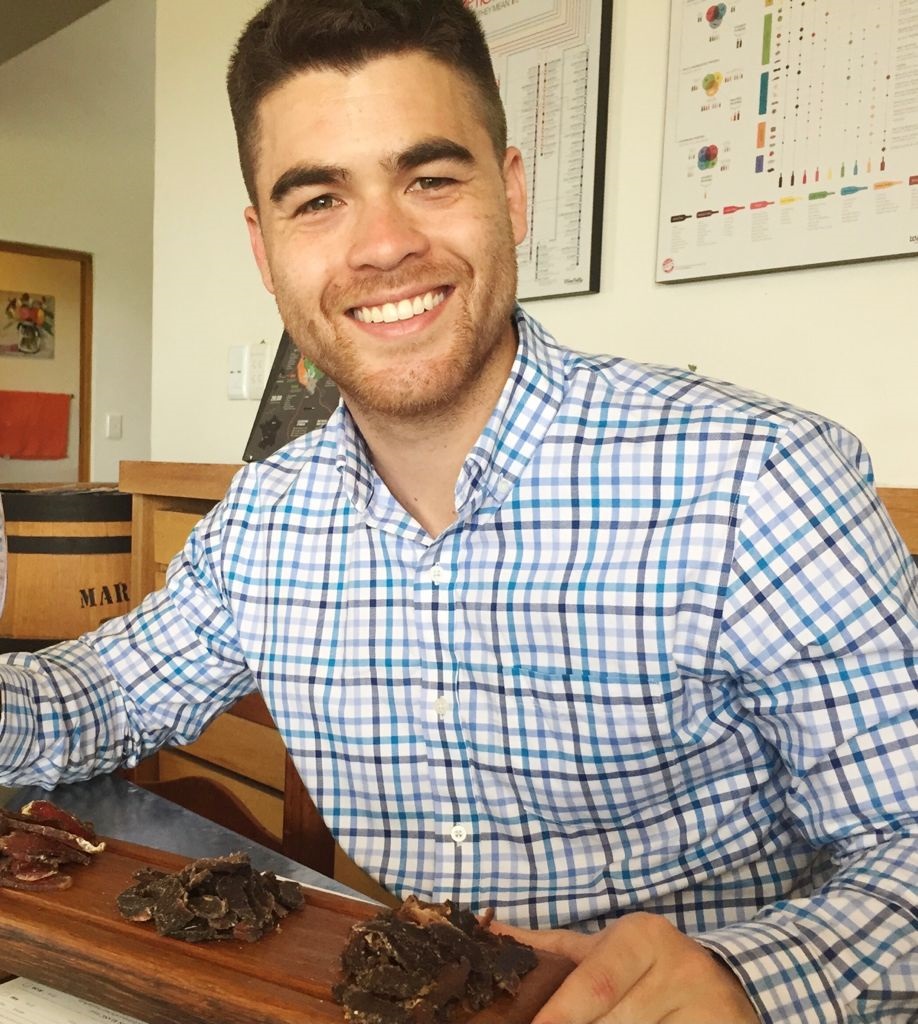 Greg Larkin is the founder and managing editor of Costco Food Database, the premiere site for honest takes on all things Costco food. A self-proclaimed Costco super-fan since childhood, Greg turned his obsession in a mission to properly rate and review all of Costco's delicious buys. When he's not busy navigating Costco aisles, you can find Greg smoking Kirkland Signature meats, meal prepping, or perfecting his homemade jerky recipes.