The 10 Best Costco Kirkland Signature Liquors For 2023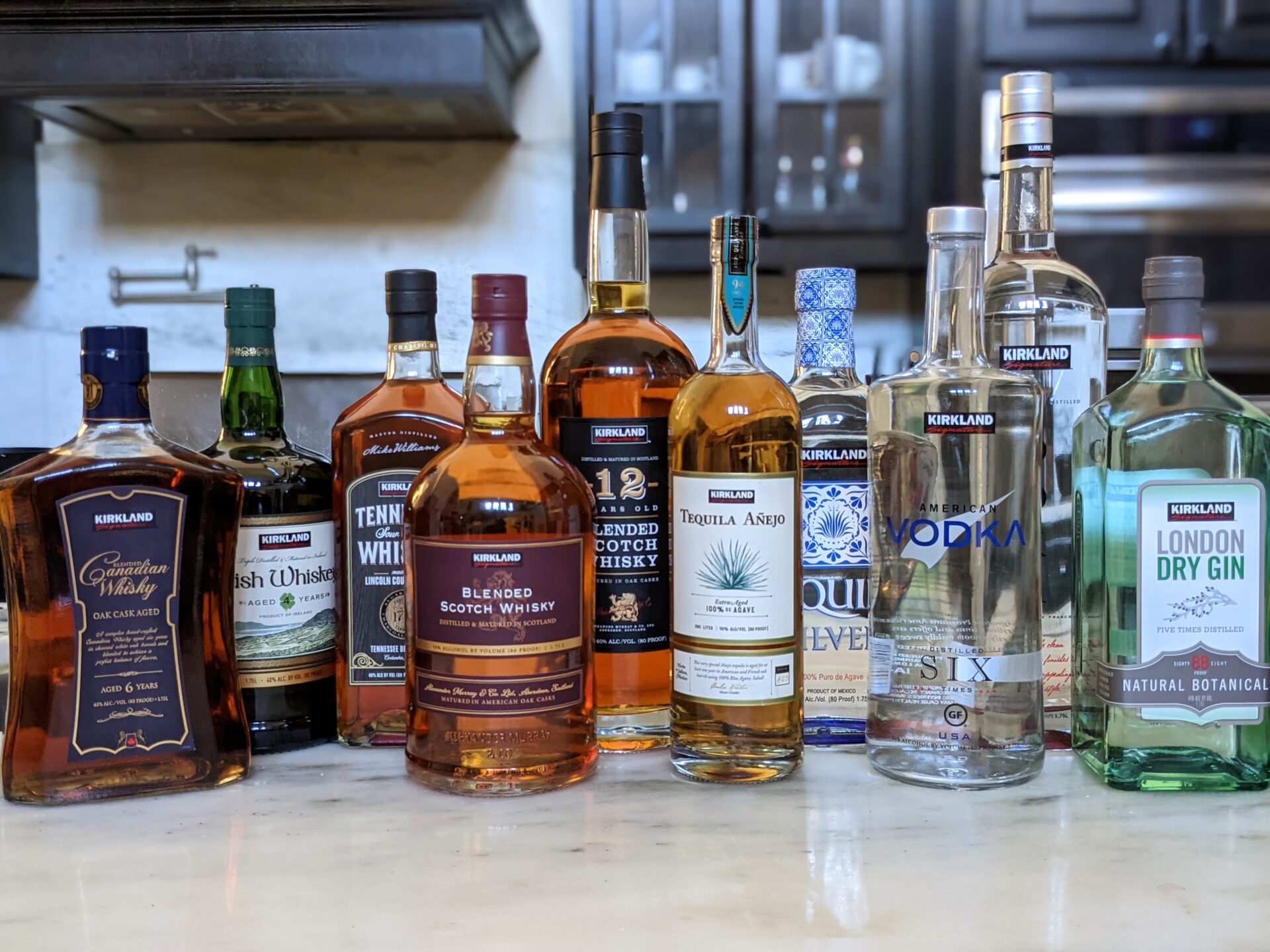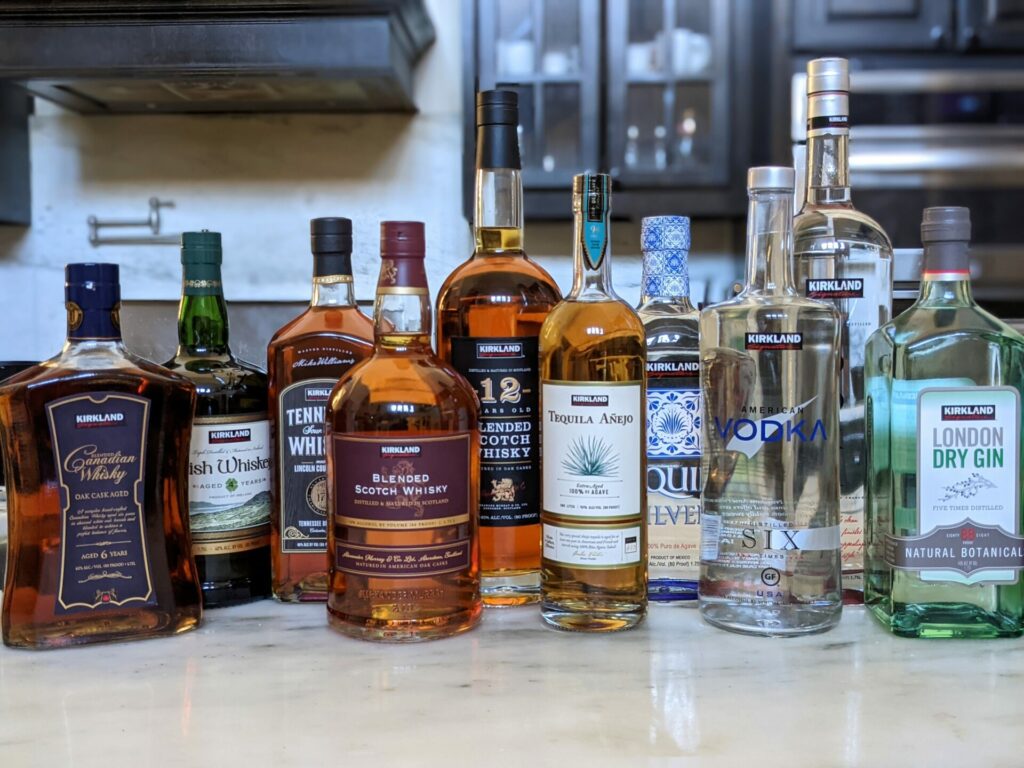 Costco, everyone's favorite wholesale retailer, has cemented its place as a trusted household name known for unbeatable quality, value, and savings. 
Alongside their impressive lineup of name brand products, Costco's own brand, Kirkland Signature, has gained widespread acclaim for offering amazing quality at incredibly affordable prices. Their Kirkland Signature liquor and hard alcohol selection is no exception.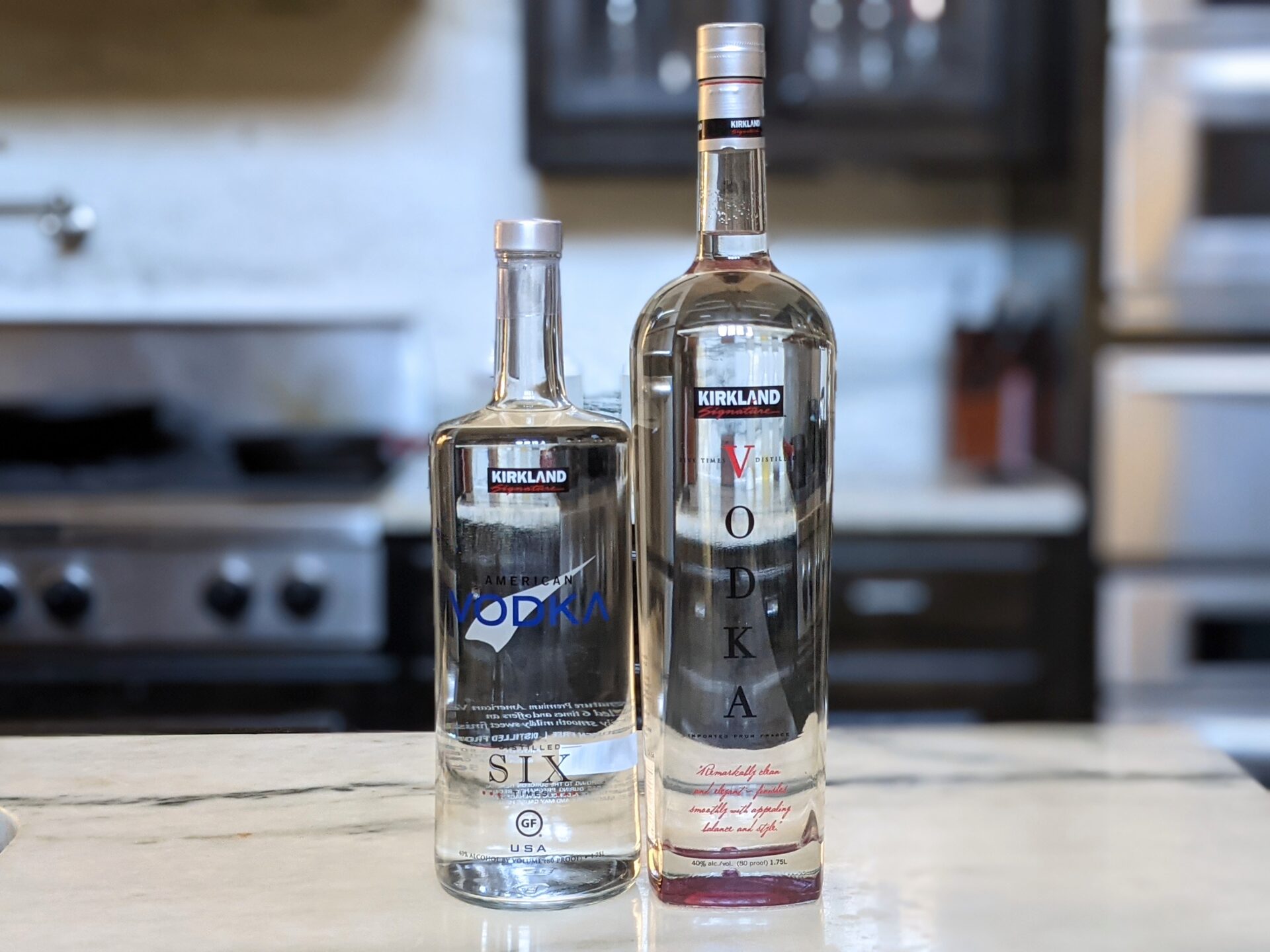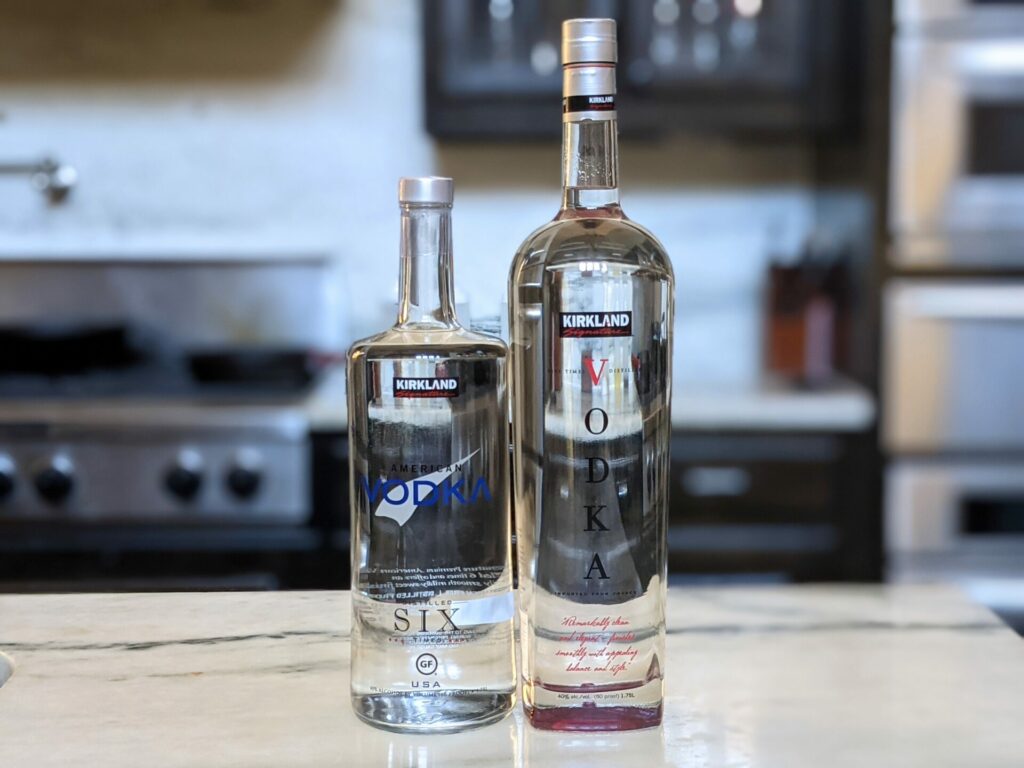 When it comes to Kirkland Signature Liquor, Costco continues to impress by providing a selection that not only satisfies liquor enthusiast but also offers remarkable value. Whether you are looking for a daily sipper or an affordable party liquor option, Costco has you covered.
In fact, their Kirkland Signature Liquor collection may very well offer some of the best deals you'll find throughout the entire warehouse. Looking for the rest of Costco's hard alcohol selection with prices? Check our Costco Liquor Collection. 
Costco Kirkland Signature Liquor Rankings
This is my personal ranking of the 10 best Kirkland Signature Liquor Options at Costco. Taste and preference vary from person to person, so I encourage you to share your thoughts in the comments, whether you agree or disagree with my choices.
10. Kirkland Signature American Vodka - $12.99
Kirkland Signature's American vodka is a no-fuss affordable option if you're looking for a straightforward mixer spirit. Distilled six times, it's made carefully to deliver decent quality without the premium price tag. 
The smooth and easy drinking flavor won't wow vodka snobs, but makes a solid well vodka for cocktails where you just want the alcohol without much character.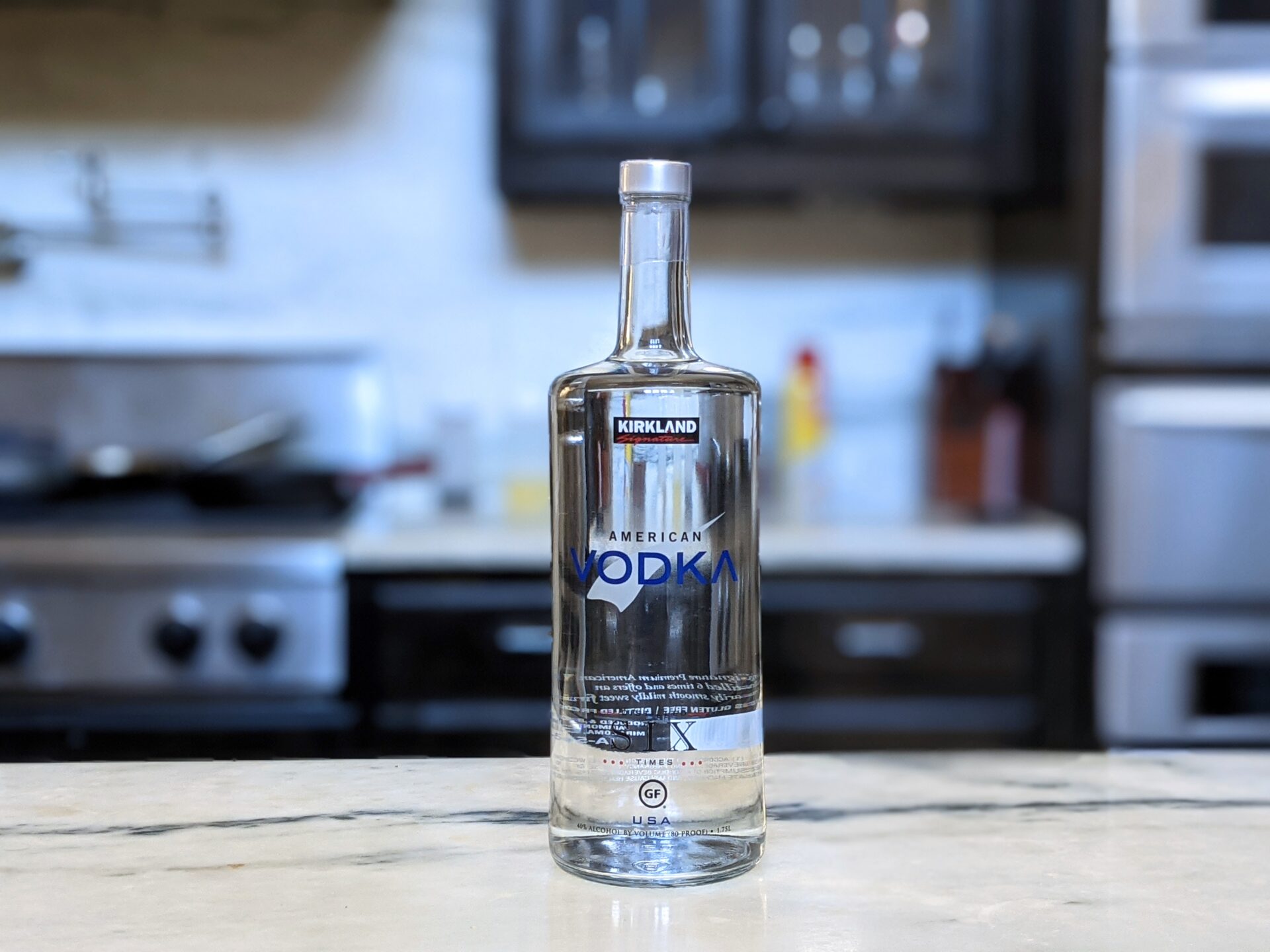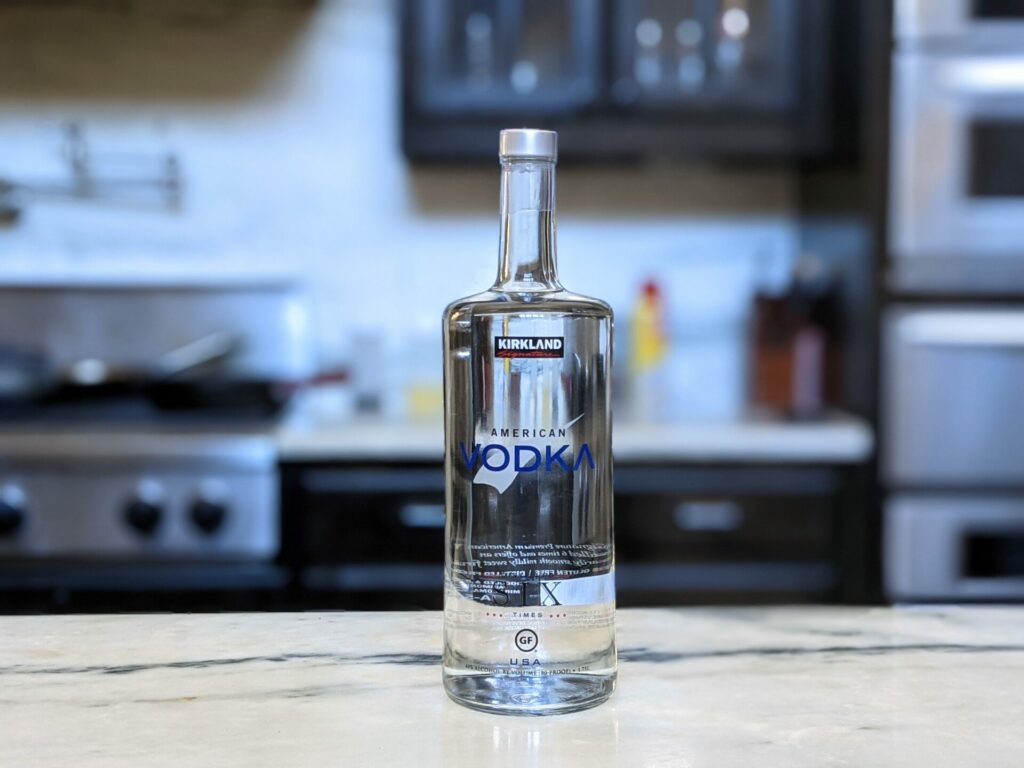 Tasting Notes: Sniffing it, I get some grainy notes upfront with a hint of vanilla that fades fast. Sipping, it's pretty thin and watery feeling. There are subtle hints of cereal and light pepper, but the flavors are kind of muted overall. 
It finishes cleanly but has a bit of a harsh burn. I consider it a smooth enough mixer without much character.
Best Uses: With its clean taste, the Kirkland Signature vodka works well in simple cocktails where you don't want the vodka flavor to overpower. Try it in vodka tonics, Moscow mules, Bloody Marys or mixed with cranberry juice or lemonade. At this value price, it's my go-to well vodka for easy drinking vodka cocktails.
Name Brand Comparison: Tito's Handmade Vodka
9. Kirkland Signature London Dry Gin - $16.99
Kirkland Signature's London dry gin offers a nice balanced gin experience for an affordable price point. Carefully crafted, it has the classic juniper and botanical flavors gin lovers want without breaking the bank. 
Costco's London Dry Gin is a good value pick for gin drinkers who appreciate a well-made mixer that works in cocktails without needing top shelf complexity. A great representative of the Kirkland Signature brand and arguments can be made that the gin deserves to be much higher ranked on our Costco hard alcohol list.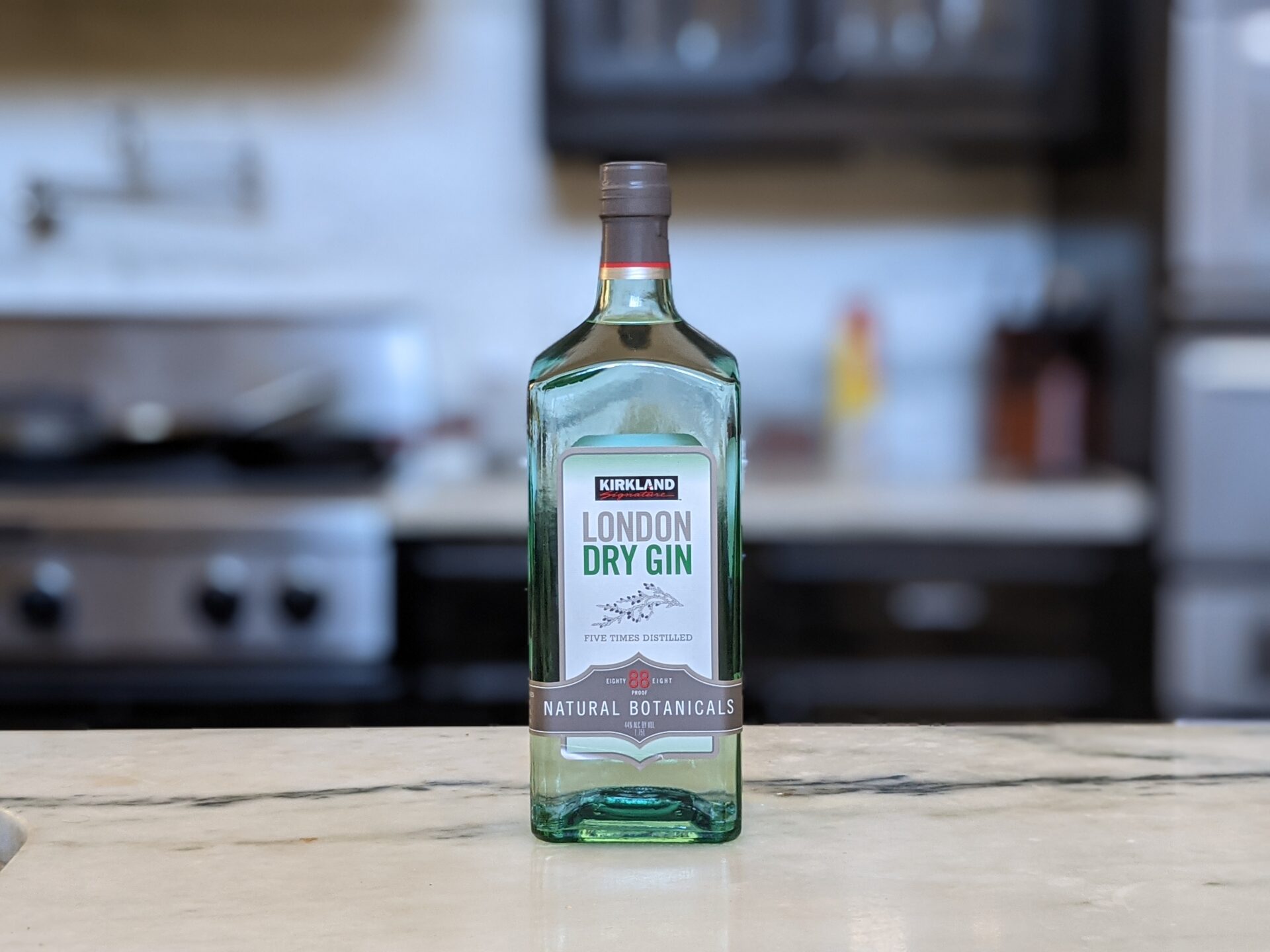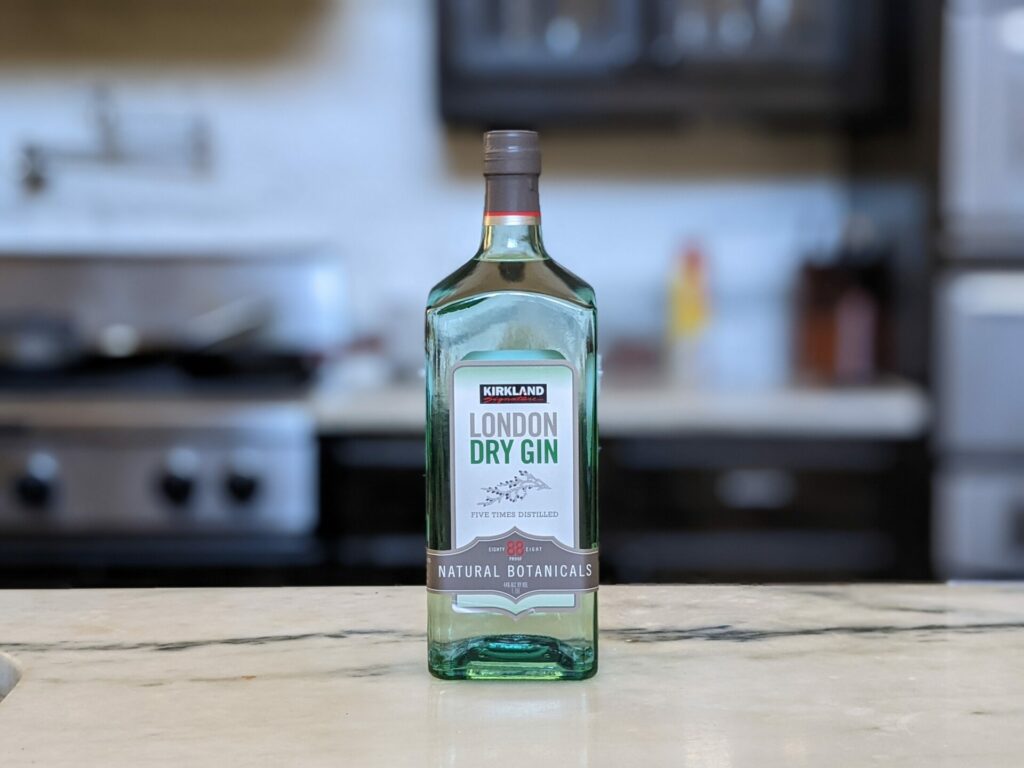 Tasting Notes: Right away, aromatic juniper jumps out, followed by traces of citrus and spice. I'd call it a solid, if one-dimensional, gin.
Tasting it, the juniper leads as subtle bitter botanical notes come through. There's some heat on the short finish. It's smooth enough for gin and tonics, but won't stand out in fancy cocktails.
Best Uses: This Kirkland gin is perfect for gin and tonics or simple mixed drinks like Tom Collinses where the juniper and botanicals can shine through. For only a few bucks more than bottom shelf gin, it makes a reliable mixer. I probably wouldn't use it if I was making a martini or negroni for guests.
Name Brand Comparison: Tanqueray London Dry Gin
8. Kirkland Signature Tequila Silver - $22.89
At $23 for a 1.75L bottle Kirkland's silver tequila lets tequila newbies explore basic tequila blanco flavor without overspending. It keeps things simple flavor-wise, with dominant sweet agave notes. 
The finish is quick and clean rather than complex. An easy-drinking intro tequila probably best for margaritas and mixed drinks where nuance isn't necessary.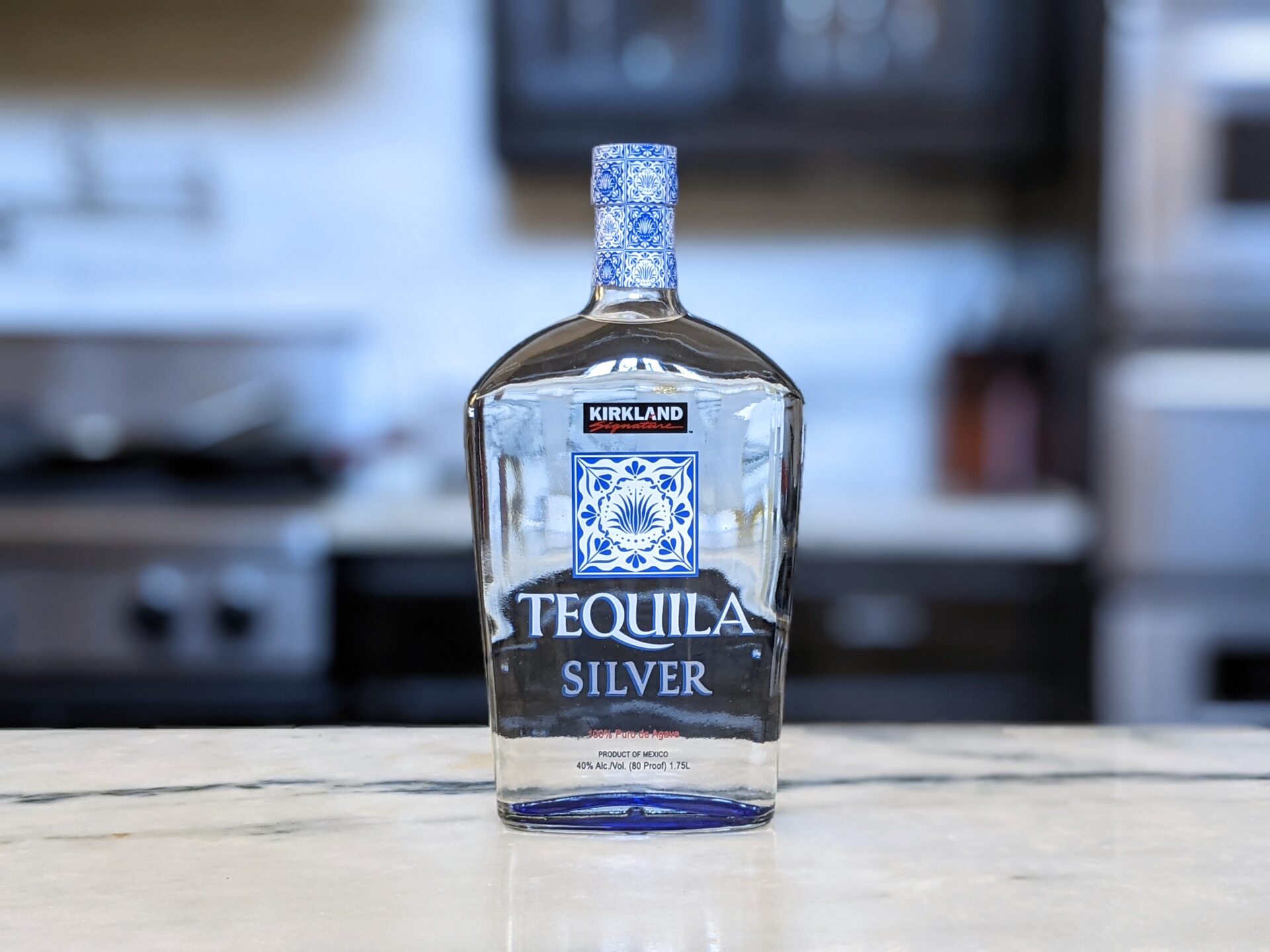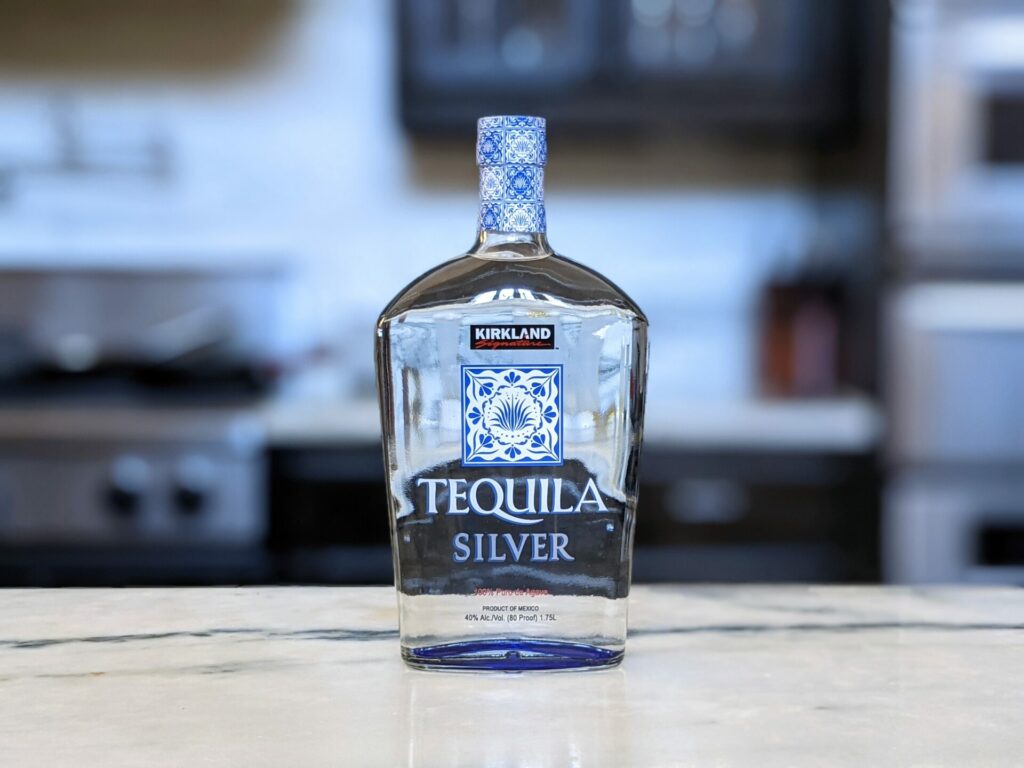 Tasting Notes: Intense agave aromas hit me first, with hints of vanilla and white pepper behind. It feels a tad thin but has an enjoyable peppery sizzle. The fresh agave taste remains through the palate before a swift, slightly tannic finish. 
I'd shoot the shot, but I'd rather have it in a mixed drink. 
Best Uses: Costco's silver tequila has a nice fresh agave taste that's perfect for festive margaritas and Palomas during the summer. It also works nicely in tequila sunrises or mixed with grapefruit juice. For budget friendly tequila shots and cocktails, you can't beat the price on this bottle.
Name Brand Comparison: Don Julio Blanco Tequila
7. Kirkland Signature Blended Scotch - $19.99
The Kirkland Signature blended Scotch offers a smooth and inviting whisky experience for an affordable Costco price point. The blended scotch gives you a chance to get a taste of the scotch whisky world without committing any more than you need to.
The flavors strike a nice balance between oaky, caramel sweetness and subtle smoky depth. Makes a pleasing daily sipper or mixer base for cocktails.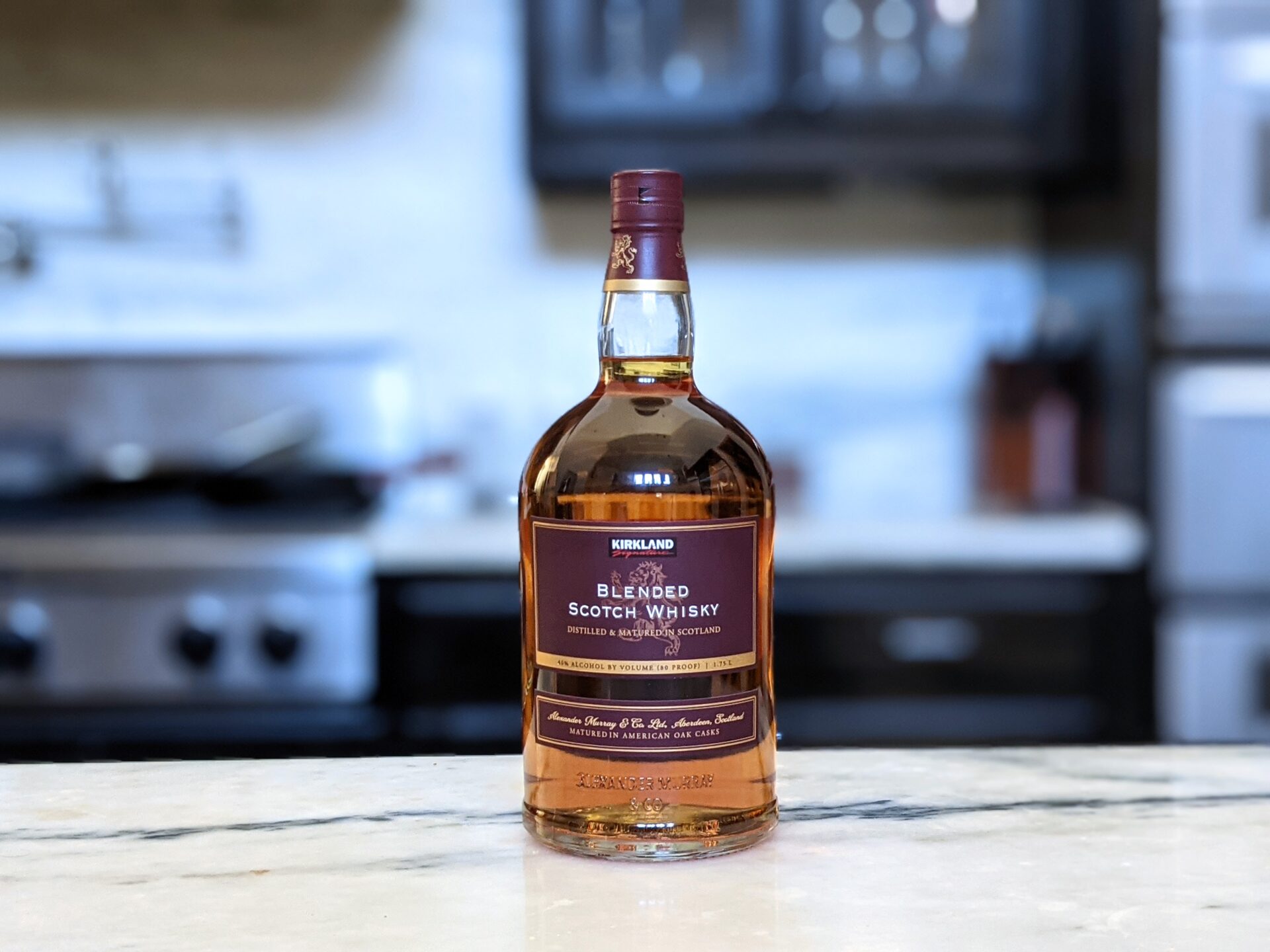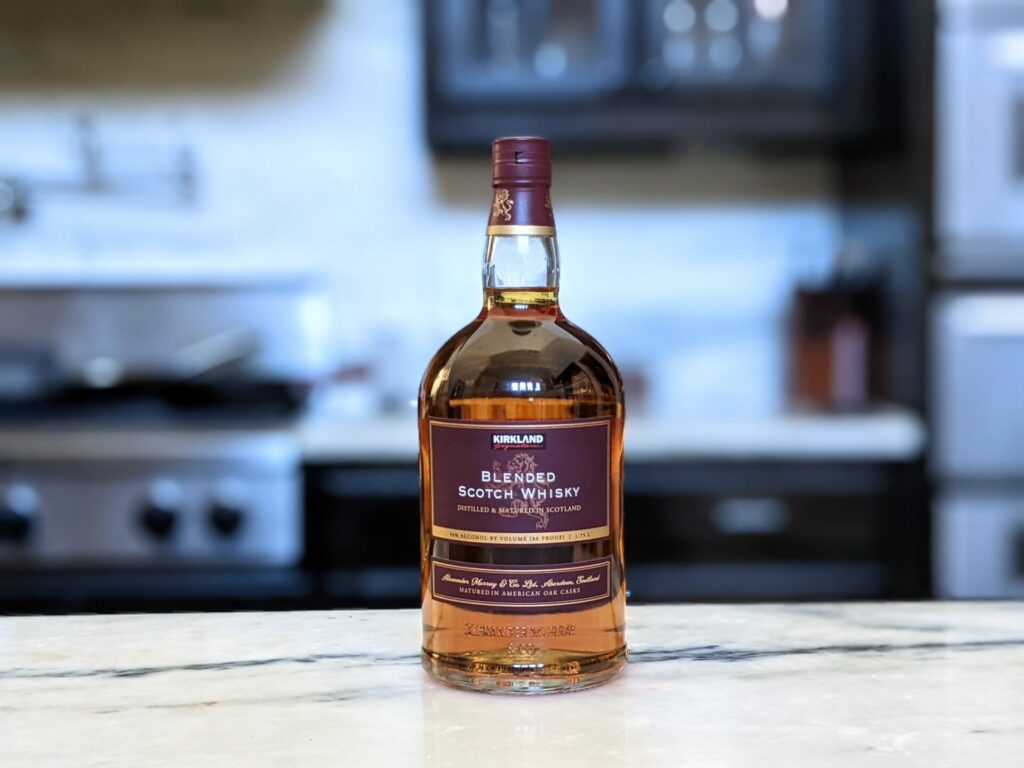 Tasting Notes: At first sniff I get honeyed sweetness, light fruit, and a whisper of smoke. Tasting it, the smooth palate shows more fruitiness – apples and a hint of vanilla. The finish gives away its young age. I'd say it lacks the richness of a single malt but provides easy-drinking blended flavor for cocktails
Best Uses: I like to use Kirkland Signature's scotch in highballs and simple mixed drinks like scotch and soda where you want the smooth malt flavor without overwhelming complexity. 
Doesn't offer bad value, but it's a bit young for sipping straight though.
6 Kirkland signature Tennessee Whiskey - $22.99
Whiskey fans on a budget will appreciate Kirkland Signature's Tennessee whiskey option. It lets you enjoy mellow, inviting Tennessee whiskey flavor at an accessible price. Sweet caramel and vanilla notes mingle nicely with oak and spice hints.
An easy-sipping taste profile that works straight or in cocktails like Old Fashioneds.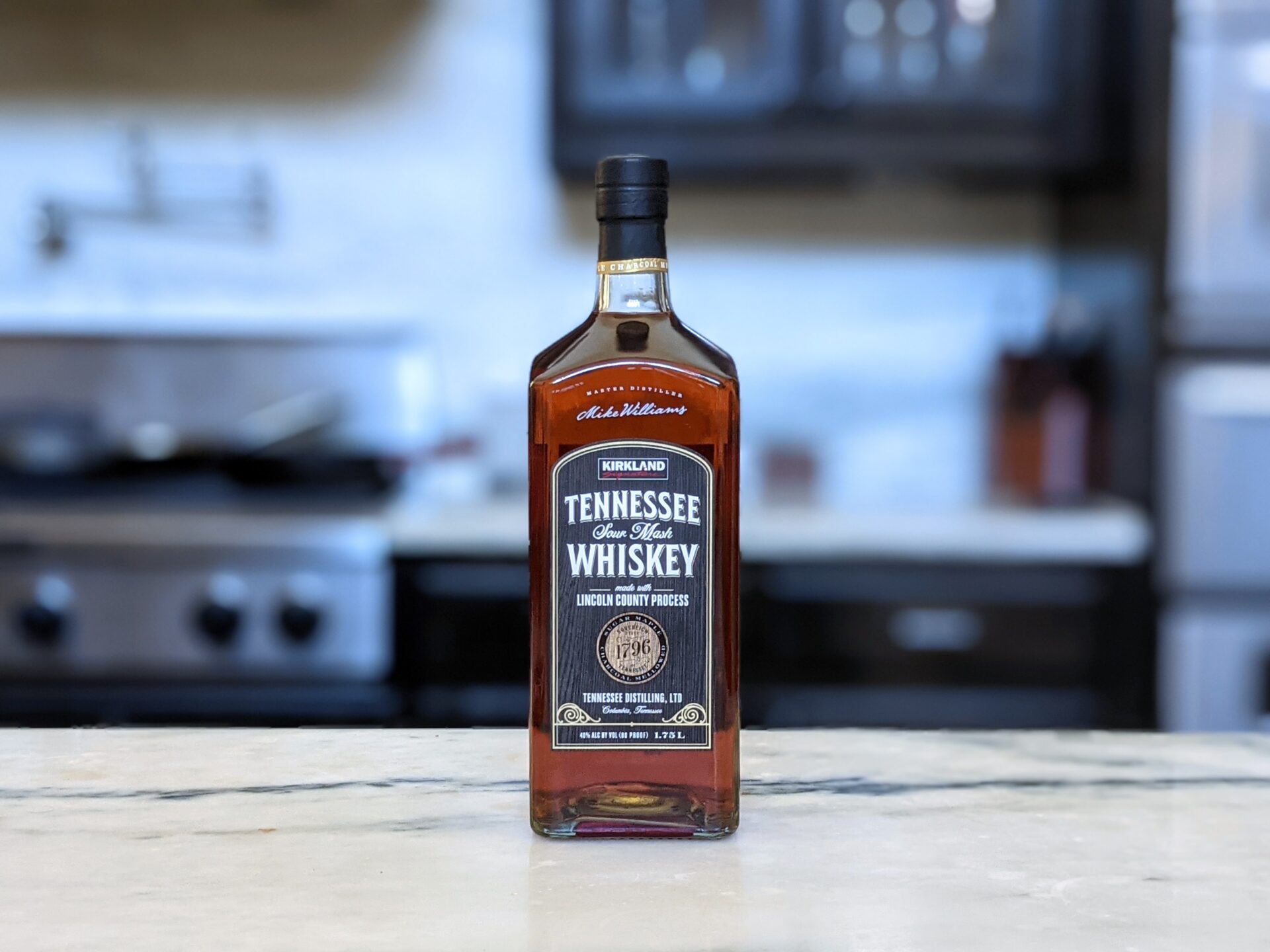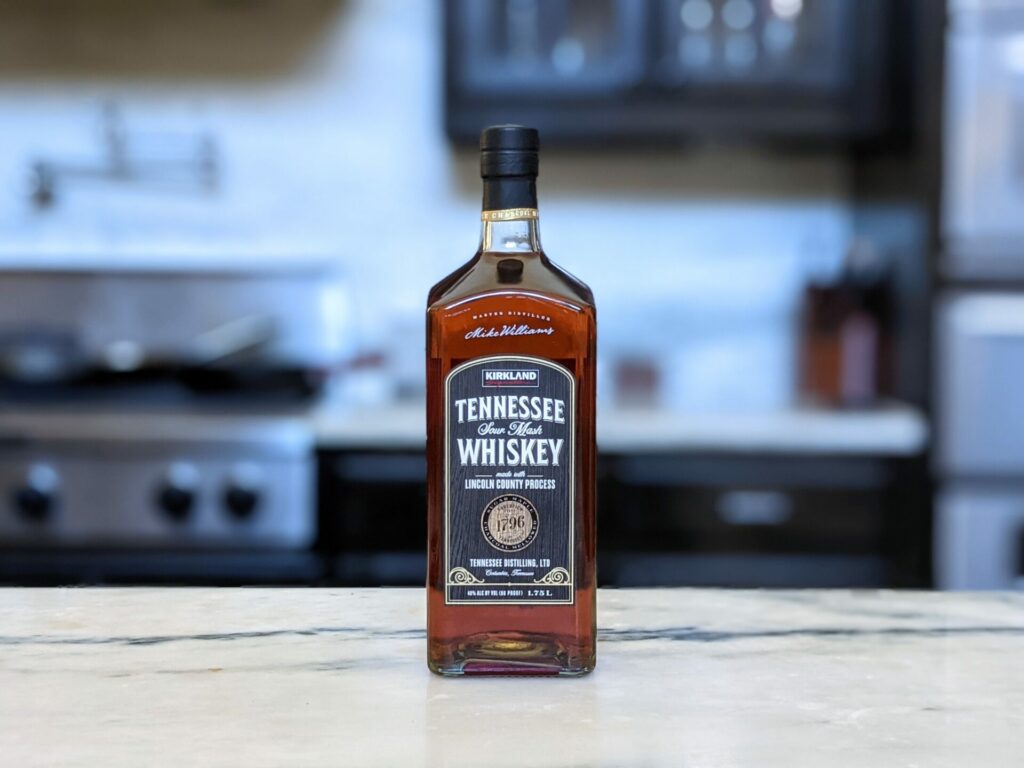 Tasting Notes: Right away, I smell sweet caramel, vanilla and a touch of spice. It's a little thin, but still flavorful – mostly maple sweetness and peppery rye notes. It finishes with some heat. 
I find it smooth enough to sip straight, though probably best in cocktails that complement its sweet profile.
Best Uses: With its sweet, maple and caramel flavors, the Kirkland Signature whiskey is nice on the rocks or blended in cocktails like Manhattans, old fashioneds and whiskey sours that benefit from its smooth sipping character. For the incredibly low cost, it's my daily go-to for bourbon drinks.
Name Brand Comparison: Jack Daniel's Tennessee Whiskey
5. Kirkland Signature Canadian Whisky - $18.99
Coming in at #5 on our Kirkland Signature Liquor rankings, Costco's Canadian whisky lets you enjoy supple smooth Canadian flavor without splurging on a premium bottle. Affordably priced but crafted with care, it balances sweet notes like caramel and vanilla with gentle spice and oak influences. 
Deserves a place on the home bar as an everyday sipper or versatile whisky cocktail base.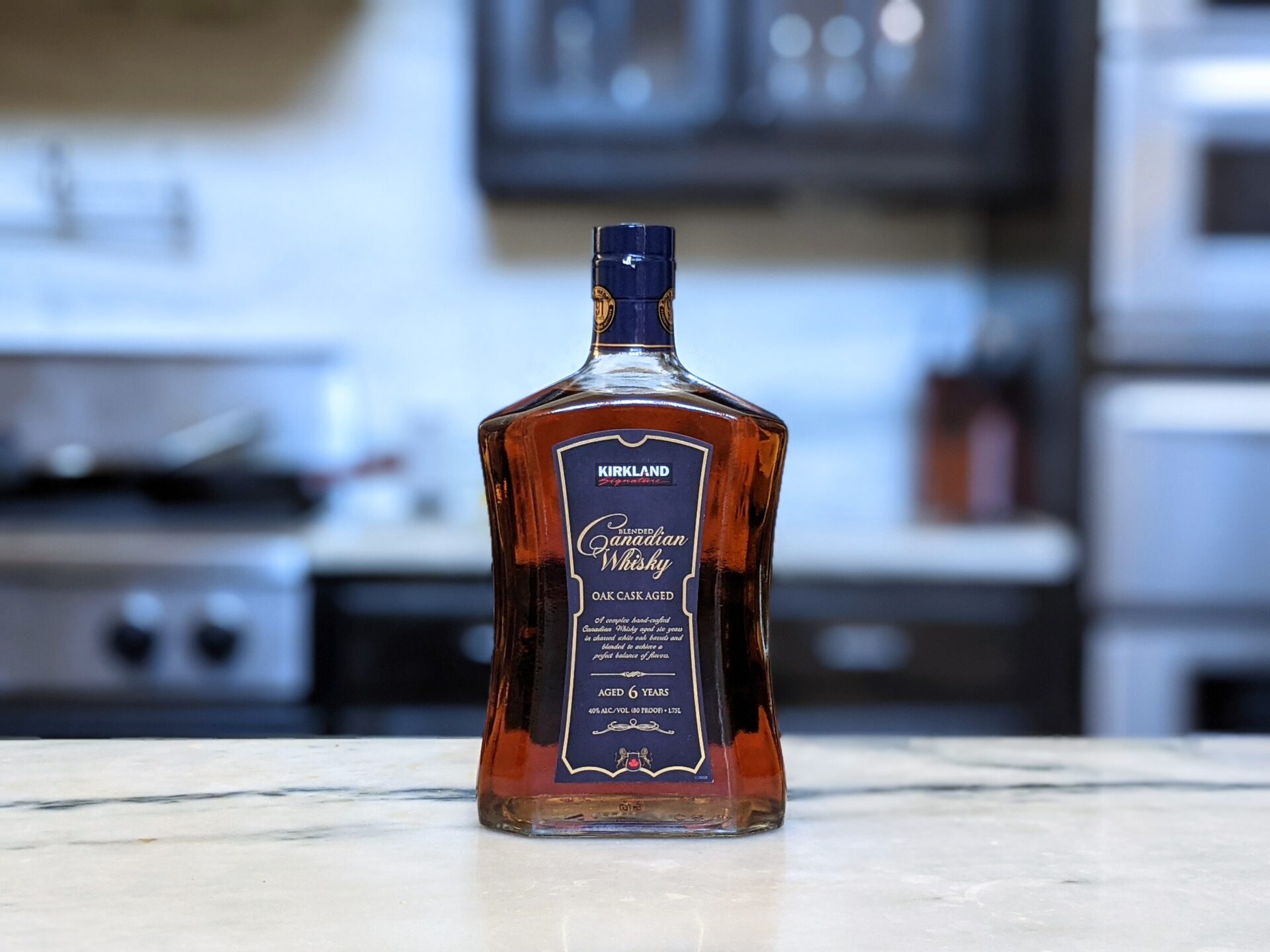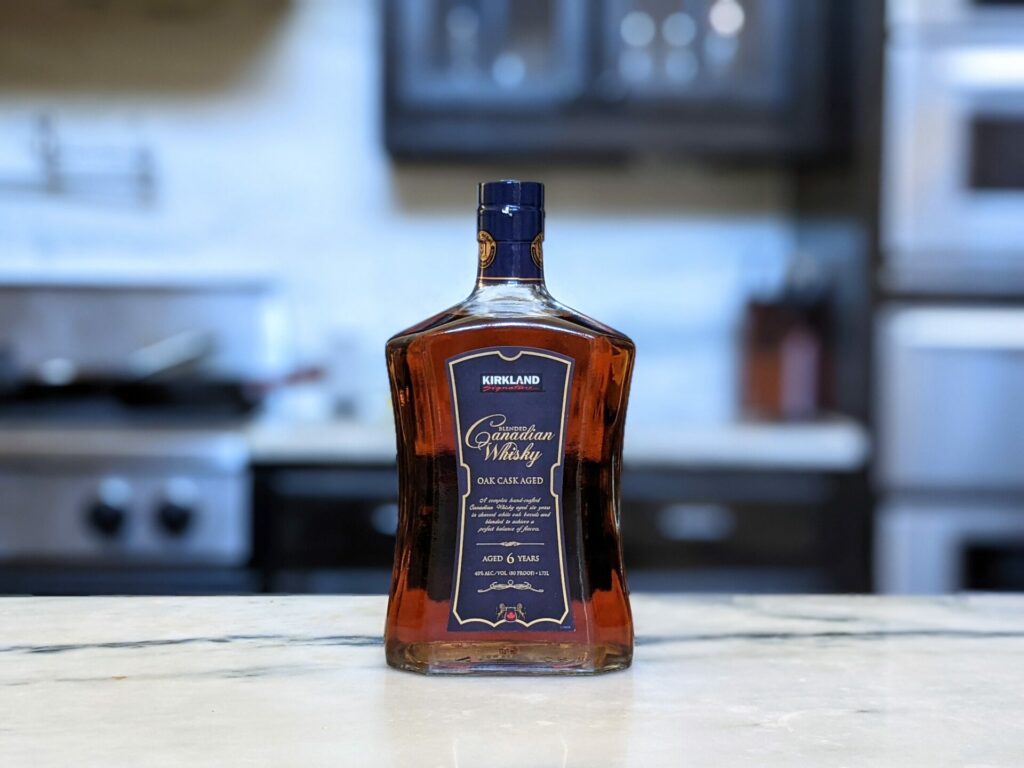 Tasting Notes: Right away I get sweet notes of vanilla, caramel and a bit of spice. It's smooth with a nice viscous mouthfeel. There are some oak tones that come through before a short, clean finish. It lacks top shelf complexity but goes down easy.
Best Uses: With its sweet and easy drinking taste, I like using Kirkland's Canadian whisky for affordable whisky sours and Manhattans. It also works well mixed with cola or ginger ale when you want that smooth Canadian whisky profile without the premium price. 

Name Brand Comparison: Crown Royal Canadian Whisky
4. Kirkland Signature Irish Whiskey - $29.99
Kirkland's Irish whiskey is an underrated gem, delivering authentic Irish character at a very reasonable Costco price point of $29.99. Aged 4 years, it's crafted carefully to emulate the smooth, harmonious Irish whiskey flavor fans love. 
A touch of honey sweetness balances the gentle oak and spice notes. Makes a quality daily sipper alternative to bigger name Irish whiskey brands. 
Tasting Notes: On the nose there's honey, fruit and malt. Taking a sip, it starts sweet with orchard fruit tones before turning dry with some peppery rye spice. It feels a bit thin but finishes smoothly. Overall an easy-drinking Irish whiskey that's nice neat or on ice.
Best Uses: Kirkland Irish whiskey is perfect for sipping neat or on the rocks after work when you want an easy affordable Irish. I also like using it for classic Irish coffee or whiskey cocktails like Irish mules that let its smooth and slightly spicy taste shine through. It delivers solid Irish character for everyday sipping.
Name Brand Comparison: Jameson Irish Whiskey
3. Kirkland Signature Tequila Añejo - $31.99
Costco's añejo tequila is tailor-made for the tequila connoisseurs out there. The extended oak barrel aging gives it a depth and complexity beyond the young Kirkland Signature blanco tequila.
Lush caramel, vanilla, and agave nectar flavors mingle with oak and spice notes. A supple and nuanced spirit worth savoring straight in the glass and well deserving of the 3 spot in our Costco Kirkland Signature liquors ranking.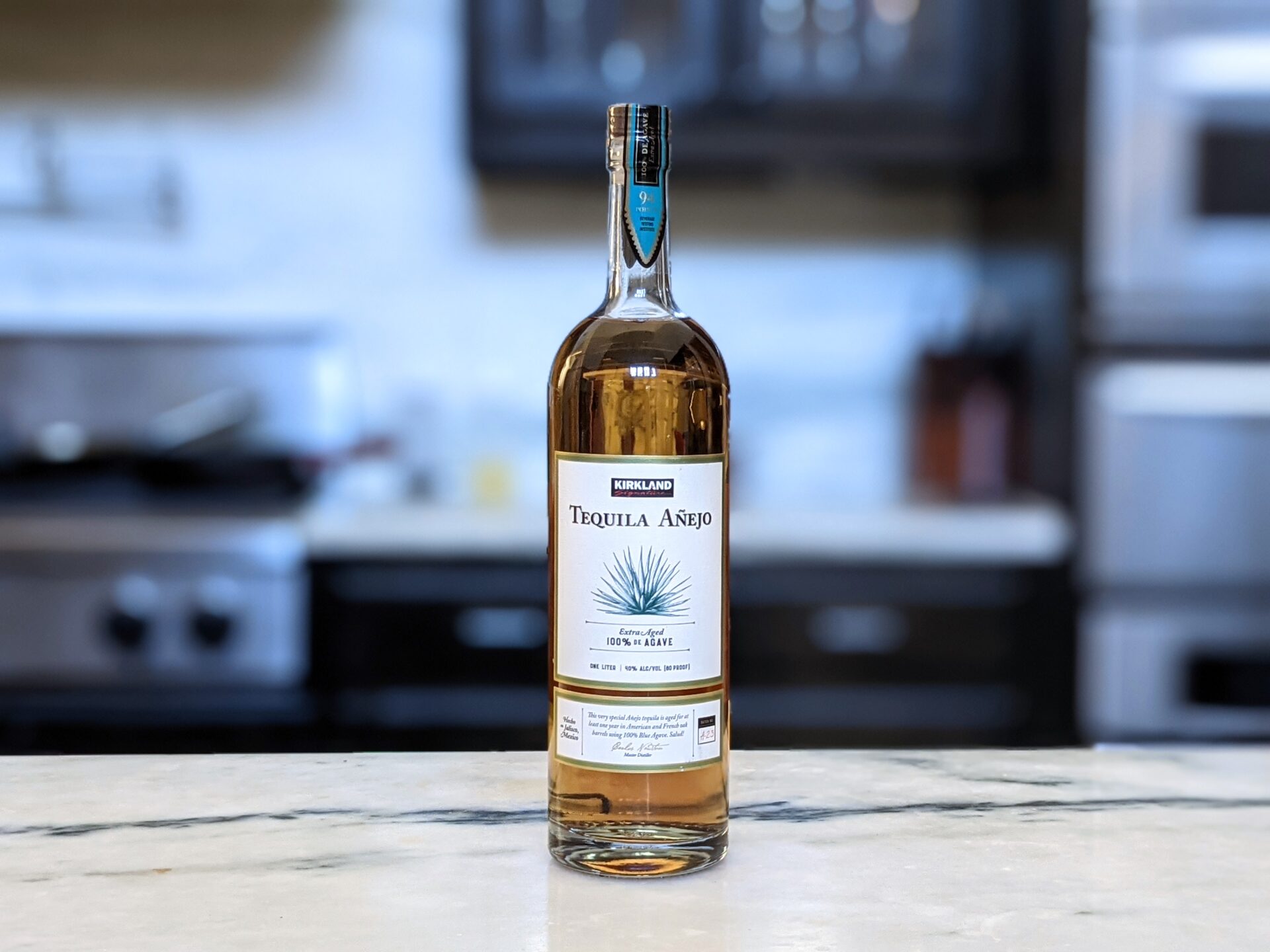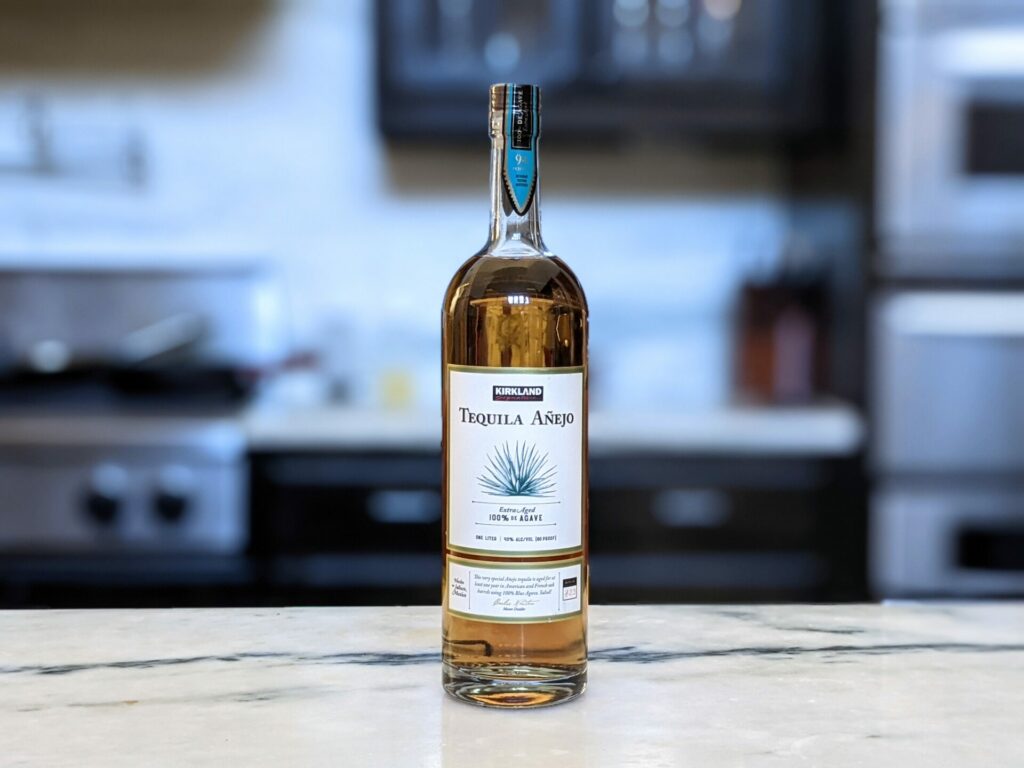 Tasting Notes: Lots of oak, vanilla and baking spice aromas initially. Sipping it, there are flavors of toasted agave, caramel and pepper. It has a nice viscous mouthfeel with a smooth, lingering heat. The wood influence comes through but doesn't overpower. 
Best Uses: With its nice oak and spice notes, Kirkland añejo tequila is great for upscale margaritas or tequila cocktails like the Paloma that benefit from its aged complexity. $35 for a sippable añejo is hard to beat, just be sure not to cover up its flavor in super sweet mixed drinks.
Name Brand Comparison: Casamigos Añejo Tequila
2. Kirkland Signature French Vodka - $20.99
Hailing from France's Gensac Springs, Kirkland Signature's French vodka takes the #2 spot on our Costco liquor list. It delivers exceptionally smooth and clean vodka flavor with multiple distillations giving it a pristine yet delicate profile with hints of sweet cereal and citrus.
The velvety texture makes it perfect for sipping straight or using in refined cocktails in place of top shelf vodkas for a fraction of the cost.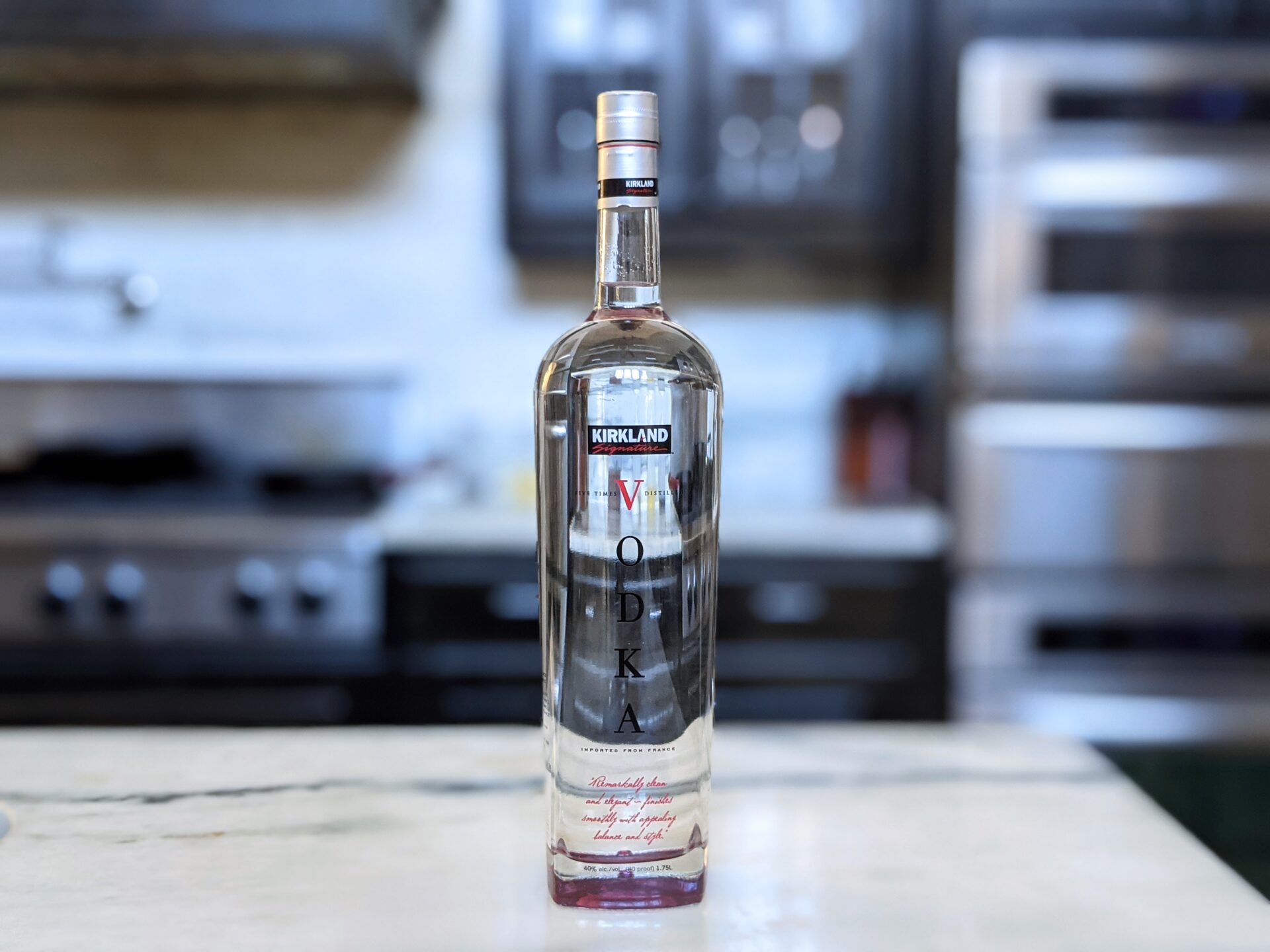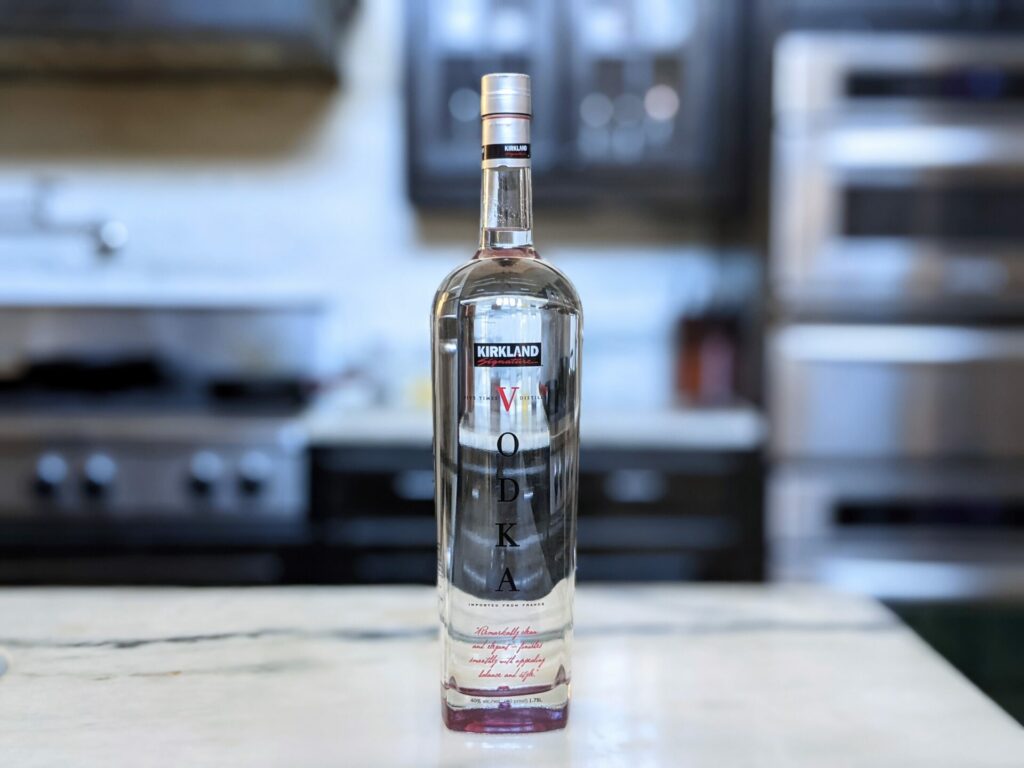 Tasting Notes: Sniffing it, I get light floral and fruit notes upfront. Sipping reveals a creamy texture with hints of vanilla and white pepper. It finishes clean and smooth with barely any burn. I'd say this is a notch above their American vodka – more character and easy to sip straight.
Best Uses: I really like Kirkland Signature's French vodka for martinis and cosmopolitans since it's smooth enough to sip straight but with a touch more character than their American vodka. At this price point, it's my daily go-to in place of top shelf vodkas for all sorts of vodka cocktails and martini drinks.
Name Brand Comparison: Grey Goose
1. Costco 12 Year Blended SCotch - $37.89
Following 12 long years of aging, Kirkland's blended Scotch whiskey hits all the right notes for Scotch lovers. The scotch is crafted to copy the velvety smoothness and layered flavors of premium Scotch creating exceptional quality and value. 
The subtle honey sweetness, fruitiness, and whispers of smoke come together to create a seriously fabulous and intricate whisky making this a must have for Scotch enthusiasts. Kirkland's 12 Year Blended Scotch tops our top Costco Alcohol list, and would hold its own on any top Scotch Whisky list.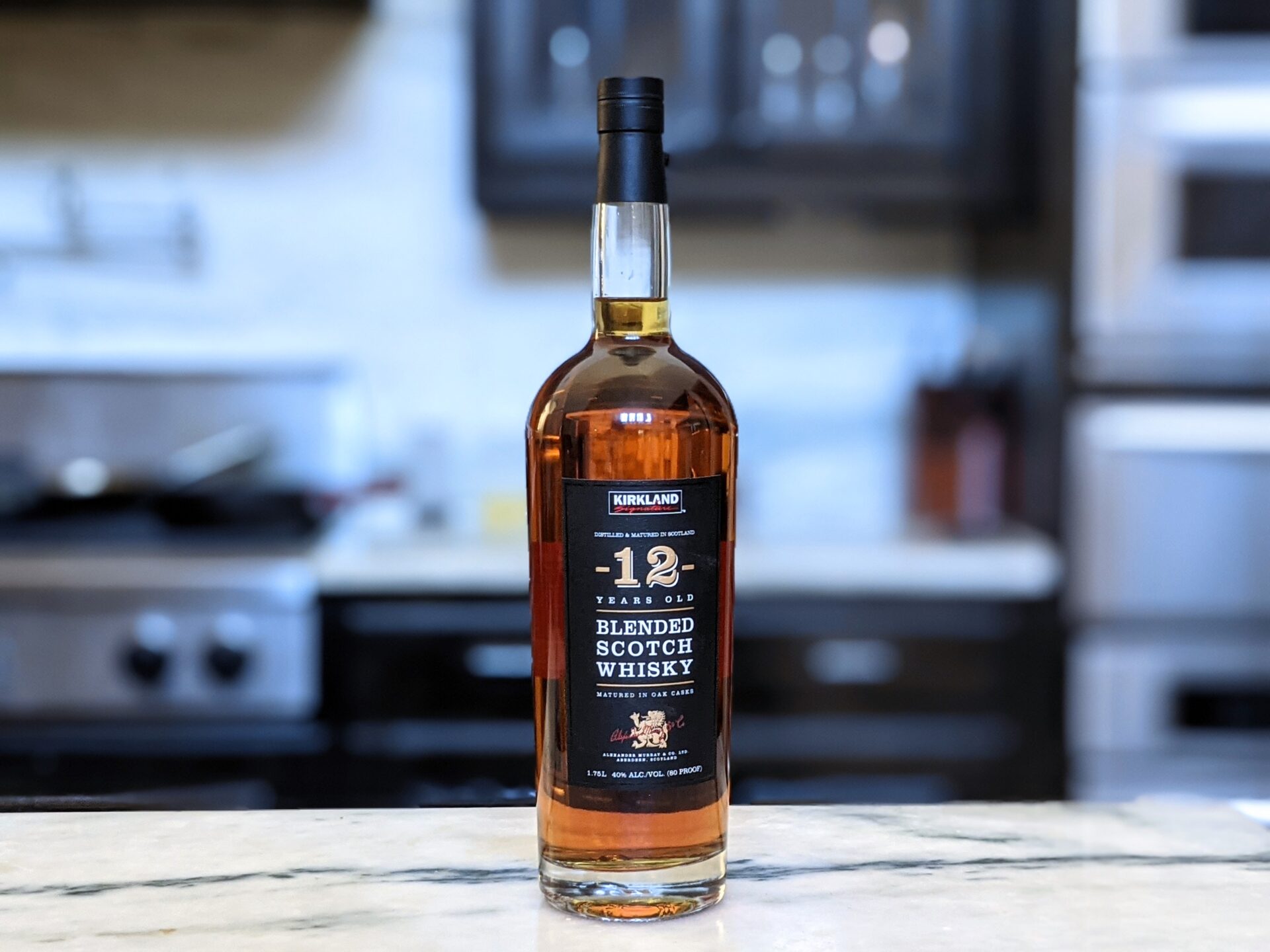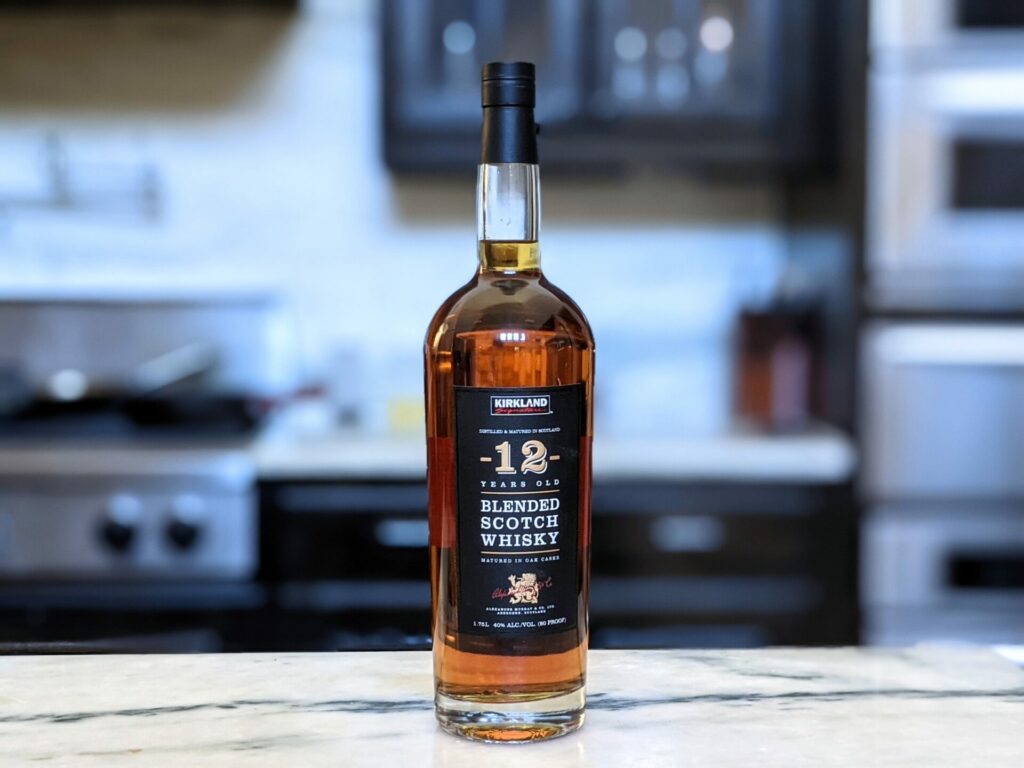 Tasting Notes: Lots of rich honey, fruit, vanilla and chocolate on the nose. Sipping, it has a lush mouthfeel with layers of sherry sweetness, malt and faint smoke. The finish is long and warm. For a blend, this has nice complexity. Super smooth for sipping neat after dinner.
Best Uses: With its rich layered flavors, Kirkland's 12 year aged scotch is nice for sipping neat or on the rocks after dinner. Under $40 for a quality 12 year blended scotch like this is a steal. The smoothness also makes it great for whiskey cocktails like Manhattans and scotch old fashioneds when you want complexity without mixing in a single malt.
Name Brand Comparison: Chivas Regal 12 Year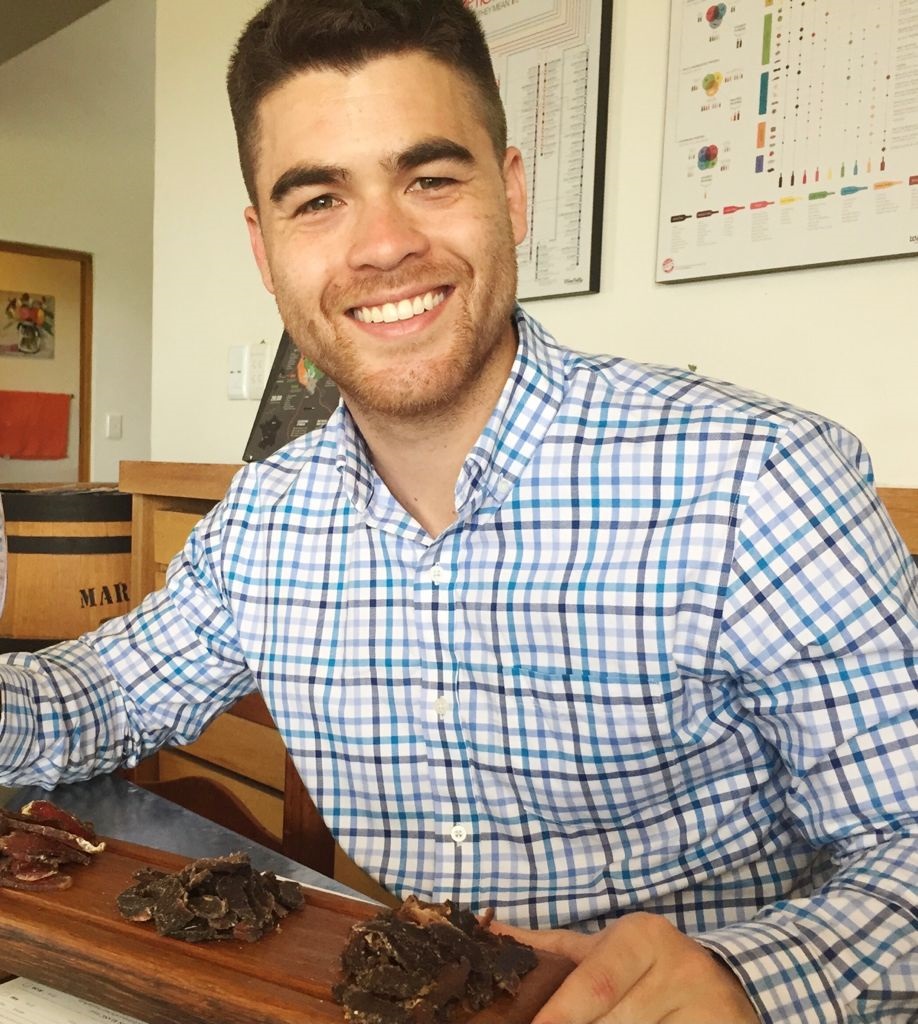 Greg Larkin is the founder and managing editor of Costco Food Database, the premiere site for honest takes on all things Costco food. A self-proclaimed Costco super-fan since childhood, Greg turned his obsession in a mission to properly rate and review all of Costco's delicious buys. When he's not busy navigating Costco aisles, you can find Greg smoking Kirkland Signature meats, meal prepping, or perfecting his homemade jerky recipes.