Costco Beef and Lamb Gyro Meat (Fun & Easy Greek Food)
Daphne's Beef and Lamb Gyro Slices are one of Costco's hidden gems that can transform a regular weeknight meal into an exciting and festive dinner.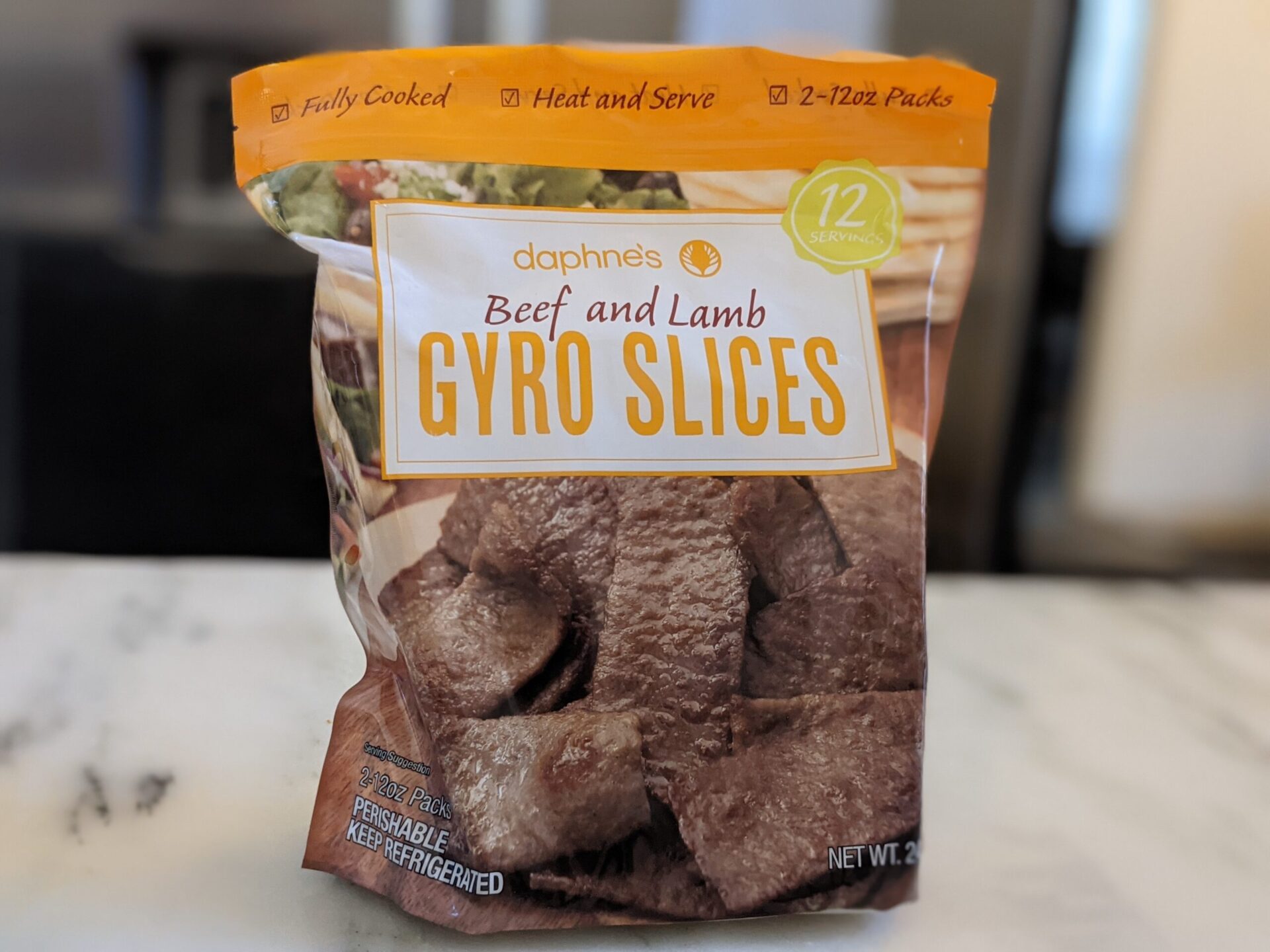 Daphne's Gyro Meat at Costco
Costco sells Daphne's Beef and Lamb Gyro Slices for $11.79. These are located in the deli's refrigerated section and in my particular Costco they are located near other items such as the Chicken Katsu, Basil Pesto, or the Octopus.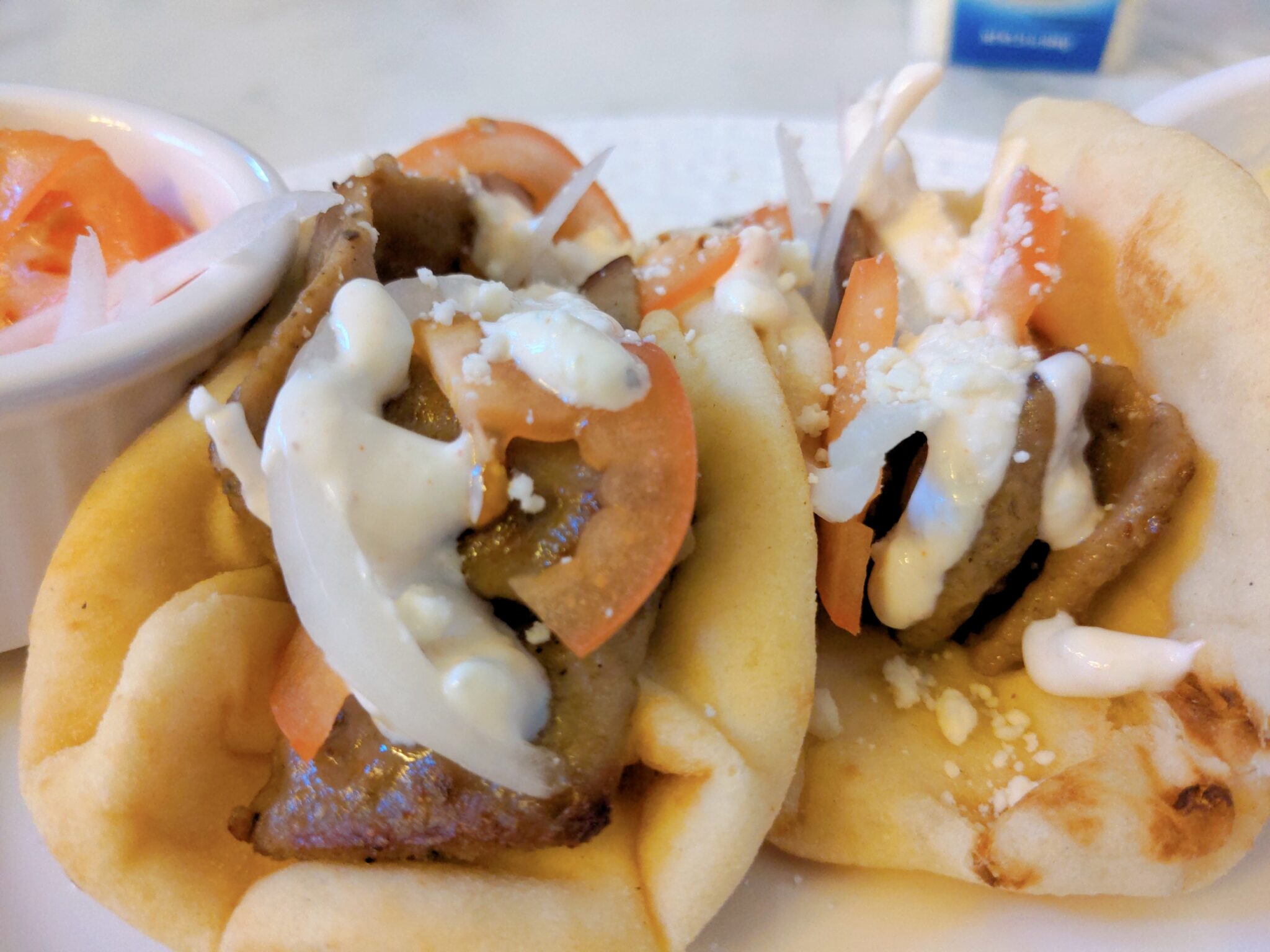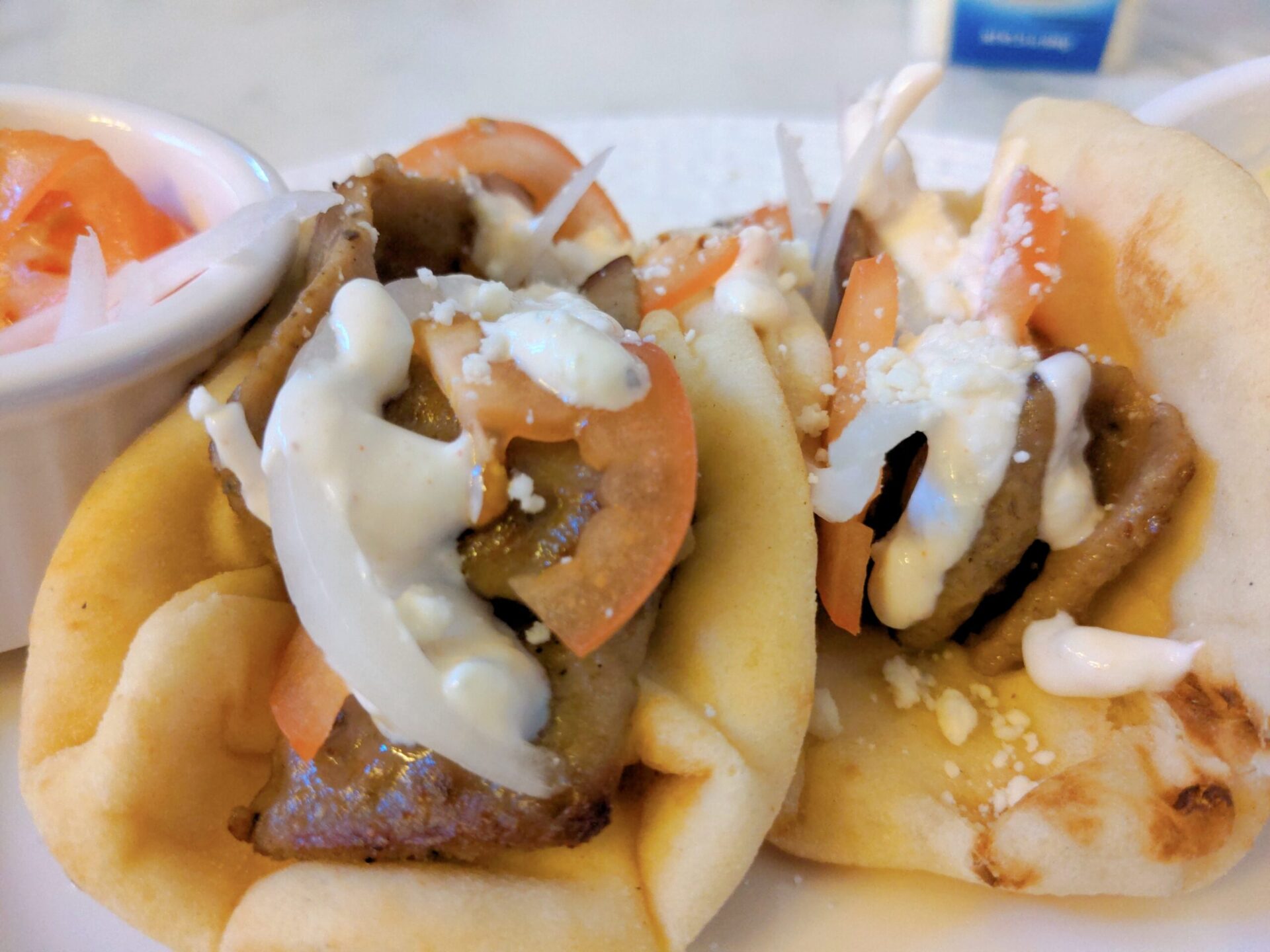 These gyro slices are a fairly unique product and you will often see them randomly placed somewhere in the deli section. This is a great alternative to the Kirkland Signature Gyro Kit.
Have You Tried Costco's Gyro Meat?
Let the rest of the Costco Food Database community know what you thought of this product. Results and reviews are at the bottom of this page.
Please allow 24 hours for review moderation and approval.
Costco Cost Comparison - Daphne's Beef & Lamb Gyro Slices
How Much Does The Gyro Meat Cost at Costco?
For $11.79, you will get 2 individually wrapped packages of gyro meat weighing 12 ounces each. Each pack goes for $5.89. 
At first glance, this seems like a great price, but the actual price per pound is $7.86. 
Are Daphne's Gyro Slices Worth the Money?
Now for me, this is where it gets a little pricey and in the $7 per pound range you could get fresh cod, lamb leg, organic chicken, or shrimp, which all may provide better value. 
While the price per pound is on the higher end, the convenience and uniqueness of the product make up for it. 
The gyro meat can be heated up in about 5 minutes, and it is easy enough to create a homemade gyro meal with about 15 minutes of total kitchen time, including making your own homemade tzatziki sauce. 
What to Eat with the Gyro Meat?
The packaging says to serve this with pita bread, but I've tried the pita bread from Costco and I personally wasn't a big fan. 
So we actually eat these with Costco's Stonefire Naan bread which is a little more soft and buttery.
I'm aware an authentic Greek gyro is eaten on a Pita, but I prefer to make them with naan.
In the CFDB household, we serve this with naan and top the gyro meat with sliced onions and tomatoes.
We also make our own Tzatziki sauce using Kirkland Signature's greek yogurt, olive oil, lemon and some seasoning.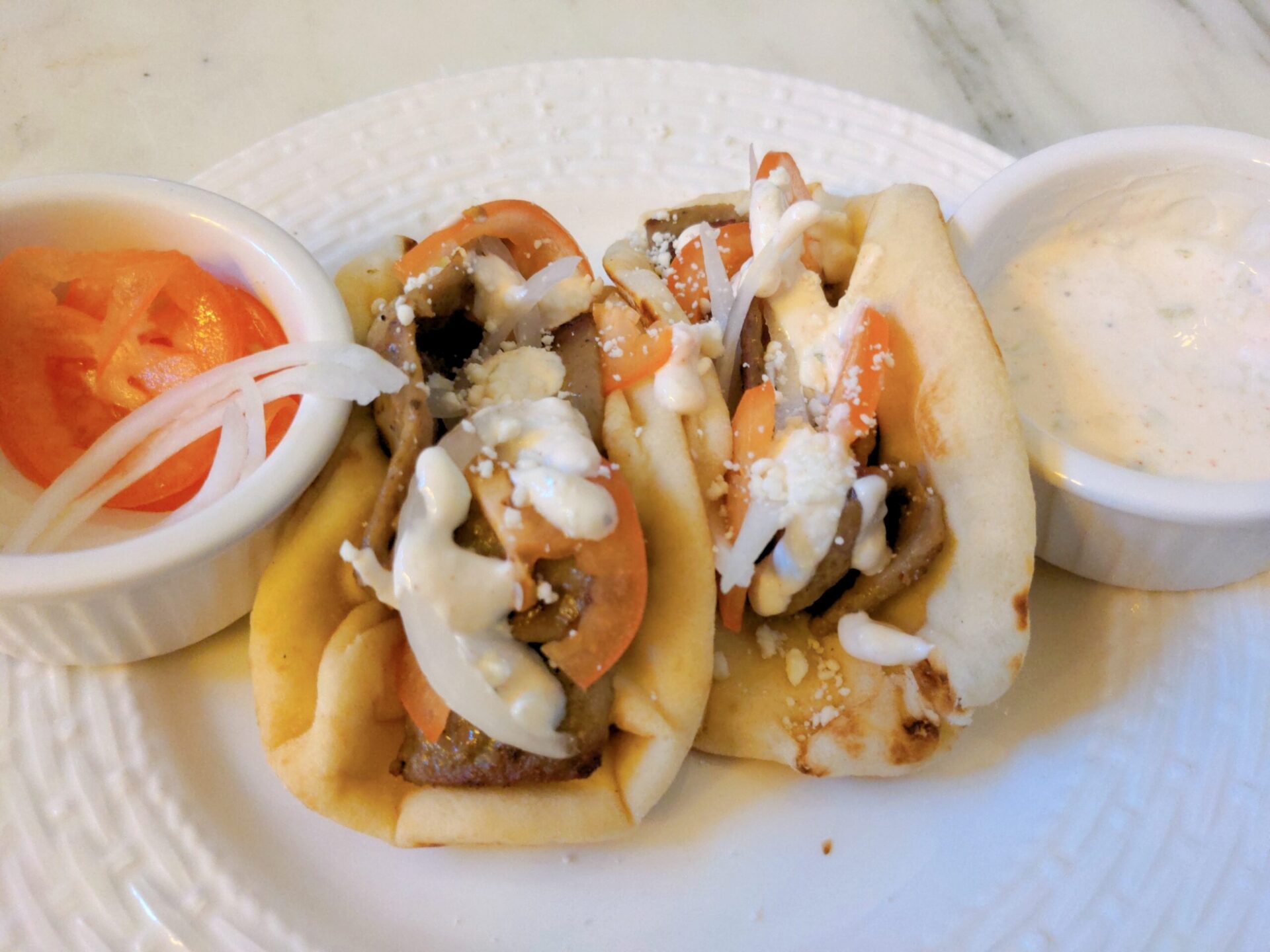 This is all rather easy to do, and like I mentioned earlier, it takes me about 15 minutes to make the dip, heat the naan, and cook the gyro meat.
When we do get the gyro meat to the table in a naan bread with toppings and dip, our final cost is about $1.50 per homemade gyro. Most gyro shops charge anywhere between $8-$10 or even more depending on your local area's cost of living. 
Those gyros are going to be bigger than what we make with our Naan bread, and to be fair I would say two of our homemade gyros are equivalent in size to one restaurant gyro. 
Regardless, we are looking at about $3 to get the equivalent amount of food that you would get from a Greek restaurant. 
Of course it goes without saying, the Greek restaurant's gyro will be more authentic and most likely better tasting. But this is an affordable homemade version of a Greek street food favorite. 
Sidenote: Gyros can be had in Greece for 2-3 Euros. Why are they $10 in America?
The gyro meat itself actually looks rather plain in its packaging. The meat combination of beef and lamb is already cooked so the meat looks gray. 
The slices are fairly uniform in size and about 2-3 inches long and 1 and a half inches wide.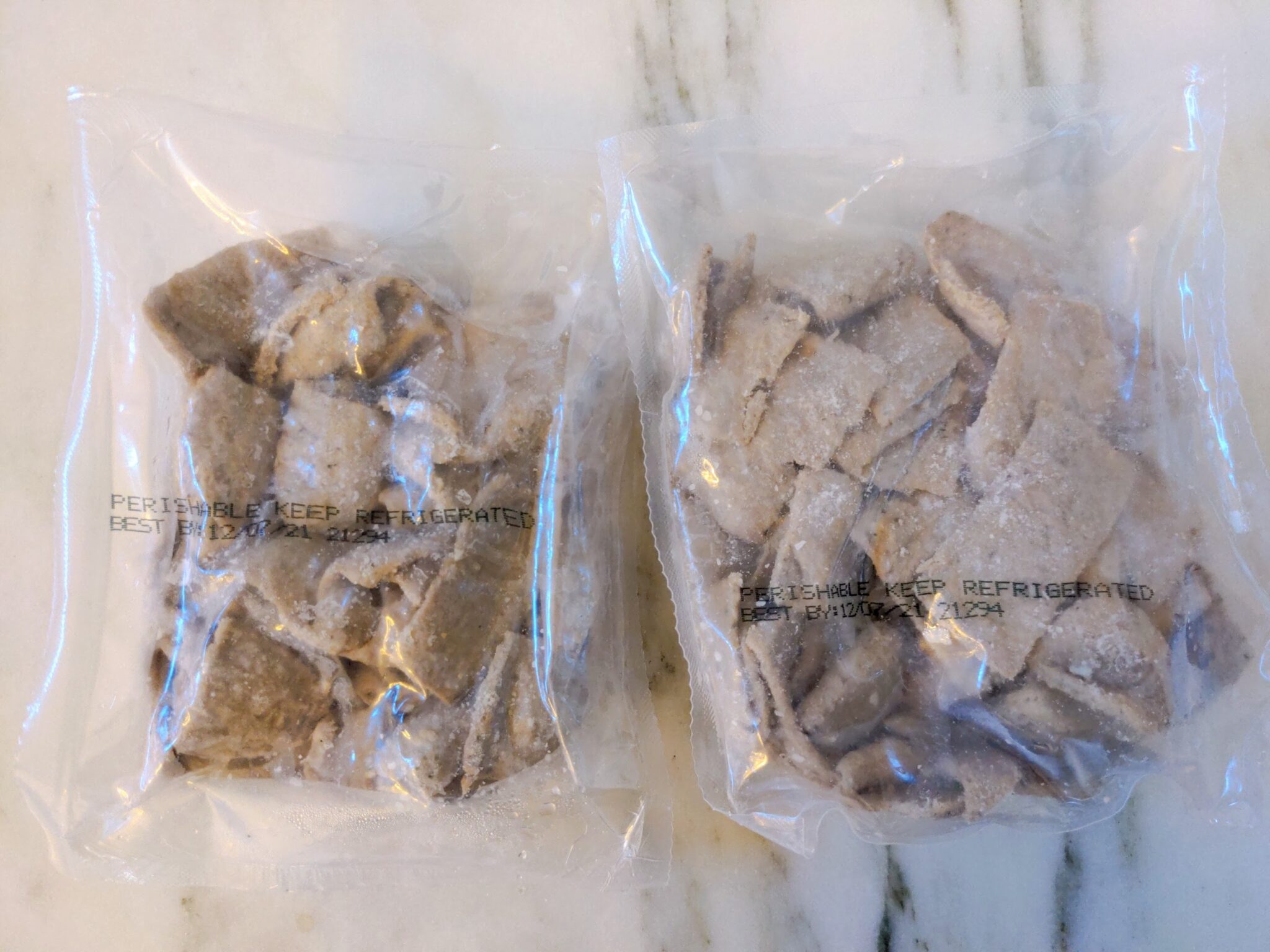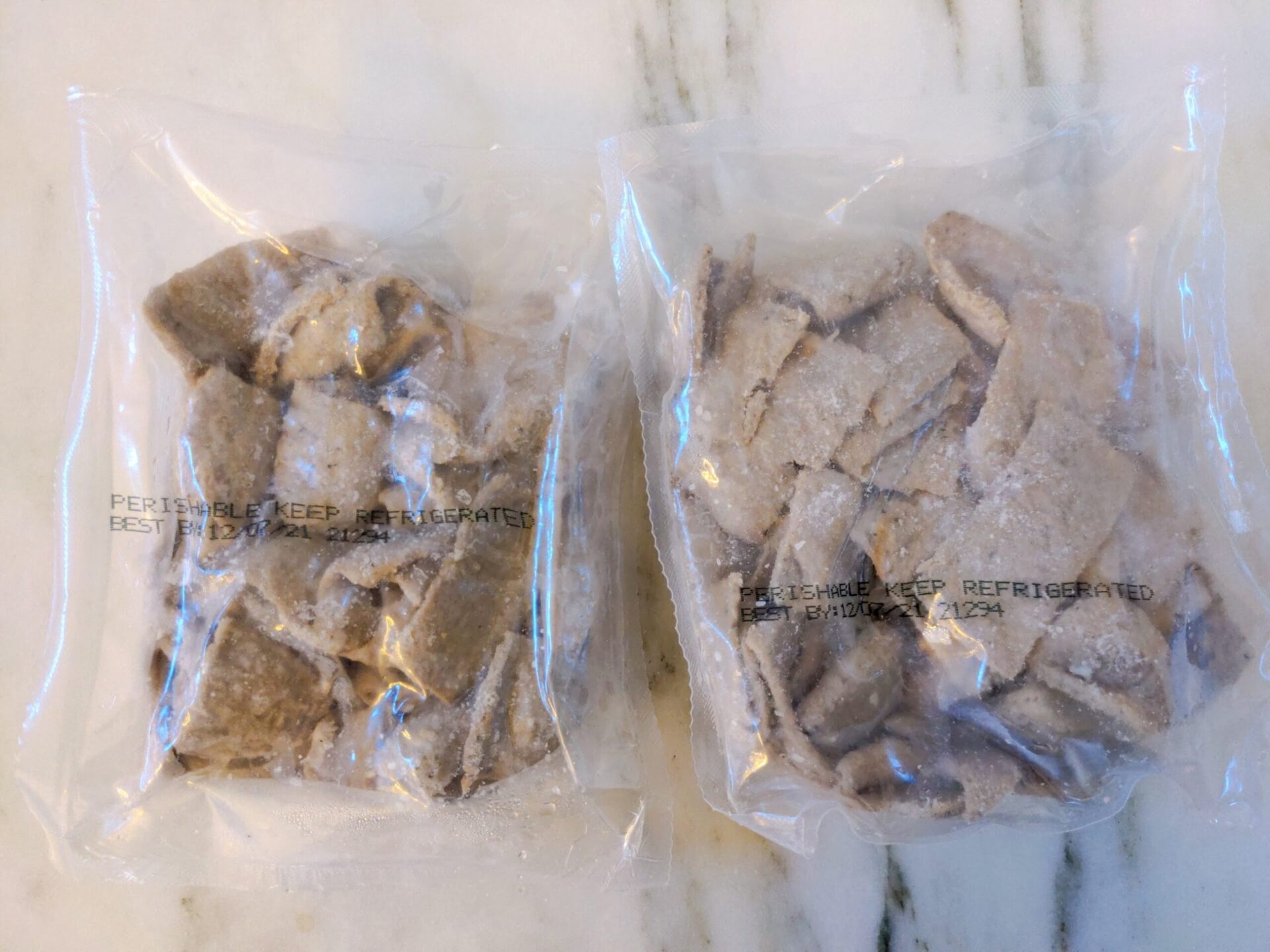 The meat is packaged with an appropriate amount of hardened meat fat. When cooking the gyro meat pieces, the fat liquifies and helps provide some nice browning on the meat.
Costco Gyro Meat - Heating Instructions
How to Cook the Gyro Meat
Its pretty simple to cook the gyro meat. The bag states to heat these for about 4 minutes on medium. I cook them a little longer and on high heat. 

I really like to see some browning on the meat, and I like the crispy texture that results from a hotter and longer cook.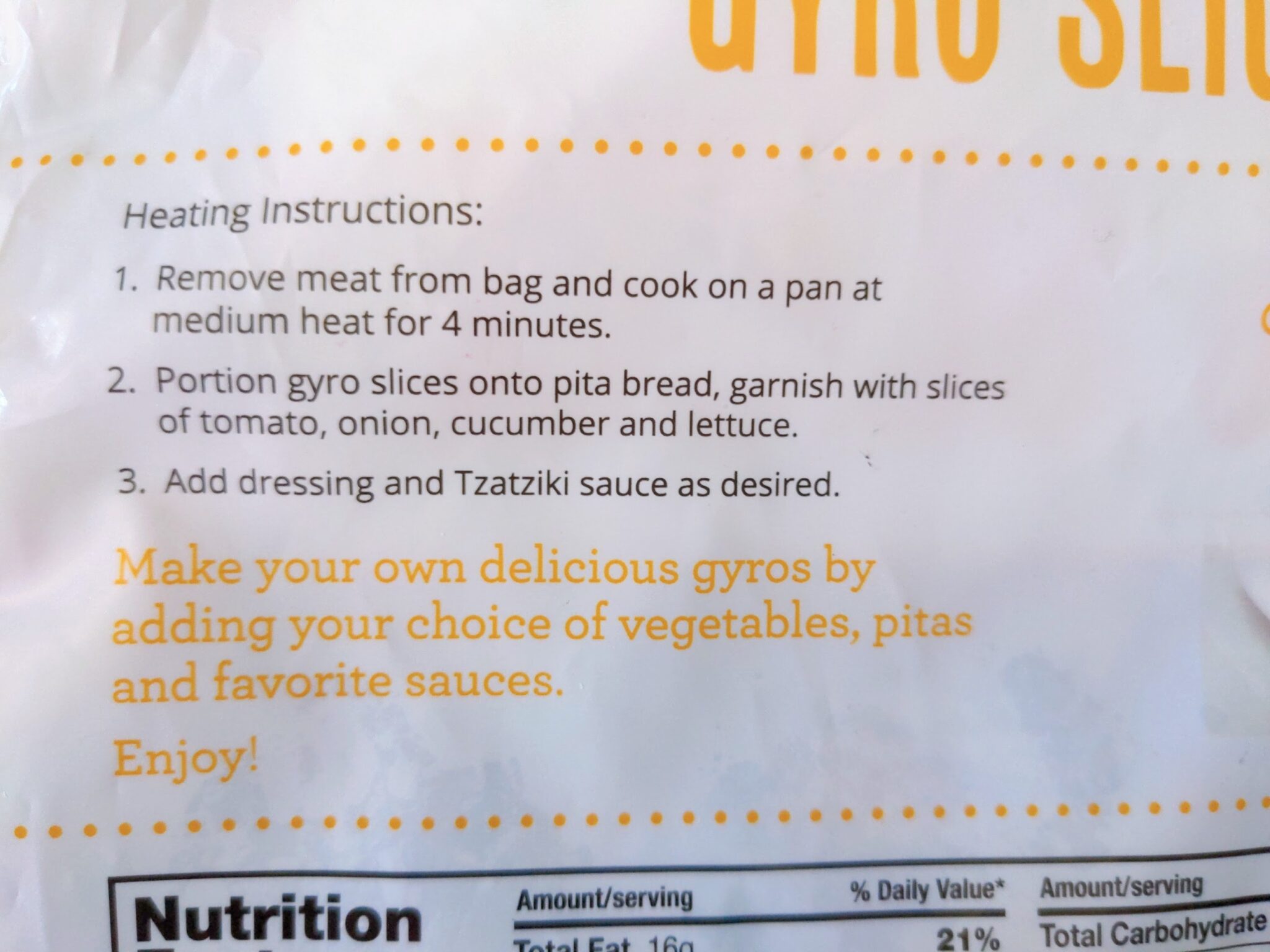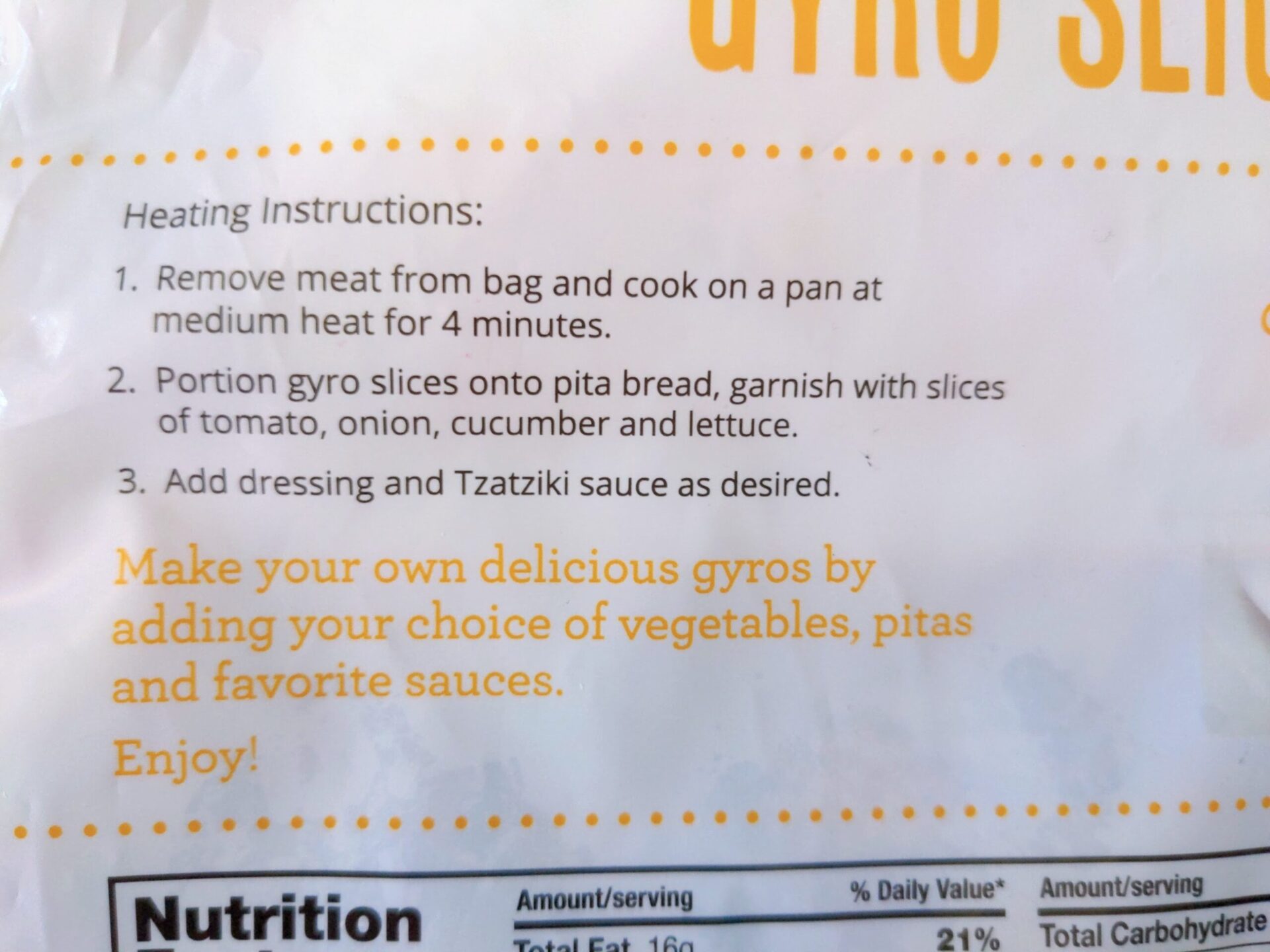 Can you Air Fry Costco's Gyro Meat?
You can air fry Costco's gyro meat, but I recommend against it. The meat is already cooked and just needs to be seared and reheated. 
If you cook the gyro meat in the air fryer, you risk drying out the meat and not producing a delicious outer crust. The optimal method will be to pan-fry the meat. 
Daphne's Beef & Lamb Gyro - Taste Test
The gyro meat itself is rather tasty and flavorful. The beef and lamb combo provide a unique flavor that you don't get from these meats individually.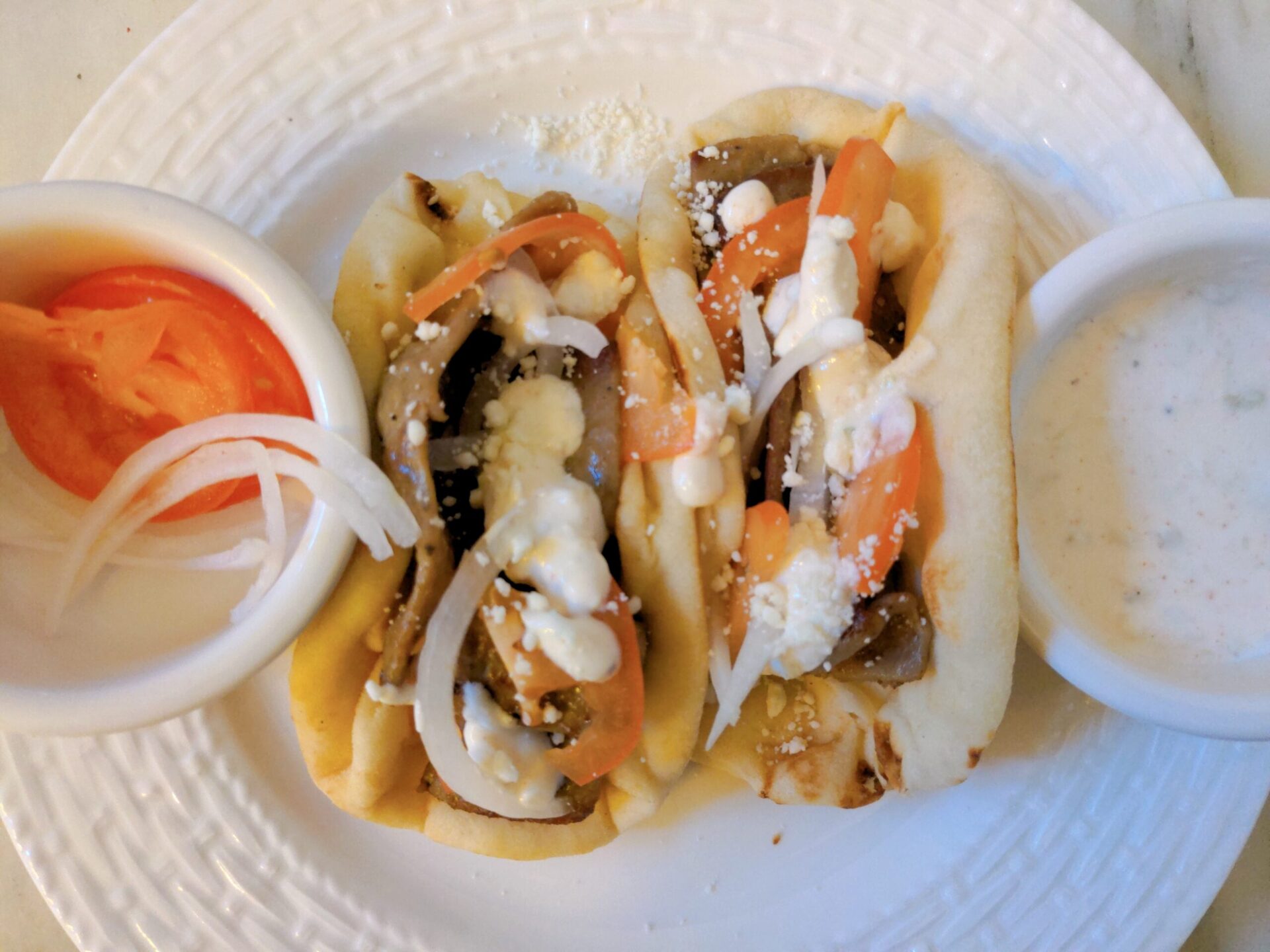 They are seasoned really well and not overly salty in any way. The meat is tender and soft and pairs really well with the naan bread and toppings. 
The tzatziki sauce makes the meal feel light and refreshing. We are big fans of the gyro meat. 
How Many People Does the Gyro Meat Feed?
Each 12oz package seems to be just enough for about 2 people. We've eaten this meal a few times now and we will usually end up with a few gyro slices leftover. 
For us it's not worth saving for the next day and I end up just finishing it off at the end of the meal. Anymore than two people and you would have to use more than one bag.
Daphne's Gyro Meat - Nutritional Information
How Many Calories in the Beef & Lamb Gyro Meat?
Each serving size is 2 ounces, which means in each individual bag there are 6 servings. Each serving has 190 calories with 16g of fat, 5g of carbs, and 7g of protein. 
The calories here aren't the greatest. There is a significant amount of fat and the fat to carbs and protein ratio is quite poor, especially for this type meal.
With one bag we'll make about 5-6 homemade gyros which means each gyro has about 2oz (1 serving) of gyro meat. I'll end up eating at least 3 gyros and my wife will eat 2. 
While the macros of the gyro meat may not be great, the biggest issue is going to be the sodium. Each 2oz serving contains 430 mg of sodium which is 19% of your daily value. If I'm eating 3+ servings, that's at least 60% of my recommended daily sodium intake on the gyro meat alone. 
Any sort of processed foods are going to contain sodium, but this is on the higher end. You don't want to be eating this daily.
Originally, I thought that this Daphne's company was related to Daphne's California Greek, a mid-sized restaurant chain. I tried to look up this gyro meat online for some more information but couldn't find anything. 
I looked all over the bag and there was no website and just a phone number and a line stating that the item is distributed by MELD Food Group Inc.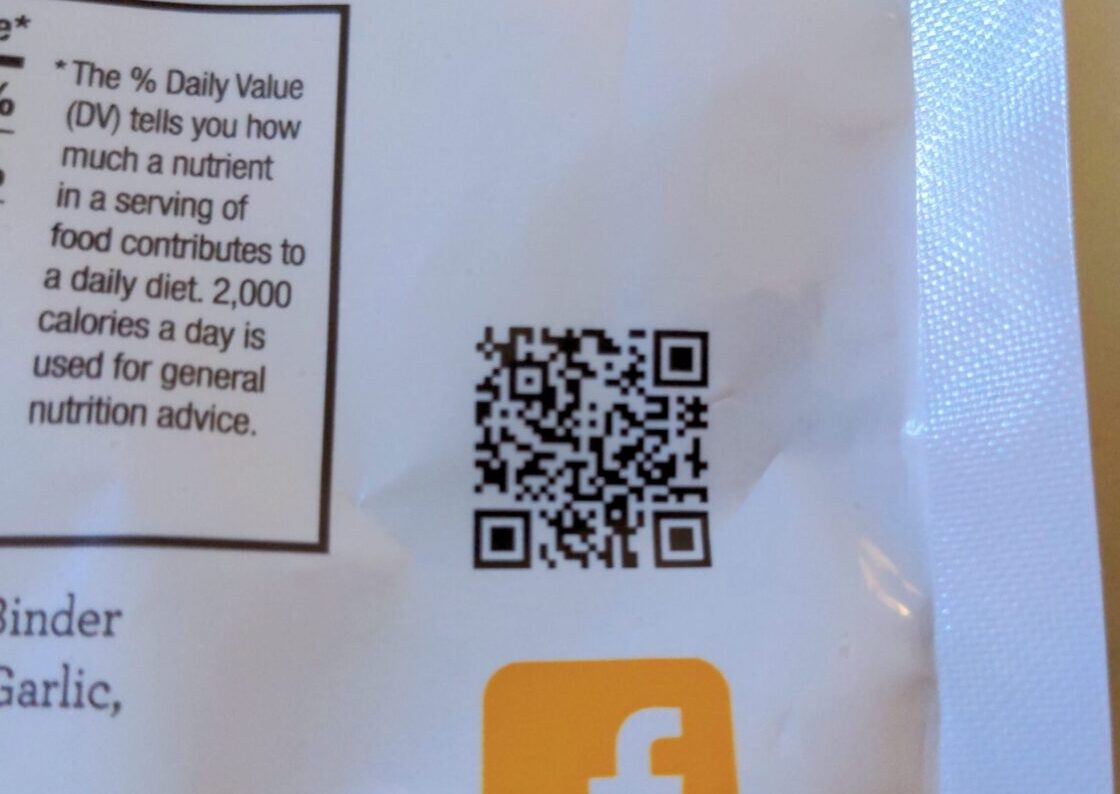 There is a QR code that leads to grainandsimpleorganicfoods.com and the phone number on the bag also leads to the same website. 
After checking out the website it appears that grain and simple does mostly rice and noodle products and there is no mention of Daphne's or any mention of gyro meat at all.
Costco White Labelled Products
To me, it's very odd that this company produces this product but doesn't want to tell the world. I've purchased this gyro meat from Costco maybe 8+ times now and I really enjoy it. 
It is a little perplexing to me why I can't find more information about and from the manufacturer. And after researching further online, I'm not even sure this product is sold outside of Costco.
I'm not here to solve mysteries or dig deep into rabbit holes, so I'm going to leave this off here. But if anybody else wants to take up the task, please update me with what you learn.
I've spoken to a trusted friend who works for a mid to large size company and he mentioned that every once in a while manufacturers or merchandisers will contact his company asking to put his company's name on the product that the manufacturer wants to make.
Essentially these companies are going to handle all production and distribution and just place the large brand's name on the packaging and/or product. These companies specialize in getting into large retailers such as Costco and this becomes a win-win for everybody involved. 
This could be what's happening here with Daphne's, but I don't want to speculate too much on the matter. 
Daphne's California Greek did confirm that this is their product. Daphne's did not specify in regards to production of the item, but they do claim the item as theirs. 
The gyro meat is great and part of a wonderful and unique meal that can be assembled with all Costco ingredients. I've eaten this gyro meat multiple times in the past and I've been very satisfied. 
We make a fun night out of the meal and we have refreshing and filling homemade gyros. If you do go with Daphne's Beef and Lamb Gyro Slices, try pairing it with either Pita or Naan, and make your own tzatziki dip with greek yogurt.
Costco Food Database User Reviews
Have you tried this item? Let the rest of the Costco Food Database community know what you think. Leave a rating and review for this product. 
Costco Homemade Gyros with Naan Bread
Quick and easy 15 minute homemade gyros using ingredients from Costco.
Ingredients
12

oz

Daphne's Beef and Lamb Gyro Meat Slices

5

Stonefire Mini Naan Flatbreads
Instructions
Heat pan to medium-high heat and add in Daphne Gyro meat. Stir occasionally until meat is browned and heated through. Remove gyro meat.

Heat Mini Naan Flatbread for 1-2 minutes until sufficiently warm and crispy.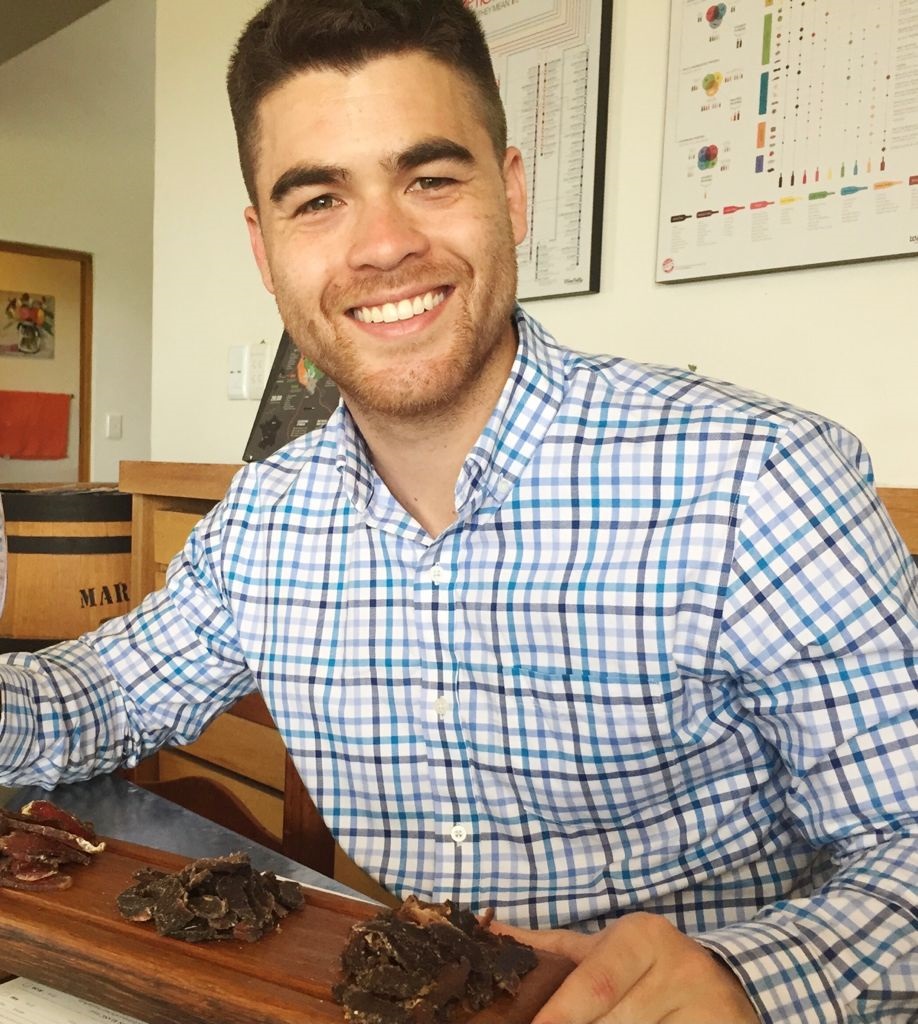 Greg Larkin is the founder and managing editor of Costco Food Database, the premiere site for honest takes on all things Costco food. A self-proclaimed Costco super-fan since childhood, Greg turned his obsession in a mission to properly rate and review all of Costco's delicious buys. When he's not busy navigating Costco aisles, you can find Greg smoking Kirkland Signature meats, meal prepping, or perfecting his homemade jerky recipes.