Costco Greek Yogurt (Organic) - Best In Class?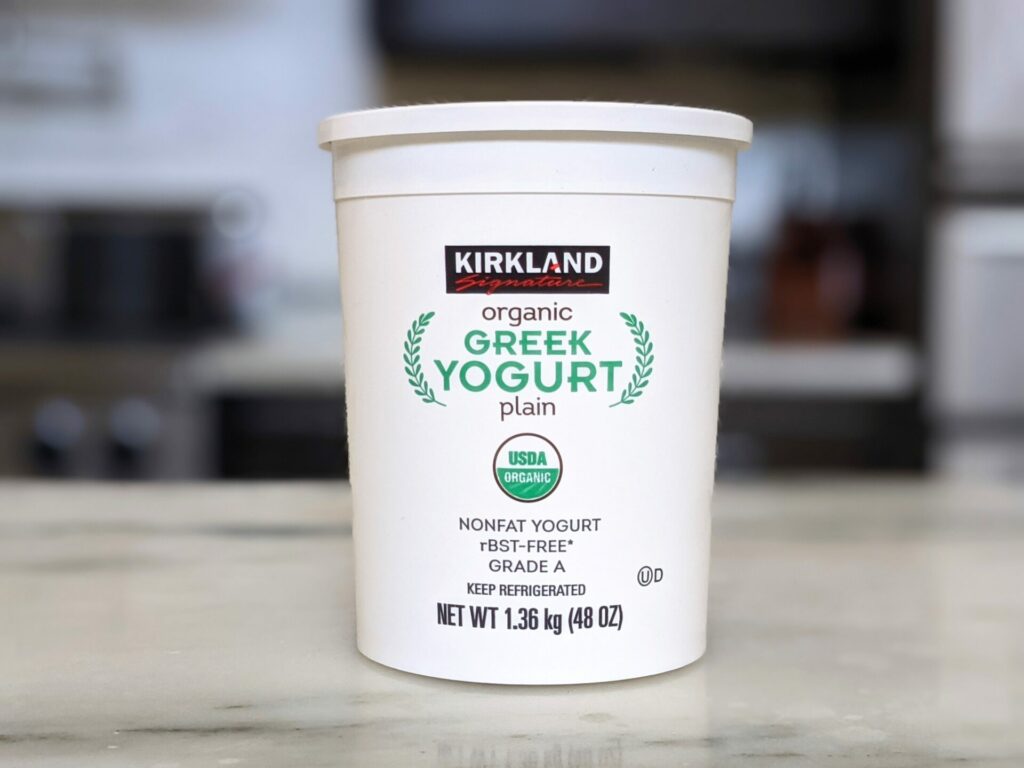 Kirkland Signature Organic Greek Yogurt at Costco
Costco sells a 48 ounce (3 Pounds) tub of Kirkland Signature Organic NonFat Greek Yogurt for $5.99. The Greek yogurt can be found in the frozen food area near the refrigerated dairy products such as the cheese, butter, and juice.
Costco's Greek Yogurt is USDA Organic Certified, Nonfat, rBST-Free, and Grade A. It is also plain or original flavored.

Have You Tried Costco's Greek Yogurt?
Let the rest of the Costco Food Database community know what you thought of this product. Results and reviews are at the bottom of this page.
Please allow 24 hours for review moderation and approval.
Greek yogurt or strained yogurt has been strained more thoroughly to remove its whey (liquid) which results in yogurt that is thicker in consistency. 
The sour taste remains, but the nutritional profile vastly differs. Because much of the whey and lactose has been removed, the yogurt becomes much more dense.
In addition to the incredible nutritional profile, greek yogurt will have a plethora of health benefits. This means 1 cup of greek yogurt will have more protein, less sugar, and possibly even fewer calories. I go over these benefits in the nutrition and calorie section below. 
One thing I noticed on the label was that this Kirkland Signature Greek Yogurt is Grade A Yogurt.
I had never heard the term before, and after a little research I found out that Grade A refers to the quality and sanitation used in the production of the dairy in the yogurt.
Who Makes Costco's Greek Yogurt
Costco doesn't actually produce their own Kirkland Signature products and will private label items from name-brand producers.
I always have a lot of fun trying to figure out which company makes certain Kirkland Signature products.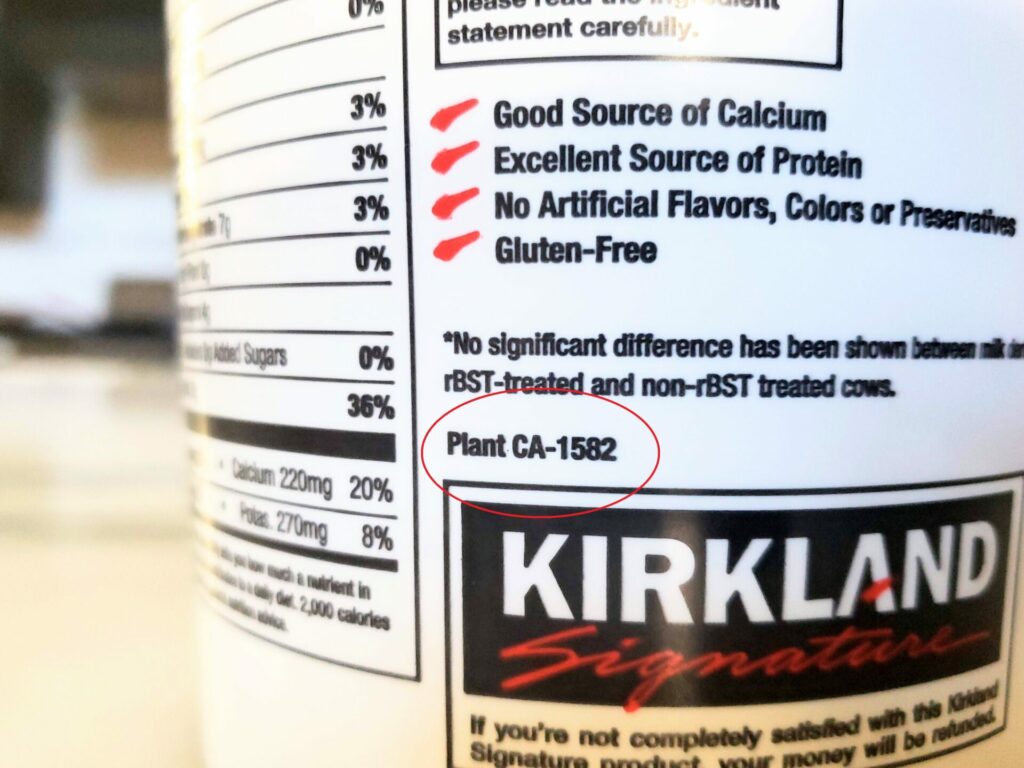 Some items are pretty hard to figure out, and some items will just give you the answer on the label. In this case, the Kirkland Signature Greek Yogurt prints the identification number of the production plant used to make the product. The Greek yogurt is actually produced by Skotidakis, a Canadian company.
According to their website, Skotidakis produces a variety of dairy foods, including Greek yogurt, dips, and cheeses. They even have a page dedicated to their private labeled goods.
Consider this Costco mystery solved. 
How Much Does Greek Yogurt Cost at Costco?
Costco sells its massive 48-ounce tub of Kirkland Organic Signature Greek Yogurt for $5.89. This breaks down to a per-ounce price of $0.12 and a per-pound price of $1.96.
This is a fantastic price for 3 pounds of greek yogurt. My current greek yogurt has a best by date about a month from the date I purchased it, so I will have plenty of time to use the Costco-sized tub.
Costco vs The Competition
Sam's Club sells 40 ounces of Member's Mark Greek Yogurt for $4.38. This breaks down to $0.11 per ounce or $1.75 per pound. Unfortunately, this is a better price than Costco's.
Target sells 32 ounces of their store-brand Greek Yogurt for $3.79 or $0.12 per ounce. Again, this is better than Costco's price for their Kirkland Signature Greek Yogurt.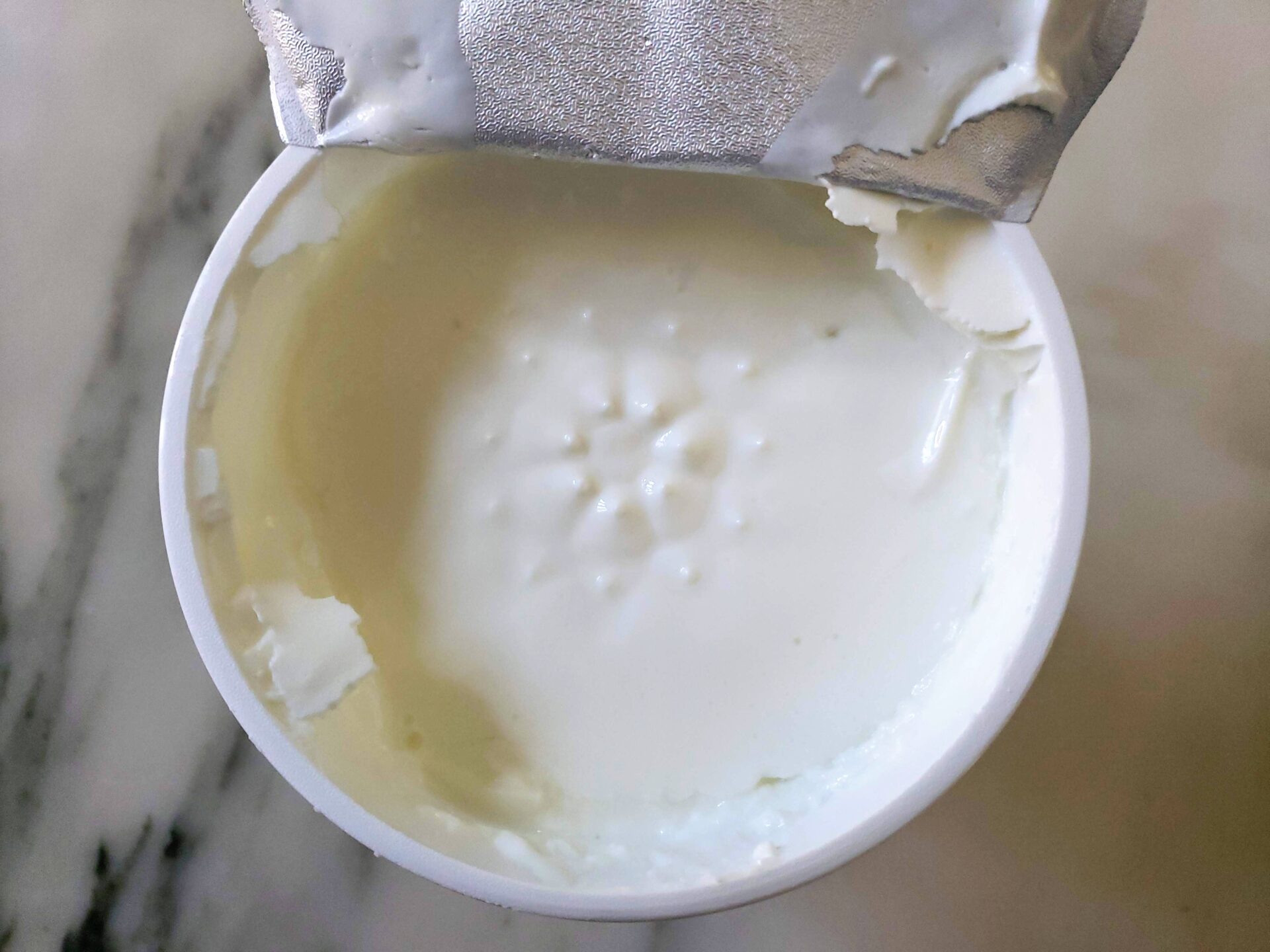 The big difference between Costco Greek Yogurt and the competitors is that Costco's is Organic.
Sam's Club and Target both offer non-organic greek yogurt. Costco's organic Greek yogurt does not come out ahead in price but is still very close to both competitors.
Costco Greek Yogurt - Taste Test
I'm a big fan of Costco's greek yogurt. I've been buying it for years, and it's always been excellent. The yogurt really checks off all the boxes. It's thick, creamy, and has a slight tang or sourness.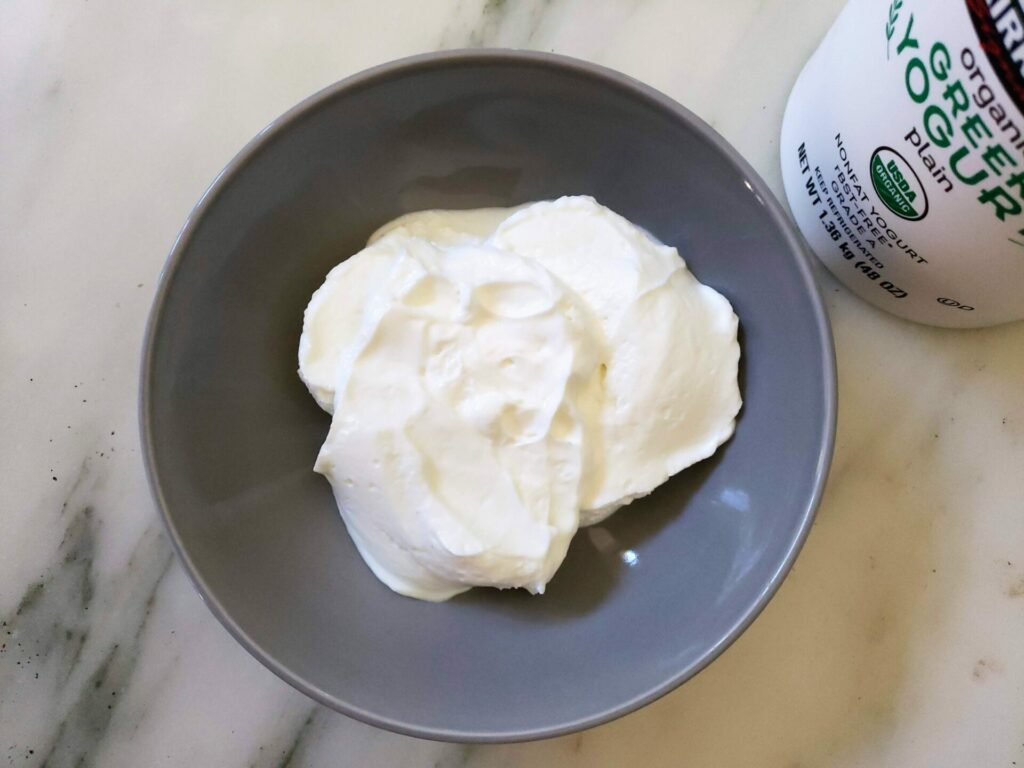 I'm not a fan of just eating plain greek yogurt, as it isn't the most flavorful. Plain greek yogurt is similar to sour cream in taste and will go much better as part of a dish.
I prefer greek yogurt mixed with additional flavors or turned into a dip, spread, or cooked with other foods.
Greek yogurt might be one of the most underrated foods in all of Costco. It has great taste (maybe acquired taste), excellent health benefits, and is extremely versatile. Here are some ideas to really utilize the Costco-sized Greek Yogurt.

My favorite way to enjoy greek yogurt is as a simple dessert with some frozen or fresh berries topped with granola. This is an all-time classic dish that is healthy but also satisfies my sweet cravings.

If berries or fruits aren't your thing, another great option would be to drizzle some honey, maple syrup, or mix in a little jam. You can flavor your greek yogurt any way you like, and it will be absolutely delicious!
Additional topping ideas include peanut butter, chocolate chips, and even pumpkin pie! 
Going the dessert route is usually the easiest way to use greek yogurt, but greek yogurt is also an excellent base for sauces and dips. I love making my homemade Tzatziki dip from greek yogurt, which I use to top Homemade Gyro Pita meals. This is also great if use up all the tzatziki from the Costco gyro kit.
I also like to use greek yogurt as a creamy base for various other dips. Onion and ranch greek yogurt dip are, of course, amazing. I even like to mix it up with buffalo or sriracha to make a spicy greek yogurt dip for meatballs or chicken wings. 
It even makes an excellent and healthy addition to almost any smoothie. It will thicken the smoothie and give it a much more creamy taste.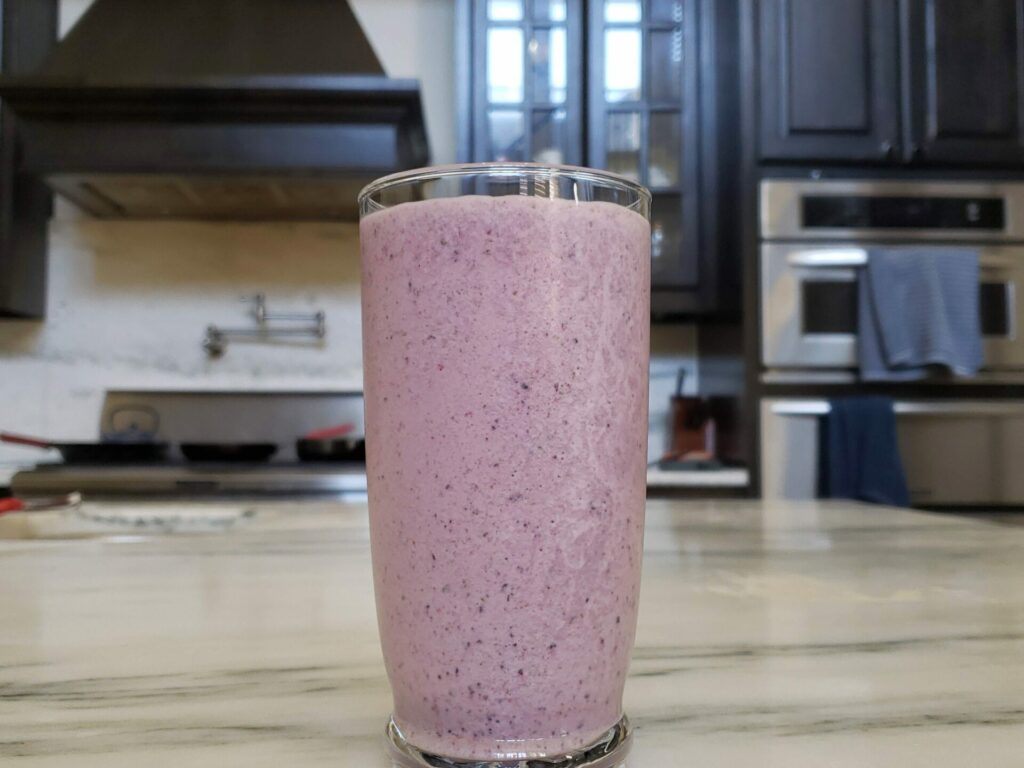 Really the possibilities are endless, and I always like to keep a tub of Costco's greek yogurt on hand to make healthy versions of classic dishes.
Kirkland Signature Greek Yogurt Nutritional Information and Calories
How Many Calories in Costco's Greek Yogurt
One serving of Costco's Greek yogurt will be 2/3 cup or 6 ounces. Each serving will contain 100 calories consisting of 0 grams of fat, 7 grams of carbs, and 18 grams of protein.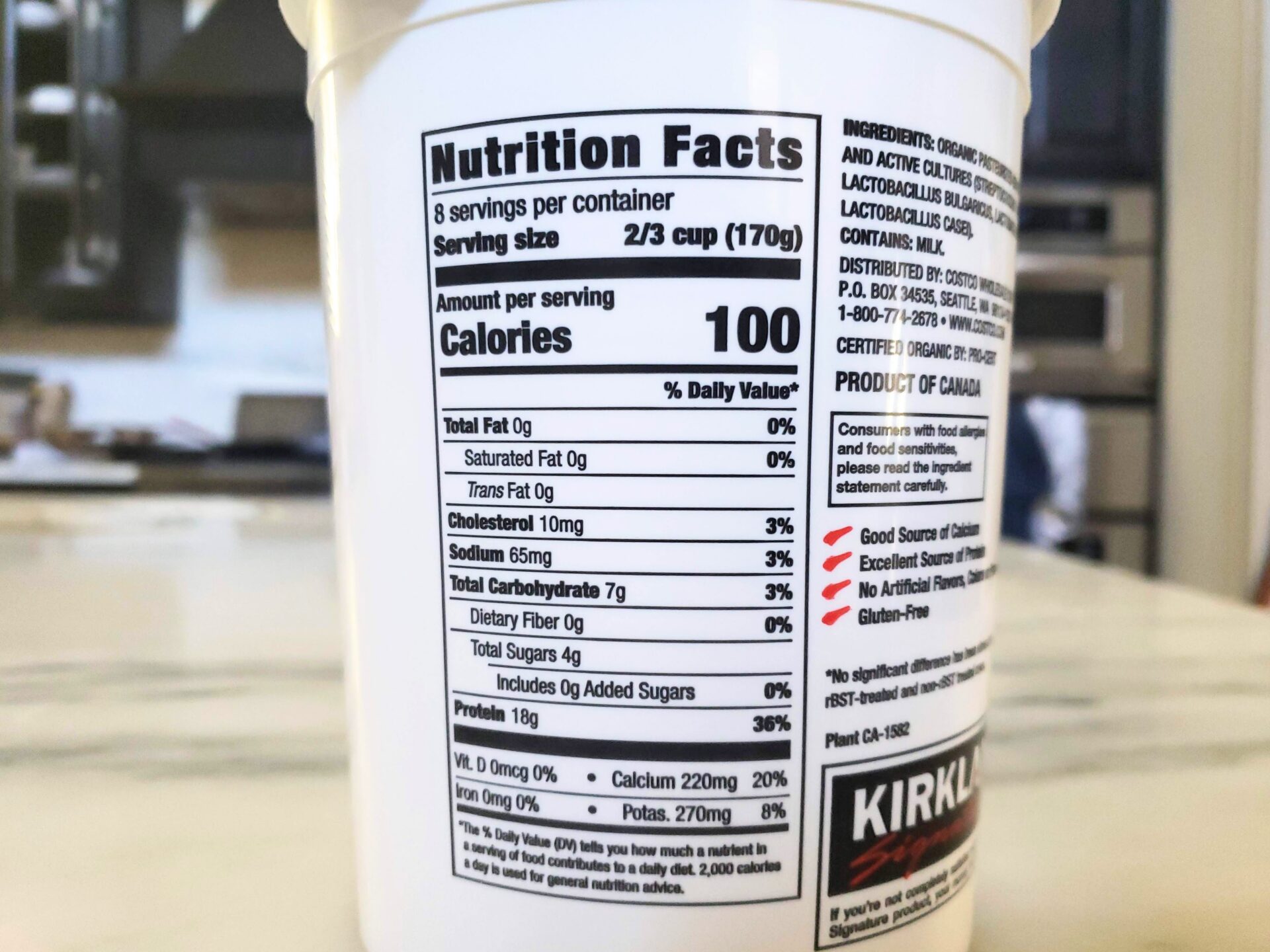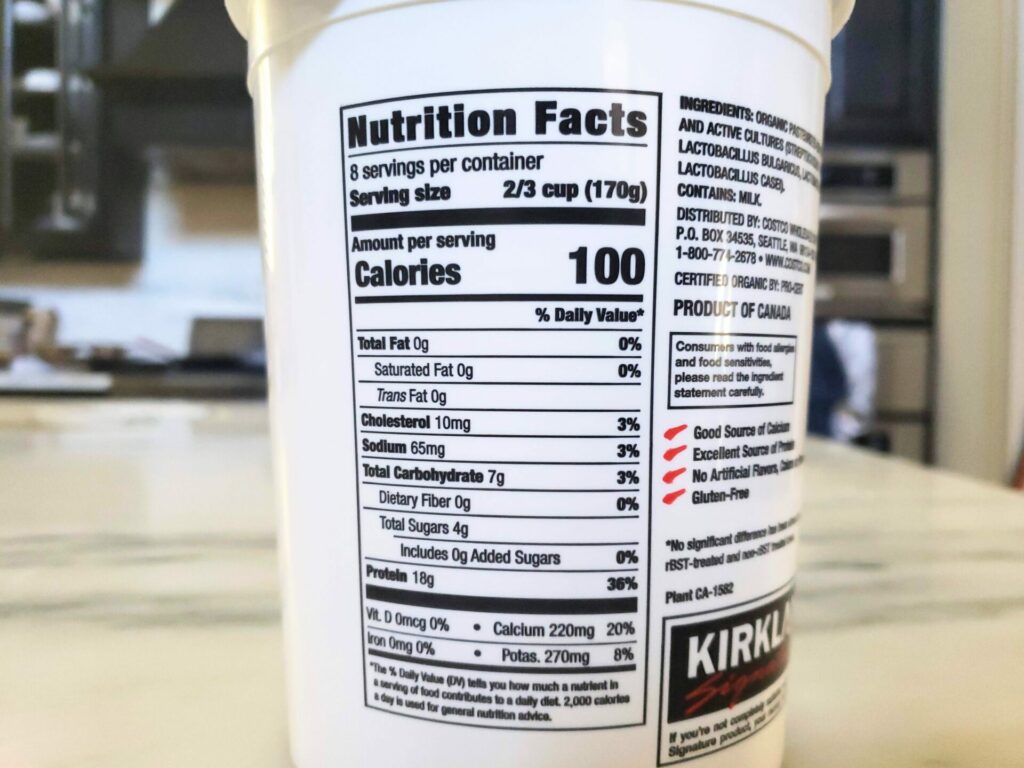 This is a truly exceptional nutritional profile! I always like to see the protein outnumber the combined carbs and fat, and this Greek Yogurt goes above and beyond.
There really isn't much more I can ask for in a nutritional profile.
In addition to all the macronutrients, greek yogurt has many health benefits. According to Women's Health Mag, greek yogurt does everything from helping with weight loss, providing good probiotics, keeping your bones strong, and reducing the risk of type 2 diabetes.
The low calories and high protein, combined with the fantastic health benefits, make this a must-add to almost all diets.
Gut Health and Probiotics
There are so many reasons to eat Greek Yogurt and probiotics may be one of the best of them all. Probiotics are live beneficial cultures or bacteria that help regulate gut health.
According to Times.com there are a lot of probiotics in greek yogurt, but some greek yogurts also have the very beneficial Lactobacillus acidophilus and Lactobacillus casei. Both of these probiotics are present and listed in the ingredients of the Kirkland Signature Organic Greek Yogurt.
Other cultures listed on the ingredient list are Streptococcus Thermophilus, Lactobacillus Bulgaricus, and Bifidus.

Costco Food Database User Reviews
Have you tried this item? Let the rest of the Costco Food Database community know what you think. Leave a rating and review for this product. 
Amazing Costco Greek Yogurt and Granola Bowl
Costco's greek yogurt and Ancient grains granola are amazing, especially when combined with some frozen berries. This treat is both delicious and healthy
Ingredients
2/3

Cup

Kirkland Signature Greek Yogurt

3/4

Cup

Ancient Grains Granola

1/2

Cup

Frozen Berries
Instructions
Microwave frozen berries for 30 seconds or until slightly defrosted

Add in Kirkland Signature Greek Yogurt and top with ancient grains granola
Nutrition
Serving:
1
Bowl
Calories:
400
kcal
Carbohydrates:
48
g
Protein:
26
g
Fat:
9
g
Saturated Fat:
1.5
g
Trans Fat:
0
g
Cholesterol:
10
mg
Sodium:
210
mg
Fiber:
6
g
Sugar:
19
g