505 Southwestern Flame Roasted Hatch Green Chile - Costco Review
I've been eyeing the 505 Southwestern Flame Roasted Green Chiles at Costco for a while now. I've seen a lot of buzz online about this product, but never got around to giving it a try. 
They were on sale for $2.40 off so I figured it was finally time to see what these roasted green chiles are all about.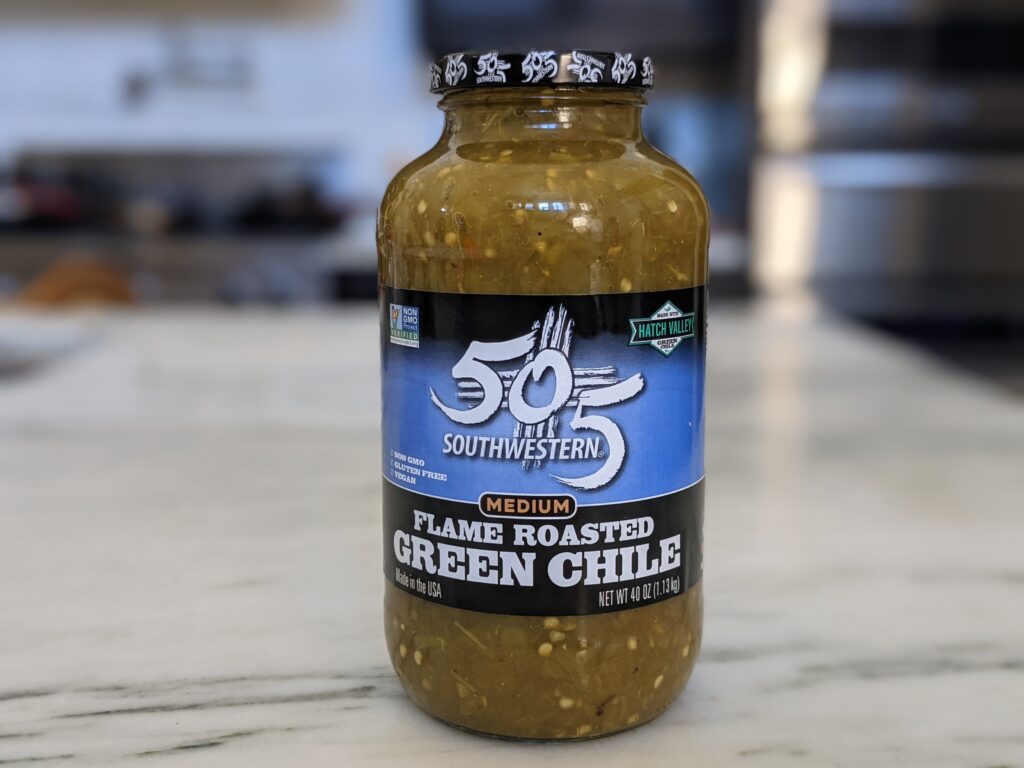 505 Southwestern Hatch Green Chile at Costco
Costco Sells the the 40oz 505 Southwestern Flame Roasted Green Chiles for $8.49. The chile can be found in the pantry and dry goods area of the store, generally near the other sauces and seasonings. 
I picked these up on sale for a price of $6.10 which is more than 25% off Costco's already low price
Have You Tried Costco's Green Chiles?
Let the rest of the Costco Food Database community know what you thought of this product. Results and reviews are at the bottom of this page.
Please allow 24 hours for review moderation and approval.
Hatch chiles are chiles specifically grown in the Hatch Valley of New Mexico. Green chiles are grown all over the world, but Hatch Valley has been growing them for hundreds of years and their unique landscape creates the specific hatch chile flavor.
The hatch chile reputation has grown quite a bit in recent years, so I'm not surprised to see a product like this doing well at Costco.
Based solely on looks alone and the packaging, I have to say it's a beautiful product. The label is very modern, but still somewhat rustic and it fits the product perfectly. The rim of the lid itself has the 505 logo printed around it and it looks really good. I feel a sense of a small business indie vibe with an organizational structure in place aimed towards growth. That's just the feeling I get just based on the label, so take it for what it's worth.  
Now I have to tell you, I don't usually struggle with opening jars, but this one gave me the hardest time. I even had to google some jar opening tricks to get this one open. When I finally got it open, the reason it was stuck was apparent. There were chiles that were dried up in between the lid and the glass bottle. 
This was a completely new product and the safety button was still intact before I opened it, so there must have been some spillage in the factory that caused a mess near the lid. In turn, this made it extremely hard for me to open. 
I don't know how often this happens for these 505 Green Chiles, or if I just got unlucky with mine, but it was not a good start to see dried up chiles on the rim of the bottle. It was not appealing and a slight turn off. I would expect this to happen after I have been using the product a few times, but not fresh from the factory.
Visually the chile itself is a little mundane. I don't fault 505 for this, it's rather difficult to make a green chile of this color really pop out. The only ingredients listed on the label are green chiles, garlic salt, and some lime concentrate, so I'm not surprised nor am I complaining about the looks here. 
I do like the large chunks of green chile that are visible through the glass jar as well as a copious amount of seeds. I do see some red/orange chunks, which I'm not really sure of what they are. They don't seem foreign or out of place and I'm sure somebody who knows chiles a lot better than I can explain it in the comments. 
These are also marketed as flame roasted and just looking at the outside of the bottle, I definitely can see a few small charred pieces. There are no more than 10 pieces visible from the outside of the jar, with the largest being the size of a pencil eraser. Knowing the flavor that flame brings to peppers and how important it is that they are roasted before making a sauce or salsa, I am happy to see at least some charred pieces in the product. 
I'll be the first to admit, I avoided the product for the longest time, because I didn't really know how to use it. As we all know, it can be easy to make impulse purchases at Costco and end up with an extra large size of something you may not like or need. The product always looked interesting, but I never really knew if I could use the chiles in my everyday cooking and especially 40oz of it.
Even upon purchasing the item, I did have to do some research to see how other Costco members were using this product. Some ideas that looked interesting to me were using it as a dip with cream cheese, as a topping for pizza or burgers, or to mix it in with some Costco eggs for breakfast.
Costco 505 Hatch Chile Review
The first thing I did when I finally got the jar open and cleaned up the mess on the rim, was to smell the green chiles. First, I wanted to make sure the item was still good, which it was. And secondly, I really wanted to give this salsa a smell. As soon as I took a whiff, the green chile smell was abundant and the only way I can explain it is that there was a very clean and pure green chile smell. Imagine what a typical green chile smells like and then having 505 Southwestern take it up a notch. The chiles smelled fantastic and it was clear the item was fresh and this is going to be a high quality product.
At least for me, with the 505 Flame Roasted Green Chiles, I wasn't 100% sure how I was going to use this product. I experimented with it in a few different ways including in a dip, as a sauce, and a topping.
My first test with the green chiles was to eat them as-is with some tortilla chips. I wanted to taste the chile pepper in its purest form without other ingredients impacting the taste. The chiles were fresh and bursting with flavor. I could definitely taste the smokiness from the chile peppers and I would say there is a mild heat factor.
The spiciness wasn't overwhelming but there was some residual heat that did linger in the back of my mouth. The flavor was very good, but personally, I didn't think it was a great standalone dip or salsa.
The product really shines when combined with other ingredients. I tried it as a topping for a cheeseburger, and I have to say that I am very impressed. It was a simple grass-fed cheeseburger with just avocado mayonnaise and the 505 green chiles as a topping, but it completely changed and elevated the cheeseburger to the next level.
The chiles brought a level of depth and complexion to the meal that isn't normally achieved from simply adding a topping. The green chiles were refreshing, the smokiness blended well with the burger, and it transformed the burger from your typical home cheeseburger to something you would order at a restaurant. I understand that is very high praise, but these chiles absolutely deserve it.
I also tried the green chile as a pizza topping and again it was absolutely fantastic. I tried them with the Kirkland Signature Pepperoni Pizza and it brought an additional depth of flavor to every bite. It combined well the premium pepperonis and turned a simple $3 pizza into something you might actually find at a pizza shop. The 505 Southwestern Hatch Green Chile is utilized best as a condiment or a topping.
505 HAtch Chile Nutritional Information
These are green chiles so they naturally are going to be healthy. There are 38 servings in the entire glass jar. Each serving is 2 tablespoons and contains only 10 calories. These 10 calories are from protein and carbs and there are 0 grams of fat in this product. The sodium content is a little high at 210mg per serving which is 10% of your daily value. But this product makes up for it with the low calorie count and no fat. The entire glass jar contains only 380 calories!
I was originally pretty torn on these 505 Hatch Green Chiles but they won me over in the end. As a topping they were amazing and they bring a southern earthy chile flavor to any meal they are added too. I didn't care for them much as a dip, but as a topping/condiment they are a star. I could eat this on a pizza, hamburger, or sandwich any day.
I will be gladly buying these again, but making sure to proactively freeze half the jar upon opening. This is a great item to buy at Costco if you are looking to easily elevate and enhance your dishes at home.
Costco Food Database User Reviews
Have you tried this item? Let the rest of the Costco Food Database community know what you think. Leave a rating and review for this product.