Costco Frozen Hamburger Patties Grass-Fed - Costco's Best?
Costco's frozen Hamburger Patties are grass-fed, affordable, and bursting with beef flavor. The Kirkland Signature burger patties are a must buy for your next backyard BBQ.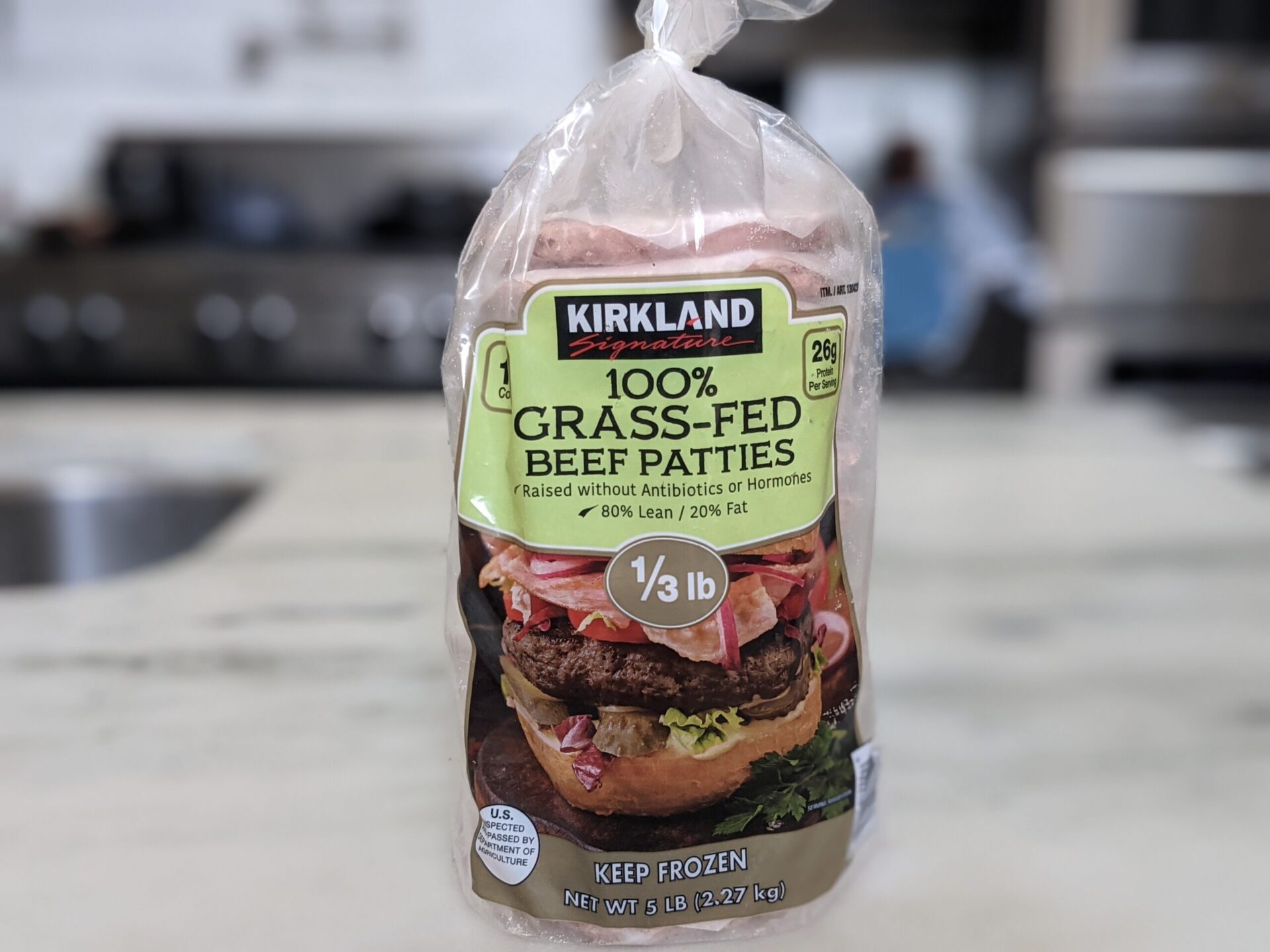 Kirkland Signature Frozen Grass-Fed HAmburger Pattiest at Costco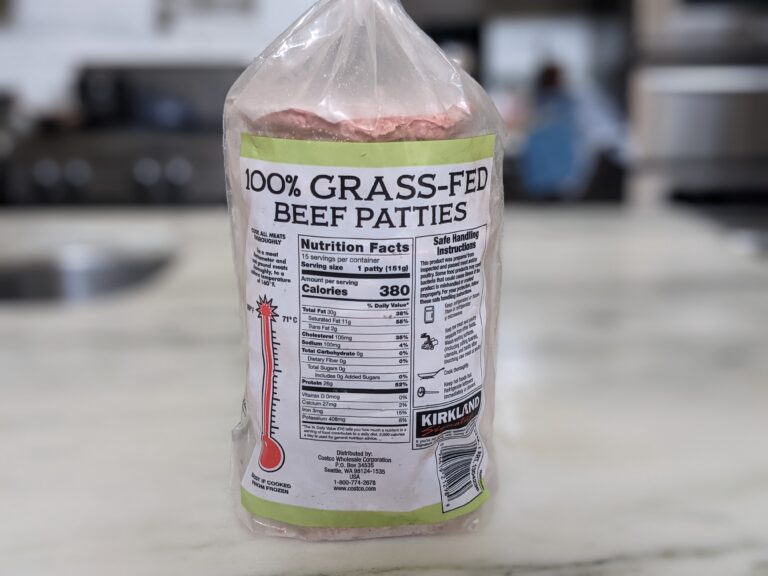 These are 80% lean/20% fat which is the ideal composition for beef patties that will lead to juicy burgers while avoiding excessive greasiness.
Each patty is individually frozen for easy separation and the hamburger patties are intended to be cooked from frozen. The cattle are raised without antibiotics or hormones and are 100% grass-fed.
Have You Tried Costco's Grass FEd Patties?
Let the rest of the Costco Food Database community know what you thought of this product. Results and reviews are at the bottom of this page.
Please allow 24 hours for review moderation and approval.
Why Grass-Fed Hamburgers?
There are a few different nutritional reasons to choose grass-fed over grain-fed beef. Grass-feeding cows lead to cows that have lower total fat pound for pound.
I don't think that's going to make a difference with the hamburger patties here because the burgers are all specifically 80% lean and 20% fat, but the cows overall will have less fat. 
Health Benefits of Grass Fed Beef
Grass-fed beef also provides two-six times more Omega 3 fatty acids than feed-lot beef. The beef is also abundant in Vitamins A, E, B12, B6, and selenium. It's an overall more nutrient-dense piece of meat compared to grain-fed cows. 
There are also many nutrients in beef that won't be found in ground turkey or chicken burgers. If you are looking for more information on some of the benefits of grass-fed vs grain-fed beef check out WebMD's article here.
Kirkland Signature Frozen Hamburger Patties - Taste Test & Review
As soon as you open this bag, the first thing you will notice is the smell. Grass-fed beef smells differently than regular grain-fed beef and the smell is extremely apparent with these hamburger patties.
Some people may not like the smell, but I personally am ok with it. I'm glad the hamburgers smell the way they are supposed to, and its obvious these Kirkland Signature burger patties truly come from grass fed cows. 
Looks-wise, these are your typical frozen hamburger patties. They are made in a production plant, and while not perfectly round, each patty does have the same exact shape.
Each Costco hamburger patty is flat on the top and bottom and about half an inch thick. Nothing is going to compare to a homemade, hand-shaped hamburger patty, but these Kirkland Signature patties are more than adequate.
So I've had these burgers and the other patties from Costco many many times over the years. For this review, I've cooked these burgers on the grill.
I believe the grill really brings the best out of any hamburger patty, and the grill is unmatched when it comes to the smokiness, char, and overall look of a burger patty.
Individually Frozen and Can Be Cooked From Frozen
These are individually frozen and can be cooked from frozen, you don't need to do any preparation ahead of time. I simply take the hamburger patties right out of the bag and place them directly on a hot grill. 
Easy grilling!
The beef is sold frozen, but it still tastes very fresh. The patties cooked uniformly and I was able to achieve a nice medium cook on these Kirkland Signature grass-fed hamburger patties. There was a nice char on both sides and it took about 10 minutes to cook the burger all the way through. 
When serving, I paired the Costco burger patty with a slice of Costco Tillamook Cheddar Cheese and a hamburger bun also purchased from Costco.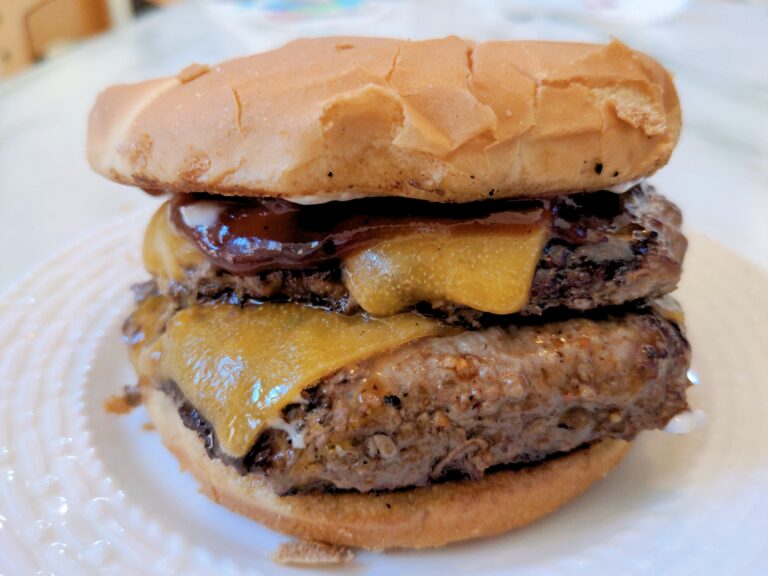 The cheeseburger as a whole tasted delicious. The beef was juicy and flavorful and there was a distinct beef flavor with these Costco grass-fed patties.

Grass Fed Hamburger Nutritional Information
How Many Calories in Costco Frozen Grass Fed Burger Patty?
There are 380 calories in each ⅓ pound burger, with 30g of fat, 0g of carbs, and 26g of protein. The nutritional profile for these hamburger patties is going to be pretty typical.
These numbers are going to be similar across the board for 80/20 hamburger patties because of the defined fat content.
One thing that is very nice about these hamburgers is that the sodium content is on the lower end at 100 mg per patty. 
The burgers are unseasoned and the sodium content is going to be a factor unless you significantly over season the patties. 
COSTCO FROZEN BURGERS COST COMPARISON​
How Much Do Costco Grass Fed Hamburgers Cost?
Costco sells their 5 pound bag of grass-fed hamburger patties for $23.99. This breaks down to $4.80 per pound or $1.60 per hamburger patty.
This does seem a little pricey for a hamburger patty, but it's quite the deal compared to the non-grass-fed burgers offered at Costco.
Additional Costco Hamburger Options
My Costco location only offers one other frozen ground beef burger and that is Kirkland Signature Ground Chuck Sirloin. Costco sells 6 pounds of ground chuck patties for $24.99.
The price per pound is $4.16 for the ground chuck burgers and the price per patty is $1.38.
Costco also sells Morton's fully cooked frozen hamburger.
Which Patty Has the Best Value?
For about $.65 more per pound or $0.22 a patty, you are getting grass-fed beef that is individually frozen for convenience with the ideal fat content for hamburgers.
That is a great deal for the higher quality Costco grass-fed hamburger patties, where you can actually smell and taste the difference.
Costco does also sell Impossible Burgers for $6.99 a pound at retail or $4.99 a pound when on sale.
This is a solid burger at a great price and without a doubt the best hamburger patty option at Costco. 
Grass-fed beef is usually much more expensive than their grain-fed counterparts, but with these Costco grass-fed patties, they are only $0.22 more. They provide a superior taste and have a higher overall quality that will lead to tastier and more enjoyable burgers.
Costco Food Database User Reviews
Have you tried this item? Let the rest of the Costco Food Database community know what you think. Leave a rating and review for this product.