Costco Chicken Burgers (AmyLu) - Healthy, But Has Negatives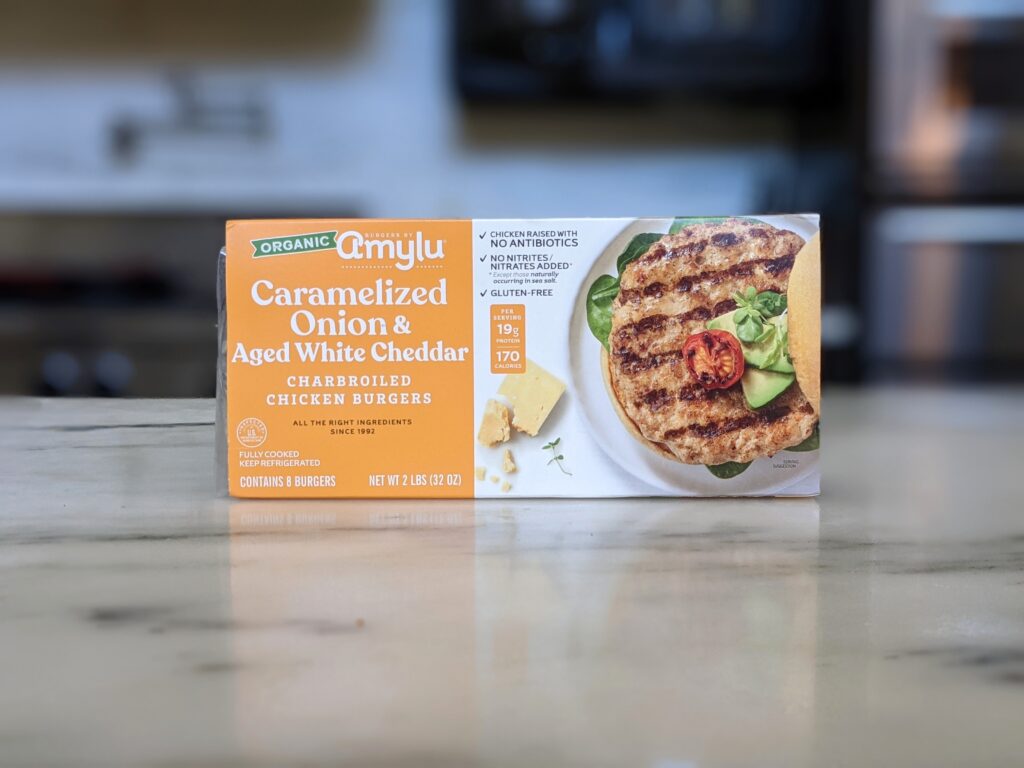 AmyLu Chicken Burgers at Costco
Costco sells an 8-pack (2 pounds) of AmyLu Caramelized Onion & Aged White Cheddar Charbroiled Chicken Burgers for $14.99.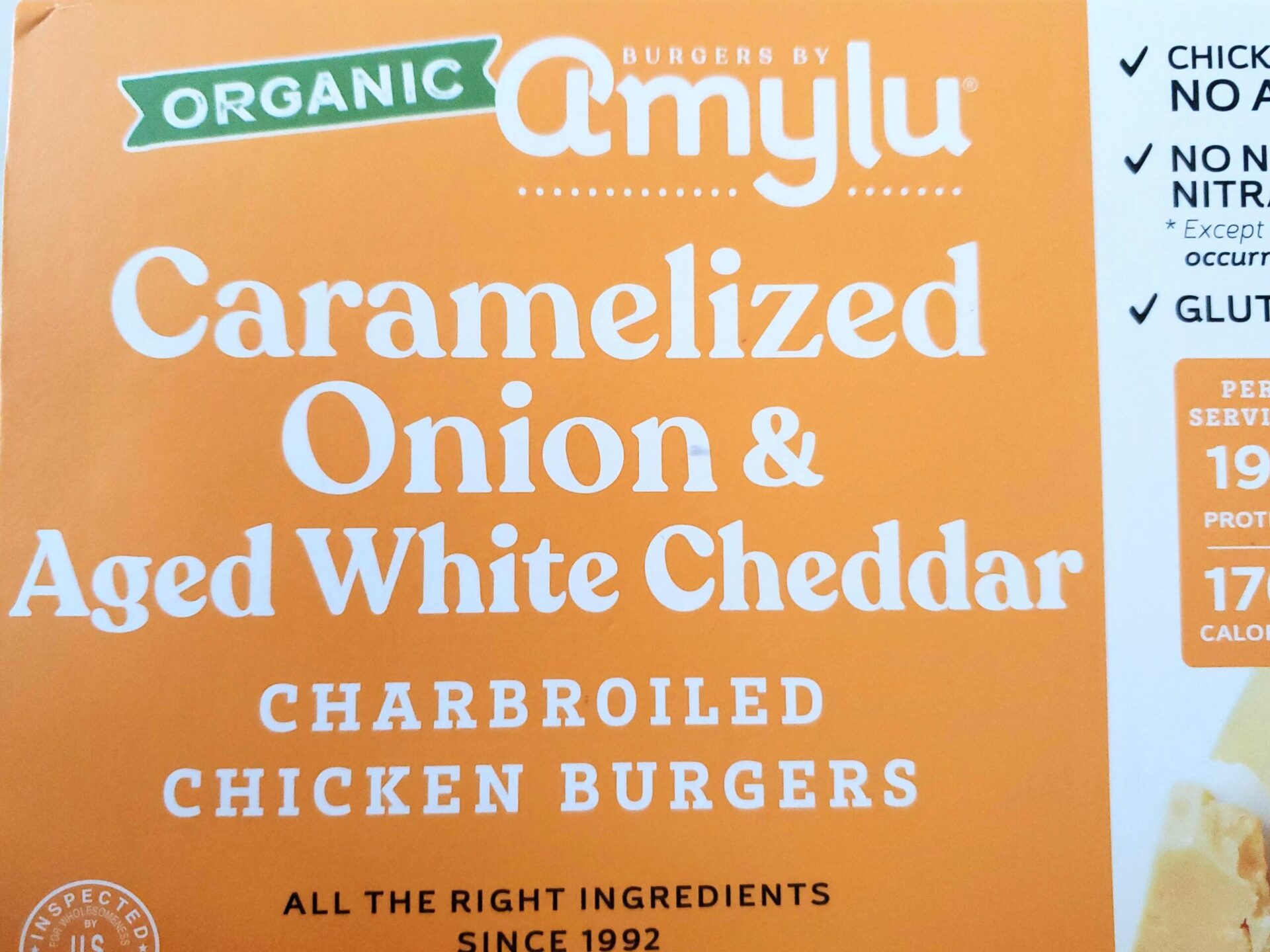 Have You Tried Costco's Chicken Burgers?
Let the rest of the Costco Food Database community know what you thought of this product. Results and reviews are at the bottom of this page.
Please allow 24 hours for review moderation and approval.
What is in the Chicken Burgers?
These Costco chicken burgers are gluten-free and made with chickens that are raised with no antibiotics. The chicken burger patties are embedded with caramelized onions and white cheddar.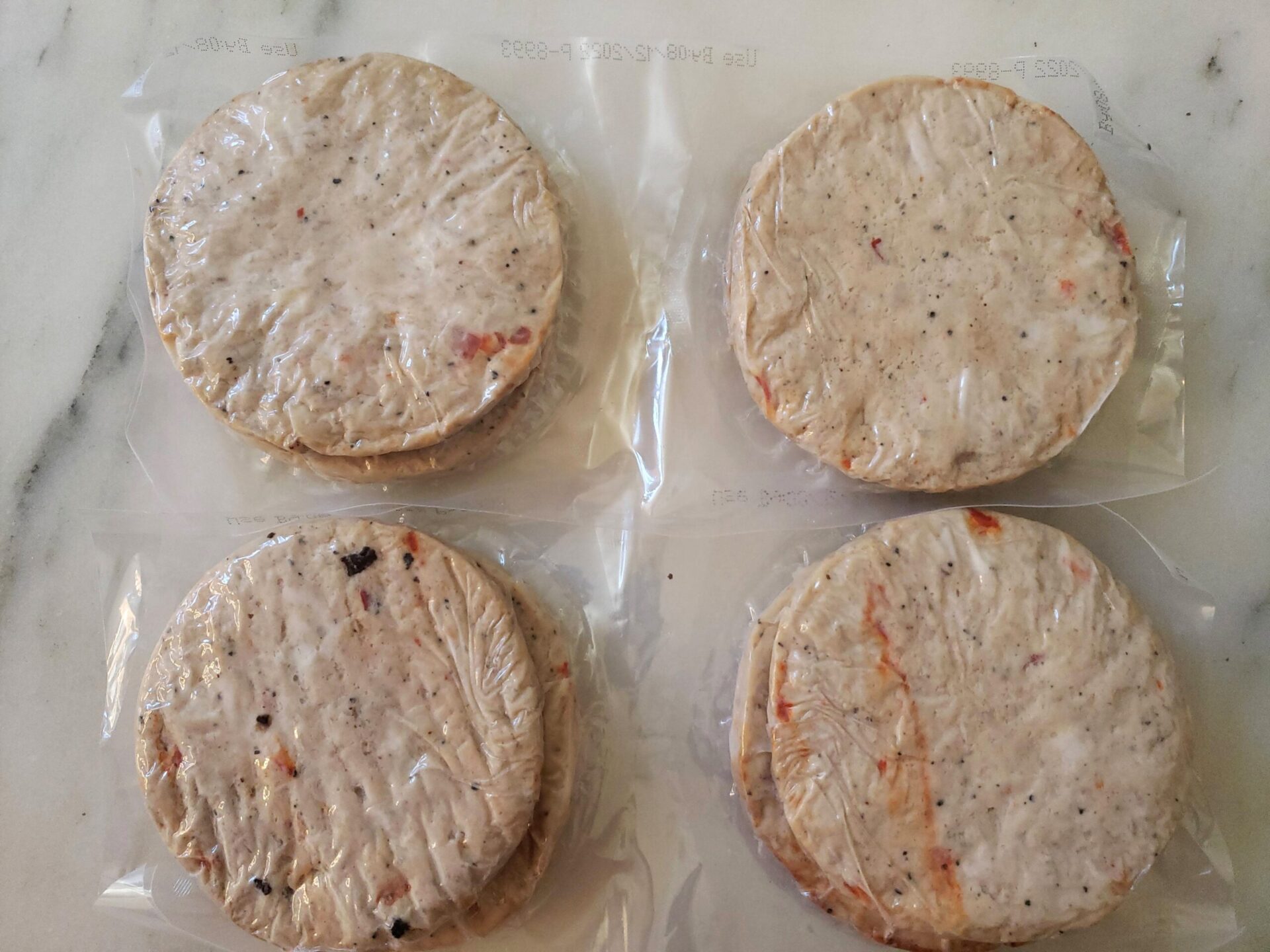 In addition to the onions and cheddar cheese, AmyLu has also included red peppers, rosemary, and garlic, all of which are clearly visible in the burgers.

AmyLu is one of the two main companies that sells chicken products at Costco. AmyLu has been in business since 1992 and their goal is to provide simple foods that are made with chicken.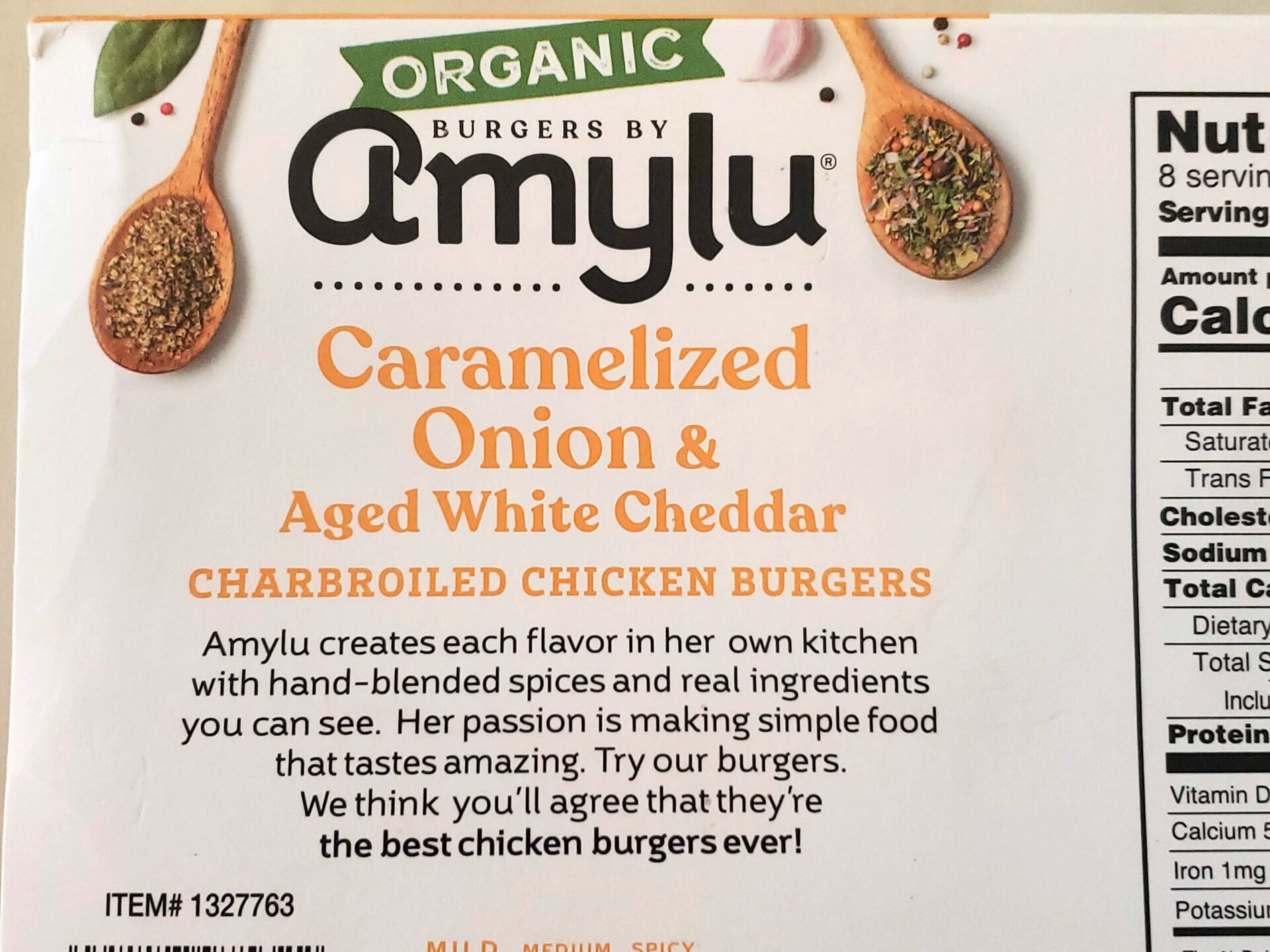 How Much Do Costco Chicken Burgers Cost?
Costco sells 2 pounds (8 patties) of AmyLu chicken burgers for $14.99. This breaks down to a staggering $7.50 per pound, and each individual quarter pound chicken burger patty goes for $1.88. 
In my opinion, this price is ridiculously expensive, and there is much better value to be had at Costco. 
AmyLu chicken burgers are the most expensive burger patty option, and it isn't even close.
AmyLu's chicken burgers are the most expensive on a per patty basis as well as a per pound basis. Any of Costco's other patties will be better economic choices.

Better Value Items at Costco
Coming in at $7.50 per pound, there is no denying that the Costco chicken burgers are on the pricey side.
There are much better value options in the $7.50 price range, such as tri-tip, shrimp, and even cod.
Chicken Burger Taste Test
The biggest downside to the Costco chicken burger patty is how processed it is. 
It's clear the chicken burger is already somewhat processed due to its shape and texture, but the chicken has been processed to the point it doesn't feel like chicken anymore.
They also appear to be cooked sous vide style, which doesn't help their appearance or feel.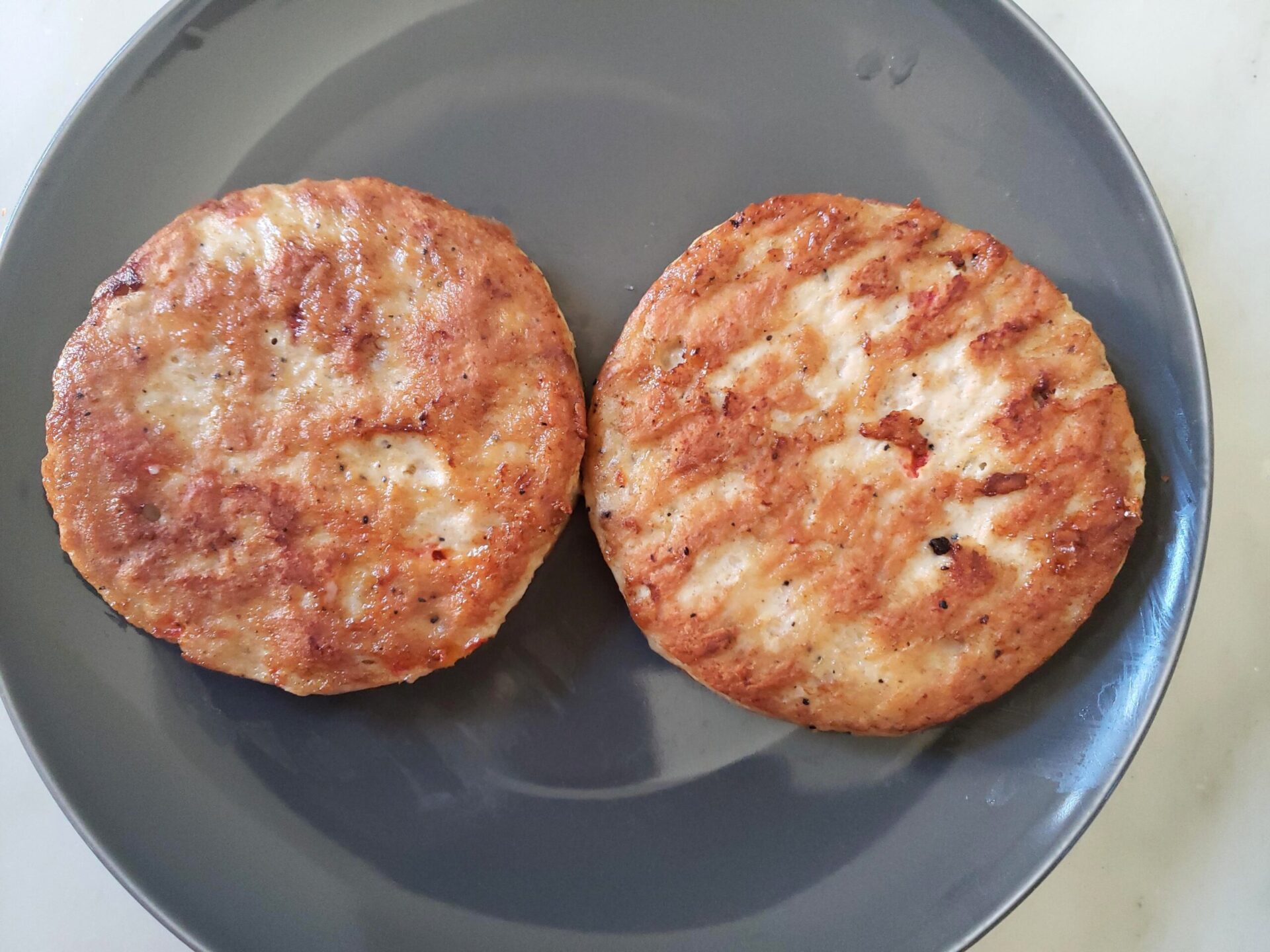 I'm not expecting a hand-cut chicken breast or even a ground chicken burger, but I do expect the chicken burger to not have the same texture as a polish sausage or hot dog.
For $2 a patty, this is a big miss.
Onion and Cheddar Flavor?
While the chicken is rather processed, it was still tasty and was even quite juicy. 
I ate the Costco chicken burger on its own and with buns and all the fixings, but I could never really grasp the caramelized onion and cheddar flavor.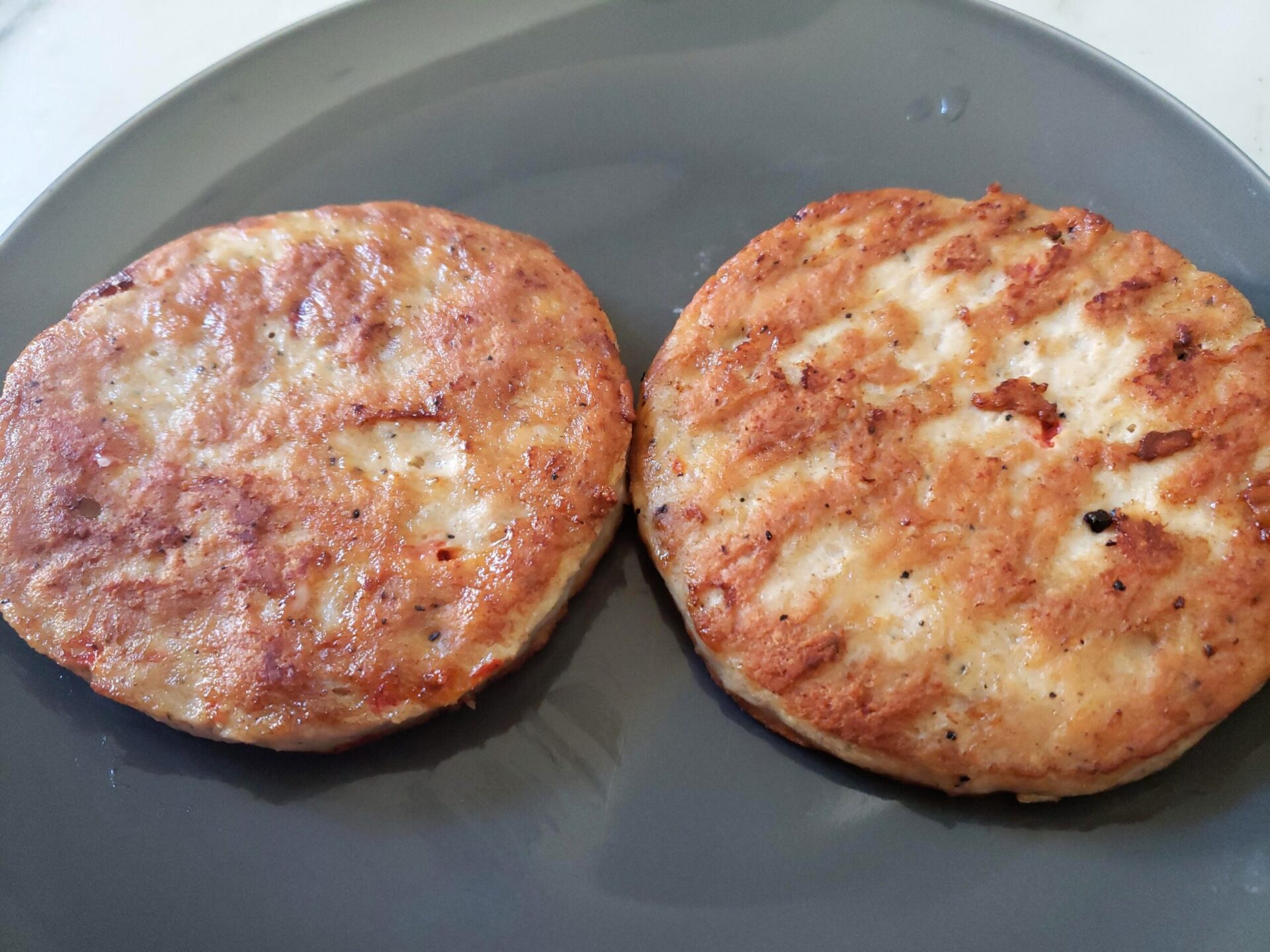 The onion and cheddar may be embedded within the chicken burger, but the flavors didn't come through for me. I would have liked more of an onion and cheddar flavor explosion.
If the packaging didn't say onion and cheddar, I would have had no idea this was a flavored chicken burger.
All that being said, the chicken is not the worst. The chicken burger patty is juicy, and the seasoning isn't overly salty. It's a solid burger.
It falls short in certain aspects, but the chicken is still enjoyable, and I will have no problems finishing the rest of the package.

Chicken Burger Serving Suggestions
The burgers doesn't really pack a bunch of flavor, but burgers can always be spruced up and enhanced.
Amylu recommends eating their chicken burgers with a slice of fresh melted mozzarella cheese and a drizzle of balsamic vinegar.
Additionally, if you are looking for other topping ideas, these Costco chicken burgers would go great with some feta, a greek yogurt tzatziki sauce, or even some pesto.

AmyLu Charbroiled Chicken Burger Cooking Instructions
Like other AmyLu products, these chicken burgers are pre-cooked and just need to be reheated before eating.
AmyLu offers 2 different heating options, but I am also including my own bbq cooking directions for these chicken burgers.
Preheat the bbq grill to medium-high heat

Place Costco chicken burgers on the grill until slightly charred (approximately 2-3 minutes).

Flip and cook the other side.
Preheat a non-stick skillet.

Warm over medium heat.

Turn frequently until warmed through.
Place one chicken burger on a microwave-safe plate.

Heat on high for 1 minute.

Times may vary depending on the microwave.
Costco Chicken Burger Nutritional Information
How Many Calories in AmyLu Chicken Burgers?
Each individual Costco chicken burger patty will be one serving and contain 170 calories. These 170 calories will come from 9 grams of fat, 3 grams of carbs, and 19 grams of protein.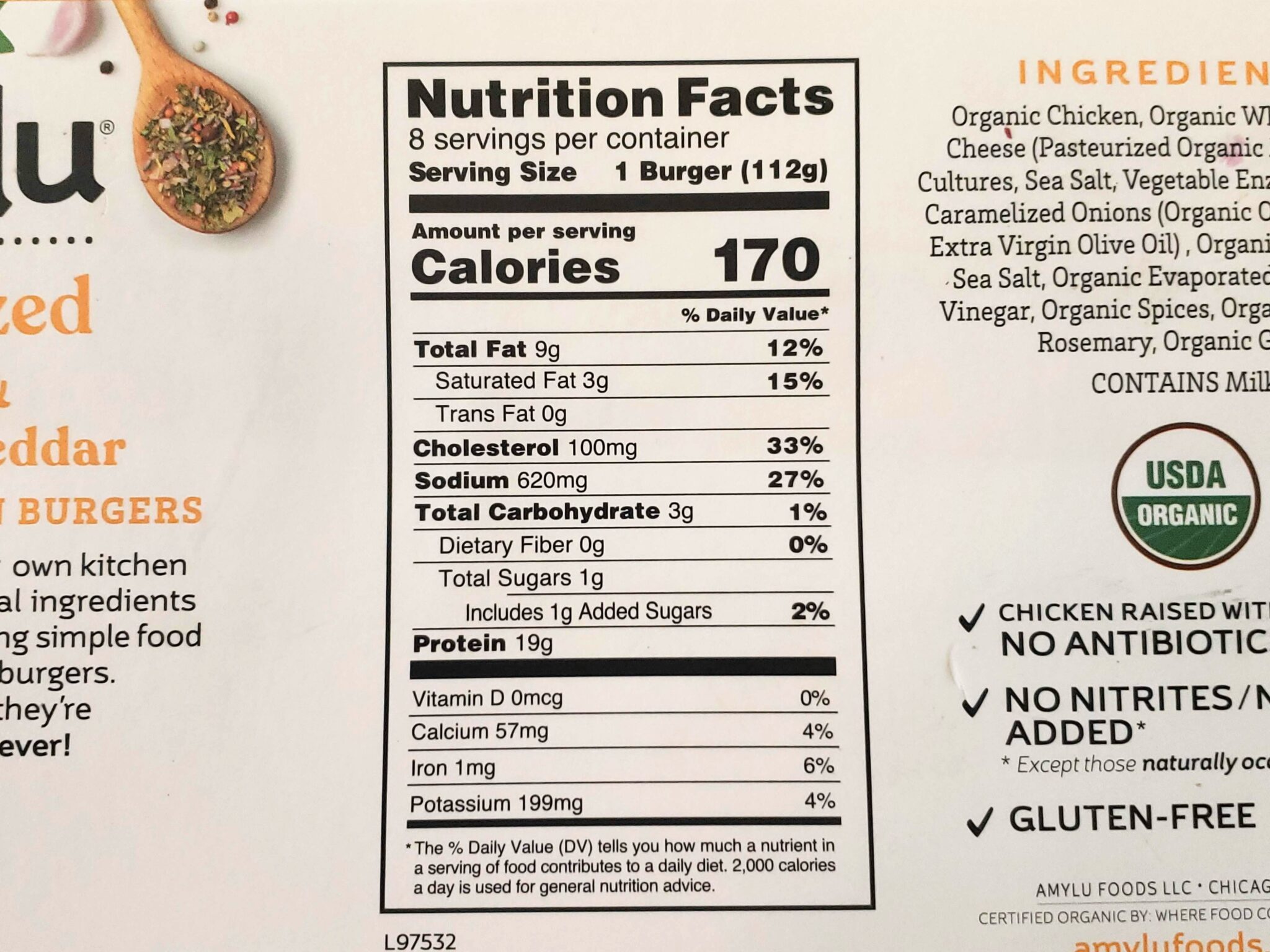 Are these Chicken Burgers Healthy?
This is a pretty solid nutritional profile, but right on par for where a chicken burger should be. The fat is on the higher end, but it's safe to expect burger patties to have a moderate amount of fat in them.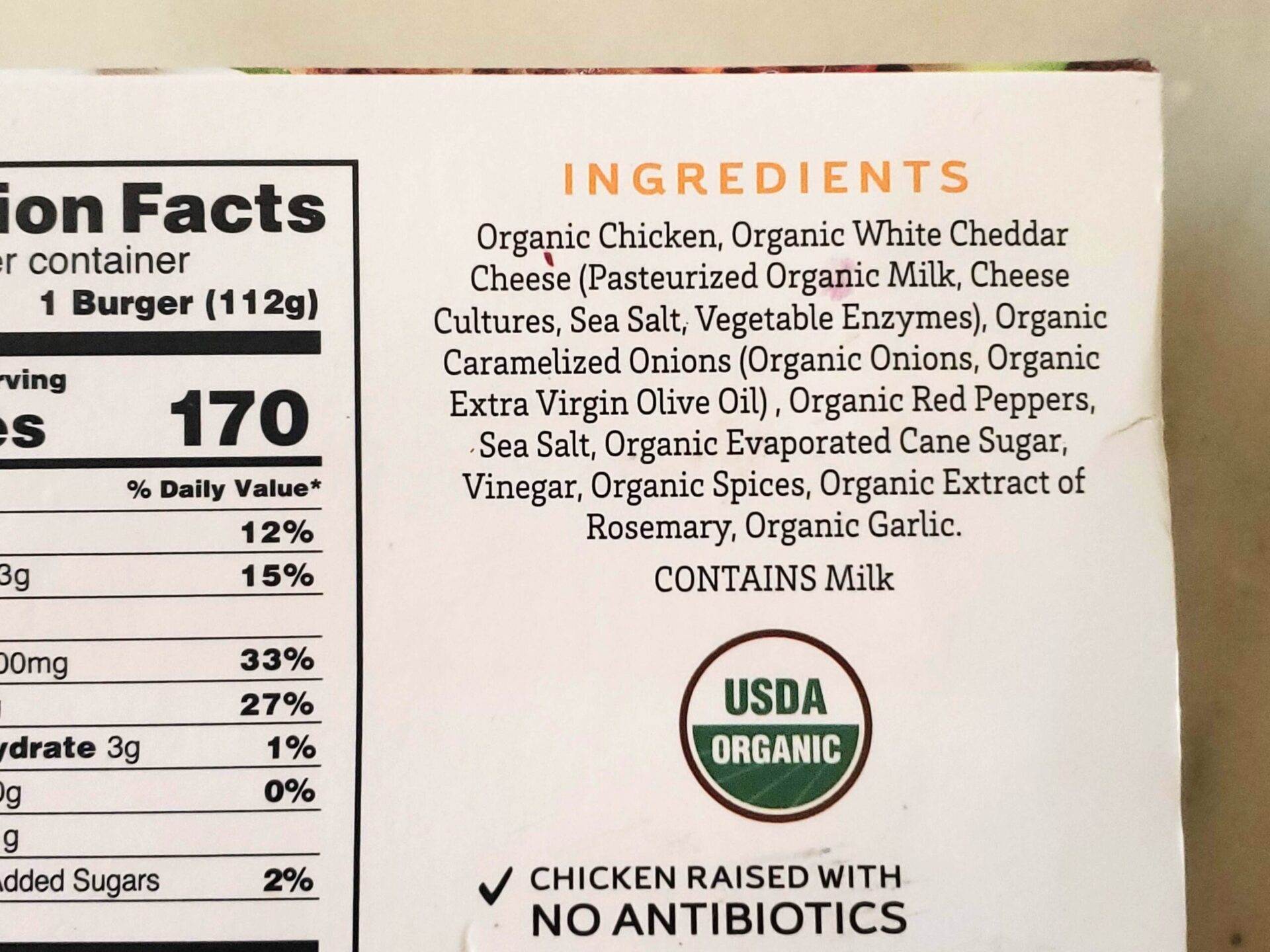 The calorie count is acceptable, and the protein content is solid. These Costco chicken burgers are a healthier alternative to beef burgers.
Like most burgers from Costco, there will be quite a bit of sodium. Each chicken burger will contain 620 mg of sodium, or 27% of the recommended daily value.
This is on the higher end especially considering that these are quarter-pound burgers.
I could easily eat two of these chicken burgers in one meal, which would be 54% of the recommended daily sodium intake. This is something to be thoughtful about.
I have mixed thoughts on AmyLu's Onion and Cheddar Burger from Costco. The burgers are, without a doubt, priced too high, and the flavors are missing, but the burger is still juicy and tasty enough. 
For nearly $2 a chicken burger patty, I expected a lot more flavor. The Costco chicken burger is good but not great and isn't going to wow the crowd. 
The nutritional profile is excellent, but at $7.50 a pound, I just cannot justify purchasing these chicken burgers. I will enjoy the remaining chicken patties I have, but I won't be purchasing these again.
Costco Food Database User Reviews
Have you tried this item? Let the rest of the Costco Food Database community know what you think. Leave a rating and review for this product.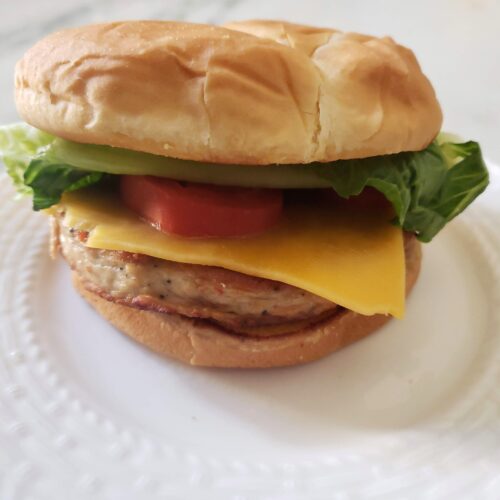 Easy and Health Costco Chicken Burger
Lunch couldn't be easier with Costco's AmyLu chicken burger patties. Grill these up for a super quick and healthy lunch.
Ingredients
1

AmyLu Chicken Patty

1

Bun
Instructions
Preheat a non-stick skillet.

Warm chicken burgers over medium heat.

Spread mayo on buns and toast.

Turn chicken burgers frequently until warmed through

Assemble chicken burger sandwich
Notes
Nutritional information and calories is for the chicken burger only. Any additional food items will increase the calorie count. 
Nutrition
Serving:
1
Burger
Calories:
170
kcal
Carbohydrates:
3
g
Protein:
19
g
Fat:
9
g
Saturated Fat:
3
g
Trans Fat:
0
g
Cholesterol:
100
mg
Sodium:
620
mg
Fiber:
0
g
Sugar:
1
g