Costco Arrachera Skirt Steak (Carne Asada) + Pro Tips!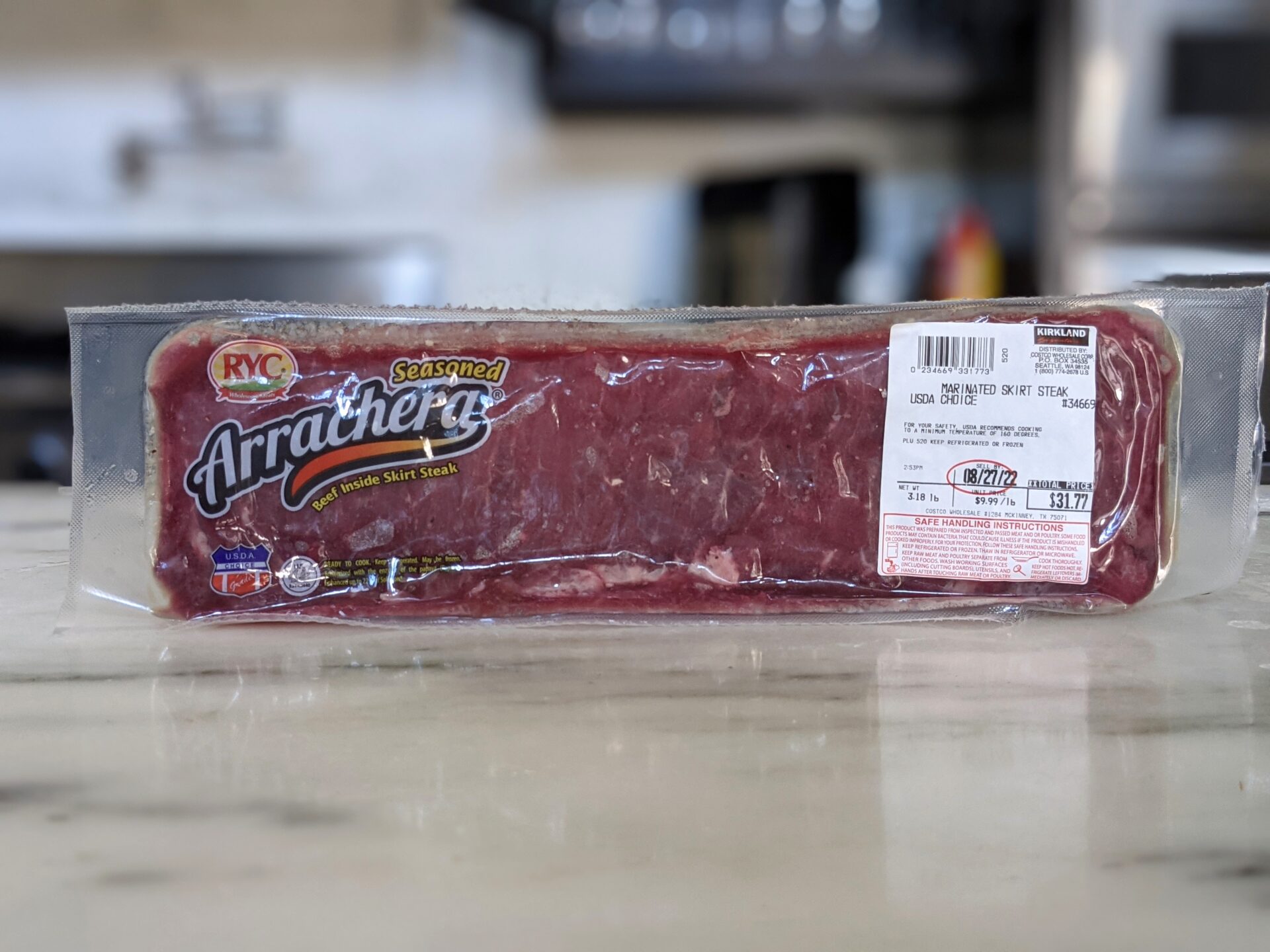 RYC Arrachera Beef Skirt Steak at Costco
Costco sells USDA Choice Marinated Arrachera Skirt Steak for $9.99 a pound. The Arrachera can be found in Costco's meat and seafood area near other options such as the tri-tip, racks of lamb, chicken, and salmon.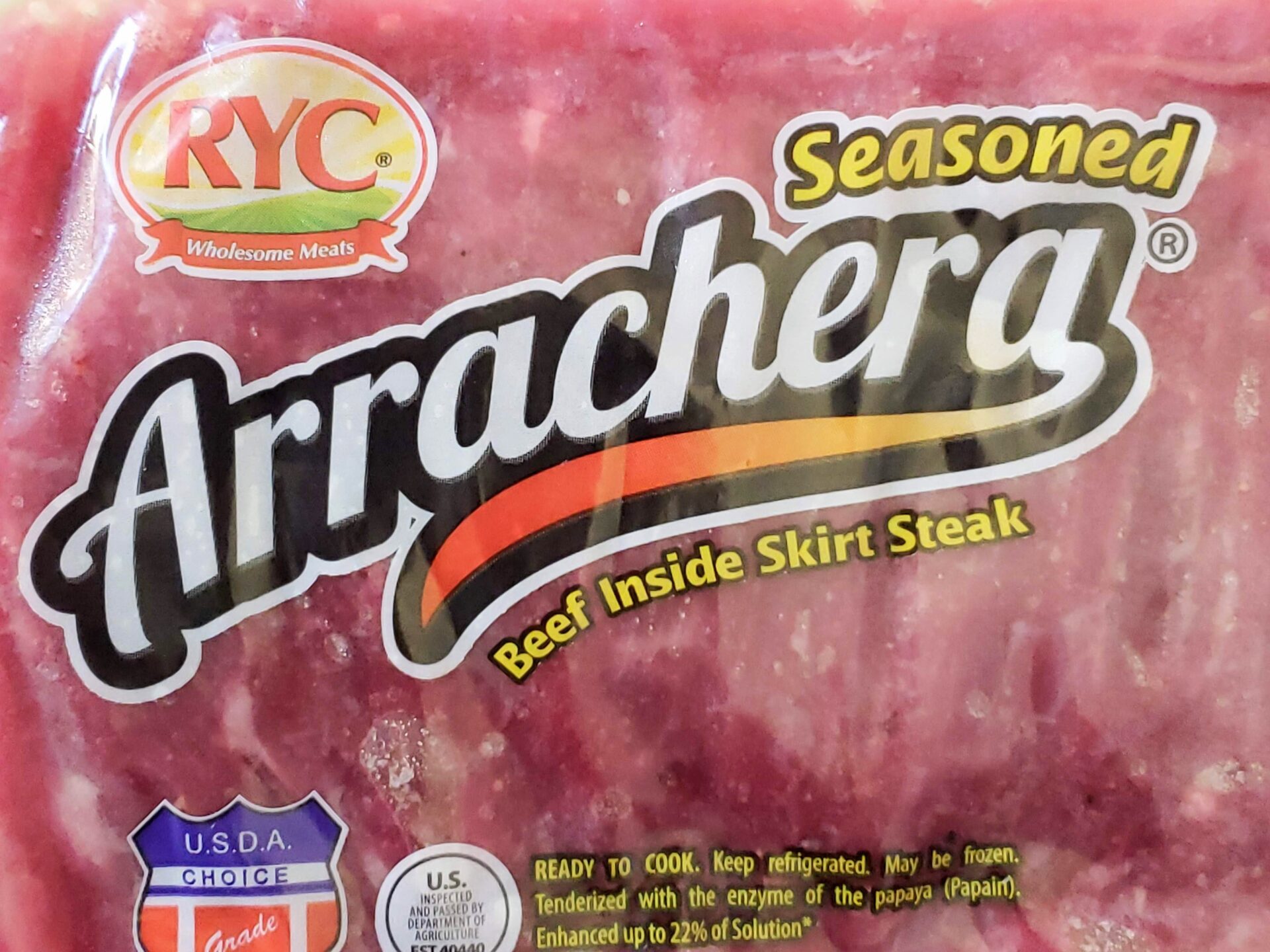 The Arrachera is sold in approximately 3-4 pound packages which go for $30-$40 each.
Costco's Arrachera is an inside skirt steak that has been marinated and enhanced with up to 22% solution that includes a papaya marinade/enzyme for tenderness.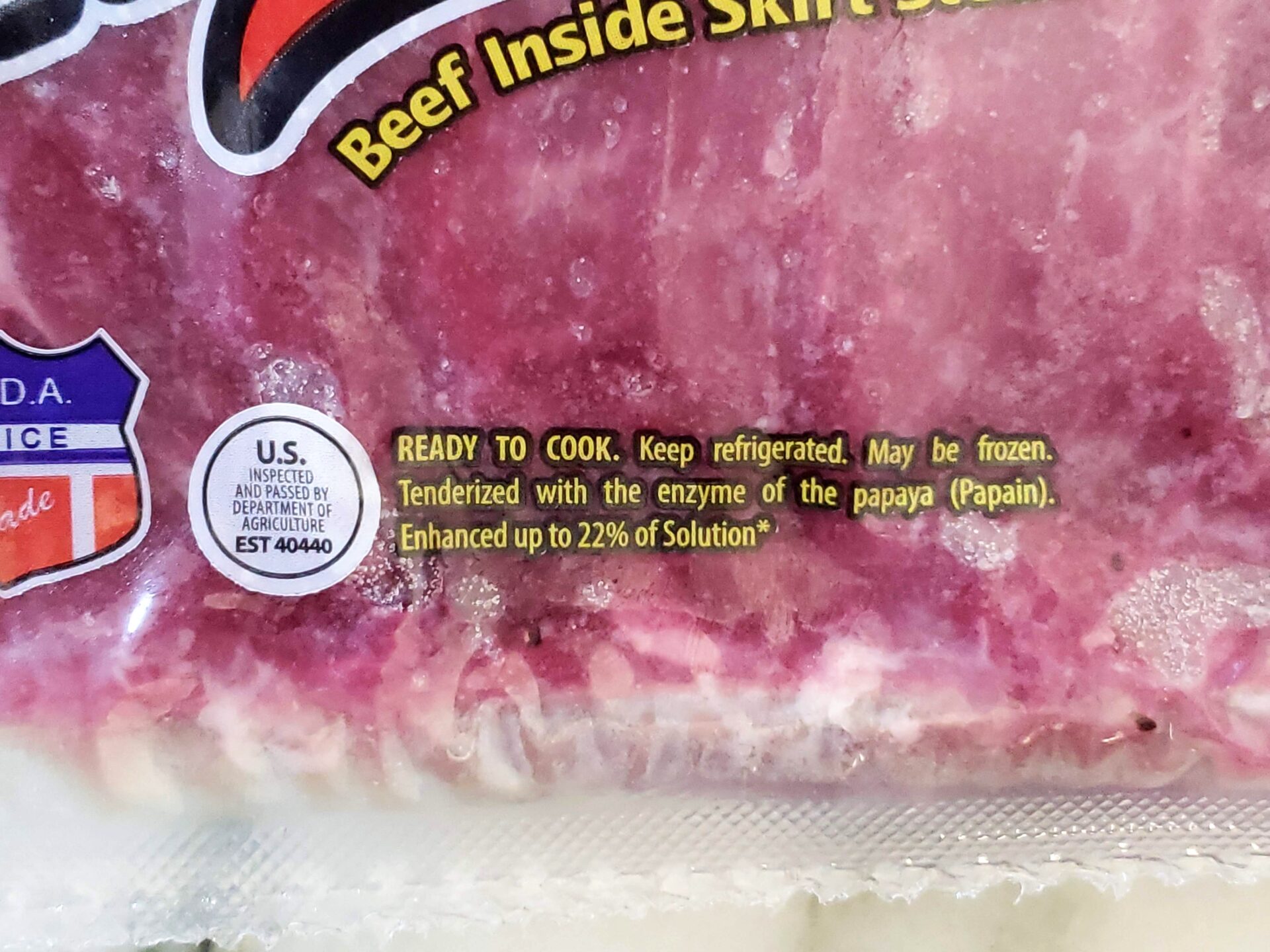 Have You Tried Costco's Arrachera?
Let the rest of the Costco Food Database community know what you thought of this product. Results and reviews are at the bottom of this page.
Please allow 24 hours for review moderation and approval.
What is the difference between skirt steak, arrachera, and carne asada?
There is quite a bit of confusion between the three names for this steak, but they all essentially refer to the same piece of beef.
Their respective names refer to which area of the cooking process they are in.
Skirt steak refers to the meat in its most basic raw form and is a long flat piece of steak that has excellent flavor and is super tender.
Skirt steak is relatively common and can be found at most butchers. The steak can be used in different recipes and transformed into many different final products.
Arrachera refers to marinated skirt steak, which is the item here. The Costco arrachera has been marinated with papaya enzymes and is filled with up to 22% marinade.
 
Arrachera can also mean a marinated flank steak in lieu of a skirt steak.
Carne Asada means cooked beef in Spanish and will be the final product of this cooked arrachera.
The beef only becomes carne asada when it is cooked and ready to be served.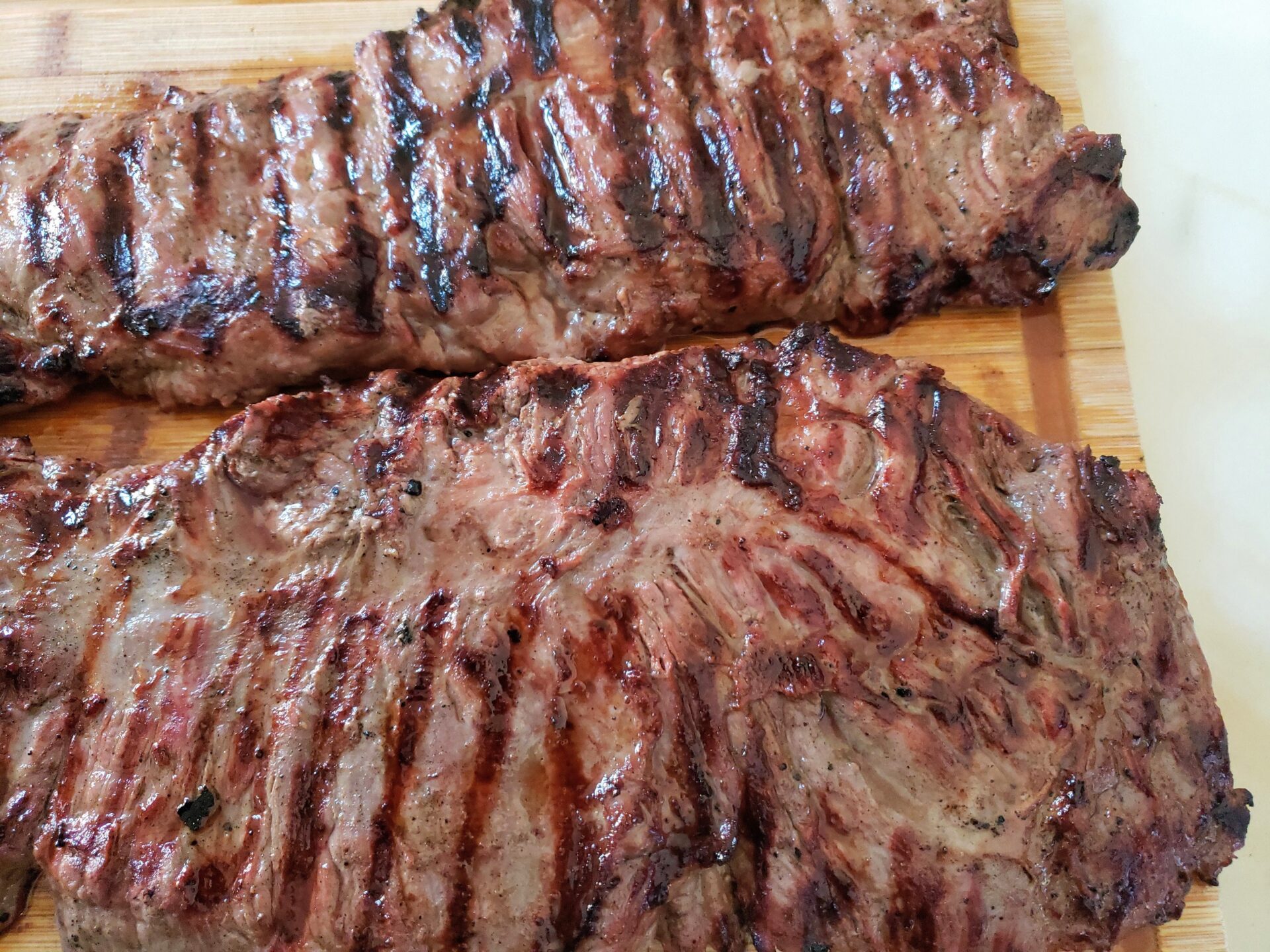 The raw beef will be called skirt steak until it is marinated, which it will then be called arrachera until it is cooked as carne asada.
All 3 names refer to the same cut of beef but at different points in the cooking process.
Inside Skirt Steak vs Outside Skirt Steak
The RYC Costco arrachera is made using inside skirt steak, which is often considered less flavorful compared to outside skirt steak.
How Much Does Arrachera (Carne Asada) at Costco Cost?
Costco sells their arrachera for $9.99 a pound. I consider this price to be fair value or maybe just a touch expensive.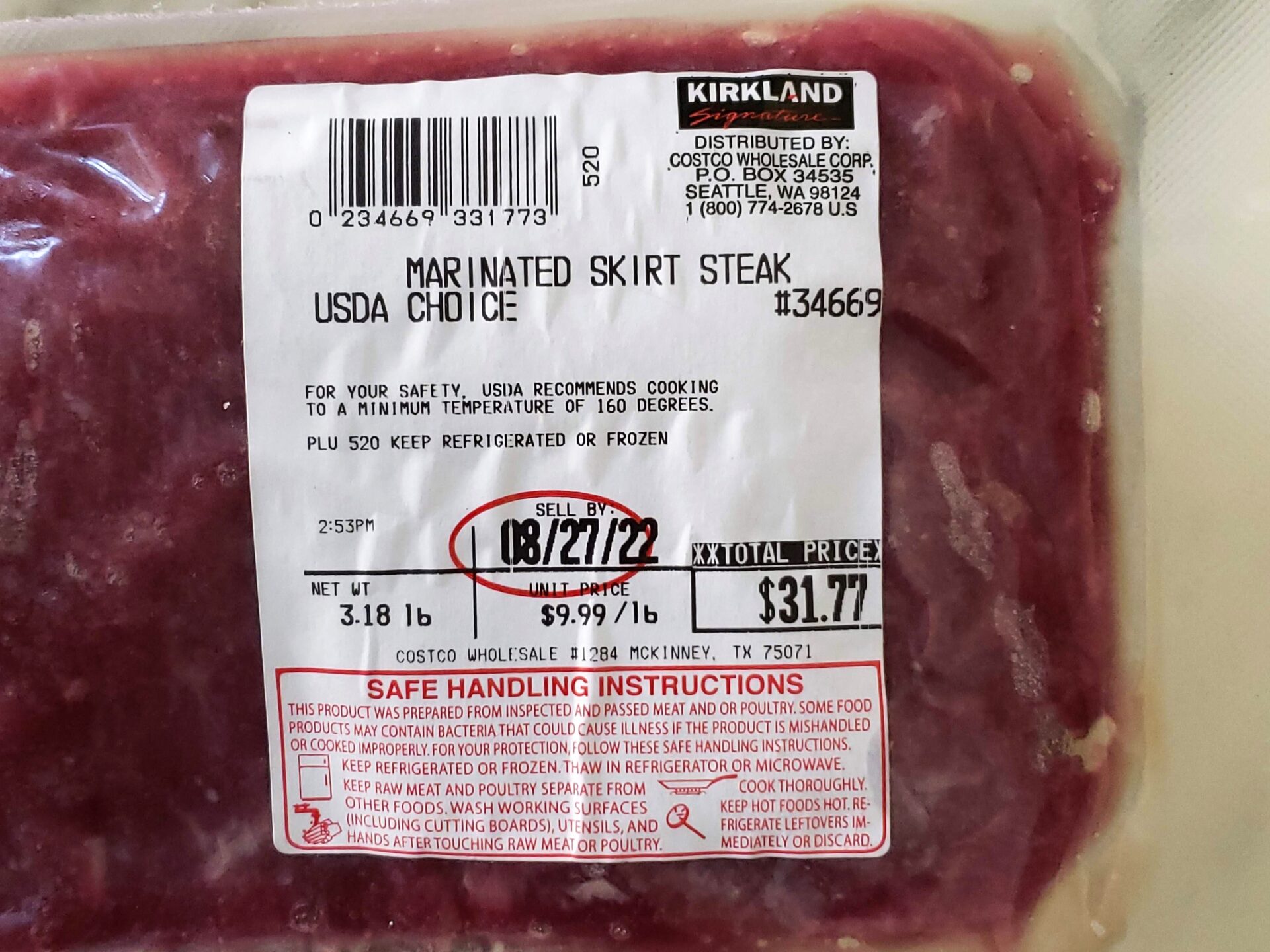 Your local Mexican grocery store may have a lower price, but Costco's price is more than fair for USDA Choice Beef.
The one concern I do have about the price of the meat is actually the 22% solution or marinade that is used to tenderize and flavorize the USDA Choice skirt steak.
When we look at the price, we have to look at paying for the addition of the marinade and paying for the weight of the marinade. A $1 surcharge per pound for skirt steak is worth it for the addition of the marinade.
But, when we look at the $9.99 per pound price tag, we have to factor in the weight of the marinade and the beef.
Per pound, we may only have .85 pounds of skirt steak and .15 pounds of marinade that make up the $9.99 per pound price. Something to keep in mind.
Costco Arrachera Carne Asada Taste Test
I cooked the arrachera on the grill, and the steak tasted absolutely delicious. The meat was easy to cook as each side took just a few minutes on the grill.
I did slightly overcook mine (whoopsies!), but the taste, flavor, and tenderness were still fantastic.
One important thing to note is that it is imperative to slice the arrachera against the grain. This will make or break your arrachera steak. Full slicing directions will be included below.

The Costco carne asada skirt steak is fantastic. The meat is tender, juicy, and jam packed with flavor. The 22% marinade really does its job well.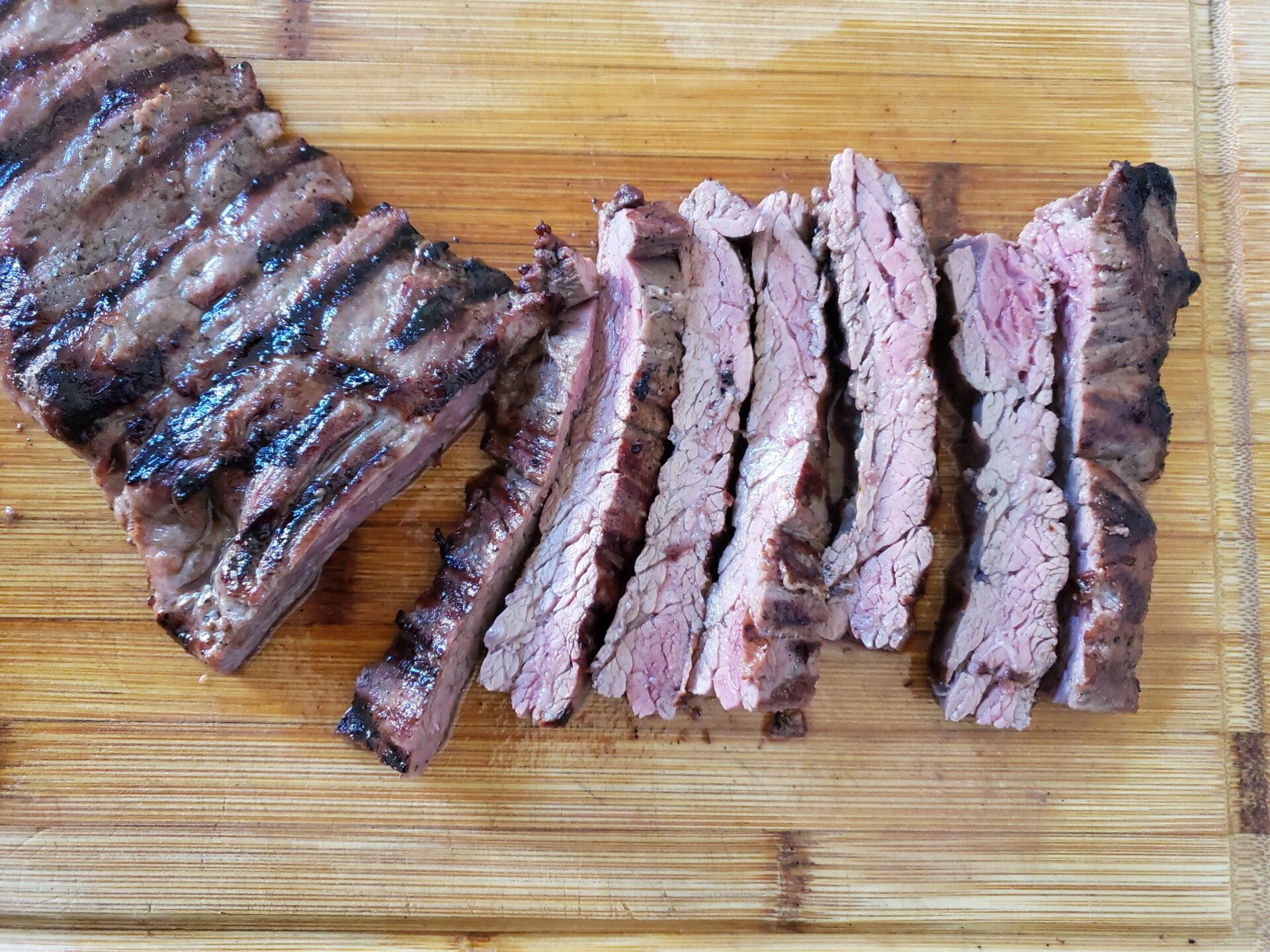 Make sure to cut against the grain; the steak will be easy to chew and enjoy. My arrachera was even a little more cooked than I would have liked it to be, but was still so tender.
This will be a high-quality carne asada taco meat or fajita meat that will impress. Serve with some Kirkland Signature Anejo Tequila for a real party.
The flavor of the arrachera was a little salty but still great. Each bite of the arrachera will explode with juices and flavors and goes really well with tacos, fajitas, or rice.

Again, the marinade dominated the flavor. The taste was great, and it was perfect for carne asada, but I would have liked a little more natural beef flavor.
Regardless, this is higher quality meat than what you would get at most local taquerias. 
How to Properly Slice Arrachera / Carne Asada
Always Slice Against The Grain
Slicing Costco's Arrachera or Carne Asada is simple but counterintuitive. When the cooked skirt steak is laid flat with the long end going from left to right, the grains will actually run from top to bottom.
This means if you start slicing the steak, you will be slicing with the grain, leading to a less tender piece of beef.
How to Slice Carne Asada Against the Grain!
In order to properly slice the arrachera, you should first cut off a 5-6 inch section of the beef. After cutting off a portion, flip the carne asada 90° and then start slicing. 
This technique allows you to easily cut against the grain to maximize the tenderness of the skirt steak.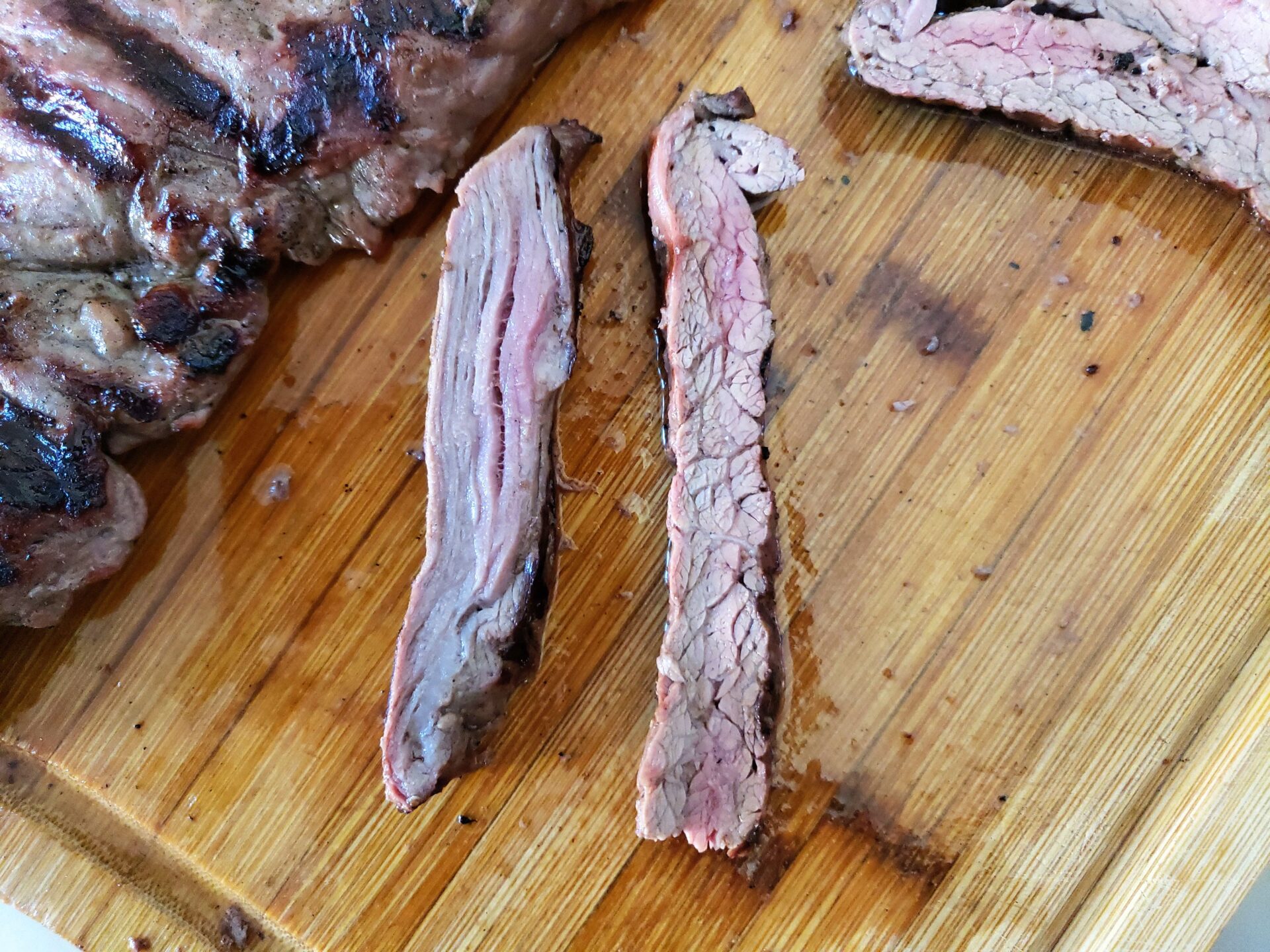 Serving Costco Carne Asada Skirt Steak
How to Serve Costco's Carne Asada (Arrachera)
The arrachera becomes carne asada after it is cooked and can be served in any way that carne asada is eaten.
Costco's arrachera makes some high-quality carne asada tacos that, when dressed appropriately, can rival that of your local taco truck/stand.
The meat is top-notch for tacos, and with just some simple onions, cilantro, and salsa, you can easily create a fancy and impressive taco meal.
 
I added some guacamole to my carne asada tacos. 
Because this is USDA Choice skirt steak, it can also be cut into super tender strips that pair wonderfully with onions and bell peppers to create a delicious and flavorful fajita meal.
Half a pound of this arrachera skirt steak with some onions and peppers would give you a restaurant-quality meal for one-third of the cost.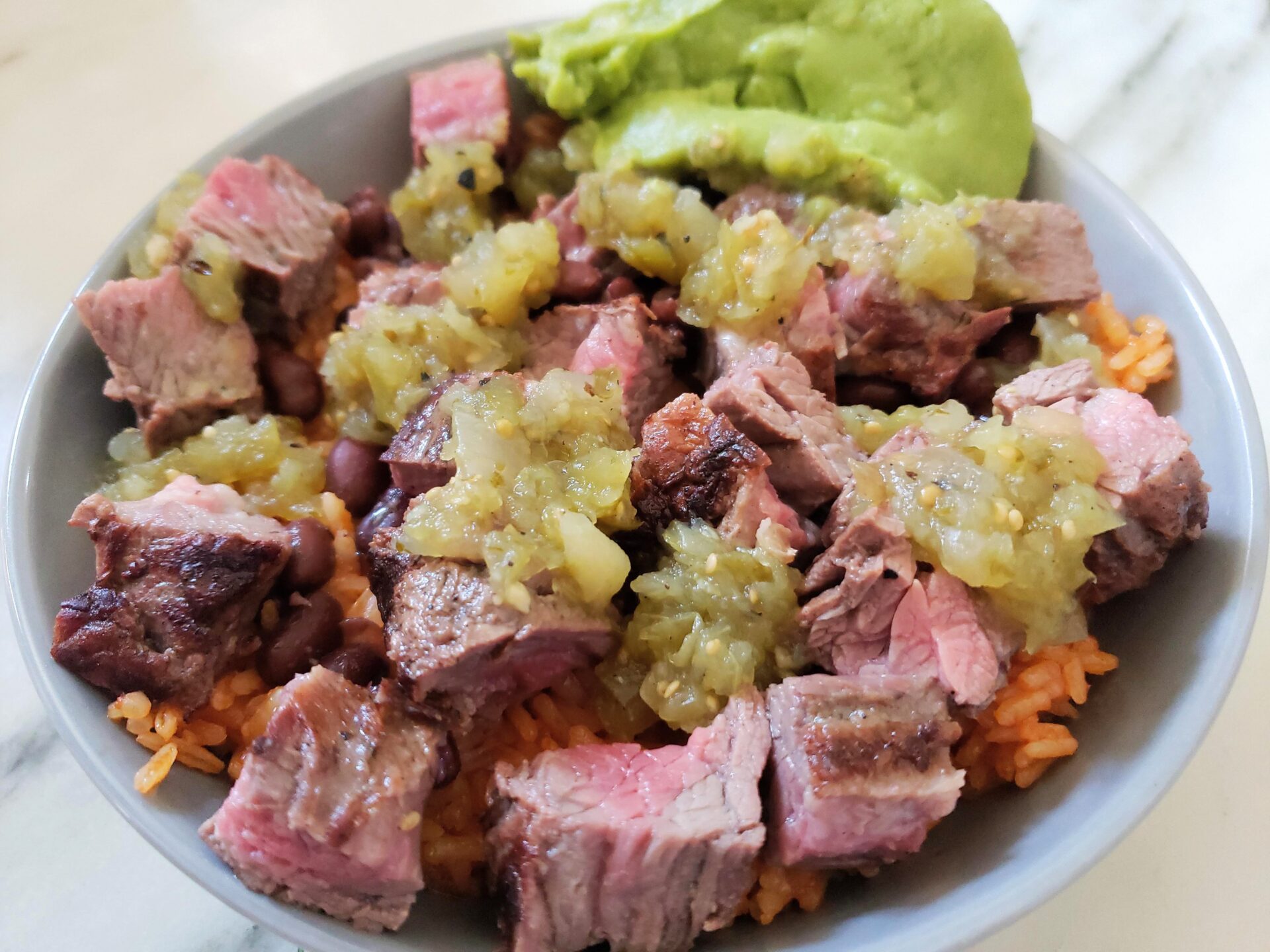 Finally, I went for a super easy to make carne asada Mexican bowl.
 
I made an easy Mexican bowl with some homemade chicken bone broth spanish rice, beans, arrachera, and a side of Costco Guacamole. Delicious!
How to Cook Costco Skirt Steak/Arrachera
Costco Arrachera Cooking Directions
Arrachera is pre-cooked carne asada, so the best way to cook the steak will be on high heat over the grill. A very hot skillet will suffice if you don't have a grill.
I opted to use the grill for the additional smoky flavors.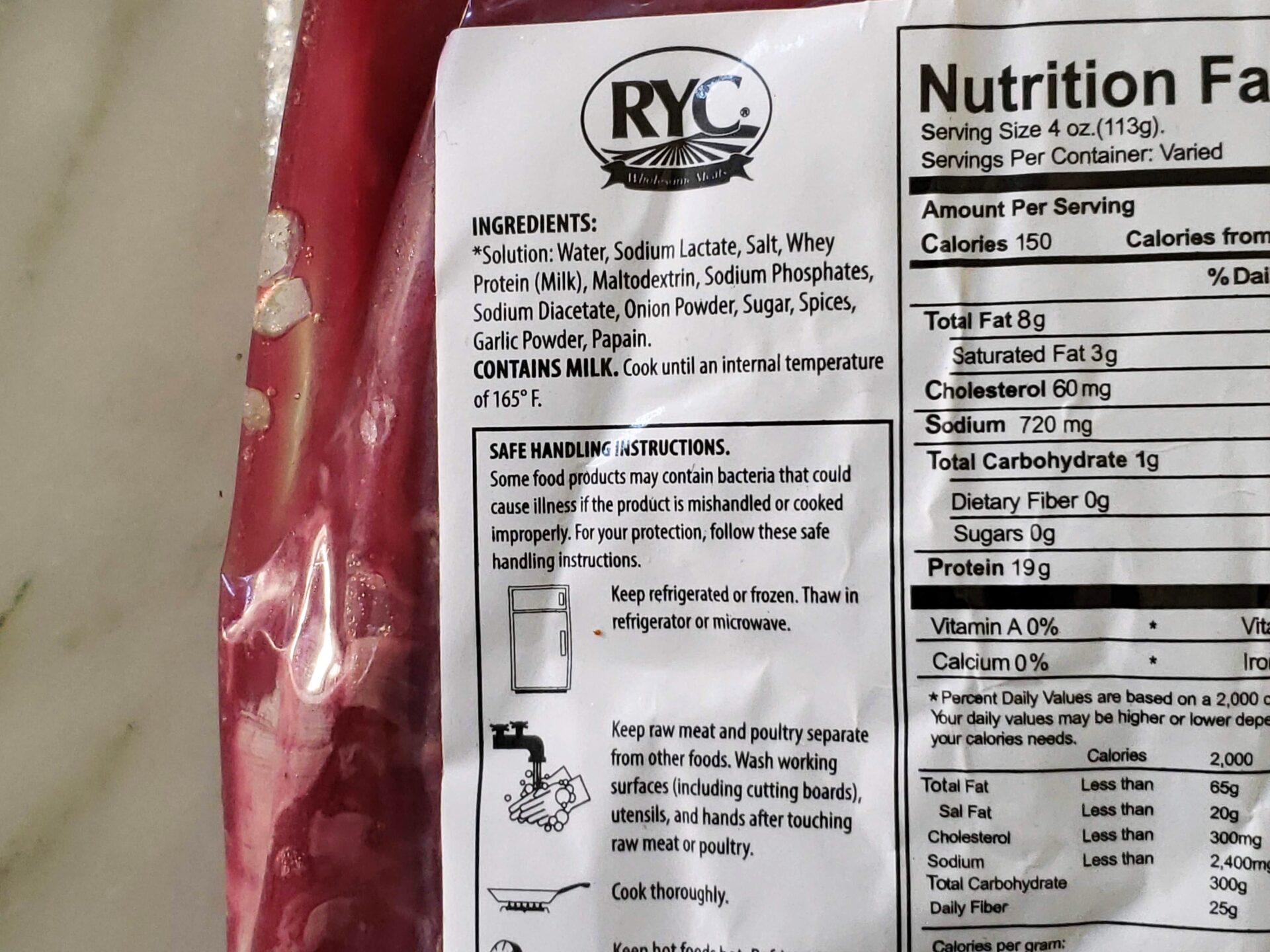 Carne Asada Grilling Instructions
Preheat the grill to high heat.

Unfold and lay Costco arrachera across the hot grill.

Cook for 3-5 minutes on each side until the internal temperature reaches 130°F.

Rest and slice against the grain.

Serve and enjoy!
If you are not using a grill, simply cook on high heat until the internal temperature reaches 130°F.
Costco Carne Asada Nutritional Information and Calories
There are 150 Calories Per Serving
One serving of Costco's Arrachera or Carne Asada will be 4 ounces and contains 150 calories. The 150 calories come from 8 grams of fat, 1 gram of carb, and 19 grams of protein.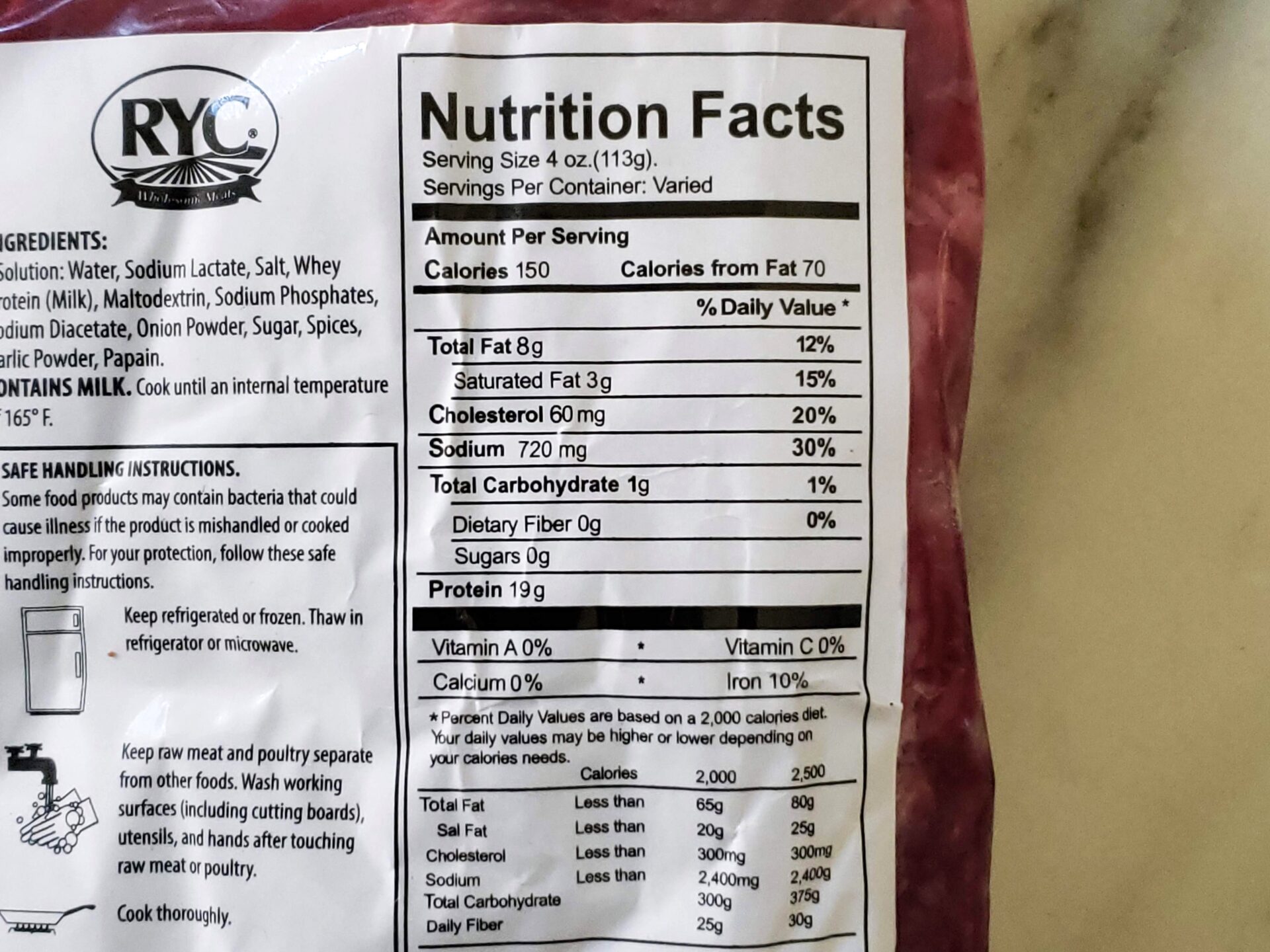 This is a fairly standard nutritional profile for skirt steak or carne asada. There is a reasonable amount of fat in the USDA Choice skirt steak, which is great for flavor and enjoyment.
Costco Food Database User Reviews
Have you tried this item? Let the rest of the Costco Food Database community know what you think. Leave a rating and review for this product. 
Costco Arrachera Steak - Carne Asada Tacos
Use Costco's delicious pre marintated skirt steak meat to make some delicious carne asada tacos. How to Cook and assemble mouth watering juicy and flavorful arrachera beef.
Ingredients
3

Pounds

RYC Seasoned Arrachera

Kirkland Signature Guacamole

Corn Tortillas

Chopped Onions and Cilantro
Instructions
Arrachera Grilling Instructions

Preheat the grill to high heat.

Unfold and lay Costco arrachera across the hot grill.

Cook for 3-5 minutes on each side until the internal temperature reaches 130°F.

Rest and slice against the grain.

Assemble Carne Asada Tacos

Placed chopped arrachera meat onto warmed tortillas

Top with onions, cilantro, guacamole, and salsa of your choosing
Nutrition
Serving:
4
ounces
Calories:
150
kcal
Carbohydrates:
1
g
Protein:
19
g
Fat:
8
g
Saturated Fat:
3
g
Trans Fat:
0
g
Cholesterol:
60
mg
Sodium:
720
mg
Fiber:
0
g
Sugar:
0
g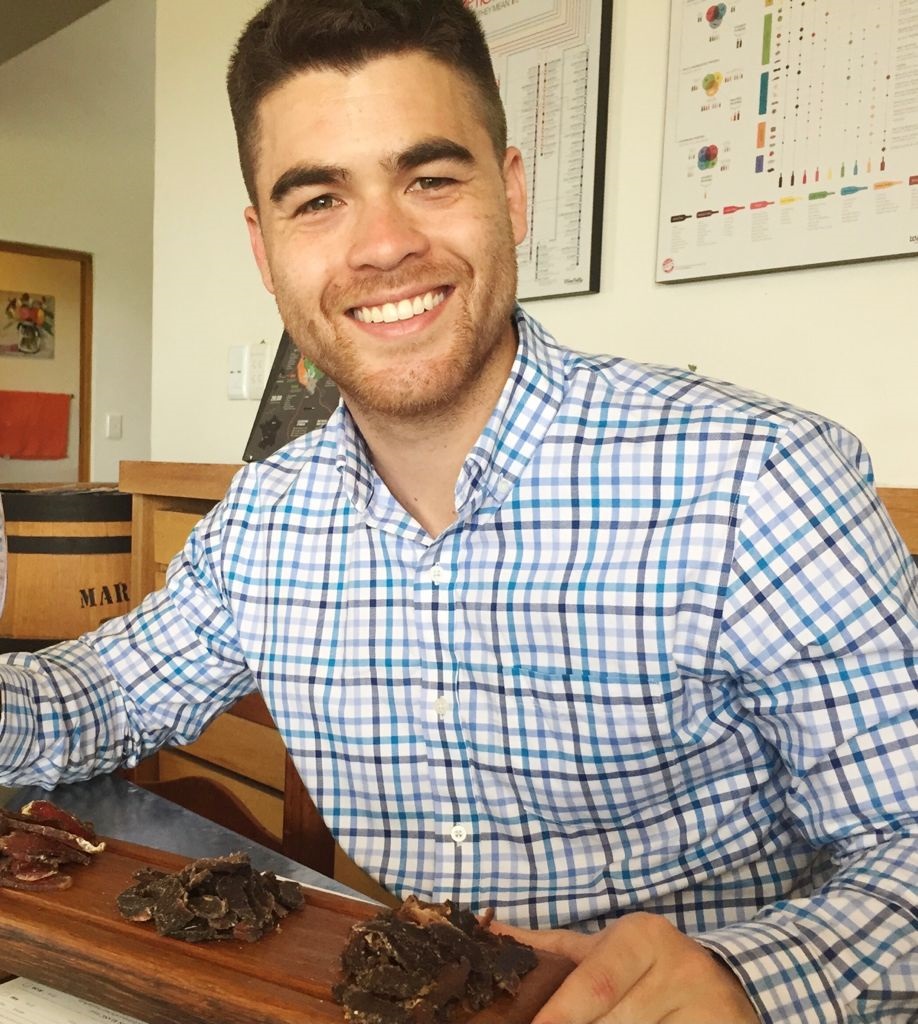 Greg Larkin is the founder and managing editor of Costco Food Database, the premiere site for honest takes on all things Costco food. A self-proclaimed Costco super-fan since childhood, Greg turned his obsession in a mission to properly rate and review all of Costco's delicious buys. When he's not busy navigating Costco aisles, you can find Greg smoking Kirkland Signature meats, meal prepping, or perfecting his homemade jerky recipes.